Microsoft Habu Gaming Mouse

Date: April 23, 2007
Author(s): Rob Williams

If you put two huge peripheral developers in a blender, what would pour out? Well, if it's Microsoft and Razer, you'd have a Habu gaming mouse. Built upon Razer's intuitive designs and Microsofts amazing logo, the Habu proves to be a gaming mouse worthy of your consideration.
---
Introduction
Late last summer there was an interesting announcement out of the Microsoft camp. For years they have created peripherals for gamers without the help of others. When they came to the realization that they didn't have the "edge" required to really succeed in the market, they decided to cooperate with another successful game peripherals developer to get their own ship kick started. Who better to turn to than Razer?
Their cooperation with Razer is really an understatement. From my experiences with the mouse, it's all about Razer. Microsoft simply has the benefit of slapping their own logo on there and shoving it into a red box. This is not to say it's a bad thing, as you are buying into Razers intuitive designs and quality.
If you think I am kidding, simply look through our review of Razers own DeathAdder mouse. Not only is the shape strikingly similar, but the scroll wheel glows and the side buttons are also identical. Luckily for consumers, the Habu actually does have a lot to offer when compared to the DeathAdder.
In fact, when comparing Microsofts mouse to the DeathAdder, it appears that Razer deliberately held back some functionality on their own mouse in order to help the Habu succeed. Considering the fact that the Habu was released late last summer and the DeathAdder just this year, there was some definite scale-down that took place.
We've talked enough about the DeathAdder. Let's now take a look at the mouse in question today.
Closer Look
Microsoft doesn't normally throw any punches when it comes to their packaging. Normally all of their peripherals come in a clean red-colored box, and the Habu is no different. However, there is a Razer logo as well, to expose their joint efforts.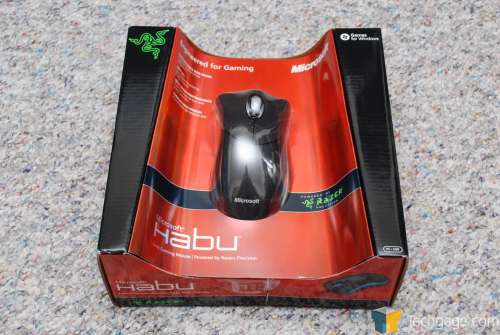 The Habu has a clean black look which most gamers should appreciate. Unlike most Razer mice however, this one is not ambidextrous. Personally, I prefer this by far, although it usually leaves left-handed gamers in the cold. Although wireless is the future, wired gaming mice have overwhelmingly remained the preferred choice. This is beneficial for the sake of no dropouts and also cheaper overall costs.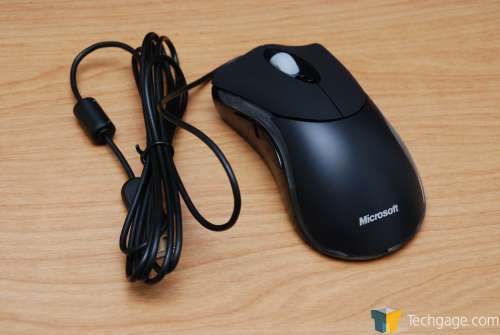 If you are accustomed to Logitechs gaming mice, the Habu may take a little getting used to. The buttons are not built into the actual mouse chassis, but are separate with a different material used. It's a rougher type plastic that will assure your fingers won't slide off in the middle of a huge battle.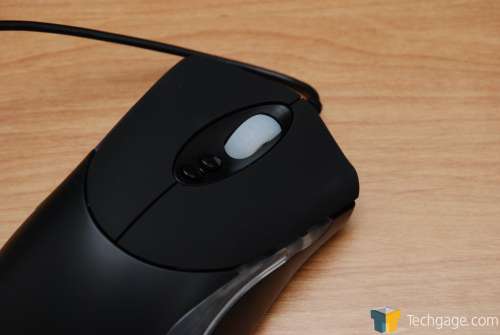 The scroll wheel is smoked color, but clear, thanks to the LED that lies underneath. There are two buttons directly below this, which are used for DPI adjustments, as you probably have already guessed. In the heat of battle, you can increase or decrease the sensitivity on the fly, thanks to these handy buttons.
On the belly, you can find the slick teflon feet as well as two buttons. The one closest to the thumb buttons is to pop that piece off, while the other button is a complete mystery to me. I cannot find a mention of it anywhere in the manual or on their website.
As I just mentioned, you can indeed pop the side buttons off. Why? Because Microsoft includes two different sidepanels with the buttons in slightly different positions. This is simply so you can choose which one feels the best.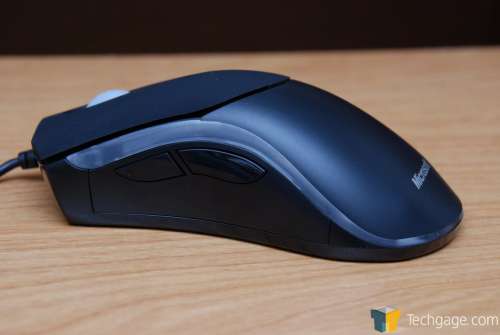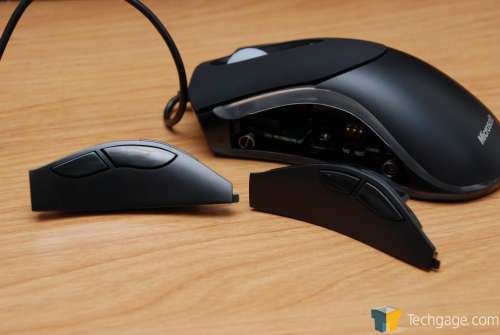 Here you can see the Microsoft logo and also the clear LED path.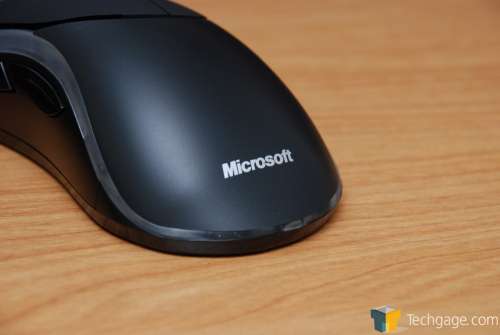 Finally, here is a shot of the mouse in action… minus my hand of course.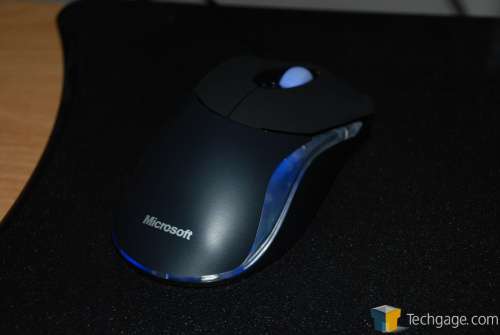 No mention of Razer is found on the mouse, but just wait until you install the software. It will be then that you realize just how Razer-like this mouse is.
Software, Testing, Final Thoughts
I mentioned that this mouse was all about Razer, and it really is. There is a huge Razer logo on the CD-Rom, so it gives you a hint as to what to expect after installing.
The software is identical for the most part to the software that Razer themselves include with all their mice.
There is a -lot- of customization to be had here. Each of the buttons can be configured to perform a variety of functions.. even the scroll wheel. As you can see to the left of the application, you can get into the sensitivities for all of the axis, if you are just that hardcore.
Really, I love this application. I like most the fact that everything you need is right there, no need to sort through various tabs to get to the function you need. For those who do not enjoy the LED inside the mouse, you can turn off the scroll button and glow-pipe, or both.
The mouse when first installed uses both version 1 of the software and firmware, but there were updates on Razers website, so I promptly downloaded it. It's a simple process, but you need to pay close attention to the instructions in order to accomplish the update successfully. When done, as you can see in the picture, I was left with version 2.01 of the firmware.
One last thing I will touch on is the fact that you can set up to five different profiles within the software. Reasons could be that you enjoy different response-times or button configurations for some games, or you have a family member who wants their own profile.
Overall, great software that's easy to use. They even allow you to alter your axis sensitivities! I couldn't really see anything that was left out.
Testing
I tested out the mouse using two games that I am very familiar with: Half-Life 2 and Oblivion. At first, I found the Habu took a little getting used to. It's not that it was uncomfortable, but I've been used to using Logitech G5 and similar mice for the past two years. All of the gaming mice from Logitech tend to have the same base design, so to say I was in tune with it would be an understatement.
After some time though, the Habu grew on me. In fact, I might actually enjoy it a tad -more- than the G5 that I have been using. It's simply a comfortable mouse to use. I liked the way my hand covered the mouse compared to the G5.. it felt more natural. So in that regard I was quite pleased.
The buttons are also well placed. As you can see in an earlier picture, you have the option between to side panels, which change the position of the buttons slightly. After testing with both, I found the default layout to be the most comfortable, but your experiences may vary.
With regards to the on-the-fly DPI buttons, I was not keen on the location of those at first either, since they are indented into the mouse a bit. After switching between the Habu and G5 though, I realized how much better it actually was. It felt more natural, once again, on the Habu to lift the index finder and push the buttons there, than on the G5.
As a quick test, I wanted to see how much I had to bend my index finger to push those buttons, on both mice in question. Without a doubt, I did not have to bend my index finger as much on the Habu as I did the G5. Depending on the size of your hand, this again may vary.
Final Thoughts
The Habu's average retail price hovers around $55, so it's not exactly cheap. After using the mouse though, I am confident in recommending it to anyone who's looking for a new mouse or someone who's looking for something a little different. I've been used to using Logitech G mice for the past few years, so I found the Habu to be a refreshing change.
That said, I found the Habu to be an excellent gaming mouse, but I didn't enjoy it as much for desktop work. I deal a lot with Photoshop and have to be precise with a few photos I edit, and I just didn't find this mouse to be the best for that job, so I plan to switch between the Habu and G5 depending on what I need to do.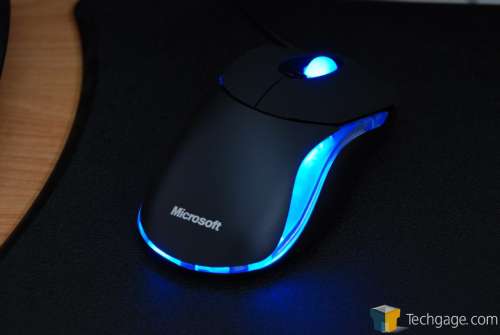 As it stands, this is a great product. It costs a little more than a few other mice on the market (but less on average than Razers own DeathAdder) and offers a lot to the consumer. How many mice allow you to alter your sensitivity on a per axis basis?
As for this being a Microsoft Habu, I am not sure just how much part they had in the design process seeing as Razers name is plastered everywhere, but the only fact that matters is that it's a product worthy of receiving a nine out of ten on our scale.
Pros
Well designed product, comfortable to use
Blue LEDs implemented well
Software offers much customization
Backed by Razer quality
Cons
Might not be perfect for desktop work
Discuss in our forums!
If you have a comment you wish to make on this review, feel free to head on into our forums! There is no need to register in order to reply to such threads.

Copyright © 2005-2019 Techgage Networks Inc. - All Rights Reserved.