NeroLinux 3

Date: May 24, 2007
Author(s): Rob Williams

Its taken a while, but NeroLinux has finally reached version 3.0. New features include HD-DVD and Blu-ray media support, a revamped GUI to mimic Nero Burning ROM 7 and more expert features than you can shake a stick at.
---
Introduction
It's hard to believe, but it's been just over two years since NeroLinux 2.0 was first released. At the time, it was a big step for Nero because the Linux market was already being hogged by k3b, X-CD-Roast and similar applications. The biggest kicker for consumers though, was the fact that in order to use the program, you had to purchase the full-blown edition for Windows which cost upwards of $80.
So what is Nero trying to prove? Well, like most companies they want to expand their horizons and make money elsewhere. They already own the Windows market, so why not try elsewhere? At this time I am unsure how much NeroLinux 3.0 will cost and how it will become available, but that should be revealed today. I received the final build at the last possible moment, so there was no time to investigate. ¹
When Nero released NeroLinux 2.0, it was lackluster to say the least. At the time, I was rather excited because I enjoyed the GUI of the Windows version, but was quickly disappointed when I realized it lacked one important thing: features. That's where 3.0 is set to change things up.
Of most interest is the fact that it will allow you to burn both HD-DVDs and Blu-ray discs, while k3b and others do not. I believe there are command-line tools available that aide in this, but for those who want a GUI offering, Nero will be the only. Sadly, I do not own a Blu-ray or HD-DVD recorder, so I am unable to test out that feature.
For those familiar with Nero in Windows, the new GUI will make you feel right at home since it's based off of Nero Burning ROM 7.0. This is what we should have seen two years ago. In addition to the GUI, NeroLinux will be available in the same 26 languages that the Windows version is, offers full unicode support and audio ripping.
The big question right now is, will I move away from my beloved k3b which I have relied on for years?
Closer Look
Nero offers NeroLinux in downloadable form as a .deb and .rpm, which was a complaint I had when I reviewed 2.0 two years ago. Those formats are fine if you use a distro that relies on them (Debian, Red Hat), but for those who don't, problems normally arise. Luckily, there is a handy script called rpm3targz which does just what the name suggests. Throw that code into a file and run it as a script with the RPM filename following it, eg. sh rpm2targz nerolinux-3.0.0.0.rpm.
Once you have your tar file, you can untar it to your root directory which will unload files into both the /etc and /usr. Then you can run the application like anyone else, by running "nero" as a command. Just bear in mind that if you do not use the .deb or .rpm file, uninstallation will be a chore.
I've created a script that will take the chore out of it for you, but I urge it only be used with 3.0.0.0, as future versions might very well throw new files into the mix. The ideal thing to do is to save the output of the untar to a text file to reference it later. Use the script at your own risk!
At first glance, NeroLinux is strikingly similar to the Windows version as promised. I am a fan of the GUI. It's simply intuitive.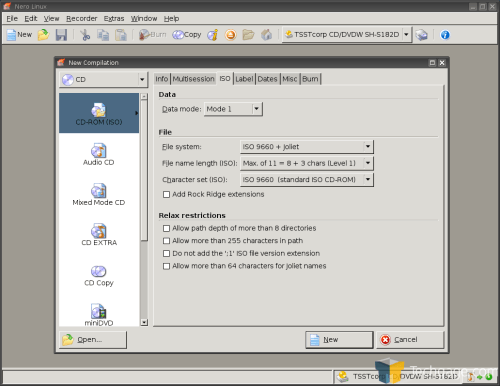 On the left panel you will see these entries:
CD
CD-ROM (ISO)
Audio CD
Mixed Mode CD
CD EXTRA
CD Copy
miniDVD
CD-ROM (Boot)
CD-ROM (UDF)
CD-ROM (UDF/ISO)

DVD
DVD-ROM (ISO)
DVD Copy
DVD-Video
DVD-ROM (Boot)
DVD-ROM (UDF)
DVD-ROM (UDF/ISO)
I assume options will be similar if you have an HD-DVD or Blu-ray drive installed. At this point in time, I assume that's going to be a very low count of the population.
One thing you will notice quickly, compared to the likes of k3b, is that there is a lot more customization available to you right away. There are tabs upon tabs of options, which is a great thing, even if you ignore half of them. Since a lot of this can be overwhelming, hovering over any of the options will explain what they mean. This is a huge deal, as it saves the user from hopping over to a search engine if they are confused.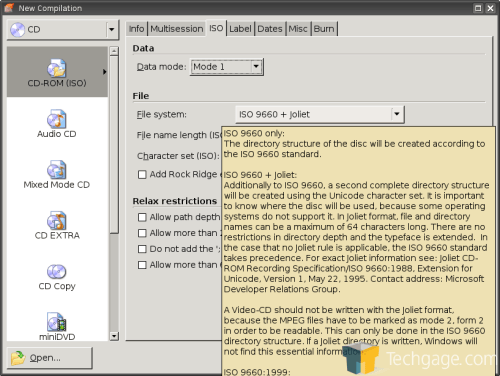 Depending on which type of burning you chose, you will see a file manager like in the image below. To access everything on /, you will need to double click My Computer and it will be available to you. Yes, they had to carry something over from it's Windows counterpart that is blatantly obvious ;-)
That aside, the file manager is easy to use and looks clean as well.
That's not to say there isn't problems though, because there is a rather large annoyance that I have found. I'll explain it with an example. You have a folder on your computer called Party Tunes, and want to copy over every file within it to the Audio CD panel. Normally, you'd expect to highlight all of the files and drag them over, but that's not possible here. If you have a group of files selected and click on one to carry them over, it makes the file you just clicked on the primary selection. This doesn't go for just audio CDs, but data cds and anything that relies on the file manager.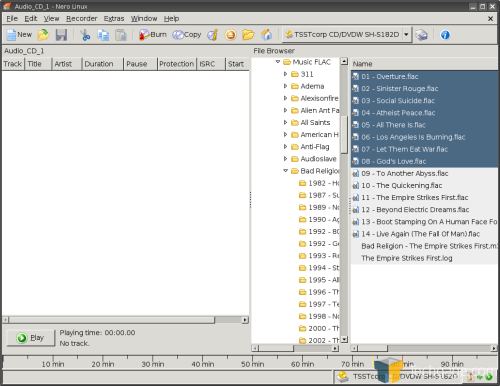 I thought I was due for a life of hardship, but not so. Instead, you need to right-click the area inside of the left panel and choose "Add Files" which brings up your default file manager which -does- allow you to make multiple selections. I find this odd behaviour. What's the point of the built-in file manager if it only allows you to select one thing at once? You can add entire folders with a data CD, but for music, it's not possible.
A feature I did appreciate was that while creating an audio CD, Nero accepted popular audio formats including FLAC, MP3 and OGG. It did not accept WMA however.
¹ NeroLinux 3 has now been released and costs $24.99USD for the serial number.
Further Look, Final Thoughts
As you would expect, you are able to rip audio CDs with NeroLinux in addition to burning them. To do this, simply hit F9 and a Save Tracks Dialog appears. You will see a blank track listing, so you need to push Internet DB in order for it to grab the actual track list. I had no such luck here. After pushing the button, up would pop a dialog that would attempt to receive the track listing… indefinitely. After allowing it to go on for five minutes, I had to kill the process entirely. There was no way to simply cancel it or close the program properly.
Loading up k3b, it detected the track lists fine, for all three CD's I tested. Both applications were using the identical freedb settings, so I am not sure what the hold-up with Nero was. I cannot recommend Nero for audio ripping, since no one wants to manually type in the entire tracklist by hand.
Because I am a music buff, I wanted to check out their Encode Files option, which launches when you hit F8. It's a simple prompt, with the ability to add tracks to the list and then choose which format you want them outputted to. Here is where I get confused again.
Note the "Settings" button that's dimmed. I was unable to figure out how to use this function at all. The drop down offers WAV, FLAC, MP3 and OGG, but none of them light up that button. I was hoping for the ability to specify an encoder of your own choosing or at least being able to change the encoding switches, but it appears as if that is a no go.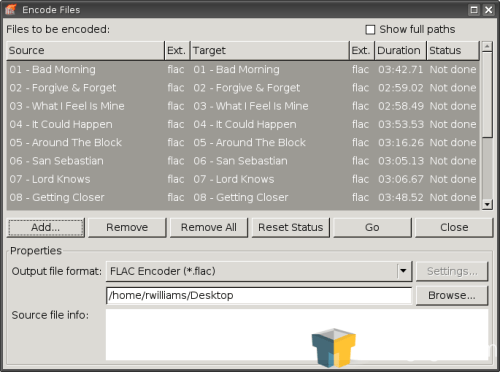 After playing around for a while, I wanted to answer the big question. What can NeroLinux 3 do that others can't, besides HD-DVD and Blu-ray? Well, if you want to get down and dirty with the options, there is an insane amount of functionality here, just that half of it might not matter to many people. That includes me, but I admit it's nice to have it all present in case the time presents itself that I actually need it.
In the end, I just like how NeroLinux works. I love the GUI, the sheer amount of options, and the fact that it's just a friendly application to use. It's leaps and bounds above NeroLinux 2, I can assure you of that. If you are a Windows user moving over to Linux and want to use a burning program you are familiar with, it's hard to go wrong with NeroLinux. I won't say I prefer it over k3b, but in some respects I do. I can see myself using this more often, simply because of its design designed.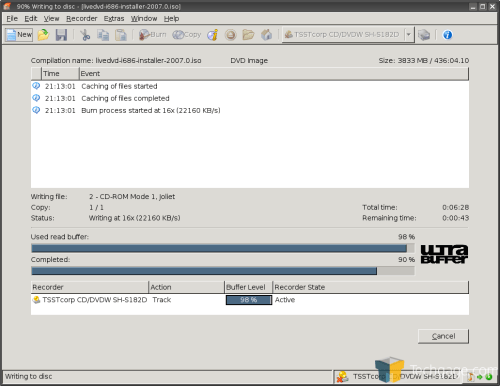 That said, it still lacks a lot of what I'd like to see. On the Windows side of things, we have great video creation support, DVD movie authoring, video re-encoding, TV capture features, audio editing, robust video player and much more. It's understandable to see the Linux version lacking so many features since many of them are comprehensive and because of lack of overall demand.
For those interested, I did find NeroLinux faster than k3b in the few tests I performed. The main reason behind this is that k3b had "Updating RMA" statuses that delayed the completion. The test I focused on used a 3.7GB ISO, which Nero burned in 7:26 and k3b in 11:02. I am not sure if that type of delay is normal, but it happened with each test.
I find NeroLinux 3.0 a vast improvement over 2.0, but Nero will find themselves having the need to add more features in order to grab a great deal of the Linux market-share. I've mentioned k3b many times, which is because it's a very complete solution that happens to be completely free. NeroLinux offers HD-DVD and Blu-ray support, but other than that, users might find themselves not even missing the other features that it has, that k3b doesn't. Of course, if you want a reason to pick up a Blu-ray or HD-DVD recorder, now you have one… if you are willing to part with upwards of $500.
Pros
Clean looking and intuitive GUI
Feature-set is good, but could be better
Huge amount of options for optical media enthusiasts
Blu-ray and HD-DVD support for those who can afford it
Blows NeroLinux 2.0 out of the water
Cons
CD Ripping would not properly download tracklists
No DVD or video authoring tools like the Windows version
Inability to drag and drop multiple files within the Nero file browser
More expensive than free alternatives
May 24 Addendum: NeroLinux 3 has now been released and costs $24.99USD for the serial number. In my opinion, this is a far more sensible option compared to how NeroLinux 2.0 was sold.
Discuss in our forums!
If you have a comment you wish to make on this review, feel free to head on into our forums! There is no need to register in order to reply to such threads.
Copyright © 2005-2021 Techgage Networks Inc. - All Rights Reserved.