NETGEAR ReadyNAS Duo v2 NAS Server Review

Date: December 28, 2012
Author(s): Greg King

Well-built, feature-rich NAS devices don't need to be expensive – and NETGEAR's ReadyNAS Duo v2 proves it. As a "prosumer" model, it aims to deliver all that a home and small business user alike would need, so read on as we discover whether or not this $200 NAS offering should be in your sights.
---
Introduction
Out of everything I have changed in my home environment, there's only one thing I would deem irreplaceable.  The addition of a NAS to my network has literally changed the way I go about my day-to-day operation at home.  The consumption and retention of my data has been altered unrecognizably from where I was only a handful of years ago.  With the addition of Dynamic DNS, my data is available at all times, from anywhere in the world.
With CES 2013 quickly approaching, I am reminded of all my past experiences while attending the yearly trade show.  One event that sticks out in my mind was the NETGEAR press event at CES 2008, where the company debuted its new line of consumer NAS devices.  I had long been using NETGEAR for home network switching and routing, so being familiar with its offerings, I was pleasantly surprised to find the ReadyNAS Duo to be a very sturdy piece of kit.
With it's all-metal housing and hot-swappable bays, NETGEAR was well ahead of the current home NAS market and I knew that I needed to have one.  Being unable to secure a review sample at CES, I returned home and waited for one to go on sale. Just before CES 2009, I found a ReadyNAS Duo in a Black Friday ad and quickly snatched it up.  Since that day, it's been a very reliable backup destination, quietly sitting on an unassuming shelf.  It's long been eclipsed in performance, but it's stable – and that's all that I can ask for out of a device built over 4 years ago.
This brings us to our review today.  This past summer, we were provided with a ReadyNAS Duo v2.  The v2 is NETGEAR's follow-up to its popular ReadyNAS Duo NAS that we saw at CES 2009.  With updated internals, the v2 should be faster and quieter than the original hardware and with time to mature, a better administrator web interface.  The spec upgrades are necessary and expected, given the pace that technology advances, but the GUI is an absolute must.  Synology and QNAP both have been setting the standard over the past couple of years with their respective Web GUIs, and NETGEAR has been wise to revamp its as well.
The build quality of the ReadyNAS line of products has always set the benchmark for me when judging other NAS devices.  Constructed entirely out of metal – with the exception of the front door of the NAS – the v2 is a very sturdy device.  With its rigid feel, the v2 has an enterprise quality to it and would feel right at home in any environment where network-accessible storage is needed, be it home or in an enterprise environment.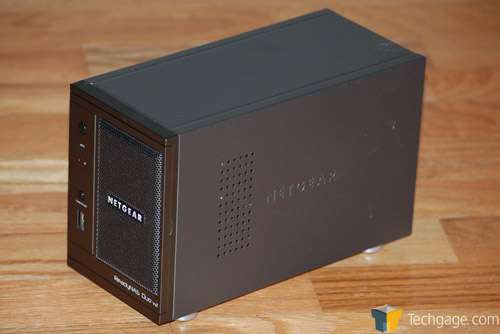 The front of the v2 is clean, with 5 LEDs, 2 buttons and a USB 2.0 port all situated vertically along the left side.  Starting at the top, there is the power button and LED, disk activity LED, 2 disk status LEDs (one for each drive), USB and backup status LED, backup button and at the bottom, the USB 2.0 port.  Taking up over two-thirds of the front is the perforated drive bay door.  This opens up to the left, exposing the two lockable hot-swap drive bays and is held shut with the aid of a small magnet.
The back of the v2 presents a 80mm exhaust fan (up from 60mm in the v1), two USB 3.0 ports, power port, Kensington lock security port and a 10/100/1000 NIC.  The USB ports on the back cannot be used for expansion, only backups and file transfers.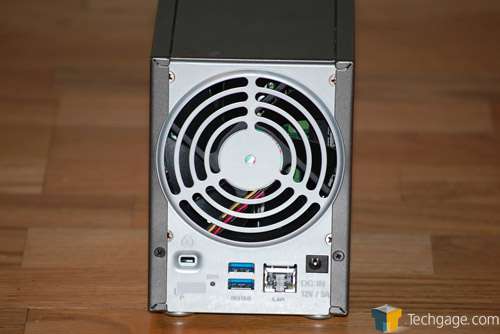 With the drive bay door opened, the hot-swappable drive cages can be by pushing down on the opening in the handle at the bottom.  The cages can be locked as well by sliding the locking switch to the locked position.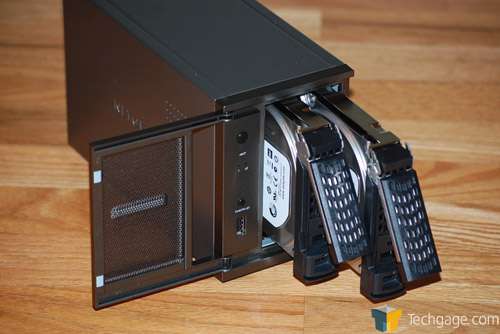 While the drive cages themselves can be locked, it's a simple mechanism to prevent their accidental removal.
Configuration
By installing a small application on your workstation, the NETGEAR RAIDar program is, according to NETGEAR's own site, "used to discover ReadyNAS devices on the network and start the ReadyNAS web-based configuration utility."  With the appropriate OS version of the software downloaded and installed, it searches your network for any and all ReadyNAS devices.  When found, it displays the device or devices on your network.
When found, the first thing that must be done is setup the v2.  When the "Setup" button is clicked, we are asked to setup the volume.  Essentially a volume is how the NAS operating system views your disks.  By default, the NETGEAR X-RAID2 is selected.  It is very similar to the Synology SHR setup we touched upon in our DS212 review and allows you to create a volume with mismatching drive capacities.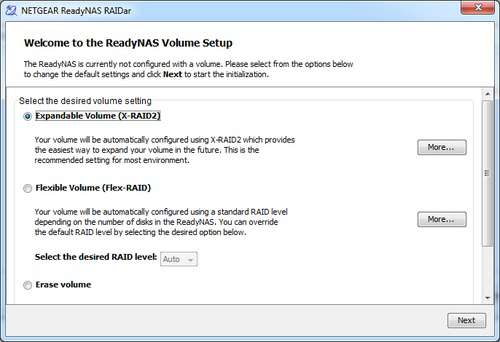 For those that don't intend to expand their storage and feel more comfortable with standard RAID levels, you can select the Flexible Volume option.  This allows you to set the RAID level at 0, 1, or JBOD.
Once setup, the RAIDar application will rescan your network and upon finding your freshly setup v2, will display your firmware version and display health indications for fan speed, temperature and drive health.  One nice thing about the RAIDar program is that it will allow you to locate your ReadyNAS.  When you select the locate button, it will flash one of the LEDs on the NAS itself.  This is a trivial for most but when you have multiple devices that look alike, this is an absolute life saver and I salute NETGEAR for including this incredibly simple ability.  Seriously – I've worked with a lot of enterprise hardware that lacks this basic feature.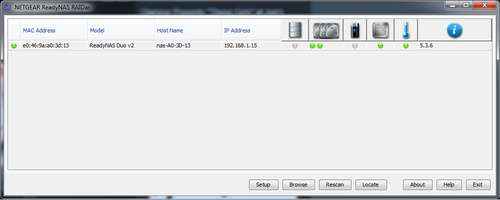 Setup of the v2 once logged into the Web GUI has been cleaned up greatly, making navigation much easier.  With tabs running along the top of the GUI, finding your way around is simple and fairly intuitive.  When you first log in (defaults are admin | password), you are given the overall status of the device.  You can see what services are running, hardware information, firmware version, network settings and volumes.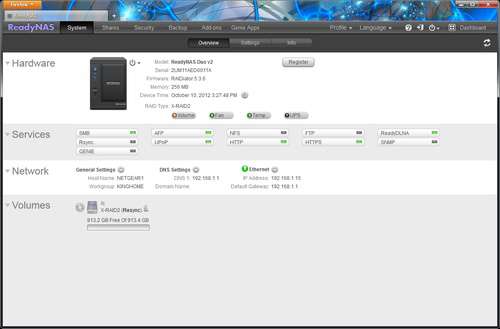 Still in the System tab, the Settings sub-tab allows the setup of security, remote access, power scheduling, updates, backups and monitoring of alerts.  Another setting is the activation of ReadyDROP.  This is fairly new feature that allows the syncing of files between the v2 (or any ReadyNAS device) and an enabled remote device.  Think Dropbox, but within your NETGEAR ecosystem.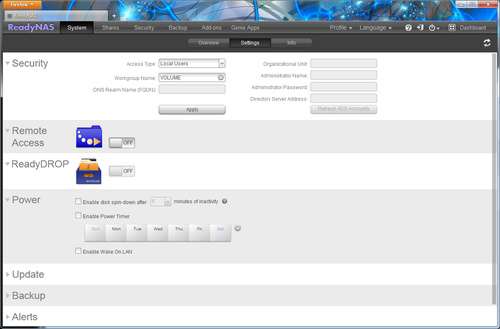 On the Shares tab, the ability to enable the various sharing protocols can be found.  These include SMB, AFP, NFS, RSYNC and HTTP.  You can setup permissions for each of your shares; in this case I have setup a share called backup and then drilling even further, other features can be enabled or disabled such as the Recycle Bin and the discoverability of the share on the network.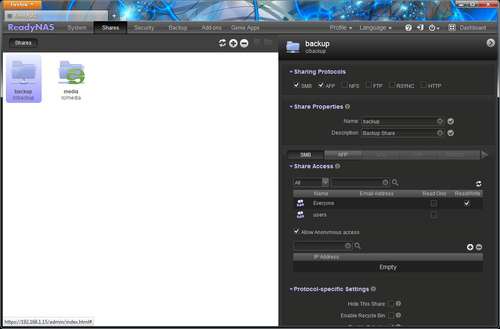 On the Security tab, users are setup and given roles within the overall permissions hierarchy.  You can also setup groups if you are administering more than a couple of users and need to restrict access or lower permissions for certain users.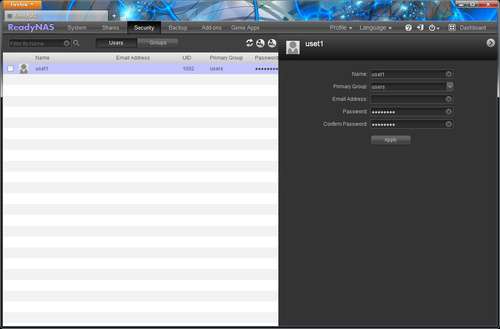 The ability to backup the v2 can be done in the Backup tab.  From here, a backup schedule can be setup.  The ReadyNAS can be backed-up to other RSYNC capable hardware as well as other ReadyNAS devices.  From here you can also change the functionality of the backup button found on the front of the v2, enable Apple Time Machine and finally, setup the ReadyNAS Vault.  The Vault is cloud-based storage provided by NETGEAR that allows an offsite replica of your data.  While not free, the pricing is somewhat competitive.  Below are the features included in the ReadyNAS Vault.
All ReadyNAS Ultra Home Media Servers includes 2 GB for two years.
100 GB Free for 30 days on ReadyNAS Business Rackmount and new ReadyNAS Pro family.
5 GB Free 30-day trial for all other ReadyNAS systems.
No paid subscription required for the above free storage.
There is one significant caveat to the above listed features.  According to the NETGEAR ReadyNAS Vault webpage, the features listed are only good on units manufactured after 10/17/2010.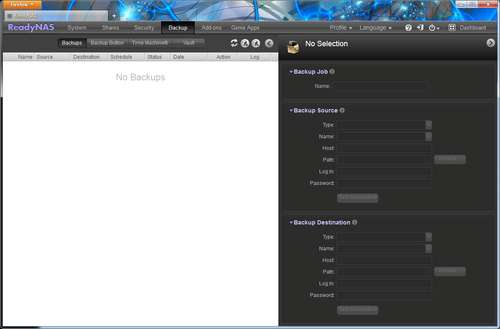 The last tab we are looking at is Genie Apps.  This is a login-required portal to the NETGEAR Genie marketplace and allows remote administration from a list of supported devices – most notably, Windows, Mac OSX, Android and iOS.  This is similar to the third-party add-ons that Synology has been providing for some time, and it's a welcome addition.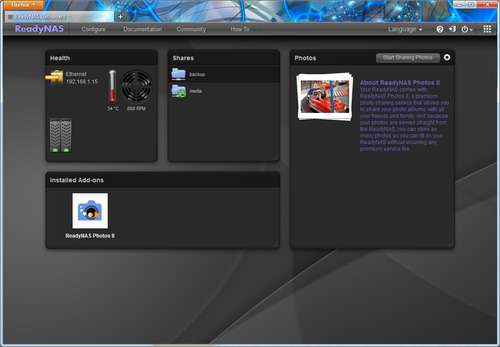 Testing & Final Thoughts
Our testing procedures have been documented in past reviews but to recap, here is our process.
A few years ago, Intel created its own benchmarking tool for NAS devices called NASPT. Short for NAS Performance Toolkit, NASPT is, to quote Intel themselves, NASPT is a file system exerciser and analysis tool designed to enable direct measurement of home network attached storage (NAS) performance.) Essentially what it did was create a tool that mimics day-to-day workloads such as video playback, content creation and office productivity application emulation.
By creating this tool, Intel has made it extremely easy on those of us tasked with benchmarking NAS devices. You install NASPT on a host machine (recommended specs are 32-bit XP SP2 and 2GB of RAM), map a drive on that host that points to the NAS and decide which tests you want to run. These are the specs that I used when building out our test machine.
Test System
Dell Optiplex 755
Intel Core 2 Duo E6550
2GB DDR2 RAM
320GB Seagate 7200 RPM
Integrated Video
Intel PRO/1000 PT Dual Port NIC
Our testbed is a simple, everyday machine that I happened to pick up cheap on Craigslist. It's a very capable PC and one that works perfectly for the NASPT test.
An additional test that we are using in this review is a simple file copy to the v2 and then from the v2.  Using the Windows utility Robocopy, a 4GB file is transferred to the v2 and then back to the local machine after a reboot of the host machine.  This test is run three times, with the read and write times recorded and averaged out.
The disks we are using in the NETGEAR ReadyNAS Duo v2 are a pair of 7200.12 1TB Seagate drives.  It should be mentioned that our review sample shipped with only 1 Seagate 1TB drive.  An additional drive was added to the v2 for RAID testing.   Both drives have matching cache, spindle speed and capacity.
Robocopy
| | | |
| --- | --- | --- |
| | RAID 0 (MB/s) | RAID 1 (MB/s) |
| Read | 82 | 54 |
| Write | 83 | 50 |
Intel NASPT
| | | |
| --- | --- | --- |
| | RAID 0 (MB/s) | RAID 1 (MB/s) |
| HD Video Playback | 47.4 | 46.7 |
| 2x HD Playback | 60.3 | 59.4 |
| 4x HD Playback | 61.2 | 60.4 |
| HD Video Record | 51.2 | 51.8 |
| HD Playback and Record | 51.8 | 52.1 |
| Content Creation | 14.2 | 13.2 |
| Office Productivity | 4.9 | 4.8 |
| File Copy to NAS | 41.2 | 39.6 |
| File Copy from NAS | 37.8 | 47.1 |
| Directory Copy to NAS | 10.1 | 9.9 |
| Directory Copy from NAS | 13.7 | 13.6 |
| Photo Album | 10.1 | 10.1 |
Final Thoughts
NETGEAR's ReadyNAS Duo v2 has proven to be a capable NAS.  Adding to that, the device can be found online for well under $200, and I have found it for as low as $188 without drives.  At that price, the v2 is a steal.
Performance of the ReadyNAS Duo v2 won't set any records, but with anything, you take the good with the "wish it were better."  In my off-the-record testing, I streamed a high-quality Blu-ray rip to my media center from the v2.  Over a wired gigabit connection, I never once had any form of stutter or playback issues.  This, to me, is more than enough reason to appreciate what the v2 can offer.  I personally feel that speed doesn't matter as much as reliability.
While I do expect a device to keep up with what is asked of it as long as my data is stored reliably, I have no issue with the read and writes of the device.  The v2 shines in this respect.  I have admittedly had this review sample in my possession for quite a while; in that time, it's sat on my test bench, powered on and serving data.  Not once was there an issue that needed my attention.  This is the exact purpose that a home NAS should provide.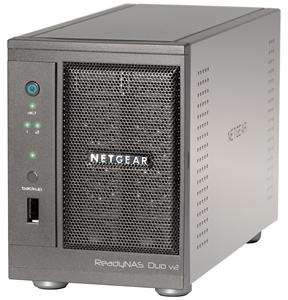 Another wonderful aspect of the v2 is the build quality.  It was mentioned earlier in the review that the NAS is constructed entirely out of metal.  This gives the device a rigid, durable feel.  This is a welcome departure from the plastic NAS devices available today from other vendors. – not that the plastic versus metal debate matters much.  A NAS box will get setup and then rarely ever touched again  but still, the v2 is a tank and I appreciate that.
I can find very little wrong with the NETGEAR ReadyNAS Duo v2.  The Web GUI is intuitive and and the hardware is stable.  If there was one gripe that I have, it's with the lack of iSCSI support.  Synology has long had this feature in all of it's devices and it's been something that I have used on many occasions.  This isn't to say that the exclusion of that feature is a bad thing, but rather, it's something I would simply like to see.  The business-class ReadyNAS devices include this feature but the Duo is left in the cold.
The ReadyNAS Duo v2 is a stable, solid offering from NETGEAR and one that I have no problem recommending to anyone looking for an affordable and stable two-bay NAS.  It's not the fastest, but it doesn't need to be.  It's all that most need and nothing more.
Copyright © 2005-2021 Techgage Networks Inc. - All Rights Reserved.