Nikon Coolpix S50c 7.2MP Digital Camera

Date: June 21, 2007
Author(s): Rob Williams

Sylish cameras are nothing new, but Nikon takes sexiness in cameras to a new level with their S50c. It's curvy, sleek, compact and feature-packed. It includes a huge 3.0″ LCD screen and offers 7.2 megapixel images. Is the smaller frame worth the slight lack of image quality?
---
Introduction
Nikon is well known for producing high-quality digital cameras, most of them being point-and-shoots. Their collection is large, currently with 13 point-and-shoot cameras to choose from. Certainly, they like to give consumers choice. One area where Nikon lacks however, is that they haven't had a near-DSLR quality point-and-shoot for years, except the P5000 which was announced earlier this year. Canon holds the title there, as they have numerous high-quality P-n-S cameras to choose from.
What Nikon does excel at though, is creating the sexiest digital cameras on the market. Yes, I said sexy, and so did Nikon. There is a reason they have Kate Moss modelling off the S-series in their commercials. There's no denying the fact that it's a classy camera, and compact as well. It will fit into a purse, pocket, cleavage.. anywhere.
We first took a look at the S6 last October which is where this cameras style evolved from. Despite its small frame, it has curves in the right places, easy to hold onto and lots of things to love. Yes I am still talking about a camera.
The S50c as I mentioned, is part of Nikon's style series. First and foremost, cameras in this series have to look good. Second, they are not known for offering professionals a slew of options to deal with, but is made easy to use by anyone who wants to take some quick photos and look good while doing so.
Found here is a 2.5″ sensor capable of capturing 7.2 megapixels, aka 3072×2304. This is fantastic for printing, although it's probably overkill for most people to begin with. The lens is a 3x Zoom-Nikkor with a focal range of 6.3-18.9mm with an aperture of f/3.3-4.2. If digital mode is used, zoom is increased 4x, but the results are less than ideal.
One huge gripe I have with Nikon's point-and-shoots is that there is no viewfinder, instead they have a very large 3.0″ LCD screen. This is fine when conditions are right, but I took this camera to a park a few weeks ago and couldn't even see what was going on in the screen because of the sun. I am sure I am not alone here, it's impossible. If you are out in the sun, you can't see what's on the screen, it's common sense. That said, I'd love to see a viewfinder on a smaller Nikon point-in-shoot in the future. The P5000 has a viewfinder, but it's closer to a DSLR with a fixed lens than a point-and-shoot.
That rant aside, the screen has a nice 230,000-dot resolution, similar to what's found on their D-series. The S50c has a larger screen than what's available on those though. The camera has 13MB worth of internal memory and accepts SD cards for expansion. It accepts SDHC cards as well, in case you want to grab a card with a very high density.
ISO is the new megapixel. As the megapixel race is slowing down, the ISO rates are going up. The S50c offers a range of ISO 100 all the way up to 1600. Given the fact that this is a small camera in a modest price-range, I would not expect to see amazing results with anything above ISO 400.
Also included is vibration reduction, which when activated, will drain the battery far quicker. However, VR is an amazing technology that is an absolute joy to use if you are travelling without a tripod. The VR is built straight into the lens, not the body, a plus.
The rated battery life is 130 shots on a single battery charge. After the initial charge, I had the camera die on me after about 100 shots, so I didn't quite make their rated spec. From any viewpoint, 130 pictures per battery charge is horrible, but not uncommon of such small cameras. This is a side-effect of having a custom battery in such a small frame. If the camera utilized AA batteries, the shots/charge ratio would be at least five-fold.
Now that we have covered all the bases, lets now take a look at image quality, color and also our final thoughts.
Picture Quality, Final Thoughts
Nature is one of the most popular subjects regardless of what kind of camera you own, and it's a great test for checking the color and lens capabilities. So, I took a trip to a park near my house to see what the camera was capable of. I will let a few of the pictures speak for themselves. All can be clicked to view the original, unaltered full resolution image. Most are 1.5MB in size.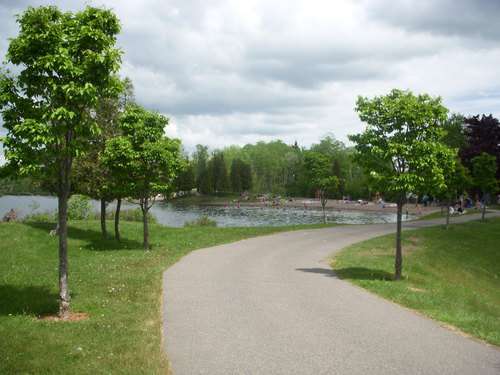 I am pleased with the image quality in the above photos. The color is gorgeous and quite accurate. One thing I noticed through a lot of shots was that the sky was over bright. It could be that the shutter speed was a tad slower than would have been preferred, or the angle I was holding the camera. It happened quite often though, but where it didn't, the shots came out nice.
To show the capabilities of the zoom, here are four images which were taken from the same spot. The first was taken at 6mm, the second at 13mm, the third at 19mm and the fourth at 76mm with thanks to the digital zoom.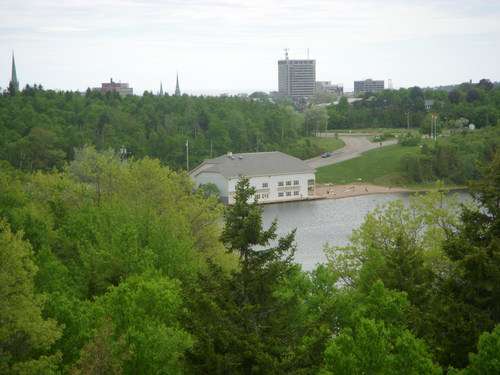 The maximum zoom is certainly nothing you'd want to take serious pictures with, but the result is still quite clear and could prove useful in many situations.
To further show the zoom capabilities and color representation, here are a few non-nature pictures taken of inanimate objects, including the S50c box itself. Something that doesn't happen often is being able to see the tripod legs in the image. This is because the camera lens doesn't extend at all.
Using the optical zoom, you will wind up with a pleasant result, although again at the max digital zoom, it's grainy and fuzzy. Still, you could read a book with it, so its quality isn't that bad. When cropped down, all of the images look fantastic. Note the black box as well, which is actually black, not near-black.
Final Thoughts
I regret not including more photos than I have, but I somehow misplaced most of what I had taken. Though, from what you can see, the camera offers good image quality for the incredibly compact size. I didn't expect such nice results from a camera with a non-extendable lens.
Is it worth the money though, that's the question. Currently, the camera retails for $280 and at that price, it's not difficult to find other cameras with better quality images. However, all of those are larger than the S50c. Whatever quality is lacking here is solely because of its small frame, and to some people, the loss in quality will not matter as long as you can throw the camera in a pocket and forget about it.
I didn't touch a lot on the features here, but there are a slew of them available. Feel free to read any of our previous Coolpix reviews as we discuss them more there, and all of those mentioned are available on the S50c. One aspect I didn't touch on is WiFi capability. You can connect to your printer or computer and upload images. This is one feature I wish I had elaborated on, but will do so with our next Coolpix model that has the functionality.
Overall, this is a packed camera that's worth your time if your goal is to get the smallest camera possible without sacrificing too much quality. If you are after the best quality for the money, you would be better off looking at other models.
Pros
Good-quality images for the camera size
7.2 Megapixel images useful for those who need it
Compact and sleek design
Feature-packed
WiFi Capability
Cons
Battery life (130~ images)
No viewfinder, therefore difficult to use in the sun
Price/quality ratio
Discuss in our forums!
If you have a comment you wish to make on this review, feel free to head on into our forums! There is no need to register in order to reply to such threads.

Copyright © 2005-2021 Techgage Networks Inc. - All Rights Reserved.