NZXT Beta Mid-Tower

Date: May 27, 2009
Author(s): William Kelley

When building a PC on a budget, one of the most difficult components to pick out is the chassis. For many, $100 is the sweet-spot, as it usually gives a solid design and great aesthetics. With the help of the Beta, though, NZXT helps prove that even $50 chassis' can handle the task at hand just fine, and after our look, we're impressed.
---
Introduction
Staying on budget is never an easy task. I can never decide just where to cut those last few dollars so I can get a better graphics card or CPU. Even then, my attention turns to getting faster memory or maybe a more powerful power supply. I can say this for certain… the very first place I look to save money is how much I spend on a case. I would be willing to bet money that most people would also cut their budget in this very same area if given the choice.
Once you've decided to purchase a lower-priced chassis, you then have to consider the trade-offs. If you're running a Quad-Core processor, then you must consider airflow. If you want a high-end graphics card, you must have a lot of room. If you want lots of hard drives, then you must have the space, and no matter how much you may think it doesn't matter, it must have some nice aesthetics, or else you'll completely regret your choice in short order.
Today we are looking at one of the least-expensive cases we've ever had in our lab. Coming in around $50USD, is the NZXT BETA. NZXT is a company whose main focus is to satisfy the needs of PC gamers and hardware enthusiasts. Keeping power users happy is no easy feat, and doing the job cheaply without sacrificing performance is never an easy task. Let's take a closer look and see just how closely they have hit the mark.
Closer Look
The BETA is a mid-tower chassis supporting ATX and mATX platforms. It is built out of steel with a plastic molded front panel. It is a simple design but it is also pleasant to the eye as well. The shipping box was not the usual glossy picture covered type that I have grown accustomed to. Instead I received a very plain brown box with the specs printed on the sides. This is a great way to save us a few dollars. There was plenty of protection offered by the foam padding inside and even UPS could not make a dent in it.
Once out of the box, we take a look at the front panel first we see the top 5 ¼ bays are sporting a mesh design to allow some airflow and the main included 120mm fan (with blue LED lighting) is tucked neatly behind a large grate. The power and reset buttons reside in the front as well.
The left side panel is able to support dual 120mm intake fans should you choose to install them. Thumbscrews are provided for ease of removal as well.
The backside of the chassis is a simple yet effective design. We get our first surprise in that the entire case is painted. This is a feature not found on any case in this price range, and it's sure to please a lot of people. The power supply mounts up top and there are 2 large holes with rubber grommets to allow water cooling lines to pass through. There are also a lot of grated openings as well to help hot air escape.
The right side panel is pretty standard fare other than a stamped area allowing you to get a better grip on it when removing it. This may seem insignificant but I can attest that this does indeed make a big difference over a smooth panel when it comes to removal.
Up top we get our I/O panel. This is another simple yet very effective design. You get dual USB ports, headphone/microphone jacks and an e-SATA port. Other than that there is nothing else remarkable up here.
A closer look at the front shows off the power and reset switches which are also lighted up with blue LEDs. The power switch remains lighted to signify the PC is powered up and the reset switch lights up for HDD activity.
Taking off the left side panel we get a look at the fully painted interior. It is also very important to note that all edges are either rolled or rounded off. I looked everywhere for a sharp edge and found none. This is a remarkable feat for a budget priced unit.
Looking at the inside of the back, it is hard not to notice the lack of an exhaust fan. I understand why they did it since the aim is to save the consumer more money but I am not sure this is such a good idea. Looking down at the PCI slot covers we see they are made of mesh, which is a very good idea and a huge improvement over the usual stamped solid covers.
Inside the front you have space to mount up to four ODD drives and up to six 3 ½" internal drives. While the one of the slots is marked to hold a floppy drive there is no way to access it from the outside so it makes little sense to label it this way. The front intake is housed behind the HDD cage. This does limit airflow to some extent and is another reason I wish they did include an exhaust fan on the back.
There is a fair bit of hardware included to allow tool-less installation of all your drives. We also receive a mini-speaker and all the standoffs and screws needed to build your PC. I do like the inclusion of washers for the motherboard screws as well. A locking tab is also part of the package. One thing noticeable missing is any sort of owner's or instruction manual (not that it is really that necessary if you ask me).
Simply put, out of the box this must be one of the best low budget cases that has ever crossed my desk. I was very impressed with the build quality and the whole package. Most companies just don't put as much thought into their budget offerings and it is refreshing to see one on this level. Right from the beginning I was looking forward to the build process, so let's get to it!
Assembly and Testing
For my testing I used a new program called OCCT 3.0. Not only does this simple program push the CPU to the brink of a meltdown through the use of LINPACK testing for Intel processors, it also turns up the juice on your GPU. It automatically maintains graphs of temperatures throughout your testing. I highly recommend you try it out on your own for your testing needs. I always run all my tests 3 times and take an average just to weed out any erroneous results. My ambient temperature is kept at a near constant 68°F (20°C) year round as my test bed PC is in my basement. There are no fans or heat vents in the area of the test platform.
I use a static overclock and settings for all my testing. Stock testing is done with all settings in the motherboards BIOS to Auto. Overclocked testing is done by turning the CPU multiplier to 11x and manually setting the Vcore to 1.275v as well as enabling line load option. This results in a processor frequency of 3.67GHz with 1.25v Vcore as reported by CPU-Z in Windows. The video card is by nature of being fanless does not over clock enough to change the results so it remains at stock speeds through all testing. This is by no means the absolute maximum clocks, they are just meant to add extra stress to the components to simulate a potential overclock obtainable by most people.
| | |
| --- | --- |
| | |
| Processor | |
| Motherboard | |
| Memory | |
| Graphics | |
| Audio | |
| Storage | |
| CPU Cooler | |
| Power Supply | |
| Et cetera | |
The build process was pretty straight-forward and went off without a hitch. The layout was not completely friendly for wire maintenance, but there were places to zip tie things down easy enough. There were no included ties so I used some from my private stock.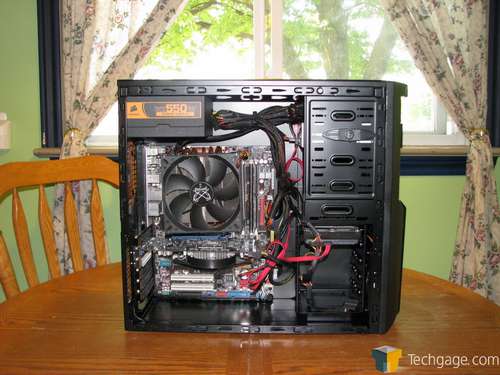 The tool-less locking plates for the ODD drives were extremely effective and easy to use. There is one for each side and they firmly hold the drive in place. They are quite honestly some of the best I have used.
Another feature I very much appreciated was the ability to use a locking screw to lock the hard drives into place. The plastic rails that hold them in were decent, but the ability to lock them in with a screw was welcome.
Finally, I wanted to point out that there is a full 10 ½ inches allotted for graphics cards. As you can see my HD4830 is dwarfed by the allotted room and you should be able to fit any current graphics card inside.
And finally, here are the temperature results for both the CPU and GPU:
Overall, I'm very impressed with the results when you factor in there is only a single intake fan supplying all the airflow for cooling. There is no doubt in my mind that one could expect a 5C-10C drop in operating temperatures once a rear exhaust fan is installed.
Final Thoughts
I must say that overall, I am very pleased with the BETA. When I first removed it from the packaging, I had yet to research the retail pricing. I was taken back when I found out the cost is roughly $50US. I have yet to see another fully painted chassis in this price level. It is amazing how something as simple as paint can really dress up the inside.
The overall design also merits some praise. The optional dual 120mm side intakes are a nice feature and the grating is large so there will be little restriction. The rear panel is also grated for extra airflow and the addition of the mesh PCI slot covers is like the icing on the cake. I am just not used to seeing this level of attention to detail in this price range.
One feature that is usually underwhelming is tool-less drive devices. Here again I was greeted with a very simple yet extremely effective design that holds the drives as tight as screws. They are also easily adjustable and allow for the end user to set the depth of their ODD drives to their taste. The HDD rails are easy to use and effective and the addition of locking screws was a pleasant surprise.
I was somewhat disappointed with the lack of a rear exhaust fan. When you combine the heat load of the processor, graphics card, motherboard and memory there is just too much stagnant air inside. The front intake fan is forced to blow around the hard drive cage so it loses quite a bit of effectiveness as well. I would advise anyone purchasing this case to pick at least one extra fan up. It will definitely make a difference.
Overall I give this case a strong 8 out of 10. As I said before, I have never come across a chassis in this price range with so many features. The low-end market has a new benchmark to hit in my mind and it is not going to be easy for the competition to match it. I would humbly suggest the addition of the rear exhaust fan even if the price were to go up slightly, but the lack of it would not deter me for a second to just install my own as well. Make sure you give this one a thorough look if you just can't cough up the dough for a high-end case.
Pros
Fully painted interior is a high-end touch of class.
Tool-less hardware very effective.
High attention to detail.
Good layout.
Cons
Lack of included rear exhaust fan hurts performance.
Would like more spots to tie down wiring.
Included fan somewhat noisy.
Discuss this article in our forums!
Have a comment you wish to make on this article? Recommendations? Criticism? Feel free to head over to our related thread and put your words to our virtual paper! There is no requirement to register in order to respond to these threads, but it sure doesn't hurt!

Copyright © 2005-2021 Techgage Networks Inc. - All Rights Reserved.