NZXT Panzerbox Classic Series Mid-Tower

Date: July 6, 2009
Author(s): William Kelley

Do you find most mid-towers a little too large, but find small form-factor chassis' to have the opposite issue? The latest entry to NZXT's "Classic Series", the Panzerbox, may have you covered. This sturdy aluminum chassis is neither too large nor too small, yet it still offers ample internal room for effective cooling. It doesn't look too bad, either!
---
Introduction
Where chassis' are concerned, physical size seems to have been thrown to the wayside as of late. Chassis dimensions have grown to the point that most new enthusiast-grade units are all full ATX (aka "Full Tower"). This is fine for people who want the most robust expansion solution possible, yet it has left those of us looking for something more manageable with a lack of choices. No group has been hit harder than the LAN crowd since their motto is certainly not "bigger is better".
Having established themselves solidly in the enthusiast market, NZXT has thrown us a surprising curveball with their latest release in the Panzerbox. Touting oversize cooling fans and lightweight aluminum, this chassis is also one of the very few mid ATX spec cases that has been released in a fair bit of time. Since they have topped that off with a huge list of features and expansion options, I was excited to get my hands on one for a nice test drive.
Just to put this all into perspective, remember this. Coming in with the overall dimensions of 9 1/2″ (W) x 18″ (H) x 18″ (D), this case could even be called small. My first thought was to grasp at just how they thought we could get all of our high-end gear not only installed, but also kept from melting. Add to that the use of mostly lightweight aluminum in the design… I was not even sure if it had the structural integrity to withstand the abuse of a LAN event. Let's take a closer look and find out just how NZXT set out to accomplish their goals.
Closer Look
When the package first arrived, I was taken back as to how small the box was. It was hard to get past the "size matters" way of thinking, I'll admit. Once out of the box though, I was certainly impressed with both the look and feel of the chassis. Along with the extensive incorporation of mesh paneling, the case felt very sturdy overall – a nice plus.
Looking at the front, we can see the more-than-ample 190mm intake fan nestled neatly below the three 5 1/4″ expansion slots. I was somewhat surprised at the lack of external 3 1/2″ slots, but let's face it, there is little need for a floppy drive anymore, and front-mounted USB ports can handle flash card devices just fine.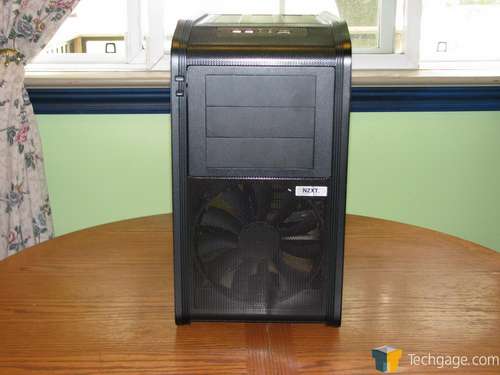 The left side panel is cut to form and sports a mesh ventilation section to allow some fresh air to enter inside. The matte black paint job is good, simple, but clean. There is an unusual power supply mounting design with the Panzerbox that places it directly behind the mesh so you can draw cool air from the outside into your power supply area – a nice feature given the small overall design of the chassis.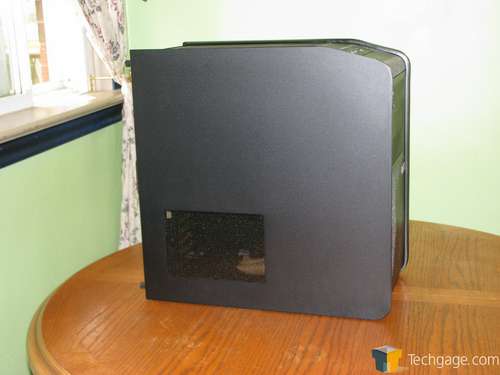 The right side is a mirror image of the left with another mesh ventilation area included. While there is not direct venting in the motherboard tray, it is still a good idea to allow air inside this area since it is usually delegated to dead space.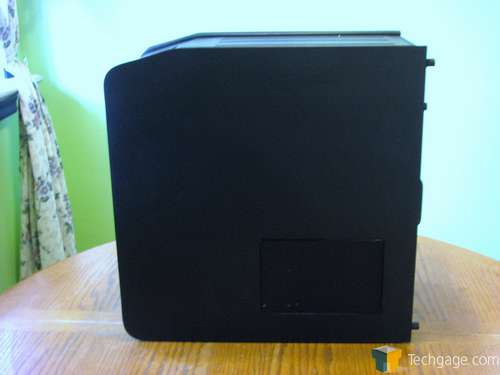 The top is also a mesh design which is open from nearly front to back with another 190mm fan pulling out the heat. The I/O panel is simple and effective with dual USB, Mic/Headphone jacks and an eSATA port included.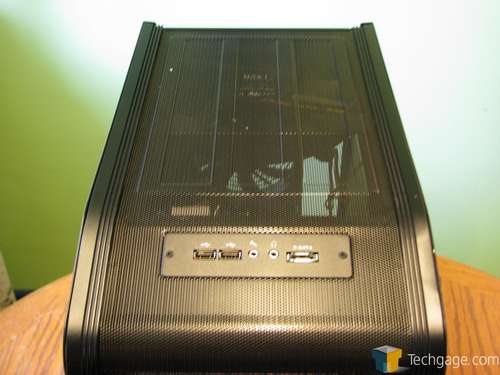 The power and reset buttons are on the top left of the front panel next to the top 5 1/4″ expansion slot. They're nicely implemented and don't feel too flimsy, and below them you can find both the power and HDD LED's.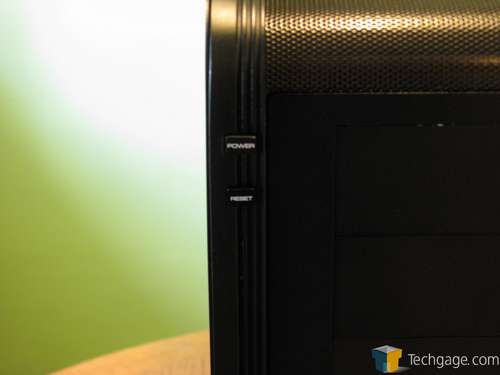 Taking a look to the rear we get our first look at the unusual placement of the power supply. Also notice the extra space over the removable motherboard tray to allow for internal installation of a dual 120mm water-cooling radiator when using the included rails. A single 120mm exhaust fan is included here as well.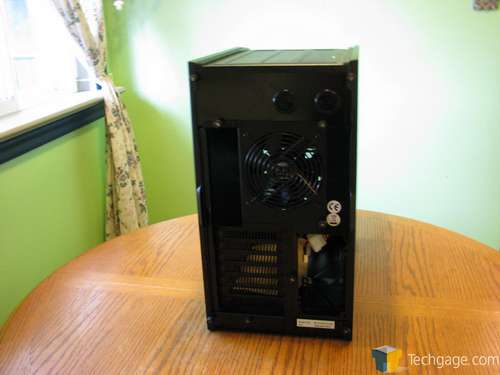 With the side panel removed we see that the entire chassis is painted pure black, inside and out. This has become a feature that pretty much everyone is expecting to see now. This significantly improves the looks of the final build and enhances the conception of quality. Take note also of the overall open feel the interior has, despite its size. There is little for the front intake fan's airflow to run into before it starts doing its job of cooling down your components.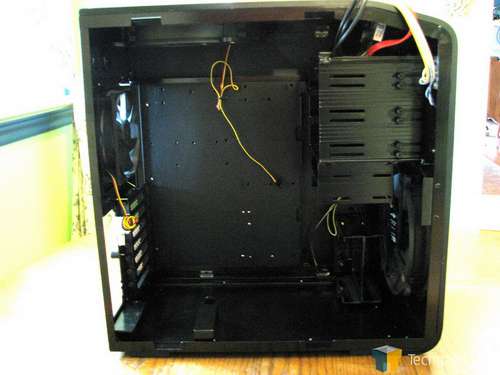 Everything inside the case is made from aluminum and it is well-designed for the most part. There are mounting points for 2 hard drives under the 5 1/2″ expansion slots. This design is twofold since it will also help wick away some extra heat from your drives.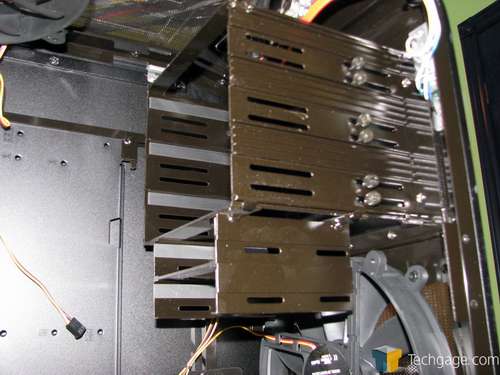 Down below on the case floor there is a mounting rack for two more hard drives right behind the front intake fan. This cage is supported on rubber bushings and secured with a single thumbscrew. I like this design more than a full cage since it does not block the flow from the intake nearly as much as the usual full sized drive cage we see on most cases.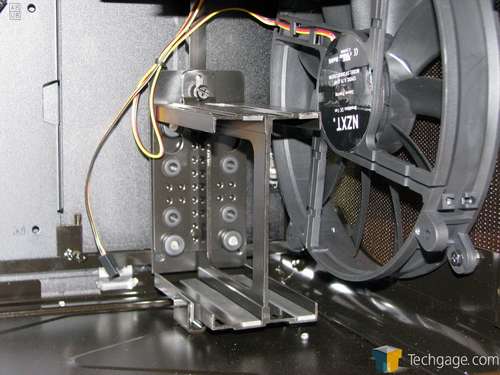 The power supply is located in the lower rear of the case mounting perpendicular to the case floor on two sturdy brackets. This design works well and uses space that is many times simply dead space. It should be noted that there is not much space left between the video card and supply, so be aware of that if you are not using reference cooling.
The rear exhaust fans are mounted where needed to draw out the heat of the business end of your PC. You can see the ample spacing up top that allows the internal installation of a dual 120mm water-cooling radiator as well as pre-drilled holes for later water lines should you choose to mount your rad externally.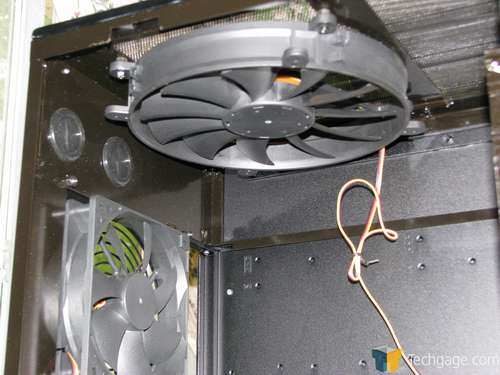 With the removal of 5 thumbscrews, the motherboard tray slides easily out the back. I appreciate the design of this tray and there is plenty of space to allow you to mount the tallest air cooling heat sinks and graphics cards as well (as long as they use reference design coolers). This is a feature I have not seen used in some time and it sure does make assembly a much easier task.
You get all the usual hardware needed to build your PC as well as the brackets I briefly described that will mount to a water-cooling radiator which will allow you to use the factory holes that hold the 190mm fan. This is another feature which is sorely lacking in other designs since most radiators do not have a standard spacing on their mounting holes.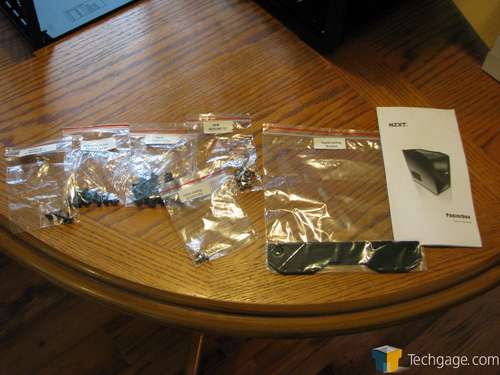 Overall, I'm impressed with both the layout and feel of the Panzerbox. There are no sharp edges to cut yourself on and the design is mostly tool-free. There is a definite feel of solidness despite the very light weight build. If you are going to be moving your PC around a lot, this is another thing that will attract you to the Panzerbox.
Installation and Testing
Before we jump into our test results, feel free to look over the components we used for this build:
Installation of the motherboard and expansion cards was a breeze thanks to the removable motherboard tray. I sure wish this feature was available on most other chassis', especially if it's done this well.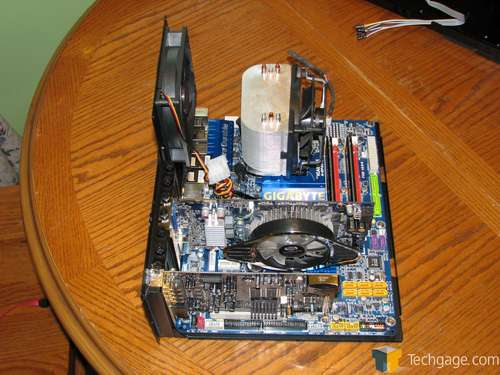 Sliding it back in was just as easy. There were no clearance issues at all and if anything, there was extra space, so overall it was an absolute snap.
Below, you can see a shot that shows just how much room there is for large heat sinks to slide in. While I realize that the Freezer 7 PRO is only 126mm tall, you can easily see that there is almost another 40mm of space for even larger models.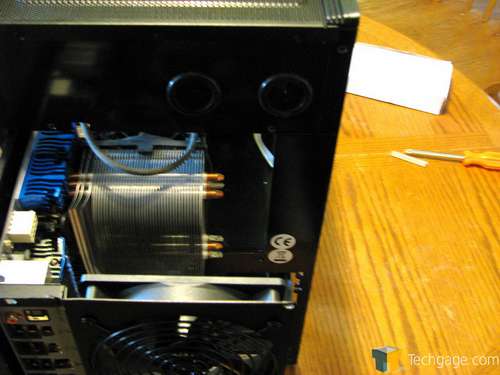 The open interior swallowed up our drives with ease. You have to be a little creative with your wire management since there are not many places to wire tie things securely.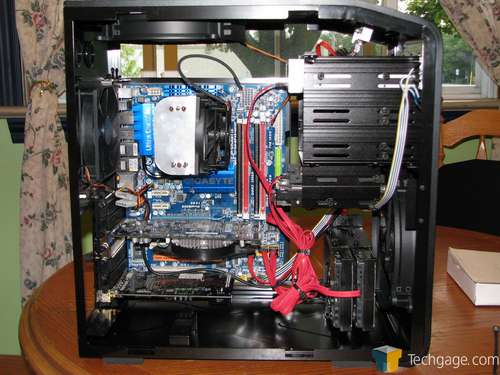 Installing the power supply is the final task. While it did feel strange to place it here on its side, there was plenty of room. Again, any oversized GPU coolers may not cooperate with this layout. For extra wire-hiding, you can tuck them into the space underneath the support brackets.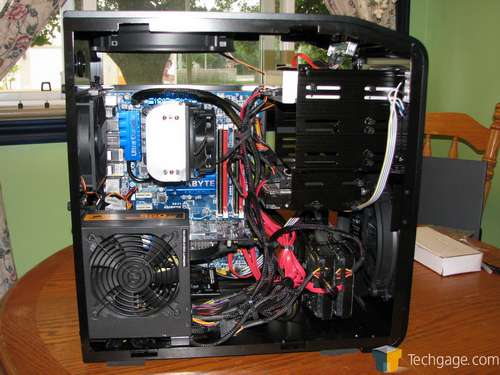 Finally, after installing the side panel, I felt it was necessary to snap my final picture showing the intake fan of the power supply in relation to the mesh panel. Almost all of the fan is open to pull air through. Even users with oversized power supplies will have no worries here about keeping them cool.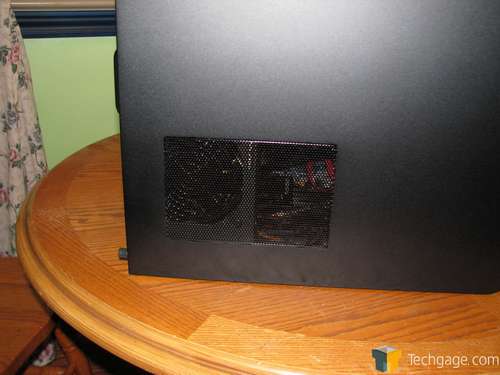 For my testing I used a new program called OCCT 3.0. Not only does this simple program push the CPU to the brink of a meltdown through the use of LINPACK testing for Intel processors, it also turns up the juice on your GPU. It automatically maintains graphs of temperatures throughout your testing. I highly recommend you try it out on your own for your testing needs. I always run all my tests 3 times and take an average just to weed out any erroneous results. My ambient temperature is kept at a near constant 68°F (20°C) year round as my test bed PC is in my basement. There are no fans or heat vents in the area of the test platform.
Stock testing is done with all settings in the motherboards BIOS to Auto. All fan control settings are turned off so that the fan header on the motherboard for the CPU receives full power. Due to the fact we are upgrading our testing hardware which was not complete at the time of writing, I was unable to perform overclocked testing. The testing I have included will give you a great indication of the airflow characteristics and I will be revisiting and reporting results when I am using the upcoming new Quad Core 2 Duo platform that will be the standard of all my chassis reviews for some time to come.
As you can see by my results, there is plenty of airflow. The included fans are noisier than I would like and using a sound level meter positioned 1′ from the front of the chassis I recorded a level of 46.5db. Sadly, most of this noise is due to the rear 120mm ran as the larger fans are quieter on their own. The noise level is not overbearing, but it should not be as loud as it is.
Final Thoughts
At a current retail price of $119 USD, NZXT has built yet another very nice chassis in the often unglamorous mid-tower class. I have yet to see anything else this size which supports anything over 120mm fans which impacts cooling efficiency directly. Also, the use of aluminum in this price range is also not seen often. The final build weight of the test PC was a mere 29.5lbs, so you can see there are tremendous benefits with using lightweight materials.
In keeping with the current trend of high airflow, we are not left wanting when the day is said and done. Dual 190mm fans as well as another 120mm fan allows for a lot of air to move in and around components. Foregoing the traditional hard drive cage which always seems to block the front intake fan is a great idea. I was also pleased that the power supply was given access to fresh outside air for its cooling.
Tool-less designs have been another option that has been taken for granted. I wouldn't say this is a true tool-less case since most thumbscrews were too tight and required a screwdriver to loosen, but this was more of a slight annoyance than anything. I still like having thumbscrews since they are easier to get started when threading them back in.
I was quite disappointed at the high noise levels, though. While the majority of the noise was generated from the rear 120mm fan, the larger 190mm fans were louder than necessary. To NZXT's defense, you can use a fan controller and turn the speeds down for less noise. But, those of us without a fan controller and don't have that capability will want to seriously consider one if noise is a concern.
The Panzerbox's build quality and the attention to detail are the strongest attributes. For such a light piece, I was amazed at the solid design of the structure and the lack of flex. With a full complement of fans included in the purchase price, you do get what you pay for – and then some. If size and weight really matter most to you then you really should take a strong look at the Panzerbox.
Pros
Strong, lightweight aluminum design.
Comes complete with fans.
Compact, yet spacious.
Fully painted interior.
Removable motherboard tray.
Great price (~$119 USD).
Cons
Fans are too noisy.
Non-reference graphics card coolers may not fit.
Somewhat awkward placement of power supply may not appeal to some.

Discuss this article in our forums!
Have a comment you wish to make on this article? Recommendations? Criticism? Feel free to head over to our related thread and put your words to our virtual paper! There is no requirement to register in order to respond to these threads, but it sure doesn't hurt!
Copyright © 2005-2020 Techgage Networks Inc. - All Rights Reserved.