Logitech G633 Artemis Spectrum RGB 7.1 Surround Sound Headset Review

Date: November 13, 2015
Author(s): J.D. Kane

When Logitech announced its Artemis Spectrum gaming headsets, it said that they would deliver "audiophile-like" sound. Now, that's a lofty promise. The company sent us the wired version, the G633, for us to review. Does it live up to its divine name and ambitious promises, or does it fall short, leaving us mere mortals still hunting for a god-like audio experience?
---
Introduction, A Look At The Hardware & Software
In ancient Greek mythology, Artemis is the goddess of the hunt. Daughter of the mighty Zeus and Leto, and brother of Apollo, Artemis is one of the most significant deities in the Hellenic pantheon.
Consequently, anything that bears the name Artemis is supposed to be endowed with a certain status. For example, only a beautiful girl ought to be named after this great Greek goddess.
So Logitech is really saying something when two of its newest gaming headsets are named after her. We wrote about both the G933 (wireless) and G633 (wired) Artemis Surround Sound Headsets a few months ago, noting that Logitech promises both of them to "provide audiophile-like performance." Given the hardware specs and the company's reputation for delivering high-quality products, who's to say either (or both) won't hit such a lofty target?
The company sent Techgage the G633 Artemis Spectrum RGB 7.1 Surround Sound Headset just so we can find out whether or not it can deliver on its ambitious promises.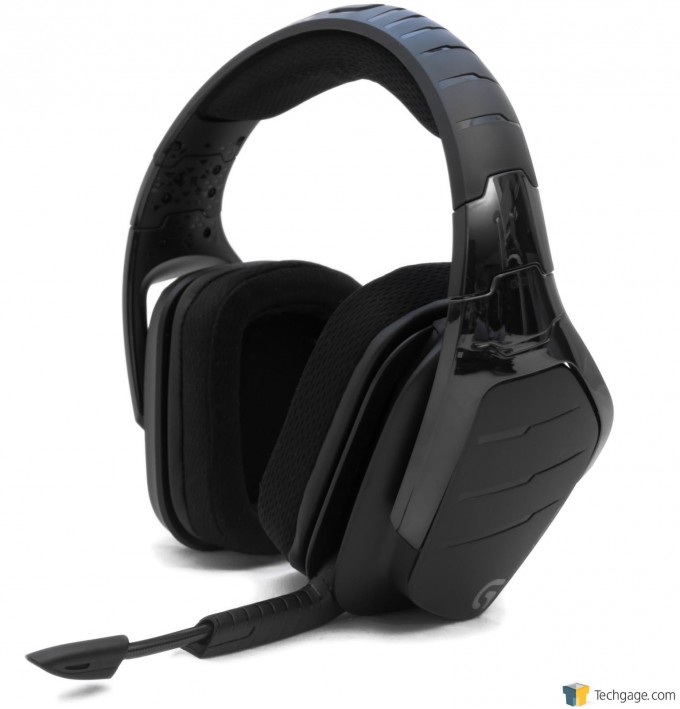 Here we see the G633 Artemis Spectrum RGB 7.1 Surround Sound Gaming Headset. The retractable mic boom has been lowered, with the flexible mic stalk extended.
Following are a few detail shots of the G633 Artemis Spectrum.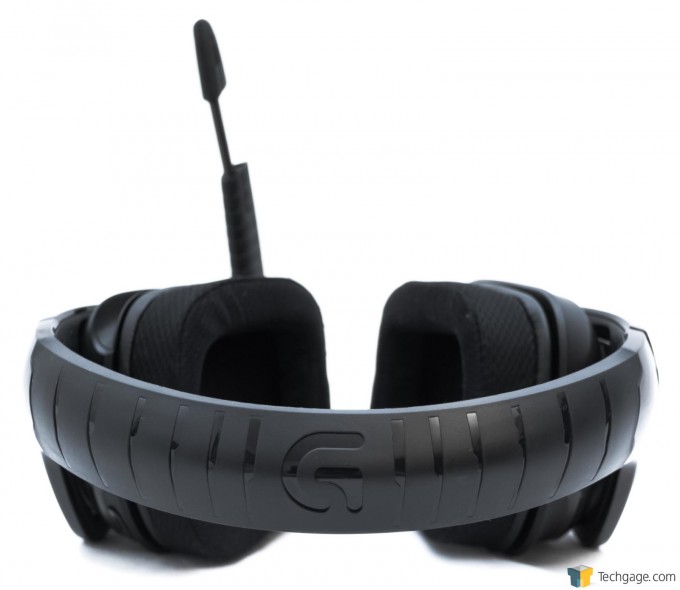 Starting from the top of the headset, you can see Logitech has really gone all-out in styling it to look like a high-quality product. The plastic headband (inside of which is metal) has the Logitech "G" embossed on it, flanked by stylish ribs radiating out towards the extremities. Not shown in this photo is an adequate layer of padding on the inside surface of the headband.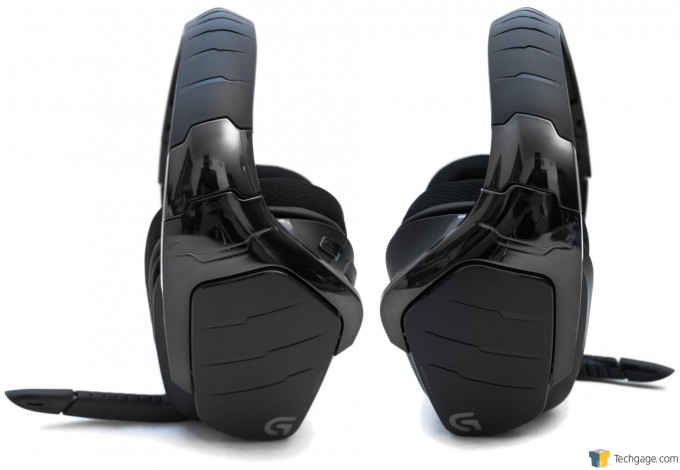 This pic shows the G633 Artemis Spectrum in profile. The asymmetric shape of the ear cups is obvious in this profile shot; they convey a "high-tech" sensibility that is completely appropriate for gamer gear.
Speaking of the ear cups, they swivel up to 90°. Combined with the expandable range of the headband, they make it super-easy for the user to find a comfortable fit. So unless your melon's the size of the planet Jupiter, you should have no issues with discomfort whilst using the G633 Artemis Spectrum.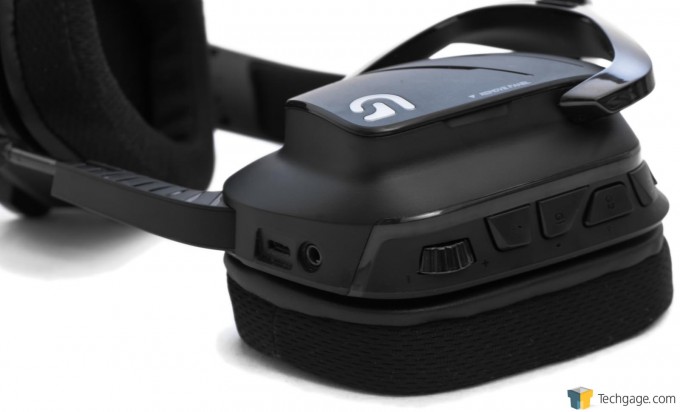 This shot shows the left ear cup in detail. Noteworthy are the two input-output connectors (3.5mm and USB) as well as the array of controls. There is a volume scroll wheel, a mic mute button, three G-buttons (G1, G2, G3) for settings/profile switching, and a USB/3.5mm mode slider switch.
Speaking of the cables, let's have a look at them now. The G633 Artemis Spectrum comes with two sets of cables: A USB cable and a combo 3.5mm cable which features an in-line control pod.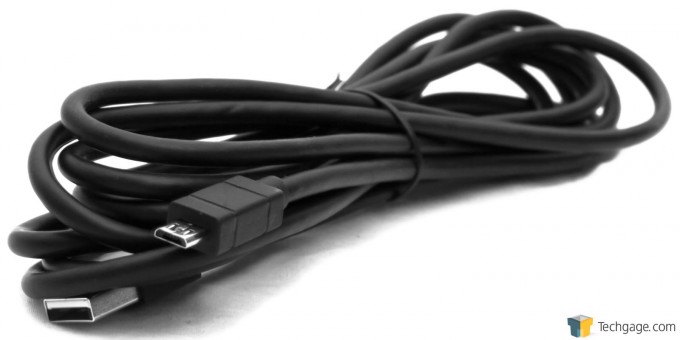 First up is the USB cable, still coiled up as it comes from the package. It's pretty conventional, really, and not worthy of further comment until the performance testing portion of this review.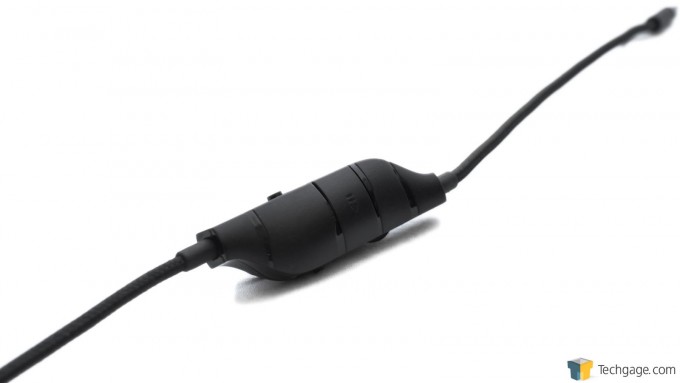 More interesting is the 3.5mm cable. Shown here is the in-line control pod. It has a mic select switch so that you can choose between the mic boom on the headset or the pickup mounted in the in-line control pod, a volume control roller, a mic on/mute sliding toggle for the in-line pickup, and a play/pause/call answer button on the top side of the pod. On the bottom side there is a clip so that you can put the control pod on your shirt for ease of reach.
Logitech designed the G633 Artemis Spectrum to be compatible with PCs, mobile devices, and current-gen gaming consoles. Moreover, you can use have both cables attached to the headset and use a PC and one additional device simultaneously; you can switch between devices using the 3.5mm/USB mode selector switch on the left ear cup.
And here are some technical specifications:
| | |
| --- | --- |
| Driver | 40mm/1.6″ |
| Frequency Response | 20Hz-20KHz |
| Impedance | 39 Ohms (passive), 5k Ohms (active) |
| Sensitivity | 107dB SPL/mW |
| Microphone (Boom) | |
| Mic Pickup Pattern | Cardioid (Unidirectional) |
| Size | 4mm |
| Frequency Response | 100Hz-20KHz |
| Connection Type | USB/3.5mm |
| Noise Cancellation | Yes |
Now that we've had a look at it, let's have a look at the G633 Artemis Spectrum's software component.
Software
It's no secret that I'm a big fan of Logitech's LGS (Logitech Gaming Software). I've raved about it previously, most recently in my review of the G602 Wireless Gaming Mouse. Since this is a Logitech gaming peripheral, I'm keen to see how the LGS works with the G633 Artemis Spectrum.
LGS works with the G633 only when the headset is in USB mode. After downloading and installing the LGS, then resetting your PC, the software is ready to use.
The first screen you'll see is Home. The GUI is clean and attractive, as it always has been. Clicking the Home icon on the GUI returns you to this screen.
When you click the G-Key icon for the first time, the LGS scans your system for all installed games for which there is a default LGS profile compiled by Logitech. Thus far the company has compiled a total of 555 game profiles.
Once the LGS has found the games for which it has profiles, you can then assign functions to each of the three G-keys for each profile. In effect, the G633 Artemis Spectrum thus becomes part of a game's controller set (along with the mouse and keyboard).
Clicking the multi-colored Lightbulb icon brings up the Lighting Settings section of the UI. Here you can manipulate every aspect of the G633 Artemis Spectrum's RGB lighting effects, including changing the color, breathing effects, or even turning them off completely.
The next section of the LGS UI configures the Audio Experience. The icon is of a mixing board, appropriately enough. Clicking this allows you to configure various aspects of the audio experience, including speaker and microphone volume levels, Sidetone level, and bass and treble settings. You can also tweak graphic equalizer settings across a spectrum of audio frequencies according to your tastes. But if you're not that fastidious with your audio, you can simply select pre-mixed equalizer settings according to different usage scenarios.
The 7.1 icon of the UI allows you to further tweak the audio output. Specifically, this section configures the surround sound output. You can select between DTS Headphone X and Dolby Surround modes. Moreover, in Dolby Surround mode, you can tweak the output of each of the seven audio channels. This is good for gaming situations, specifically; I find it's helpful to boost the side and rear channels and dial down the front channels for enhanced spatial awareness, particularly in a FPS.
As an aside, I had a good laugh when I saw the maximum volume level for each channel was 11. Someone at Logitech's software division apparently has a sense of humor.
Clicking the gear icon takes you to the Settings section. This section is sub-divided into four sub-sections. The General sub-section controls LGS-wide settings for the software.
The G633 sub-section enables/disables device startup effect whenever you plug in the headset. This is also where you can update the device's firmware with one click of a button.
The Profile sub-section allows you to designate which user profile is active upon Windows start-up. You an also designate an "always-on" Persistent Profile, if you wish, as well as configure a hotkey for Profile Cycling.
The final sub-section is for Arx Control, which is a Logitech app for smartphones and mobile devices that allows you to control various functions of your Logitech gaming peripheral.
Clicking the triangular Share icon allows you to connect with Logitech via Facebook, Twitter, or with the company website directly.
The ? icon accesses the Help section of the GUI. Here you can ask for help, check for software updates, register your Logitech gaming device, go directly to the company homepage, get the latest information on your device, and learn about the LGS.
The Logitech Gaming Software remains as robust, intuitive to use, and visually attractive as I've always found it.
Let's move on to putting this headset through its paces.
Performance Testing & Final Thoughts
As with all headsets I test, I evaluated the Logitech G633 Artemis Spectrum's performance in three major criteria: Ergonomics, functionality, and sound quality. I feel that these are the most important points to appraise when it comes to this type of equipment.
Ergonomically it is quite good. It sits on my head quite comfortably. If anything, the headband might be just a tad too forgiving. Exaggerated head movements will send this headset sliding off my head; headbangers, particularly if your head is smaller than mine, may find the fit too loose. The padding both on the headband and on the ear cups, though, is high-quality stuff. You can keep the G633 Artemis Spectrum on your head for hours and hours without fear of fatigue.
In terms of functionality, the G633 shines like few others I've tested.
Because it is a dual-mode headset, I tested the G633 both as a stereo headset – which is what it is when it's in 3.5mm mode – and as a surround sound headset. It changes character depending on which mode you're using it in.
Let's start with it in 3.5mm mode.
I used the G633 Artemis Spectrum in 3.5mm mode on both my cell phone as well as on my PC. With my cell phone, of course, you can use it not just as a set of headphones, but as a true headset (i.e., headphones + microphone). I was able to use it to control my phone's media player functions, pausing and playing music with it using the in-line control pod. Moreover, I used it answering phone calls as well.
When hooked up to a PC in 3.5mm mode, the G633 is strictly a stereo headset. Not that that's a bad thing. I prefer my music delivered in stereo anyway, and the G633's performance as a stereo headset did not reveal any nasty surprises. Tracks that have distinct left-right panning mixes played back with good separation in the channels.
Having said that, the sound signature is decidedly on the cold side in stereo. Compared to something like my daily driver Beyerdynamic DT880 Pro, the G633's audio sounds thin and a bit tinny. Given that the drivers are 40mm, perhaps that shouldn't be much of a surprise. Many of its competitors have bigger drivers, after all. For example, the last gaming headset I tested, which has a feature set very similar to the G633's, is equipped with 53mm drivers.
Hook this thing up to a free USB connector, though, and the G633 transforms into something else. For one thing, you get lighting effects. Not that that's important to someone like me, but it's worth mentioning. Gamers, after all, love their bling.
More importantly, though, USB mode makes this a surround sound headset. Though the output is simulated surround sound (you just cannot get true surround sound in headphones), the effect is pleasing, particularly if you're patient enough to tweak the levels in the side and rear channels. When I tested this in FPS games, I found that boosting the side and rear channels and lowering the front channels gave me the "unfair advantage" gamers would want: No one can sneak up from behind or from your blind sides.
Having said that, while spatial sound reproduction is good, the sound quality is still limited by the hardware. Simulated surround sound splits the audio signal, so in the G633, smallish drivers delivering divided signals make the output signal even smaller. The bass feels meek, no matter how much you tweak the sound settings; the mids, too, feel inadequate. As it was in stereo mode, the sound is just thin. I think the drivers are just way too small for a truly satisfying audio experience.
While this is a sobering negative, at least Logitech can be proud of the solid integration between its hardware and the LGS. Whether it's tweaking the lighting effects or configuring the graphic equalizer for the best possible sound output, the LGS is ultra-responsive.
Let's finish things up.
Final Thoughts
I hate to say it, but Logitech fails to live up to the godly aspirations it set for itself by naming this headset after a Greek goddess.
It's not quite "audiophile-quality" audio. I mean, it's not even as good as some of its market competitors that have been on sale for many months now.
Strangely enough, the G633 Artemis Spectrum RGB 7.1 Surround Sound headset is let down by its hardware specification. While the mic works well enough and it performs as a dual-mode (3.5mm/USB) headset as designed, the sound quality is such a huge letdown. I truly believe that the 40mm drivers just are way too small to deliver on Logitech's lofty promises.
Not that numbers are the end-all/be-all to anything. The Beyerdynamic DT880 Pro is equipped with 45mm drivers, but it sounds gigantic compared to the G633. Granted, the DT880 Pro is an entirely different class of audio equipment, but to put things into an appropriate context, 40mm drivers really are tiny compared to the 53mm drivers from another gaming headset with a similar feature set as the G633.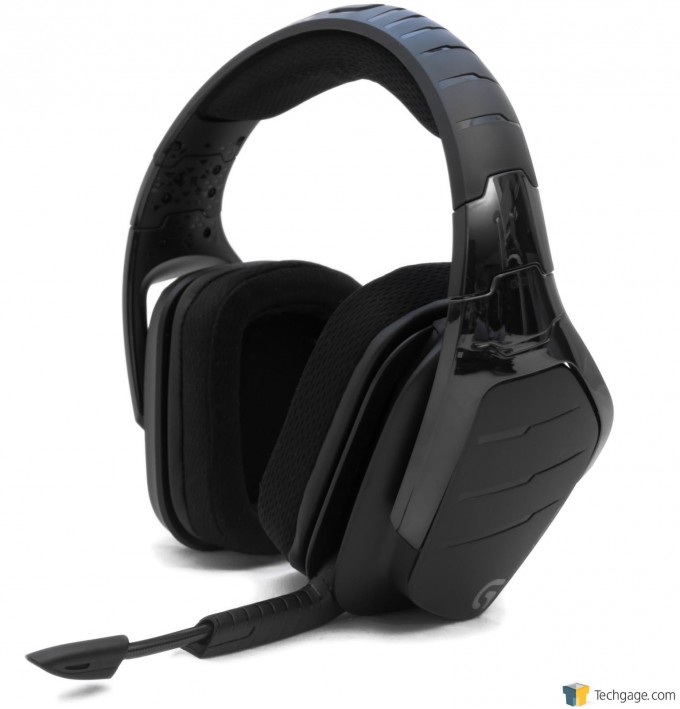 Another niggle I'd mention is the somewhat loose fit of the headband. I've said often that my melon is probably bigger than many other people's, so it's somewhat disconcerting to find the headband fit to be how it is. I mean, how would it fit on someone with a smaller head than mine? Kind of scary.
These are somewhat strange observations given Logitech's excellent and well-earned reputation for excellence. It's not often when I find Logitech dropping the ball in such obvious ways.
On the plus side, the G633 Artemis Spectrum works well with its software component. The LGS remains the best software for gaming peripherals that I've used, and it helps cover up some of the G633's limitations. The responsiveness of the hardware to tweaks to the software is impressive as always.
But it doesn't eliminate the issues.
The $149.99 MSRP doesn't help, either. That's a fairly steep price for what is an adequate stereo gaming headset that also functions in 3.5mm mode; it's nothing near fair for a product that delivers sub-par sound quality, even if that sound quality improves a bit when used in USB mode and in surround sound.
Sorry, Logitech. I think you'd better summon the powers of Artemis and keep on hunting for a better 7.1 surround sound headset design.
Pros
Good-looking visual design.
Comfortable – if somewhat loose – fit.
Superb versatility and functionality.
LGS integration.
Dual 3.5mm/USB mode.
Surround sound capability.
Cons
Poor sound quality.
Questionable value given price and performance.
Copyright © 2005-2019 Techgage Networks Inc. - All Rights Reserved.