Ripping Your Blu-rays the Easy and Free Way
Date: August 4, 2010
Author(s): Rob Williams

Do you think that getting a Blu-ray movie off of its disc and onto your PC is complicated? It once was an arduous chore, but today, it's easier and more accessible than ever. We take a look at one of the simplest ways to both rip a movie onto to your PC, and then encode it into a variety of formats. Best part? It will cost you $0.00.
---
Introduction, Ripping Your Blu-ray Movie
A couple of years ago, many people had little intention of adopting Blu-ray technology, primarily due to its cost-of-entry. Today, that concern is almost gone, as it's easy to find Blu-ray readers for the PC for as low as $60 online, and stand-alone players for the TV for not much more. Then of course there are the movies themselves. There once was a time when even a re-release of a movie would run you at least $20, but today, Blu-ray's can be found en masse for $10 and up.
As Blu-ray continues to become more affordable, so do our storage devices. Today, you can deck out your desktop or server with copious amounts of storage with ease, and without breaking the bank. Taking advantage of sales, you can score 2TB hard drives for as low as $100, and regardless of what you're planning to store, drives like that avail a lot of breathing room.
Thanks to this combined affordability factor, many people are building HTPC's and home servers like never before, because with a little bit of money, you could truly build the ultimate content-delivery machine. Not to mention, today's popular media center software solutions can play pretty much any codec under the sun, so all of your media only has to be a click away.
In today's high-definition age, it's no doubt the goal of many to rip their Blu-ray movies and get them onto their HTPC for the sake of easy access. Unfortunately, this process has always been a little complicated, which is a stark contrast to DVD's and audio CD's, which by today have become a non-issue. Blu-rays are locked down with various protections though, and require many more steps in order to ultimately end up with a single file that can be played on many different media players.
Our goal for this article is to teach you how you can both rip your Blu-ray movies and encode them into a format that's easier to manage, while retaining the excellent quality that Blu-ray delivers. Please note, though, that as ripping Blu-ray movies involves using applications that bypass protections put in place, such as BD+, AACS and BD-Live, usage of the software mentioned might be in violation of certain laws in your country. If you're concerned with this, you should investigate this first.
Ripping Your Blu-ray Movie
In Blu-ray's earlier days, ripping the movies from the discs was a complicated process. In fact, it took a couple of years before it became possible at all, with the first such software product to pull it off being SlySoft's AnyDVD HD. Today, though, there are additional options available, but the easiest-to-use that I've come across, and the least-expensive (free) is DVDFab's HD Decrypter.
In the full-blown version of DVDFab's Blu-ray to Blu-ray, you can do things such as clone the disc, rip to mobile, compress, save as an ISO, rip only portions of the movie and so forth. Both SlySoft and DVDFab's flagship applications offer similar functionality, but only DVDFab offers people the free option of simply ripping the disc to the PC verbatim (1:1).
The first step is to of course go and download the application off of the developer's website, then install it. Depending on your version of Windows, you may have to reboot, but under Windows 7, I didn't. The first time you load the application up, you'll see an overview look your various DVDFab licenses. If HD Decrypter is the only tool you have a license (albeit free) for, that's all that will be available. The other programs listed can still be used from the get-go, but will activate a 30-day trial as they are not free.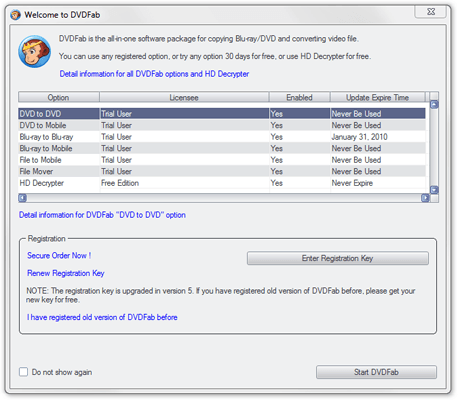 Once loaded, DVDFab will automatically begin reading your Blu-ray movie from its drive, and will load the various bits of information you might need to know. Of most importance will be the amount of drive space it's going to take up, because with Blu-ray, the 1:1 rips could take upwards of 50GB. In the case of the movie I was ripping here, Donnie Brasco, the completed rip was about 40GB.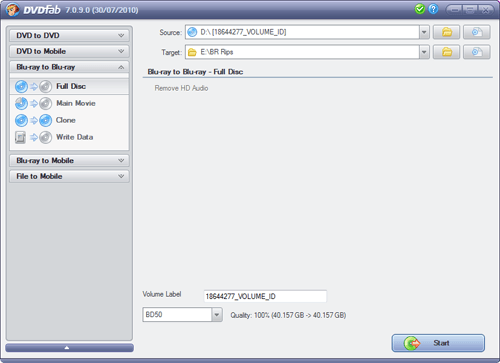 By default, the application will select the same ROM drive for burning, but since this free version of DVDFab only allows copying to the hard drive, you'll need to browse and search for an output folder. Again, because DVDFab offers a free trial, you could burn directly to another Blu-ray disc immediately after ripping, but since that's not a free option, and not the focus of this article, I didn't test it out.
In some cases, DVDFab will allow you to remove the HD audio portion from the disc if you don't need it, in order to save space, but for some reason, this particular Blu-ray didn't allow it (most do). From here, hit "Start", and you'll quickly be greeted by a pretty status bar: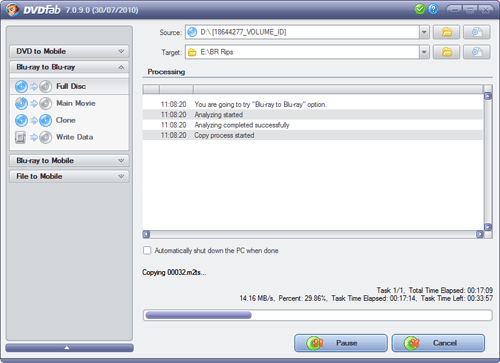 Handling Blu-ray in any way usually requires a bit of patience, and ripping one to your hard drive is certainly not an exception. For me, the average rip took about 45 minutes, but some took upwards of an hour. Depending on your PC's specs, especially your BD-ROM read speed (mine is 4x), this process may take longer or finish quicker.
If the rip process completed successfully, the program will greet you with that fact:
I can't say for sure if DVDFab will be able to rip 100% of Blu-ray movies out there, but out of the 15 I tested, it processed all of them without issue. That's not the biggest upside, though, but rather the fact that the entire process was easy. It required nothing more than dropping in a Blu-ray and clicking "Start".
With our disc ripped to the PC, the next step is to demux it and create a file that's a bit more manageable – and one that will play in a wide variety of players. Fortunately, the solution to take care of this is again free, and very easy.
Converting your Blu-ray to a Single File…
In searching for the easiest application to use to convert a Blu-ray rip into a single file, I found myself frustrated. The problem isn't so much that there's a lack of applications to do this seemingly simple task, but it's the fact that there are too many. It's almost impossible to download them all and dedicate time to each for testing.
For DVD's, there are many applications out there that allow you to simply load up the ISO or individual files and export to a single file or multiple files, but for Blu-ray, finding such a thing was complicated – at least while thinking along the "free" line. It could be that there are professional tools for accomplishing the same thing, but I'm unaware of them, and either way, those are likely to cost upwards of $100, and likely much more.
Then I stumbled on an application that looked to deliver exactly what I was looking for, and fortunately, it lives up to all of its claims. It's called RipBot264, and it takes out a lot of the hassle of dealing with a bunch of different applications to end up with the same finished product. With it, you won't have to manually demux the video and audio… you simply click a couple of options and go to sleep (yes, it takes a while to complete).
What RipBot264 allows you to do is take a Blu-ray file (.m2ts), rip out the audio and video, and then convert it all into a format that you can take anywhere. We're not talking only about to your HTPC, but even your mobiles as well, including the Apple iPod and Sony PSP. The best way to show off the program's functionality is to simply talk about it, so let's do that.
Currently, the developer of this software doesn't have an official website, so you'll have to grab it from an official thread on the Doom9 forum. If you run into issues with the program, this is the same spot to ask questions.
Once installed and loaded up, the program is likely to display this screen: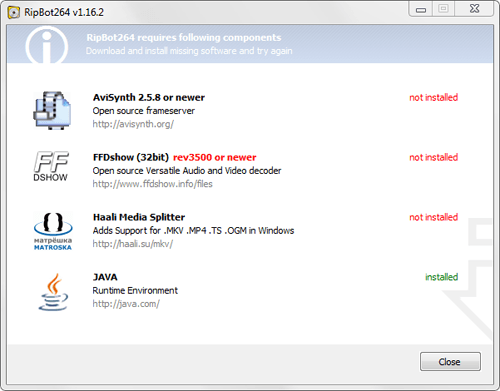 RipBot264 is mostly a front-end for other applications, those of which will be listed here. In order to access the program at all, you'll need to download each one of these mentioned and install them. You can simply click on the URL's under each name to go straight to that software's website. For the sake of making sure nothing went wrong, I installed AviSynth and Haali Media Splitter with all options enabled, while I installed FFDshow with default options.
Once done and into the application, you're left with a very simple interface. From here, you need to click the subtle "Add" button towards the bottom-right corner.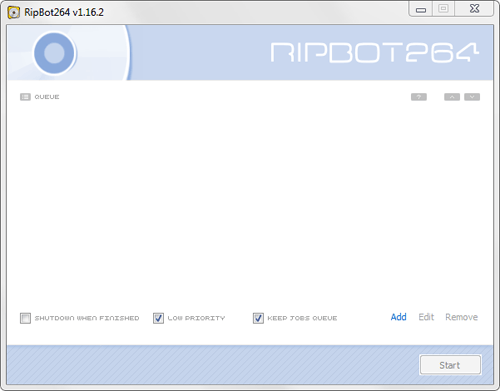 This will bring up a Windows prompt, enabling you to go and find the video file you want to handle. This file might be located in a slightly different location depending on the Blu-ray, but most often, it's found in the BDMVSTREAM folder. Here, a variety of Blu-ray files are located, and most often, the movie is the largest file in the list. In this case of Donnie Brasco, that file is a staggering 39GB. If your Blu-ray happens to have multiple large files, the "Length" section of this dialog might help you better single out the proper file.
After you select the appropriate file, RipBot264 will automatically begin scanning the file for various bits of information, such as the number of chapters, the available audio streams, and also subtitle information. From here, you can choose whichever options from each you want. For the audio, you probably want to select the best possible option, unless you plan to rip to a mobile. You'll also want to disable chapters if you want a single file result, and also subtitles if you don't want them to be included.
>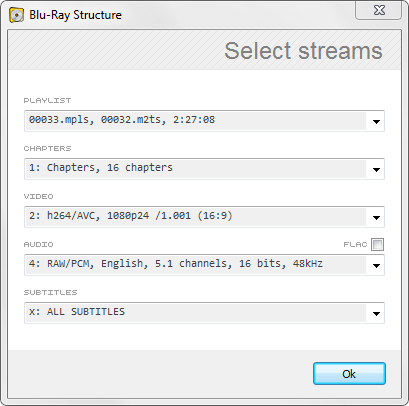 Before moving on, you might want to decide at this point whether or not you'd like to encode the audio into FLAC, which on average would deliver a bitrate of over 1,000Kbit/s. Depending on the audio track and end format, RipBot264 might not be able to include higher-end audio than this in the final product, and if not, then you'll cap at 640Kbit/s AC-3. That's by no means poor, as it's 2x the top-end bitrate for an MP3, but for those with higher-end sound-systems, FLAC or lossless audio might be preferred. For some reason, after this screen is passed, you'll be unable to choose FLAC, which is unfortunate as the only way to get it back is to reload the file.
Converting your Blu-ray to a Single File Cont., Final Thoughts
Once you make your selections and proceed, you'll be waiting a few minutes (or many minutes) for the program to scan through the file and demux the chosen streams. For most of the movies I encoded, this process took around 15 – 30 minutes. When the program is done with what it needs to do, you'll be able to choose between a couple of different options that will tailor the resulting file to your needs. The absolutely first thing to choose is the output format. The options are MP4, MKV, AVCHD and also DivX Plus.
The choice here is going to be based on personal preference, but for me, I tend to stick with MKV, but if you want the resulting file to play on something like a PS3, you might want to choose MP4. Or, if you want MKV now, and possibly MP4 later, you could do what I do and use mkv2vob to get the job done, as it's a quick solution.
From here, you can choose the video profile you want to use for encoding, and also the quality level. For most people, the default settings are going to suffice, as the end result is going to be as close to Blu-ray quality as possible, but at a quarter of the size. If you're looking to encode for a mobile platform, you'll have to select the respective profile from the drop-down. Bear in mind though, some of these devices won't play files over 4GB in size, so you will need to be careful about the options you choose.
If you're like me and are really fussy about end quality, you might be a little concerned about the default encoding mode and value. For the most part, a Constant Rate Factor (CRF) of 22 is going to deliver superb image quality without going overboard with the file size.
Though not a truly comparable example, this is somewhat like comparing CD Audio to FLAC to MP3. CD Audio has a CBR of 1,411 Kbit/s, while FLAC can get that down to 800 ~ 1,200 Kbit/s on average and still be considered "lossless", since the purged data is unimportant. Then there's MP3 which filters out actual data but not in such a way that it will be noticeable to the listener.
The higher the CRF number, the lower the overall bitrate is going to be, and the smaller the file. The lower the number, the beefier the average bitrate and file size becomes. CRF is a smart algorithm, though, and in essense, the bitrate throughout the movie will vary depending on the type of scene – lower when it's not needed, and higher when it is. In the end, it delivers the best possible quality for a given file size, and in many polls around the Web, 22 seems to be the best-received default value. If you are worried that your rip might still be lacking some quality, you might want to change the value to 20, and if you want archival quality, you could use 18.
For mobiles, you might want to change the "Mode" to 2-pass, and then select an appropriate bitrate. For things like iPods, PSP's and similar devices, it's easy to choose an overkill bitrate, so 3,000Kbit/s or around there should deliver the best quality and still retain a modest file size.
For audio, there are a bunch of choices to be found in the respective profile to the right. You'll have the choice of encoding for 2.0 up to 5.1 audio, and in some cases, you can choose to use a direct stream, which is lossless. As mentioned before, not all movies and modes allow this option, but typically if the film includes DTS support, it will.
Under the "Properties" section, you can choose to resize the final picture, crop it, add a de-noise filter and also take care of other tasks. For most rips, these options should be left alone, since it will preserve the film as best as possible.
At this point, you're almost home free. You just need to okay your selections, and when back at the main list, you can hit "Start". Unless of course you want to add more tasks to the pile, which would be useful if you know you're not going to be at the PC for a while and need a lot of encoding done.
Final Thoughts
Compared to DVDs, Blu-rays can take much longer to encode, and I do mean "much". For most movies I encoded, they took around 4 hours to complete on AMD's six-core Phenom II X6 1090T. On a Core i3-350 notebook, a similar process took 8 hours. So, don't expect to set it and forget it for only a half-hour. It's work like this that gives sleep-time new meaning! Unfortunately, there just doesn't seem to be a method for ripping and converting Blu-rays any faster, but I'd love to be corrected if I'm wrong!
After the entire process is done, you'll have your resulting file ready to go and ready to be used in any way you see fit. And with a file resulting in at 6GB – 12GB, you're going to have a lot of room left over on that 2TB hard drive for even more rips. On-demand has new meaning!
In the future, I'd like to revisit this entire process by writing a more in-depth way of ripping and converting, but as I'm still a relative beginner in this, I have a lot of research and experimentation to do. If you have advice, or would like to recommend another method of ripping and re-encoding, please feel free to jump into our related forum thread and give your suggestions there.
For screenshots of a few movies I ripped with the exact tools and steps I laid out here, head on over to the next page.
Discuss this article in our forums!
Have a comment you wish to make on this article? Recommendations? Criticism? Feel free to head over to our related thread and put your words to our virtual paper! There is no requirement to register in order to respond to these threads, but it sure doesn't hurt!
Rip Examples
Below are screenshots taken directly from the rips I created using the methods mentioned in the article. Please note that I took these shots while using a display resolution of 1920×1200, not 1920×1080, hence the wider-than-usual black bars.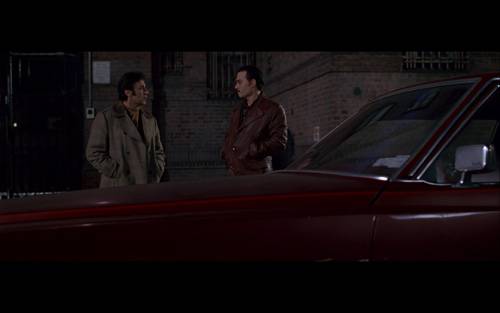 Donnie Brasco (Tri-Star, 1997)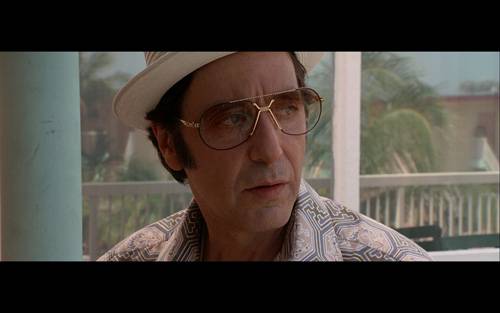 Donnie Brasco (Tri-Star, 1997)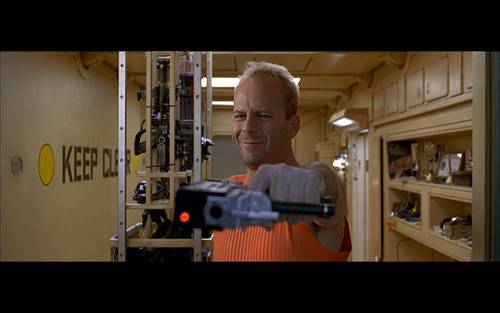 The Fifth Element (Columbia Pictures, 1997)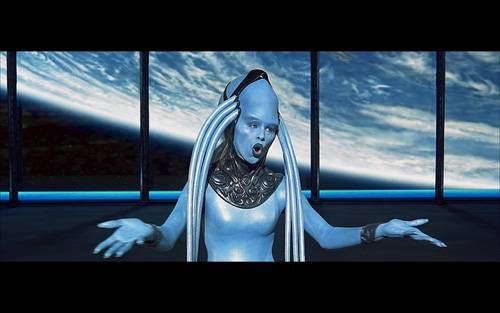 The Fifth Element (Columbia Pictures, 1997)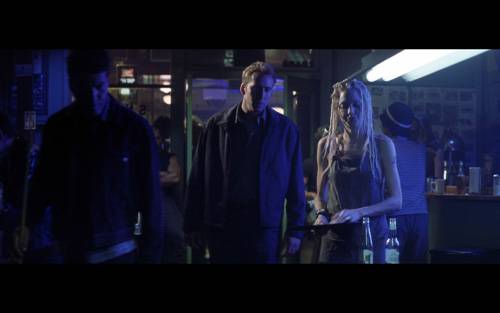 Gone in 60 Seconds (Touchstone Pictures, 2000)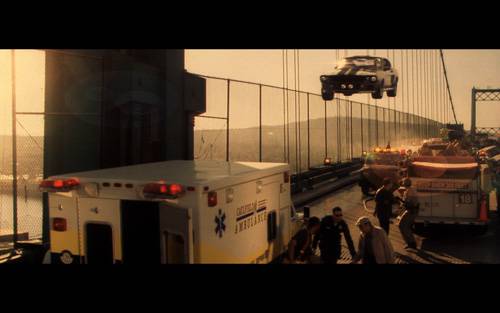 Gone in 60 Seconds (Touchstone Pictures, 2000)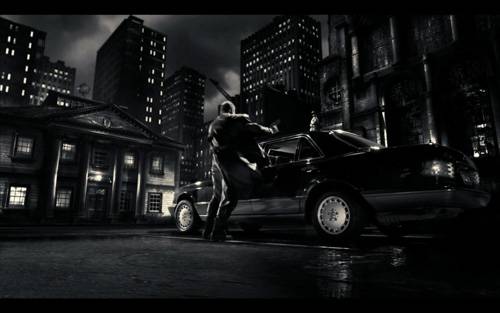 Sin City (Dimension Films, 2005)
Sin City (Dimension Films, 2005)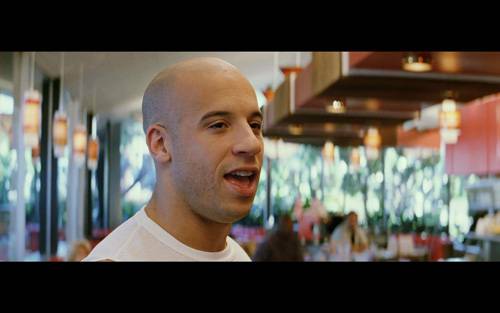 xXx (Columbia Pictures, 2002)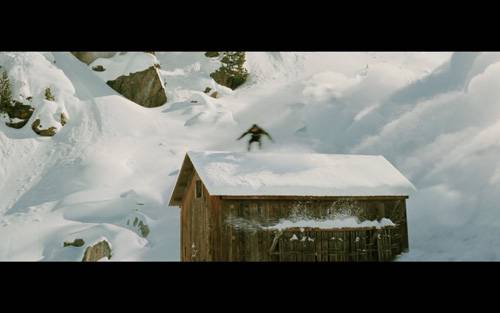 xXx (Columbia Pictures, 2002)
Discuss this article in our forums!
Have a comment you wish to make on this article? Recommendations? Criticism? Feel free to head over to our related thread and put your words to our virtual paper! There is no requirement to register in order to respond to these threads, but it sure doesn't hurt!
Copyright © 2005-2020 Techgage Networks Inc. - All Rights Reserved.