ROCCAT Kave XTD 5.1 Surround Sound Gaming Headphones Review

Date: March 24, 2014
Author(s): J.D. Kane

ROCCAT impressed us with its Isku FX gaming keyboard last year. This time around the company sent us its Kave XTD 5.1 Surround Sound gaming headset. With a "true" hardware-based surround sound design, as opposed to a software-emulated one, how good is the Kave XTD 5.1? Find out as we put it through its paces.
---
Introduction
Almost a full year ago, I reviewed ROCCAT's Isku FX gaming keyboard. While it didn't quite earn Techgage's Editor's Choice award, it still impressed with its long list of gamer-friendly features. Today we have something new from the good folks at ROCCAT: The Kave XTD, a 5.1 surround sound gaming headset.
This is something of a cherry-breaker for me. You see, this is the very first time I've ever sampled a hardware-based surround sound solution. I did review a surround sound headset several months ago, but that was more of a software-emulated type of surround sound. After all, that headset had just one speaker driver per ear cup; the surround sound effects came from the in-line USB sound processor which worked in conjunction with a software package that had to be configured to get the best effect. If the user chose to not plug in the USB sound processor, that headset functions fine as a stereo set.
In contrast, ROCCAT's Kave XTD 5.1 features three drivers in each ear cup. Just by knowing this fact alone, you'll know that this is a hardware surround sound solution.
As an aside, knowing that the Kave XTD 5.1 has six speakers in total, calling this a 5.1 surround sound headset is a bit strange. Convention dictates that audio solutions define "5.1" as having five discrete speakers specifically arrayed as two front speakers (L & R), two rear speakers (L & R), and one speaker directly in front of the listener, with the ".1" specifying a separate subwoofer. Therefore, any headset declaring itself as a 5.1 (or 7.1, which adds two additional speakers directly abeam of the listener) system is fudging convention somewhat because, well, there is no center channel. Not only that, but the subwoofer has to be split in two as well.
Having said all this, as long as what the listener hears approximates a true (that is, a non-headset based) 5.1 surround system, then the job is done.With that preamble out-of-the-way, let's have a detailed look at ROCCAT's Kave XTD 5.1 surround sound gaming headset.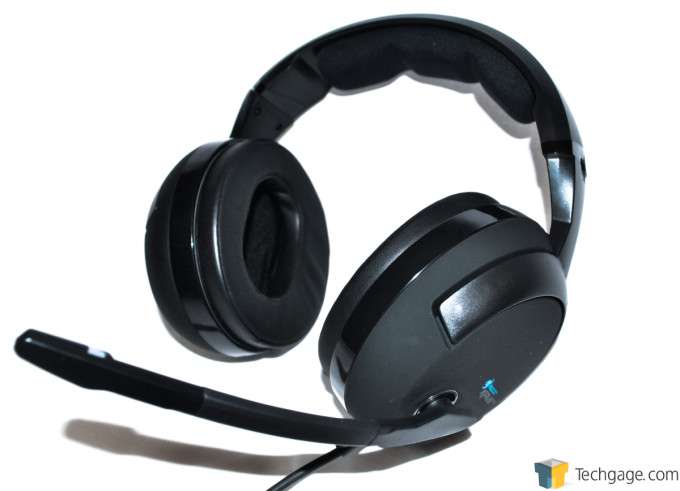 The ROCCAT Kave XTD 5.1 is a fairly robust-looking yet stylish piece of kit. Somewhat reminiscent of the company's Isku FX gaming keyboard, it is clad in a preponderance of an almost black matte grey, highlighted in a few places by satin and gloss black. Also catching the eye are the baby blue and grey logos on both ear cups.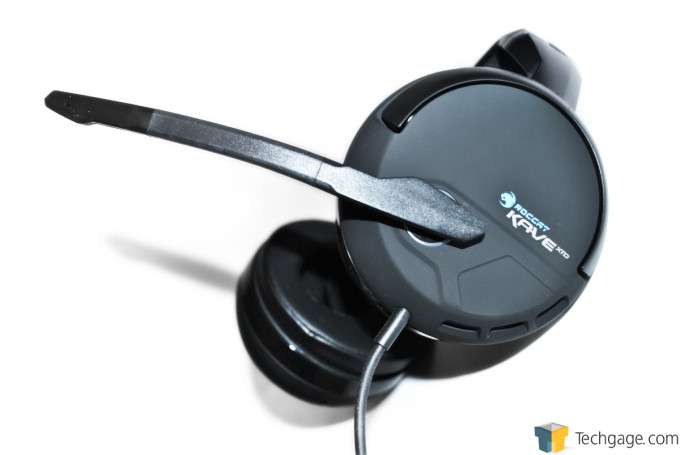 Per convention, the left ear cup is where both the microphone stalk – which swivels up and down – and the cable are connected. The mic stalk is detachable. Just aft of the mic pickup is an LED that glows light blue when the mic is muted.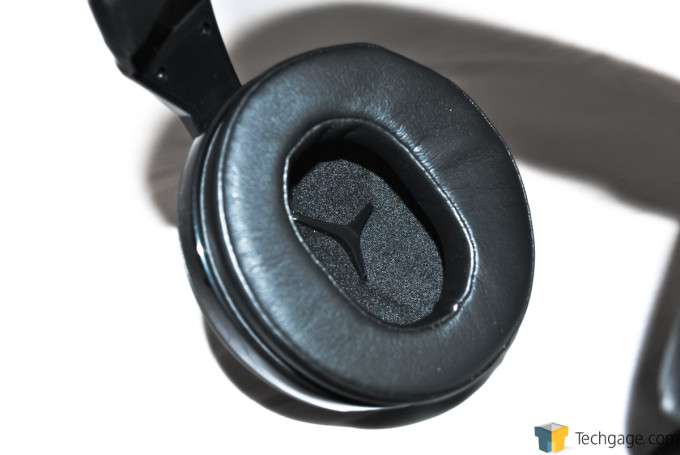 Pictured here is the inside of the right ear cup. The Y-shaped detail in the middle of the ear cup is a visual clue of what's beneath the protective lining.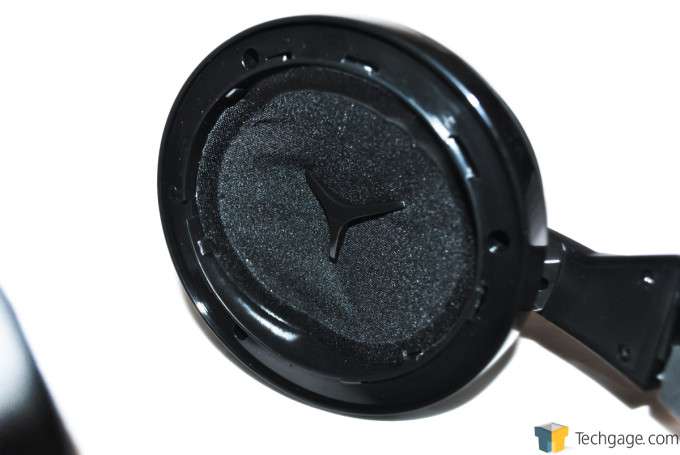 Inside each ear cup, beneath yet another protective layer of what looks like a nylon stocking, is a trio of speaker drivers. I couldn't figure out a way to remove this inner protective layer, but when you press down on it you can sort of see the three drivers. The drivers are each angled at 12° from the horizontal for optimal projection into the user's ear.
The headband is highlighted by a couple of details. First is the trio of foam supports on the inside of the headband. These should ensure a comfortable fit on a user's head. The other interesting detail is the large ROCCAT logo on the outside of the headband. The company certainly isn't shy about telling people who made this product.
The Kave XTD 5.1 features an in-line control unit. The volume control knob, which is decorated by an embossed ROCCAT logo, dominates things here. Not only does it makes things louder and softer (as you might expect), but pushing down the center of the knob mutes all audio signals. There are also a few other buttons that users should also pay attention to. Right above the volume knob is a Channel switching button; with this you can set each individual speaker channel's volume output. Flanking the Channel button are the Movie mode button (on the left edge of the control unit) and the Spkr button (on the right edge). The Movie mode button engages Movie mode, which alters the sound output's characteristics and optimizes it for movie soundtrack playback. The Spkr button, on the other hand, switches the sound output from the headphones to any speakers connected to the control unit. The speaker connections, by the way, are on the inbound side of the cable (the front edge of the control unit).
Moving on to what's aft of the volume knob, you have two other buttons. The one on the right rear is a Mute button (pretty self-explanatory), while the one on the left is a bit more interesting. The icon looks like a telephone; pushing it allows a mobile device paired to the control unit via Bluetooth to cut in, thereby turning the Kave XTD 5.1 into a mobile phone-capable headset. Pretty spiffy!
The cable (all 3.6m/11.8′ of it!) terminates in a single USB connector. What, you were expecting a bunch of 3.5mm connectors, one for each audio channel and for the microphone input? Au contraire, mon frère! The Kave XTD 5.1's great trick up its proverbial sleeve is that it is an all-in-one audio solution; the only thing ROCCAT doesn't supply is a set of speakers. There's no need to connect a big bunch of separate connectors because the Kave XTD 5.1's control unit also functions as a sound card. Accordingly, you need to install ROCCAT's driver for the device to get the most out of it.
Another comment about the cable, specifically the connector at the end. I just love how ROCCAT labels it with the product name. I've said it before, and I'll quote myself here: "I quite like the connector, as it is labeled very clearly. Labeling the connector like this is a very clever and elegant solution, one that I would someday want to be an industry standard. Times without number I've accidentally pulled out the wrong USB device from the rear I/O panel. Silk-screening a label onto the connector is a very intelligent convenience item, one for which I give ROCCAT a truckload of extra points."
Now that we've seen the hardware portion of the Kave XTD 5.1, let's move on to a look at its software.
Software
I was somewhat amazed that you can simply plug in the Kave XTD 5.1 into a free USB port and it would start working. It is limited to stereo mode, however, but at least you can start using it sans the ROCCAT software. The control unit is even somewhat functional, with the mute, output switcher (Spkr), and volume controls all working. Kudos to ROCCAT for allowing just the basic Windows USB drivers to work sans issues.
Downloading a .zip file containing the Kave XTD 5.1's driver/software package from the ROCCAT website, allows users to wring every bit of customizability out of their headset. After installing the software and a quick reboot, you're ready to start playing with all the settings.
And as we'll soon see, users really need to work on getting the settings right to get the best experience with the Kave XTD 5.1.
But first, let's examine the software.
The ROCCAT software's UI is very clean and clear in its corporate black and light blue. The first tab, Main Control, is where you configure the headset's volume outputs to its channels. Default configuration, interestingly enough, is Stereo mode. There are just two channels in stereo, of course, but there are three volume sliders (the Master volume and two separate sliders for Left Front and Right Front). Just for kicks (or, perhaps, to compensate for damaged hearing?), you can manipulate each channel so that what you hear in your ears results in an equal perceivable amplitude level. In other words, if your right ear is more sensitive than your left, you can then lower the output to the right ear so that both ears perceive the same volume.
Clicking 5.1 Surround in the Headset Mode section of the UI switches outputs to all five (+ subwoofer) audio channels. At default all volume sliders are turned to 100%, but as I found out, with in-game testing especially, this did not result in a good experience. This is where the software really becomes useful. I'll explain in much more detail in the performance testing portion of this review, but for now suffice it to say that taking your time in setting the volume outputs to each channel is essential for the best experience.
The Main Control section, by the way, is also where you can change the sample rate of the audio you hear, as well as enable and set AVN (Automatic Volume Normalization) levels. This is also where you can set your outgoing voice output via the XEAR Magic Voice. With Magic Voice you can sound normal, or you can sound like a monster, a rubber duck (LOL), a man, or a woman.
(It sure looks like ROCCAT's engineers have a wacky sense of humor.)
Anyway…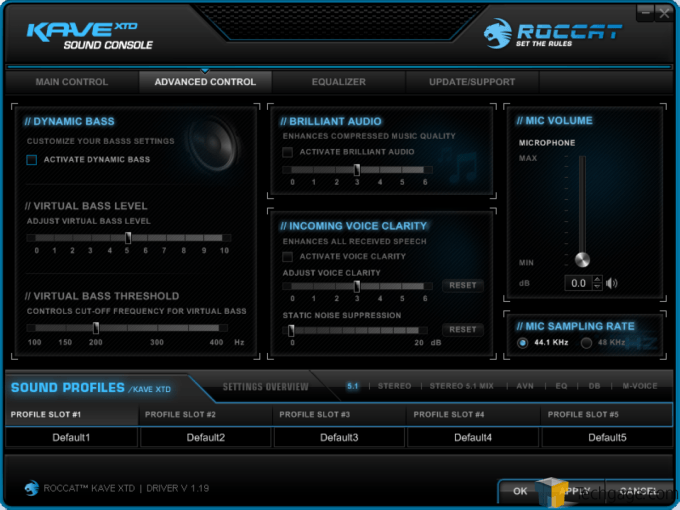 The next section of the software is Advanced Control. Here you can activate Dynamic Bass (where you can fine-tune the bass output to the subwoofer driver), set Virtual Bass levels, and set a Virtual Bass Threshold. You can also activate the Brilliant Audio setting, which is supposed to enhance compressed audio signals (like low-bitrate MP3 files). The Incoming Voice Clarity signal quality can be enhanced via a slider, and you can also suppress static noise with another dedicated slider. Finally, this is also where users can set both the microphone's sensitivity (via the Mic volume setting) and its sampling rate.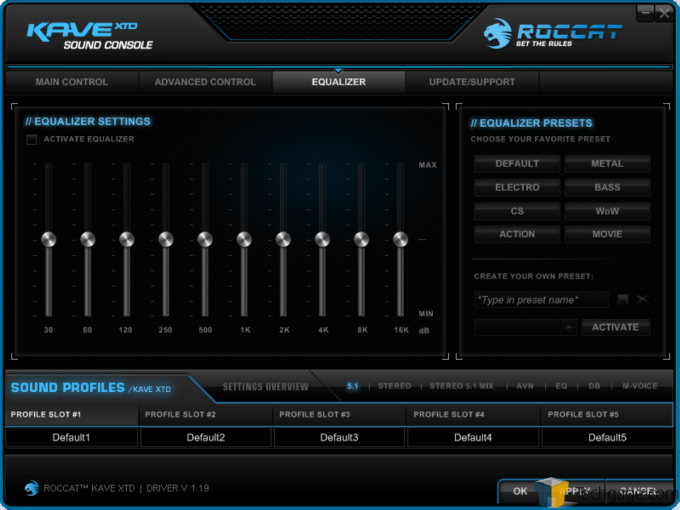 The Equalizer section is, quite simply, where users can enable specific equalizer settings to the audio signal. You can either select a pre-set setting, or you can go to town and set your own preferred settings. The 10-band equalizer ranges from 30Hz to 16000Hz.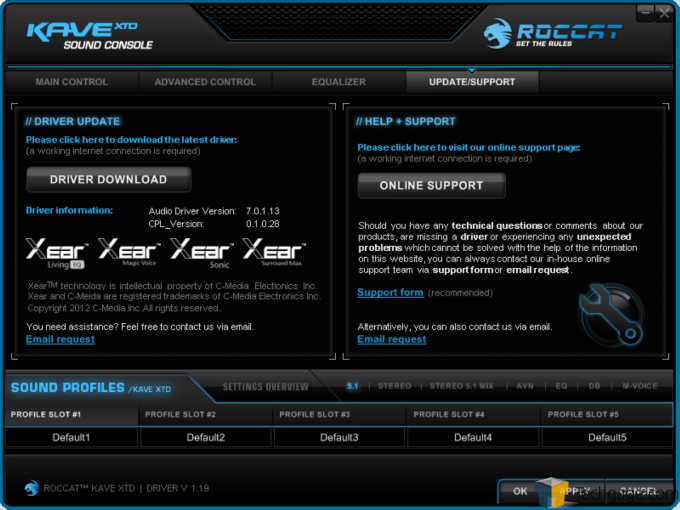 Finally, we have the Update/Support section of the software UI. Here users can update the device driver to the latest version, as well as contact ROCCAT through email, or by filling out an online form.
Let's wrap things up with performance testing and some concluding thoughts.
Performance Testing and Conclusion
I had zero expectations entering this particular review. As I'd said at the outset, this is the very first time I've ever tried a hardware-based surround sound headset. So I really didn't know what to look for once I got started testing.
So let's start talking about how it sounds just at default settings. As previously mentioned, the headset defaults to Stereo mode. In this mode, the Kave XTD 5.1 actually sounded fairly good. The trio of drivers in each ear cup sounded like one big speaker, an effect that surprised me somewhat. Music playback is a little bit cold, a little bit harsh, but not unpleasant. The bigger issue, though, is the overall thinness of the sound. This headset is marketed as gaming gear, so perhaps I shouldn't be surprised that it wasn't particularly outstanding when it comes to music playback.
Using the Equalizer alters the sound, so at least users have this option available to them. Thankfully, the ROCCAT software is well-integrated with the hardware; tweaking equalizer settings will result in a somewhat improved listening experience. You will never mistake these for headphones designed for music playback.
Going on to playback of movie soundtracks, the Kave XTD 5.1 is far more satisfying. Whether in stereo or in 5.1 Surround mode, it tracks moving audio elements as well as any other set of cans I've used. Lateral panning is superb. Discerning front-to-back movements, though, is a little dissatisfying right out of the box. Pushing the "Movie" button on the control unit changes the flavor of the sound, but doesn't really address the somewhat disappointing inability to produce a convincing reproduction of sonic elements moving vertically (front-to-back and vice-versa) relative to the listener's position.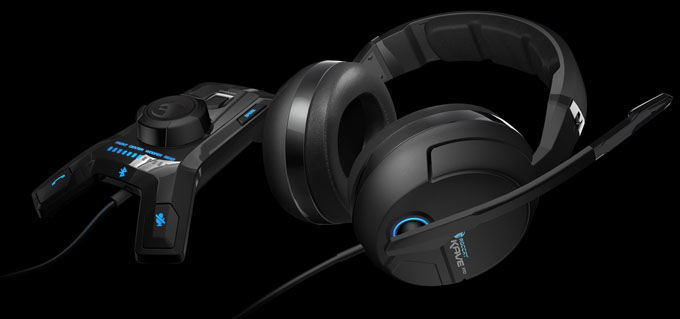 I had the same experience with games, which proved even more disappointing. In games, there is no surround sound effect; everything just sounded mushed together. In shooters like Crysis 2/3, Battlefield 3, and Call of Duty: Ghosts, I couldn't really tell enemy positions behind my character's position.
Thinking about things for a while, I thought of how to extract a better performance from the Kave XTD 5.1 vis-a-vis its surround sound effect. Then it hit me: At default, the software sets all of the volume output sliders to 100%. Tinkering with the volume levels for each channel made a huge difference.
Perhaps counter-intuitively, rolling back on the front channels and keeping the rear channels on 100% produced the best effect. Human ears are pointed forward, so that we get most of our audio sensations from directly in front of our faces; we get the least audio sensation from behind us. Surround sound, therefore, is an artificial condition, an effect manufactured to enhance our experience of movies and video games. Once I figured this out, I tried biasing the sound output so that audio from the rear channels was louder.
This adjustment transformed the Kave XTD 5.1. With the rear-biased volume adjustments, the Kave XTD 5.1 becomes the unfair advantage sought by gamers. It may not be particularly realistic, but I'd argue that if realism is what you're looking for in your audio solution, you'd get a high fidelity stereo headset, even for gaming. Humans perceive audio in stereo, after all.
Moving on to ergonomic considerations, the Kave XTD 5.1 sets a new standard in comfort. This might sound hyperbolic, but it is no exaggeration. ROCCAT deserves kudos for making the Kave XTD 5.1 so easy to keep on your head. There is really not one element that makes this headset so wonderful to use. It's weighted perfectly, with perfectly-positioned padding both in the ear cups and in the headband. The control unit can be positioned where the user decides it's perfect on his or her desk, so that's an ergonomic bonus. It's impossible to say anything bad about the Kave XTD 5.1's ergonomics.
And speaking of that control unit, it's very easy to use. It's also the key to using one of the Kave XTD 5.1's signature features: Pushing the telephone button on the left-rear leg of the control unit turns the headset into a mobile phone-compatible device. I tested this with my ancient Samsung Galaxy after I paired it with the phone, and after figuring out that the microphone and the Bluetooth volume levels had to be adjusted (strangely, these are set to zero by default), it was a pleasing product to use on a phone call.
I was a bit frustrated by the complete lack of instructions detailing many of the Kave XTD 5.1's features. The only thing that saved me from even more frustration is the somewhat intuitiveness of the product's design. For example, there is no documentation on how to take advantage of the Bluetooth capabilities. I lucked into discovering how you can pair this with your mobile phone by holding down the telephone button on the control unit until the Bluetooth LED started flashing and my mobile phone registered the Kave XTD 5.1 as an available pair partner. In my opinion, ROCCAT should not make its customers have to guess how to take advantage of all the perks its products have to offer.
Final Thoughts
So what does $169.99 (the Kave XTD 5.1's MSRP) get you?
You get a product that's a bit of a diamond in the rough. Out of the box it's not really set up properly. As a stereo headset, it works fine, even if it's not really something you'd reach for if you're in the mood to listen to your favorite tunes. It comes alive, though, once you install and use the software package it's supposed to be used with. The hardware and software elements of the Kave XTD 5.1 package (you really ought to look at both of these together) are tightly-integrated and responsive, so with a little bit of time, patience, and tweaking, you'll eventually get results you'll be happy with.
As a gamer's tool, this is especially true. Discussions of anything to do with audio are ultimately subjective, so my own experiences may not necessarily coincide with other people's. Even allowing for that basic fact, though, I think it's fair to say that the Kave XTD 5.1 has some really great arrows in its quiver, but also some duds as well. Its biggest strengths – superior design execution, excellent functionality, outstanding integration between the hardware and its complementary software, and class-leading ergonomics – outweigh its biggest weaknesses (generally thin sound and somewhat poor configuration when everything is at default settings). The solution, though, is one that is quite easy to implement; if ROCCAT provided a good user's manual, I truly think this product would be so much better for the end-user.
Pros
Excellent ergonomics
Superb feature list
Tight integration between hardware and software
Software is responsive and intuitive
Cons
Poor configuration at default settings
Audio quality could be better
Lack of an instruction manual
Copyright © 2005-2021 Techgage Networks Inc. - All Rights Reserved.