Samsung 275T 27-inch Wide-Screen

Date: June 20, 2007
Author(s): Rob Williams

Looking for a 27″ LCD? Your choices are essentially between two models, Dell's 2707WFP and Samsung's 275T. We took a look at the Dell a few weeks ago, but are now putting the 275T to the test to see how it held up in comparison.
---
Introduction
Looking back just a few years, it's hard not to laugh at the computers we were amazed over. By comparison, todays computers offer far more performance and overall features. Coincidently, as our computers become faster, our monitors become larger. Three years ago, I had bought a 17" ViewSonic CRT and was astounded. Glorious 1280×1024 resolution on a crisp, bright screen. Of course the monitor weighed half of what I do, but it certainly made games a lot more enjoyable.
Of course, 17" monitors are now in dwindling numbers among computer enthusiasts of all kinds. Larger monitors offer obvious benefits, such as gaming and movie viewing. Aside from those though, larger monitors with equally large resolutions offer you far more desktop space to deal with. If you live on a computer like I do, the extra space is welcomed.
Whether it be spreadsheets, HTML editors, Photoshop, Internet, IM or whatever else you might have, a larger monitor gives you more space to deal with so that you can look at everything at once. Even myself when moving from a 1280×1024 to 1680×1050 resolution, though not an extreme increase, I personally noticed a huge difference in my workflow efficiency.
The best way to get a grasp on the differences without seeing the monitors is to compare a monitors total pixel count. Whereas a 1280×1024 resolution offers 1.31 Megapixels, 27" monitors with 1920×1200 resolutions offer 2.30 Megapixels, a very large gain. For the ultimate in workspace on a single monitor, 30"s and their 2560×1600 resolutions offer a staggering 4.09 Megapixels.
At Techgage, we are just getting into the swing of reviewing monitors, so we welcome all comments and suggestions of what you'd like to see. I am not as well versed with monitors as some, but I take a realistic approach when testing and comparisons. We posted a review of Dell's 2707WFP two weeks ago, which I will be using as my basis for comparison here.
Closer Look
If you are to purchase a large monitor, one would assume that you would have sufficient desk space. In my case, I am not one of those people with common sense so I stick to a modestly-sized desk. This is a benchmarking computer, so a small desk is all that is needed. That aside, this is a normal size desk for someone with lack of space, and you can see just how large this beastly monitor is in relation to everything else in the room.
Like Dell's 2707WFP, the screen is matte-like, not glossy like my ASUS PW201. This to me is a huge benefit, as long as the brightness doesn't suffer. Glossy screens reflect any light source in a room, making it difficult to use during the day, especially a sunny one.
One thing that Dell boasts about their 2707WFP is that the back looks as good as the front, which is definitely the case. This is something that Samsung can't brag about, but even still, this is not a shabby looking backside. It's well ventilated to allow air to escape, which is welcomed since larger monitors can get quite warm. At peak, I have seen the hottest part of the monitor hit 47°C.
To get a better idea of the styling of the monitor, here is the top-right corner. Gray trim, but black everything else.
The controls are placed to the bottom-right corner, seven in all, most of which are self-explanatory. Auto is used in analog mode only, to attempt a re-align to make the picture fit the screen properly. As with any LCD monitor, using DVI cables is highly recommended.
All of the main inputs are found underneath the screen, but the component and dual USB ports are found on the left side.
Taking a look underneath, there is a power switch along with the actual power port. At the bottom here is a Kensington security port.
Further down we have DVI, VGA, RCA video, S-Video, audio power for separate speakers, USB to computer port and also two more USB ports.
Overall I am quite pleased with the monitors design and styling. For whatever reason, I was becoming to find black trimmed monitors boring, since they are the most popular. Samsung has some great designers though, and they pulled off the styling nicely. It's classy.
Specs, OSD
For those so inclined, here are the official specs of the monitor. Specs not found here that you are interested in can be found on the official site.
Samsung 275T

Specifications

Monitor Size

27"

Maximum/Native Resolution

1920×[email protected] (Analog) 1920×[email protected] (Digital)


Contrast Ratio

1000:1

Pixel Pitch

0.303mm

Horizontal Scan Freq.

30 kHz – 81 kHz

Vertical Scan Freq.

56 Hz – 75Hz

Viewing Angle

178°/178°

Response Type

6ms Grey-To-Grey
16ms Black-To-White

Luminance

500cd/m Typical

Connector

Analog, DVI-D (Digital) with HDCP

Other Connectors

S-Video
Component
USB 2.0 Ports
Kensington Security Port
Size
Horizontal
Vertical
24.76"
19.13"

Weight

22.93lbs
The only other 27" monitor in the retail channel I have seen is Dell's 2707WFP, and between the two, not much is different. The luminosity of the 275T is higher at 500cd/m2, while Dells is 400cd/m2. It's a noticeable difference. Response times, pixel pitch, viewing angle, resolution… it's all the same.
Thoughts & Testing
I am greatly pleased with the overall picture quality of the monitor. Images are bright, clean and crisp. The color is also fantastic, it's a visual treat. The greatest difference between this monitor and Dells, is that this one is far brighter. This can be considered a good thing and a bad thing, all depending on what you like.
The brighter the screen, the quicker some people will walk away with a headache. I am one of those people, however I blame more on the fact that I sit a lot closer to the screen than people should, given the small desk. Even still, I am somewhat divided on which screen I prefer. I loved the fact that the 2707WFP was so easy on the eyes and not overly bright, but at the same time I enjoy the brighter screen as well. It all comes down to personal tastes.
It's hard to describe the differences with text, but if you love a very bright monitor, the 275T will be right up your alley. Even if you don't though, nothing stops you from dimming the brightness a little bit using the on-screen controls. I found myself doing this whenever I wanted to do desktop work, but I turned it back up for gaming and movie testing.
In future reviews, we will use calibration tools to deliver specific results, although I can say that you will not be disappointed with the image quality unless you are a very, very fussy person.
The on-screen menu found here is not as robust as what's found on the 2707WFP, but it's easy to navigate and gives you a lot of control. You can quickly select a source and even name them, alter color schemes, control your PIP and more.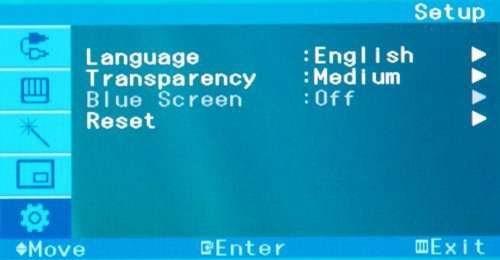 With that out of the way, lets move onto final testing and then our conclusions.
Testing, Final Thoughts
My entire experience of using the 275T has been a good one, with very fews issues. I love the brightness and image quality and overall styling, however there was one thing that really stood out to me, which I can explain a lot easier with a picture.
Notice how the screen itself is raised above the desk about five inches. This is as low as the monitor will go, and is one of my only gripes about the product. If you sit further back from the monitor, it won't make much difference, but if you are like me and sit pretty close, it might be annoying unless you have a high chair. The Dell 2707WFP by comparison could sit much lower, essentially leaving the screen about an inch from the desk.
(Click for full-res image)
Another thing I test monitors for is their component video, which most of them support. So, I hooked up my Playstation 3, booted up and had a gander. In the Dell 2707WFP review I mentioned that the component video was some of the best I've seen on an LCD monitor. Normally, computer monitors won't handle component video well, which has been the case more often than not.
Sadly, Samsung's screen came nowhere close to the quality of Dells for component video. It was definitely playable, but grainy and lacking standout color. I would not pick up the 275T with the intentions of using component video often. I had assumed that both monitors in question were using a similar panel, but it appears it's not the case at all.
Final Thoughts
Giving this monitor a final rating is a difficult task, because there are many factors that come into play. I have been comparing the 275T to Dell's 2707WFP often, which is because it's the only other 27″ monitor on the market that I have seen. The ultimate question is, which one would I personally buy?
Lets check out the benefits of the 275T. It's a gorgeous screen that offers great color and image quality and is very bright for those who enjoy that. Its on-screen display is not in-depth, but it gets the job done and is easy to navigate. Overall, it's a fantastic monitor. However, its component video left a lot to be desired, which was upsetting considering the Dell performed exceptionally in that regard.
On the Dell side of things, the 2707WFP offers great image quality with a lesser bright screen, but offers great component video, if that's something you care about. On top of that, some may prefer the brushed aluminum frame on Dell's monitor since it's a rarity to see uniquely styled monitors.
The decision maker for me would be that the 275T doesn't lower closer to the desk like Dell's monitor does, so because of this, I'd personally pick up the 2707WFP. However, if I had a larger desk and didn't mind the raised monitor, I would choose Samsung's 275T because of the brighter screen which really helped images and colors stand out.
I found myself enjoying the picture of the 275T quite a bit, but it was difficult to get used to because I had to heighten my seat in order to be on the right level. It's not a good thing when you need to tilt your head upwards to look at the top of the screen.
Given these facts, it's up to you to decide which monitor you are better suited for. Both offer unique pros and cons, none of them being major. In the Dell 2707WFP review, I mentioned a con as being the price, which was $999 at the time. Since that review was published, the price actually rose between $100 – $150 at every single e-tailer, which puts its pricing on par with the Samsung 275T. I personally do not find $1,100 to be a great deal for a monitor, but at the 27″ range, there is absolutely no competition. For a few hundred dollars more though, you could be moving into 30″ territory, if it interests you.
Pros
High-resolution at 6ms GTG
Bright screen, stand-out color
Lots of connectivity, all but Composite
Cons
Price ($1100)
Screen doesn't go low enough
Component video is very sub-par
Discuss in our forums!
If you have a comment you wish to make on this review, feel free to head on into our forums! There is no need to register in order to reply to such threads.

Copyright © 2005-2020 Techgage Networks Inc. - All Rights Reserved.