Sapphire Radeon HD 6870 FleX Review

Date: March 14, 2011
Author(s): Rob Williams

Building an Eyefinity setup is easier than ever, thanks in part to the powerful GPUs we have the choice of, and also the easier-to-stomach pricing of 20~24″ displays. Sapphire, with its FleX, makes things even easier by giving us a card that negates the requirement for a DisplayPort monitor. That 3×1 setup is looking good, isn't it?
---
Introduction
We took a look at Sapphire's Radeon HD 6870 Vapor-X a couple of weeks ago; a reference-clocked model that aims to deliver far improved cooling and noise-levels and also one that proves a breeze to overclock. Overall, we were quite impressed with Sapphire's offering, even going as far as to award it with one of our Editor's Choice awards. Can the company's "FleX" manage the same?
Similar to the Vapor-X, the FleX also comes replete with a custom cooler and in effect aims to deliver better acoustics and temperatures than a reference card can manage, but in addition, it's also designed for those who want to power more than one display, taking full advantage of what AMD's Eyefinity technology has to offer.
Sapphire markets the FleX as being built for Eyefinity for a couple of reasons. First, the company includes a couple of adapters in the box that will help make setting up a 3×1 configuration easier. Because the HD 6870 supports just 2 native DVI ports, Sapphire makes it easy to add a third by including an HDMI to DVI passive adapter.
"But wait…" you may ask, what about the requirement for a single DisplayPort connection to power any of the available Eyefinity setups? That's the second thing that makes this card special. Rather than bundle in a separate active DisplayPort adapter, Sapphire instead built the card with that functionality built in. In essence, an on-board DisplayPort chip splits off its available bandwidth to two different DVI ports, allowing gamers to hook up one of their DVI monitors using the DVI to HDMI adapter.
This implementation without question is a good one, but you may ask why AMD doesn't implement the same kind of functionality for all of its reference cards. Well, I'd say there's one single good reason for it. AMD might be proud of its Eyefinity technology, but it's clear that the number of people who use multiple displays for gaming is painfully low. Thus, it wouldn't have been cost-effective to include what's surely a $10~$15 chip on every single card. Fortunately, for those who could still use that kind of functionality, Sapphire has come to the rescue.
Before moving on, let's take a quick look at AMD's current fleet of graphics cards:
Radeon HD 6990

830

1250

4096MB

256-bit

3072

Radeon HD 6970

880

1350

2048MB

256-bit

1536

Radeon HD 6950

800

1250

2048MB
1024MB

256-bit

1408

Radeon HD 6870

900

1050

1024MB

256-bit

1120

Radeon HD 6850

775

1000

1024MB

256-bit

960
Thanks to AMD's big launch of the dual-GPU HD 6990 last week, the table of HD 6000 series cards has grown to five. The HD 6870 we're looking at today still sits nearly at the bottom of AMD's current line-up, but as we've seen in the past, it's far from slow, and given Sapphire's push on its FleX being able to easily power a 3×1 display configuration, that in itself speaks volumes.
The FleX's cooler is nearly-identical to the one seen on Sapphire's own Vapor-X, but I tend to like the aesthetics of this one better. But to be fair, it doesn't take much blue to win me over.
On the back of the card are 2 x DisplayPort ports, 2 x DVI ports and 1 x HDMI port. For the recommended 3×1 display configuration that Sapphire recommends, both DVI ports and the lone HDMI port would be used. If you don't have a display that includes an HDMI connection, you can rely on the included DVI to HDMI adapter included in the box.
The second cable from the right is the included DVI to HDMI cable, while the one to the rightmost point is a 1.8 meter HDMI cable, and the one in the middle a mini-DP to DisplayPort adapter. Also included in the box are 2x 4-pin Molex to 6-pin PCI Express power adapters, a VGA to DVI adapter, a CrossFireX bridge and also a manual and CD-ROM (not pictured).
We'll take a quick look at our test system and testing methodology on the following page, and then get started on our results with the help of Colin McRae: Dirt 2.
Test System & Methodology
At Techgage, we strive to make sure our results are as accurate as possible. Our testing is rigorous and time-consuming, but we feel the effort is worth it. In an attempt to leave no question unanswered, this page contains not only our testbed specifications, but also a detailed look at how we conduct our testing.
Test Machine
The below table lists our testing machine's hardware, which remains unchanged throughout all GPU testing, minus the graphics card. Each card used for comparison is also listed here, along with the driver version used. Each one of the URLs in this table can be clicked to view the respective category on our site for that product.
When preparing our testbeds for any type of performance testing, we follow these guidelines:
General Guidelines
No power-saving options are enabled in the motherboard's BIOS.
Internet is disabled.
No virus scanner or firewall is installed.
The OS is kept clean; no scrap files are left in between runs.
Hard drives affected are defragged with Diskeeper 2010 prior to a fresh benchmarking run.
Machine has proper airflow and the room temperature is 80°F (27°C) or less.
To aide with the goal of keeping accurate and repeatable results, we alter certain services in Windows 7 from starting up at boot. This is due to the fact that these services have the tendency to start up in the background without notice, potentially causing inaccurate test results. For example, disabling "Windows Search" turns off the OS' indexing which can at times utilize the hard drive and memory more than we'd like.
The most important services we disable are:
Diskeeper 2010
Windows Defender
Windows Error Reporting Service
Windows Event Log
Windows Firewall
Windows Search
Windows Update
The full list of Windows services we assure are disabled is large, but for those interested in perusing it, please look here. Most of the services we disable are mild, but we go to such an extent to have the PC as highly optimized as possible.
Game Titles
At this time, we benchmark with three resolutions that represent three popular monitor sizes available today, 20″ (1680×1050), 24″ (1920×1080) and 30″ (2560×1600). Each of these resolutions offers enough of a variance in raw pixel output to warrant testing with it, and each properly represent a different market segment: mainstream, mid-range and high-end.
Because we value results generated by real-world testing, we don't utilize timedemos. The possible exceptions might be Futuremark's 3DMark Vantage and Unigine's Heaven 2.1. Though neither of these are games, both act as robust timedemos. We choose to use them as they're a standard where GPU reviews are concerned.
All of our results are captured with the help of Beepa's FRAPS 3.2.3, while stress-testing and temperature-monitoring is handled by OCCT 3.1.0 and GPU-Z, respectively.
For those interested in the exact settings we use for each game, direct screenshots can be seen below:
Colin McRae: Dirt 2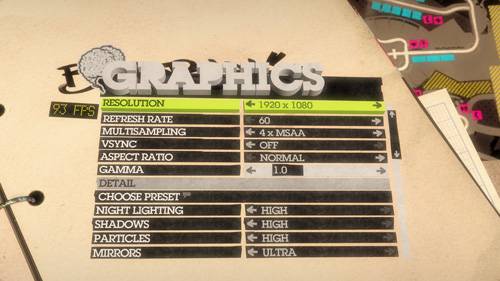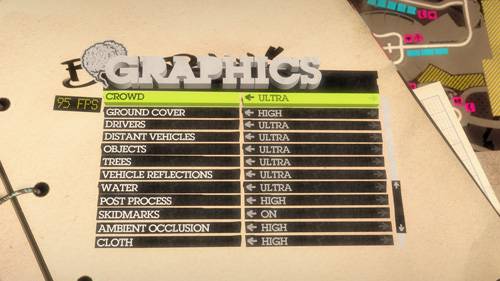 Just Cause 2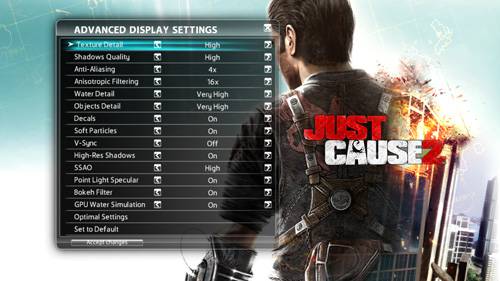 Mafia II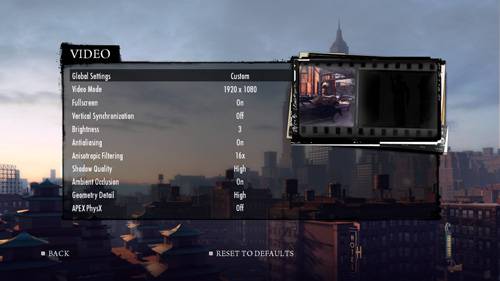 Metro 2033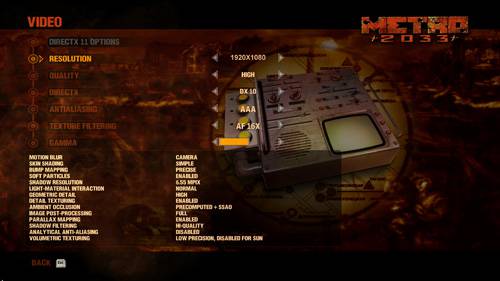 StarCraft II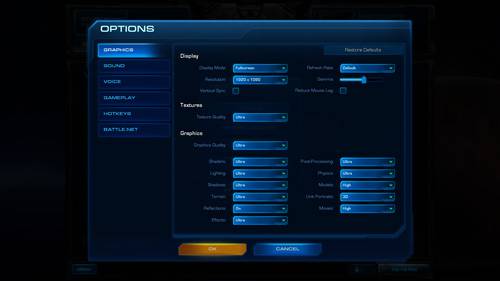 Colin McRae: Dirt 2
It's not that often that faithful PC gamers get a proper racing game for their platform of choice, but Dirt 2 is one of those. While it is a "console port", there's virtually nothing in the game that will make that point stand out. The game as a whole takes good advantage of our PC's hardware, and it's as challenging as it is good-looking.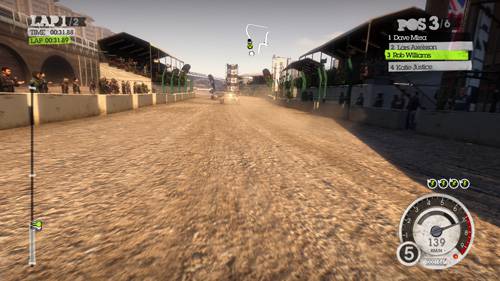 Manual Run-through: The race we chose to use in Dirt 2 is the first one available in the game, as it's easily accessible and features a lot of GPU-pounding effects that the game has become known for, such as realistic dust and water effects, a large on-looking crowd of people and fine details on and off the track. Each run-through lasts the entire two laps, which comes out to about 2.5 minutes.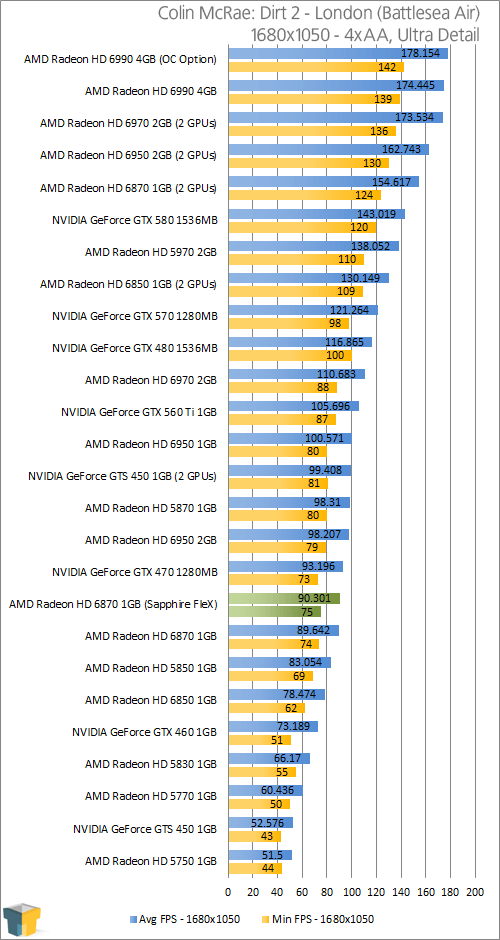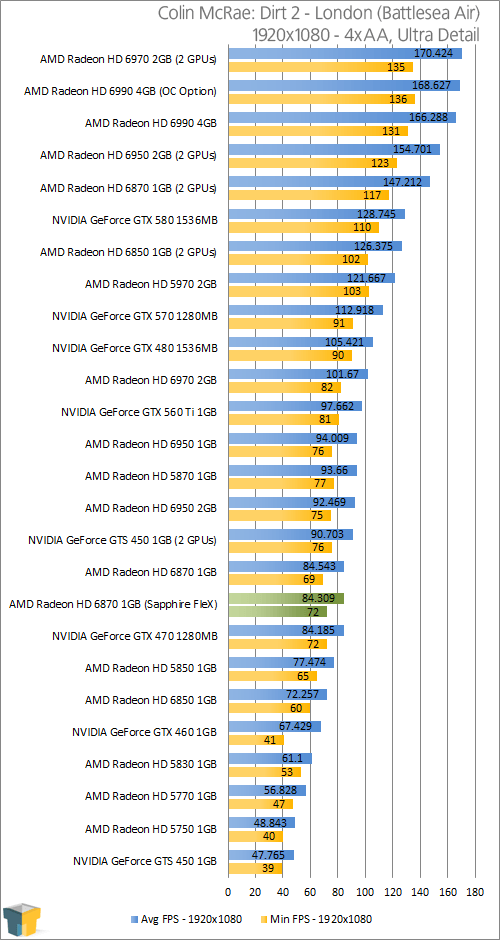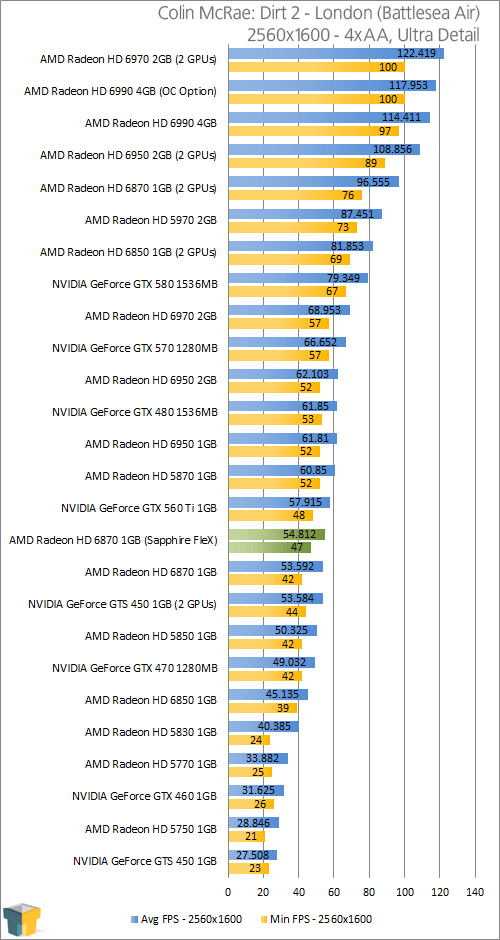 Given that we're doing our testing with a current Catalyst beta (11.4), which is about four-and-a-half months newer than the driver we used to originally tested the HD 6870 for our launch article, Dirt 2 performance has largely remained in tact. Not that we're complaining… 55 FPS at 2560×1600 with maxed-out details? Who's to complain?
Just Cause 2
Just Cause 2 might not belong to a well-established series of games, but with its launch, it looks like that might not be the case for long. The game offers not only superb graphics, but an enormous world to explore, and for people like me, a countless number of hidden items to find around it. During the game, you'll be scaling skyscrapers, racing through jungles and fighting atop snow-drenched mountains. What's not to like?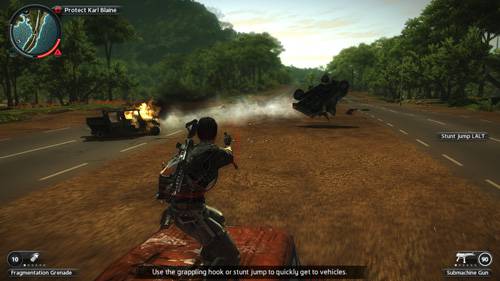 Manual Run-through: The level chosen here is part of the second mission in the game, "Casino Bust". Our runthrough begins at the second-half of the level, which requires us to situate ourselves on top of a car and have our driver, Karl Blaine, speed us through part of the island to safety. This is a great mission for benchmarking as we get to see a lot of the landmass, even if some of it is at a distance.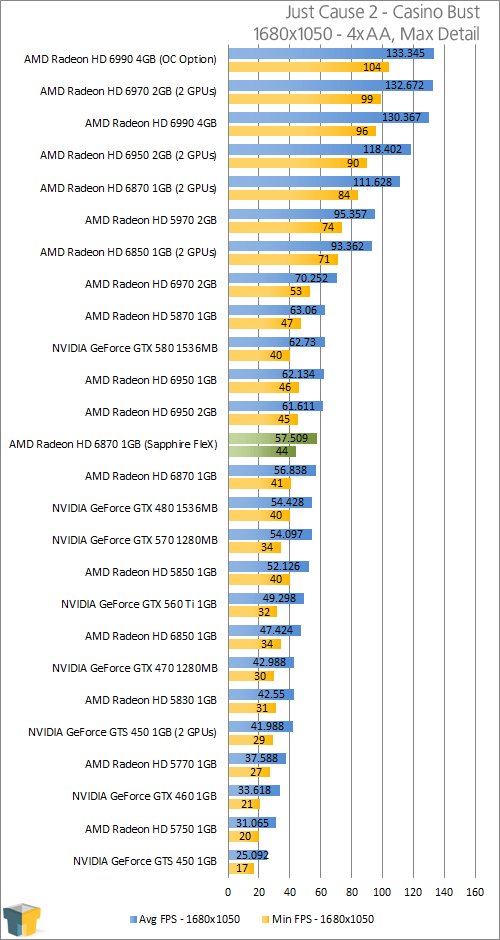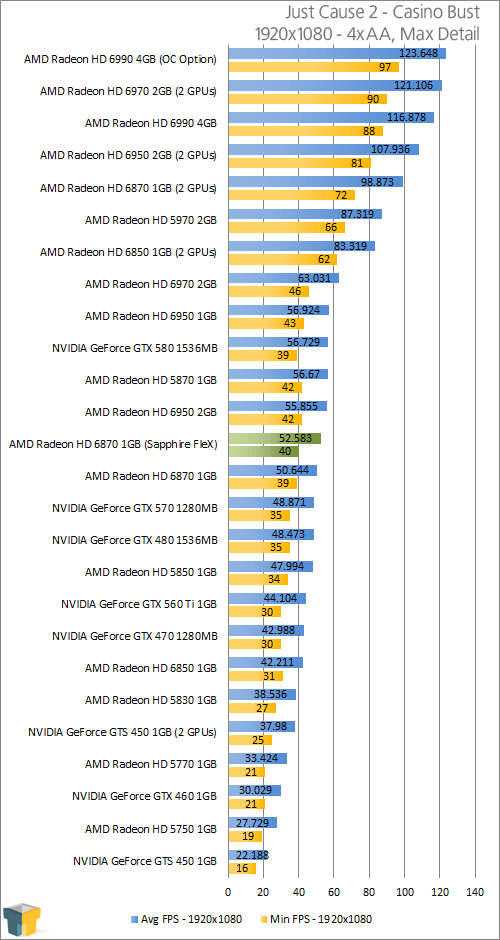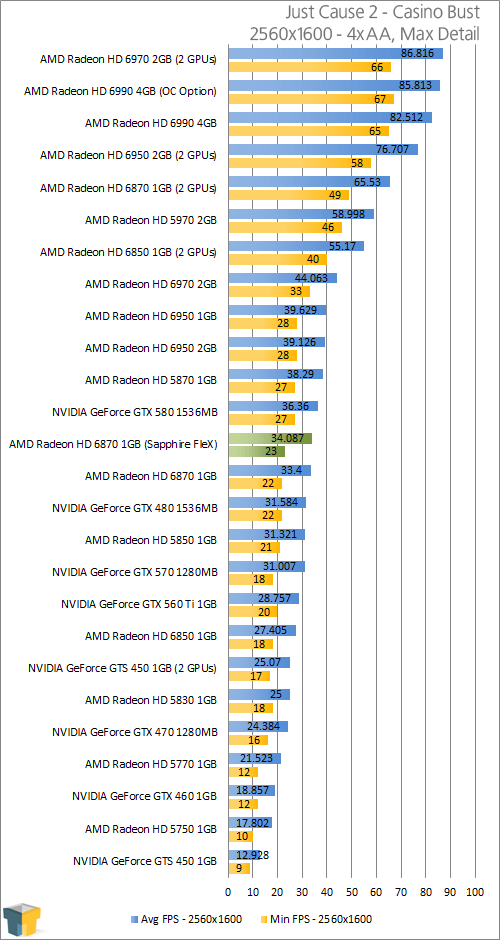 Although we saw next-to-nothing for gains with the latest Catalyst driver in Dirt 2, it does look like we've gained a bit of performance in Just Cause 2. And I do mean "a bit", as the gains we saw hardly even look that impressive on paper.
Mafia II
For fans of the original Mafia game, having to wait an incredible eight years for a sequel must've been tough. But as we found out in our review, the wait might be forgotten as the game is quite good. It doesn't feature near as much depth as say, Grand Theft Auto IV, but it does a masterful job of bringing you back to the 1940's and letting you experience the Mafia lifestyle.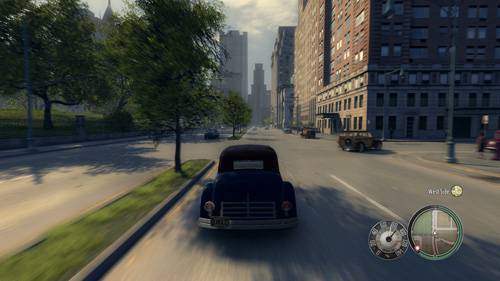 Manual Run-through: Because this game doesn't allow us to save a game in the middle of a level, we chose to use chapter 7, "In Loving Memory…", to do our runthrough. That chapter begins us on a street corner with many people around, and from there, we run to our garage, get in our car, and speed out to the street. Our path ultimately leads us to the park, and takes close to two minutes to accomplish.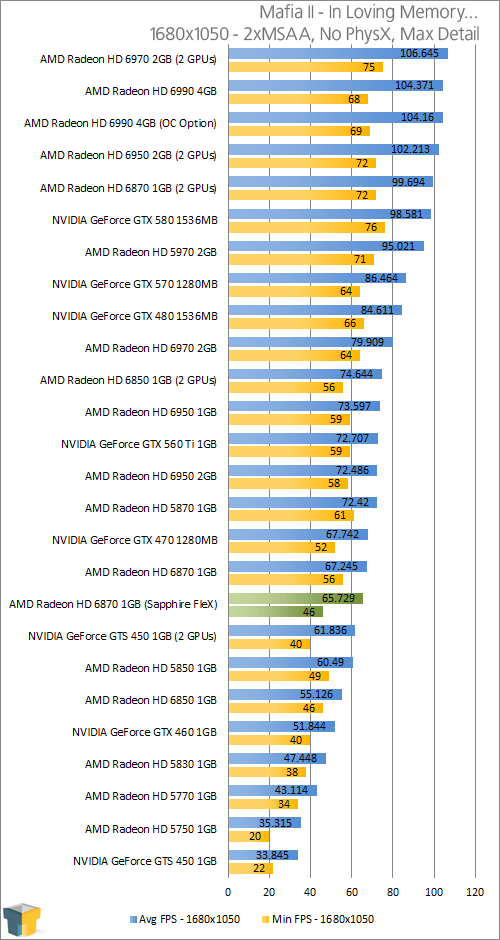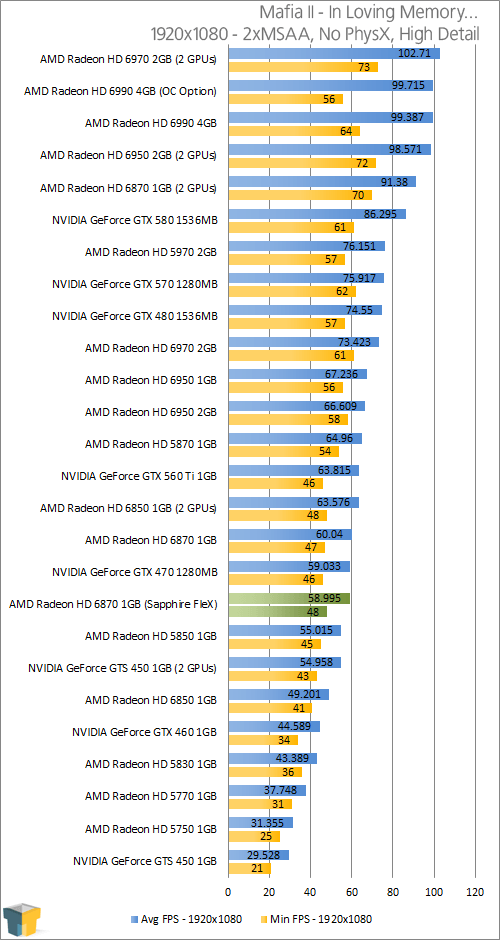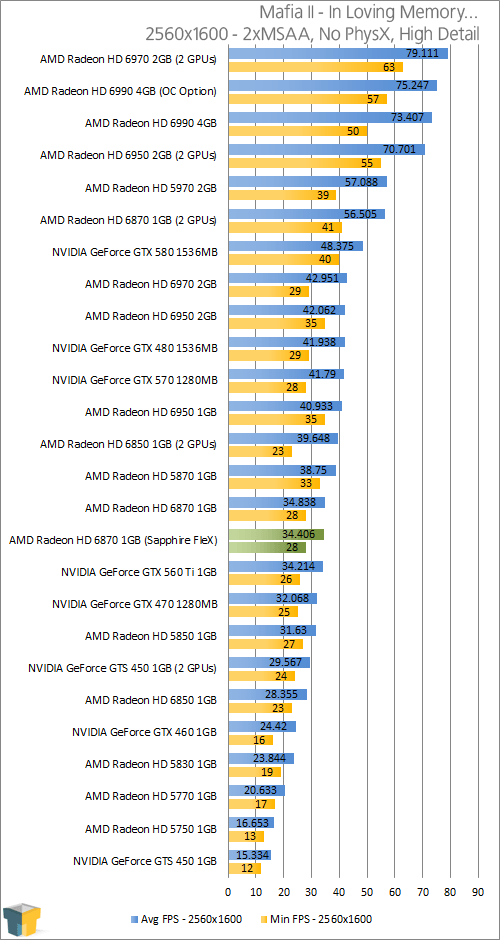 We saw no performance gain using 11.4 at all in Dirt 2, and then a minor performance gain in Just Cause 2. Mafia II looks to round things out by decreasing the overall performance, just a smidgen. Despite the decrease, all resolutions aside from 2560×1600 remain totally playable using AA but no PhysX. For 2560×1600, AA can be disabled to help boost the average FPS.
Metro 2033
One of the more popular Internet memes for the past couple of years has been, "Can it run Crysis?", but as soon as Metro 2033 launched, that's a meme that should have died. Metro 2033 is without question one of the beefiest games on the market, and though it supports DirectX 11, it's almost a feature worth ignoring, because the extent you'll need to go to in order to see playable framerates isn't likely going to be worth it.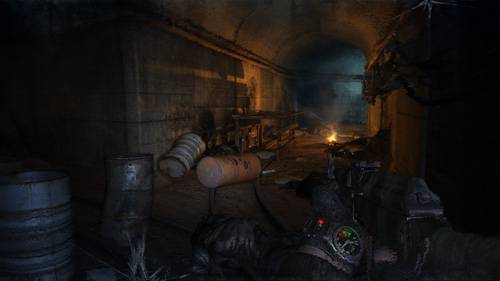 Manual Run-through: The level we use for testing is part of chapter 4, called "Child", where we must follow a linear path through multiple corridors until we reach our end point, which takes a total of about 90 seconds. Please note that due to the reason mentioned above, we test this game in DX10 mode, as DX11 simply isn't that realistic from a performance standpoint.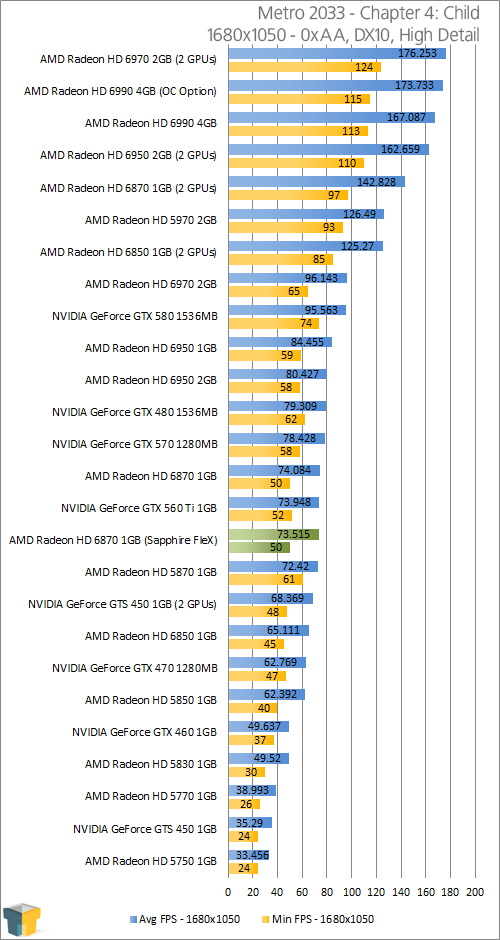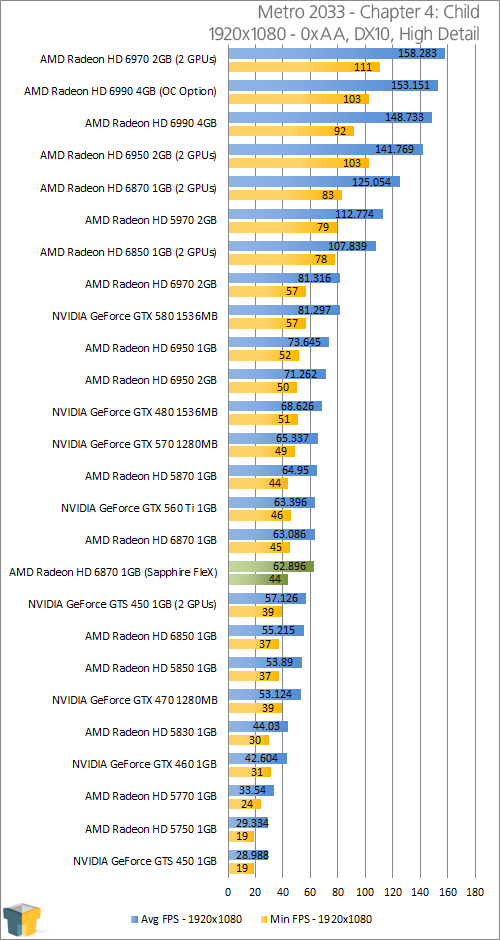 Overall, our benching results with the FleX using the 11.4 drivers are about on par with the results from the reference card using the current drivers at the time. Great performance overall, especially given Metro 2033 is about as intensive on a PC as Crysis was when it was first released.
StarCraft II
Of all the games we test, it might be this one that needs no introduction. Back in 1998, Blizzard unleashed what was soon to be one of the most successful RTS titles on the planet, and even as of today, the original is still heavily played all around the world – even in actual competitions. StarCraft II of course had a lot of hype to live up to, and it did, thanks to its intense gameplay and superb graphics.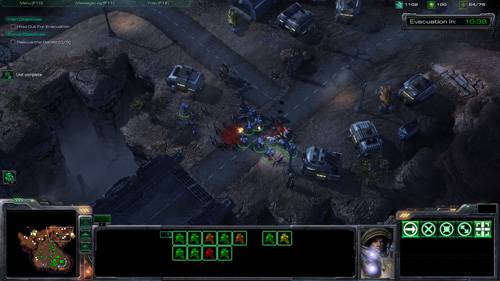 Manual Run-through: The portion of the game we use for testing is part of the Zero Hour mission, which has us holding fort until we're able to evacuate. Our saved game starts us in the middle of the mission, and from the get-go, we build a couple of buildings and concurrently move our main units up and around the map. Total playtime lasts about two minutes.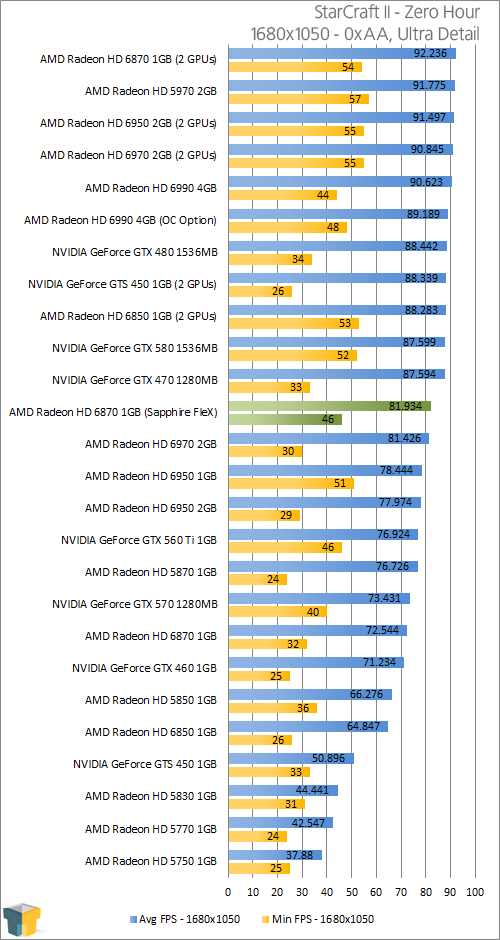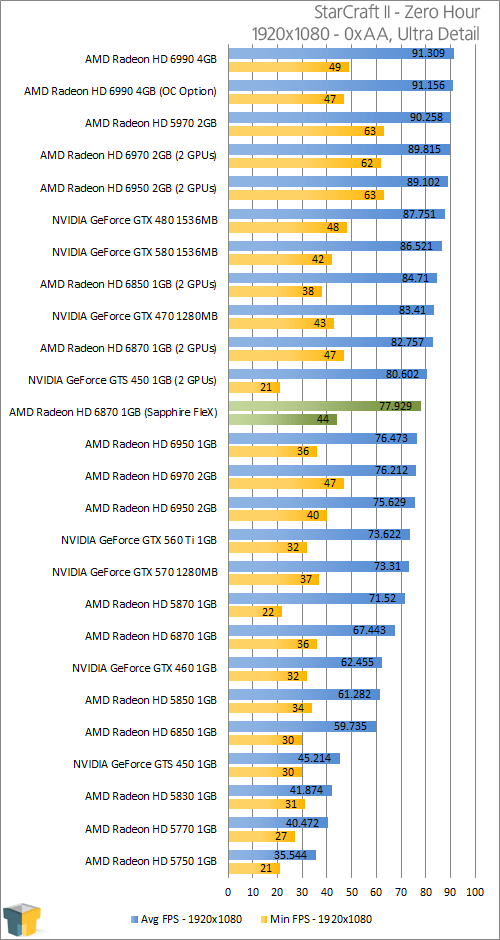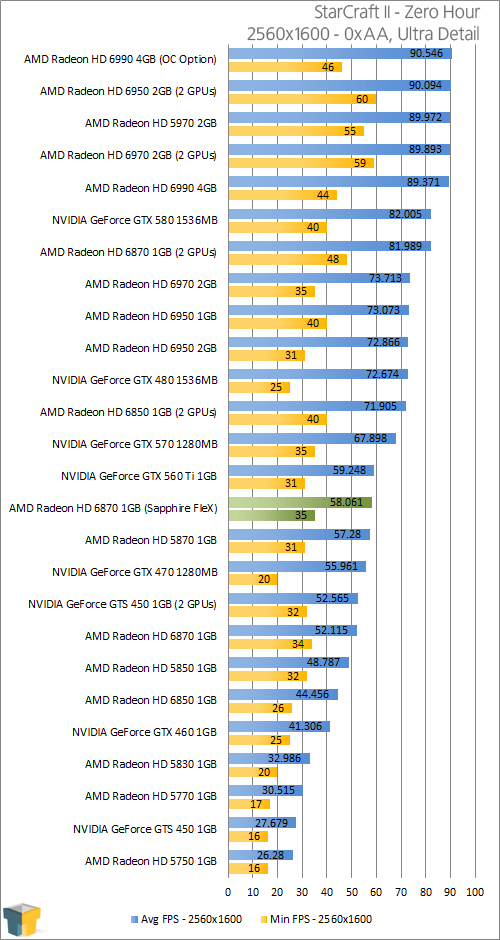 Wrapping up our game tests, we see the same results as the rest of our suite… Sapphire's card performs on par with the reference card, just as expected.
Futuremark 3DMark 11
Although we generally shun automated gaming benchmarks, we do like to run at least one to see how our GPUs scale when used in a 'timedemo'-type scenario. Futuremark's 3DMark 11 is without question the best such test on the market, and it's a joy to use, and watch. The folks at Futuremark are experts in what they do, and they really know how to push that hardware of yours to its limit.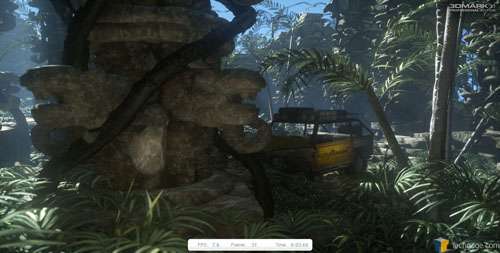 Similar to a real game, 3DMark 11 offers many configuration options, although many (including us) prefer to stick to the profiles which include Performance, and Extreme. Depending on which one you choose, the graphic options are tweaked accordingly, as well as the resolution. As you'd expect, the better the profile, the more intensive the test. The benchmark doesn't natively support 2560×1600, so to benchmark with that, we choose the Extreme profile and simply change the resolution.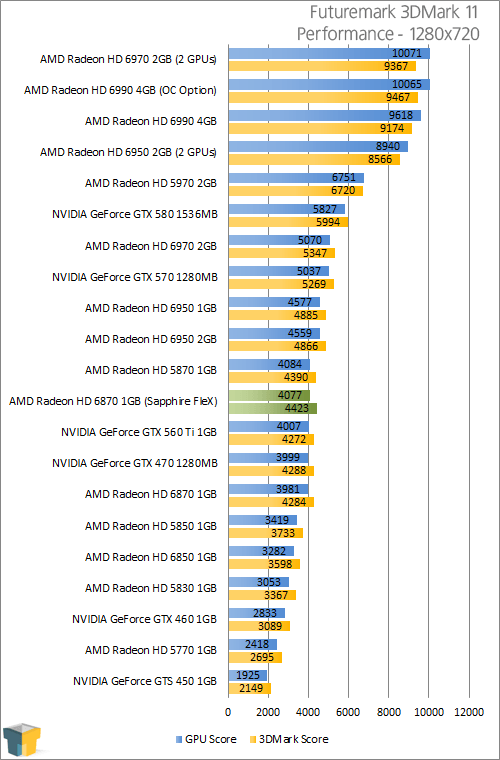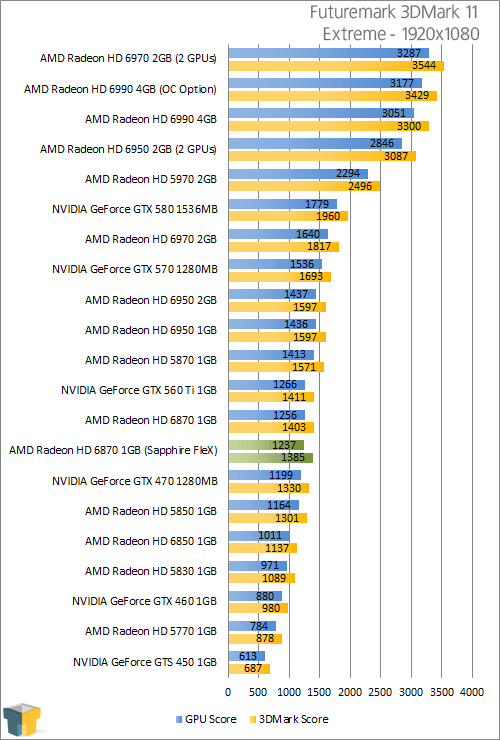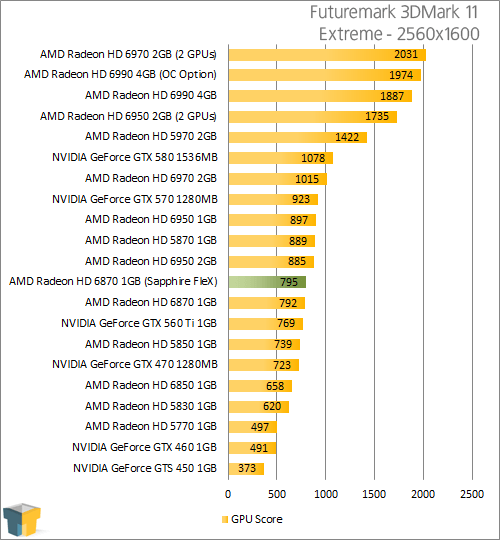 With the four or five driver updates that have come out since the HD 6870 reference card was benched, I expected to see at least a little gain here, but not so. Once again, nothing has changed performance-wise at all.
Unigine Heaven 2.1
While Futuremark is a well-established name where PC benchmarking is concerned, Unigine is just beginning to become exposed to people. The company's main focus isn't benchmarks, but rather its cross-platform game engine which it licenses out to other developers, and also its own games, such as a gorgeous post-apocalytic oil strategy game. The company's benchmarks are simply a by-product of its game engine.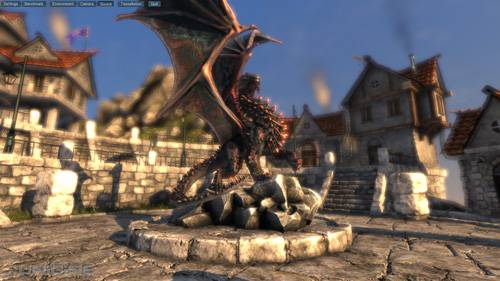 The biggest reason that the company's "Heaven" benchmark grew in popularity rather quickly is that both AMD and NVIDIA promoted it for its heavy use of tessellation, a key DirectX 11 feature. Like 3DMark Vantage, the benchmark here is overkill by design, so results here aren't going to directly correlate with real gameplay. Rather, they showcase which card models can better handle both DX11 and its GPU-bogging features.
The latest drivers don't increase or decrease the performance in any of the games we test, but the performance is decreased a little more notably with Unigine's Heaven. This is a performance caveat I'd expect to get fixed in the near-future, with AMD's upcoming Mjölnir releases.
Power & Temperatures
To test our graphics cards for both temperatures and power consumption, we utilize OCCT for the stress-testing, GPU-Z for the temperature monitoring, and a Kill-a-Watt for power monitoring. The Kill-a-Watt is plugged into its own socket, with only the PC connect to it.
As per our guidelines when benchmarking with Windows, when the room temperature is stable (and reasonable), the test machine is boot up and left to sit at the desktop until things are completely idle. Because we are running such a highly optimized PC, this normally takes one or two minutes. Once things are good to go, the idle wattage is noted, GPU-Z is started up to begin monitoring card temperatures, and OCCT is set up to begin stress-testing.
To push the cards we test to their absolute limit, we use OCCT in full-screen 2560×1600 mode, and allow it to run for 15 minutes, which includes a one minute lull at the start, and a four minute lull at the end. After about 5 minutes, we begin to monitor our Kill-a-Watt to record the max wattage.
In the case of dual-GPU configurations, we measure the temperature of the top graphics card, as in our tests, it's usually the one to get the hottest. This could depend on GPU cooler design, however.
Note: Due to changes AMD and NVIDIA made to the power schemes of their respective current-gen cards, we were unable to run OCCT on them. Rather, we had to use a less-strenuous run of 3DMark Vantage. We will be retesting all of our cards using this updated method the next time we overhaul our suite.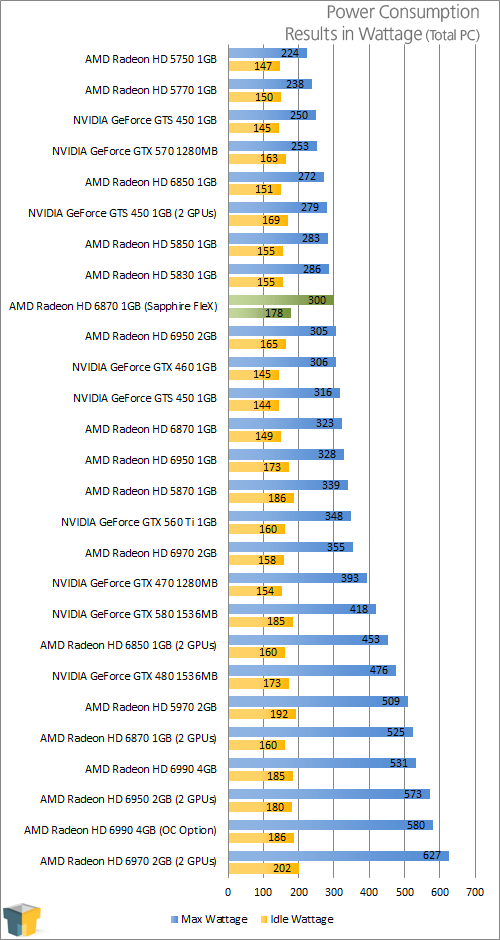 Compared to Sapphire's own Vapor-X (which had 36°C idle and 63°C load), the FleX decreases the idle by 4°C, and increased the load by a mere 1°C. Power-wise, the FleX draws a bit more power at load than the reference HD 6870, but lessens the load draw by 23W.
Eyefinity with Sapphire's Radeon HD 6870 FleX
The biggest focus of the FleX is of course its support for Eyefinity, so to see how it'd fare in such a setup, we pit four of our tested games against a 3×1 setup. Note that the lone exception is StarCraft II, as it doesn't officially support multiple displays, (Thanks for nothing, Blizzard!).
The most common resolution for a "budget" Eyefinity gamer using a 3×1 configuration is going to be 4800×900, but for the sake of pushing the FleX a bit harder, we tested these four games using 5760×1080. At that ultra-high resolution, the raw pixel count is 6.22MP, while for 4800×900, it's 4.32MP. So if you like what you see at 5760×1080, even higher settings should be possible at 4800×900.
I had the intention of benchmarking more than just our usual four games for this review, but time got the best of me, and so I was unable to. We will be working on an updated look at Eyefinity in the near-future, though, where we will be testing many different games, so I'd recommend staying tuned for that.
Please note that the screenshots below were captured using the exact same settings that we benchmarked with, so that you can see exactly how the game will look on your 3×1 setup.
First up, Colin McRae: Dirt 2. Although this game worked well at 2560×1600 with "Ultra" detail, we couldn't have expected that to remain when we cranked the pixel count up by roughly 50%. After first, I set the overall detail level to "High", but that proved to be less than perfect. It was almost there, but still not close enough. In the end, I decreased the Particles to Low, and Shadows, Objects, Trees and Vehicle Reflections to Medium.

Just Cause 2, despite being well over a year old, is still a brute of a system hog. Thus, we knew we'd have to take on some major tweaking here, and in the end, we did, in order to see truly playable framerates at 5760×1080. To achieve this, we disabled SSAO, decreased Water and Object detail to High, Shadows Quality to Medium and turned anti-aliasing off completely.

Mafia II doesn't have a great number of graphics tweaking options, so configurating it for 5760×1080 wasn't too hard. First, we disabled anti-aliasing, and then decreased both Shadow and Geometry detail to Medium.

There's no game easier to tweak than Metro 2033, as its options limit you to resolution, AA level and overall detail level. It goes without saying that the game simply wasn't going to be playable with High detail, given it barely could be considered playable at 2560×1600, but fortunately, DX10 Normal worked absolutely beautifully.

Here are the performance results for the settings mentioned above:
Of all these, Dirt 2 to me was "borderline", but I hated to decrease the details further. For a racing game to run perfectly smooth, at least 60 FPS is ideal, but at around 45 FPS, the game was still totally playable. Should you want an even greater boost, moving to the overall Medium setting helps, but for me, the "borderline" smoothness with greater detail beats the damn smooth gameplay but with lower detail.
As for the other games, they all worked very well overall – especially Metro 2033 (yes, really).
Final Thoughts
It's not too often that a non-reference card brings more than just a unique cooler or an overclock to the table, but the FleX from Sapphire brings something no other Radeon HD 6870 does… a built-in DisplayPort converter. Because of this small addition, users don't need to purchase a discrete adapter, but can simply purchase this card and be done with it.
But it's important to mention that because of the tricks employed here, the maximum resolution tops out at around 5760×1080 for a 3×1 configuration, because without a native DisplayPort connection being used, 3×1 2560×1600 is not possible. But, let's be real… no one is going to purchase a $225 graphics card to power $4,500 worth of displays. At least, I'd hope not.
Eyefinity aside, the FleX HD 6870 delivers the performance we'd expect to see from such a card, and adds on a great cooling solution, and likewise, it improved noise levels. Overall, for those looking to take the Eyefinity route on a budget, the FleX is a no-brainer… it's a real winner.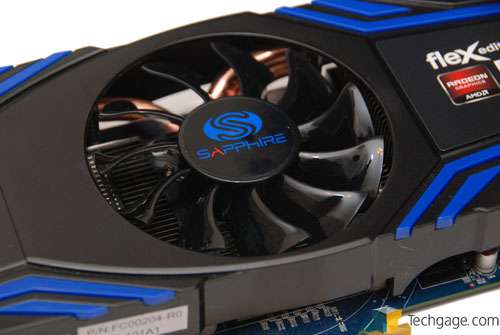 What's interesting to me though, is that despite the Radeon HD 6870 having great overclocking potential, Sapphire didn't overclock its FleX even a little bit. Given the sheer number of pixels that are to be pushed through even a 4800×900 resolution, any boost would've been an appreciated one, and it would have improved the overall draw of the card even further.
For those not interested in a multi-display setup, the Vapor-X also from Sapphire is the one I'd recommend. It offers similar acoustics and cooling abilities, but costs a bit less. And for those who want a better Eyefinity experience, as in, better performance, you could purchase this FleX if you wanted and then another regular HD 6870 and pair the two together for twice the performance.
For all the things the FleX does right, I'm awarding it our Editor's Choice award.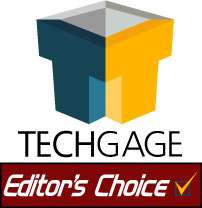 Sapphire Radeon HD 6870 FleX
Discuss this article in our forums!
Have a comment you wish to make on this article? Recommendations? Criticism? Feel free to head over to our related thread and put your words to our virtual paper! There is no requirement to register in order to respond to these threads, but it sure doesn't hurt!
Copyright © 2005-2020 Techgage Networks Inc. - All Rights Reserved.