Super Talent SuperCrypt 32GB USB 3.0 Flash Drive

Date: June 9, 2010
Author(s): Rob Williams

With USB 3.0 storage devices popping up all over, now is a good time to consider making the move to one, whether it be an enclosure or flash drive. To kick off what will be the first of many USB 3.0 device reviews, we're taking a look at Super Talent's SuperCrypt thumb drive, which promises both huge speeds and huge data protection.
---
Introduction
It's not too often that we take a simple flash drive for a spin, but with the advent of USB 3.0 models, things have become interesting. With USB 2.0, we were throttled by a limited bus, and while theoretically we might see performance of up to 37MB/s, the most common top-end speeds we see in real-world tests hovers more towards 30 – 34MB/s. We've long ago hit a point where the flash chips are not the bottleneck, but rather the USB bus.
When I first learned of USB 3.0 at Intel's 2008 developer forum, the promise was of speeds up to 10x, and at that time, there were real-world demos that proved it. Now that the standard has been officially launched, and products are purchasable, you too can enjoy such ridiculous speeds… speeds that literally match or surpass that of your hard drive or solid-state disk.
At Computex 2010, a lot of talk had to do with this very thing, USB 3.0. Gigabyte even had a separate room at Taipei 101 dedicated to vendors of USB 3.0 products that wanted to show off their wares. There were at least ten companies there, showing off everything from thumb drives to external enclosures to external hard drives / SSD's. USB 3.0 is here, and it's exciting.
As we feel that USB 3.0 is able to offer consumers major gains for common uses, you can expect to see a lot of related content going forward. To kick things off, we're taking a look at one of Super Talent's thumb drives, the 32GB SuperCrypt. This drive is much more than a thumb drive upgraded from USB 2.0 to 3.0, as it features a JMicron JM612 SATA controller, which includes support for fast cache, and also Symwave's USB 3.0 bridge chip – one that's going to be a familiar sight in current USB 3.0 storage devices.
Super Talent's SuperCrypt drive looks no different than most other USB thumb drives, and if someone completely oblivious to USB 3.0 takes a look at it, they're still going to recognize the familiar USB interface. Because of the extra chips in this drive, though, and the faster SSD-quality memory IC's, this drive is a bit thicker than others. Unfortunately I didn't think to take a comparison shot, but the width and height is close to four regular-sized stacked (think OCZ Rally) drives in a 2×2 configuration. It's a larger drive, but as you can tell in relation to the USB connector, it's far from being "large".
The package you receive with the drive is simple… it's simply a box with foam inside to protect the drive, and that's pretty-well it. It's simple, but it doesn't need to be anything but. The "SuperCrypt" portion of this drive has to do with its built-in encryption, which I'll touch a bit on later.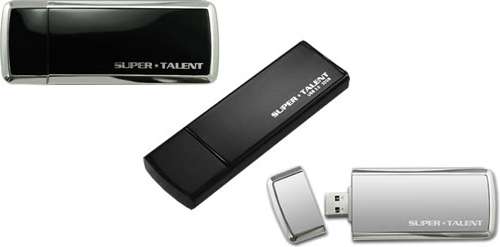 Currently, Super Talent offers three different USB 3.0 thumb drive models. For sheer speed, there's the RAIDDrive series, which boasts speeds of over 300MB/s. The SuperCrypt series, which we are looking at here, is a bit slower at 240MB/s but includes strong encryption. On the affordable side of things, there's the Express Drive, which looks no different in size and form-factor to a 2.0 drive, but features speeds of up to 125MB/s – still far, far beyond a typical 2.0 drive.
Test System & Methodology; Iometer & HD Tune Pro
While USB 3.0 is capable of delivering some insane speeds, this is just an external storage review, so I won't get too deep into our testing methodologies. If you've read our other performance articles, you're likely already aware of how seriously we take our testing practices, and the steps we take to assure the most accurate results possible.
For our real-world transfer tests, the source files are stored on Intel's X25-M G1 solid-state disk, which avails us a top-end read speed of around 250MB/s. Unless the USB 3.0 device we're testing with is able to write in excess of that, there should be no bottleneck.
Because we're planning on taking a look at many more USB 3.0 devices in the future, we're using this first review as a way of understanding which tests we should be conducting, and whether or not we're going to hit a point where our testing is a little excessive. These are only external storage devices, but because USB 3.0 allows such fast throughout, the drives will be far more feature-rich and more capable than the USB 2.0 drives we've been used to. If you have suggestions for our methodologies or which tests we should be using, please speak up in our related forum thread.
Iometer 2006.07.27
To help kick things off, we are using Iometer, a popular storage benchmarking application that's effective, and also very customizable. It's for both of those reasons that we choose to use it, and also the fact that the program outputs to both MB/s and IOPS (in/out operations per second), which is a popular standard for measuring storage devices in enterprise environments. Running such a tool on USB 2.0 drives would have been a bit silly, but because many USB 3.0 storage devices include higher-quality NAND flash, it's a good fit.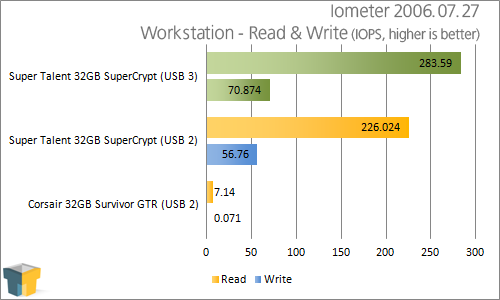 The performance is quite impressive here so far, especially in comparison to Corsair's highest-end USB 2.0 drive. Even when using Super Talent's drive in USB 2.0 mode, the performance is incredible due to the higher-end chips, so in actuality, if companies had been using such chips even in USB 2 drives, things like installed operating systems should have been much quicker to respond.
Why did the USB 2 mode fare better in the Database test? Hard to say. It could have been system variances, or drive variances. Benchmarking the drive over and over tends to introduce varying results as well, so it's hard to say that the drive does indeed perform better with the Database test with USB 2.0 mode, and it would seem strange to believe that that could be the case.
HD Tune Pro 3.5
One of the simplest methods for testing storage is with HD Tune, and as it's able to give reliable and repeatable results, we like to use it in our testing. Although the program offers a good range of testing methods, we use the basic test that gives us read speeds and also access latencies.
The SuperCrypt continues to deliver some sweet results here. We're not quite seeing the 240MB/s prospective speeds here, but as we're close to 200MB/s, it's quite impressive. Even with the same drive under USB 2.0 mode, the speeds are severely diminished, and top out at 33.3MB/s, which is likely the top-end speed we'd ever see if Corsair's high-end 2.0 drive is anything to go by.
PCMark Vantage
One of the more popular storage benchmarks currently is Futuremark's PCMark Vantage. Even though this is a suite designed to benchmark your entire machine, it's HDD suite test is quite robust and is good at delivering scores that scale well with the storage device you are benchmarking. Almost all of the storage companies we deal with regularly recommend using it, so we do.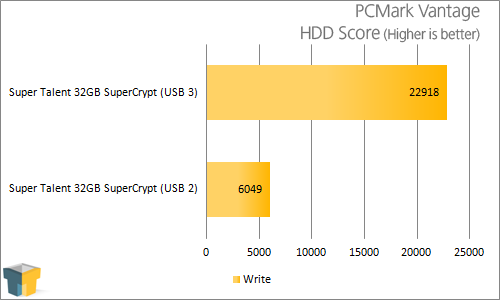 Unfortunately, due to somehow forgetting, I didn't get results from Corsair's drive with this test, so I had to omit it. Between the same drive in USB 2.0 and 3.0 mode, the differences are stark.
CrystalDiskMark, ATTO, Real-World
Over the past year, many storage companies have been jumping on the CrystalDiskMark bandwagon to help strut their drive's performance as best as possible. It's easy to understand why, too, since this benchmark gives results that are far higher than others, and in some regards, it could be considered unrealistic given that in real-world tests and other synthetic benchmarks, the results never equal up. We include it for the sake of interest and because it is still a very thorough benchmark.
Of all the tests we ran on Super Talent's drive, this is one of two that supports the company's 240MB/s rating. In fact, it came even closer to 250MB/s. On the write side, we saw the drive break just the 100MB/s mark. For the record, that write speed is equaled to or surpasses most mechanical hard drives.
ATTO
CrystalDiskMark does well to show the absolute top-end value of a storage device, but ATTO comes close as well. Its test can test a wide-range of cluster sizes, for both read and write, but we only note 4KB, 64KB and 1024KB of the former.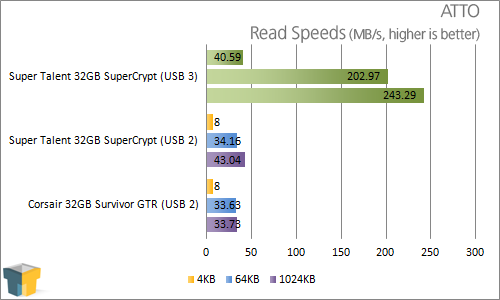 Like CrystalDiskMark, ATTO also supports Super Talent's read rating of 240MB/s.
Real-World
For real-world testing, we use a set of files and folders for the sake of measuring transfer speeds, and also convert images and music on the storage device to see just how well it fares for large intensive operations. For the transfer speeds, we use both 4GB and 16GB files and folders, and for the former, we also perform copy tests, which refers to copying the file or folder on the storage device. We don't do this for our 16GB files and folders as some 32GB refuse it due to coming so close to the total density.
It's clear that in the real-world, the differences between USB 2.0 and 3.0 are not near as stark as with synthetic tests, but the differences are still rather large, especially with our single large file tests. USB 2.0 transfer to the same drive took about 3x as long to transfer a 4GB file!
USB 3.0 is still highly favored where a 16GB file or folder is concerned, although the endurance of copying thousands of files within our 16GB folder diminished some of the gain we'd hope to see. If you're dealing with large solid files, the transfers are incredibly faster compared to USB 2.0.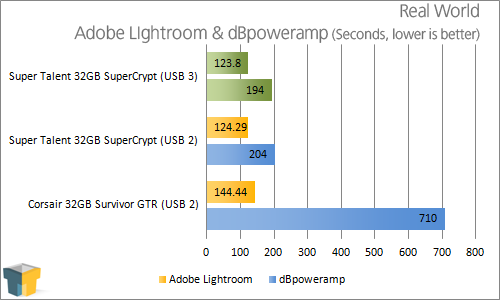 There isn't a large difference here between USB 2.0 and 3.0 for the Super Talent drive, but as these processes are a bit more processor-bound than storage-bound, it was to be expected. Converting music on a standard USB 2.0 thumb drive proved quite painful on the Corsair drive, though.
Drive Encryption, Final Thoughts
The SuperCrypt drive might be fast, as we've seen, but that's not its only feature. As the name suggests, this drive features a robust encryption scheme to help you protect your data from prying eyes. Utilizing a 128-bit AES cipher, your data is going to be for all intents and purposes, very secure.
The scheme isn't quite as robust as some other solutions on the market, however, and that's where Super Talent's "SuperCrypt Pro" comes into play, which cranks up the effectiveness of the AES algorithm to 256-bit. Not only is the cipher strength increased, but also the method of encryption, so if you are truly serious about protecting your data, the latter solution is going to be better. Unfortunately, Super Talent doesn't currently offer a "Pro" version of the drive in a USB 3.0 model… yet.
Using the encryption on this drive is simple. After plugging the drive in, you'll see something similar to this:
The F: in the image is a read-only drive that's just large enough to house the encryption software, while E: is where your actual data is stored. By default, the encryption is disabled, so to enable, you need to allow the auto-run to work, or you can access the lone executable in the F: drive to launch the process.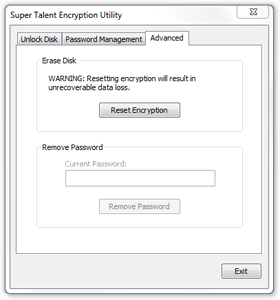 After launching the tool, you need to head to the Password Management section and input a password. After setting, the drive will require a password each time you want to access the data (or rather, each time you plug the drive in). No password, no data… it's simple. To remove the protection, you need to head on over to the final tab, Advanced, and click "Reset Encryption", at which point you will need to type in "ERASE MY DISK" and hit enter. This resets the drive to factory status, meaning all data on there will be lost. You don't need a password to this, so if you end up forgetting your password, the drive isn't going to be bricked.
In quick tests, using the encryption feature on this drive didn't affect the performance at all, which suggests that there's a special hardware chip that takes care of the task, rather than this being a completely software-driven solution. The benefit there is no performance degradation, which is important given that most people who purchase this drive are doing so for that reason.
Super Talent has mentioned to us that it plans to release a tool in the near-future that will remove the encryption feature from this drive, primarily meaning the removal of the read-only partition, for those who don't care about encrypting their data and have no intentions of ever using it. The company said it wouldn't be likely that it would release another tool to add the feature back on, so you'd have to be certain about removing it to avoid regretting the decision later.
Final Thoughts
As Super Talent's SuperCrypt is the first USB 3.0 device I've really had the chance to benchmark and test thoroughly, coming up with a conclusion here is a bit tough. In the weeks and months ahead, we plan on testing copious amounts of USB 3.0 devices, so we'll be able to develop a better understanding of what's out there, and where one drive might excel compared to another.
Having no basis for comparison at all, I'm left impressed with Super Talent's offering here. I admit that the design of the drive itself doesn't do too much for me, but it's a vast improvement over some of the company's other products (aesthetics have never been Super Talent's forté). This is a rather stark contrast to say, OCZ's Enyo USB 3.0 drive, where the company wanted to make the drive look just as good as it performs.
All of that aside though, the SuperCrypt drive performed exceptionally well, with both the drive's read and write speeds being quite brag-worthy. Below is a screen capture that pretty much sums up just how fast the drive can get in an optimum setting. This was taken after a cold boot, so very little, if any, caching was going on. That's fast.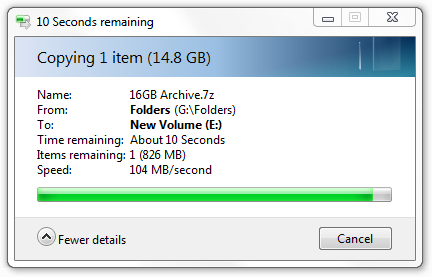 Currently, Super Talent's SuperCrypt drives are not that inexpensive. The 32GB model we've taken a look at retails for $170 at Amazon.com, with the 16GB selling for around $120. By comparison, the company's Express Drive, also USB 3.0, sells for $120 for 32GB. The speed is far degraded, but is still quite impressive compared to a typical USB 2.0 device. Super Talent told us that the Express Drive 32GB could reach 90MB/s speeds in real-world tests, and we hope to soon get one of these in, since the price-point is a bit more manageable and speeds still excellent.
One important factoid about the SuperCrypt is that due to the encryption feature, the drive doesn't work simply in Linux, and likewise, you're unable to install an OS to it. Once SuperTalent releases the tool that removes the encryption feature, both of these scenarios should be remedied.
When all said and done, I'd recommend the SuperCrypt drive, but that's going on no basis for comparison. I'm impressed, but as I've yet to test out other USB 3.0 drives, I can't outright state that this is one of the best drives on the market. I hope to get more into our lab soon (an OCZ Enyo is waiting for me, but has remained untouched due to Computex). If you want to get a better view of how this drive and other USB 3.0 storage devices compare to each other, stay tuned to the site as we'll be working hard to get lots more information up.
Discuss this article in our forums!
Have a comment you wish to make on this article? Recommendations? Criticism? Feel free to head over to our related thread and put your words to our virtual paper! There is no requirement to register in order to respond to these threads, but it sure doesn't hurt!
Copyright © 2005-2021 Techgage Networks Inc. - All Rights Reserved.