Synology DS212 NAS Server Review
Date: February 13, 2012
Author(s): Greg King

It's been a while since we last evaluated a NAS device, so to help kick things back off, we're taking a look at Synology's 2-bay DS212 NAS server. Synology has long offered not only robust hardware, but exceptionally good software, so let's see if that still stands today, as our last look at a Synology product was a full three years ago.
---
Introduction
The market for network attached storage, NAS, has grown significantly over the course of the past few years. As that market segment has grown, a few names continue to get brought up more than others. Of those names, our focus of today is on Synology.
While it might not have made a whole lot of sense in the past for home users to adopt some form of NAS on their local network, it's been an absolute necessity in the business world. There has been, and always will be, a great divide between the technology needs of a small to medium size business and those of an enterprise level company. While the technology differs, the same basic need remains the same across the board. Everybody needs simple and accessible storage.
Synology has been a player in the NAS market since the early months of 2000. Based out of Taiwan, with North American headquarters in Redmond, Synology has built its business around the idea that NAS should be affordable for everyone, regardless of how large or small your needs might be. Being no stranger to Synology myself (this is the fourth Synology product we have reviewed), I personally utilize a Synology device at home for a multitude of personal uses.
Today we are working with the Synology DiskStation DS212 2-bay NAS server. Designed for small business workgroups, the DS212 sports a powerful 1.6 GHz CPU and an advertised read speed of 110 MB/s and 54 MB/s write when configured in RAID 1. New to the DiskStation lineup is USB 3.0 and with it, the option to quickly backup your NAS to an external hard drive. It's been almost three full years since we last looked at a Synology product so I'm anxious to see how far things have progressed in that span of time.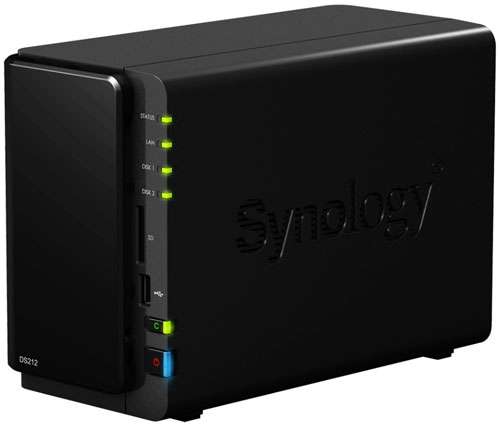 A few years ago, Synology adopted a color scheme to help differentiate its performance line of devices from the rest of its offerings. The first example of this was our DS209+ review. The NAS was completely black, as opposed to a brilliant white, and constructed out of plastic. Fast forwarding to today, it appears that not much has changed. The DS212 retains the black look and the body is once again a thick plastic. Ultimately this doesn't much matter but I personally would prefer a metal enclosure. The plastic does help to keep the prices of Synology gear down and allows them to focus on its true genius, the software. But more on that in a bit.
There are two pieces to the front of the DS212. The body of the NAS is a matte black while the drive bay cover is black with a piano finish. The removable front is a welcome departure from the stylings of the DS209+ we saw in 2009. The old design required the user to open up the body of the NAS to install the hard drives whereas the DS212 incorporates a hot-swapable design, giving the user access to the drives at all times without the need to power off the DiskStation.
That is paramount to continuous, uninterrupted service. In the event that one drive fails, and you have set up your DiskStation in a redundant RAID configuration, you simply remove the failed disk and replace it with a new one. The DiskStation will then rebuild the array at your command. The key here is that the NAS was never powered off. It continued to serve data. The adoption of a hot-swap design was smart on Synology's part.
Sporting four activity lights, a power and USB copy button, the DS212 has been given an SD slot as well. The copy button is for quick and easy backup of an attached USB device. Simply plug in your thumb drive (or any USB storage device whose capacity is less than that of the DiskStation's available disk space) and press the copy button. The DS212 will archive your thumb drive to a browsable directory.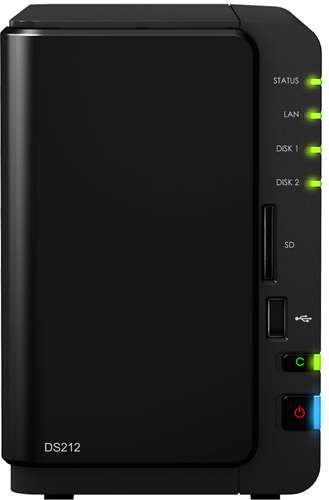 Both sides of the DS212 feature the full Synology brand logo, but looking closely reveals a neat addition. Adding to the aesthetic appeal of the NAS, the lettering's background is actually open, allowing cooler air to be brought into the interior of the DS212 for cooling.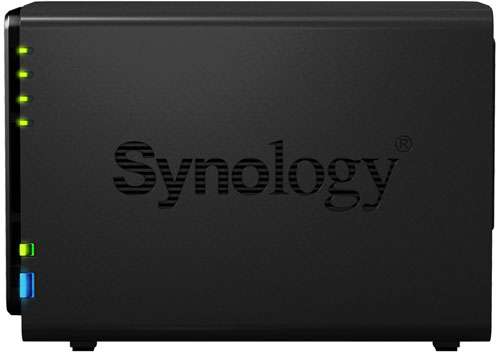 I could go through the hardware specs of the DS212 but it's far easier to simply provide the list created by Synology. It's also far easier to read. Notable features of the DS212 are its 1.6 GHz CPU frequency (a Marvell Kirkwood mv6282 – 88F6282 SoC), it's maximum capacity of 6TB (2x 3TB HDD) and its incorporation of a SD slot and USB 3.0.
Synology ships each DS212 with a pair of hot-swapable hard drive trays, documentation, a power brick, installation software and a set of screws for the hard drives. This is pretty standard but worth mentioning none the less.
Notable Features and Extras
The best thing that Synology has going for it, in my opinion, is its fantastic system software. For those of you familiar with where they were with their DSM (DiskStation Management) software of a few years ago, you might not recognize all that they have done with things.
Starting with one of the most painless setup walkthroughs I have ever dealt with, the entire process, start to finish, rests directly at the feet of simplicity. The latest production version (as of publication) of Synology's DSM software is 3.2-1955. This is the version that was used for our testing purposes, something we will get deeper into in a moment.
Of the primary NAS functions for many people is data duplication and serving. To keep things in order, Synology provides its own flavor of backup software called Data Replicator 3. If you choose to use it, it's there and freely available for owners of DiskStations to use. For Mac users, Synology has baked into their DSM the ability to use your DiskStation as an Apple Time Machine destination. By enabling Time Machine in the GUI, users can then point their Mac to the DiskStation and backup their machine automatically. It's actually a pretty slick process and it works beautifully with your OS X device.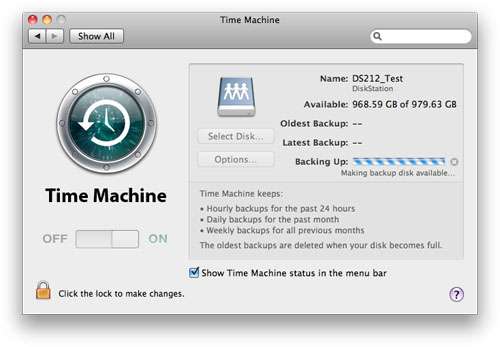 Another awesome feature of Synology products gives business users the ability to leverage their DiskStation is ways most home users wouldn't think of. You have the ability in the Synology DSM to make your DiskStation an iSCSI target. In doing so, you can create as many LUNs (Logical Unit Number) as you need. Using this, users can map those iSCSI LUNs to workstations on their network and in doing so, create a truly centralized storage location.
Another use of the iSCSI feature of the DiskStations is using the NAS as a datastore for VMware. Downloading the trial version of ESXi 5.0 (users can actually use this completely free of charge… indefinitely), I mapped a LUN in vSphere Client. From this, you can create your virtual machine using the networked storage on your DiskStation. It's actually really cool to be able to boot from the NAS and something that you can leverage considerably if the need arises.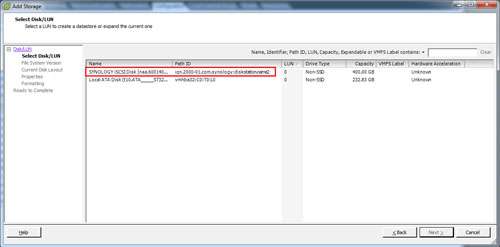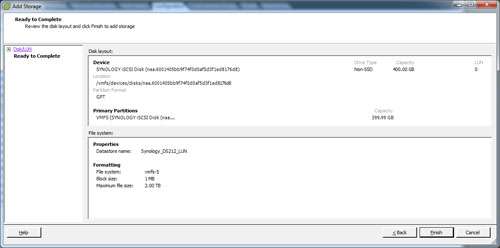 Once setup, you can setup as many VMs as you need to on that datastore. The nice thing about using mapped storage with VMware is that if you find that you are going to run out of space, you can simply expand the size of the LUN (assuming you have additional available space on your volume). This gives the admin a powerful tool to use by being able to expand storage as needed.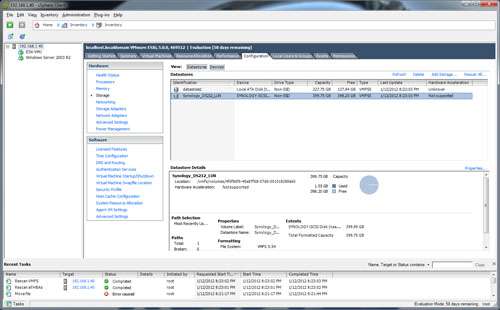 One final thing that Synology has done is leverage the popularity and convenience of mobile apps. The company has created multiple apps, in my case for iOS, which allow you to interact with your DiskStation in various ways. From discovering the Synology devices on your network to checking in with the surveillance, there are apps for your basic Synology-related needs.
On a side note, Scany is a very awesome paid app and network tool.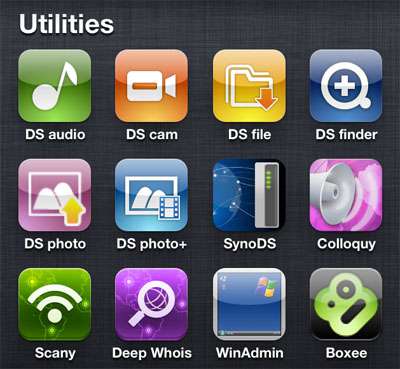 Next up, testing and performance.
Testing and Performance
In the past, we have conducted straight file copies to and from the NAS devices. Using large single files and directories with thousands of smaller ones, we were able to get a real world idea of read and write speeds when averaging out multiple run. This has treated us well, and is a method still used by others, but going forward, we have a new tool in our belts.
A few years ago, Intel created its own benchmarking tool for NAS devices called NASPT. Short for NAS Performance Toolkit, NASPT is, to quote Intel themselves, "a file system exerciser and analysis tool designed to enable direct measurement of home network attached storage (NAS) performance.) Essentially what they did was create a tool that mimics day to day workloads such as video playback, content creation and office productivity application emulation.
By creating this tool, Intel has made it extremely easy on those of us tasked with benchmarking NAS devices. You install NASPT on a host machine (recommended specs are 32-bit XP SP2 and 2GB of RAM), map a drive on that host that points to the NAS and decide which tests you want to run. These are the specs that I used when building out our test machine.
Dell Optiplex 755
Intel Core 2 Duo E6550
2GB DDR2 RAM
320GB Seagate 7200 RPM
Integrated Video
Intel PRO/1000 PT Dual Port NIC
Our test bed is a simple, everyday machine that I happened to pick up cheap on Craigslist. It's a very capable PC and one that worked perfectly for the NASPT test.
The disks we are using in the DS212 are a pair of 7200.12 1TB Seagate drives.
While Synology states that the DS212 delivers average read speeds of 110 MB/s, we simply did not see that. We got up to 73.3 MB/s in the backup test but that's well short of 110 MB/s. Write speed however was surprising. We topped the advertised 54.3 MB/s when we saw 63.4 MB/s in the file copy to NAS test. It should be mentioned however that it's a bit unfair to compare our test results to those claimed by Synology. The company gives no example that I can find of how it came to those numbers.
Our speeds across the board were fastest when the DS212 was setup in RAID 0. This makes since given it's the fastest of the available RAIDs (0, 1 and SHR). For the purposes of this review, we decided to test Synology SHR. Since the D212 is dual drive NAS and we have disks of matching size, SHR is essentially RAID 1 but when those drives are of mismatching capacity and we have a capacity of more than 2 disks, SHR truly shines. The basic rundown is that it lets you use drives of various sizes to create a redundant array where as traditional RAID 1 achieves redundancy using drives with matching capacity. If you want to read more, please check out the SHR page at Synology.com.
Final Thoughts
As mentioned earlier, we haven't touched a Synology device since 2009 at Techgage. That doesn't mean I haven't. I personally own a DS411 Slim. It was the only 4 bay NAS that I could afford at the time but I have put it to great use. I have scripts that run nightly, backing up everything I hold dear. It's also the media hub of my home. My PS3, Xbox and Boxee Box all see the NAS as a discoverable device and can read from it.
I have Logitech Squeeze Center installed and stream music from it as well. My point is that the offerings from Synology are extremely robust in possible uses. So even though we haven't publicly looked at a Synology NAS since the DS209+, I have been keeping up with the latest versions of DSM. It's now in beta for 4.0 and I can say on the record that I am personally impressed with the look and feel of the new OS. For those of you who run Synology devices and can afford to test out beta software, give it a spin. It's a good sign of things to come.
The DS212 impressed me. On paper it's identical to last year's DS211+ but with half the system memory. This is a trend that many companies use. They take last year's top of the line product, change it a bit to hit a lower price point, in this case halving the RAM from 512MB to 256MB, and selling it with a new model number. I love this. It allows users on a lower budget to get last year's best technology for a lower price point.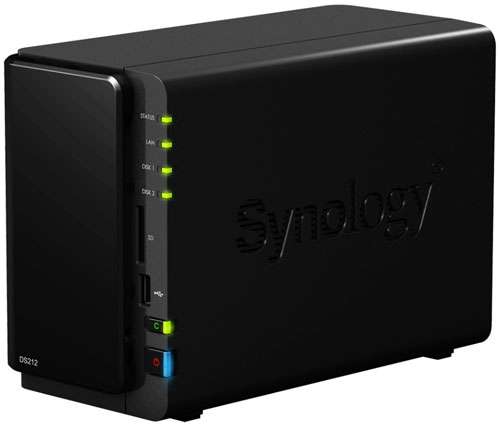 There are complaints that I have, but they are small. As I said earlier, I prefer a metal housing. It's not that I don't trust plastic; the DiskStations that I have seen and dealt with are solid devices. Metal is just a personal preference, but it's kind of a silly complaint. Think about it – NAS boxes are hooked up and then if nothing goes wrong or gets upgraded, they sit stationary for the remainder of their life. With that thought, plastic is perfectly fine.
My plastic criticism aside, Synology makes enviable devices. They perform very well and they have got their pricing down to somewhere more competitive. When we reviewed the DS209+ three years ago, it was selling for around $500. The $299 price tag of the DS212 seems way more reasonable in comparison. Considering the stellar system software, the stable of products for all needs and the efforts the company makes to include extras like the mobile apps, Synology has proven once again that it cares about its users.
If it sounds like I am heaping praise on the DS212, I am. But that's not to discount the competition. Like Synology, prior to this review, we haven't looked at much from QNAP, Thecus, D-Link and the rest of the SMB NAS competition. Regardless of that, I know that they all make very good products. We just happen to be reviewing the DS212 and I just happen to love it.
For those on the market for a new storage solution, whether your needs are professional or personal, you would be well served to include the Synology DS212 in your list of devices to consider. Whether it's a standalone device or a rack mountable one you're looking for, Synology has something for everyone.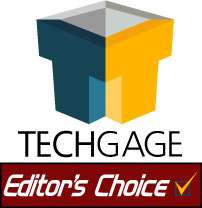 Synology DS212 NAS Server
Discuss this article in our forums!
Have a comment you wish to make on this article? Recommendations? Criticism? Feel free to head over to our related thread and put your words to our virtual paper! There is no requirement to register in order to respond to these threads, but it sure doesn't hurt!
Copyright © 2005-2020 Techgage Networks Inc. - All Rights Reserved.