Tall, Dark, and Handsome – Corsair Graphite 730T Full-Tower Chassis Review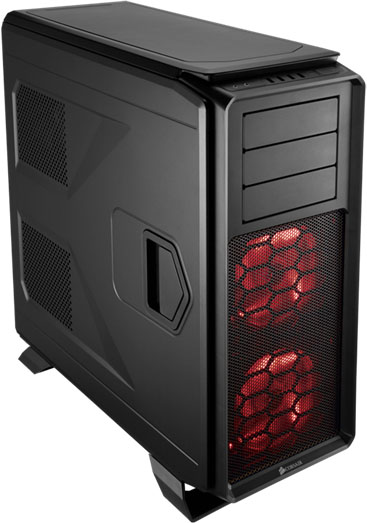 Date: October 8, 2014
Author(s): J.D. Kane

PC chassis really aren't that complicated, but it's so hard to design THE perfect one. It's really all about the details. In the relatively brief time Corsair's been selling them, the company has gotten those details right more often than not. Will this trend continue with the Graphite 730T? Read on to find out.
---
Introduction
PC chassis are just so interesting.
No, seriously!
Sure, on the one hand you can say that it's really the simplest among all of a PC's components. It's often the lone all-mechanical component, devoting the barest minimum of its being to electrical wires and contact points for switches and I/O ports. On the other hand, for as mechanically simple as a chassis is (it is just a box, after all), there is a ton of wonderful engineering that goes into them. Not only that, but it's also the most overtly aesthetic part of your PC. It's probably one of the few components that you pick almost solely for how good it looks.
Corsair has been in the PC chassis market for a relatively short time; its five years of battle for market share pales in comparison to what companies like Lian Li, Cooler Master or SilverStone have put in. Nevertheless, Corsair has already made a few chassis that can be classified as true classics. The Obsidian giants 800D and 900D surely belong on my personal short list of great chassis designs. I bought an Obsidian 700D years ago, and it remains one of my all-time favorites.
So I was delighted when I drew the assignment to review a chassis from Corsair's Graphite series, the 730T. It joins the 780T and 760T as the full-tower big boys of the Graphite series.
This will be Techgage's second look at a member of the Graphite series. My esteemed co-staffer, Ryan Perry, reviewed the very striking Special Edition White Graphite 600T in June 2011. He liked it so much, it hosted his personal PC for a couple of years.
That makes me wonder about how I'd feel about the Graphite 730T once I'm done reviewing it, actually.
Let's have a look at it, then, shall we?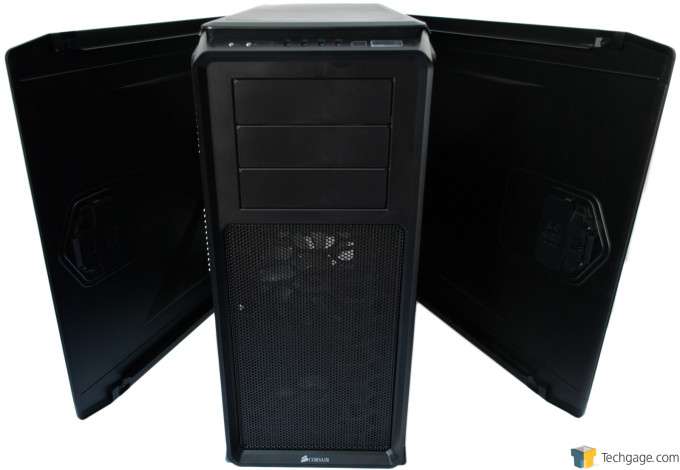 The first thing of note is that while the Graphite 730T shares some of its Obsidian cousins' visual DNA (visually imposing and black, a bit like the monolith from 2001: A Space Odyssey, though there is a white+black version as well), it also has its own distinct flavor. For one thing, the aesthetic is a lot busier. The front view is dominated by the mesh air intake, behind which is a pair of Corsair's own 140mm AF140L LED fans. Where the Obsidians are renowned for their simple, elegant contours, the Graphite 730T is sculpted and layered from almost every angle. There are scoops and bulges everywhere, and almost every edge is beveled. Note the hinged side panels. There are certainly lots of visual elements at work, but the overall effect is pleasing, a good mix of beautiful form and well-engineered functionality.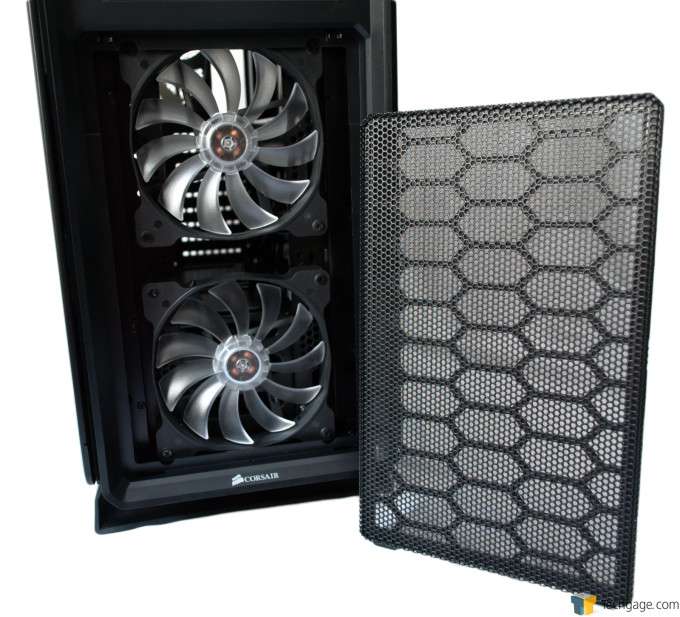 Removing the front mesh to access the pair of 140mm fans is simplicity itself. Just push in the top of the mesh, and voila, the catches release and you can remove the mesh for cleaning, or for removing/installing the intake fans.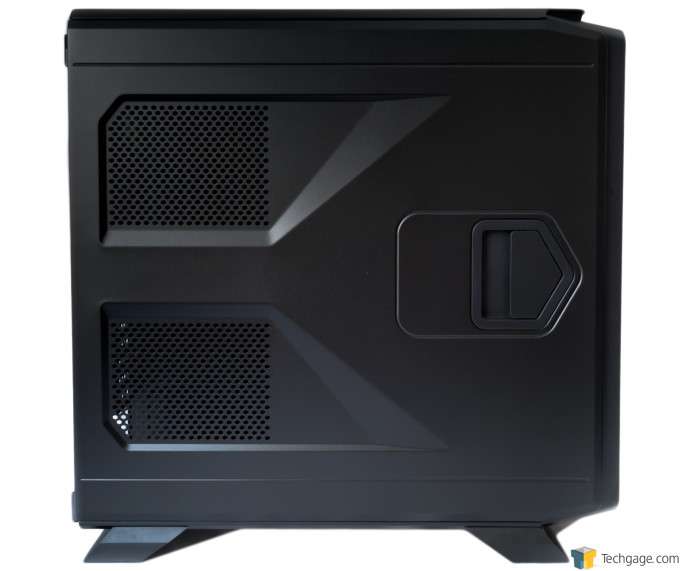 Here you can see the left side panel view. It is virtually identical to the right side panel; the only difference is the presence of two perforated intakes meant to feed the CPU and GPU areas with air.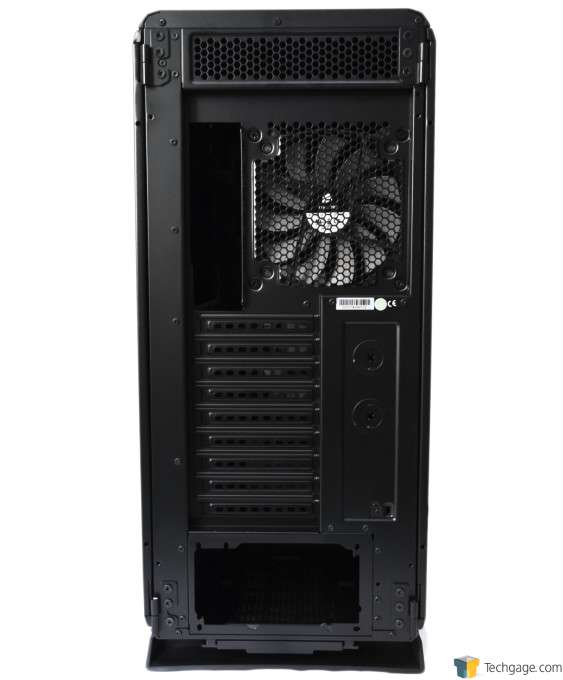 Moving on to the rear view, the most notable features are the ventilation holes near the roof of the chassis as well as the nine PCI expansion slots. The holes near the top of the chassis will allow hot air to escape easily. The nine expansion slots, meanwhile, are appropriate for a full-tower chassis. The exhaust fan is a Corsair 140mm model, though you can install a 120mm one if you prefer.
The top of the Graphite 730T is interesting. It is normally covered with a rigid plastic panel which is held in place with magnets (quite like the air filters on its cousin, the Obsidian 450D). This is more a vanity plate than anything; keep it on if you want to keep your Graphite 730T looking clean and sleek, or take it off if your system needs maximum ventilation or if you mount fans or a radiator on the roof.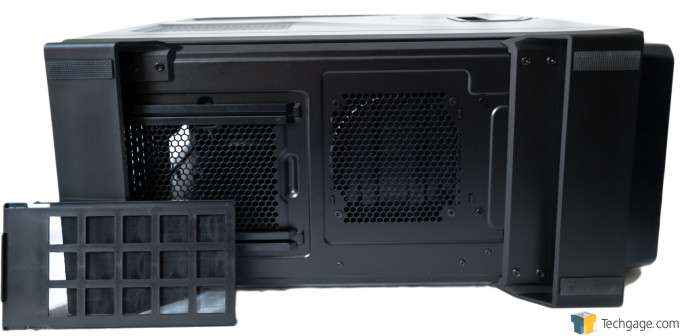 Looking at the 730T's bottom, you can see the ventilated floor and the two full-width skids which function as the chassis' feet. The rear-most vents are protected with a slide-out air filter.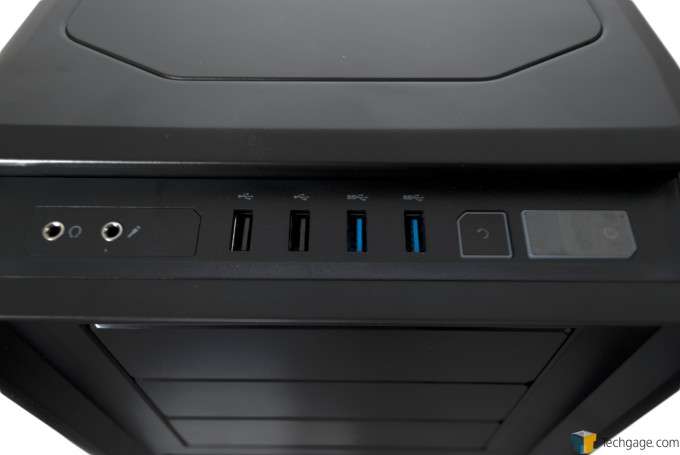 The front I/O cluster is located on the top front edge of the fascia. The 3.5mm audio ports are on the left; going to the right there are a pair of USB 2.0 ports, a pair of USB 3.0 ports, the reset button, and the power switch. It's a very modern I/O cluster.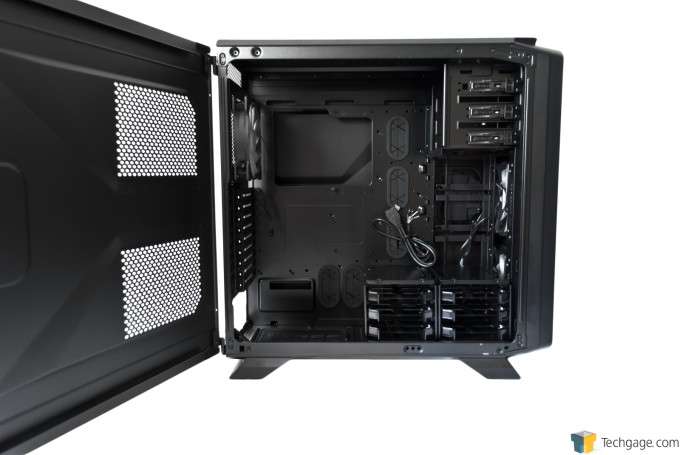 Turning our attention to the interior now, we can see that the Graphite 730T is all-black. It sports a lot of innovations first seen in the original Corsair chassis, the mighty Obsidian 800D, in particular the grommet-covered cable management holes (five in total) and the CPU backplate access cut-out. It also has a permanently installed key standoff, which helps make motherboard installation absolutely foolproof. This view of the interior also shows the two modular hard drive cages, both of which can hold up to three 3.5″/2.5″ drives. Just above them are three of the four 2.5″ SSD sleds which are actually mounted on the rear side of the motherboard tray, a feature I first saw on the Obsidian 450D.
Poking out of one of the grommets are the all-black I/O cables, a touch I personally adore. It's obvious from this photo that you can fit pretty much any graphics card inside the Graphite 730T. Less obvious is the fact that you can stack the two hard drive cages, in case you want to free up the floor space for whatever reason, or remove them completely. The hard drive cages are attached to the floor by screws. As far as motherboard compatibility is concerned, the Graphite 730T can accommodate mini-ITX, mATX, ATX, EATX, and XL-ATX motherboards.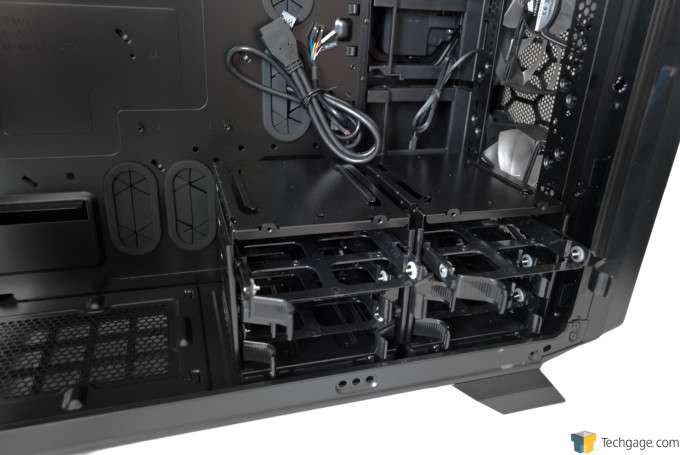 Here is a close-up of the hard drive cages with their top sleds withdrawn. Storage drive installation is completely tool-free.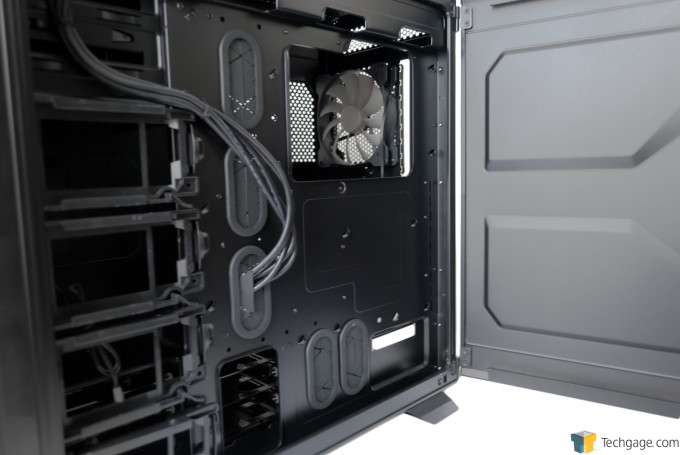 This shot shows the rear of the motherboard tray. There is a full-inch gap between the rear of the motherboard tray and the side panel, which should ease cable management greatly. On the left of the photo are the four SSD sleds.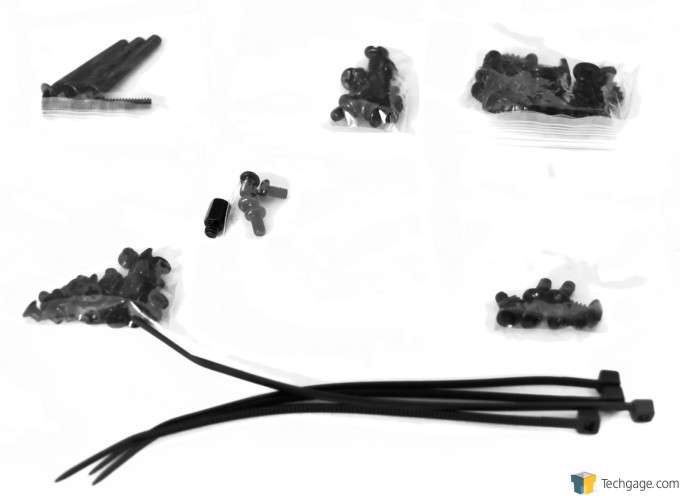 Finally, here we have a photo of the accessories included in the Graphite 730T. There are several baggies of assorted screws, as well as four zip-ties. Not pictured is a quick-start guide.
Now that we've had our visual tour of the Graphite 730T, let's install a system into it, run some performance tests on it, and have some final thoughts.
Performance Testing
I'll be reviewing the Corsair Graphite 730T on a few key criteria: ease of system installation; cooling performance; a subjective evaluation of its noise output characteristics; and a few miscellaneous subjective observations and comments about the chassis and its design and features.
Just like its cousin, the Obsidian 450D, the Graphite 730T is an absolute joy to use. As befits their common heritage of being born in Corsair's engineering and design labs, they share some common features. Like the 450D, it has nine standoffs pre-installed onto the motherboard, with the central standoff serving as the key. Just line up your motherboard on one of the corner standoffs, find the central key standoff, and gently lay the motherboard down. Easy and foolproof. I love simple, elegant engineering like this.
While I was installing the rest of the hardware into the Graphite 730T, one thought burned itself into my brain: I wish that all PC chassis were this easy to work with. That might seem a bit hyperbolic, but it's just impossible to overstate just how good the experience is. Everything lines up perfectly, there is plenty of room to move one's hands inside the chassis interior, and you can take 100% advantage of every feature you've got on offer. For example, remember my most recent chassis review, where I complained about how utterly useless a CPU backplate cut-out can be if it's too small and you can't uninstall your CPU cooler because of it? No such issues with the Corsair Graphite 730T.
I transplanted the motherboard with everything but the GPU and its radiator straight from that other chassis, then decided to change CPU coolers back to the NZXT Havik 140 (so that we'll have some relevant data for the thermal performance testing) only after motherboard installation. That process took no more than five minutes. All told, the Graphite 730T is so easy to work in, installing the entirety of the system – motherboard, GPU + radiator, power supply unit, SSD, and hooking up and neatly routing the cables – took all of forty minutes. It took a bit less time to put the system into the Graphite 730T than it did to uninstall everything from the previous chassis on review, in fact.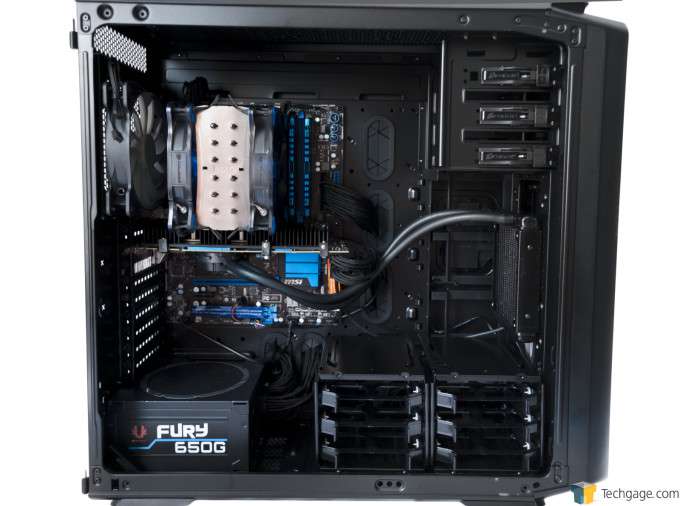 I can honestly say that this is the best "quickie" cable management job I've ever done. As a cable management fetishist, I devote a good amount of time to optimizing cable routing. The Graphite 730T is a cable management fiend's dream chassis. The grommeted openings are well-positioned, and the fact that the cables from the front I/O cluster are sleeved in black make "hiding" cables in plain sight so easy. Again, this is an elegant solution. It's not a Corsair exclusive, but I love just how straightforward and logical it is. The wide gap between the rear of the motherboard tray and the right side panel also facilitate neat cabling jobs. Finally, the hinged side panels also make closing up the chassis so much easier than the standard slide-to-lock-then-bolt-down method seen in most other chassis seem not only prehistoric, but inconvenient in comparison as well.
Per usual with Corsair, the Graphite 730T has fan mounts in the roof section, but are shipped with these mounts empty. As I commented in my Obsidian 450D review, I wish Corsair had given users fans in these locations, just for the added value. The roof section, by the way, can support up to three 120mm fans/two 140mm fans. Moreover, it can also support radiators of the following types: 2 x 120mm/2 x 140mm/3 x 120mm. From the looks of things, there is sufficient room to fit a thick rad with a push-pull fan array.
More on radiator support: Users can mount either a 1 x 120mm or a 1 x 140mm radiator in the rear exhaust position, a 1 x 120mm rad on the floor (you'd have to relocate one of the hard drive cages to do this), and up to a 2 x 120mm or 2 x 140mm radiator in the front intake position. That is an insane number of radiator mounting options. My only disappointment, really, is that there's no place for me to install my fat 4 x 120mm radiator in this thing without modifying it.
Now that we've addressed system installation, let's move on to some thermal testing.
First, though, we must establish some controls by listing the components of the test system. This is the same system I use for all of my Techgage reviews:
| | |
| --- | --- |
| | Chassis Test System |
| Processors | Intel Core i5 2500K @ 3.3GHz/1.2V VCore |
| Motherboard | MSI Z77A-GD65 |
| Memory | GSkill Ripjaws DDR3 1600 2 x 4GB |
| Graphics | EVGA NVIDIA GeForce GTX680 (reference design) |
| Audio | Onboard |
| Storage | Crucial C300 (128GB) SSD |
| Power Supply | BitFenix Fury 650G |
| Chassis | Corsair Graphite 730T |
| CPU Cooling | NZXT Havik 140 |
| GPU Cooling | Arctic Accelero Hybrid II-120 |
| OS | Windows 8 64-bit |
To test cooling performance, I will use the OCCT CPU stability test program to generate maximum CPU load and temperatures as well as MSI Kombustor for the GPU temperature testing. Ambient temperature will be kept constant at 72°F/22.22°C.
A preliminary note about thermal testing: A PC chassis being reviewed ought to be in as close to stock configuration as possible. That means I won't add fans to the system (other than what comes with certain components' cooling systems). Also, per my now routine practice, I'll also use the same exact torture tests to put the CPU and the GPU under maximum load conditions. OCCT is the torture test of choice for the CPU, while MSI Kombustor fits the bill for the GPU.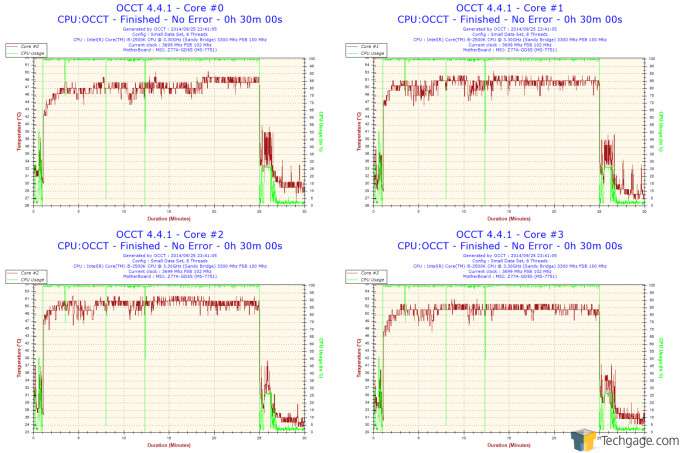 The test system registered CPU maximum load core temperatures of 48°/52°/52°/52°C. These data can be directly compared with the results from two other chassis that I've tested, the Corsair Obsidian 450D and the Puget Systems Test Bench, as well as to data acquired when the system was installed in my own Danger Den Torture Rack. I present the data in the following table for easy comparison.
| | |
| --- | --- |
| Chassis | Maximum Core Temperatures Recorded |
| Danger Den Torture Rack | 50°/54°/54°/55° C |
| Corsair Obsidian 450D | 49°/52°/51°/51° C |
| Puget Systems Test Bench | 51°/54°/54°/54° C |
| Corsair Graphite 730T | 48°/52°/52°/52° C |
According to the data, the Graphite 730T is virtually on equal footing with its cousin, the Obsidian 450D, give or take one degree Celsius. As an aside, I think it's interesting that the two closed chassis' performances are almost equal to each other, while the same could be said to the two open test benches' performances as well. I think the lesson here is that a well-designed closed chassis will channel airflow properly to the CPU heat sink and exhaust heat in a systematic manner.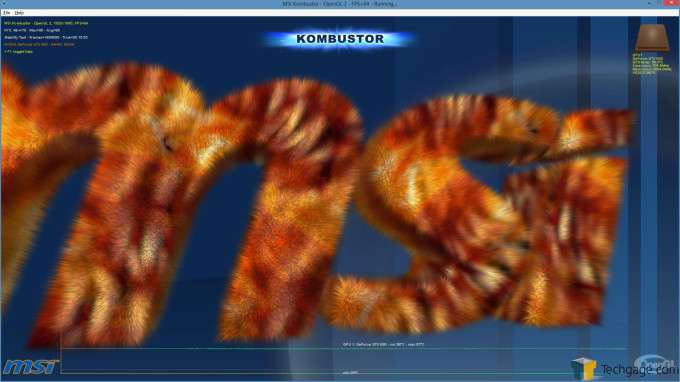 Moving on the maximum GPU load temperatures, the test system in the Graphite 730T registered a maximum of 57°C. Again this can be compared directly with the data acquired from my earlier chassis reviews; this time, though, we'll include the BitFenix Neos' performance in this test.
| | |
| --- | --- |
| Chassis | Maximum GPU Temperatures Recorded |
| Danger Den Torture Rack | 55° C |
| Corsair Obsidian 450D | 63° C |
| Puget Systems Test Bench | 50° C |
| BitFenix Neos | 68° C |
| Corsair Graphite 730T | 57° C |
The temperatures in this test are more varied, making conclusions a little bit more difficult to draw. But one thing is clear: With the radiator mounted in the Graphite 730T's front intake section, we acquired the best GPU temperatures amongst the PC chassis on test. We did have to uninstall one of the two 140mm fans to accommodate the Arctic Accelero Hybrid II-120's 120mm radiator and fan.
In terms of noise suppression, the Corsair Graphite 730T excels. On a purely subjective level it is certainly no worse than any of the other chassis I've tested, but without a sound level meter it's impossible to quantify just how good it is at dampening sound.
Overall, it's really hard to come up with anything bad to say about the Graphite 730T. Its styling is probably going to be its most contentious aspect; it lacks the elegance of most of its Obsidian cousins. The design is certainly more aggressive, perhaps intended to stand out more compared to the monolithic "classic" Obsidians (the 900D and 800D/700D, especially). Having said that, the Graphite 730T is handsome in its own right.
But chassis design is much more than just looks, of course. There are all these wonderful engineering touches that make building a system inside the Graphite 730T such a pleasure. There's so much space inside, for one thing, but not so much as to make you feel that you can live inside it (a reference to a running joke shared between certain Techgage staffers about the Obsidian 900D's gargantuan interior). The versatility and abundance of not just the hard drive installation options (afforded by the modular hard drive cage design) but also of radiator mounting options are also huge plus points in the Graphite 730T's favor. And I just love the distinctive swing-out rear-hinged side panels. This is certainly not a concept that's original to the Graphite 730T, but I'd venture to say that this is one of the best executions of that feature. Cable management and routing are also so easy in this chassis.
Let's move on to some final thoughts.
Final Thoughts
I'm left with a very strong reaction to Corsair's Graphite 730T.
I've owned one of the company's chassis, the Obsidian 700D. I bought it with my own money, and while not perfect (the side panels were a bit flimsy, and the gap between the rear of the motherboard tray and the side panel was a bit too narrow) I still consider it to be one of my all-time favorite chassis. I also have had the chance to review the Obsidian 450D; if not for the fact that it cannot accommodate an EATX motherboard, I probably would have transferred my main PC to it already.
Well, the Graphite 730T is exerting a similar pull on me.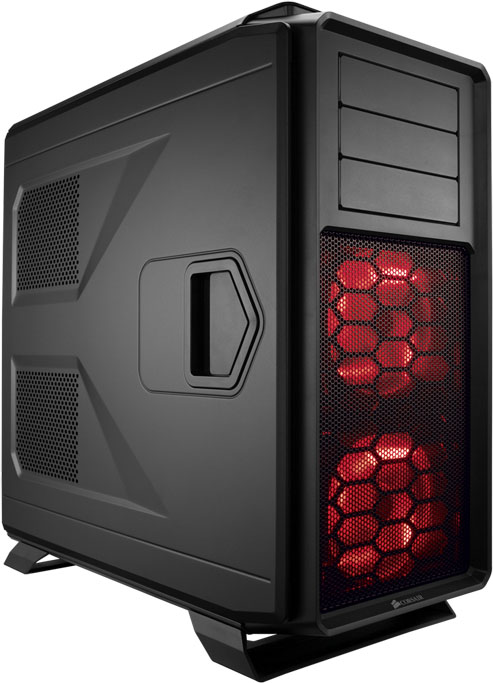 Much like what had happened to Techgage comrade Ryan, I'm tempted to move my main rig's components into a chassis from the Graphite series.
I mean, the Corsair Graphite 730T is like the very best of co-workers: It's so easy to work with, and you definitely feel a sense of fun doing so. It's very roomy, so it's very easy to work in. Component installation is very easy. It has those super-snazzy SSD sleds that sit on the back side of the motherboard, something I just absolutely adore (although, in the Graphite 730T, these are mounted not on the motherboard tray itself but behind the hard drive cages. Exact same concept, though). And it has those wonderful rear-hinged, swing-out side panels, which not only are stylish, but are also ultra-functional: they allow easy access into the chassis interior. Even the simplest things like the permanently installed standoffs, not to mention the central key standoff, all contribute to why I like the Graphite 730T so much.
Then there are those details that Corsair has carried over from its earliest days as a chassis manufacturer. There are the cable routing openings with the rubber grommets on the motherboard tray, all of which are positioned intelligently and logically. There's the large cut-out to access the CPU back plate, as well as the black-sleeved cables for the I/O ports and switches. This is the best chassis I've ever had the pleasure of working in as far as cable management is concerned, and I didn't even have to try very hard.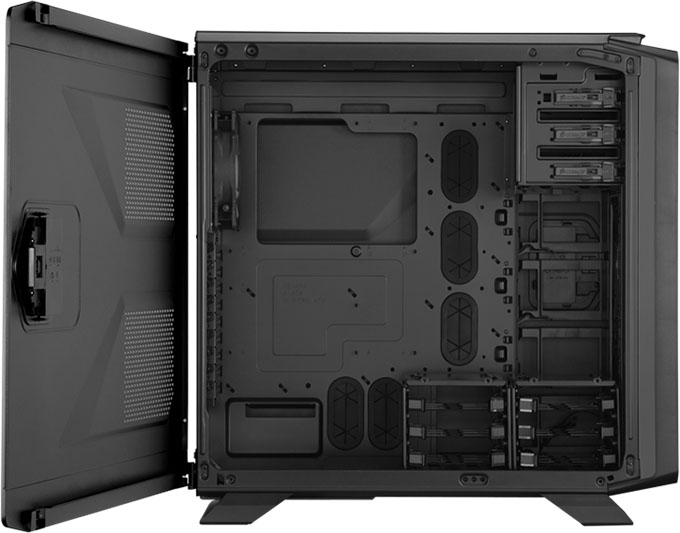 The fact that there are all these options as far as radiator installation are concerned is also a huge plus. The only "negatives" worth mentioning, in fact, are that it won't fit my monster 480mm rad without doing any mods to the chassis and that Corsair doesn't include any fans up in the roof section. At least this last point is consistent with Corsair's modus operandus when it comes to its chassis.
The styling, of course, is a matter of taste. It's not as elegant as the monolithic Obsidians, but the aggressive aesthetic does grow on you if you give it a chance. As overtly aggressive designs go, the Graphite 730T's is definitely more handsome than the norm.
And not only does it look good, but it also is so well-designed that it endows certain performance advantages. It keeps your PC nice and cool, and it keeps all the noise contained. Plus it's got those dust filters in the air intakes to help keep the dust out.
Corsair has priced the Graphite 730T at $139.99, but I've occasionally seen it on sale for as low as $99.99 (at the time of writing, Newegg has it at this price, in fact). I think that, even at its non-sale price point, the Graphite 730T represents one of the very best values for money in the chassis market that I know about. You just get so much for your hard-earned buck.
So only one question remains:
Am I going to move my primary PC into this chassis?
Pros
Very roomy.
Versatile: Fits mini-ITX, mATX, ATX, EATX, and XL-ATX systems.
Strong performance in thermal tests.
Very good sound dampening.
Handsome aesthetic.
Easy access to chassis interior due to hinged, swing-out side panels.
Multiple fan and radiator mounting options.
Very easy to work in.
Great value (especially when it goes on sale).
Excellent for cable management.
Cons
Doesn't include fans for roof section.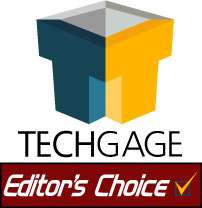 Corsair Graphite 730T Chassis
Copyright © 2005-2019 Techgage Networks Inc. - All Rights Reserved.