TG Gift Guide 07 – Motherboards & Processors

Date: November 26, 2007
Author(s): Rob Williams

Choosing the perfect motherboard and processor could be a difficult task if you don't know what to look for, but we take out the hassle and deliver a list of options you should peruse. Both AMD and Intel are covered, as are all price-ranges.
---
Introduction, Processors
To help kick off our collection of gift guides this holiday season, we will begin with components of utmost importance: Processors and Motherboards. The past year has been spectacular for both of these markets, with both AMD and Intel releasing new processors and chipsets throughout. Just weeks ago, both companies unveiled their newest top-end offerings, including AMD's native Quad-Core Phenom and Intel's 45nm QX9650.
In our guide today, we will be taking a look at a slew of processor and motherboard offerings for both sides of the fence. Although Intel has an advantage which can't be argued, many prefer to stick with AMD for personal reasons and that's fine. It's for that reason that we include a wide selection for AMD as well. In fact, AMD actually provides equal or better offerings in the lower-end side of things. It's when moving upwards that things split off.
Although we refer to this as being a gift guide, it's a guide in general, for anyone. If you are indeed using this guide to purchase hardware for a loved one or friend and are left uncertain about anything, don't hesitate to post your concerns in our related thread where our forum members will take care of you.
Low-End / Budget Dual-Core Offerings ~$66 – $75 USD
Today, it doesn't take much money to equip yourself with a fully capable processor. In fact, it's incredible to think about how far we've come in only one or two years. Some of todays offerings that retail for less than $100 are on par or better feature-wise than $1,000 products two years ago. It's a great time to be building a new PC!
Both AMD and Intel have some great low-end offerings that pack a punch and won't break the bank. Although there are really low-priced processors available, we chose to stick to dual-core offerings only, since they are truly worth the extra few dollars.
For a mere $66, you can snag a dual-core AMD 4000+ X2 with a clock speed of 2.1GHz. You read that right. Sixty-six dollars! 2,100MHz! For $9 more, the 4200+ can be had, but the extra 100MHz in clock speed doesn't warrant the extra cost. The 4000+ can easily be overclocked to 2.2GHz without it hardly being considered an overclock. This is one value-packed processor.
Intel's great budget choice is the Pentium E2140, a dual-core offering that rolls in with a 1.6GHz clock speed. Based on a 65nm process, it will run cooler and use less power than the AMD CPU mentioned above, but it might prove a smidgen slower given the much lower clock speed. Either CPU will be a good choice in the end, but the AMD could be the better value for speed/price.
Mid-Range Dual-Core Offerings ~$109 – $189 USD
When moving into the $100+ range, our choices grow vastly. This is a point where performance can be noticeably better while still retaining a very manageable price.
In this price-range, there are two AMD processors that stand out to me. First is the dual-core Athlon 5000+ X2. I almost get excited when looking at a CPU like this, because for $109, this offering would have been considered a major steal just last year.
Add $20 to the price, though, and an even better deal surfaces: Athlon 5000+ X2 Black Edition. Like the above mentioned 5000+, this one has two benefits. First, it has an unlocked multiplier, meaning it's truly overclocking friendly. Second, it has a lower power consumption. So in the end, paying more now might mean paying less later. For $129, it's a hard processor to beat.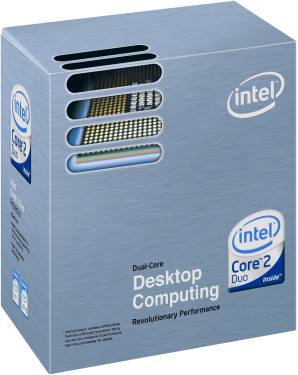 So how about the Intel side? The best-priced offering of the bunch is the Core 2 Duo E4500 2.2GHz, a 65W offering that sports all of the benefits that Conroe brought to the table. It retails for $129 and includes an 800FSB (overclockable of course), 2MB of cache and two lovely cores.
Edging close to the $200 mark is the $189 Core 2 Duo E6750 2.66GHz (review). The obvious benefit here is the clock speed, but the 1333FSB will also help increase performance beyond the simple CPU frequency hike. Because Intel's C2Ds have incredible overclocking ability, it would be no shock to see this model hit ~3.3GHz stable… on air. For $190, even 3.0GHz would be quite the deal.
Mid-Range Quad-Core Offerings ~$259 – $279 USD
Who thought that Quad-Core processors would catch on this quickly? I'd be hard-pressed to build a new machine and not throw a Quad-Core in there. They are so affordable now – even if you don't need the extra power, it's nice to know that it's there.
Because Quad-Cores are such a good deal, I haven't included higher-end Dual-Cores in our guide, only because I don't find them to be worthy of their price. Processors from our Mid-Range section could easily be overclocked to reach their higher-end Dual-Core parts. If you are looking to spend more than $250 on a new CPU, Quad-Core is (to me) a no-brainer.
For AMD, the obvious (and perhaps only) choice right now is the Phenom 9500, clocked at 2.2GHz with a 2MB-shared L2 and L3 cache. This CPU requires an AM2+ board, or at least an AM2 board that you know will support the new CPUs. The 9500 is based on a 65nm process, has a 95W TDP and is essentially your only choice for an AMD Quad-Core. This CPU currently retails for just under $260.
For Intel mid-range Quad-Core, the choice is easy: Core 2 Quad Q6600 (review). This CPU offers faster speeds than the above AMD Quad-Core, 8MB of L2 cache and most importantly, unbelievable overclocking ability… especially if you manage to acquire a G0 revision. Compared side to side, the Q6600 will prove a better value than the Phenom 9500. It costs $20 more, but it makes up for it in added performance clock-for-clock. However, if overclocking is not in the picture, either of these two CPUs will suit your machine well.
High-End Quad-Core Offerings ~$1,079 – $1,299 USD
On the AMD front, there is no such thing as "high-end" right now, and all of their best offerings don't cost much more than $300. So the true "high-end" realm is Intels only, but I am hoping AMD will do something to shake things up this coming year.
Because Intel's QX9650 (review) launched a few weeks ago, their previous options went down a few notches, including the Core 2 Extreme QX6850 (review). This model is the last of the 65nm "Extreme" series, and sits at a comfortable 3.0GHz. It offers 8MB of cache like the rest, and extreme overclocking ability, thanks to it's fully unlocked multiplier. When first launched, this CPU retailed for close to $1,300, if not higher, but now sits at ~$1,079.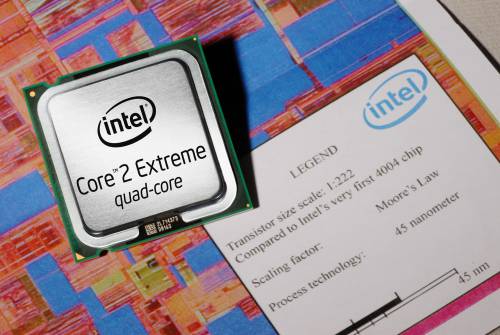 How about the best that Intel has to offer? That of course is the Core 2 Extreme QX9650 we mentioned a moment ago. This is the first enthusiast Quad-Core from Intel based on the 45nm process. This means it has better power efficiency, will run slightly cooler and is generally more efficient overall. This CPU also features the new SSE4 instruction set which makes a huge difference in video-encoding applications that support it. Those are few right now, however, but should pick up quick in greater numbers next year.
The predicament is this. The QX6850 costs less than the QX9650 by about $200. To add to the problem, the QX9650 is different to find in stock anywhere, making the decision that much more difficult. Either of these CPUs is recommended, but if you can find the QX9650 in stock (and don't mind potentially waiting until after the holidays), the QX9650 will be the better value overall. If you are spending $1,000+ on a CPU, you might as well aim for the best model out there.
Intel Motherboards
There is no shortage of Intel 775 boards to wade through, and that's a great thing. More choice can lead to long sessions of decision making, but when you finally pick up that perfect motherboard, all the time spent pondering pays off. The motherboard is one of the most important pieces of any machine. It's also one of the few components where paying more for a higher-quality model is usually warranted.
I am not a huge fan of budget motherboards, but I am listing a few here for those who are looking for solutions around the $100 range. I say I am not a fan, but it's primarily due to the fact of not dealing with any budget boards in recent memory. Therefore, my opinions are based off of what I've read elsewhere and can gather from looking over the product specs and pricing.
We will first begin out with a look at Intel motherboards, with a look at AMD offerings on the following page.
Biostar TForce TP35D2-A7 ~$105 USD
The lowest-priced motherboard in our Intel line-up is Biostar's TP35D2-A7, which retails for $104.99 at most popular e-tailers. There are mixed reactions with this board, but the general consensus is that it's shortcomings are overshadowed by the boards good qualities. So you can expect some weird quirks along the way, but most might be overlooked in lieu to the price paid.
The TP35D2-A7 supports all of Intel's processor line-up, including the latest 1333FSB models. Crossfire is not supported, but being a budget board, that's little surprise. Overclocking is a definite possibility, however there have been few who've had more success than others. Luck of the draw, as they say. Still, for the $105 price tag, this board should treat you well.
Intel DP35DP Media-Series ~$109 USD
What's that? You didn't know that Intel had a P35-based motherboard of their own? No worries, neither do most people. However, taking a look at the specs and price of this offering directly from the chipset source is enough to show that the price tag is one that's easy to stomach. Like all other P35 motherboards, this one supports both 1066FSB and 1333FSB processors natively, as well as DDR2-800 memory, which can be pushed higher with a little light overclocking and depending on the overclocking-ability of your memory.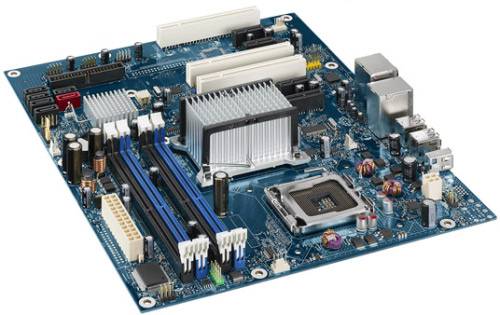 Unlike higher-end P35 offerings, the DP35DP offers only one PCI-E slot, meaning no ATI Crossfire support. To most, this will not matter. I've had fantastic luck in the past with Intel's home-grown motherboards, primarily due to their incredible stability. This board might not be a great overclocker, but if stability and price is your main concern, the DP35DP wins.
MSI P35 Neo2-FR ~$119 USD
Considered to be the best bang for the buck by many, MSI low-end P35 offering is anything but. Unlike other low-end models, the Neo2-FR -does- offer support for ATI Crossfire, thanks to the addition of a second PCI-E slot. Like the others, 1333FSB processors are supported as well as DDR2-1066 RAM.
The fact of the matter is, this is a $120 board but looks like one that costs much more. It has lots of copper for effective silent cooling, five S-ATA ports with support for RAID 0/1/0+1/5 and good overclocking potential. If there is any gripe to be had about this board, it would be the layout… it's weird. The required 4-pin and 8-pin power connectors are located in the most inopportune spots. It's as though they did it on purpose! If you can get past that, this board comes highly recommended.
Gigabyte GA-P35-DS3R ~$140 USD
Gigabyte has become a personal favorite of mine in the past year. I've used four of their motherboards to a great extent and didn't run into any showstopping issues with any of them. This is why two of their boards have made our Intel list today, including their P35-DS3R which we have here.
There are few downsides to this board. It offers support for both 1333MHz FSB processors, including Intel's upcoming 45nm offerings (the QX9650 is supported, but costly). Although our higher-end boards (and the previously mentioned MSI) include support for dual graphic cards, the P35-DS3R offers only one. This might not matter to you if you plan on using a single graphic card throughout the life of your board. Overall, this is a fantastic offering and well worth a purchase if you are looking to pick up a great board on a relative budget.
abit IP35 Pro ~$180 USD
abit has been having a great year as far as enthusiast motherboards are concerned, and the IP35 PRO is no exception. Although we haven't tested this board ourselves, it's hard to ignore the amount of universal praise this board has received. Recently, it came highly recommended from our friends at AnandTech and Tech Report, which is all I need to know.
Besides the great overclocking ability and feature-set, the IP35 PRO includes support for 1333FSB processors, DDR2-800 (which can of course be overclocked), dual PCI-E 16x slots (including Crossfire support), eSATA, great software overclocking tools and also totally passive cooling. No fans means a quiet system, a huge bonus if that's what you are after. Without a doubt, given the price and feature-set, this board is a winner.
ASUS Maximus Formula Special Edition ~$270 USD
For the enthusiast crowd, ASUS has been doing a fine job of delivering the goods. Their X38-based Maximus Formula (review) is no exception, which is why I awarded an Editor's Choice award in our review last month. For the overclocker, you will be pleased to see huge potential here, reaching 470FSB with our QX6850 Quad-Core and 490FSB with our Dual-Core E6750.
Of course what sets the Formula apart from most other motherboards on the market is the fact that it includes a water-block on the Northbridge. This is -fantastic- for aiding in lower overall system temperatures, but added nothing to our overclocking ability. With water though, we found our CPU and overall system temperatures dropped at least 10°C… a nice gain for such a simple addition. The barbs are that of 3/8″ sizing, but converters are included if you use 1/2″.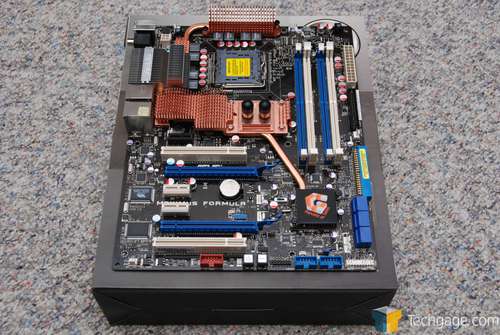 To add to the bling-factor of the board, ASUS also packs in a copy of 3D Mark 2006 Advanced and STALKER, a game that they sponsored heavily. For those who just can't get enough of this added bling, then the LED poster which sits atop your PC will really make your friends question your sanity. Overall, it's a fantastic motherboard and one I highly recommend for anyone who is looking for a feature-packed enthusiast motherboard.
Gigabyte GA-X38-DQ6 ~$270 USD
The X38-DQ6 (review) was one of the first X38-based boards on the market, and Gigabyte did not disappoint. From the moment I took the box out of package for our review early last month, I knew I was looking at quality. Gigabyte goes the extra mile with everything it seems. The packaging, board layout, feature-set… it's all top notch.
While I don't enjoy the board quite as much as I do the ASUS Maximus Formula, there's no denying it's great looks and stability. Not to mention the amount of copper! You might very well be able to melt all the copper into pennies and purchase a backup board! Overall, this is a fantastic choice for the enthusiast and does well to add a splash of color into your case!
Other Offerings ~$149 – $350 USD
For those not happy with our four primary choices, here are a few other offerings you might wish to consider:
ASUS P5E3 Deluxe WiFi @n
$350 – Expensive, Supports expensive DDR3, Expensive, Built-in WiFi, Expensive, Media-rich, expensive
Foxconn X38A "Digital Life"
$230 – Fantastic X38 board, media-friendly, supports both DDR2 and DDR3
DFI LanParty P35 T2R
$199 – Includes DFI's renowned enthusiast focus, supports Crossfire, -sweet- color scheme
ASUS P5K Deluxe WiFi
$209 – Classic ASUS quality, feature-rich board, WiFi built-in, fantastic OC ability
eVGA 680i LT SLI
$169 – Intel motherboard that supports SLI, great overclocker
Gigabyte P35C-DS3R
$149 – Solid offering that uses high-quality components, 1333FSB, DDR2/DDR3 support
If that wasn't enough motherboard action for you, then hop (or walk, crawl, etc) over to the next page where we delve into AMDs offerings.
AMD Motherboards
AMD fans were treated to a few launches this month that cover all of the bases: Phenom, 790FX and HD 3800. Phenom is of most interest though, because it was the first desktop Quad-Core processor to step out of the AMD HQ. Unlike Intel's offerings, Phenom is also the first native Quad-Core, meaning that all four cores are on the same die. By comparison, Intel's Quad-Cores are comprised of two dies with two cores per each.
As I mentioned in our intro, as much as I love AMD and wish to see them do well, from a consumers standpoint it's hard to recommend Phenom or most of their current line-up. It's been well-known since the reviews flourished a few weeks ago: Phenom is slower clock-for-clock when compared to Intel's Quad-Cores.
To add to the agony, Intel's CPUs also use less power. So even though the rock-bottom Q6600 2.4GHz costs about $40 more than the Phenom 2.2GHz, it's about 20% faster on average. Price-drops can solve all of this though, but that might not happen until the new year.
On the upside, AMD's latest offerings are still not bad processors by any stretch. I mean, for one thing, they have FOUR cores. That is a -lot- of processing power. In addition, these new processors will also work in many AM2 motherboards, although you will have to do some digging to find out if that's the case for the board you currently own or plan to purchase. If it's a board that's readily kept up to date with new BIOS downloads, then there is a good chance AM2+ processors will be supported.
Because Phenom is the new "killer" AMD product to have, we have focused on the top-of-the-line offerings here, with a few mentions of the more modest models after that. Bear in mind that we did not delve as much into AMD motherboards as we did with Intel, but there are a slew of other options available for both. If you are pondering a motherboard purchase for a model that's not listed here, post in our thread and ask our forum members opinion!
790FX/790X-Based Motherboards ~$180 – $270 USD
Phenom launched alongside two new chipsets, the 790FX and 790X. The main difference between the two is that the former has a faster Hyper Transport and supports not only Crossfire, but Quad-Crossfire, meaning four ATI cards on the same motherboard. If that's not extreme, I am unsure what is! Of course, this won't matter to most people, but the option is there. 790X has a few other limitations, but most will not matter to the majority of people, such as 4 S-ATA 3GB/s ports instead of 6.
What I will also mention is that due to the fact that both of these chipsets are brand-new, there are bound to be some issues that will be experienced. You might be lucky and not experience any issue at all, and chances are good that the existing issues will be taken care of fast thanks to BIOS updates. Various reviews around the web expressed certain issues with their review samples, so it's something to keep in mind. On the other hand though, purchasing a Phenom CPU without a 790x board makes little sense, unless you are certain it works with your current AM2 board, and works well.
That all said, the 790FX chipset has three supported boards at current time, with more en route. First up is MSI's K9A2 Platinum board at $179 which supports Quad-Crossfire and all the other features to come with 790FX. In case you want to go big, 8GB of DDR2 ram is also supported.
Moving on up we find Gigabyte's MA790FX (pictured above) board for $209. Like the MSI board, this one also features Quad-Crossfire support, includes 6 S-ATA ports with support for RAID, 6 USB 2.0, 2 eSATA (nice bonus!) and includes the nice durability factor that Gigabyte has become well known for. Not to mention their color will really add some flavour to your case. Seriously, what color was NOT used on that motherboard?
Last up we have ASUS' M3A32-MVP, which is no doubt the most unique board of the bunch. It will retail for around $259 and includes more copper than the pipes in your house. Oddly, copper heatspreaders for your RAM are even included, which means you will need to purchase RAM that do not include those, or not be afraid to peel off the spreaders on the RAM you have. For the ultimate in cooling ability, this might be the AM2+ board to consider.
As far as the 790X goes, there are only two offerings currently on the market. MSI has their K9A2 and Gigabyte has the MA790X-DS4 . Both are fully competent motherboards for those who want the latest chipset on a relative budget, since both boards sit at the $160 mark. Both boards include 4 S-ATA ports and dual PCI-E 16x (supports Crossfire). Overall, these boards would make fine choices to coexist with your new Phenom processor.
Other AM2 Offerings ~$80 – $270 USD
It has been a while since decent AM2 boards have been released, so I am sticking to the classics in my choices here. First up is the ASUS M2N32-SLI Deluxe WiFi which I fell in love with last September. This board proved entirely feature-rich (heck, it has WiFi built-in!), had great cooling and overclocking ability, fantastic media-related features, a full-featured BIOS and support for ATI's Crossfire (although all motherboards with dual PCI-E slots offer this). Overall, it's a fantastic board and was worthy of an Editor's Choice and that still stands.
Looking for a fantastic HTPC motherboard? Our AMD-fan Rory took Gigabyte's GA-MA69GM board for a spin and loved what it offered in terms of features and stability. Aside from normal HTPC attire, it offered fantastic BIOS functionality, plenty of expandability, onboard HDMI (!), great performance and an attractive design. All for $80! The downside? The lack of voltage options in the BIOS, but if you have no intentions of overclocking, this won't affect you at all.
I'll admit that one of my all-time favorite AM2 boards is DFI's own LP M2R/G, but I can't recommend it because it seems impossible to find it in stock anywhere. Luckily, the next-best-thing is readily available, the Infinity SLI-M2/G. Aside from the great tweaking-ability this board offers, one of the main draws is its SLI support, which seems to be becoming more rare by the day. On the other side of the coin is the CFX3200 M2/G, which is quite similar in specs, except it is designed for Crossfire instead of SLI. Either board proves to be a fantastic AM2 choice, especially given it's average retail price of $100.
Here are a few more recommendations!
abit AN8 32X
$159 – Solid SLI-capable board, good layout, passive cooling
Biostar TA690G AM2
$85 – Another feature-rich HTPC motherboard with HDMI built-in
Foxconn C51XEM2AA
$165 – Great looking board, stable, SLI-capable
abit AN-M2 nView
$87 – Good HTPC board, on-board DVI, best color scheme of the bunch!
ASRock ALiveNF7G-HDready
$84 – Another great HTPC board, on-board DVI and VGA
MSI K9N4 SLI-F
$79 – Cheap SLI board, feature-rich, odd layout
This concludes our motherboards and processors gift guide. As mentioned earlier, if you have any lingering questions, feel free to jump into our thread (no sign-up is necessary) and pose it there!
Copyright © 2005-2019 Techgage Networks Inc. - All Rights Reserved.