TG Gift Guide 07 – Networking & NAS Boxes

Date: December 20, 2007
Author(s): Greg King

Have more than one network-capable device in the house? You need a router! Luckily, that's exactly what our final gift guide tackles, along with a few of our favorite NAS boxes. Now you will really have no excuse for keeping your game console off the network or your data backed up!
---
Introduction, Networking
In the networking area of our gift guide, we are looking at a pair of categories as we feel these two are really the only highly saturated areas in home networking at the moment. Not many of you need switches as the available ports on your current routers will suffice. With that said we are focusing on home routing and network attached storage.
As more and more of us move online to game, we need extra ports for our PCs and consoles and the easiest way to go about doing this is with a router. On that same train of thought, the more devices we have on our network, but more likely it is that data will either need to be shared or want to be shared.
You can setup shared folders on each host PC but the caveat to that is that each of those PCs much be on in order to access that shared data. An easy and simple workaround to that is attaching a networked storage device. A device such as this also allows a simple and convenient place to back up important data such as documents, songs, pictures and movies.
Starting with the routers, we are taking a few things into consideration. As the debate between wired and wireless continues to rage on as strong as it ever has, a nice point of home networking gear is that wireless routers provide expandability with their built in wired Ethernet ports.
While some offer 10/100 connectivity, others now allow true gigabit connections. Whether or not you need the additional speed is up to you. Taking all of this into consideration, we have decided to not include wired routers into this year's gift guide simply because more and more hardware is wireless capable and even if it isn't, virtually all available wireless routers include wired ports for just such needs.
Budget (> $50)
Playing the role of today's budget router is the TRENDnet TEW-631BRP. Offering four 10/100 Ethernet ports, draft 11n wireless capabilities and WPA2-PSK wireless encryption, the TEW-631BRP if perfectly suited for those of you looking for wireless capabilities of the n variety on the cheap. While the blue color scheme leaves little to be desired, the TEW-631BRP is a cheap and effective offering for those looking for such a device.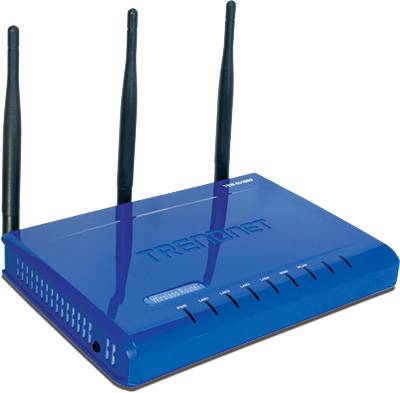 Mid-Range (> $130)
Finding a great router for under $100, which is what we originally wanted to do, was a difficult task as most everything available offered just about the same set of features as the TRENDnet TEW-631BRP. To compensate for this, we upped the price range by $10 and will make up for the extra difference in pricing with a few extra routers in our other offerings section.
Taking everything into consideration, the TRENDnet TEW-633GR and the fan favorite D-Link DIR-655 share our mid-range spot. Both offer gigabit Ethernet ports and QoS (Quality of Service) settings bringing fast connectivity and graduated internet performance over other lesser routers. With the future of draft 11n undecided, both routers offer 11n 2.0 compliance which from what we have heard, is as close to the final standard as it's going to get so purchasing either of these fine routers will serve you well once n becomes a standard.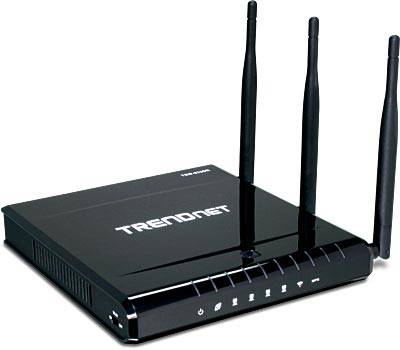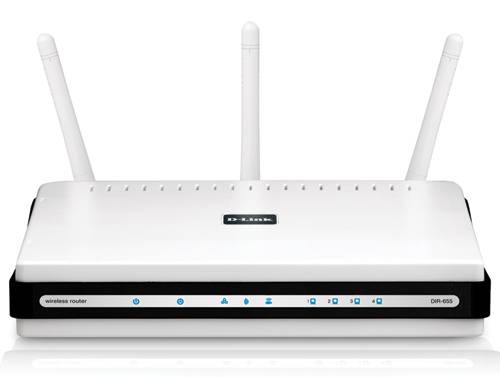 High-End (< $130)
Taking top honors this year is the D-Link DGL-4500. Taking a page from Belkin and including an actual display on the router's top, the DGL-4500 provides gamers with the one thing they crave most, blinking lights. Display aside, the biggest feature of the DGL-4500 is the dual band 11n, allowing the user to wirelessly connect on the standard 2.4 GHz range or the far less crowded frequency of 5GHz.
One thing to note about this is that there aren't many adapters available that can accept a 5GHz frequency but those that can, will enjoy the less crowded frequency. The only sacrifice to running at 5 GHz is that you can't simultaneously run in both 2.4 and 5 GHz, effectively removing connectivity for any device using the 11b or 11g standard. All in all, the D-Link DGL-4500 is the best router available and it comes in black which is nice as well.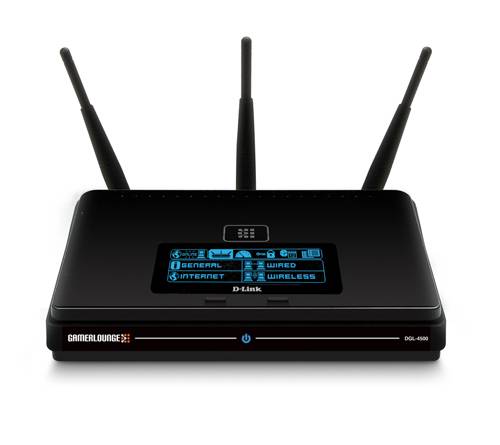 Other Offerings
Linksys WRT54G: Quite possibly, and without exaggeration, the most popular wireless 11g router on the planet. Everywhere you look, people are using one version or another of this device. For those of you with older versions, there is an unsupported firmware floating around the tubes that grants this device (as well as many others) far greater capabilities. From my understanding, all but v7 of the WRT54G can use this upgrade.
Asus WL-500W: Yet another product reviewed by Rob, the WL-500W is a very solid showing from a company not necessarily associated with networking hardware. Supporting multiple devices via it's USB port, including printers, thumb drives and web cams, the WL-500W is designed to look good in any environment be it in homes or small offices around the globe.
Belkin N1 Vision: Interestingly enough, this router made quite a commotion when announced thanks to its large OLED display on the top of the router. Giving the user relevant network information, the N-1 Vision can also show you who might be leaching your internet connection, hopefully prompting you to up your security settings. Rob and I both saw the N1 in action at IDF last September and left the Belkin booth impressed. The only thing that keeps this exquisite router out of the top spot is the lack of dual band wireless which may or may not affect you at all.
Network-Attached-Storage
I loves me some networked storage. By day, I am a network administrator, keeping the internet pipes clean and flowing and this has help me over the years to develop an affinity for networking and all that goes along with it. As we mentioned earlier, network storage devices are wonderful little units that allow remote access to data across a network without a dedicated PC always being powered on. This not only helps in over all power consumption but also in ease of access to important files.
We have looked at a few NAS boxes in the past and that isn't going to change in the coming year. For those on your Christmas list looking for something like network storage, let us recommend the following hardware. Please keep in mind that the prices given for each device only covers the unit itself. With any NAS, the addition of a hard drive(s) is required. Without delay, here are our recommendations:
Budget (< $200): Thecus is a company that needs no introduction to the NAS crowd. Long thought of as a leader in the industry, their N1200 is a perfect blend of functionality and convenience. Allowing the installation of one SATA hard drive, the N1200 also has a built in 4 port switch with allows the connecting of multiple PCs directly into the NAS itself. There is one gigabit WAN port and four 10/100 LAN ports to provide you with all the connectivity one can stand.
Another product to consider is the D-Link DNS-323. The DNS-323, which we reviewed last June, shared the budget spot with the Thecus N1200 simply because it's too good of a device to keep in the Other Offerings section. Allowing up to 2 drives to be installed, the DNS-323 offers decent speed and added piece of mind with its RAID 1 capability.
Another shining point for the DNS-323 is the ease of installation. With the DNS-323, you are giving up a few features like thumb drive back up capability but for the price (under $200) you will simply not find a better RAID able NAS for your money.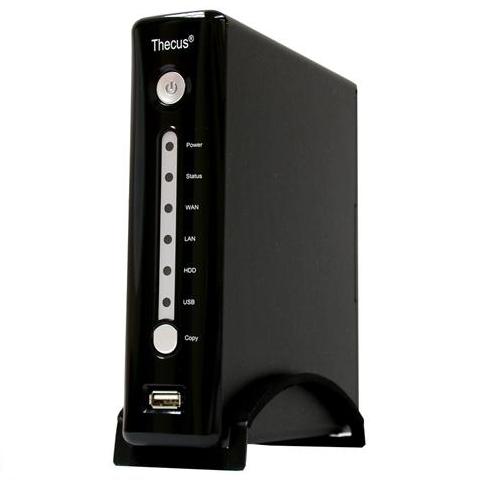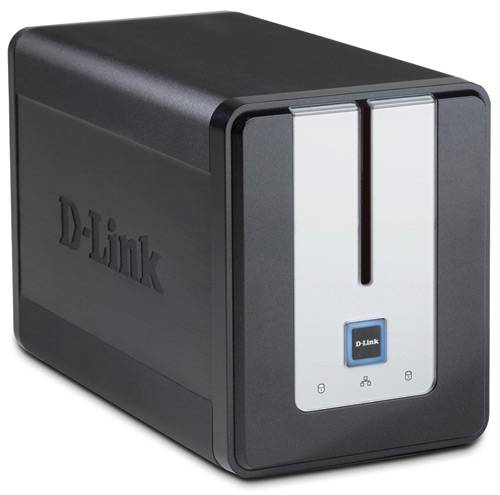 Mid-Range: For our mid-range offering, the Synology DS107+ takes top honors. We reviewed the DS107e last October and loved what we saw. Offering the most features we have ever seen in a NAS, the DS107e's bigger brother, the DS107+, offers a blazing fast on board processor and gigabit connection capabilities.
Add in support for Jumbo Frames and you have one of the best single drive NAS devices on the planet. One thing to consider too is the dedication that Synology has show in releasing updated firmware and functionality well after a product has been replaced by a new model.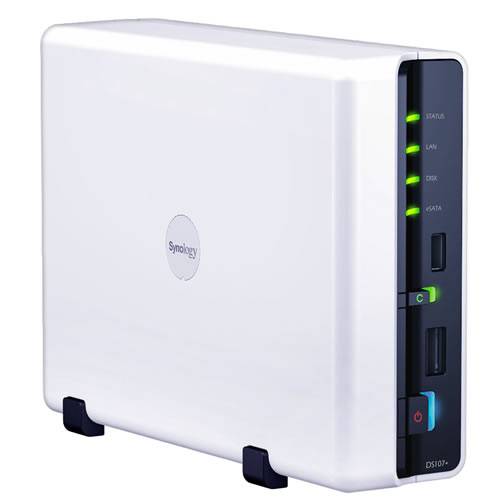 High-End: Excluding RAID 5 capable devices because so few people will use them in a home environment, our top recommendation is split between two deserving products. The QNAP TS-209 Pro and the Synology DS207+ are both pristine examples of what a 2 drive NAS box can be. Starting with the QNAP product, the TS-209 Pro offers hot swappable RAID 1, a spectacular feature set and outstanding performance. Moving onto the Synology offering, the DS207+ looks identical to the DS207 that we reviewed last August but brings a more powerful processor and additional RAM to the fight. Look for a review of the DS207+ shortly.
Both of the devices are guaranteed to fill the needs of 99% of all users in the market for a NAS. There will be some special needs that these won't meet but for most of us, these two devices are as good as it gets in the highly competitive, affordable 2 bay NAS box market.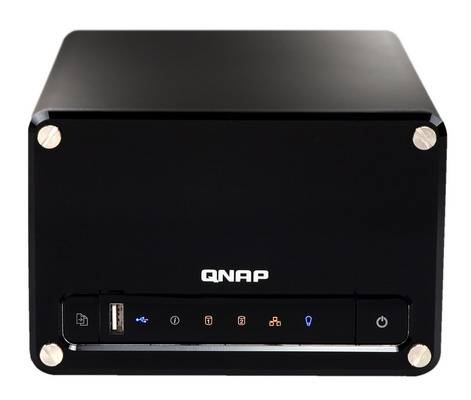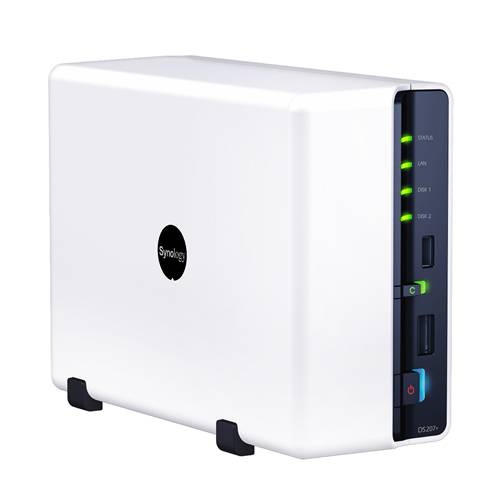 Other Offerings
QNAP TS-109 Pro: Basically a single drive version of the TS-209 Pro that took top honors on our list of recommended NAS boxes, the 109 Pro brings just as much to the table yet lacks the ability to RAID your data. One thing that it does shine in is in the cooling and noise department. The TS-109 Pro is completely silent and passively cools the enclosed hard drive and does so quite well. Look for our review of the TS-109 Pro soon.
Thecus YES Box (N2100): Reviewed back in March, the YES Box was designed to be the center of the multimedia household. Allowing the RAIDing of up to two SATA drives, the Thecus N2100 can keep your data safe and serve it up at gigabit speeds. Supporting Jumbo Frames and supporting a slew of multimedia functions, the N2100 is a solid addition to any network.
Hammer myShare: A relative unknown, Hammer Storage has a solid offering in the myShare. Offering 2 drives and a slew of multimedia functionality we have come to expect in NAS boxes of this caliber, the myShare is easy to setup and just as easy to administer.
We hope that it helped you in your purchasing decisions this season, and if you are left with any additional questions or comments, please feel free to post in our related thread! No registration is required to post within this thread. Happy holidays!
Copyright © 2005-2020 Techgage Networks Inc. - All Rights Reserved.