Thecus N5550 5-bay SMB/SOHO NAS Server Review
Date: September 26, 2012
Author(s): Rob Williams

In an environment where uptime and data security is of paramount importance, a 5-bay NAS is an interesting proposition with its allure of huge storage and the ability implement a hot spare. Thecus' N5550 only adds to the intrigue with its huge feature-set including a USB 3.0 port and 2GB of RAM. Let's see if the other features can seal the deal.
---
Introduction
With the flooding that occurred in Thailand last fall, many who were planning on putting together a NAS had their plans side-swiped. Who wants to spend $500 or so on a quality NAS and then $1,000 for 8TB of storage? Not me. Fortunately, prices have steadily come down over the past year, and while we're not quite at pre-flood pricing, we do seem to have settled.
Last fall, a WD Green 2TB could have been snatched for about $80 with a good sale, but today, you can expect to fork over about $110. That means that for a typical 4-drive setup using 2TB drives today, you can score 8TB for about $440 – much improved over the $800+ that the same density would have cost 10 months ago.
To help usher in the fact that people can actually afford hard drives again, Thecus has brought to market a follow-up to its popular 5-bay offering, the N5500. The N5550 (note the third 5) brings a faster CPU, more RAM, USB 3.0 and a general fine-tuning of things. It also sports Thecus' latest "OS", dubbed ThecusOS 5.0. Users of one or two-year-old Thecus NAS products will notice similarities, so the bulk of what's new is features that you've either been waiting for or just happen to stumble-upon.
Thecus considers the N5550 to be an 'enterprise' product because it includes a fifth drive bay, whereas all of its official SOHO/SMB products include only four. But – most enterprises are going to want more than 5 bays, so more accurately; it's an SMB/SOHO product based on that and pricing.
For business environments, the fifth bay will commonly be used as a spare, automatically introduced to the RAID in the event of a drive death, while for SOHO, users may consider using higher RAID levels that take advantage of all five drives. My personal usage scenario is 4 drives in RAID5 for content and backup, and the other for torrents and other randomness.
As seen in the photo above, the N5550 isn't quite as attractive as the 4-bay N4200 series, with all of its OLED screen goodness, but it's suitable enough. For a couple of reasons, Thecus stows most of the buttons behind the door, such as the power and reset. Some might find this clunky, but it does prevent accidentally turning the device off, as a single hit of the power will initiate the shutdown process.
Before we take a tour of the NAS, let's first take a look at what it brings to the table with its hardware and software.
Thecus N5550 'Enterprise' 5-bay NAS – Hardware
Processor
Intel Atom D2700 (Dual-core, 1MB L2, 2.13GHz)
Memory
2GB DDR3
Ethernet
Intel 82574L Gigabit x 2 (10/100/1000 BASE-TX Auto MDI/MDI-X)
RAID Controller
Silicon Image SiI 3132 SATA 3Gbit/s
Connectivity
NEC-backed USB 3.0 Port
Intel-backed USB 2.0 Port x 4
Et cetera
LCM Display w/ 4 Buttons (Up, Down, Enter, Esc)
1GB SATA Disk-on-Module
VGA and HDMI Output
Microphone, Line input and Audio out jacks
200W Power Supply
For SMB/enterprise use, performance is imperative, and for that reason Thecus has equipped the N5550 with one of the beefiest Atom processors around and doubled-up on the memory. This will not only keep the NAS running at top performance all the time, it'll drastically reduce the amount of time it takes to rebuild a RAID array. The N5550 includes dual LAN ports, one WAN and one LAN, which can be joined together for things like load balancing or failovers. One of the best additions over the N5500 is USB 3.0, although it's a shame there's only one port made available.
HDMI and VGA outputs are included for those who may want to hook up a keyboard and mouse to the NAS and use it directly. There's also an unofficial XBMC module available in case you want to go the full-blown media center route. Many other third-party modules can be found on the official Thecus forums.
Thecus N5550 'Enterprise' 5-bay NAS – Software
RAID Capabilities
JBOD, RAID 0, 1, 5, 6 & 10
Auto-rebuild
Hot-swap
Hot Spare
256-bit AES Encryption
Disk Roaming (NAS to Similar NAS)
SMART Support
Volume Capabilities
Multiple RAID
ext3, ext4 & XFS
Network
Fixed IP or Dynamic IP (IPv4)
TCP/IP and AppleTalk Transport Protocols
SMB/CIFS, HTTP/HTTPS, FTP, NFS and AFP File Protocols
Link Aggregation for Load Balance, Failover, 802.3ad, Balance-XOR/TLB/ALB
Data Backup
Acronis True Image (Windows / Boot)
Thecus Backup Utility (Windows / Mac OS X)
The N5550 supports the regular gamut of RAID levels, but for some reason only ext3/4 and XFS file systems. Normally this wouldn't strike me too odd, but many of Thecus' previous NASes supported ZFS also, which is the route I would personally take if I had the option. It could be that ZFS is taking far too long to become 'finalized' that Thecus had simply decided against supporting it, but it still seems like an odd omission nonetheless.
In addition to the NAS being able to hot-swap drives, it's also able to designate a drive as a "spare", used only if one of the other drives in your RAID happens to drop off. Thecus also touts disk roaming support here, so if in the future your N5550 gives up the ghost, you'll be able to migrate your drives over to another N5550 without the risk (I use the term loosely) of losing your data.
A potential downside is that the N5550 does not support IPv6, and I'm not quite sure that's something a third-party module could even fix. Thecus might in the future, however, as it requires no hardware upgrade, but given the slow roll-out of the latest Internet protocol, the company must not see it as being a very important feature. In truth, it probably isn't, but if you're behind an ISP that does offer IPv6, the option would be nice to have.
Like most NASes, this one runs on a variant of Linux; Red Hat to be exact.

Linux version 2.6.38 ([email protected]) (gcc version 4.4.3 20100127 (Red Hat 4.4.3-4) (GCC) ) #1 SMP Thu Aug 23 20:20:11 CST 2012
On a desktop, a 2.6.38 kernel would seem horribly out-of-date (it was released spring 2011), but for a server / NAS where stability matters, it's actually quite modern. While Red Hat acts as a base, this is actually a very scaled-down version of Linux, so normal Red Hat commands, such as "yum", are not going to work. Any software you want to install needs to be handled through the NAS admin itself, which means it needs to be in module form.
Please note that our information tables above are grossly minimal compared to the official ones, so if you want to know everything that this NAS is capable of, I'd highly recommend looking at the official product page.
A Tour of the Thecus N5550: Hardware
The frame of Thecus' N5550 is pretty modest at 9.05 x 7.48 x 9.45″, but it's actually fairly heavy at 16lbs. Add 5 normal hard drives to that and it'll become at least 23lbs. That, along with its heavy-duty frame, instills confidence that a simple nudge isn't going to hurt the NAS too much, and tripping over it should do little (I think of that latter example for no particular reason…)
To help get a feeling for the size of the N5550, you can compare how an Xbox 360 controller and standard DVD case compare in the shot below. While the the chassis itself is as solid as I could expect it to be, I do wonder about the door.
It's not likely that you'll be opening this door often, but a swinging door means there's a chance someone can run into it when not paying attention – the same risk exists with computer chassis that also have doors. I much prefer the styling of the N4200, but this might be personal taste.
On the topic of the N4200, let's talk about LCDs. The N4200 has two (OLED), one on the side that displays static colors and another one, monochrome, at the top. Overall, these both look quite nice, and as such, I expected to see something similar on this beefier N5550. But that's not the case. Instead, the LCD is at the bottom, is very blue, and really doesn't represent the product as much as I think it should. When a smaller unit gets far cooler displays, it makes you wonder why Thecus decided to stick with the same display the N5500 shipped with.
As a side note, this display does exist for a reason. It allows you to peruse various bits of information if no PC is turned on, such as the status of your RAID rebuilding. Overall, I found this clunky to use, and when I couldn't find much of an explanation in the manual, I just left it. Generally speaking, this is going to be primarily useful to watch for status updates if the need arises. Once your NAS is setup the way you like, the screen will likely never have to be referred to unless a drive dies. Sadly, it cannot be turned off.
On each side of the N5550 are many holes for air circulation, however at any given time during testing, both sides were barely warm. Most of the heat gets concentrated to the back, which we'll tackle next.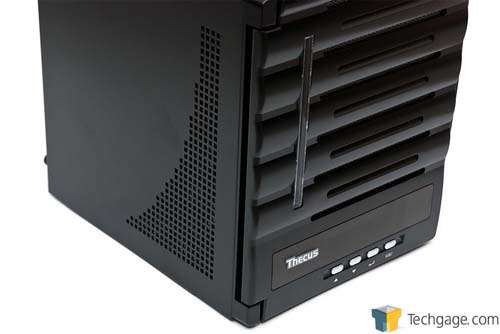 For the system, Thecus employs an 80mm exhaust fan at the back, while the 200W PSU has its own little fan at the bottom. Given their size, it wouldn't be unreasonable to expect them to be loud, but even during use I'd have to get quite close to the NAS to be able to hear it. My desktop PC dwarfs the noise entirely, so I've never noticed it even running. If you try to keep room noise as quiet as possible, you can expect to hear little more than a mild hum out of this.
As mentioned before, this NAS includes dual LAN ports, audio and video out and four USB ports. Again, it would have been nice if at least one of these USB ports were 3.0 enabled, especially since all motherboards I've ever come across have featured two 3.0 ports per chipset at the very least.
At the front and with the door open, we unveil the five drive carriers, status LEDs and the power and reset buttons. These drive carriers have become popular within Thecus' line of NAS products, and short of being able to secure a drive without drive screws, I couldn't imagine how they'd get any better.
A closer look at the status LEDs: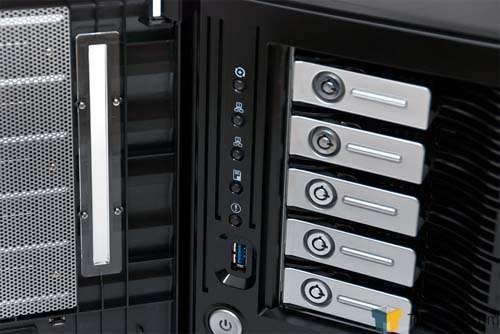 Removing the N5550's chassis is pretty simple. After three thumbscrews at the back are disconnected from the chassis (the screws themselves do not come off of the frame), a little wiggling will allow you to remove the frame from the base. Here, we can get a glimpse at the motherboard, which uses a single DIMM for the 2GB of RAM. If the front LCD display begins to drive you nuts, one of the small cables at the bottom-right can be removed to disconnect it (I am not sure off-hand which one, but you'll be able to judge from the routing).
I couldn't quite figure out how to separate one part of the NAS from the rest, so I resort to using the photo below to show the back SATA plane and fan. The airflow scheme has warm air head towards the back and out through the fan. Though the hard drives will be placed directly in front of the fan, the heat still has to travel a little bit before making its way out. This at first concerned me, but even during full-tilt testing, which involved copying terabytes of data, I never exhibited the drives exceeding 45°C.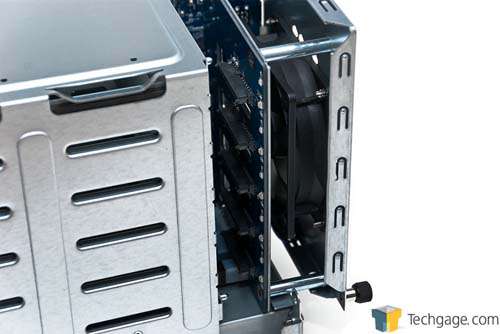 Behold the drive carrier with an installed WD Red hard drive (it's my secret if the drive was actually secured for this pic!).
In way of accessories, Thecus includes a Cat5 LAN cable, power cable (identical to those used for our desktop PCs), various bits of documentation, Acronis True Image, some screws to secure the drives to their carriers and a couple of keys to lock the drives into place.
With a look at the hardware taken care of, let's move on to the software.
A Tour of the Thecus N5550: Software
One of the biggest reasons people opt to pick up a NAS rather than build their own server is because of the software, so it has to be good. It has to be simple to use. Most importantly, it has to be stable and reliable. Over the years, NAS software has grown to become much like a real OS – except it can be managed through a Web browser.
Thecus' "OS" has sure seen some major improvement over the years, and while I wouldn't call it the prettiest, it sure is feature-rich. Absolutely everything the NAS can do can be managed from this admin, from setting up the RAID to setting up network services. The default IP address is 192.168.x.100 – x depending on your gateway – and the login is admin / admin (which of course can be changed later).
Once logged in, you'll see a couple of "favorites" listed, with full options to the left. From here, you can quickly setup an iTunes Server, create a share folder, or if this is the first time you've entered the admin, go into the RAID Management and set things up to your liking. Of course, before you do anything, it's recommended that you download the latest firmware update from Thecus' support site and update the NAS – even before you create your RAID.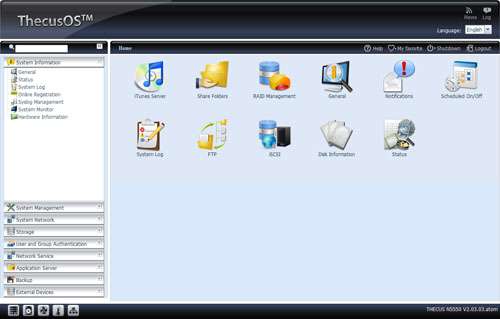 Note: We're only going to cover a couple of the most interesting sections of the admin for this review. If you want to see what else it offers, we recommend downloading this archive (6MB, 68 images) to explore further, or take advantage of the live demo on Thecus' website.
One feature I love about Thecus' NAS products is the logging system. It's comprehensive and even borderline naggy, which might seem like a downside, but the fact it tells you anything important is useful. You might know what it's going to tell you, but when it proves useful is when something goes down you're not aware of. To improve this feature further, you can setup your e-mail address from within this admin, so whenever something's amiss, you'll receive a notification immediately.
Creating a RAID is a simple affair. After heading into the RAID management area, you click "Create" and get on your way. You'll first need to choose which disks to use as part of the array, whether or not to use one drive as a spare, what RAID level you want, the file system and block size and then apply. Thecus offers the option to build a RAID using the "Quick RAID" switch, but this should not be used – it's slower and less reliable. It's essentially an option for testing that for some reason is made available without a single explanation.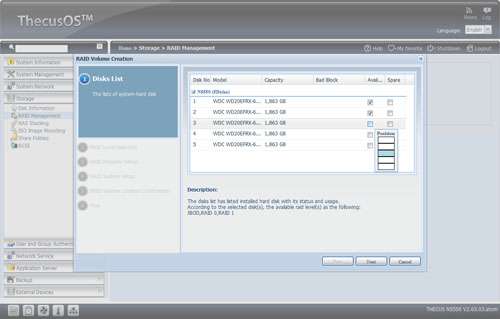 Thanks to the beefier processor and ample amount of RAM, our RAID 5 build process using 5x WD Red drives took just over 10 hours (9.5% per hour, to be exact). Once done, the RAID screen shows the status of your RAID and the capacity available: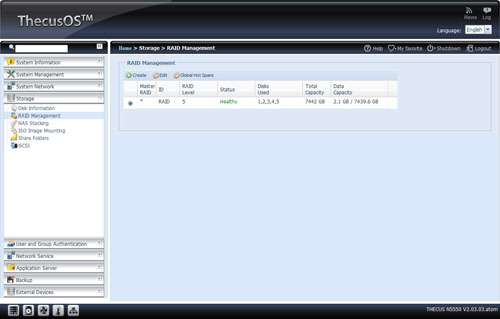 Something I'd like to see Thecus change to the RAID setup process is to allow you to setup two RAIDs at once. They might not build at the same time, but being able to set it to build one RAID and then the other would be useful. As it stands now, if you wanted to create, say, a RAID 5 with three drives, and then a RAID 1 with the other two, you'd have to first wait for the first RAID build to complete before going in to configure the second one. This can waste time if you are not around the NAS when the first build finishes.
Something new with ThecusOS 5.0 is the ability to mount ISO images. If you've ever dealt with .ISO files before, you likely know all about this feature. You select an image, mount it, and then it becomes accessible as a folder. This is only useful if you simply need to access data from within an ISO – mounting an ISO inside of the NAS won't trigger Windows to autorun it. Either way, it's a simple feature that some might appreciate.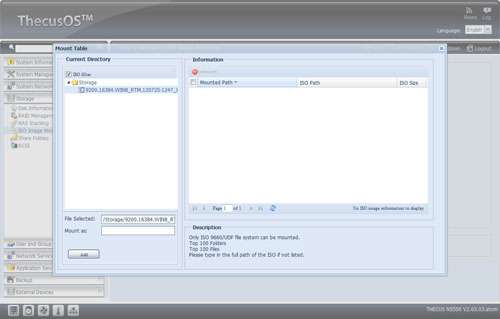 There are many, many other areas of the admin worth nothing, but most people will only touch a fraction of them. If there's something you want to do with your NAS, chances are good that there's a section in the admin that takes care of it. The most notable exception is the lack of WebDAV, though other modules exist from third-party sources that offer similar functionality.
Again, if you wish to explore more of the admin system yourself, check out the archive we've put together or try out Thecus' live demo. Performance and final thoughts up next.
Performance & Final Thoughts
Thecus' N5550 boasts a lot, but does it deliver a lot? Features-wise, I think we've concluded that it does. Aside from a lacking of WebDAV support, I can't think of much else Thecus lobs off and keeps for the bigger, more expensive NAS offerings. While features matter, performance might even more so – especially in a business environment. How does the N5550 stack up there?
With the help of a couple real-world tests and also Intel's NAS Performance Toolkit, we're going to find out. This benchmarking suite, called Intel NASPT for short, has become as synonymous with NAS testing as Futuremark's 3DMark has become for GPU testing. It's thorough, grueling, and gives us simple-to-understand results.
For our testing, we used a Core i7-3770K-equipped PC using a GIGABYTE Z77X-UD5H motherboard and an Intel 82579V Gigabit LAN connected to a NETGEAR WNDR3700 router. Hard drives are WD's Red, which we reviewed here. Cat5 cables were used, with both the PC and NAS connected to the same router. Because having lots of RAM can skew the results of tests that use less than the amount of gigabytes installed, our test PC remains equipped with only 2GB of RAM during testing.
And… the results:
| | | | |
| --- | --- | --- | --- |
| Intel NASPT | 1-Disk | 4-Disk RAID 0 | 5-Disk RAID 0 |
| HD Video Playback | 96.6 MB/s | 94.8 MB/s | 94.7 MB/s |
| 2x HD Playback | 88.2 MB/s | 100.5 MB/s | 101.0 MB/s |
| 4x HD Playback | 83.8 MB/s | 104.4 MB/s | 103.7 MB/s |
| HD Video Record | 120.1 MB/s | 123.4 MB/s | 122.9 MB/s |
| HD Playback and Record | 100.6 MB/s | 98.3 MB/s | 96.8 MB/s |
| Content Creation | 10.9 MB/s | 11.8 MB/s | 11.0 MB/s |
| Office Productivity | 55.5 MB/s | 58.1 MB/s | 58.0 MB/s |
| File copy to NAS | 118.8 MB/s | 126.8 MB/s | 126.4 MB/s |
| File copy from NAS | 82.1 MB/s | 80.2 MB/s | 80.4 MB/s |
| Dir copy to NAS | 17.6 MB/s | 16.8 MB/s | 17.5 MB/s |
| Dir copy from NAS | 24.9 MB/s | 25.1 MB/s | 24.4 MB/s |
| Photo Album | 13.7 MB/s | 13.2 MB/s | 13.5 MB/s |
These are some great performance results, with some actually topping out the theoretical limit of our gigabit network (125MB/s). The tests where the performance hurts are those that involve lots of files, but this isn't unique to the NAS, but mechanical drives in general.
| | | | | |
| --- | --- | --- | --- | --- |
| Real-World | 1-Disk | 4-Disk RAID 5 | 5-Disk RAID 5 | Broken RAID 5 |
| 10GB Solid File | 110.14 MB/s | 103.46 MB/s | 107.82 MB/s | 67.83 MB/s |
| 10GB Files (5,739) | 59.96 MB/s | 49.53 MB/s | 55.12 MB/s | 51.52 MB/s |
| 25GB Files (9) | 109.92 MB/s | 104.97 MB/s | 106.72 MB/s | 69.41 MB/s |
Note: The broken RAID 5 result represents a 4-Disk array with one disk removed.
Our real-world testing backs-up what Intel's NASPT told us, although we didn't manage to top out our Gigabit network like that did – even with our solid 10GB file being copied from a SATA 6Gbit/s SSD. Nonetheless, with large files, the NAS retained a consistent 100MB/s+ speed, and 50MB/s when dealing with lots of files. If only these hard drives were SSDs – then we'd see some consistency across the board.
Final Thoughts
At its price-point of about ~$600, Thecus N5550's brings a lot to the table. It has most features people are going to want from a NAS, and if it doesn't, there are sure to be third-party add-ons found on Thecus' own website that should do the trick. Simply put, this NAS is packed.
The N5550 is hardly a slouch performance-wise either. Although it might seem like a minor improvement, the doubling of the RAM from 1GB to 2GB is huge, and can make a massive difference not only when the NAS is under a good stress, but when building or rebuilding your array. On the 4-bay N4200 equipped with 1GB of RAM, using the same WD Red drives to create a RAID 5 array took about 22 hours. The N5550? 10 hours.
10 hours might still seem like a lot, but imagine a situation where a drive in your RAID dies and you shove another in to start the rebuilding process. Wouldn't you prefer waiting 10 hours over 22? Your assumed answer would only be amplified if dealing with a business environment.
As much as I love this NAS, there are a couple of things that strike me, but they're minor in the grand scheme. I'm still not sure why Thecus opted for the blue LCD at the front here when the OLED screen seen on the N4200 series is far more attractive. The N4200 has a door covering only the drives, and maybe the N5550 should have copied that. Is there actually a specific reason that a door covering the entire front is opted for?
Though never before seen on the N5xxx series, I can't help but wish this NAS also featured the battery backup of the N4200. Of course, features do have to be swapped around given this is a 5-bay offering, so maybe in time we'll see something similar to the N4200 but in a 5-bay variant. I'd have to imagine it'd sell well, given an all-in-one business solution like that is attractive.
All-in-all, if you're looking for a reliable, feature-rich and fast 5-bay NAS, Thecus' N5550 proves to be a fantastic choice either for the home, office or small business.
Pros
High-performing, thanks in part to the fast Intel Atom CPU and 2GB of RAM.
Admin system isn't the best-looking on the planet, but it's rich with features.
Well-built, solid construction.
Quiet-running, nothing compared to a standard desktop PC.
USB 3.0 support, and 4x USB 2.0 ports at the back.
iSCSI support.
Includes HDMI-out to use the NAS as a light PC or media center (both require modules to be installed).
Included copy of Acronis True Image (which we highly recommend for backup).
Supports up to 20TB of storage.
Cons
No WebDAV support.
Two USB 3.0 ports would have been nice.
Front LCD screen is difficult to control.
Can't create two RAIDs in a queue; must wait for first to finish before creating the second.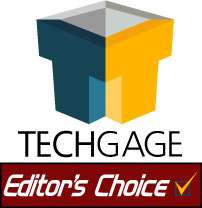 Thecus N5550 5-bay NAS
Discuss this article in our forums!
Have a comment you wish to make on this article? Recommendations? Criticism? Feel free to head over to our related thread and put your words to our virtual paper! There is no requirement to register in order to respond to these threads, but it sure doesn't hurt!
Copyright © 2005-2019 Techgage Networks Inc. - All Rights Reserved.