Thermaltake Max 5G Hard Drive Enclosure

Date: February 11, 2011
Author(s): Rob Williams

It's been a while since Thermaltake released an update to its "Max" line-up of hard drive enclosures, but the Max 5G looks to be a great one. Aside from looking good, it supports SATA 3.0 hard drives and a USB 3.0 interface, and helps keep your drive cool by employing dual 80mm quiet fans. Read on as we see if it's worth your hard-earned $60.
---
Introduction
A couple of months ago, I took a look at Thermaltake's latest spin on its "BlacX" hard drive dock, the 5G. For those who have a multitude of hard drives kicking around and need to manage data on them all, the BlacX proves to be a fantastic offering. Though a bit pricey compared to the competition, the BlacX series has become known for its reliability, and that's the most important factor.
Today, I'm taking a look at a similar product, the Max 5G. Unlike the BlacX 5G, which is a dock, the Max 5G is a straight-out enclosure, meant to be used for one drive and one drive only. That makes the target of the product a bit different, as those who purchase a Max 5G will want to be content on using just a single drive, as swapping out for another is not that simple.
Thermaltake's Max 5G has a couple of goals. First, it strives to be reliable, and if our BlacX experience is a gauge at all, we could expect the 5G's stability and reliability factors to be top-rate. Second, the product has to look good, which the Max 5G does. It's comprised of plastic and metal, and features differently textured surfaces. It also includes a mesh that increases airflow and also allows the blue LEDs from the fans to shine onto your desk.
The 5G of course is also meant to represent fast performance, and it does that by supporting both SATA 3.0 (6Gbit/s) hard drives and also the USB 3.0 bus. Using a drive in the Max 5G while using a USB 3.0 connection will deliver near-native speeds.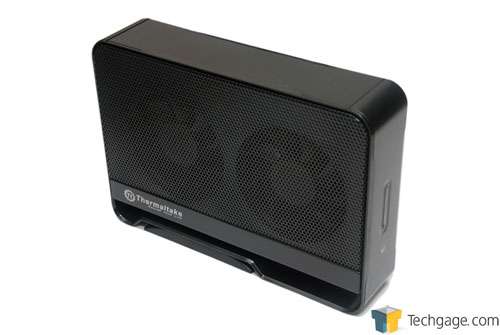 As you can see in the above and below photos, the Max 5G is a rather attractive device. The entire unit is black in color, though different parts of it have different textures. The top and front is flat plastic, while the band with the Thermaltake logo is brushed aluminum. As mentioned before, the Max 5G also features a meshed side, to improve both aesthetic appeal and airflow. The Max 5G is completely flat on its opposite side.
The Max 5G unfortunately doesn't feature a tool-less design, but rather requires you to remove two hex screws (Allen) first. I wish Thermaltake used a more standard screw design here, but for those who don't have Allen keys, the company includes an appropriate screwdriver in the box.
Once the side is off, a little notch needs to be lifted up, and then the drive can be plugged right in. 2.5″ drives are not supported, but they would work. It's not recommended to use them, however, as the physical support is not quite as good.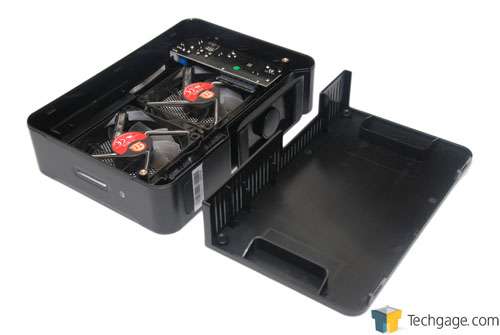 After the drive is installed, the finished result is one that looks clean, and sturdy. Once the drive is in place, you need to drop the latch that secures the drive, and then the side can go back on. If you want to increase the padding on a side of the drive, or have better luck with a 2.5″ drive, Thermaltake includes a couple of thick pads that can be taped inside.
Unlike most enclosures that have no fans or airflow scheme at all, Thermaltake wanted to make sure that its 5G delivered in droves where HDD cooling is concerned. The enclosure features two 80mm blue LED fans that help push cool room air at the drive, and with the various vents found around the enclosure, the warm air gets pushed out. It's a simple, but effective design.
For a tight enclosure like this, super-fast fans are not needed, and nor would you want them when the enclosure is meant to sit on a desk. Because of this, Thermaltake's opted to use slower fans, at 800 RPM, to get the job done. At around 12 dBA, the fans are far from loud, but with the enclosure within a couple of feet from your head, you will hear a slight whirring (which tends to be drowned out by the PC itself).
In all of my testing with the Max 5G, the enclosure lived up to the expectations set out by the BlacX 5G, which I use religiously. For that reason alone, I highly recommend the enclosure to anyone who cares about reliability and stability, because Thermaltake is doing something right here. I've used many enclosures in the past that end up dying after half a year, and given the experiences I've heard from friends as well, that's not uncommon. I know people who are still using the earliest versions of the BlacX, however, so that says something.
Add the fact that the Max 5G looks great and does a great job of cooling your hard drive, isn't it a no-brainer to pick it up? If pricing is of little concern, and you appreciate A) stability, B) performance and C) aesthetics, and only need to use one external drive, this enclosure is well worth its $60 price tag. But for those who don't mind a less pretty option, the BlacX costs about $12 less, and is just as fast and reliable.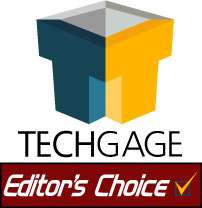 Thermaltake Max 5G Hard Drive Enclosure
Discuss this article in our forums!
Have a comment you wish to make on this article? Recommendations? Criticism? Feel free to head over to our related thread and put your words to our virtual paper! There is no requirement to register in order to respond to these threads, but it sure doesn't hurt!
Copyright © 2005-2020 Techgage Networks Inc. - All Rights Reserved.