Thermaltake Spedo Advance Full-Tower

Date: February 11, 2009
Author(s): William Kelley

Thermaltake has quite an offering on their hands with the Spedo Advance full-tower, and it might be one of the most robust chassis' we've had on our bench to date. Noticeable R&D went into this one, with cool features such as a wireless door fan, an "advanced" thermal chamber, pure black aesthetics and top-notch cable management.
---
Introduction
Having been around since the dawn of the enthusiast PC market, Thermaltake has given us a product to scratch just about every itch we have when it comes to customizing our PC. Starting with mostly heat sinks and power supplies, they've spread their influence to just about every sub-system involved with home computers. Our ever-evolving desire to have something different has been transformed into a healthy avenue for manufacturers to create products to fulfill our dreams.
One component that has advanced light years over the short term is the PC chassis. Remember back just a few short years ago, that plain beige steel box that housed your beloved creation? It required hours upon hours of skill and determination to make it not only something special, but to make it perform better as well. Airflow was not even part of the equation, and our parts were cooking themselves inside these unforgiving ovens.
With the advancement of the enthusiast market, we are now given a substantial selection of pre-modified cases to choose from. Today's market not only demands high-quality aesthetics, it requires solid design in the area of airflow. Quad-Core processors and super-hot GPU's just will not survive inside anything less. Gone are the days where you have to do this yourself and I say good riddance as well. The masses have spoken and we have been heard which is readily seen in nearly all current models and designs.
In tune with these needs, the Spedo comes in with some impressive specs. Lots of fans, grills and attention to airflow must have been the main focus in the design. Liberal use of modern plastics has also made way for a very stylish exterior as well. Lacking the ability of E-ATX functionality is somewhat puzzling at this price-point of ~$229US, so we'll need to break out the fine-tooth comb while poking and prodding this one. Since it did win an award at the 2009 CES show for Innovation Design and Engineering, my hopes are high.
Closer Look at Thermaltake's Spedo
Out of the box we get our first look at the Spedo. The front panel is lined with mesh covers that allow the free flow of air. There is a 140mm fan hidden in the middle to cool the hard drives and it is also lit up red during operation. The large power button is well placed with a reset button below it. I was please to see the reset button since many new cases come without one.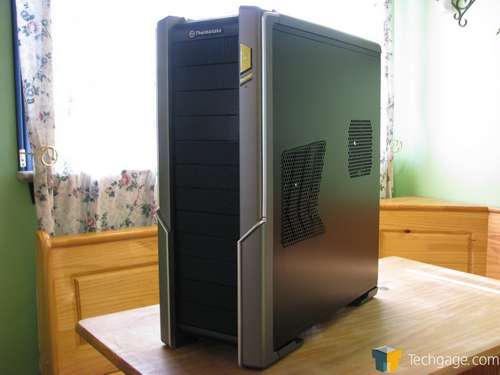 The left side panel sports a window with a large 230mm fan inside it as well as venting in front of it. There is a latch here towards the back which does lock the panel in place firmly enough. I still preferred to use the included thumb screws for that extra security but you could leave them off without much worry.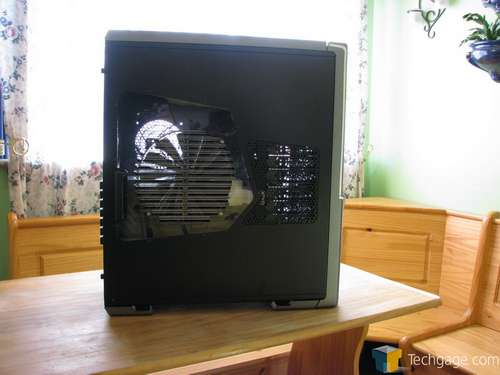 The backside is all business and you get your first realization that the metal chassis is painted black. This has become the latest trend and it is a welcome trend at that as it makes the components pop out at you when installed. We see there are 2 pre-drilled holes with grommets for large water-cooling lines. The PCI slot covers are vented, but I was not happy with their design as once they are removed there is no way to reinstall them. With the dual 120mm fans and a bottom location of the power supply, the design is up to snuff here.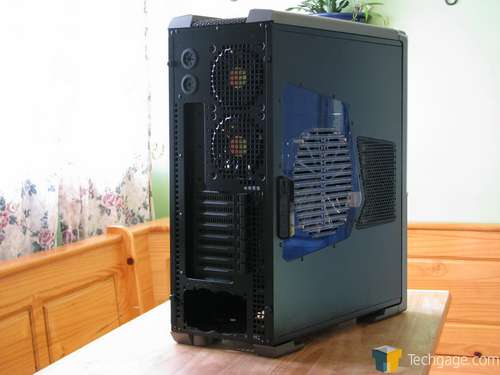 The top of the case is where we see the amount of plastic used creep right up. There is lots of ventilation with another 230mm mounted to pull out hot air. The I/O panel is located in the front and houses two USB ports, an E-SATA port and mic/headphone jacks. I was surprised to see that there was no FireWire port, but seeing the lack of widespread peripherals using this, it isn't too surprising.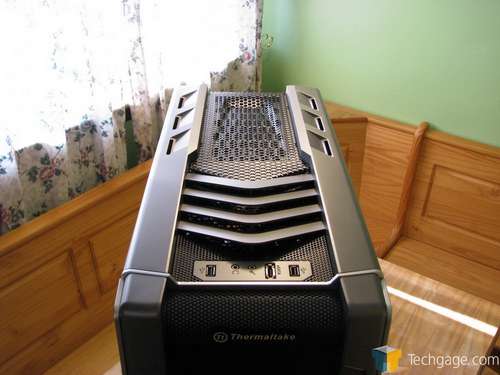 The bottom has the ability to house a 120mm intake/exhaust fan and sports swiveling case feet.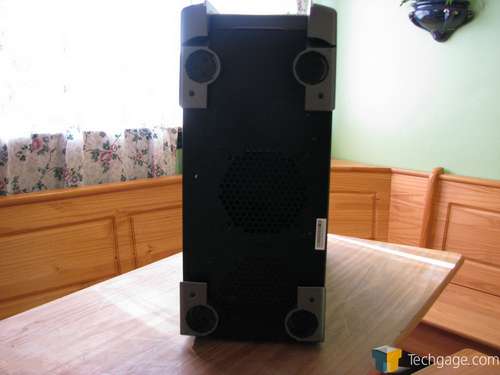 When you pivot the feet out they do feel like they lock into position at a 45 and 90 degree angle. They are made of plastic and unfortunately they feel very "plasticky" and somewhat fragile. Once in place they are solid enough, I just did not like the feel of them while turning.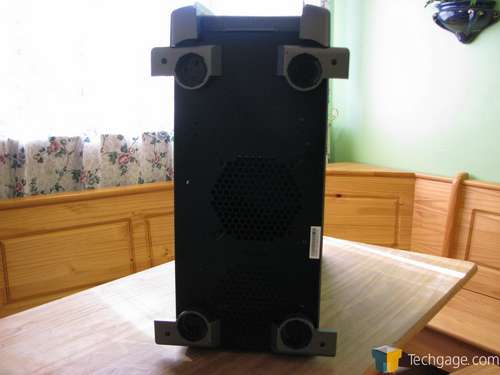 The 230mm fan on the inside of the side panel mounts directly to the vented clear window. You can see the latching mechanism to the back of the panel much clearer from the inside.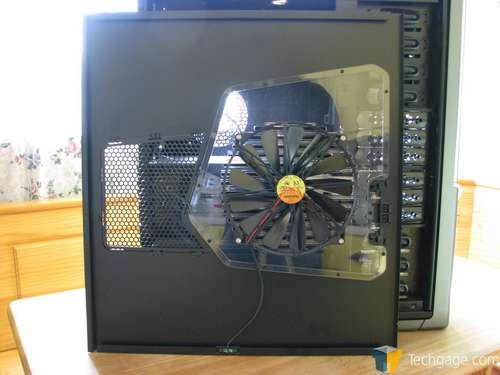 The really unique feature of this fan is the fact that it connects to the power supply wirelessly. There is a contact at the bottom which closes when you install the panel that powers the fan making it a very clean install. There is nothing that aggravates me more than pinching that wire in a normal arrangement. This is an excellent included feature.
Taking a closer look inside the chassis with the panel off one sees the "Advanced Thermal Chamber" as well as the tool-less mounting for the ODD and HD's. Also notice the ability to mount a 120mm fan behind the motherboard to further enhance cooling should you so choose. Again notice the black painted finish inside. I feel this definitely enhances the perception of quality.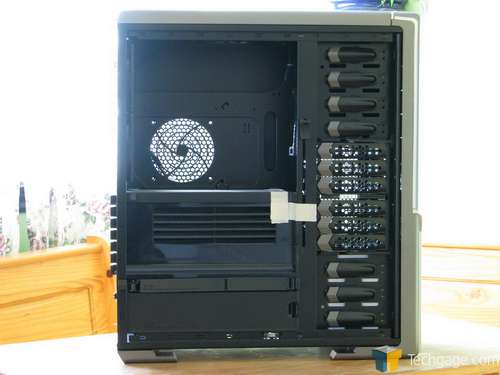 There is room for 6 hard drives and they ride inside caddies that pull out of their slots with the push of a tab. Once inside, your drives are safe and secure and are given excellent ventilation to enhance their life.
Yet another interesting feature is as adjustable bracket for a 120mm fan. This simple but effective option is something I would love to see incorporated into more designs. One thing I should note is that unfortunately it does have a very cheap and fragile feel. I had to hold my breath as I locked the lever into position as it felt as if it was ready to snap off at any second. I would prefer metal in this application.
Integrated into the thermal chamber is a storage drawer that rotates out to hold any small items that you wish to keep handy. Also notice the venting on the mid-level area of the chamber that will aid in cooling your chipsets and graphics cards.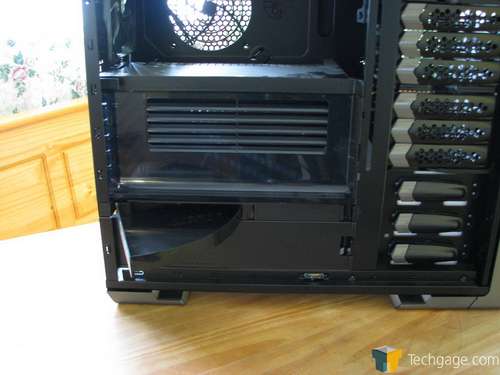 Once inside belly of the beast we see the bottom venting for your power supply so it can not only draw in fresh air through the bottom it can also expel its hot air out the back to prevent from spilling its heat inside. Also, take note of the inclusion of an eighth PCI slot so you have the ability to house 8 dual-slot graphics cards if you so desired. Considering there are platforms capable of this arrangement, this is a smart and welcome inclusion.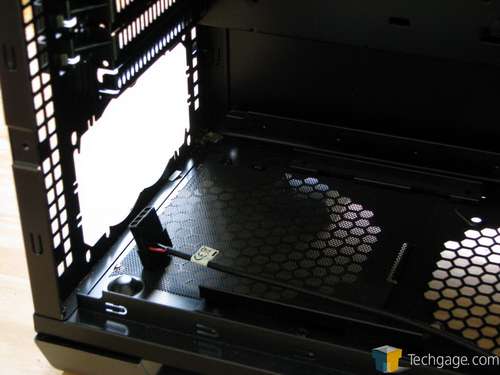 The backside of the motherboard tray contains the "Cable Routing Management" feature. Instead of the usual slots for zip ties they have chosen to make plastic housings that slot in to the tray. I found this feature worked quite well and was simple to use.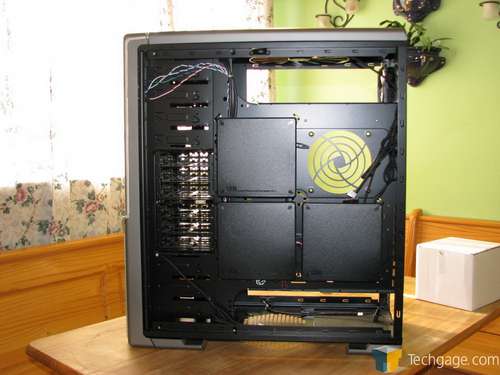 The included assembly hardware was thorough as well. You get all the motherboard standoffs required, an 8-pin EPS power cable extension, a 24pin-to-20pin motherboard power cable adapter, a 5 ¼ to 3 ½ floppy tray adapter, two sets of adapters to allow for the mounting of 6 more hard drives in the 5 ¼ empty bays and an extra 120mm "Turbo" fan. All of the 120mm fans are of the turbo design.
With that look all taken care of, it's time to get to the installation process, and then testing!
Installation, Temperature Testing
After removing the ATC cladding, assembly was straight-forward. There is plenty of room inside for your hands even if they are of the large variety. Routing cables was a simple task. The extra room above the motherboard is very welcome when connecting the EPS power wire.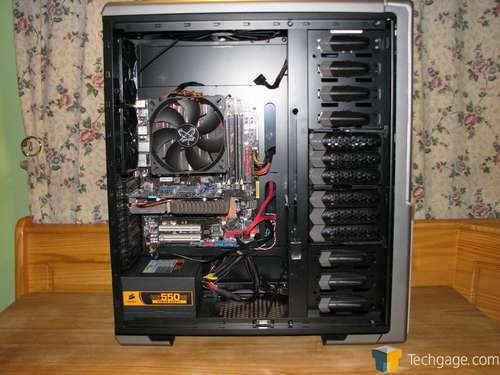 As you begin to reinstall the ATC you get a feel as to where they were going with their design. I really like the idea of keeping the power supply isolated from the rest of your build as it keeps out any unnecessary hot air.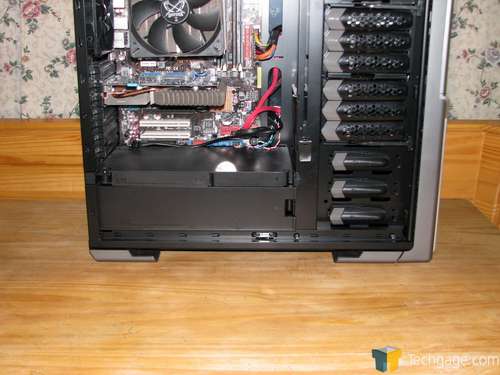 I also chose to mount the extra 120mm fan on the movable bracket to blow inside the middle chamber to keep my video card cool. I purposely have chosen to use a fanless video card in this and future case reviews as I feel this will really test the airflow characteristics appropriately. I also like the fact that the Northbridge chipset is contained within this middle chamber as well. The extra airflow allowed by the fan can only enhance in its cooling.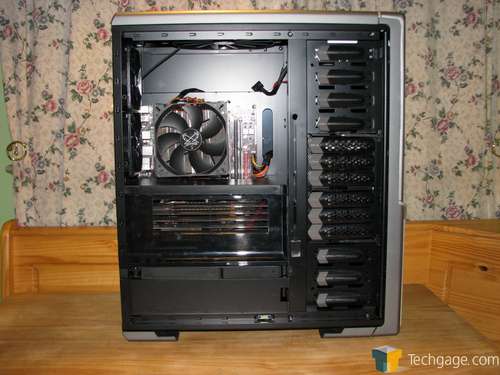 Wire management was simple and effective. I had no problems stuffing the extra wiring inside the cable routing management system. I like the fact that the wires are not allowed to bulge out and push against the side panel like nearly all other designs making the installation of said side panel effortless. With lots of extra room, even a complete novice will have no issues containing their wiring.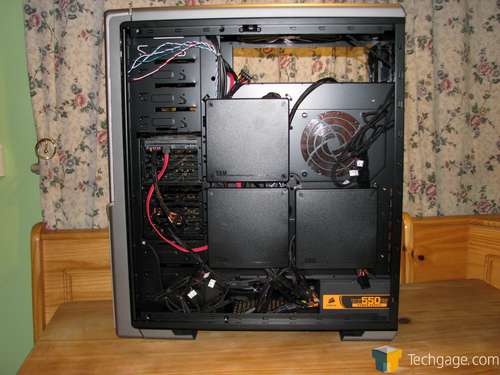 Temperature Testing
For my testing I used a new program called OCCT 3.0. Not only does this simple program push the CPU to the brink of a meltdown through the use of LINPACK testing for Intel processors, it also turns up the juice on your GPU. It automatically maintains graphs of temperatures throughout your testing. I highly recommend you try it out on your own for your testing needs.
I run all my tests 3 times and take an average just to weed out any erroneous results. My ambient temperature is kept at a near constant 20°C year round as my test bed PC is in my basement. There are no fans or heat vents in the area of the test platform.
| | |
| --- | --- |
| | |
| Processor | |
| Motherboard | |
| Memory | |
| Graphics | Gigabyte 8600 GTS Fanless |
| Audio | |
| Storage | |
| CPU Cooler | |
| Power Supply | |
| Et cetera | |
I use a static overclock and settings for all my testing. Stock testing is done with all settings in the motherboards BIOS to auto. Overclocked testing is done by turning the CPU multiplier to 11x and manually setting the Vcore to 1.275v as well as enabling line load option. This results in a processor frequency of 3.67GHz with 1.25v Vcore as reported by CPU-Z in Windows.
The video card is by nature of being fanless does not overclock enough to change the results, so it remains at stock speeds through all testing. This is by no means the absolute maximum clock the card is capable of, but rather they are just meant to add extra stress to the components to simulate a potential overclock obtainable by most people. I will be using this exact hardware and testing methodology for the foreseeable future in all chassis reviews.
I was pleasantly surprised as to just how well the design aided in overall cooling. Here are the results:
As you can see, case airflow played into the effectiveness of the heat sinks. I was very happy with the ability of the Thermal Chamber to keep the video card in check. It is no small feat to keep the 8600GTS core cool when used in a fan less configuration.
Final Thoughts
As I sit here finalizing my thoughts on the Spedo, I am at odds as to how I feel about it. On one hand, it is a very capable chassis with well above average cooling characteristics. The design and layout shows attention to detail. It is very roomy and offers lots of space for upgrades. Having the ability to hold up to 12 hard drives is almost mind-boggling. Add into the mix the well-planned cable management system and we should have a knock-out winner.
My main beef is the use of far too much plastic. In fact, so much plastic is used, that the case creeks and groans as it is being handled. The caddies for the hard drives can be temperamental to get open as the latches seemed to hang up when presses. Same thing happened with the tool less 5 ¼ bay locks. The final nail in the plastic coffin was the lever for the positional fan mount. That just feels cheap.
The Advanced Thermal Chamber is somewhat clumsy to use and requires a bit of patience as well upon reassembly once you have your gear installed. The end results do justify the means as it works very well. I am up in the air over its looks, but in my book performance always trumps style. The same goes for the cable management system. It seems clumsy but it is extremely effective as well as reusable unlike all those zip ties that need to be cut out and tossed away when changing your configuration.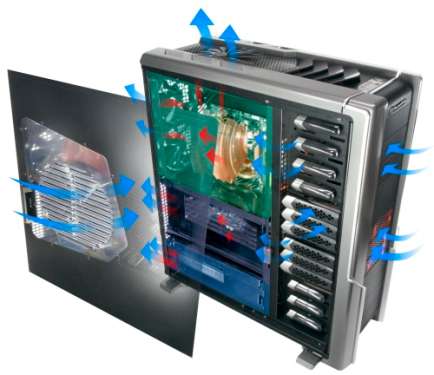 Another grievance is the side panel fan. Having chosen to cut slots into the window instead of a perforated metal grate has cause the fan to be quite noisy. The rest of the fans are near silent while this particular fan is just in-your-face noisy. The one shining star about this fan is the way it wirelessly gets its power from the chassis. I have yet to come across a cleaner and simpler method to power a side panel fan and would love to see this on all chassis'.
In the end, I still feel that a rating of 8 out of 10 is still well-deserved. There is no denying the fact that the Spedo does its job better than most of the competition. Once you get past all that plastic you see there was incredible attention paid to the small details. I also loved the fact they painted the metal surfaces as I just can't stand the shiny cheap look of raw steel.
With an average retail price of ~$229US, this case is not geared towards the entry-level enthusiast. Once you get past its faults, you will find a heart of gold in this chassis. Don't let the plastic scare you. If you are looking for a versatile and high cooling capacity chassis, then you need to take a serious look here.
Pros
Incredible airflow and cooling capabilities.
Wireless side panel fan.
Painted exterior.
Many extras included.
Advanced Thermal Chamber works very well.
Cable management system is top-notch and reusable.
Cons
Too much cheap-feeling plastic.
Handle on adjustable fan mount feels brittle.
Side panel fan noisy.
No E-ATX functionality.

Discuss this article in our forums!
Have a comment you wish to make on this article? Recommendations? Criticism? Feel free to head over to our related thread and put your words to our virtual paper! There is no requirement to register in order to respond to these threads, but it sure doesn't hurt!
Copyright © 2005-2021 Techgage Networks Inc. - All Rights Reserved.