Tt eSPORTS MEKA G-Unit Red Switch Mechanical Keyboard Review

Date: January 1, 2014
Author(s): Rob Williams

With its MEKA G-Unit "Red Switch Edition", Tt caters to those wanting a robust gaming keyboard that offers the smoothest typing experience possible. In addition to its CHERRY MX red switches, the G-Unit includes 12 dedicated macro keys, dedicated media player and profile-switcher keys, and something totally unexpected: A built-in USB audio card.
---
Introduction
In the summer of 2010, and amidst what I'm sure was uncomfortably humid Taipei weather, Thermaltake took the veil off of its "eSPORTS" peripheral line. As the name suggested, the line was to target gamers, and gamers only. If I recall, Thermaltake even had some pro-gamers on-hand to prove the line-up's worth to the public.
A lot has sure happened in the three-and-a-half years since that announcement. Today, Tt has a wide-range of gaming mice, keyboards, headsets, mousepads, and even accessories like gloves, jackets, t-shirts and an external audio card. I think it'd be appropriate to say that Tt's eSPORTS line is on fire, and we've yet to see what will be unveiled at next week's CES.
When mechanical keyboards hit the scene in a big way a couple of years ago, Thermaltake wasted no time in latching onto the product category and releasing its own models. Overall, many of these have been very well-received, including the MEKA G-Unit, which I'm taking a look at here.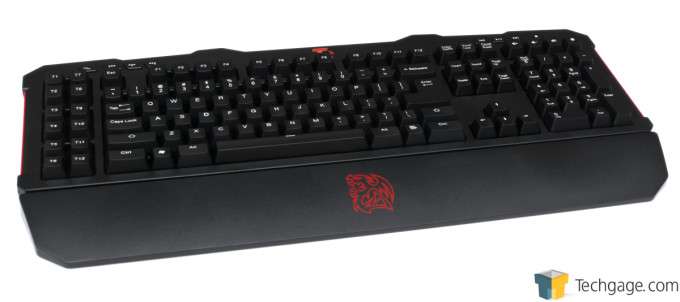 While the original MEKA G-Unit has been available for over a year, this version in particular was launched just this past summer. Thermaltake was kind enough to shoot this keyboard over to me when the last one I was using broke (by my own impatience doing while cleaning it, unfortunately), so while the model has been out for a little bit, I still wanted to jot up a quick review and give some thoughts on it.
As seen in the photo above, the MEKA G-Unit is much larger than most other keyboards. The biggest reason for this is that it's made wider thanks to the inclusion of 12 dedicated macro keys, and despite that increased width, there's about half an inch of chassis at either end of the board past its keys. Further, the included arm-rest makes the entire unit taller.
What makes this MEKA G-Unit different from the others is that it's a "Red Switch Edition", which is well-evidenced with the next photo:
Of the most popular CHERRY MX switches used in mainstream mechs, Red is the easiest to push – it has the weakest actuation force, no click when it bottoms out, and no "bump" (felt when the key is close to half-pressed). Thermaltake offers other MEKA G-Unit models with Blacks (which like Red, but requires a bit more force) and Blues (which requires a bit more force than red, and features a click and bump).
Omitted colors include Green (a Cooler Master consumer exclusive for the moment), and Brown (light actuation force; features a bump).
I admit that I find it a little bizarre that Brown was skipped over, as it's become a de facto "one-for-all" choice. But I'd imagine this boiled down to Thermaltake not wanting to add even more models to the G-Unit line-up. Instead it settled on Red / Black (this is a gamer-focused model, after all), and then chose Blue to take care of those who like click and/or bump.
Since there's more to a keyboard than its switches, let's see what else the MEKA G-unit brings to the table. First up, the left side, which is sprinked with 12 dedicated "T" macro keys – more on these later.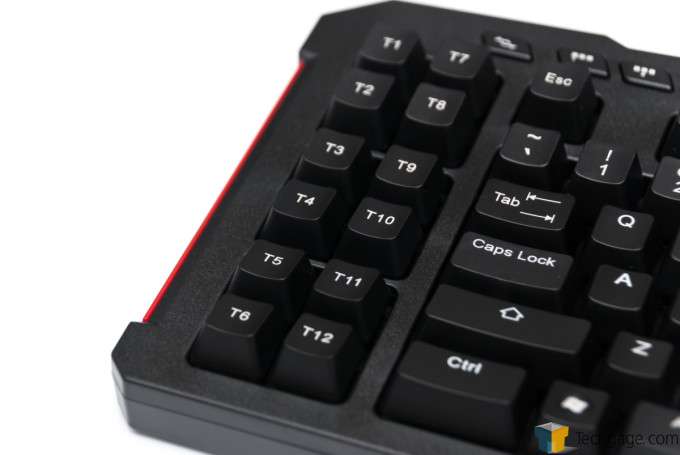 Above the Esc key are the profile switchers; three in total. The button to the absolute left is to switch between game mode and normal mode; the latter disables all macros (which in some cases might not be desired).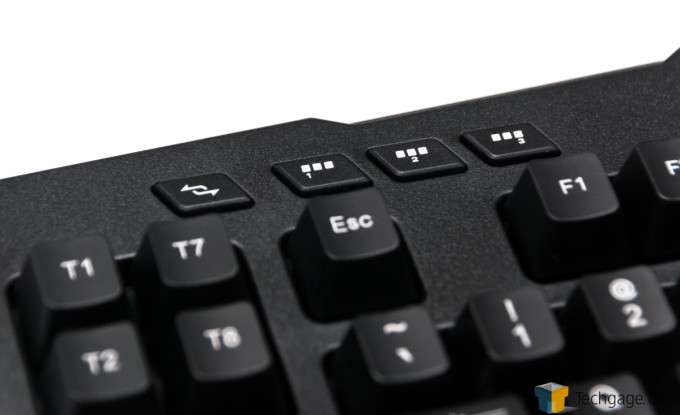 On the opposite end of the G-Unit and at the top are self-explanatory media keys, and atop the numpad are keys for volume adjustment and also control over the backlight level.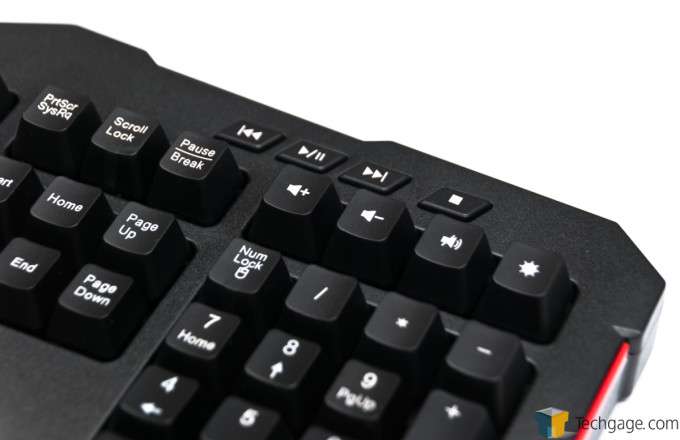 Taking a look at the back, we can see what really sets the G-Unit apart. USB ports have become somewhat standard on large keyboards like this, but audio ports that feed into a dedicated USB audio device is unique. When the G-Unit is plugged in for the first time, Windows will detect and install an audio device called 'HOLTEK USB Phone', which handles both output and input. To be clear, this is not some sort of passthrough, so if you have a discrete audio card, you'll want to plug into that instead.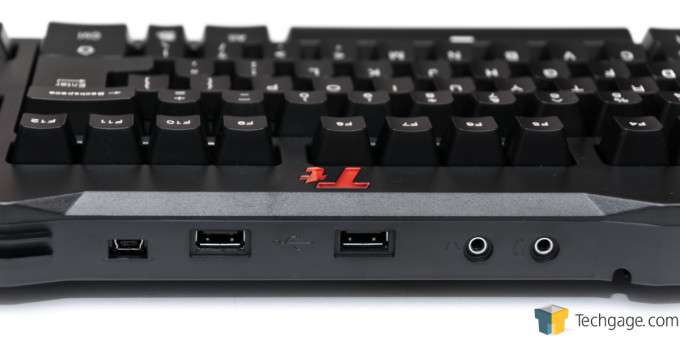 Here's a shot of the board with its palmrest detached. It's worth pointing out that while some of the other G-Unit models offer complete backlighting, this particular model doesn't. Instead, the white LED backlighting is limited to WASD, the arrow keys, 2/4/6/8 on the numpad, left Ctrl, left Shift, and the spacebar. Further, each one of the three "Lock" keys will light up when enabled.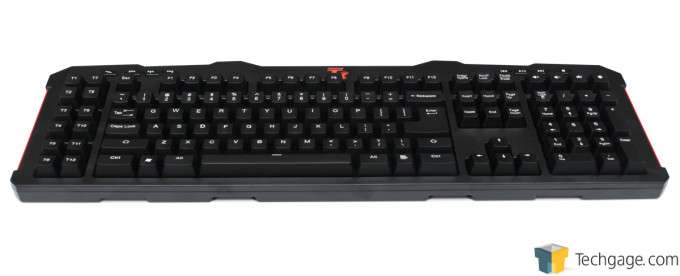 There's not too much going on in the back of the G-Unit, but its design does highlight the fact that it's built well, which is even true about its retractable legs. At the top center, the board's removable cable can be routed to increase its durability (recommended to help protect the connector).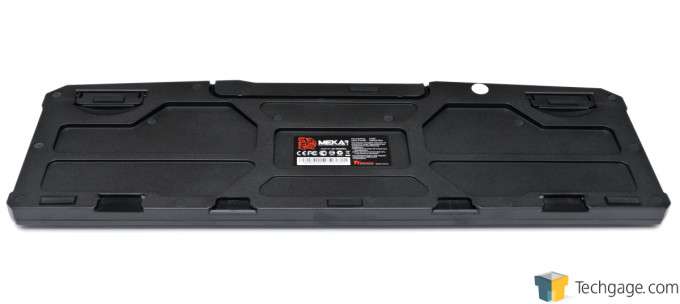 In the box you'll find a protective case, the braided USB cable, and pouch for said cable. It's rather clear that Thermaltake does not want you to end up hurting the G-Unit, though as its gangsta name implies, it can still handle a bit of abuse.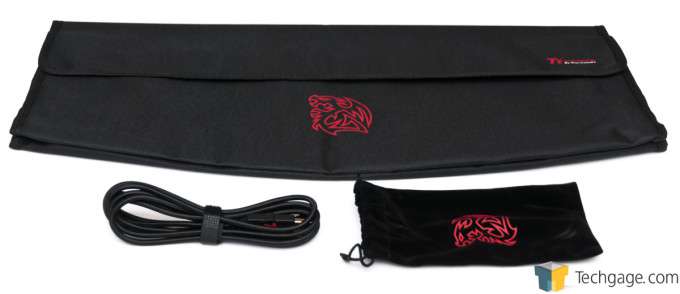 Also included is an eSPORTS sticker, a small manual, and driver CD-ROM. As with all peripherals, it's recommended to go to the official website to get the latest driver, which in this case is important because it fixes up a couple of launch niggles.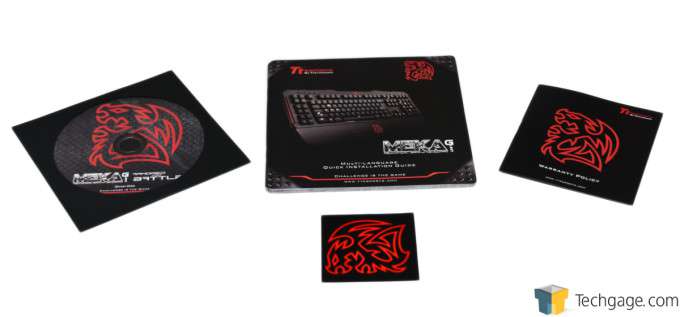 The fact that the MEKA G-Unit includes an internal USB audio card and has 12 dedicated macro keys definitely helps set it apart from most others, but the fact that it even includes a protective bag is something not entirely expected. Overall, a good showing here.
Can the software and usage match?
Software & Final Thoughts
A lot of gaming-focused keyboards feature macro support, but Tt's MEKA G-Unit does something I consider to be important: It allows you to set a macro to a normal key, and not only the dedicated ones.
In addition to the 12 dedicated keys found on the left side of the board, 8 more keys can be configured as macros, which means when all three profiles are combined, you'll have 60 macros at-the-ready.
While some peripheral vendors make excellent hardware, not all of them put as much thought and care into their software. Tt's here, for me, is about middle-of-the-road. As I first used it, I felt an honest headache coming on, but after a handful of minutes, I came to understand it a lot better. Even once "mastered", though, the software can be quite finicky, so don't go into this expecting an amazing, fluid experience.
As seen in the above shot, Tt's software here features aesthetics perfect for gamers, and for the most part, its design is straight-forward. When the keyboard is in "Normal" mode, it can't be adjusted much at all – no macros can be set. For that, "Game" mode must be selected, either through this software or through the dedicated keys on the keyboard. Afterwards, you'll then be able to select almost any key on the keyboard to set a macro (the volume/lighting keys can't be used, nor can the Windows key be).
Before a macro can be set, one must be created, so for that, the "Macro Key" option can be selected on the software's main page. That will bring up this small dialogue: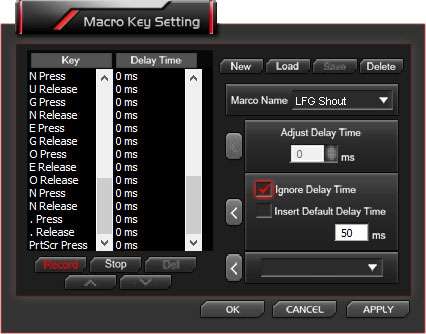 From here, you can hit "Record" and then press the keys your macro requires. If you want a macro executed as quick as possible, you can use the "Ignore Delay Time" to set a 0 ms delay for all key presses; this will then execute each step sequentially.
The macro creator is simple, but it works, and the resulting macros work just as well in my experience. One thing I must give kudos to Tt for is including the ability to run the macro "Until Pressed Next Time" – a minor feature that a lot of macro software tends to lack.
The next and final major portion of the software is "Light Option". Here, you can configure the backlighting to some degree; you can disable the backlisting behind the numpad, for example, while leaving it behind the other supported keys. There's no real fine-tuning here though, just a handful of variations you can use. A pulse option is also available for those who want it.
On the main page of the software, there's an "Instant Shift Sys." button that doesn't explain itself at all. Once clicked, you'll be able to assign either the Shift, Ctrl or Alt to profile 2 and 3 so that when one of those keys is pressed, you'll gain access to that profile's macros. This is going to be a feature only the most dedicated macro users will likely require, as it boosts the options available while ingame from 20, to 60.
Usage & Final Thoughts
Tt's MEKA G-Unit is the first mech I've been able to use long-term that's utilized CHERRY MX Red switches, and overall, their performance is just what I expected. As a gamer, Red switches can be ideal because they're very easy to press – some have called them "too easy".
After having used this G-Unit for a couple of months, I can say that I understand where people are coming from when they say that. Somewhat often, I'll be sitting at the PC thinking about something (such as what to type next), and then clue in that I've been holding a key down. For some, this might be considered a downside, so if linear is desired but you'd rather not experience that kind of issue, Blacks would be a better choice.
Despite the minor issue of holding a key down without realizing it on occasion, I found this keyboard quite nice to use – a smooth type overall. In terms of noise, it's far from being the quietest mech I've ever used – it will be heard by someone standing outside the door. But, it's hardly what I'd consider "loud"; there's no audible click when the key bottoms-out, which helps.
One aspect of the MEKA G-Unit that does drive me a bit insane is its European-derived key layout, which features a backwards L-shaped Enter key, and also a "\" key that's found in a different location. Refer to the photo below to see what I'm talking about.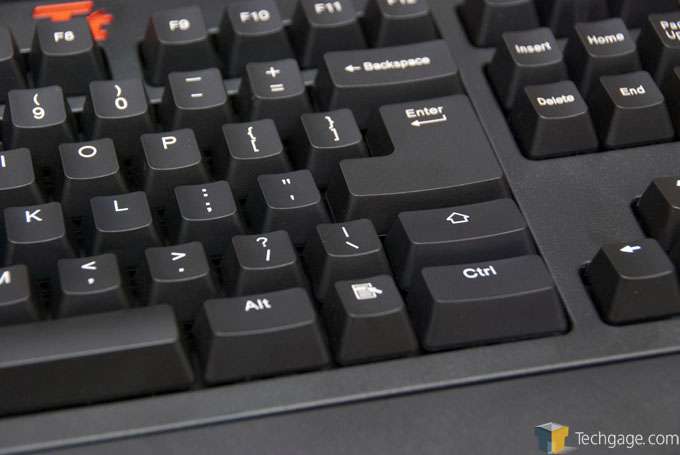 The G-Unit is the first keyboard I can ever remember using that's adhered to this design, and right from the get-go, I didn't like it. I use the right Shift key often (unlike most others, I've discovered), but on this keyboard, it's been made shorter – as a direct result of the Enter key being much larger than it needs to be. The "\" key as well, which is usually found above the Enter key on most keyboards sold in the US, is now found under it, and in the place the ? key is expected to be.
The learning-curve here at first was rough – so rough that I started to wonder if I could even do a proper review of the keyboard. Over time though, I adapted to the differences, and I admit it's become a non-issue for the most part. I do find typing a "\" to be more tedious than before (I need to stretch my pinky in an odd way to reach it), but overall, I've become used to it (even though I don't think I should have "had" to… this design is foolish as far as I'm concerned).
All of that said, I haven't had a single issue with the MEKA G-Unit on the hardware side since I began using it – and trust me, I type a lot (and I've been using this for three months). I appreciate the fact that macro profile keys are made available right on the keyboard, as well as media player / volume adjustment keys. It's worth pointing out though that those top-arranged keys are definitely audible. If you're in the habit of skipping songs in a playlist, the noise might become a little off-putting over time.
On a similar note, I've experienced a bit of oddness when it's come to media control. With the launch firmware, I coudn't use these keys at all with my preferred player, Foobar2000; hitting any one of the buttons would launch Windows Media Player. Fortunately, that issue has been purged with a recent firmware update.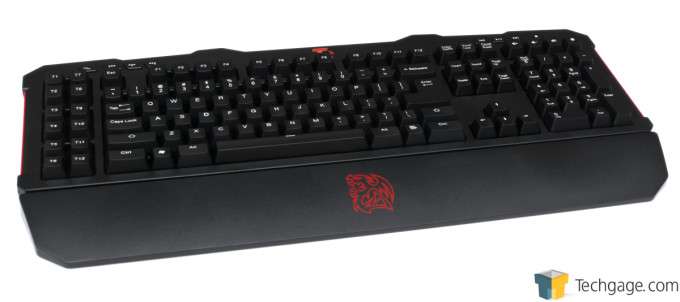 However, if I am inside of a game, these keys become useless for some reason, even though the on-screen visual will tell me that the key is being pressed. It's only when I'm actually in Windows doing things that it works. I've tested out a couple of different players to the same level of success. After talking to Thermaltake about the issue, it sounds like it could be a unique issue, but if so, it'd be with this particular sample as I've replicated the problem on another PC.
As for the software itself, I couldn't go out on a limb and call it "great", because when a piece of software manages to bring on a headache, it can never be "great". I think the UI should be about twice as large, because it takes up a mere portion of the screen and results in small text that has to be squinted at. Once the software is learned, however, managing it is no problem, and as mentioned above, the macros execute flawlessly.
When the MEKA G-Unit "Red Switch Edition" was first released, it carried an SRP of about $150. At the moment though, it can be had for $100, which I consider to be a fantastic value – but that assumes you don't mind some of its niggles, like the large Enter key, loud media player buttons, the (possible) inability to use the media keys with your player of choice while in a game – and of course, it's wide frame of about 22 inches. On the flipside, it offers the perks of being well-built, having an integrated USB audio card, dual USB ports and excellent macro control – and not to mention a smooth typing experience.
Pros
Solid design. Built like a Thermaltank.
CHERRY MX red switches make for some seriously smooth typing.
Keys for profile switch, media control, and volume.
Software could use some polish, but the macro support is good all-around.
Sturdy palmrest included, as well as a protective bag for the board and its cable.
Built-in audio card, as well as 2x USB 2.0 ports.
Cons
That Enter key… (which I suspect will be rare on future Tt mechs).
Media player keys wouldn't work for me while in a game.
Only select keys are backlit.
Copyright © 2005-2019 Techgage Networks Inc. - All Rights Reserved.