Vantec EZ Swap EX & NexStar SX 2.5″ Hard-Drive Enclosures

Date: August 14, 2007
Author(s): Rob Williams

We've taken a look at a fair amount of external storage devices in the past, but here's one that's unique. At home, you can plug the drive in like a diskette for full S-ATA speeds, and eject it to take on the go with USB-functionality. In addition to the EZ Swap EX, we are also taking a look at Vantec's latest NexStar offering.
---
Introduction, EZ Swap EX
The past few years have been good to external storage. It's gone from being uncommon to being a complete fixture in our daily computing lives. Four years ago, flash-based thumb drives were put on an altar in the same way that a Ferrari might have been. They were rare to see, and oh so expensive. Not so much anymore though. You can carry around 4GB in your pocket for less than $50, whereas 4GB two or three years ago was unheard of.
Thumb drives are not the only popular type of external storage though. In fact, it's one of the absolute few. You can either carry around a 4GB thumb drive or a 4.5GB DVD, or now, a 25GB next-gen disc. Of course, discs are not that easy to carry around and look completely odd when thrown in your pants pocket. So what about those who want even more storage, but are looking to retain a small form-factor?
That's where Vantec and 2.5″ hard-drives come into play. We first took a look at Vantec's own NexStar 3 2.5″ enclosure last November and since then, I haven't stopped using it. In fact, the same Toshiba 200GB drive hasn't left it. Currently I use it to back up my primary Linux system with the help of a bash script, which works quite well. There are three reasons why I love the product overall. I can carry around 200GB in an enclosure that's thinner than my wallet, although slightly longer. It also looks great, and lastly, it performs well. Copying to the enclosure happens at a minimum of 20MB/s, so performance is hardly slow.
Today we are taking a look at two new Vantec products, the EZ Swap EX and NexStar SX. The NexStar SX is primarily a fresh coat of paint on a product we already use, but it's a mighty-fine coat. The EZ Swap EX is completely different though. Hot-swap bays for computers is nothing new, but hot-swap bays that use 2.5″ are not as common.
When all installed, the EZ Swap EX accepts the included hard-drive enclosure. It's like inserting a floppy-disc… just a floppy-disc that happens to hold an insane amount of storage. Before we jump into our thoughts though, let's take a quick look at what you will receive when you decide to purchase the product.
The box is comprised of a black/orange color-scheme and displays all of the information you should need to know. The exact model we are taking a look at is the MRK-250ST, while the MRK-250FD is the model you will need to choose should you have an old-school IDE-based hard drive.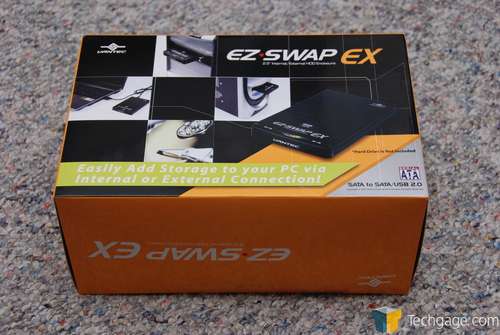 First things first… the plastic mount that slides into your 5.25″ drive bay. It screws in just like any other 5.25″ peripheral. You can then install the actual drive bay within the mount.
The enclosure itself is quite small, very similar to other 2.5″ NexStar enclosures. It includes only two parts, one of which you connect your hard-drive to, and the other which acts as the chassis and protection. The front of the enclosure lights up with drive-activity.
In case it's not obvious enough, this is how the enclosure slides into the bay. Also is a picture of the entire product installed into our Antec P182 chassis.It blends in quite well, and even though the drive sticks out, the door on the case shuts just fine even with the drive protruding a tad.
That's essentially all there is to it. You will need to connect an S-ATA cable from the back of the installed bay to an available S-ATA port on the motherboard and also hook up a floppy-drive 4-pin connector as well. Vantec has included a 4-pin Molex to 4-Pin FD connector adapter in case you don't have a floppy power connector free.
Let's jump right into a look at the NexStar SX and also our performance reports.
NexStar SX, Performance, Final Thoughts
The NexStar SX arrived in an elegant-styled box that again, includes various information plastered about. It includes the enclosure, software, screws, protective pouch and also a USB cable. As an added bonus, you will find a small screw-driver as well.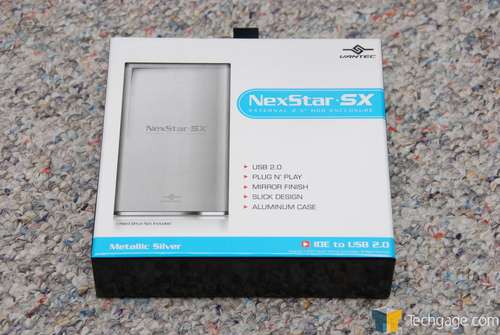 I admit.. this is one of the cleanest looking enclosures I've come across. I am still a fan of my black NexStar 3, but this one is designed a little differently. Each side has a tab that can be pushed in, which allows you to slide off the top and bottom, though the bottom serves no purpose.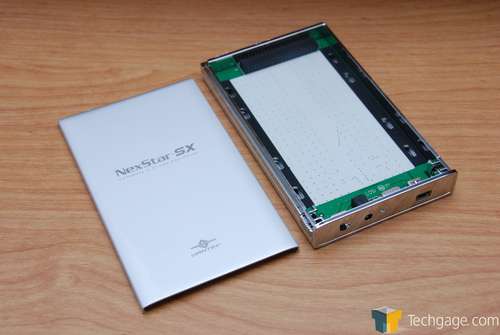 Once off, plug in your hard drive and place the top back on. It's as easy as that. From then on, you connect a USB cable from the enclosure to your PC and you have instant access to your files. Vantec sent me an IDE version of the enclosure, and since I don't have an available IDE drive, I could not test it out. Vantec's NexStar 3 which I've come to rely on has never let me down, so I wouldn't expect the NexStar SX to be any different.
Final Thoughts
Overall I am impressed with both products here, although I didn't get to test out the performance of the NexStar for the reasons mentioned above. I did however perform a few quick tests with the EZ Swap. Using HD Tach RW/3, the drive recorded a burst speed of 132.0MB/s, average speed of 48.4MB/s and a latency of 14.1ms. There is virtually no speed loss between using the drive in the enclosure and having it installed directly to the computer. So when you plug it in, there will be no bottlenecks caused by the enclosure.
As a second test, I copied a 4GB folder to the drive, twice to verify accuracy. Within this folder are 4,809 individual files. The entire process took 2:28, or an average of 27MB/s. Great results overall.
Do I recommend the product? I do, but it might not be for everyone. First, the enclosure retails for an average price of $35, which I consider to be an impressive value. Normally I look at enclosures that cost more than that to begin with, but here is one that delivers hot-swap-ability and also sheer speed. You can also eject the drive and use as a USB drive on the go, which requires you carry around the cable, or have access to one wherever you go. It uses a standard USB cable, which are very common. You could use the one that's included.
Overall, this is a well-designed product that works well and has a reasonable price. For that I am awarding it an eight out of ten along with our Editor's Choice award.
Discuss in our forums!
If you have a comment you wish to make on this review, feel free to head on into our forums! There is no need to register in order to reply to such threads.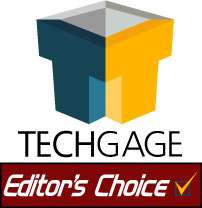 Copyright © 2005-2020 Techgage Networks Inc. - All Rights Reserved.