Vizo Luxon External HDD Enclosure

Date: March 22, 2006
Author(s): Rob Williams

Vizo is a new company that's making a mark on the peripheral market. Their Luxon hard drive enclosure is one of the reasons they are making that mark, and we are going to find out why.
---
Introduction
External hard drive enclosures are really becoming a dime a dozen, there's no doubt about that. Because of that, it's just plain out difficult to be truly impressed when a new one strolls along. For the most part, the most common difference between two enclosures are the looks and not much else. Well, the one I am taking a look at today actually did impress me the very second I opened it up.
The Luxon is presented in a very clean looking box. It's not made out of just flat cardboard, but is rather glossy to help it look classy… and it works. The box actually excited me more to tear it open. For a company that I only just recently discovered, Vizo does a fantastic job on their products presentation. I am going to be taking a look at the Blue colored Luxon today, but there is a Black and Gray one available also.
Now, the reason I mentioned that I was impressed after opening the box, is because I couldn't believe how many parts it included. Most of these parts are required to get the unit functioning, but they included some extras that I didn't expect.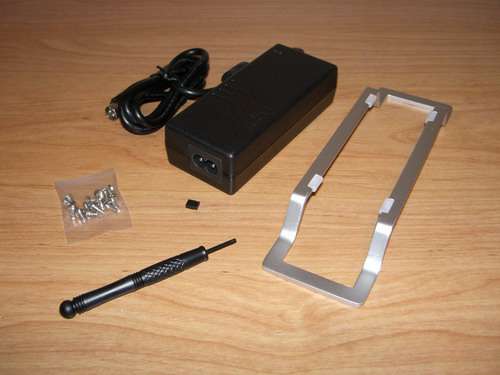 As you can see in the above picture, you will not be left without anything. To the left, we can see a driver CD for you Win9x/ME users, a manual and a cloth piece which I assume is to go underneath the enclosure. Up top is the power supply, power cable and the USB cable that will connect the device to your PC.
This enclosure not only supports IDE hard drives, but also S-ATA. Because of this, the small IDE cable is not pre-installed which saves time if you will not be using it. For the S-ATA side of things, there are three separate cables. The smallest one will connect the drive to the enclosure. The cable with the bracket is for you to install in an available slot. The free end of the cable will plug directly into your motherboard. If your motherboard happens to have an S-ATA connecter already on the back, you can skip this step. Lastly, you will use the dual ended S-ATA cable to connect the unit to the available port in the back of your PC.
Also included is a small plastic jumper which you will need to use later. Screws are also here, and because they use special screws to secure the outside chassis of the enclosure, they have included a small screwdriver. The other two parts include the 4-Pin floppy to 4-Pin Molex power adapter and the enclosures stand.
The actual enclosure is quite nice looking. It almost screams performance by looking at it really. It's all aluminum and very sturdy. The stand has plastic tabs to secure the enclosure in place and will not scratch the casing. Overall, this is a cool looking enclosure. You will either like it or dislike it, so take your pick.
Installation
The installation for an enclosure is not usually very difficult, and this one proved to be what I expected. The silver chassis pulls out of it's blue frame, and because they are both aluminum, you will hear some screeching noise. The "scratch a chalkboard" type. The first thing to do is to take the included plastic jumper and plug it onto the PCB inside. Depending on whether you plan to use an IDE or S-ATA based hard drive, you will need to plug it in a different spot. If you don't plug either in, you will not get any data transfer from the enclosure.
I don't have a spare S-ATA drive on hand, so I used the drive that was currently in my Thermaltake Max4, another great enclosure. My next step was plugging in the small IDE cable to the PCB and then to my HDD. I made the mistake of actually mounting in my hard drive before securing the IDE cable to it, and that was not a smart move. There is not much room to move around if you screw the drive into place, so you will want to plug it in securely before mounting it.
The next step is simply plugging the 4-Pin Molex to the hard drive and then plug the other end into the available power port on the PCB. With the drive in place, you need to turn the enclosure over to access the screw holes. The screws they included worked great and kept the drive extremely secure to the rest of the enclosure.
If you are interested in purchasing this enclosure, I recommend that before putting the enclosure all together, hook up the unit you have so far to your PC just to make sure that it works. I foolishly forgot to use the plastic jumper, so when I hooked it up it just detected a USB device and that's it. I had to take it apart again to fix my mistake.
At any rate, the last part is simple. It's a matter of taking the silver mounting plate and inserting it into the blue enclosure. While there is a Luxon logo on one side, there is not on the other. At this point, you will want to place the silver mounting bracket in there the way you would prefer it. If you want the logo to face you, then make sure it's on that way. For the ultra clean look, you could just turn it around and view the clean side. After it's in, you can use the included screws and drive to secure it.
Installation was a pure breeze really, and if it wasn't for my stupidity, it would have taken at most 5 minutes. The included power cables are quite long, so you won't need to worry about not reaching the socket. I didn't even have to bother taking the twist tie off one of the cables because it was long enough as is.
Conclusion
I admit it… I love this enclosure. It's by far one of the best looking ones I have ever seen, and looks far better in front of you than in a picture. After first turning the unit on, the large LED on the top lit up purple, and then blue. The LED adds that extra touch to make this look just as classy as Vizo planned it to be.
Performance wise, it's just what I expected from a USB port. Taking My Pictures folder, which includes 2,393 files to equal 2.60GB, took only 96 seconds to copy to, and 117 seconds to copy from. This effectively made the write speed 27.8MB/s, and read speed 22.2MB/s. Oddly enough, I expected the drive to have a faster read than write, but that's not how it turned out in this case. So, the speed you will receive from the unit is equivalent to a high end thumb drive, which is what I expect from an external enclosure.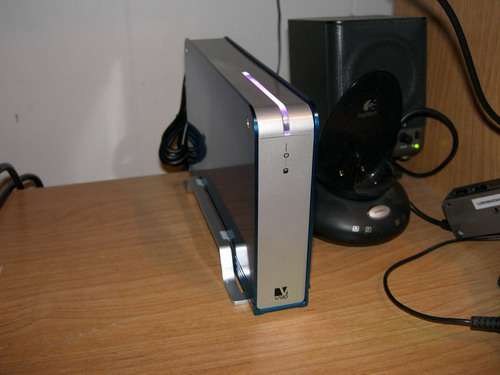 If you are using a S-ATA drive, the Read/Write will be far higher than what I accomplished.. more than likely twice as fast. Because instead of going through a USB port, it will be plugging directly into the motherboard, which means you could technically play games off of it if you wanted to. Once I get a spare S-ATA drive, I will be testing this out.
There are only two single things that I don't like about the unit. The first thing is the lack of ventilation. It's a very secure fit for your drive, but there is no real breathing room. If you use your drive constantly for hours on end, it may not fare to well in there. There is a little bit of real estate still available in the back, so a small opening for hot air to come out of would have been appreciated. The second issue is that the drive does not include a Firewire connection. An available Firewire connector would have benefited anyone who doesn't have an available USB slot, which is very common on laptops.
In the end, I am giving the Vizo Luxon an 8 out of 10. With future models, I'd love to see better ventilation and hopefully a firewire connection. The biggest issue you will personally have with the enclosure is finding it for sale. After much searching, I was unable to find it on any e-tailer's website. As soon as Vizo let's me know where you can pick one up, I will edit the review to reflect that.
Discuss in our forums
If you wish to discuss this review, you can do so in our related thread. You do not have to register in order to reply to our content threads.
Copyright © 2005-2021 Techgage Networks Inc. - All Rights Reserved.