Watch Dogs: Legion Performance At 1080p, 1440p, 4K & Ultrawide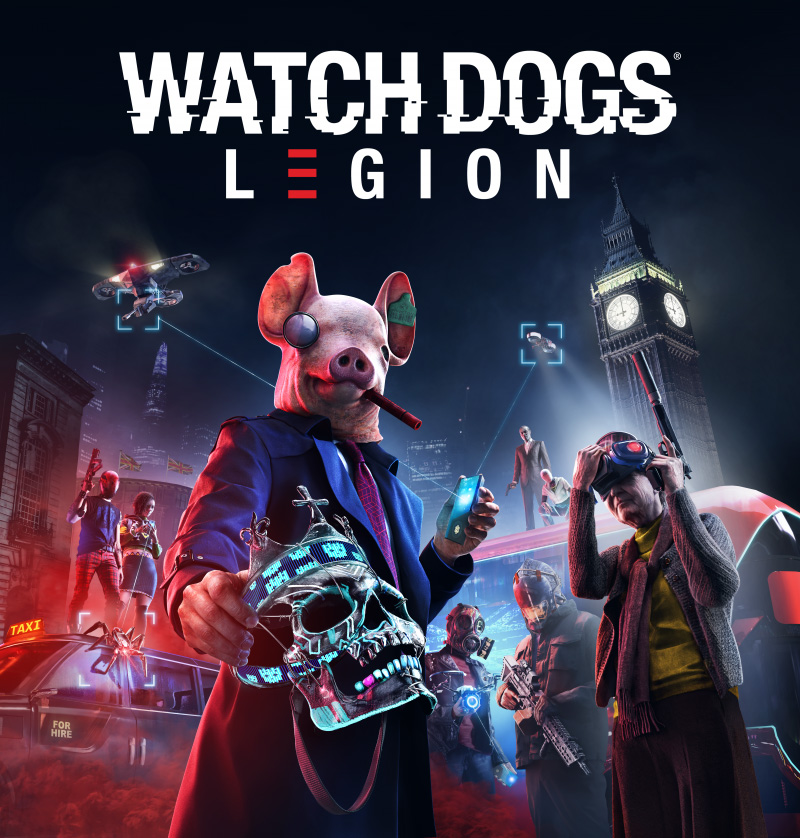 Date: October 29, 2020
Author(s): Rob Williams

Watch Dogs: Legion has just released, and given it's the latest title to implement ray tracing, we couldn't help but jump in and test its performance across a range of GPUs. In this look, we're comparing sixteen GPUs at 1080p, 1440p, 4K, and ultrawide, with and without ray tracing and NVIDIA's DLSS.
---
Introduction
The latest installment of the Watch Dogs series has landed, and for those who love eye candy, there's a lot to look forward to here. We've unfortunately been unable to actually play Legion up to this point, but we have spent quite a bit of time benchmarking it. With a collection of current-gen GPUs in-hand, we're exploring performance at multiple resolutions, with and without ray tracing.
Legion is the latest title by Ubisoft Toronto, and it also happens to be the newest title to support ray tracing through Microsoft's DXR API. Currently, only NVIDIA's RTX series of graphics cards can support this feature, but as we saw reiterated during its unveil yesterday, AMD's next Radeons will support it as well.
As with previous titles in the series, Legion puts you in the role of a DedSec hacker (and eventually, multiple) set to go up against an authoritarian regime in a near-future London. As an open-world game, there's a lot to see, and plenty of fun and experimentation to be had with your character's advanced abilities.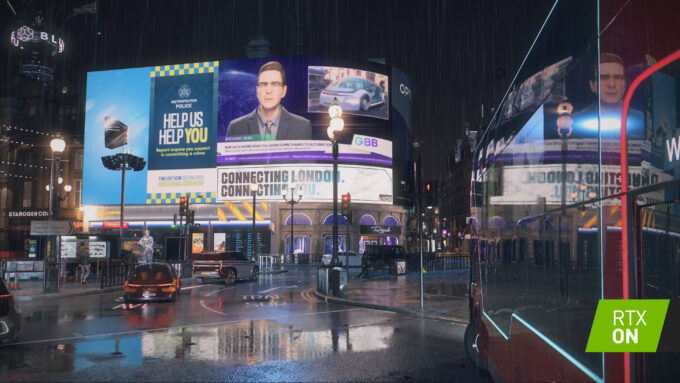 This article focuses entirely on GPU performance, but based on the fact that our RTX 3090 testing gave us the same performance at both 1080p and 1440p, it's clear that the game will benefit from a fast CPU. The unfortunate thing is, we saw this bottleneck with an Intel Core i9-10900K locked to 5GHz on all cores – and it really doesn't get much faster than that.
While we think Legion could use some performance polish, it's nice that the game offers plenty of customization with its available graphics options. Even better, some features will denote whether or not enabling them would cause major load for either the CPU or GPU. If you feel like you're dealing with a CPU bottleneck, you should fish for the settings that label CPU load as major, and drop them down a peg.
For the apples-to-apples comparisons in this article, the High graphics preset was used. After initial experimentation, High seemed like a good place to be, allowing for great performance from top-end parts, and reasonable performance from the mid-range stack. If you find yourself with more than enough performance on tap, you can move to the Very High or Ultra preset.
We're testing a total of 16 graphics cards here, although not all of them have been tested at all resolutions. If you don't see a particular GPU in a certain resolution's chart, it's because it's either underpowered, or overkill. For ray tracing, we can only make use of NVIDIA's GeForce RTX series for now, but it won't be much longer before some Radeons will grace our DXR charts.
Here's a quick look at our test system:
For the sake of ease, we completed our testing using the in-game benchmark, which spans an area of the map at night for about 90 seconds or so. Because ray traced reflections are found all over, it isn't hard to find the differences from the benchmark itself. Here are a couple of examples of ray tracing on vs. off: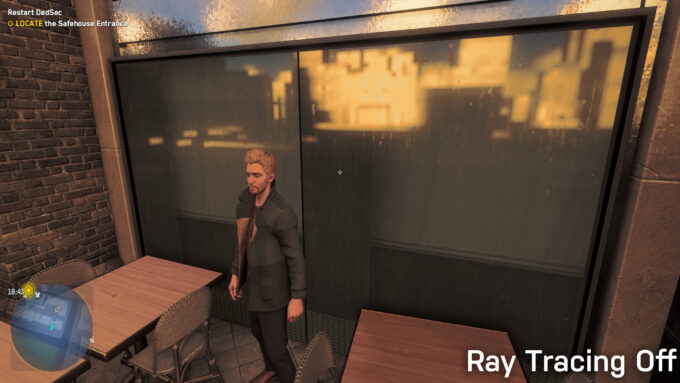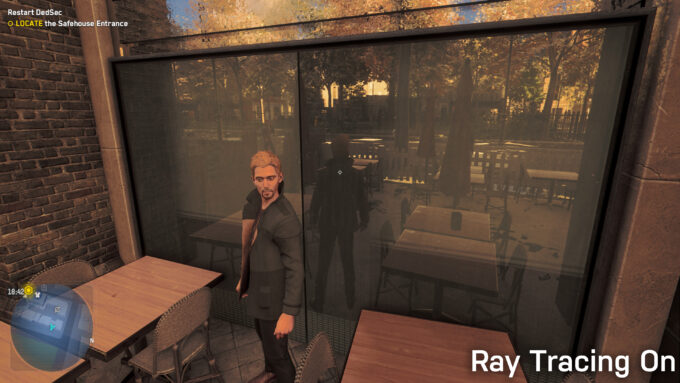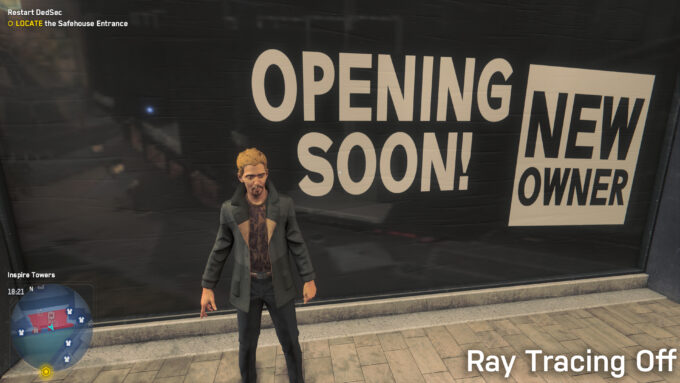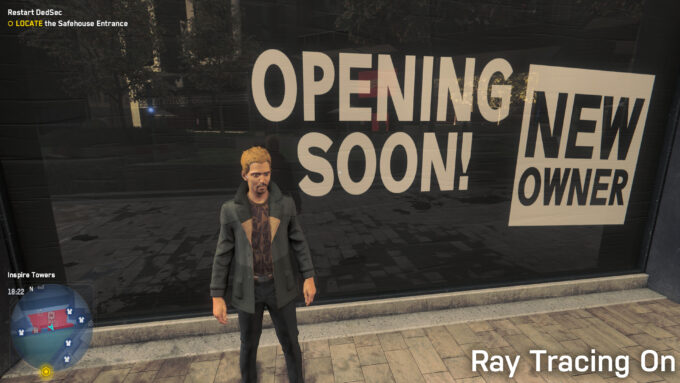 Finding reflective surfaces in Legion is easy – just look for a window or puddle. With ray tracing reflections turned off, you'll see a baked result that may still look good, but won't be as accurate (or clear) as it would be with it turned on.
We performed all of our testing with ray traced reflections set to High to act as a good middle ground. If you are feeling a performance pinch at all, you can decrease that setting to Medium and still enjoy the vast majority of the ray traced effect. High, and then Ultra, increase the fidelity, but of course at a higher performance cost.
16:9 & Ultrawide Performance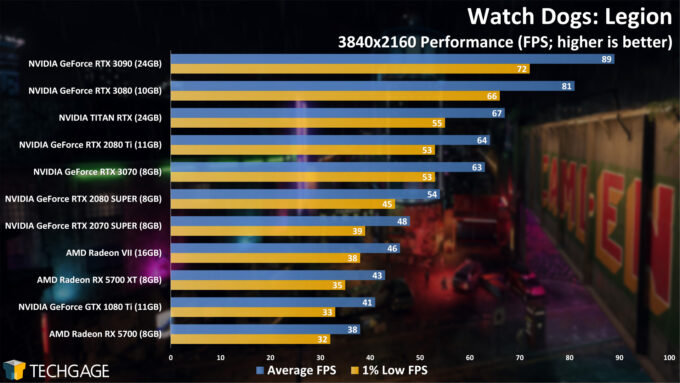 We doubt that this will be a surprise to you, but you will need a really powerful GPU to run Watch Dogs: Legion at 4K/60. With these results, which are based around the High detail preset, you'll want at least an RTX 3070 to hit the target. You could likely hit 60 FPS pretty easily with either the 2080S or 2070S, but at the expense of detail.
It's hard to say even with 90 FPS that the RTX 3090 "dominates" this game, because in terms of graphics settings, we're far off from maxing the game out. If you happened to have an RTX 3090 and 4K/60 monitor, you could increase detail levels so the GPU gets better taken advantage of.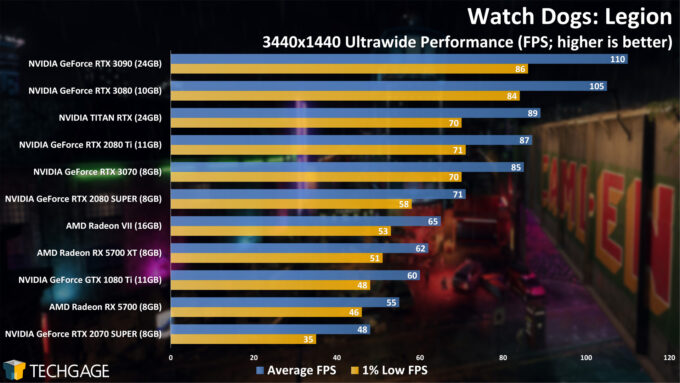 Graphics cards can breathe a lot easier at the ultrawide resolution of 3440×1440 than with 4K, so we're seeing great performance from most GPUs here. Even the aging GTX 1080 Ti managed to hit a clean 60 FPS average, with AMD's last-gen top dog RX 5700 XT placing an inch ahead of it.
With the level of performance we're seeing here from the top-end cards, increasing the detail levels will be easily done – unless, of course, you have targets of 100Hz or higher in mind.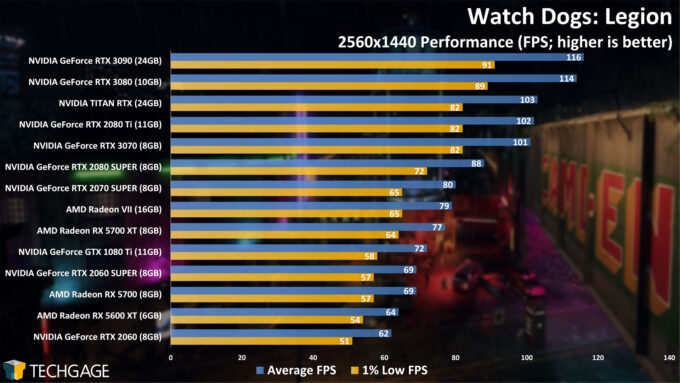 At 1440p, every single GPU in this chart can handle the game just fine, again hinting that for the top-half, graphical detail levels could be increased. Since we're only running High across-the-board here, there's a bunch of improvement that could be made. If your goal is high-refresh, anything RTX 3070 or higher will get you at least 100 FPS. For those fine with 60Hz, even the lowbie RX 5600 XT handles this game well.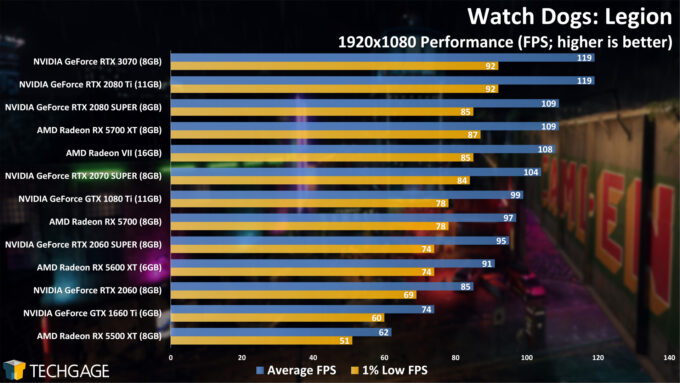 At 1080p, every single one of the tested GPUs was able to deliver great frame rates. Naturally, the more powerful the GPU, the better your chance of avoiding bad minimums, but you're not exactly going to be in a real lurch even with a lower-end card. Naturally, if you have more FPS than your monitor can make use of, then you'll want to jump to the Very High preset and tweak from there.
Ray Tracing Performance
For our ray tracing testing, we opted to use the High detail reflections setting, and Quality for DLSS so that we can get some semblance of playable frame rates. Naturally, because there's so many different ways to configure this game, you can jump to the Ultra ray traced effect if you have excess FPS, or drop the DLSS option to Performance if you're not quite hitting 60 FPS.
In order to take proper advantage of ray tracing in Legion, you need the newly-released 457.09 Game Ready driver. Older versions of the drivers will potentially lead to pixelation issues (except the 456.96 beta driver we had access to).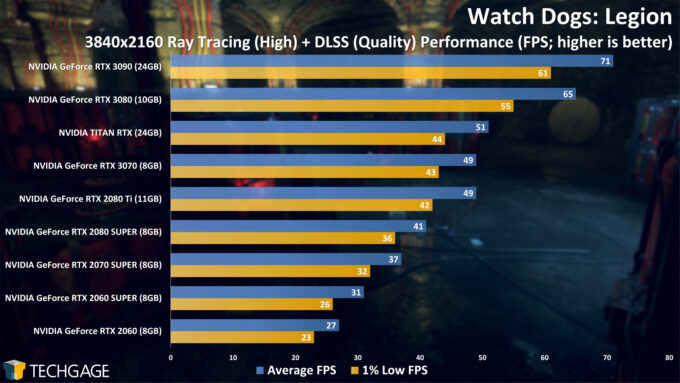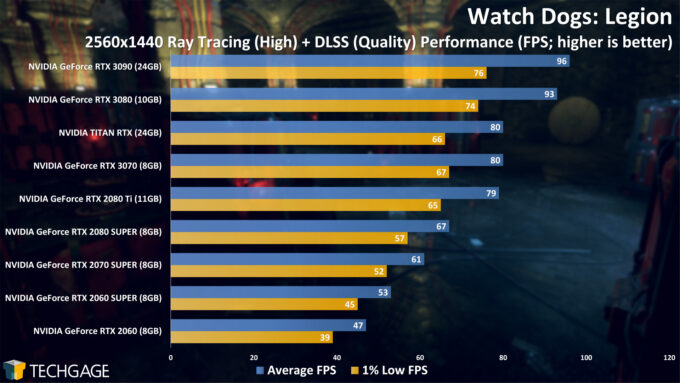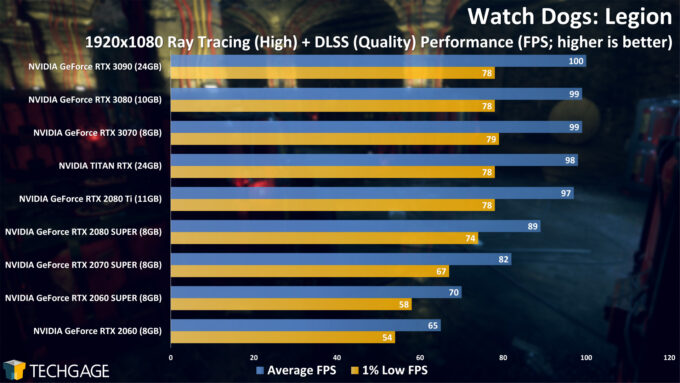 Remember what we said about a CPU bottleneck earlier? With five GPUs in the 1080p chart performing virtually the same, we see our best proof of that here. If only we could overclock our Intel CPU to 6GHz, then we might be able to see some improved scaling! With AMD's promise of increased IPC on its Zen 3 processors, we're keen on seeing how they would fare here.
Ultimately, if 1080p is your target resolution, then the RTX 2060 will fit the bill well enough. Anything higher than that will ensure better minimums and smoothness overall. At 1440p, you don't want less than a 2070 SUPER, and for 4K, you better strap that RTX 3080 in, or drop the quality levels a bit.
Final Thoughts
It might not be appropriate to call this section "Final Thoughts" based simply on the fact that performance information is never final. Even as we were writing this article, Ubisoft posted on its forums that a hotfix patch is coming on Friday, and it includes performance improvements on the PC. How much this will actually change things, we're not sure, but we have doubts it will render the performance information above irrelevant. Either way, with the new Radeon series coming soon, we'll be retesting for that launch.
As mentioned earlier, we managed to achieve the same FPS at a certain graphics level on the RTX 3090 at both 1080p and 1440p, something that tells us that we're running up against a CPU bottleneck. When the CPU behind that bottleneck is 5GHz, though, we can't help but feel like further optimization could be made to smooth performance out. We don't know what it'd take, but to run against an obvious CPU bottleneck with a top-end processor isn't something we see too often.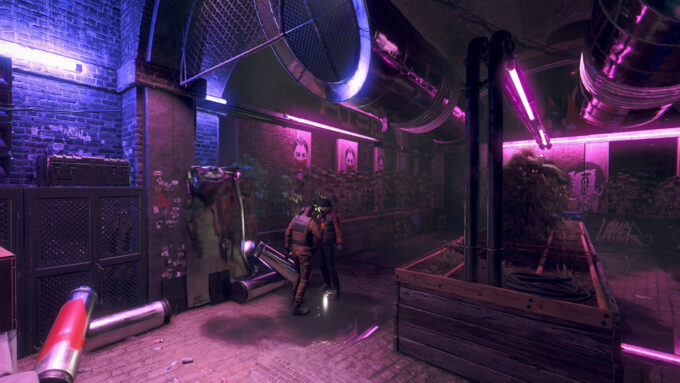 As you saw above, 1080p offers good performance on every GPU tested here. The higher you go, the better your overall minimums, but even low-end cards like the RX 5500 XT and 1660 Ti (~$279 USD) delivered fairly strong performance. Given that we did all of our testing using the High graphics preset, you may wish for a more powerful card to be able to increase the detail level.
Naturally, what GPU is actually best for you totally depends on your end goal. If you want to take advantage of the ray traced reflections (which are pretty damn attractive), you'll have to opt for NVIDIA's RTX series. AMD promises DXR support with its upcoming Radeon series, but it's way too early to say whether or not it will be competitive against NVIDIA's current crop of products.
Overall, and until AMD's new Radeons get here so we can expand our opinions, NVIDIA's newly-released GeForce RTX 3070 (~$499 USD) offers one of the best values right now, with its $499 price. That assumes you can't find a 2080 Ti that's priced to sell, since it offers the same performance, but has an additional 3GB of memory. Rendering performance is improved on the RTX 3070, however, so if the creator aspect matters to you at all, it's worth keeping that in mind.
Things will become a little more interesting once AMD's new Radeons get here – especially since they will also support DXR ray tracing. We'll fully retest the game with latest drivers by that time to see how things fare between both vendors at the high-end.
Copyright © 2005-2020 Techgage Networks Inc. - All Rights Reserved.