WD My Book Duo Review – Red HDD Performance & Data Safety Can't Be Beat

Date: September 12, 2014
Author(s): Tom Roeder

WD – People in the tech community have come to know as being synonymous with quality, value, and reliability. The company has worked hard to maintain this reputation, always producing cutting edge products. WD seeks to continue their quest for dominance in the storage field with its latest offering, the WD My Book Duo.
---
Introduction
There are a lot of storage options out there today, and when choosing the storage option that best fits your needs, the choices can be quite bewildering. Never before have we seen such a wide variety of options tailored to fit any need, at literally any budget. Choosing the right device to fit your storage needs is something that only you can do; I as your humble reviewer will do my best to guide you through this product and see whether or not this can suit your needs.
In today's market, NAS (Network Attached Storage) devices are certainly plentiful, and available in almost every possible configuration that you can think of. When exploring your storage needs these days, it would be silly not to at least evaluate the notion of a NAS. That being said, not everyone that has storage needs, with or without redundancy, needs something that can be accessed from anywhere in the world, from any device – much less have the cash laying around for something like that – enter the RAID DAS (Redundant Array of Independent Disks, Desktop Attached Storage).
What is RAID exactly you might ask? Luckily here at Techgage we have already covered this in spades, with as much detail as you can stand – just follow this link (Thanks, Brett Thomas). A good portion of the information in that article won't be relevant to this item as this drive is only capable of RAID 0 and 1 (striped or mirrored), and of course JBOD (Just a Bunch Of Disks).
What really makes this different from WD's other My Book offerings is that this unit has two drives inside of it, not just one. All the My Book Duos ship with the units pre-configured for RAID 0. This provides very good performance, thanks to the unit writing to both drives simultaneously. This, however, offers you no redundancy, and therefore no protection from hardware failures; thanks to the WD Smartware software, this can easily be changed if you so desire.  You need to keep in mind though, you will lose some speed and only have half the storage if you change to RAID 1– but if you have a drive fail, you simply replace the failed drive and keep on truckin'!
As you can see from our photos, the device is quite simple and elegant looking, the kind of styling we have come to expect from top shelf products from WD lineup. The front is simple, with one cool white LED for power/sleep status, and two more cool white LED's below that – one for each HDD's activity.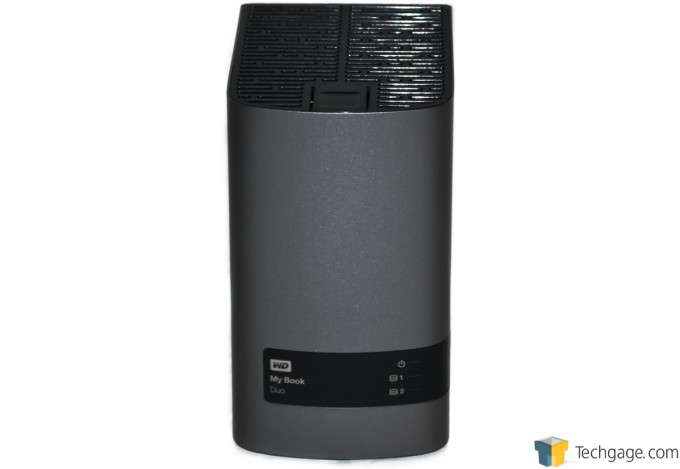 On the top of the device you find a button that you can press to access the drive cavity. With the door open you can then turn the thumb screw to loosen and remove the drives. This is quite an easy thing to do, but you won't be doing this very often (if ever).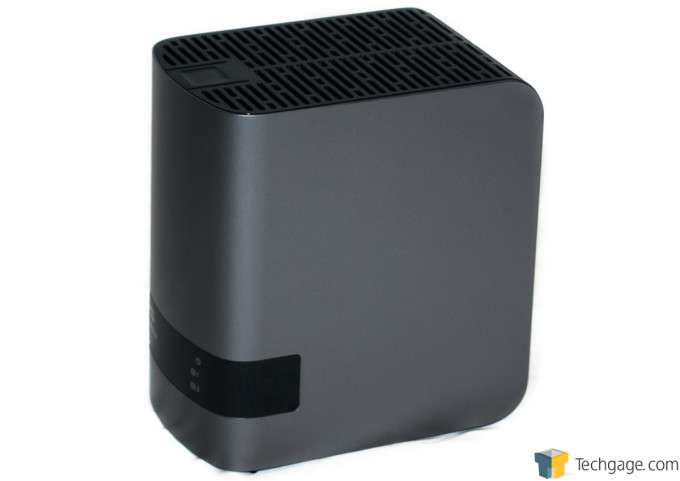 Over to the back side of the unit you find the standard power input, the data cable port, and a little bonus is the addition of two high-speed USB 3.0 ports which act as a powered hub that you can use to charge your smart phone, printer, etc.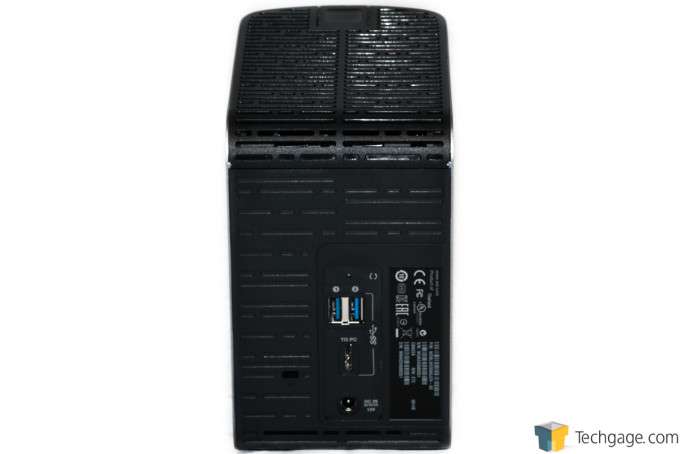 There are no fans whatsoever in this unit. This may worry some people; after all, cool units live longer and work more efficiently. WD has designed this unit to keep these drives cool through convection, naturally drawing in air at the bottom of the unit, and out the top. I checked the drives after a long operation period of serious benchmarking, and they did not feel abnormally hot.  I personally like the no fan setup – one less thing making noise in my office! It is worth mentioning that these drives seem to be completely silent while operating. This is not revolutionary or ground-breaking, but rather standard for modern HDDs.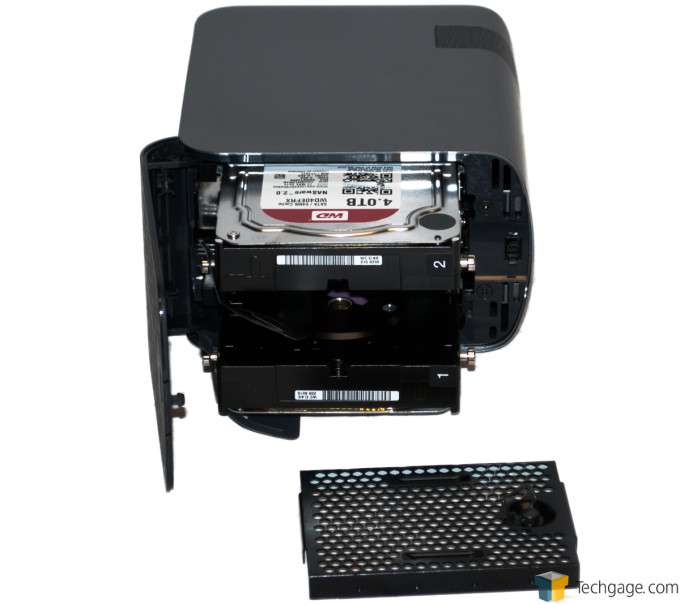 WD ships these units out in the striped configuration, or RAID 0. In a nutshell, this gives you the most bang for your buck, or lowest cost per MB of storage. Not only does it give you value, it does actually improve performance. The way it does this, as mentioned before in the linked RAID article, is the RAID controller splits the data into two chunks and writes each piece to the two drives simultaneously – thus reducing the bottleneck that is the mechanical drives.
You may decide that you do not need the higher performance, and that redundancy against mechanical failure is paramount over other concerns, then you will want to change the unit from RAID 0, or striped, to RAID 1, which is mirrored. With mirrored RAID, you do lose some of the performance that you would have enjoyed in RAID 0, because instead of splitting the data up and writing that data to two drives simultaneously, it is now duplicating the data and writing all of it to two drives at the same time; oh, and instead of enjoying 8TB of storage, you now only have 4 – effectively doubling your cost per MB of storage.
When it comes to determining how much storage you need, this is really only a question that you can answer. I always subscribe to the old adage "more is better." The only problem with this philosophy is that more also costs more. However, the point of this review is not to determine how much storage you need; it is to determine if this device is right for you, and how you may choose to configure this device. There are other important considerations: if you covet safety from mechanical failures, or if you decide to throw caution to the wind and go for the higher performance and the more bang for your buck on the cost per MB front.
Keep in mind that in this day and age, mechanical hard drive failure is less common than it ever has been. With modernized manufacturing processes, high-detailed quality control departments, and just overall quality of materials used, this is not something that happens as much as it used to. This is especially true of the high quality of the WD Red HDDs that we are looking at here.
Performance and Testing
Hard drive failures still happen, every single day. It is an eventuality that everyone should prepare for. There are many popular cloud-based storage platforms out there, and WD has joined forces with the ever popular Dropbox to offer a backup solution to go hand in hand with this device. You can start an account for free, and your first 2 GB of storage are free. This really is a meager offering, considering there are MANY other very reliable and secure cloud-based storage options out there that offer much more storage for free. But for now, I will be using Dropbox.
Before we really get into the accompanying software, I want to take a close look at the drives' performance, particularly with regard to how the RAID configurations impact this. For this review, I used two industry leading benchmark programs – AIDA64 Engineer and HD Tune Pro. These tests are quite extensive and rigorous – certainly a more accurate portrayal of what the drive is doing, rather than the generic Windows dialogue box that can, at times, give some seriously questionable numbers.
The first set of tests were performed with the drive in the RAID 0, or striped configuration.
Here you can see the test results of the reading and the writing, in the striped configuration using AIDA64 Engineer.
Here are the same tests, only performed with HD Tune Pro.
The next gambit of tests I performed in the RAID 1, or mirrored configuration. Changing the drive configuration over was a breeze using the WD Drive Utility program – just make sure you do not have any sensitive data on the drive before you change the configuration, as you will lose anything stored on the drive.
Here is the read and write test using AIDA64 Engineer. As you can see, operating in the RAID 1 configuration, you do lose some speed, although to be honest, it was not as a dramatic drop as I thought it would be. Fact is, in many real world applications, you may not even notice the drop in performance.
Here is another read/write test, using HD Tune Pro. Again, a noticeable but not alarming drop in performance.
Hopefully I have illustrated the difference in performance between the two configurations adequately enough for you to be able to make a well informed decision as to which suits your needs best. I didn't bother testing in the JBOD configuration, because the results will be very similar to the RAID 1 results, and honestly – if JBOD is what you are after, this is probably not the best choice for you.
Software and Final Thoughts
WD has included its incredibly intuitive software suite, WD Smart Ware with this device. This also includes the WD Security and WD Drive Utilities software.
This was my first encounter with the software, and a refreshing encounter it was. Everything was extremely simple to use. Whatever task I wanted to perform was performed easily and efficiently. So many companies fail badly when it comes to this aspect of their devices. WD certainly has not – their tenure of excellence in this field really shines through with this software; a freshman company this is not.
The Security software is as simple as it needs to be – one screen to handle it all. Here is where you can choose to lock your drive with a password.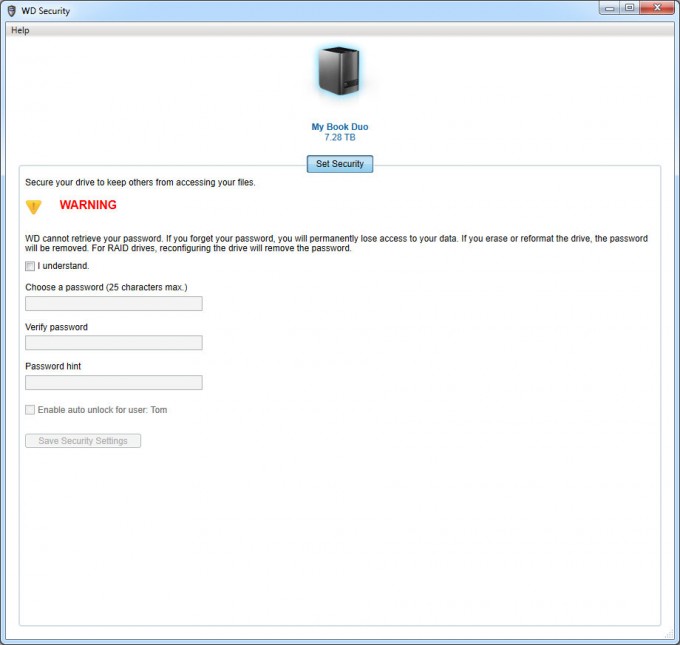 The next program we are looking at here is the WD Drive Utilities. Here you can perform diagnostics on your drive, if you are worried that you are having a drive fail. WD offers a "Smart Status" that is a constant monitor for problems, there is a quick drive test which takes about two minutes, and there is a complete drive test. This may take several hours, and physically scans every part of the drive for bad sectors.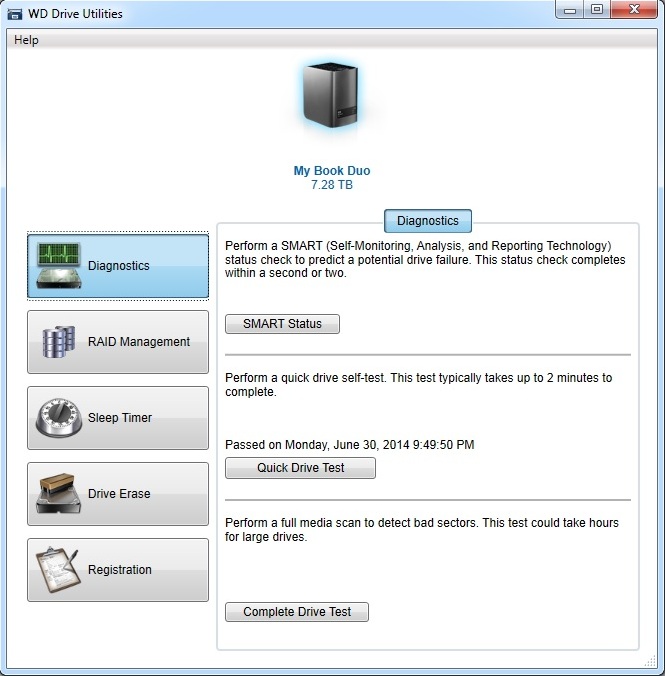 Still under the WD Drive Utilities program, there is a tab for RAID management. This will give you the status and health of your RAID setup, and the status of the drives. There is a tab where you can change the RAID configuration, and name the volume.
Next we find the sleep timer. This will power the drives down to conserve power, and prolong the life of the unit, when it has been at idle for an amount of time, as determined by you. You can also set the time to never put the drives to sleep.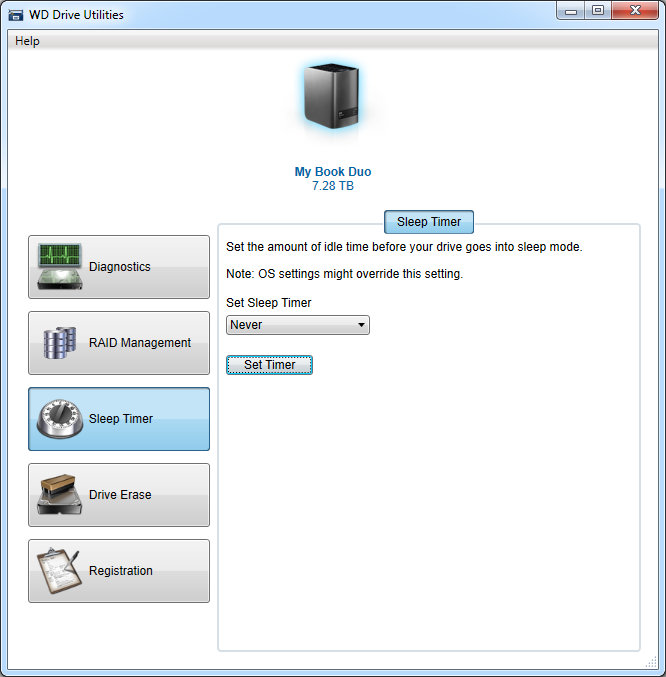 There is also a tab for a quick and easy drive erase feature. This is pretty self-explanatory, it does exactly what it sounds like it does. Lastly, the ever ignored "Registration" tab, where you can register with WD, stay informed when updates are available, all that good stuff.
Now we move to the main program for this device, the WD Smartware itself. Here is where you will manage you backup preferences; what will and will not be backed up, where it will be backed up to, frequency of the backup and so on.
This program, like the others, is as easy to use as it looks – it just works.
Firstly, there is the home tab. Here you will see your computer, and the backup devices you have at your disposal. Shown below, I have the My Book Duo, and I have also linked my Dropbox account as well. This screen will also show you how much space you have available in each backup repository.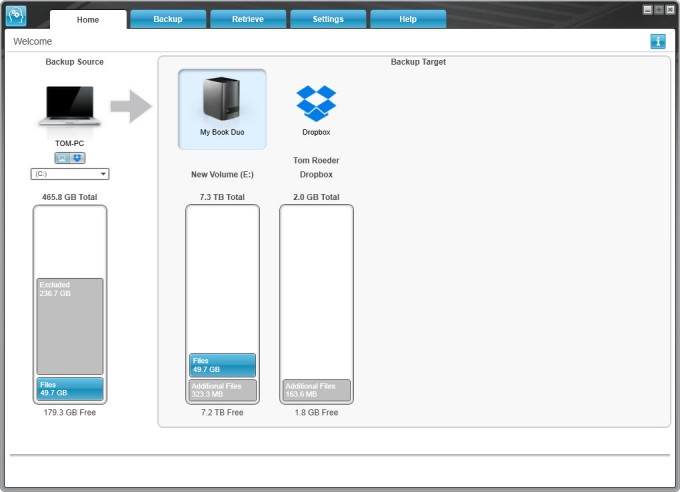 Next is the backup screen – here is where you can make all your inclusion and exclusions of what you want sent, or not sent to the backup. You can choose a category backup, or a file-tree style backup, change the backup frequency, and enable or disable the backup here.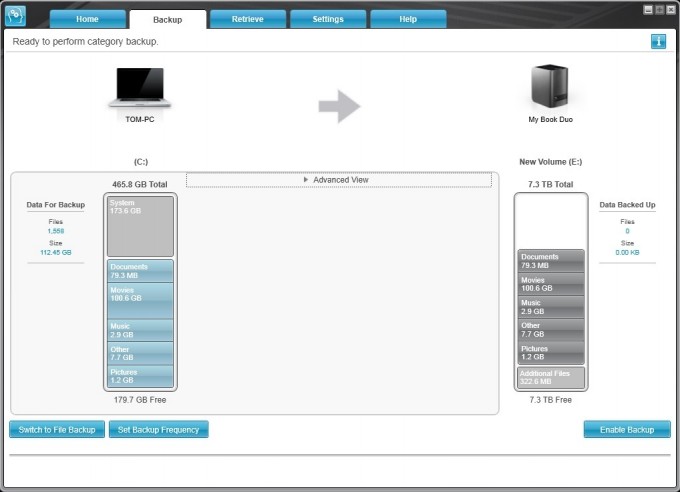 The next tab in line is the retrieval tab, and this is exactly what it sounds like. Here you can choose how to retrieve your files when you need to.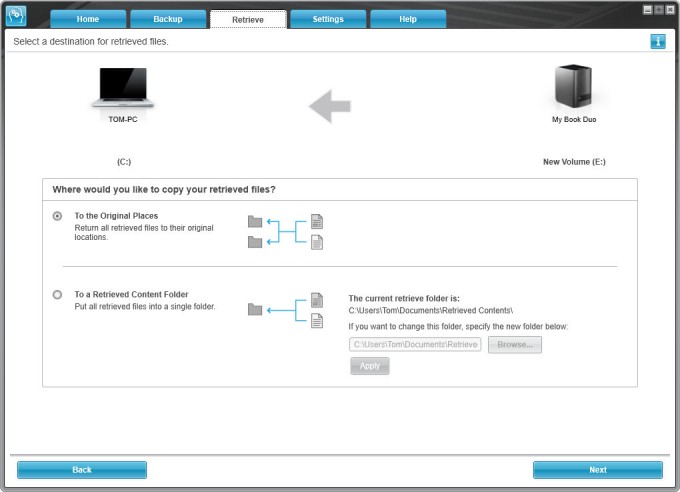 Fourth tab in line is the settings tab – here you can make changes to how the system works, manage your Dropbox account, and check for software updates.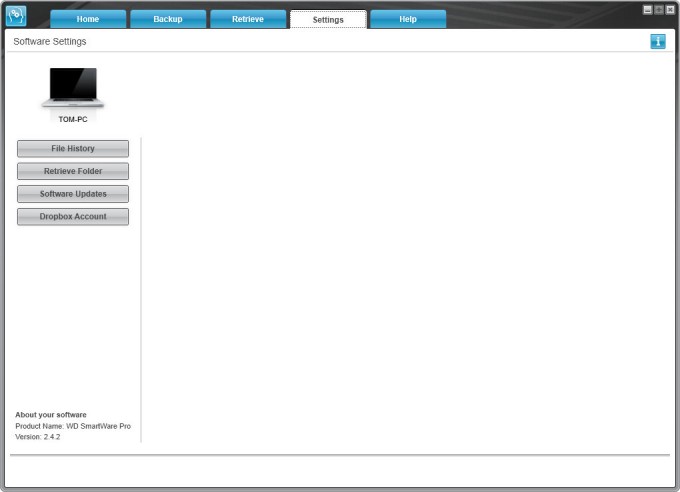 The last tab we are looking at is of course the help tab. Here you will find all the information that you could ever need to use this software. Although to be perfectly honest, the amount of time you will spend here will be minimal. Even if you are not a seasoned computer veteran, this software just works so well, and is so intuitive, it really is impressive.
Final Thoughts
When discussing storage, it is almost like asking car enthusiasts which brand of motor oil they like. There are as many differing opinions as there are storage options, and your choices can be quite bewildering.
What I hope to have done in this article was to help dispel some of the mystery behind RAID, and if the performance gain is really worth losing the redundancy, the RAID 0 option. Certainly this is a very tempting option, especially if you are on a budget; a double edged sword it really is. Faster performance and lower cost per MB of storage.
On the other hand, the RAID 1, or striped configuration, offers you the safety of having a redundant drive. The speeds are lower, and your storage costs are effectively doubled. However, you have the peace of mind knowing that your precious data has another layer of protection against mechanical failure.
Thanks to the WD Smartware and Dropbox marriage, you can have an even thicker security blanket, thanks to the power of the cloud. The Smartware software suite, paired with the My Book Duo, work so seamlessly, you may forget about it all together – until that fateful day when something goes awry and you are left to pick up the pieces, to find that your data is safe and secure, thanks to the measures you put in place with this product.
Even if you skip the software component all together and choose to un-box this unit, plug it in and just use it, it will serve you very well indeed. It is my opinion that no matter what your storage needs are, this unit will fit your needs.
It comes with a 2 year warranty from WD, for the extra piece of mind. At this price point of $449.99 (USD) for 8TB of storage with performance as strong as we showed with our testing, this is a great buy. This is very competitively priced, seeing as how WD has chosen for this offering the award-winning Red variety of their HDDs.
Copyright © 2005-2020 Techgage Networks Inc. - All Rights Reserved.