WD My Passport Ultra 1TB Portable Hard Drive Review
Date: August 9, 2013
Author(s): Rob Williams

For those who like a little extra when purchasing a portable drive, WD's My Passport Ultra offers a compelling package. In addition to the inclusion of a soft pouch that helps keep the drive looking new, a robust backup solution is also included that's easy-to-use and effective – and even sports the option of backing-up to the cloud, via Dropbox.
---
Introduction
When we took a look at WD's My Passport last summer, we were left impressed for a couple of reasons. For starters, it performed well, and who wouldn't love 2TB in such a small form-factor? Then there was the robust (but clunky) backup software, a durable, good-looking design, and for those who want to take advantage of it, hardware encryption.
This summer, WD followed-up to that series with "Ultra", which overall looks pretty similar but does have a couple of notable differences. At the forefront, cloud backups are here, and as long as Dropbox is your solution of choice, WD has got you covered. Second, the Pro version of SmartWare is included, allowing you to backup with more than just WD drives. It might be a small touch, but an included soft pouch rounds out the deal, and overall, it's a good addition.
WD's My Passport Ultra drives come in black, red, silver and blue. I'll let you take a guess as to the one we're dealing with.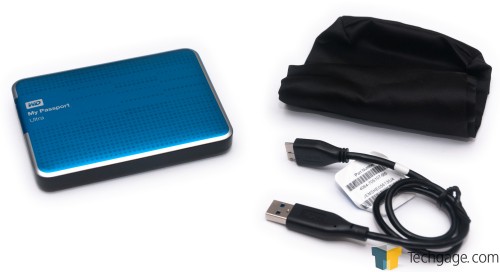 The Ultra's densities range from 500GB to 2TB, with the physical size being based on that. The 1TB model, which we're looking at here, is 0.61″ thick (and 154 grams), while the 2TB, just like the My Passport in the shot below, is 0.82″ thick (and 227 grams).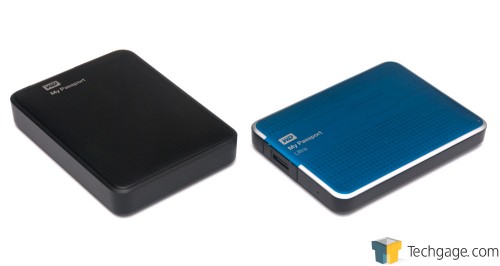 The top of the Ultra might look textured, but it's as smooth as can be. The same can be said for the bottom, though it's not glossy as the top is. No surprise, this is a USB 3.0 device (backwards compatible with USB 2.0), as you can see by the connector in the shot below.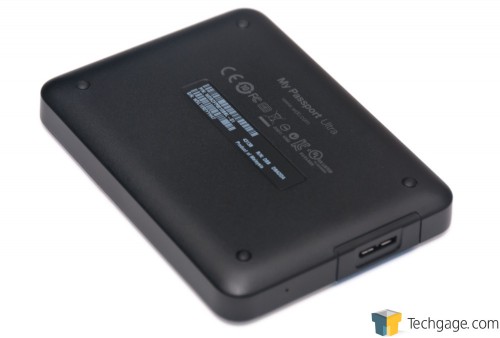 Once plugged into your PC, you'll have 931GB in total to make use of. Be careful not to format the drive too hastily, however, as WD has its software bundle waiting for you inside. You're free to format the drive to any file system you like, but the encryption software is only designed to work with Windows and OS X.
Remember when 1TB seemed enormous?
It happened quick, but we've exhausted the feature's list, so without wasting time, let's dive into a look at the software.
A Look at the Software
When dealing with storage products, either hard drives, SSDs or what-have-you, we rarely expect much in the way of a software package. WD breaks the mold with its My Passport drives, however, as five separate utilities are included.
The heartiest piece of the suite is WD SmartWare, the company's backup software. The Pro version is bundled with the Ultra, but somewhat bizarrely, it's not installed by default. Instead, you'll be seeing the non-Pro first, and then have to navigate to an option that allows you to upgrade to the Pro version (it's an easy process, but still a little odd).
The other utilities include WD Security, the encryption + password solution; WD Drive Unlocker, allowing you to input a password to access the secured drive; WD Drive Utilities, for SMART, quick erase and sleep timer; and finally, WD Quick View, used to detect WD's network drives and display quick info in your systray.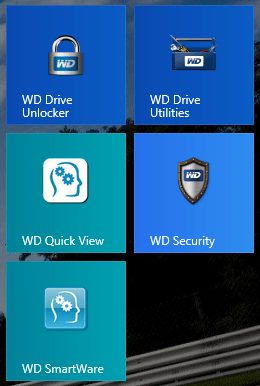 The biggest perk offered with the Pro version of SmartWare is cloud backup, but some might find the addition of being able to backup other drives (including non-WD) to be useful also. If neither of these features matter to you, and you don't mind foregoing the included soft pouch, you'd be fine going with the non-Ultra variant of My Passport.
Aesthetics or otherwise, I can't see a single difference between SmartWare Pro (outside of the cloud feature, of course), and SmartWare that we looked at last summer. So, if you happened to read that review, you're going to see more of the same here.
After activating the app to gain access to the Pro version, you'll have both your My Passport Ultra and Dropbox listed at the main screen. Setting up access to Dropbox is simple: click on the icon, sign in, give the Ultra permission to utilize the account on your behalf, and done.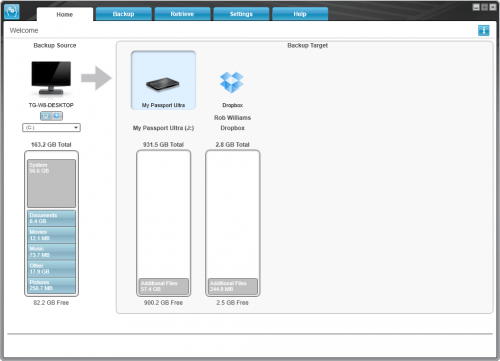 Both remote and local backup schemes are handled the same way, and as you'd expect, you don't have to backup the same data to the cloud as you might to your portable drive. By default, a simplified file list is shown, based on what data the software discovered on its own. If you store media outside of your main drive, this is likely not going to work for you; for finer control, you can click on "Switch to File Backup", which allows you to browse all of your hard drives.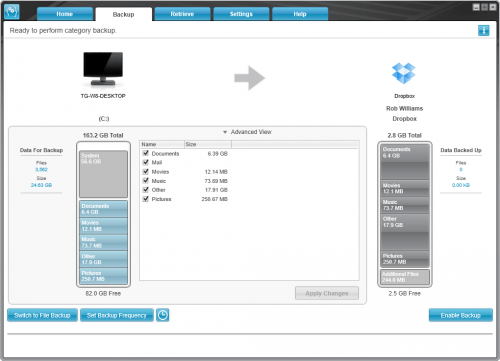 The only limitation that the cloud backup option has is that you can't choose the "continuous backup" option. We assume this is because WD doesn't want to bog your Internet connection down with constant check-ups.
SmartWare also has the ability to backup multiple copies of a file, as it's updated, so if you happen to overwrite your work and wish you could go back in time, this feature will allow you to do that. Up to 25 revisions of each file can be stored.
In my testing, I was pleased with how well SmartWare handled the backup process, and there's really little to say but "it works". It would be nice to have the "force backup" option un-hidden, however.
A big feature of WD's My Passport Ultra is its simplest: hardware encryption. With a simple app, you'll be able to password-protect your drive, and enjoy AES-256 encryption. If you're not concerned with a break-in and someone plugging the Ultra into your PC, you also have the option to automatically unlock the drive when you're in your user account. More than just the name is matched-up against, however, so you have no worry about someone simply creating an account on another machine with your username and then being able to access it.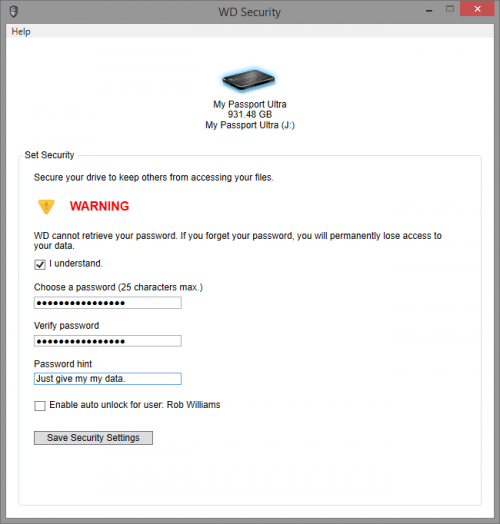 As the title "Drive Utilities" suggests, this last app offers… drive utilities.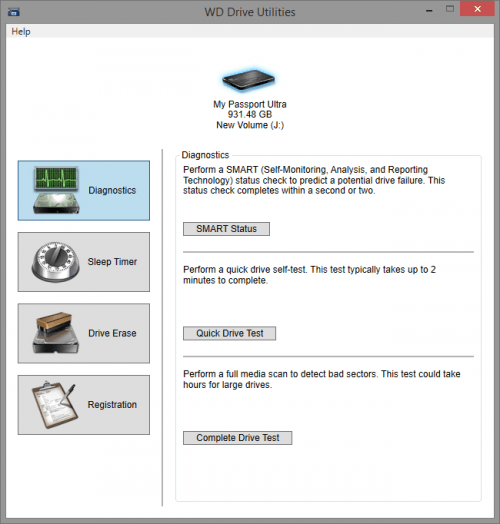 If you want to securely erase your My Passport Ultra, you can do that here. While it's not exactly clear about it being a secure erase, it is. In testing, I copied my documents over to the drive, and formatted it in Windows; afterwards, I was able to recover everything with recovery software. For the second test, I copied the same data over, and then deleted the drive using this tool. This time, the recovery software couldn't find anything.
Given the fact that the secure erase takes a mere 10 seconds to complete, I'm led to believe that the drive is encrypted all the time, but by default, no password is required. Then, when the time comes to secure erase, the software simply changes the key, rendering all previous data gone for good (theoretically).
Should you need to check on your drive's SMART status or run some quick tests, those abilities are here also.
Let's tackle performance testing on the next page, and then my final thoughts.
Performance Testing & Final Thoughts
For most of our performance-type content, we hold nothing back when explaining our methodologies and beliefs. But as this is simply an external storage review, we don't feel there's quite as important a need to do that. If you've read our other performance content, you already know how seriously we take our testing practices, as it's obvious that coming up with an accurate end score for any benchmark is very important. In the case of flash drives, we repeat all tests at least twice to verify that our results are accurate.
 
Techgage Storage Test System
Processor
Intel Core i7-3960X Extreme Edition – Six-Core @ 4.20GHz – 1.375v
Motherboard
GIGABYTE G1. Assassin 2 – F4E BIOS (12/12/2011)
Memory
Corsair Dominator GT 16GB DDR3-2133 9-11-12-27, 1.60v
Graphics
GeForce GTX 680 2GB (Reference) – GeForce 301.42
Audio
Onboard Creative X-Fi
Storage
OS Drive:
Kingston HyperX 240GB SATA 6Gbit/s SSD
Tested Drives:
WD My Passport Ultra 1TB (USB 3)
WD My Passport 2TB (USB 3)
Power Supply
Corsair AX1200 1200W
Cooling
Corsair H70 Self-Contained Liquid Cooler
Et cetera
Windows 7 Ultimate SP1 64-bit
For our real-world transfer tests, the source files are stored on our OS drive, which avails us a top-end read speed of 500MB/s+. Unless the USB device we're testing is able to write in excess of that, there should be no bottleneck.
Drives are formatted to NTFS with 4K sector sizes.
Iometer 1.1.0rc1
To start things off, we're using Iometer, a popular storage benchmarking application that's as effective as it is customizable. It's for both of those reasons that we choose to use it, and also thanks to the fact that it's capable of outputting the results to both MB/s and IOPS (in/out operations per second). The latter is the value we focus on, as it's become a standard for measuring performance in enterprise/IT environments.
Admittedly, running this test on most USB flash drives, is not entirely important given the typical manner in which they're used, but it's our goal to see where one excels over another when dealing with such an intensive test. IOPS performance would be very important if you were to install an OS on a flash drive, as long as the bandwidth throughput is also good.
 
Database
Workstation
File Server
Iometer 1.1.0
Read
Write
Read
Write
Read
Write
WD My Passport 2TB
57.593
29.225
76.850
19.095
77.779
19.376
WD My Passport Ultra 1TB
38.32
18.56
45.18
11.55
46.25
11.70
Interestingly, the Ultra falls behind the non-Ultra in IOPS testing. Again, this isn't of major importance for an external drive, since an OS isn't going to be installed to it, but this could impact transfers where hundreds or thousands of files are involved.
HD Tune Pro 5.0
One of the simplest methods for testing storage is with HD Tune, and as it's able to give reliable and repeatable results, we like using it in our testing. Although the program offers a good range of testing methods, we use the basic test that gives us read speeds and also access latencies.
HD Tune Pro 5
Minimum
Average
Maximum
Latency
WD My Passport 2TB
50.8
84.8
110.7
17.9ms
WD My Passport Ultra 1TB
56.0
91.0
118.8
16.4ms
The Ultra didn't fare well against the non-Ultra with Iometer, but things even out with HD Tune. In fact, the Ultra is the leader of the pack here, both in throughput and latency.
PCMark Vantage
One of the more popular storage benchmarks currently is Futuremark's PCMark Vantage. Even though this is a suite designed to benchmark your entire machine, it's HDD suite test is quite robust and is good at delivering scores that scale well with the storage device you are benchmarking. Almost all of the storage companies we deal with regularly recommend using it, so we do.
| | |
| --- | --- |
| PCMark Vantage | HDD Suite Score |
| WD My Passport 2TB | 3632 |
| WD My Passport Ultra 1TB | 3832 |
PCMark backs HD Tune up here; the Ultra is just a bit faster overall, IOPS be damned.
CrystalDiskMark
Over the past few years, many storage companies have been jumping on the CrystalDiskMark bandwagon to help strut their product's performance, and it's easy to understand why. Compared to others, CrystalDiskMark delivers results that are much higher, and in some regards, they could be considered unrealistic given that real-world tests and even other synthetic benchmarks never seem to back up its claims. We include it for the sake of interest and because it is still a very thorough benchmark.
 
Read
Write
CrystalDiskMark 3
Seq.
512K
4K
Seq.
512K
4K
WD My Passport 2TB
115.0
44.51
0.567
107.6
70.23
1.759
WD My Passport Ultra 1TB
121.0
43.92
0.566
118.7
62.98
1.441
Once again, more love for the Ultra drive. The non-Ultra came ahead in just two tests; this is about as random as random gets… there's just no logic or guessing where either of these drives is going to excel.
ATTO
While CrystalDiskMark does well to show the absolute top-end value of a storage device, ATTO doesn't fall too far behind, if at all. Its test uses a wide-range of cluster sizes, for both read and write, but we only note 4KB, 64KB and 1024KB of the former. For those interested, we use a queue depth value of 10 for testing.
ATTO
4KB
64KB
1024KB
WD My Passport 2TB
54.46
108.91
104.86
WD My Passport Ultra 1TB
44.55
115.66
114.97
The Ultra is a tad slower where 4K writes are concerned, but 64KB and up are improved. This is useful if the drive is actually formatted as 64KB, which would assume mostly large files are being stored (and by large, I mean 64KB and higher, as a 1KB file on a 64KB formatted drive will still use 64KB).
Real-World
For real-world testing, we use a set of files and folders for the sake of measuring transfer speeds, and also convert images and music on the storage device to see just how well it fares for large intensive operations. For the transfer speeds, we use both 4GB and 16GB files and folders, and for the former, we also perform copy tests, which refers to copying the file or folder on the storage device.
 
4GB File
4GB File Copy
4GB Folder
4GB Folder Copy
16GB File
16GB Folder
WD My Passport 2TB
37.547
106.73
80.584
142.341
144.29
325.429
WD My Passport Ultra 1TB
37.08
138.82
57.77
235.32
97.12
102.68
Above, I said some of the results are as random as random gets, but our real-world testing takes things to the next level. While the Ultra proved to be slower IOPS-wise of these two drives, our 16GB folder copy, which contains about 16,000 files, proves that Iometer is good from a synthetic standpoint only.
Overall, both drives swapped their leads back and forth, so there's no declaring one a winner. The performance we do see is good, and that's all that matters – it'd be a worry if one of them happened to be really slow in a given transfer. The 16GB non-Ultra result is a bit stark, but 5 minutes to copy 16K files isn't that bad.
Final Thoughts
With all we've learned about WD's My Passport Ultra over these three pages, do we have a winner? Absolutely. WD offers a great overall package with its Ultra, what with the robust backup software and included pouch. Looking at other portable options on the market, I can honestly say that WD is currently offering one of the best looking options as well.
The Ultra 1TB can be had for about $100 online (2TB is $160), which is $10 above the non-Ultra. The differences, as discussed earlier, is that the Ultra includes the soft pouch, the ability to use Dropbox for backing-up, and also the ability to backup to other (even non-WD) drives. If none of that matters to you, then the non-Ultra would be a better choice.
At $100, there are a couple of cheaper models out there, some even $20 cheaper. I can't speak to their quality, however, and neither include backup software (or the pouch and other perks). Again, if the aforementioned perks don't matter to you, there are lesser-expensive options that might be worth considering.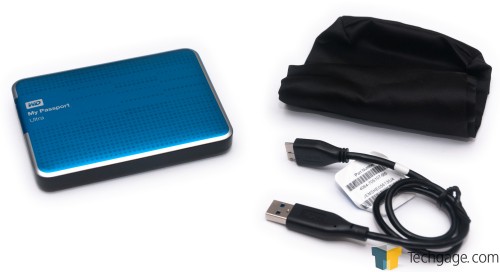 When I took a look at the My Passport last summer, I complained that the backup software, SmartWare, was a bit too clunky for my liking. This time around, despite it being the same exact software, I found myself enjoying it more. Either I was a bit impatient last time, or it just takes a little time to grow on you. Either way, it might be a bit clunky, but it becomes easy-to-use very quickly, and it works very well. The ability to include Dropbox as a backup source is great as well, although it'd be way better if WD added Google Drive and Microsoft SkyDrive to the list (not that a list is a single option). It's not as though WD is giving us free Dropbox space here, so I don't understand the exclusivity.
As we saw in our performance reports, the Ultra performs just about as we'd expect a 5,400 RPM mobile hard drive to. It's not amazing performance, but it's hardly lacking, either. 16,000 files (16GB) in under 2 minutes seems pretty good to me. And of course, along with all of this, you also get a pouch, perfect for those who like to keep their drives as protected from scratches as possible.
WD offers a great product with the My Passport Ultra, and while some things could be a bit improved, the biggest hit comes down to the fact that only a single cloud solution is offered. Hopefully that will be remedied in the future. But for what it offers now, and the fact that it does everything it does offer extremely well, the My Passport Ultra earns our Editor's Choice award.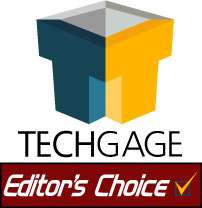 WD My Passport Ultra
Copyright © 2005-2021 Techgage Networks Inc. - All Rights Reserved.