WD TV Live Plus Media Player

Date: September 3, 2010
Author(s): Rob Williams

We took a look at ASUS' O!Play media player a couple of weeks ago, and now we're checking out WD's spin on things, with its TV Live Plus. In addition to the fact that it supports a multitude of media formats, it has a great design, dual USB ports, HDMI and Component connectivity, and in our testing, also offered great performance.
---
Introduction
A couple of weeks ago, I published a review of ASUS' O!Play media player, and I admit that before I unboxed it and hooked it up to my TV, I wasn't quite sure what the true purpose of the device was. It sure didn't take long before I became a believer, though, so after the review was posted, I couldn't help but get a competing product in right away to see what else was out there.
The first model to come to mind was Western Digital's WD TV, because it's one I remember having had good reception overall, and as WD tends to take network storage rather seriously, I knew that it had quite a bit of potential. And if there's one benefit up front that the device has, it's that it currently comes in four different flavors so that you don't overpay due to features you might not use.
For a complete feature breakdown and comparison to each model, I recommend heading over to the official WD TV site where it's explained with the help of a checklist. We received the flagship Live Plus version, which compared to the regular Live version, adds both Netflix compatibility and DVD navigation. If you plan on doing any streaming (online and via LAN) at all, the Live or Live Plus is what to look out for, since the WD TV HD only offers support for external storage.
Like most media players in the ~$100 range, the WD TV Live offers a wide-range of media support:
Video Formats: AVI (Xvid, AVC, MPEG1/2/4), MPG/MPEG, VOB, MKV (h.264, x.264, AVC, MPEG1/2/4, VC-1), TS/TP/M2T (MPEG1/2/4, AVC, VC-1), MP4/MOV (MPEG4, h.264), M2TS, WMV9
Audio Formats: MP3, WAV/PCM/LPCM, WMA, AAC, FLAC, MKA, AIF/AIFF, OGG, Dolby Digital, DTS
Image Formats: JPEG, GIF, TIF/TIFF, BMP, PNG
Subtitle Formats: SRT, ASS, SSA, SUB, SMI
It's difficult for a media player to offer "definitive" media support, but the WD TV Live sure doesn't seem to be skimping out on much. Plus, if there is a format that later becomes popular, the company could add the support in with a firmware update. But as it is, all of the bases seem to be covered.
Closer Look
Aesthetics are nowhere near as important as actual functionality, but even so, people like a clean-looking device that doesn't detract from the rest of their setup. In the case of the WD TV, there's nothing to worry about in that regard, as the device is small, and very clean in design. It's a bit hard to judge the actual size without a comparison, though, so for that, here's another photo that shows WD's device sitting on top of the earlier mentioned ASUS O!Play.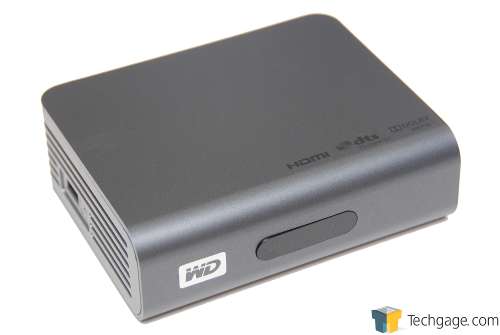 The sides of the device are rather clean, with a lonely single USB port found on the left.
The rest of the connectivity options are found at the back, with another USB port available, along with the power, HDMI, optical audio, LAN, and two ports for the composite and component AV cables. Because this device is so small, WD includes special AV cables that have a 1/8″ jack that plugs into the back here, while the other end of the cable are typical composite and component. This is the first time I've seen an implementation like that.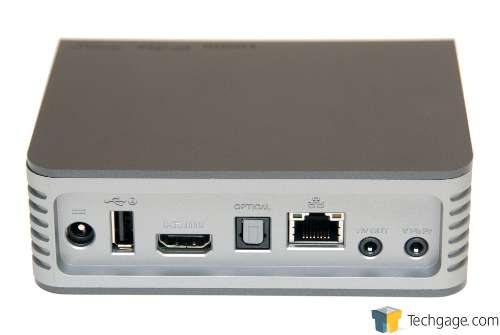 A media player would be useless without a capable remote, and the one that WD bundles with its WD TV is well-suited for the job at hand. But, there's a potential problem. It's small (the WD Caviar Green hard drive is for comparison; it's not included with the WD TV). At first, I hated the fact that it was so small, but on the other side of the coin, I kind of like it. But when the lights are out, the small buttons can be a little troublesome to navigate, and if you have larger fingers, it could prove a chore to use. If anything, I would have loved to have seen backlighting for the buttons, or at least glow-in-the-dark logos.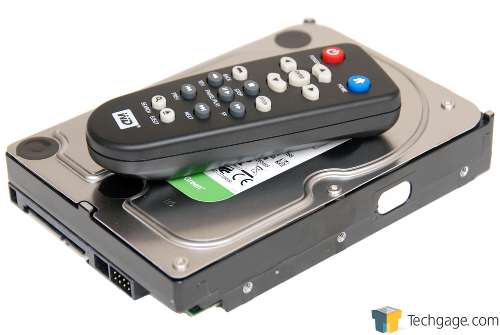 In way of extras, there's not too much here, although as mentioned earlier, since the composite/component video cables are of a special breed, WD has included them here. Not pictured are the manual and software CD.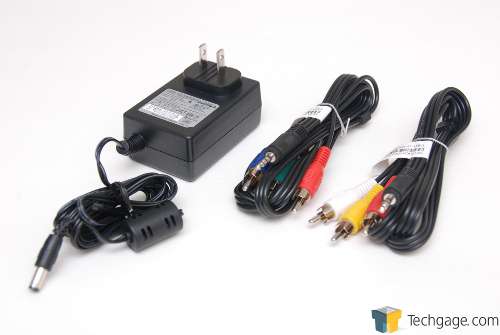 By looks alone, I'd have to give WD props. The device is small, clean-looking, and simple. That's just how it should be. Next up… setup and testing.
Setup and Video
Media players in general shouldn't be difficult to set up, because all it should entail is connecting the device to a display and then plugging in its power cord. Things are no different here, and after I hooked up the connections and powering it on, I was greeted with the rather attractive interface. I apologize for the less-than-stellar photos here… taking photos of such a dark interface proved difficult.
Like the movies that are bound to be watched through this device, a particular media interface won't please everyone, but by these pictures alone, you should be able to gauge whether this one is to your liking. All of the menus are kept to the middle of the screen, and you move up and down and left to right on occasion to enter various sub-sections.
On the main screen, there are options to browse video, music, photos and other various things, along with the settings, which might be the first place you'll want to look. If you're using HDMI, then the display configuration should already be configured correctly. If it isn't, however, or you're using component inputs, you can configure anything you need to, from the resolution to the color mode.
To give an idea of what's possible, I'll just paste a bunch of photos from the various sections: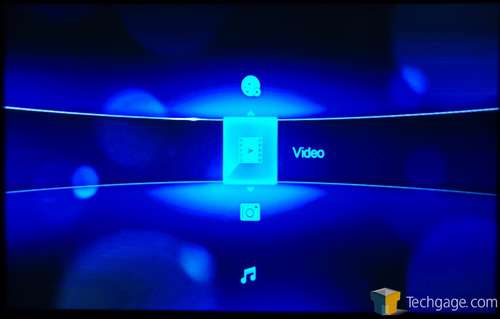 The first stop I made was the video section, where the options for Netflix and YouTube can both be found. Since I live in Canada and Netflix isn't yet available for streaming, I couldn't test that particular feature out. I was a bit curious as to the YouTube integration, though, as generally I have found most similar implementations to be quite painful.
I was pleasantly surprised, though. The interface and content loaded fast, and was a pleasure to navigate. You have the option to browse via top views or most favorited, or search for whatever strikes your fancy. You can also log into your YouTube account which will enable you to access your own uploaded videos and your favorites quickly and easily.
As an added perk, you can even save more than one YouTube profile to the device, along with password, so switching between them is simple. If anything's not simple, it's that typing in account information or search queries is a bit tedious with such a small remote control. One problem I found also is that you can't change the resolution of the video, even if higher-resolution versions are available.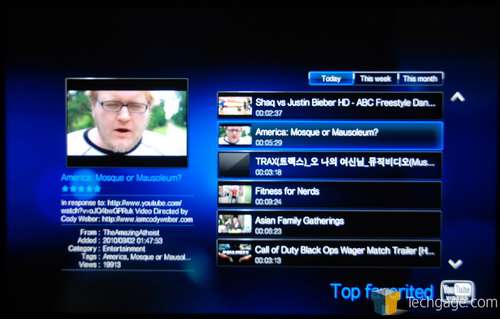 Because the WD TV Live has the ability to stream, I had hoped to see good support there, and those hopes were easily fulfilled. When I reviewed the O!Play from ASUS, network connectivity was a bit sketchy, and for some reason, I couldn't even get it connected to my main PC while running Windows 7, though I could get it to connect to my Windows 7 laptop and also my NAS box.
I was a bit surprised to see no such issues here at all, as the WD TV Live was able to connect to my desktop PC without a hitch. Once in, I was able to peruse all of my shared folders just fine.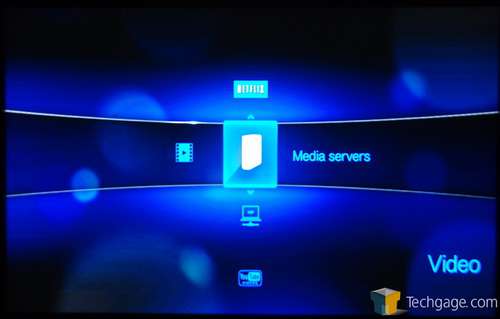 Browsing through folders is a seamless process, and compared to the ASUS O!Play, it's a lot faster, too. Loading the preview for a particular video takes just a couple of seconds, if that, and as you can see by the below screenshot, direct Blu-ray folder rips and ISO's are supported. The same can be said for DVD's, and likewise, pretty much any other format you want to throw at it.
In the case of Blu-ray ISO's, only the main movie will play. I don't believe at this point in time any of these devices support full menu support, but hopefully that will be the case soon, since otherwise, these ISO's will be hogging up a lot of space. Here's an example of a Blu-ray .mt2s file playing, which results in on-par picture quality to if I was actually using the original BD-ROM: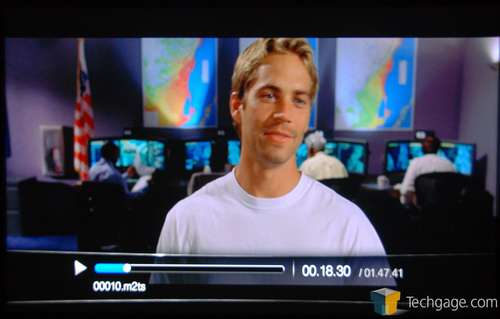 DVDs on the other hand will have fully-functional menus, regardless of whether it's a DVD folder or ISO: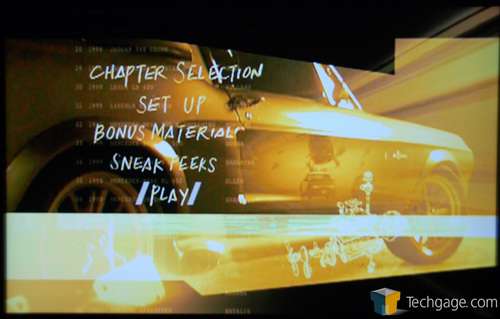 Next up, we'll take a look at photo and music support.
Photos & Music
For photo support, the WD TV Live can handle common formats such as JPG and BMP, and as it supports Flickr, you can browse to your heart's content. From what I can tell, you're not able to upload any of your photos to your Flickr account through this device, but you can sign into your and browse as you like. In the menu photo below, you can also see that I was listening to music at the same time as browsing photos, which like most things so far, is seamless.
Browsing photos was easy, and for the most part, the performance is good. Some of my photos took a couple of seconds to load, but as they ranged at around the 2MB~6MB mark, it's no surprise. Photos on Flickr loaded rather fast, but like most devices like this, it's not quite as fast as viewing them right on your PC.
So what about music? Given the overall pleasurable experience up to this point, I expected it to continue onto the music, and sure enough, there's a lot to like here. If album art is available, it will be loaded immediately, and in the case of the below photo, which has music purchased off of iTunes, the album art displayed fine as it's embedded into the file.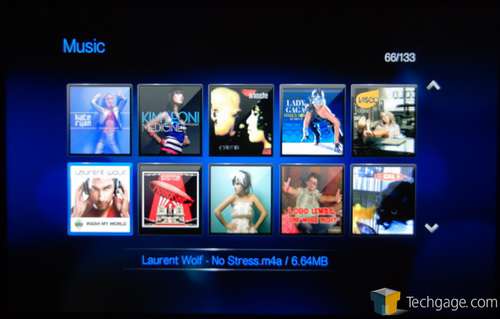 The fact that the album art loaded from iTunes' files didn't surprise me too much, but what did was the fact that the WD TV Live also loaded album art for files that didn't have embedded artwork. Case in point: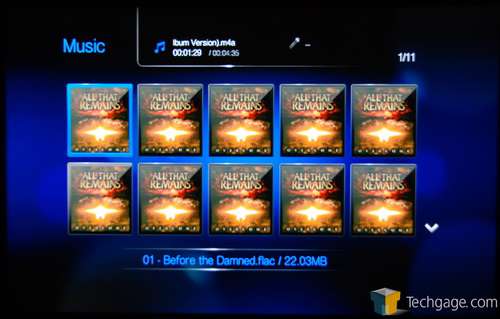 This is an album that I ripped straight to FLAC with dBpoweramp, and no album art is kept in the folder or has even touched these files. Yet, after entering the folder, the art loaded almost immediately. I tested about 20 different albums, and even some of my more obscure stuff loaded album art… quite impressive. I am not sure how it grabs the art, especially so quickly, but it's a great feature.
Like most of the interface, what you see when playing a song looks good. It doesn't give you information overload, but just what's important.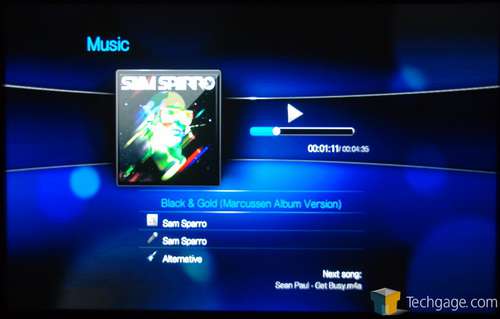 The WD TV Live supports online radio through Live365.com, which offers both a free and paid service. The free service offers about 10 stations, so it's ultra-limited. If you go "VIP" (paid service), you have a vast collection, but most of what I've seen could be easily accessed online for free, from the official websites. I am not quite sure of the purpose of Live365.com except for the convenience factor. I could be wrong, but seeing as most stations I listened to with the VIP trial could be listened to for free on the respective station's official website, I'm not so sure.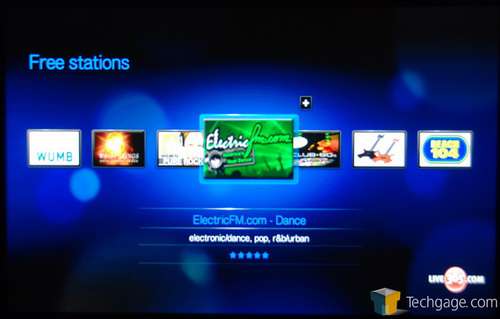 One nice feature is that when you are listening to a station, you can favorite it or thumb it down, or add it to a playlist. I didn't use this feature long enough to find out just how that works, however.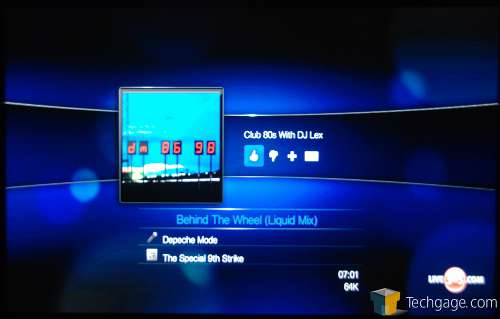 Compared to the interface I saw on the ASUS O!Play, I have to say that what I found here was quite refreshing. The interface as a whole is very responsive and easy on the eyes, and in the end, I couldn't muster up a single real complaint. If anything, the theme might not appeal to some people, but I liked it quite a bit. It'd be neat if WD could add in a feature to customize the theme in a future revision, since it would help the device cater to an even wider range of people.
Usage Continued; Final Thoughts
As it is, the WD TV Live Plus is only the second such media player I've used, but I have to say that it impressed the heck out of me. While ASUS' O!Play was just as full-featured, if not a bit moreso in certain regards, it had other issues that held me back from being too impressed. But after taking a look at WD's take on a media player, I'm impressed by how good things can get.
First, the design of the device is quite nice, with clean design cues and a small frame. Regardless of your setup, this should look nice next to your TV or display. Second, it offers both HDMI and composite/component support, which is a step-up from the O!Play's lone HDMI support. Then there's the fact that there's not one, but two USB ports for external storage… the potential is huge.
Likewise, I found the interface to be a pleasure to use overall, with very responsive menus and quick loading of features. On occasion, I'd experience some loading lag when reading media off of a network appliance, but that seems to be common on these devices. It would be nice, however, that if a loading sequence gets "stuck", that the process could be stopped. I couldn't find a way to do that here, but fortunately, I never had a time when the loading would be infinite. An error will pop up at some point.
One of the things that stood out most for me when comparing the two media players I've looked at so far is that the performance of the WD TV Live is quite good, especially when dealing with HD content. On the O!Play, pushing the pause button on the remote would result in a 2 or 3 second wait before the movie was actually paused. On the WD TV, the effect was instant, and likewise, unpausing was also instant.
The only time the performance could be considered lacking is when fast-forwarding or rewinding HD content, where on occasion, the movie would take a couple of seconds to begin playing again. This isn't much of a surprise though given that I was dealing with massive files (10GB minimum), and even on a super-fast PC there can be similar lag.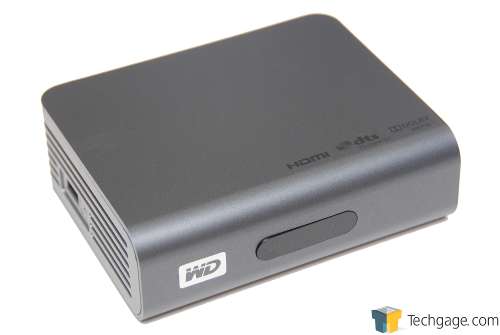 In all of the content I threw at the WD TV, I didn't have any issues or gripes to speak of. The exception is that playing large Blu-ray rips was a problem, which isn't due to the device itself, but the fact that the network became the bottleneck. In one example, the movie "War" rips to almost exactly 40GB, and when played back, it lags horribly. Movies at 25GB and under ran just fine. It can be assumed that most people aren't going to be running direct Blu-ray rips, but if you are, bear this issue in mind.
In looking around the Web, I've found that there has been a number of complaints regarding subtitles, but in my experience, I found them to be quite good. I regret forgetting to take a photo to give an idea of how they look, but usually, they could differ from movie to movie. In most cases, the fonts were large and very crisp and generally hovered around 10% up from the bottom of the screen. Multiple languages were supported from English to French to Spanish to Chinese to Thai to Korean and whew… chances are your preferred subbed language will be supported.
Image quality was also very good, and in all the Blu-ray's I tested, I couldn't tell the difference between running the movie off my PlayStation 3 or the WD TV Live. DVD's did leave a bit to be desired though, as the quality wasn't near as good as if I ran the disc off my PS3 or PC. On the photo side, the image quality was fantastic, and I didn't have the issue of improper scaling as I did with the O!Play.
The ease of connectivity impressed me also with the device, because I easily logged into my shared folders on my desktop PC and NAS box without issue, and navigating once in was a fast process. You have the option to either connect to a proper media device or shares, so you have more than one way to connect and grab your media.
In the end, I am having a hard time coming up with some major complaints, because from all of my testing, the WD TV Live far exceeded my expectations. Yes, it well deserves our Editor's Choice award. The "Plus" version of the WD TV Live carries a ~$30 premium and it's pretty much only Netflix to thank. The non-Plus version for non-Netflix subscribers runs around ~$90.
Because a media player has a broad feature-set, I am bound to have missed mention of certain things. If you are considering the WD TV Live and aren't sure if it can do something you need it to, please feel free to post in our forums and I'll check it out.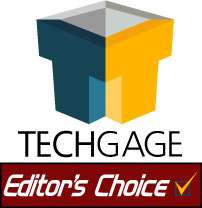 WD TV Live Plus
Discuss this article in our forums!
Have a comment you wish to make on this article? Recommendations? Criticism? Feel free to head over to our related thread and put your words to our virtual paper! There is no requirement to register in order to respond to these threads, but it sure doesn't hurt!
Copyright © 2005-2019 Techgage Networks Inc. - All Rights Reserved.