Western Digital Scorpio Blue 1TB Mobile Hard Drive Review
Date: August 17, 2011
Author(s): Rob Williams

Mobile warriors have their advantages, but storage isn't one of them. It's not uncommon to see desktop users with multiple TBs of hard drives, but notebook users tend to suffer with 500 or 750GB options. Western Digital, with its 9.5mm tall WD10JPVT, wants to change that – and trust us when we say that it's well worth looking into.
---
Introduction
For notebook users, "size matters". We're not only talking about density here, but also physical size. Having the best of both worlds just hasn't been an option for most people, because when a top-tier model gets released to the market, offering unparalleled densities, it'll almost always feature a 12.5mm height, which most notebooks don't support.
I have little doubt that when Western Digital unveiled its first 1TB mobile drive back in July of 2009, many shrugged at its 12.5mm requirement. Rinse and repeat when the company followed-up with an 'Advanced Format' variant this past January. For those with excellent patience thresholds, though, the wait for your 9.5mm 1TB hard drive is finally over.
With its WD10JPVT, Western Digital finally delivers a 1TB mobile offering that most people can take advantage of, while at the same time improving both power efficiency and shock resistance. WD pulled this drive off by implementing two 500GB platters under the hood, which until last week (Toshiba press release PDF) was the areal density leader for mobile drives.
In a match-up between the 9.5mm WD10JPVT and 12.5mm WD10TPVT, WD's latest drive increases the shock resistance from 350Gs to 400Gs, and decreases active power consumption from 1.7W to 1.4W – a minor, but appreciated decrease.
In addition to those improvements, Western Digital touts some other features unique to its drives that it points out in its press release (its competitors have similar technologies). 'Shock Tolerant' is one, tied to the fact that this drive boasts the best shock-protection on the market. 'Advanced Format' is another. Drives with "PVT" in their model name support this, and in essence means that the drive uses 4,096 byte sector sizes rather than 512 byte, for the most part improving the read/write/copy throughput speeds of larger files.
Cool, quiet and reliability are three factors that we'd hope any hard drive vendor would stress in developing their respective product, and Western Digital claims that both its 'WhisperDrive' and 'SecurePark' technologies will keep the drive quiet while also ensuring it has a long life ahead of it.

Another thing that WD states sets it apart from the rest is its FIT Lab, which we first learned about last year with the company's launch of its SiliconBlue SSDs. In this lab, WD performs tests on hundreds of drives and systems to ensure absolute quality when the product leaves its door and reaches yours.
Currently, WD offers two classes of Scorpio mobile drives, Black and Blue; the former targeted at the high-end/enthusiast user; the latter for everyone else. Competition-wise, the Scorpio Blue series could be best compared to Seagate's Momentus LP, which offers the same general performance claims overall. Density-wise, WD offers the much larger drives, as Seagate currently only offers up to 640GB for its Momentus LP series.
Drive Features

Scorpio Blue

Scorpio Black

Capacity

Interface

SATA 3Gbit/s
SATA 1.5Gbit/s
PATA 133MB/s


Form Factor

2.5"
9.5mm~12.5mm Height

2.5"
9.5mm Height

Rotational Speed

Cache

Read Latency (500GB Model)

Throughput (500GB Model)

Cache

Acoustics

22dBA Idle
25dBA Active


28dBA Idle
28dBA Active


Power Consumption

0.65W Idle
1.60W Active

0.8W Idle
1.75W Active

Limited Warranty
From this table, it becomes clear that the Scorpio Black drives would be preferred over the Blue for the sake of raw performance, but currently there doesn't exist a 1TB option in that series – even at 12.5mm. In addition, as the Blue series offers better power consumption and acoustics, it might actually be preferred by some.
Western Digital's latest 1TB drive may have one thing working in its favor, though. As its areal density is greater than that of the 750GB Black we'll be testing (500GB per platter vs. 375GB), we could well see both drives match up in some tests.
As this is the first mobile hard drive review we've done in quite a while, we're starting from scratch and introducing a more recent methodology. We'll be receiving more mobile drives in the near future so that we can built up our test database as we do with much of our other content. That's said, let's take a quick look at our test system and benchmarking suite, then get straight into some results!
Test System & Methodology
At Techgage, we strive to make sure our results are as accurate and real-world applicable as possible. We list most of the steps and processes involved in setting up and conducting our benchmarking process below, but in the interests of brevity we can't mention every last detail.
If there is any pertinent information that we've inadvertently omitted or you have any thoughts, suggestions, or critiques, then please feel free to email us or post directly in our forums. This site exists for readers like you and we value your input.
The tables below list the hardware used in our current storage-testing desktop PC and notebook, which remain unchanged throughout our testing.
Processor

Intel Core i7-980X Extreme Edition (3.33GHz Six-Core)

Motherboard

GIGABYTE X58A-UD5

Memory

12GB Kingston DDR3-1600

Graphics

NVIDIA GeForce GTX 580

Audio

ASUS Xonar Essence STX

Storage

Western Digital Scorpio Blue 1TB (WD10JPVT)
Western Digital Scorpio Blue 750GB (WD7500BPVT)
Western Digital Scorpio Black 750GB (WD7500BPKT)

Power Supply

Corsair HX1000

Cooling

Corsair H60 Liquid-Cooled

Et cetera

Windows 7 Ultimate SP1 64-bit
Model
Processor

Intel Core 2 Duo T6400 2.0GHz

Chipset
Graphics
Display
Memory

3GB DDR2-667 5-5-5-15:

Samsung M4 70T5663QZ3-CE6 (2GB)

Hynix HYMP112S64CP6-Y5 (1GB)

Hard Drive

(Same as above.)

ODD

Optiarc AD-7640S

Slot-Loader

Audio

Intel 82801IB (HDMI)

Realtek ALC663

Network

Intel WiFi Link 5100 AGN (a/g/n)

Realtek RTL8101E LAN
Unlike the rest of the performance-testing we perform, using dedicated testbeds built around whatever product it is we're benchmarking, most of our mobile HDD testing is performed on my personal PC. This isn't something we'd usually do, but the same guidelines are adhered to.
The OS is tuned just as our benchmarking PCs are, and no unnecessary applications or services are run in the background during testing. The PC features specs that rid any chance of a bottleneck creeping in, and as with our other performance-testing, all tests are performed twice – or more if the first two runs differ to any important degree.
As part of our real-world testing, we both install Windows 7 to each drive and then test its cold boot performance. For this specific testing, we use the notebook platform listed in the table above. To assure that no bottlenecks existed there, we performed both tests using a Corsair F160 solid-state drive, which we also include the results for in our charts.
General Guidelines
The Core i7-980X Extreme Edition processor is turbo-locked for result consistency.
No power-saving options are enabled in the motherboard's BIOS.
AHCI is enabled in the motherboard's BIOS for best performance.
Testing is performed using a SATA 3Gbit/s port tied to the X58 chipset.
Windows 7 Optimizations
User Account Control (UAC) is disabled.
The OS is kept clean; no scrap files are left in between runs.
Windows Update and OS power-saving settings are disabled.
A full list of Windows services disabled can be seen here.
Our real-world testing consists of normal computer workloads, including Windows 7 installation and booting, file and folder transfers, music conversion, image manipulation and file archiving. For synthetic testing, we use a trio of proven industry benchmarks; Futuremark's PCMark 7, Iometer 1.1.0 and HD Tune Pro 4.6.
As mentioned above, all tests are performed at least twice to assure accurate results. We'd like like to think we have such benchmarking down to a science, and methodically perform all tests the same way each time so that we can feel completely confident in our own results.
Real-World: File & Folder Transfers; 7-Zip Archiving
To kick off our mobile HDD benching suite, we'll start with what we consider to be one of the more important tests; real-world transfer speeds. Transferring files and folders on our PCs is about as common as using the PC in itself, so when one hard drive offers better performance than another in this regard, it's hard to ignore.
For the sake of effectiveness, we use two separate sources for our transfer, both being 20GB in size. The first is a solid file, weighing in at 21,561,357,519 bytes. The second is a folder, containing 4,012 hand-picked files (500 MP3, 1,000 photo, 2,500 documents and 12 videos), weighing in at 21,565,118,587 bytes.
To calculate the throughput rate of each transfer, we begin our stopwatch at soon as we click "Paste" in our right-click menu, and once complete, we divide the total size of the 'source in bytes' by the 'time required in seconds' by '1,048,576 bytes' (eg: 21,565,118.587 / 250 seconds / 1,048,576 = 82.26 MB/s). We've opted to provide MB/s results in lieu of 'seconds taken' as we feel it's easier to comprehend and is more useful overall.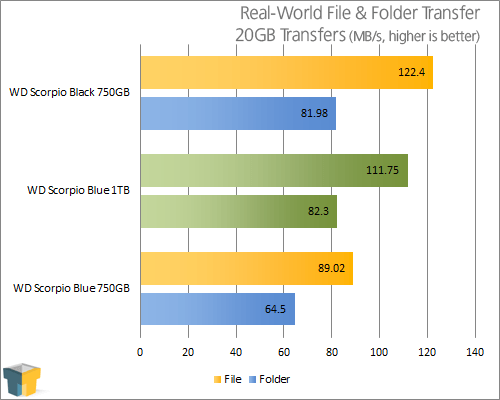 Thanks to its areal density boost, the 1TB Blue performs much better than the 750GB Blue in these tests, despite offering the exact same seek times and rotational speeds.
7-Zip Archiving
File and folder transfers are a given for those who use their computers for more than just e-mail, but for some, file archiving is just as common. Be it to save space or to backup a lot of files into a single one, archiving can be as storage-intensive as it is convenient.
To give our drives a proper test, we've created a 772MB folder filled with 39,236 highly compressible files, and once compressed, the result is a 142MB .7z archive. To take as much advantage of our test PC as possible, we utilize 7-Zip's LZMA2 algorithm for compressing, as it's able to utilize more than half of our available 12 CPU threads most of the time, in return increasing the stress on the hard drive.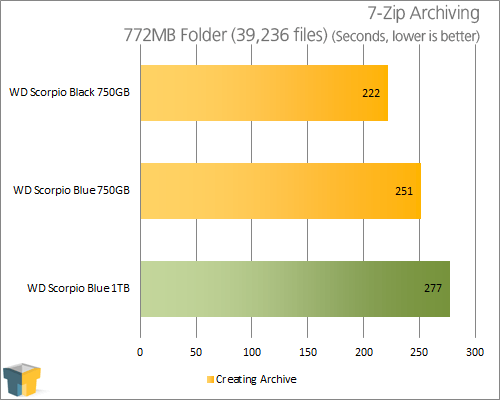 WD's 1TB drive surpassed the performance of the 750GB in our transfer tests, but the tables turn here, with the 1TB falling to the back of the pack. This chart also gives us a perfect example of how WD's Black drives compare to the Blue, where the performance boost from the Blue to the Black was about 13%.
Real-World: dBpoweramp; Adobe Lightroom
dBpoweramp R14
You own hundreds, thousands, or even tens of thousands of songs, all encoded to a pristine lossless format, such as FLAC. Your mobile device on the other hand, supports either MP3 or AAC. What's the solution? There are several, but the one I've relied on for almost eight years has been dBpoweramp. It's both flexible and powerful, which happen to be two important factors for those who take music encoding seriously.
Recent versions of dBpoweramp have opened up the ability to encode more than one track at once, at a limit of one-per-thread. That means that on our six-core / twelve-thread Intel Core i7-980X processor, we're able to convert 12 tracks at the exact same time. Where music conversion is concerned, it doesn't get more strenuous than this.
For our test, we re-encode 250 lossless FLAC files to 320Kbit/s MP3.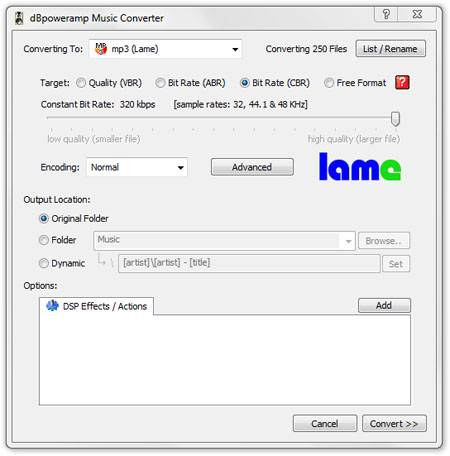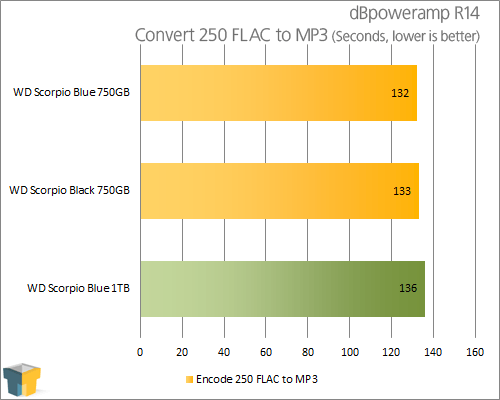 The results here are interesting, as I expected there to be a noticeable delta between all three drives. Rather, it seems that because FLAC files convert into MP3s so quickly, there's just no time for the storage device to become a bottleneck. This, despite the fact that our 12 thread processor was utilized 70% throughout the entire test.
Adobe Lightroom 3.4
As mentioned above, it's not uncommon to see people with thousands or even tens of thousands of songs in their music collection, but things are no different for photographers – professional or not. Thanks to the fact that we're able to purchase huge storage space for affordable prices, more photographers are retaining all of the photos they take. The result after five or ten years could be tens of thousands or even a hundred thousand individual image files.
Managing such large collections is tough, and manipulating them can be even tougher. Enter Adobe Lightroom. The main reason this tool exists is to give photographers simple control over their RAW camera files, allowing them to adjust them in any way they see fit. But at the same time, the program can be used as a viewer, and is able to store multiple collections so that you can make it easy to find specific photos down the road.
For this test, we take 250 10 megapixel NEF (Nikon) photos and export them to a resized JPG (1000×669).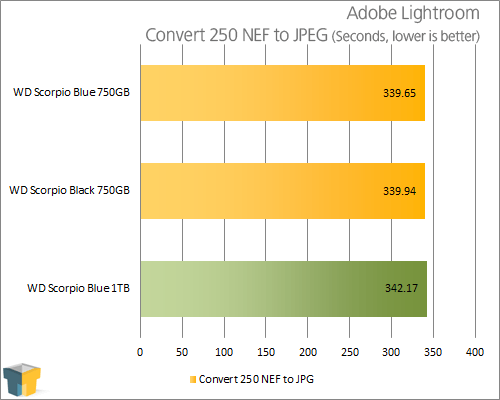 Sheesh. And here I thought the performance delta in our dBpoweramp results was minimal!
Real-World: Windows 7 Installation & Boot Times
It might seem odd that we'd choose to use an entire OS as a benchmark, but believe it or not, there exist two aspects of Windows 7 that give us perfect examples of how faster storage can equate to noticeable gains in performance. First, there's the installer, which will go as fast as our PCs can. Second is the boot time, something we're all familiar with.
For the sake of adding a baseline result to our graphs, we ran both of these tests on Corsair's super-fast Force F160 solid-state drive. While the goal here isn't to show how much faster an SSD is over a mechanical hard drive, we did want to give an idea of what's possible.
The notebook being used as our test platform is a Gateway UC8707u, featuring a 2.0GHz Intel Core 2 Duo dual-core processor, 3GB of RAM, and Intel graphics. For installation purposes, we use Kingston's Ultimate 3.0 32GB thumb drive, which as we discovered in our evaluation, caps a USB 2.0 port to a constant 33.3MB/s, allowing us to rule out installation source bottlenecks.
Windows 7 (Ultimate x64) Installation
To test out Windows 7 installation speed, our stopwatch doesn't begin at a cold boot, but rather at the point seen in the screenshot below. Once 'Next' is clicked, we start the stopwatch. We halt the timer once during installation, at a part where numerous questions are asked. After they are answered, we begin the stopwatch again and then stop it as soon as we reach a usable desktop.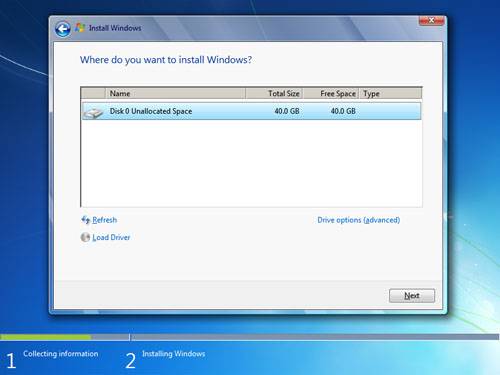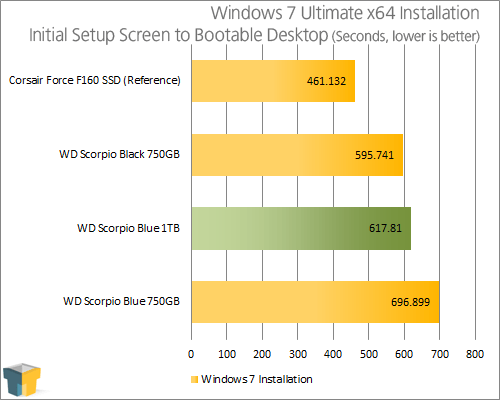 Like our file transfer tests, the 1TB Blue drive saw noteworthy gains where our Windows 7 installation was concerned. In fact, the delta between the 1TB Blue and 750GB Black is a lot tighter than the one between the 1TB and 750GB Blues.
Windows 7 Boot Time
Boot time tests are conducted on the exact same Windows 7 install that results from the test above. On our first boot, we allow Windows to configure itself and then reboot. We then disable both the wireless and wired networking interfaces, and then reboot once more. Finally, we shut the PC down and then wait for five minutes to begin testing.
We begin timing the boot as soon as the notebook's power button is pressed, and stop it once we reach a usable desktop (all systray icons are loaded).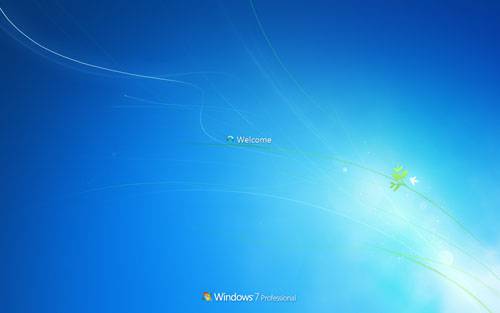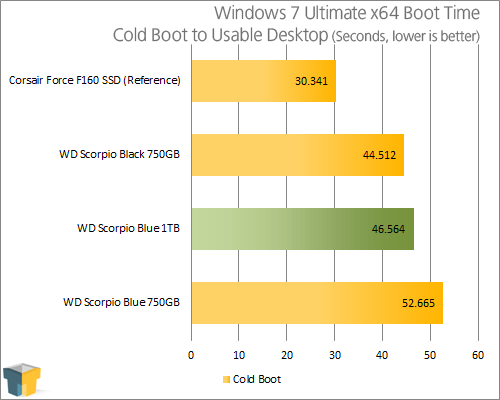 Once again, the 1TB Blue surpasses the 750GB by a healthy margin, and comes close to the performance out of the Black. It's hard to compete with an SSD, but where hard drives are concerned, the 1TB Blue performs quite well.
Synthetic: PCMark 7
Futuremark's PCMark suite should need no introduction, as it has been a staple of PC benchmarks for the better half of a decade. It offers a range of tests to gauge every aspect of a computer's performance and presents it in a neat simple final result. Thankfully, it also breaks down the overall score with individual subsystem scores (such as Memory, Storage, et cetera) in addition to giving individual test results.
For our testing here, we treat the drive as a target ("Secondary storage suite") rather than benchmark it with an OS installed on it. Thus, our performance will be a bit better than those who benchmark the same drives with an OS installed – but benchmarking this way could introduce variances and potential bottlenecks.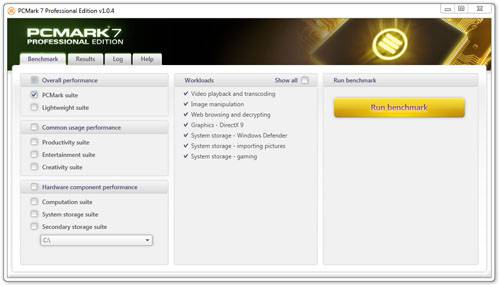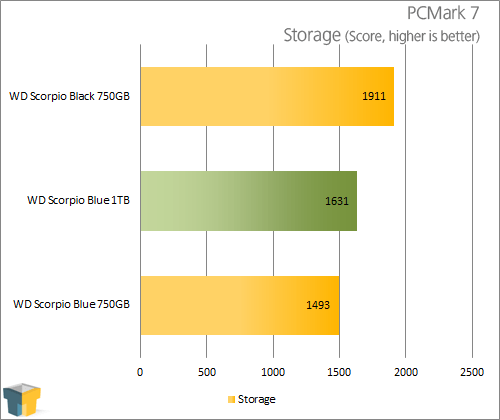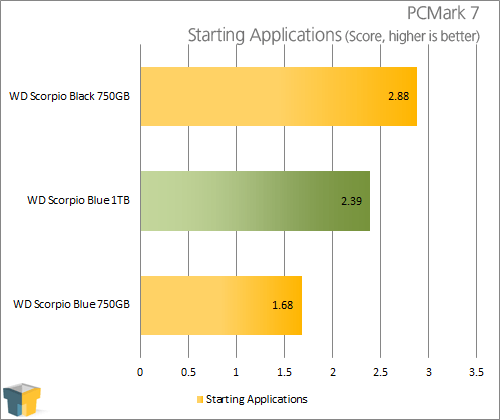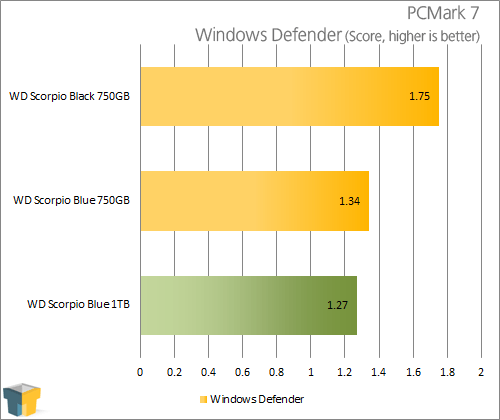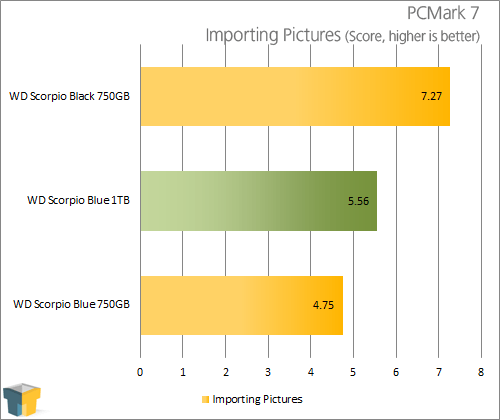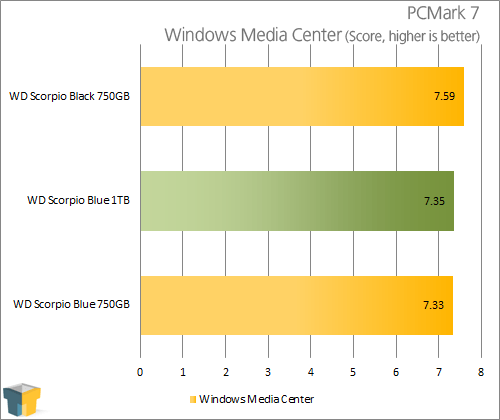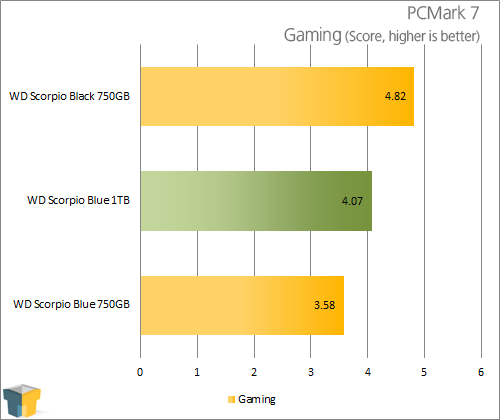 As has become a theme, WD's Scorpio Blue 1TB manages to wipe the floor with the 750GB variant, proving that areal density is king where mechanical drives are concerned.
Synthetic: Iometer; HD Tune Pro
Iometer 1.1.0
Originally developed by Intel, and since given to the open-source community, Iometer (pronounced "eyeawmeter", like thermometer) is one of the best storage-testing applications available, for a couple of reasons. The first, and primary, is that it's completely customizable, and if you have a specific workload you need to hit a drive with, you can easily accomplish it here. Also, the program delivers results in IOPS (input/output operations per second), a common metric used in enterprise and server environments.
The level of customization cannot be understated. Aside from choosing the obvious figures, like chunk sizes, you can choose the percentage of the time that each respective chunk size will be used in a given test. You can also alter the percentages for read and write, and also how often either the reads or writes will be random (as opposed to sequential). Most important, we're able to deliver a consistent test on all of our drives, which increases the accuracy in our results.
Because of the level of control Iometer offers, we've created profiles for three of the most popular workloads out there: Database, File Server and Workstation. Database uses chunk sizes of 8KB, with 67% read, along with 100% random coverage. File Server is the more robust of the group, as it features chunk sizes ranging from 512B to 64KB, in varying levels of access, but again with 100% random coverage. Lastly, Workstation focuses on 8KB chunks with 80% read and 80% random coverage.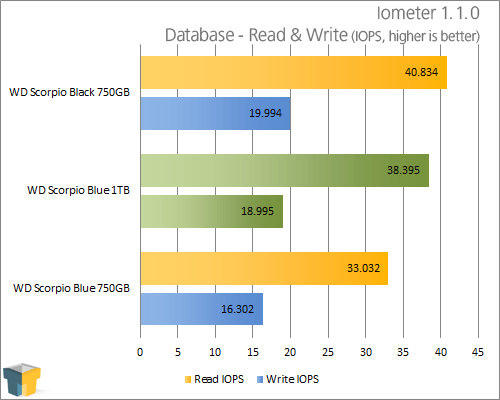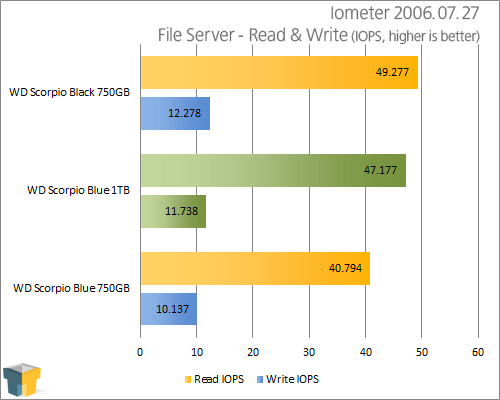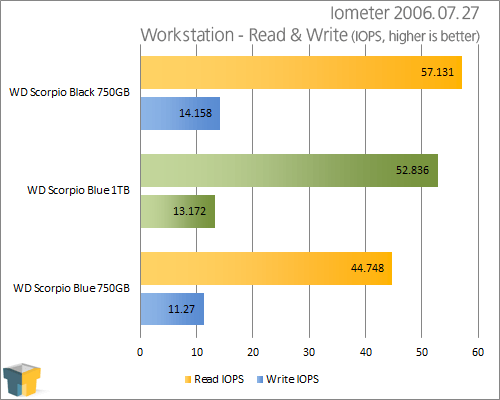 The Scorpio Black drive can't be touched, but the 1TB Blue still manages to impress, soaring past its 750GB little brother.
HD Tune Pro 4.6
One of the most popular storage benchmarks is HD Tune Pro, and for that reason and others, we choose to include it in our testing. As a one-click benchmark, HD Tune is a rather brilliant app, allowing us to see a real-time graph during the benchmarking process, and also get a feel for how the random access test is conducted.
In our tests throughout the years, HD Tune (and Pro) have offered some of the most consistent results across all of our benchmarks. This has been especially true when benchmarking these mobile drives, as there were some occasions where I benchmarked the same drive one week apart and it delivered the exact same results, with the lone exception being variance in the CPU usage. Consistent, just how we like it.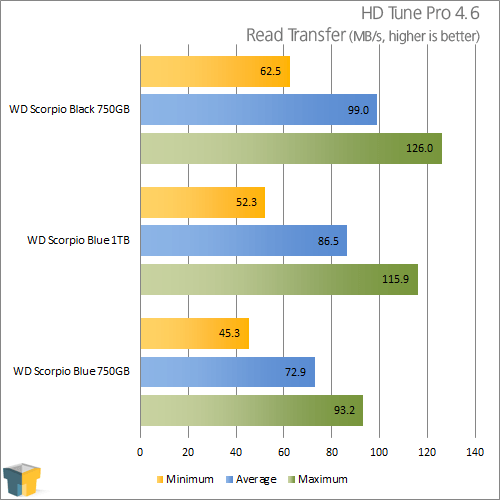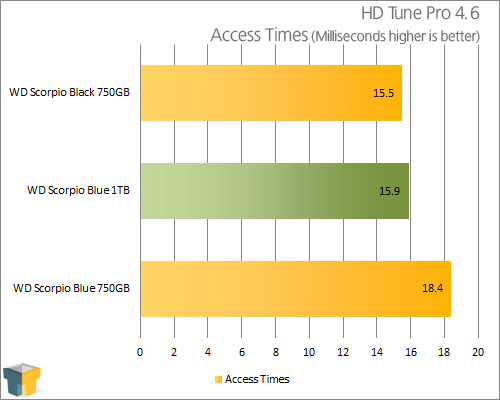 There are no surprises here, given the performance we saw from most of the other results. WD's 1TB Blue performs much better than the 750GB overall, and more often than not, sits just behind the 7200RPM Black.
Final Thoughts
If two hard drives of equal spec – but different sizes – are sat next to each other, it'd be easy to jump to conclusions on the fact that both would perform the same. As two of the drives we tested here fall into Western Digital's Scorpio Blue series, offering 5400RPM speeds and identical seek times, I figured that to be the case. Of course, I was wrong.
It's been a long while since I spent time comparing one hard drive to another, and the areal density factor didn't even come to mind when I received these drives to test. In talking to our resident SSD guru Robert, though, I was informed that there should be a noticeable difference. I decided to take it to testing before commenting, but alas, he couldn't have been more correct.
Both the 750GB and 1TB Blue drives use two platters, but because the latter has 500GB per platter, versus 375GB per platter, the needle needs to travel less to cover more ground. As a result, the raw throughput is much improved. In our real-world testing, we saw folder transfer performance of 89.02MB/s on the 750GB vs. 111.75MB/s on the 1TB – that's substantial.
In that particular transfer, we're dealing with over 4,000 files, some of which are small, and others that are a couple of gigabytes in size. Even with the variance, the 1TB drive consistently kept about ~20MB/s ahead of the 750GB, taking also the solid file transfer result into consideration.
Compared to the Black, the 1TB Blue still falls a bit behind, but that's to be expected. While the 750GB Black has a lower areal density, its faster rotational speed makes up for it. Given this, isn't it fun to picture a 1TB Scorpio Black with 500GB per platter? It the scaling held true, we'd see VelociRaptor speeds in terms of throughput.
Price-wise, the 9.5mm Scorpio Blue 1TB carries a ~$20 premium over the 12.5mm variant, but this is a price I expect to go down rather fast. With this premium, the drive retails for about $130 USD. In comparison, a 750GB 9.5mm Scorpio Blue retails for $90, while the 500GB of the same form-factor is $60.
There might be a premium, but that's to be expected, and all-in-all, it's not a major one. To some, it should prove well worth it just for the fact that a WD 1TB can finally be installed in their notebook. Given this, and also the drive's fantastic performance, I'd be hard-pressed to not award this an Editor's Choice.
Since receiving this drive, two other vendors have also released similar drives to the masses, so we'll be working on getting them in soon to see how they compare to WD's Scorpio Blue.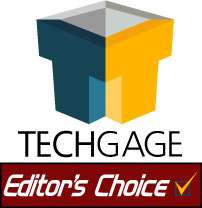 Western Digital Scorpio Blue 1TB
Discuss this article in our forums!
Have a comment you wish to make on this article? Recommendations? Criticism? Feel free to head over to our related thread and put your words to our virtual paper! There is no requirement to register in order to respond to these threads, but it sure doesn't hurt!
Copyright © 2005-2020 Techgage Networks Inc. - All Rights Reserved.