Win an NVIDIA 3D Vision Bundle!

Date: February 8, 2010
Author(s): Techgage Staff

The term "3D" can be seen all over, and for good reason. Both software and hardware companies are beginning to deliver the goods to increase the immersion for our games, movies and even images. But, we're curious to see just how important this whole 3D aspect is to you. Answer three simple questions, and you could win an NVIDIA 3D Vision bundle!
---
Contest
Contest is closed.
At the Consumer Electronics Show each year, there's always a common theme that every company seems to have a hand in, or at least one that everyone talks about. At last month's event, "3D" was unquestionably one of the common buzzwords. For good reason, too, since 3D isn't something only tech geeks care about anymore.
3D has existed in various forms throughout the years, but it wasn't until NVIDIA released its 3D Vision product in early 2009 that people were beginning to pay a bit of attention. Sure, you still have to wear glasses to see the effect, but what made the company's technology so interesting is that the effect was good, and could actually make a game or movie more exciting.
Though NVIDIA has focused more on gaming than anything else with its 3D Vision, the product also supports video and images, and in the near-future, 3D Blu-ray movies. Monitor and TV manufacturers are also beginning to see the benefit of 3D, and also the potential, and are proving it by releasing 120Hz and higher monitors that boast official 3D support right on the box.
For this contest, we're looking to get your opinions on 3D and see just how important you think it is. For your effort, you'll have the chance to win an NVIDIA 3D Vision Bundle, which includes both the 3D Vision kit and a 120Hz LCD monitor from Samsung. We'll also toss in a copy of Batman: Arkham Asylum and Resident Evil 5 to help you put the kit to good use!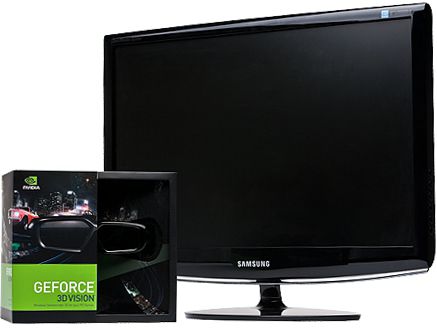 Warning: Please be warned that while NVIDIA doesn't stress the potential of seizures to be caused by 3D Vision, the possibility is always there, as the "screens" on the glasses do flicker from time to time. If you have any health condition, please take caution when taking advantage of the product, or consult a doctor if you are unsure if the 3D effect could affect you.
How to Enter
Entering our contest couldn't be easier. To start, head on over to our forums and sign up. For information on our forum practices, please refer to our rules and regulations at the bottom of this page. Once signed up, go to our related contest thread and answer these three questions:
1. How important is 3D to you for gaming? Movies? Pictures?
2. Will you make sure your next TV or Monitor purchase will support 3D?
3. How important are in-game physics to you?
To make our lives easier when sorting through entries at the conclusion of the contest, we ask that you please put a number before a response for each question. You can also copy and paste the question list above and put your answers below each one. It's important that all three questions are answered, as missing one will rule your entry invalid. Full rules and regulations are below.
Good luck to all who enter!
Rules & Regulations
Contest Prize
The prize for this contest is an NVIDIA 3D Vision Bundle, which includes NVIDIA's 3D Vision kit and Samsung's 22-inch SyncMaster 2233RZ 120Hz LCD monitor. Techgage Networks Inc. will also include a retail copy of Batman: Arkham Asylum and Resident Evil 5 to help put the kit to good use. The retail value for the 3D Vision Bundle is $598 USD.
Techgage Networks Inc. Commitments
ABSOLUTELY NO data gathered through our contest will be sold or given away to companies, persons or any other entity outside of Techgage management. We frown upon the practice of selling data and it will never cross our minds, regardless of what prized possession would be set in front of us.
After signing up on the Techgage forums, the option "Receive Email from Administrators" will be enabled by default. If left enabled, you will be sent a greeting on your birthday, as per vBulletin forum's design. If you do not wish to receive this e-mail, or any other e-mail ever from Administrator (Techgage), please disable the option.
We will not accept entries from entrants who sign up on our forums under a fake e-mail address (such as one with 'techgage' in the actual name). You will not receive spam from our forums, nor will your information ever be given or sold. If you don't trust us, we don't trust you.
We reserve the right to refuse entry of anyone who's distruptive on our forums, or is detrimental to our site or contest in any way.
We reserve the right to adjust contest rules due to various circumstances.
Eligibility
This contest is open to participants in either the USA or Canada, excluding Quebec. If the winner of the contest resides in Canada, they will be required to answer our skill-testing math question: ((20+6) – 10).
This contest is not open to an employee of Techgage Networks Inc.
One contest submission is allowed per household.
The winner of the contest will need to provide a full name, mailing address and phone number for shipping purposes.
Contest Entry & Winner
The contest runs until Sunday, February 21, 2010, 11:59PM EST.
For instructions on how to enter, please refer to the "How to Enter" section of this page.
For reiteration of rules or any questions, please e-mail Rob at rob [dot] williams at (our domain).
If for whatever reason this page needs to be edited during the contest, addendums will be posted below with the time stamp of when and what was edited.
Copyright © 2005-2021 Techgage Networks Inc. - All Rights Reserved.