A Quick Look at GIGABYTE's TouchBIOS

Date: June 3, 2011
Author(s): Ryan Perry

To help make up for the lack of a proper EFI solution, GIGABYTE has given its Z68 users what it touts as being a "Hybrid EFI" – or in non-marketing speak, a piece of Windows software for interfacing with an old-school BIOS. We take TouchBIOS for a spin and see if it has what it takes to become a viable solution for most users.
---
Introduction
With the introduction of Intel's 6-series chipsets, a feature came to certain motherboards that in my opinion has been needed for a while; a refresh of the current text-based BIOS in the form of a Unified Extensive FIrmware Interface (UEFI).
For those who may not be up to speed, a UEFI can treat users to a more familiar graphic interface that is easy to navigate and possibly less confusing or intimidating, while providing faster boot speeds and other benefits. So what happens when one of the biggest motherboard manufacturers fails to jump on the UEFI bandwagon? It releases a "hybrid EFI", instead.
I am of course talking about GIGABYTE, who has yet to release a dedicated UEFI of its own. Instead, the company has decided to go with its new TouchBIOS application that allows users to make changes to the BIOS using a UEFI-like interface from within Windows.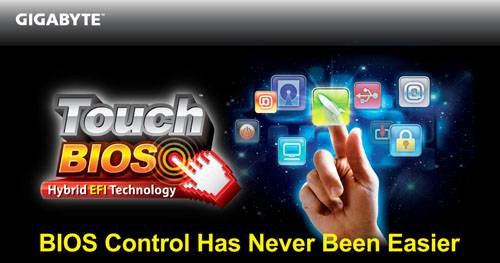 The application can be downloaded from GIGABYTE's website but at this time is only supported on its Z68-based motherboards with the BIOS flashed to their latest version. In the case of the Z68X-UD5-B3 that was used in our disk caching test system, the BIOS has been upgraded to F6 and will be used again here as we take a quick look at this UEFI alternative.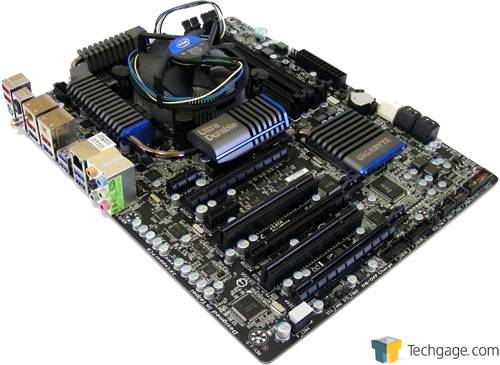 GIGABYTE's Z68X-UD5-B3 Motherboard
Upon loading the application, users are presented with the main screen filled with icons. Most of this screen enables access to different sections such as Overclock, Boot Disk and PC Health, to name a few. Towards the bottom are a few icons that include Restart, one that takes screen captures and another that brings users back to the main screen.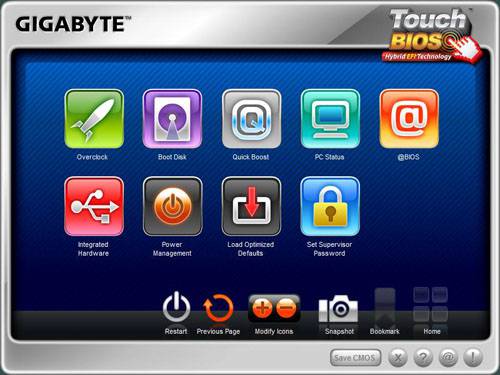 Along the absolute bottom are buttons that can save the current setting to the CMOS, update the application to a newer version and access the help documentation. While the smaller icons are static, the larger ones can be rearranged by dragging them to the required location or removed altogether by selecting the Previous Page button and unchecking it from the list.
GIGABYTE has an official video available that shows the basics, but where's the fun in that? I will be running through some of the more common options that might be accessed by the average user. To start, this board has retained some custom settings from our disk caching tests, so why not set it back to safe defaults that all but guarantee the current hardware will run without issue? This is done by selecting the icon with the red arrow pointing down into a white box and clicking OK on the pop-up.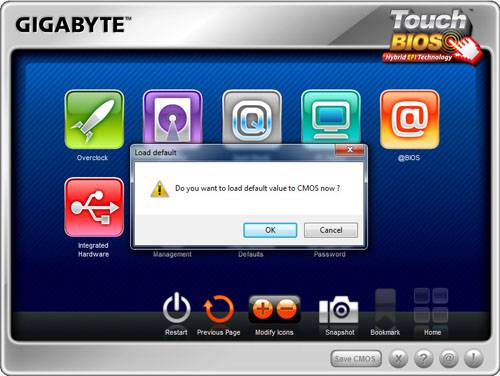 Next I want to set the boot priority since I tend to load a lot of things from a flash or optical drive before the hard drive is accessed to load the operating system. Selecting the Boot Disk icon produces the screen below where all boot settings can be modified.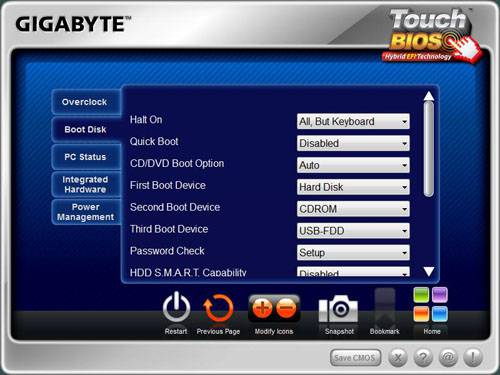 With that done, I wonder how the system is doing? Clicking on the PC Status icon gives a full run-down of the current voltage, CPU and overall system temperatures and fan speeds with the options to set any warnings as well as a few other choice features.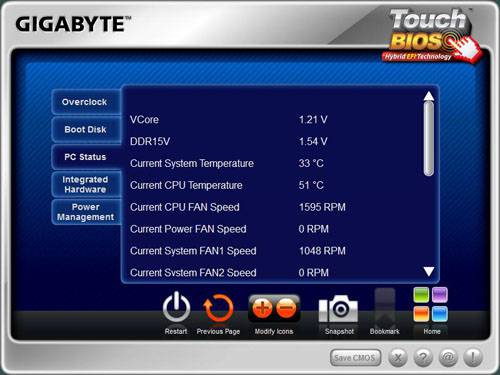 What happens when I want to upgrade my BIOS? Click on the @ icon and GIGABYTE's @BIOS application opens and allows users with a stable Internet connection to download and update the latest version.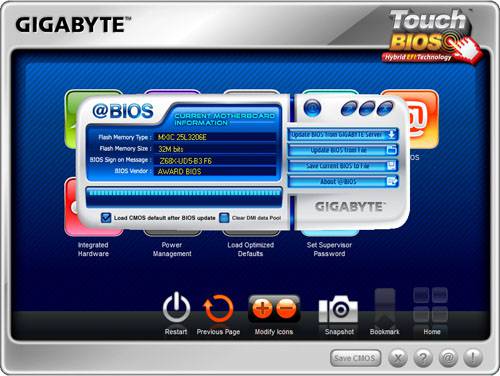 Even though the i5-2400 CPU being used isn't an unlocked K-series chip, I did want to touch on overclocking a bit. Below are all of the options found in the standard BIOS that should allow users to reach the desired frequency as well as increase the VCore, ratios, memory timings and everything else that goes along with overclocking.
During testing I simply lowered and raised the CPU multiplier, saving the settings as I went and used CPU-Z to validate the frequency, but nothing changed. Rebooting the system showed the multiplier back to its stock value of 31 and it was confirmed by CPU-Z again. This feature appears broken in this release.
Even though there was a snag with full-blown overclocking, and just because the chip isn't unlocked doesn't mean that I'm going to dismiss overclocking altogether. Select the QuickBoost icon and up pops another custom GIGABYTE application that some may remember seeing included with other GIGABYTE motherboards.
Users are given three overclocking options; mild, medium and spicy. Overclocking in this manner requires the system to be restarted and CPU-Z verified that the changes held, but because none of the preset overclocks are bleeding-edge, coupled with the failure to overclock using the respective section of the TouchBIOS, it is best that users who want the most form their system stick to doing this the old fashioned way in the BIOS.
To make matters more complicated, selecting Default and rebooting the system did not revert the CPU frequency back to 3.1GHz. This was done by loading the default settings as mentioned earlier.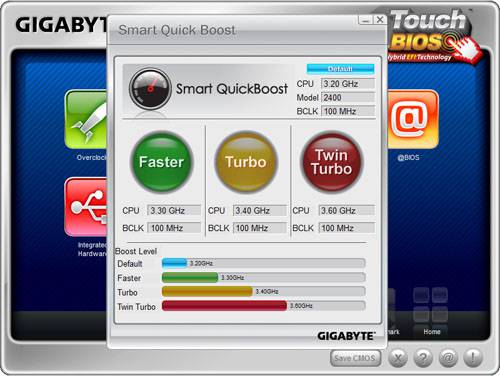 Without looking at every screen, this quick tour hopefully give users an idea of what to expect while using TouchBIOS. Is it perfect? No. Is it useful? Perhaps. Is it needed enough that it may put someone over the top in favor of a Z68 upgrade? That's for them to decide.
Final Thoughts
I haven't had a chance to put in the time with a full-fledged UEFI but I'm left with a ho-hum feeling about TouchBIOS.
The layout is fairly clean and allows for switching between various sections without a lot of back and forth between the home screen and sub-screens thanks to the tabs on the left. The major complaint that I read about while researching TouchBIOS was that the icons on the home screen were not labeled. On the version that I downloaded they were, so it looks like GIGABYTE was listening.
The screen capture ability is nice for those who like to share their settings or need help with an overclock, however I do not see any way to resize the interface to allow more information to be shown. Nearly all screen captures were taken using the built-in option so you can see just how much information is displayed. Making the interface resizable or even providing various preset resolutions would be a great feature to include in later versions.
Having touchscreen support is also a cool feature, even if it is one that fills a very small niche. I don't know of anybody who has a touch capable monitor that would need to use this application but maybe someone out there will fall in love with the ability to support their hardware.
There are some serious kinks to work out of the system with regards to overclocking, though. That would be the option that I would be using the most so it is a big issue to me. Until these can be resolved I would personally stick to using the standard BIOS for everything at this point.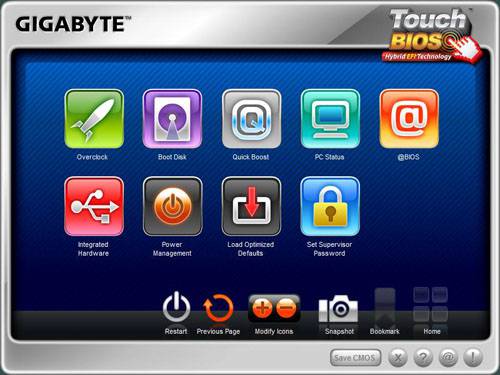 Also, having to boot into your OS is not always an option based on what settings were changed, so users may end up having to access the standard BIOS to undo a change whether they like it or not. That brings up another point with regards to restarting. When restarting after making changes in the BIOS, only the motherboard is accessed, so speed is out of our control. Restarting from within the operating system means that overall system speed affects how quickly users can be loaded back in.
What I find odd is that GIGABYTE chose to only provide TouchBIOS support on the Z68 chipset at this time. I read a while back that all 6-series based motherboards have the capacity to handle a dedicated UEFI should one be released. Rob spoke with GIGABYTE about the lack of current full-fledged UEFI support and was told that the company had some initial concerns about launching one now but plan to have one ready for the next platform release – likely the high-end X79, LGA 2011-based enthusiast platform.
Maybe one day my dream will come true with all system changes being made on the fly from within the operating system. Milk and honey will flow freely, unicorns will high-five ninjas and life will be good. Until then, I'll be sticking to the BIOS until improvements are made.
A Second Opinion – Rob
To see if I could replicate the issues Ryan experienced with regards to overclocking, I loaded up one of our testbeds equipped with GIGABYTE's Z68X-UD3H-B3 and installed the latest version of TouchBIOS. For the most part, my personal thoughts mimic Ryan's to a T, although I did have a little more success with the overclocking functionality. If I increased a ratio or the BCLK, then rebooted, the settings I chose stuck.
I did encounter other lesser-important bugs, however. Inside the overclocking section, TouchBIOS read my CPU frequency and BCLK both as 0MHz, though it seemed to read all of the other data just fine. At this point in time, TouchBIOS seems to be hit-or-miss with overclocking, with users being able to experience different bugs depending on… we're not sure.
Before loading TouchBIOS up for the first time, I had wanted to like it… but I just couldn't. The interface is too small, and navigation just isn't as smooth as it could be. Upon entering a section, it can take upwards of 3 or 4 seconds for the respective information to load. This is most noticeable with the PC Health section, as the main portion of the application is left blank until the information is all loaded.
I don't discredit TouchBIOS' goals, but there is a lot of work that needs to be done. The program as a whole should load data faster, be easier to navigate and of most importance, be resizeable. In a video where GIGABYTE showed off TouchBIOS, a touchscreen was used with the tool running in full-screen mode. For a true EFI experience, that feature needs to be brought to the consumer version, because on a large resolution (1920×1080 or higher), it can become a chore to look at after awhile.
Discuss this article in our forums!
Have a comment you wish to make on this article? Recommendations? Criticism? Feel free to head over to our related thread and put your words to our virtual paper! There is no requirement to register in order to respond to these threads, but it sure doesn't hurt!
Copyright © 2005-2021 Techgage Networks Inc. - All Rights Reserved.