Big Navi, Big Performance: AMD Radeon RX 6800 XT & RX 6800 Gaming Review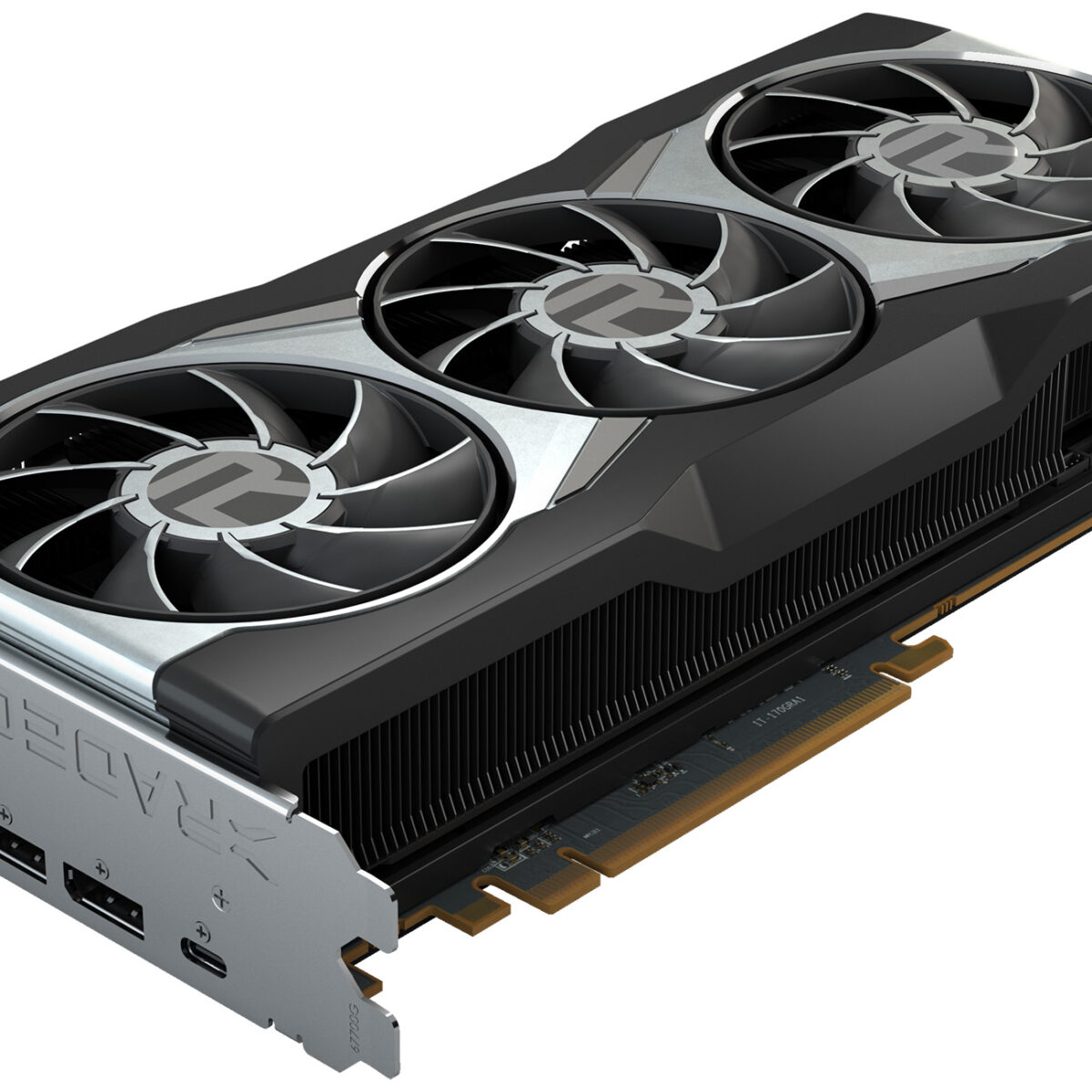 Date: November 18, 2020
Author(s): Rob Williams

AMD's first 'Big Navi' Radeon graphics cards have landed, and we have many performance results to share with you. With both the RX 6800 XT and RX 6800 in-hand, we've put AMD's latest to the test at multiple resolutions in thirteen games – four of which revolve around ray tracing. Not to ruin anything, but you'll probably be pretty happy with what AMD has delivered.
---
Introduction, Game Testing At 4K & 1440p
After what has to be considered one heck of a wait, AMD has finally launched its much-anticipated 'Big Navi' (RDNA2) graphics cards – starting with the Radeon RX 6800, and Radeon RX 6800 XT. As covered a couple of weeks ago, AMD is pricing the XT card at $649, and the non-XT at $579. It's not hard to figure out which NVIDIA graphics cards these new Radeons are going up against.
As usual, time was of the essence with this launch. We've been spending the past couple of weeks benchmarking up a storm, and still haven't been able to get as much done as we'd like to, so don't be surprised to see follow-up content taking a more specific look at certain angles of the new Radeons (including creator performance).
During its launch event, AMD promised some mighty things with the 6800 series. The non-XT seemed to dominate NVIDIA's new GeForce RTX 3070, and the 6800 XT went toe-to-toe with the 3080. We're glad to say that our own testing has held up to those promises.
AMD's Radeon Gaming GPU Lineup
Cores
Base MHz
Peak FP32
Memory
Bandwidth
TDP
Price
RX 6900 XT
5120
2015
23 TFLOPS
16 GB 1
512 GB/s
300W
$999
RX 6800 XT
4608
2015
20.74 TFLOPS
16 GB 1
512 GB/s
300W
$649
RX 6800
3840
1815
16.17 TFLOPS
16 GB 1
512 GB/s
250W
$579
Radeon VII
3840
1400
13.8 TFLOPS
16 GB 2
1 TB/s
300W
$699
RX 5700 XT
2560
1605
9.75 TFLOPS
8 GB 1
448 GB/s
225W
$399
RX 5700
2304
1465
7.95 TFLOPS
8 GB 1
448 GB/s
180W
$349
RX 5600 XT
2304
1375
7.19 TFLOPS
6 GB 1
288 GB/s
150W
$289
RX 5600
2048
1375
6.39 TFLOPS
6 GB 1
288 GB/s
150W
$279
RX 5500 XT
1408
1717
5.2 TFLOPS
8 GB 1
224 GB/s
130W
$199
Notes
On paper, AMD's new Radeons are really attractive for multiple reasons. While the $699 RTX 3080 has just 10GB of memory, even the $579 RX 6800 bundles 6GB more. For high resolutions, that should prove beneficial, if not today, then maybe a year or two down-the-road.
With the new launch comes a brand-new reference cooler, and it looks really quite nice.
Whether or not the new coolers are more attractive than NVIDIA's new Founders Editions is really going to depend on your personal taste, but we can say that we're really glad AMD decided against using a blower cooler this round, as it had done with the original Navi launch.
NVIDIA's latest Ampere cards all use the new-fangled 12-pin power connector, which has its own pros and cons, but AMD took the safe route and stuck to the typical power ports found on all GPUs prior to Ampere. With two full 8-pin connectors, you will definitely have the power required for overclocking, although at this point, we can't comment on what you can expect there, as we've not dived in yet.
The comparison above highlights the size differences between the XT and non-XT coolers. The XT cooler is clearly thicker, taking up about 2.5 PCI slots, vs. just 2. We didn't do thorough temperature testing because we're not entirely sure our tools are reporting temperatures correctly, but based on use with the Radeon overlay, the XT will keep cool a bit easier than the non-XT, even though it's faster.
If you're familiar with Radeon, you're probably familiar with the fact that out-of-the-box configurations are not always perfect. If you're willing to put the time in, you can configure the GPU to use less power for likely similar performance levels, but that's something else we haven't tackled yet, as there are more pressing issues we need to tackle first (eg: creator and SAM testing).
Yet again, limited time has bit us here, and to think, we still know more GPUs are coming before the end of the year. It's a seriously busy time, so if we haven't covered something here about the new Radeons that you want to know, please leave a comment.
A Look At Test Methodology
Since our last gaming GPU review (of NVIDIA's GeForce RTX 3070), we've transitioned our test bed from using Intel's Core i9-10900K to using AMD's Ryzen 9 5950X. Considering the gaming performance is so strong on AMD's new Zen 3 chips, we wanted to bite the bullet early and get moved over. With all of this testing done, it means jumping into near-future Smart Access Memory testing will be a lot easier.
Speaking of SAM, that is one aspect of AMD's new Radeons we have yet to test enough to produce results for – but we'll be diving in with more depth soon. Also, we know that many reading this will have wanted a creator look at these new GPUs instead, but it's proven challenging to get all of this different benchmarking done in time for this launch, so we're just choosing the safest road for now.
We'll be working on a creator look at these Radeons soon, but based on our initial testing, there's no reason to get hugely excited. On the rendering front, NVIDIA is going to continue to dominate if its RT cores are taken advantage of. In Blender, the 6800 XT matches the TITAN RTX, but NVIDIA's Ampere kicks that performance up a notch, and then dominates if its dedicated ray tracing cores are utilized. In some cases, AMD would need a second GPU just to catch up to a single OptiX-equipped GeForce. For most ProViz software, you can expect normal performance bumps – no leaps.
We hoped to test more than six graphics cards for this launch, but again, time was too limited. Keeping the selection modest for our regular game testing made it possible to test four DXR-specific titles, but again only with a limited number of GPUs (five). Thankfully, the tested models are all we really need to understand exactly where AMD's performance stacks up.
All tested GPUs have been benchmarked with the latest available drivers, and with an up-to-date Windows 10 (20H2). Our operating system is kept clean and optimized to reduce benchmark interference, ensuring accurate results. V-Sync, G-SYNC, and FreeSync are disabled at the driver and game level. AMD's latest chipset driver is also used, along with whichever default power profile it sets.
Games Tested & Vendor Neutrality
This article includes seven regular game titles for testing, along with four specific to ray tracing, and two more specific to high-performance eSports. To round things out, we also have a bunch of synthetics with the help of 3DMark (including DXR) and Superposition.
Here's the full breakdown of our benchmarks:
Borderlands 3 – AMD partner
Death Stranding
Destiny 2
Dirt 5 – AMD partner
Horizon Zero Dawn
Monster Hunter World
Total War: Three Kingdoms
eSport: Counter-Strike: Global Offensive
eSport: Tom Clancy's Rainbow Six: Siege – NVIDIA partner
DXR: Control
DXR: Fortnite
DXR: Minecraft
DXR: Shadow of the Tomb Raider
Synthetic: UL 3DMark & VRMark
Synthetic: Unigine Superposition
Note: You can download all of the tested setting images at once here (ZIP, 9MB).
Borderlands 3
We posted these results in alphabetical order, and it just so happens that the first one, Borderlands 3, puts the new Radeons in a really good light. At its launch event, AMD claimed that its new RX 6800 XT could go toe-to-toe with NVIDIA's GeForce RTX 3080, and that's definitely the case here. It actually managed a nearly 10% improvement at 1440p.
On a recent call, AMD mentioned that lower resolutions could potentially benefit more than higher resolutions, since the Infinity Cache is designed in such a way that 1440p resolution could benefit most from a performance uplift – and that's great, since that's likely going to be one of the most common resolutions gamers will plan to run.
Death Stranding
With our second tested game, Death Stranding, it appears that the BL3 set of results was no fluke. Once again, the 6800 XT edges out the RTX 3080 at both resolutions, though with a smaller lead than we saw in Borderlands 3. That's looking pretty good for a GPU that costs a bit less than NVIDIA's equal offering.
As for the non-XT 6800, it is so far doing extremely well in comparison to its most comparable competitor card, the RTX 3070. AMD's RX 6800 costs $79 more, but it seems to be adding quite a bit of overall performance for that price premium.
Destiny 2
Typically, NVIDIA has had really strong performance in Destiny 2, so to see AMD beat out GeForce once again at 4K is really impressive here. Interestingly, our bigger lead here was actually seen at 4K. Because of the somewhat strange scaling, these particular cards were retested for sanity's sake, and the results came up the same. At 1440p, both of those competitor cards are effectively matched.
Dirt 5
It's starting to look like an all-out blowout here. We admit we're not entirely sure why Dirt 5 performs so much better on Radeon than GeForce, but being that it's an AMD-sponsored title, it's not too much of a surprise. Still – we don't ever recall seeing an NVIDIA-optimized title outperforming the competition like this, and based on our Zen 3 performance testing with the game, it's clear that it could use some more polish. At the same time, it could also be that future GeForce driver updates will smooth out its performance a bit.
Because the performance advantage here is so unreasonably strong, we wondered if we should even post it – but, as it stands today, this is the performance out of the game, so it seems fair to include it. We're just not confident that the game is playing fair with the competition, given the lack of real scaling.
Monster Hunter: World
With Monster Hunter: World, we're seeing our first result of the lot where NVIDIA performs stronger than AMD. Similar to what AMD experienced in Destiny 2, the RTX 3080 in MH: World performed better at 4K than the RX 6800 XT, but both came out even at 1440p. In the other comparison look, however, the RX 6800 continues to show super-strong performance above NVIDIA's newly-released RTX 3070.
Horizon Zero Dawn
In Horizon Zero Dawn, NVIDIA's RTX 3080 manages to keep ahead of AMD's RX 6800 XT, although once again, the gap between the cards was much less pronounced at 1440p. Sometimes we just wish we could equip our test PCs with processors twice as fast as what we have available today, to see how it would impact scaling at lower resolutions (one can dream of a 10GHz CPU).
Total War: Three Kingdoms
It's interesting that the first four games in this article favored AMD, and the final three favor the green team. We're once again seeing the RTX 3080 edge out the RX 6800 at 4K, but flip positions at 1440p. Since we're dealing with such high FPS at 1440p, it means you could increase fidelity if you don't have a monitor capable of outputting 144Hz.
eSport: Counter-Strike: Global Offensive
One of the things that sold us on the idea of moving our gaming GPU test platform to AMD's Zen 3 was helped by Counter-Strike: Global Offensive. We've been testing with this game for a while now, and a CPU bottleneck has been quite obvious. Each gen, we'd barely gain in FPS, but Zen 3 changed that, and boosted our previous max of around ~240 FPS, to ~260 FPS on the same GPU. With the RX 6800 XT, we reached even higher – 282 FPS.
Note that these frame rates are not to be taken too seriously unless you have a 360Hz monitor. Our tested CS: GO timedemo is a little more intensive than most. We could run a test through cs_office if we wanted to see 500 FPS+, but it wouldn't be entirely realistic given competition play uses more modern maps.
eSport: Tom Clancy's Rainbow Six Siege
Siege is an interesting game for a number of reasons, but a technical one is that it doesn't suffer nearly as much from a CPU bottleneck as most games. While our 1440p CS: GO result was uninteresting, Siege continues to show really good scaling. Yet again, we're seeing the 6800 XT take the top spot – but only at 1440p. NVIDIA's RTX 3080 takes the lead at 4K.
Based on these first nine games, AMD's new Radeons perform exceptionally well, so it's already becoming easier to conjure up some conclusions. But – we still have a lot more to go. On the next page, we're going to take a look at the ray tracing performance of Big Navi with four DXR-equipped titles.
Ray Tracing: Fortnite, Control, Tomb Raider & Minecraft
When AMD announced its Navi series last summer, it felt to us like a competitive Radeon ray tracing solution was at least two generations away. Well, we have to admit that we we're seriously impressed with how quickly AMD has churned out a fairly competitive solution, although as we'll see in the results below, if AMD wants to compete with NVIDIA, it has to hope that a game doesn't support DLSS.
As mentioned on the previous page, the ray tracing performance of AMD's Radeon RX 6800 XT roughly matches the CUDA-only performance of last-gen's TITAN RTX. That should be downright amazing, but both NVIDIA's Ampere and its accelerated ray tracing cores put a damper on it. If a game or creator solution takes advantage of NVIDIA's RT cores, AMD will struggle to compete.
At the moment, whether or not a DXR game behaves well on Radeon is going to depend on the ray tracing features implemented, and how neutral the game engine is (if it uses RT cores, as mentioned above, then Radeon will suffer.) All four of the games on this page were developed around NVIDIA's RTX, and they all currently work on AMD's Radeon 6800 series – so performance aside, we consider that to be really impressive.
Please note that most of the games on this page were tested without NVIDIA's DLSS enabled, and in all cases, if DLSS is an option, it's going to provide a huge performance boost. The Minecraft result later will highlight the kinds of differences that can be seen; it was the only game tested with DLSS due to time limitations. It's safe to say, however, if the game you want to play supports DLSS, you need to do the smart thing and just go the NVIDIA route, because the performance jump will be huge.
Fortnite (DXR)
In Fortnite, we stuck to testing the same RTX Treasure Run, as we're quite used to it at this point, and there are no specific NVIDIA optimizations in it (that ignores enabling DLSS in the game, of course.) Even before DLSS is added, NVIDIA's cards outperform AMD's pretty easily here, and while the GPU is not included here, it's safe to consider the 6800 XT to be on par with TITAN RTX's RT performance – if we ignore the RT and Tensor cores on the GeForces. Clearly, Fortnite in DXR belongs to NVIDIA.
Control (DXR)
Addendum: Some of the original data above was inputted incorrectly, so the charts have been updated.
Continuing from a theme set with Fortnite, Control DXR performance out-of-the-gate benefits from the generally strong RT performance on NVIDIA's graphics cards – and to think, this is without DLSS enabled. With DLSS enabled, it means you can run the game at 4K on the RTX 3080, or increase the RT detail at lower resolutions.
Shadow of the Tomb Raider (DXR)
Shadow of the Tomb Raider is one of the first ray traced titles to be released after the launch of NVIDIA's Turing, and it apparently doesn't take advantage of NVIDIA's RT cores as much as we thought. Here, AMD's new Radeons perform really well, and in our side-by-side analysis, we couldn't see any fidelity differences between either GeForce or Radeon.
It's performance like this that proves why we will see some ray tracing on consoles. But, as we've seen from some released titles thus far (eg: Spider-Man: Miles Morales), reflections are going to be an option as well. We just haven't seen strong reflections performance from Radeon on PC so far, but that's likely to improve over time, as console developers primarily have Radeon to develop around (ignoring the NVIDIA-powered Nintendo Switch).
Minecraft (DXR)
Minecraft's ray traced beta will automatically enable DLSS if a capable GPU is present, and it's for good reason. Enabling DLSS dramatically improves performance, and we see specific examples of that here. Enabling DLSS on the RTX 3080 increased performance from 76 FPS to 158 FPS – somehow more than 2x. This isn't really surprising given we see similar gains from NVIDIA's RT cores in creator use for rendering, and Tensor cores for AI denoising.
At 1080p, either the 6800 and 6800 XT will deliver playable results, but RTX 3080 with DLSS is over 4x faster than 6800 XT at 1440p, so… what more needs to be said? AMD has made incredible ray tracing performance gains from one generation to the next, but NVIDIA's RT performance is still stronger out-of-the-gate, even before adding in DLSS or accelerated ray tracing. Because of DLSS, 4K resolution is easily done on many GeForces.
UL 3DMark & Unigine Superposition
3DMark: DX11 & DX12 Performance
3DMark: Ray Tracing & VRS Performance
VRMark: Cyan & Blue Room
Superposition: 1080p & 4K Performance
Power Usage & Final Thoughts
To take a look at the new Radeon RX 6800 series cards from a power perspective, we're using UL's 3DMark Fire Strike 4K stress test, and the PC plugged into a Kill-A-Watt to monitor for power draw. The PC is left to sit idle for five minutes before that respective value is counted, while the load value is recorded after at least ten minutes of stress.
AMD's new RX 6800 XT doesn't just go toe-to-toe with NVIDIA's RTX 3080 more often than not, it uses a little less power at the top-end, to boot. As for the RX 6800, it draws a fair bit more power than the RTX 3070, which is to be expected given the improved performance we saw from that card.
Final Thoughts
Ahead of AMD's Big Navi launch, the community at large had been hoping that the company could pull off for GPU what it had done for CPU. There's no question that Zen has proven to be a real blessing for AMD, even if it is well earned. With Zen 3, we've seen the performance gap completely closed with Intel, and in many cases, AMD comes ahead. We're not quite seeing the new Radeon series topple NVIDIA like we've seen Zen 3 lay the hurt on Intel, but what we've seen AMD deliver here is downright impressive.
As it stands today, AMD is offering really compelling graphics cards for their respective price-points. The 6800 XT is priced $50 less than the RTX 3080, but proves no weaker overall in our tests – if we ignore ray tracing. Five of the nine standard games we tested performed better on the 6800 XT at 4K (vs. RTX 3080). It costs less, and has 6GB more memory. How could that not be impressive?
As for the RX 6800, it costs $79 more than the new RTX 3070, but the performance leap it offers fully justifies that price premium. The performance boost alone is worth the price premium, but users get double the VRAM at the same time. AMD has really delivered here.
Naturally, and not surprisingly, where AMD lacks with this current generation is with ray tracing performance. That's too bad in a way, since AMD did manage to match the TITAN RTX's CUDA ray tracing performance with the 6800 XT, in either gaming or creator. But… those dedicated RT cores on NVIDIA's cards prove way too powerful for AMD to stand a chance.
As high performing as AMD's new cards are, if you care a lot about ray tracing, then you're going to have to go the NVIDIA route. Ampere on a basic level is faster in ray tracing than Big Navi, and that's ignoring the accelerators that exist. As we saw with Minecraft a couple of pages ago, enabling DLSS can sometimes double the ray tracing frame rate, and also enable 4K resolution – which is impossible on Radeon right now if you expect playable frame rates.
Because the market has revolved most of its ray tracing efforts around NVIDIA's RTX the past couple of years, compatibility out-of-the-gate is going to be better for the green team. Since Radeon graces both of the current-gen consoles, it means developers are going to become intimately familiar with it, which will hopefully lead to improved performance over time on the PC.
Overall, AMD needs to be proud of its graphics comeback here. The company's Navi launch last summer was good in its own right, but with Big Navi, AMD has finally returned to the high-end. And to think, an even higher-end RX 6900 XT is en route. Let's hope AMD supply is better than what we've seen from Ampere. It goes without saying: these new Radeons will sell fast, so you'll need to be determined if you want to try to score one right away.