From Naples To Rome: AMD's 2nd EPYC Win Against Intel

Date: August 8, 2019
Author(s): Jamie Fletcher

If you thought 32-core CPUs were crazy, wait until you see AMD's 2nd Gen EPYC CPUs. These are no simple product refresh, as EPYC Rome is a major step forward for AMD with 64-cores, 256MB L3 cache, PCIe 4.0, and at half the price of the competition. This is one EPYC launch event.
---
AMD EPYC Rome Release
AMD is having a grand time so far this year when it comes to CPUs. Its recently launched Ryzen CPUs using the Zen 2 architecture have really turned the tables on Intel. Matching single-core performance, introducing PCIe 4.0, doubling core counts; things really are in AMD's favor. Yet, things are only just ramping up.
At a press event, AMD formally announced the release of its much-hyped 2nd gen EPYC CPUs, codenamed Rome, for the enterprise market. These CPUs, like the previously released Ryzen 3000-series, are built around AMD's Zen 2 architecture, but there is so much more going on that it's going to take a while to put all the pieces together.
It's really hard not to get excited over what's coming, especially for those of us that live and breathe tech. We haven't seen a launch like this… ever. The numbers AMD is coming out with are just incredible to see. Doubling core counts, doubling cache, completely re-engineered chiplet package, jumping to a new interconnect, a new manufacturing process – all in a single generation leap.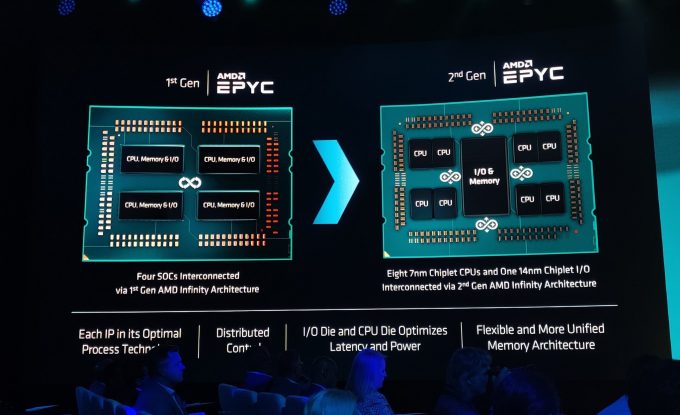 The first generation EPYC CPUs had a bit of a rocky start. AMD had a brand new architecture that was a little rough around the edges, and it needed to prove to the market what it could do. There were not many adopters, and there were a number of issues with certain performance metrics that needed to be addressed (AVX2 and FP specifically). Two years later, and we see a complete reversal, and a product ready for primetime in thousands of datacenters all over the world.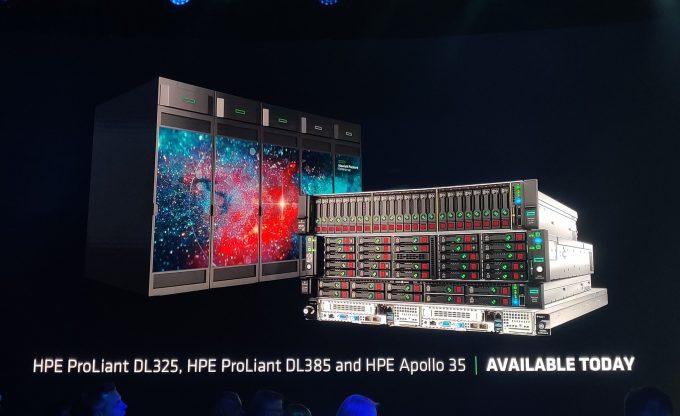 In two short years, EPYC went through quite a transformation. It's like looking at a brand new architecture all over again, and in many aspects, this is true, yet it's still fundamentally Zen at the core. The chiplet design that AMD pioneered has been reorganized, and has been made much more efficient – not just in terms of performance, but also economics.
The arrangement of 8-core CCX modules with their own memory controllers and I/O had been split up. With 2nd Gen EPYC, AMD makes use of 7nm manufacture process, but part of it also uses 14nm. The memory controller and I/O have been put into a dedicated shared module that hooks up to the eight other CPU modules, a centralized design that improves NUMA performance. Each of these CPU modules houses 8-cores, providing up to 64-cores total on a single package.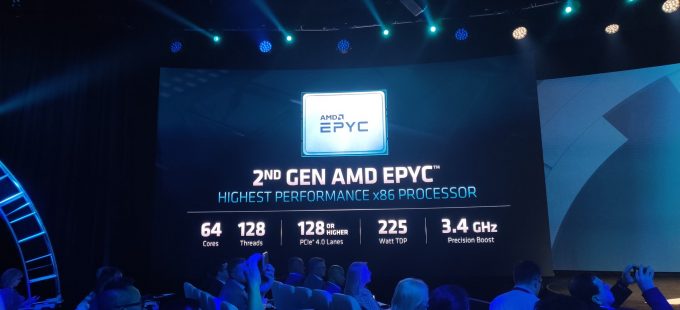 As we saw with Ryzen 3000, the cache system has been completely overhauled, cutting down on latency at multiple stages, greatly increasing throughput. There is also 256 MB of L3 cache available, too. The memory system has been updated to take advantage of DDR4-3200, allowing bandwidth up to 204 GB/s per socket with 8-channels (8 chiplets of 8 cores with 8 channels of memory). Up to 4TB of memory is addressable per socket. To help cement just how big of a deal this launch is for AMD, the top-end EPYC 7742 CPU consists of a whopping 32-billion transistors, spread over the 9 chiplets that make up the package.
AMD 2nd Gen EPYC CPUs
Model #
Cores
Threads
Base Freq (GHz)
Max Boost Freq (GHz)
Default TDP (w)
L3 Cache (MB)
Price (1000 units)
7742
64
128
2.25
3.4
225w
256
$6,950
7702
64
128
2
3.35
200w
256
$6,450
7702P
$4,425
7642
48
96
2.3
3.3
225w
256
$4,775
7552
48
96
2.2
3.3
200w
192
$4,025
7542
32
64
2.9
3.4
225w
128
$3,400
7502
32
64
2.5
3.35
180w
128
$2,600
7502P
$2,300
7452
32
64
2.35
3.35
155w
128
$2,025
7402
24
48
2.8
3.35
180w
128
$1,783
7402P
$1,250
7352
24
48
2.3
3.2
155w
128
$1,350
7302
16
32
3
3.3
155w
128
$978
7302P
$825
7282
16
32
2.8
3.2
120w
64
$650
7272
12
24
2.9
3.2
120w
64
$625
7262
8
16
3.2
3.4
155w
128
$575
7252
8
16
3.1
3.2
120w
64
$475
7232P
8
16
3.1
3.2
120w
32
$450
Continuing on with bandwidth, we see PCIe 4.0 making its entrance into the server market en masse with 2nd Gen EPYC, 128 lanes of it to be precise. It's hard to overstate just how big of a deal this is. With mainstream systems, it's very difficult to notice a difference between 3GB/s and 5GB/s outside of synthetic tests. With servers and datacenters, that's thousands of extra database queries per second that can processed, which means fewer servers (and cost) for managing the same data. Throw in some 100Gbps networks and compute GPUs, there would still be bandwidth left over for a couple of dozen SSDs.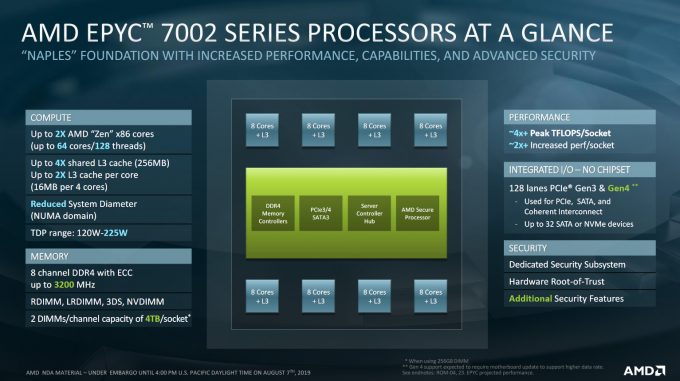 The real shocker of this launch is not just the absurd numbers, the doubling of everything, or the resurrection of AMD in the enterprise market. It's the fact that here's AMD with a CPU that not only matches, and also beats Intel's Cascade Lake dual-socket Xeon CPUs… but does it with a single socket platform. You can now double the performance again with AMD's dual-socket platform. And to add insult to injury against Intel? AMD can do it at half the price.
AMD has stolen the performance crown, the price crown, and the price-to-performance crown. 2nd Gen EPYC really is an epic CPU.
What about all those supporting partners? Well, here's the shortlist of who's jumping on the EPYC train: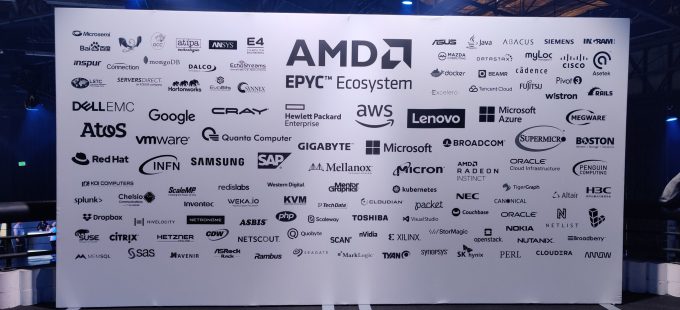 At the Horizon event, HP, Dell, and Lenovo were all too eager to show off what 2nd Gen EPYC can do, with numerous world records being set for every performance metric you can think of. Microsoft was on call to announce its deployment of 2nd Gen EPYC in its Azure cloud services. Google also announced deployment of EPYC servers for cloud customers to boot up. There is even the exa-scale project in partnership with Cray computers.
There is so much on offer here that it's almost comical. No one in the industry expected such a comeback, yet here we are. The pressure really is on Intel as AMD expects to reach double-digit market-share of the enterprise market within 4-6 months. And AMD isn't even done. Zen 3 architecture design is done and is moving into the test phase, and Zen 4 has started development. The excitement is real, and it's great to see AMD make such a monumental comeback.
Copyright © 2005-2019 Techgage Networks Inc. - All Rights Reserved.