ASUS P7P55D-E PRO

Date: December 14, 2009
Author(s): Rob Williams

A couple of weeks ago, ASUS released its first two under-$200 P55 motherboards that support both S-ATA and USB 3.0. We're taking a look at the higher-end of the two, the P7P55D-E PRO. As you'd expect, this is one packed board, featuring a great design and a number of improvements over the company's P55 launch boards.
---
Introduction
Last month, we published our look at one of ASUS' popular P55 launch motherboards, the P7P55D PRO. Judging by model name alone, the board we're taking a look at here doesn't seem too different. In fact, the only difference from that perspective is the -E that's been added. So what is the difference? The most notable is the addition of S-ATA 3.0 and USB 3.0 support, along with other additions that makes this more than just a revision.
Price-wise, the P7P55D-E PRO retails for ~$20 more than the original, and whether or not that's worth it will be up to your specific tastes. The addition of S-ATA and USB 3.0 could be considered worthy of the higher SRP alone, especially since ASUS implements a PLX solution, meaning that neither S-ATA or USB 3.0 will draw bandwidth from your primary PCI-E 16x slot, which is what happens on current Gigabyte P55 boards that feature these two new technologies.
The other major (or minor, depending on how you look at it) change is in the form of additional options in the BIOS, and added options, such as improved CPU Level Up options, better fan controls and so forth. But while this board is quite similar to the non-E version, I'm going to be taking a fresh look at it, because with the first board, I tested it two months before I wrote the review, so for the most part, this feels almost like a completely new board.
Closer Look at ASUS' P7P55D-E PRO
I don't include pictures of product boxes all too often, but once in a while one will stand out, so I feel compelled to include it. If you're familiar with ASUS' recent motherboards, then the box below is going to be quite a bit different than what you're used to. Most boards I've received in recent memory, aside from the Republic of Gamers' models, have been shipped in blue or green (depending on AMD or Intel) glossy boxes.
Personally, ASUS' boxes have never really impressed me much, but in all seriousness, it doesn't matter. It's a box, and as long as it protects what's inside, that's what matters. But here, it looks as though ASUS has decided to refresh its thinking, and "fresh" would be a good way to describe the packaging for this board. It's bright with many colors, and still sticks to the blue theme. When taking it out of that brown corrugated cardboard shipping box, it feels like you just opened up a box of sunshine. It's strange, sure, but I think it's true that packaging can make or break your initial thoughts of a product, so from that perspective, ASUS has done well here.
One thing that stood out to me right away is the NVIDIA logo on the board, for "PhysX Ready". This isn't an NVIDIA motherboard, and doesn't have an integrated GPU, so I was a little stumped. I questioned ASUS on this, and it turns out that PhysX Ready simply means that the board adheres to NVIDIA's guidelines in having enough room for a third graphics card, to be used exclusively for PhysX. This is the first such branding I've seen of this, but I'd expect to see a lot more in the coming months.
Alright, I've spent far too much time talking about the box, so let's move right into a look at the board itself. If you recall what the P7P55D PRO looked like, you're not going to be too taken back here. Both boards look near-identical, but if you look really close, you'll begin to spot some differences. The first and most notable I noticed is that on the -E, one PCI-E 16x slot has been replaced with a PCI-E 1x slot. This is strange, because if there's a third PCI-E slot for PhysX use, I certainly can't see it.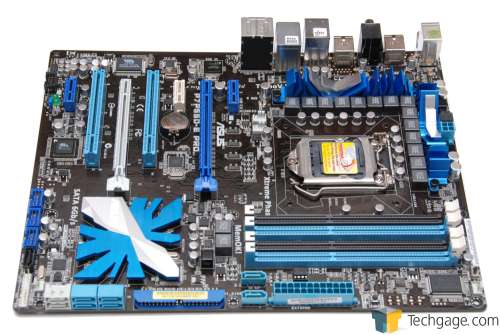 There are some other minor differences, which we'll cover through the rest of our board tour. Like the rest of ASUS' P55 line-up, this board features two patented features, unique tabs for the PCI-E and DIMM slots. It's a bit strange, because the difference with the DIMM slots is that the bottom of each slot doesn't have a tab at all. I can honestly say it's much easier installing memory into these DIMM slots than others, though. You don't have to worry about the bottom tab, which is nice.
You would imagine that this would mean that the end without the tab would hold the memory less securely, but that's not the case. In my personal test, I found that the installed sticks are completely secure, and pulling up on the tabless end with a fair amount of force wouldn't loosen it.
One complaint I had with the P7P55D PRO has been fixed here. On that board, only four of the available S-ATA ports are mounted vertically, but here, six are. I'm glad to see my complaint tackled, because nowadays, it's not at all uncommon for people to install more than four hard drives/ODDs. If you need even more expansion space, two more S-ATA ports are found up nearer to the DIMM slots. Eight not enough? There's one more down at the bottom, in between the three internal USB and ATX chassis connectors.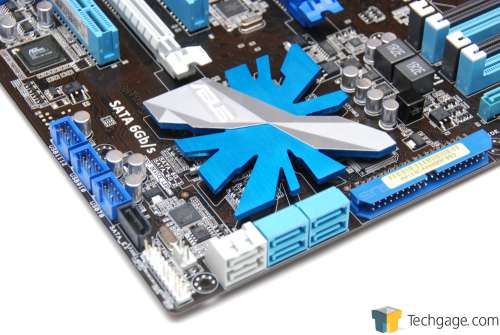 As mentioned earlier, the board features two PCI-E 16x slots (will degrade to 8x for dual-GPU), three PCI-E 1x and also two legacy PCI slots, one of which will likely be wiped out if a second GPU is installed. To the right of the absolute bottom PCI-E 1x slot is the PLX chip in all its glory. This chip essentially creates a secondary PCI-E Gen 2.0 16x lane in order to provide additional bandwidth to both S-ATA and USB 3.0. This is the reason that the native PCI-E 16x is left alone.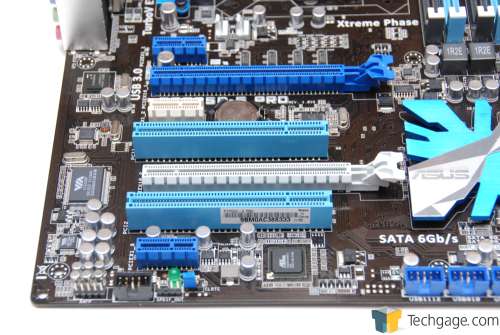 Robust power phase solutions have become an unbelievably common theme in motherboard over the past couple of years, and so it's no surprise to see an ample supply of phases here, 16 in total. 14 of these are located around the CPU socket, while the other two are found right beneath the DIMM slots, as they are specifically dedicated to stabilizing the power for the memory controller.
One of the best parts about P55 and Lynnfield processors is the removal of a Northbridge, which results in more workable room on a motherboard. That's evident here, as there's plenty of room around the socket for pretty-well most any CPU cooler on the market.
As has also become a theme, motherboards are including more functionality than most people will ever need, but one way to look at it is that you'll never be stuck in a rough spot where the board doesn't provide enough. On the back is a total of eight USB ports, two of which are 3.0 (blue). If you count the three internal USB connectors, which will be used by your chassis and other add-in peripherals, you could have a total of 14 USB ports at your perusal.
Also here are your audio ports, including S/PDIF in and out, eSATA, FireWire, a LAN port and also a PS/2 port for both a mouse and keyboard.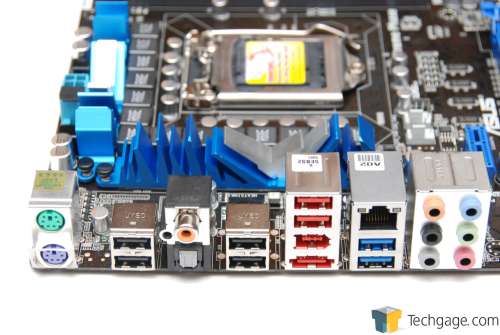 In way of accessories, ASUS includes four S-ATA cables, an IDE cable, expansion for USB and eSATA, an I/O panel, CrossFireX connector, Q-Connector (for easier installing of ATX chassis connectors) and of course, the manual and DVD-ROM driver disc.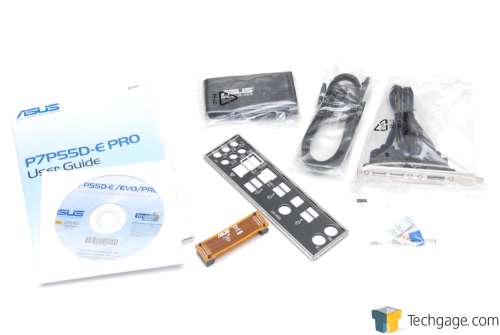 ASUS' P7P55D-E PRO is quite a feature-packed board, with nothing too major missing. It also features a smart design and common-sense location of components, so that installation will be a breeze, and keeping the inside of your chassis clean will be made easier. If there's just one thing lacking, I'd have to say it's an LED BIOS readout. I've found those extremely useful when debugging in the past, and I figure all motherboards should have them standard by this point in time.
Also, one odd placement is of the BIOS battery. Because most graphics cards today use dual slot coolers, in order to remove the BIOS battery, you'd have to first remove the GPU, take the battery out, replace the card, power on, power off, remove the GPU, put the battery back in, replace the card and power up. Sounds a bit complicated, no? Fortunately, I haven't experienced such a rough boot with any ASUS board in quite a while, and even the roughest failed overclocks I've stumbled on weren't enough to kill the boot process. Still, there are many other places on the board where this could be located, so right below the primary graphics PCI-E slot is an odd choice.
Aside from that, the board is quality, as you'd expect for its $190 price tag. Next up is a look at the BIOS, and then we'll get right into our test results.
Look at the BIOS
For the most part, there isn't too much to say about the BIOS used here, as it's not much different from what we saw on the P7P55D PRO. For that matter, it's not too different from most mid-range and higher ASUS boards, and that's a good thing. I've come to enjoy using ASUS' BIOS' over anything else over the years, due to their ease-of-use and vast number of tweaking options.
One thing that has been altered from the aforementioned board is that inside the "Ai Tweaker" sub-menu, the "CPU Level Up" option is found at the absolute top, good for those who don't enjoy overclocking, but wouldn't mind a bit of a safe boost. In this case, the highest option was for 3.52GHz, and I think it's safe to say that while not extreme, it is a nice little boost on most any CPU, and should remain stable for most people.
ASUS puts a lot of work into its boards, and has numerous special features worth touting. A lot of these were covered in the review of the P7P55D PRO, and most can be controlled in some way in the BIOS, such as the Xtreme Phase Full Power Mode, T. Probe and others. Strangely, ASUS didn't include it's nifty TurboV EVO overclocking application with this particular board, but rather ships Intel's Extreme Tuning application instead. So, the option for "ASUS Utility" as the overclocking tool seems a little strange.
As the photos below can speak for themselves, I'll let them: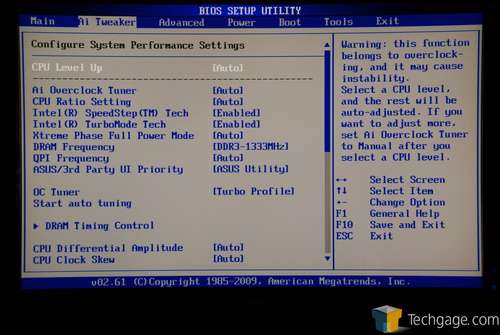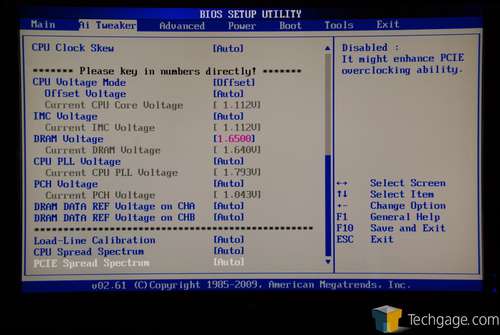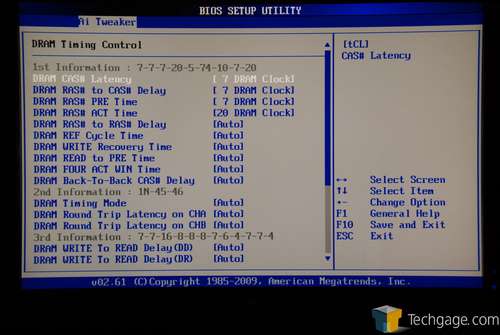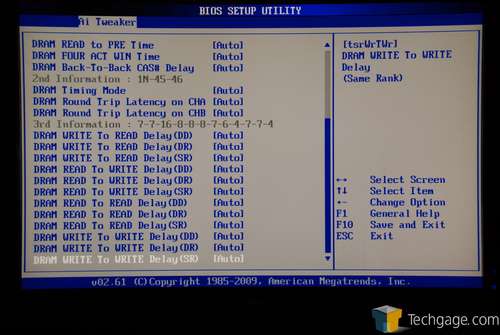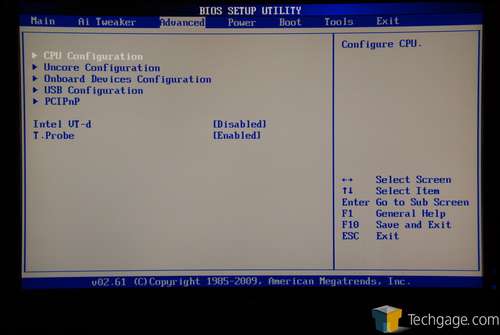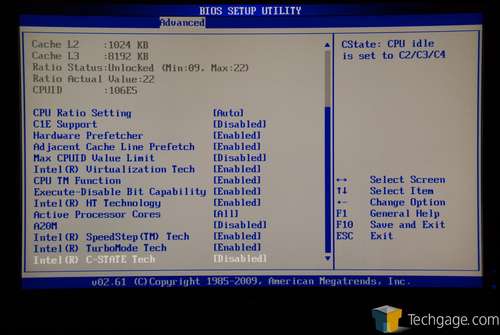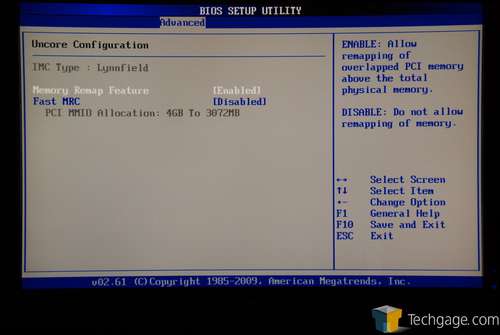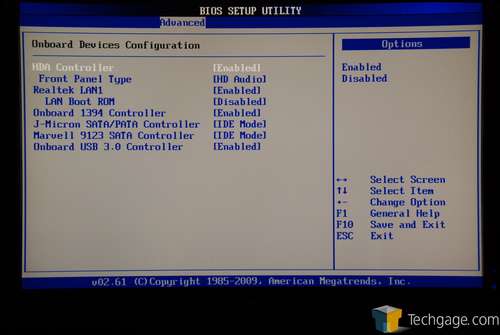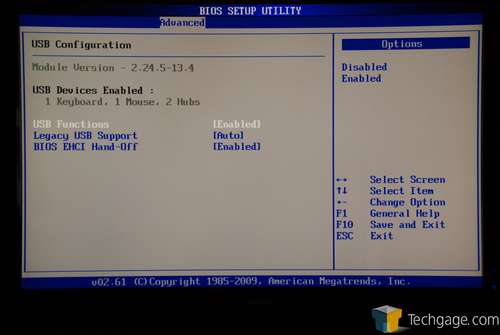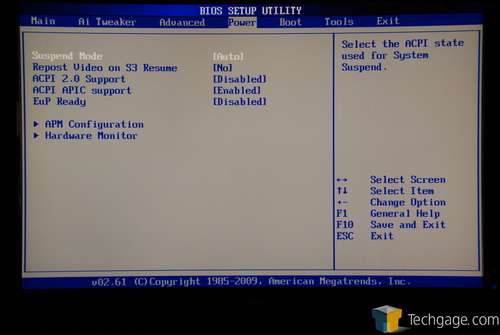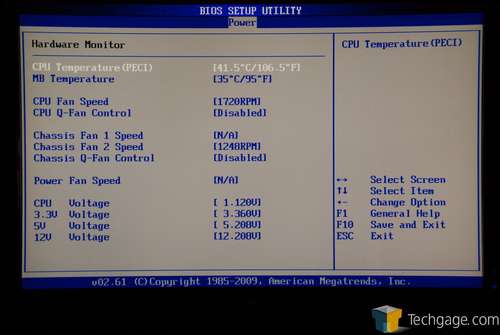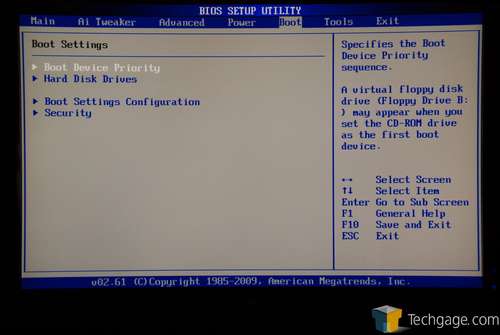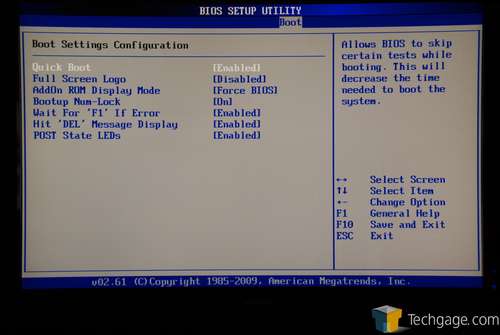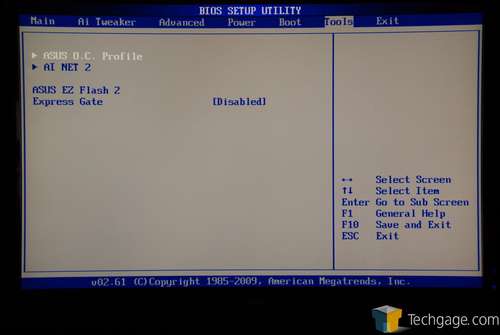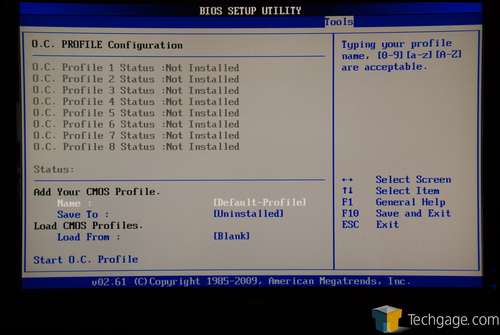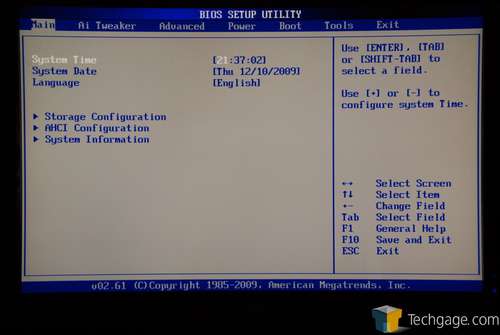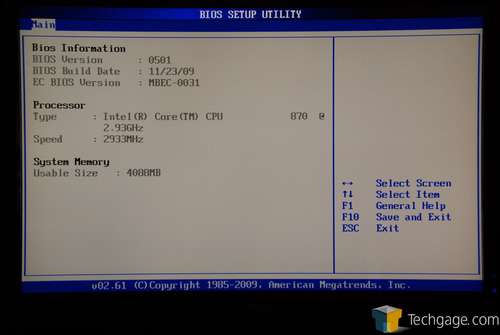 Test System & Methodology
At Techgage, we strive to make sure our results are as accurate as possible. Our testing is rigorous and time-consuming, but we feel the effort is worth it. In an attempt to leave no question unanswered, this page contains not only our testbed specifications, but also a fully-detailed look at how we conduct our testing.
If there is a bit of information that we've omitted, or you wish to offer thoughts or suggest changes, please feel free to shoot us an e-mail or post in our forums.
Test System
The table below lists the hardware for our current motherboard-testing machine, which remains unchanged throughout all testing, with the exception of the motherboard. Each motherboard used for the sake of comparison is also listed here, along with the BIOS version used. In addition, each one of the URLs in this table can be clicked to view the respective review of that product, or if a review doesn't exist, you will be led to the product on the manufacturer's website.
Processors
Intel Core i7-870 – Quad-Core, 2.93GHz, ~1.25v
Motherboard

ASUS P7P55D Pro – P55-based, 0606 BIOS (09/08/09)
ASUS P7P55D-E Pro – P55-based, 0501 BIOS (11/27/09)
Gigabyte P55-UD5 – P55-based, F3 BIOS (08/01/09)
Gigabyte P55A-UD4P – P55-based, F4 BIOS (11/09/09)
Intel DP55WG – P55-based, 3878 BIOS (10/28/09)

Memory
Graphics

Sapphire Radeon HD 4890 1GB (Catalyst 9.9)

Audio
Storage
Power Supply
Chassis
Display
Cooling

Intel Stock LGA1156 Cooler
Thermalright MUX-120 (Overclocking)

Et cetera
When preparing our testbeds for any type of performance testing, we follow these guidelines:
General Guidelines
No power-saving options are enabled in the motherboard's BIOS.
Internet is disabled.
No Virus Scanner or Firewall is installed.
The OS is kept clean; no scrap files are left in between runs.
Hard drives affected (not SSDs) are defragged with PerfectDisk 10 prior to a fresh benchmarking run.
Machine has proper airflow and the room temperature is 80°F (27°C) or less.
Windows 7 Optimizations
User Account Control (UAC) and Action Center messages are disabled.
Windows Defender, Firewall, Security Center, Search, and Updates are disabled.
Because it gives a more realistic interpretation of motherboard/CPU performance, we leave all of the power-related options in the BIOS to their default selection. This means that for Intel boards, SpeedStep is left in tact, and Cool'n'Quiet for AMD-based boards.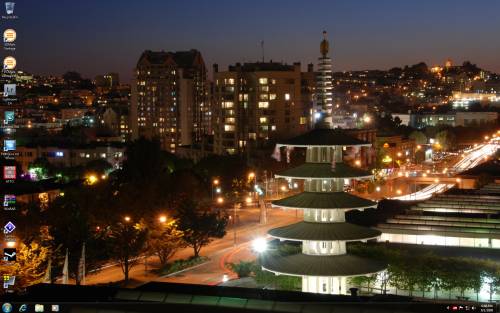 Our Windows 7 Desktop for Motherboard-Testing
To aide with the goal of keeping accurate and repeatable results, we alter certain services in Windows 7 from starting up at boot. This is due to the fact that these services have the tendency to start up in the background without notice, potentially causing slightly inaccurate results. Disabling "Windows Search" turns off the OS' indexing which can at times utilize the hard drive and memory more than we'd like.
Application Benchmarks
To help test out the real performance benefits of a given processor, we run a large collection of both real-world and synthetic benchmarks, including 3ds Max 2010, Adobe Lightroom 2.5, ATTO, PCMark Vantage, Sandra 2009, WinRAR and more.
Our ultimate goal is always to find out which processor excels in a given scenario and why. Running all of the applications in our carefully-chosen suite can help better give us answers to those questions. Aside from application data, we also run two common games to see how performance scales there, including Call of Duty: World at War and Crysis Warhead. For a synthetic point-of-view, we also use Futuremark's 3DMark Vantage.
Game Benchmarks
In an attempt to offer "real-world" results, we do not utilize timedemos in any of our reviews. Each game in our test suite is benchmarked manually, with the minimum and average frames-per-second (FPS) captured with the help of FRAPS 2.9.9.
To deliver the best overall results, each title we use is exhaustively explored in order to find the best possible level in terms of intensiveness and replayability. Once a level is chosen, we play through repeatedly to find the best possible route and then in our official benchmarking, we stick to that route as close as possible. Since we are not robots and the game can throw in minor twists with each run, no run can be identical to the pixel.
Each game and setting combination is tested twice, and if there is a discrepancy between the initial results, the testing is repeated until we see results we are confident with.
The two games we currently use for our motherboard reviews are listed below, with direct screenshots of the game's setting screens.
Call of Duty: World at War
Crysis Warhead
Although the screenshots reflect a 1680×1050 resolution, we also test using 2560×1600.
System: SYSmark 2007 Preview
Synthetic benchmarks have typically been favored for performance testing, but the results they provide can be fairly abstract, and the methods they use to assign their scores can be dubious at times. By contrast, real-world application benchmarks provide performance metrics that apply directly to real-world usage, and we endeavor to apply both in our performance comparisons.
SYSmark 2007 Preview from BAPCO is a special case, because its synthetic scores are derived from tests in real-world applications. However, we still believe that synthetic benchmarking scores are best used to directly compare the performance of one piece of hardware to another, and not for developing an impression of real-world performance expectations. SYSmark is more useful than most synthetic benchmarking programs in our opinion, because its tests emulate tasks that people actually perform, in actual software programs that they are likely to use.
The benchmark is hands-free, using scripts to execute all of the real-world scenarios identically, such as video editing in Sony Vegas and image manipulation in Adobe Photoshop. At the conclusion of the suite of tests, five scores are delivered: an E-learning score, a Video Creation score, a Productivity score, and a 3D Performance score, as well as an aggregated 'Overall' score. These scores can still be fairly abstract, and are most useful for direct comparisons between test systems.
A quick note on methodology: SYSmark 2007 requires a clean install of Windows 7 64-bit to run optimally. Before any testing is conducted, the hard drive is first wiped clean, and then a fresh Windows installation is conducted, then lastly, the necessary hardware drivers are installed. The 'Three Iterations' test suite is run, with the 'Conditioning Run' setting enabled. Then the results from the three runs are averaged and rounded up or down to the next whole number.
Like most benchmarking results on motherboards, the scores here vary a small bit from board to board and from run to run. Interestingly, the P7P55D-E PRO scored under all of the other boards, namely because of its lower VideoCreation score. I'm unsure why there was a lower score here, but it was repeatable.
System: PCMark Vantage
Futuremark is no stranger to most any enthusiast out there, as the company's benchmarks have been used to gauge our PC's worth for many years. Although the company's 3DMark Vantage (which we also use for testing) is arguably more popular than PCMark Vantage, the latter is a great tool to measure a system's overall performance across many different scenarios.
Unlike SYSmark, PCMark is more of a synthetic benchmark, as very little is seen to the user during the run. However, each test tackles a specific and common scenario that's typical of many computer users – enthusiasts and regular users alike – such as photo manipulation, gaming, music conversion, productivity, et cetera.
The main problem right now with PCMark is its inability (at least for us) to produce an overall score when being run under Windows 7. Even when run in compatibility mode (which is required by 3DMark), the application will crash during the Memories test, despite that particular test executing fine when run as its own suite. So, no overall score is produced, but the seven individual scores are.
While SYSmark uses modest numbers for their scoring, ranging in the hundreds, Futuremark opts for much higher scores with their entire suite, with the lowest being the TV and Movies, ranging around the 6,000 mark. On the high-end, our Intel SSD is capable of pushing the test's HDD scenario well beyond 20,000.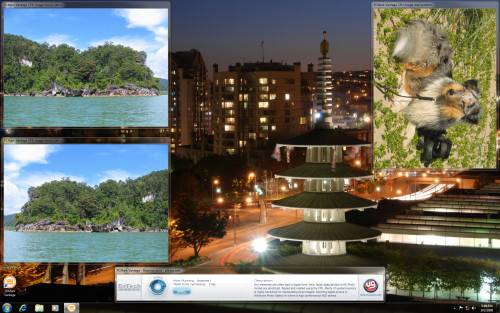 As we'd expect, the boards here flip/flop their strengths and weaknesses here, although neither could be considered bad in any scenario. A difference of less than 5% in a given scenario isn't going to be easy to recognize in a real-world test.
Multi-Media: Adobe Lightroom, 3ds Max 2010, TMPGEnc XPress
Photo manipulation benchmarks are more relevant than ever, given the proliferation of high-end digital photography hardware. For this benchmark, we test the system's handling of RAW photo data using Adobe Lightroom, an excellent RAW photo editor and organizer that's easy to use and looks fantastic.
For our testing, we take 100 RAW files (in Nikon's .NEF file format) which have a 10-megapixel resolution, and export them as JPEG files in 1000×669 resolution, similar to most of the photos we use here on the website. Such a result could also be easily distributed online or saved as a low-resolution backup. This test involves not only scaling of the image itself, but encoding in a different image format. The test is timed indirectly using a stopwatch, and times are accurate to within +/- 0.25 seconds.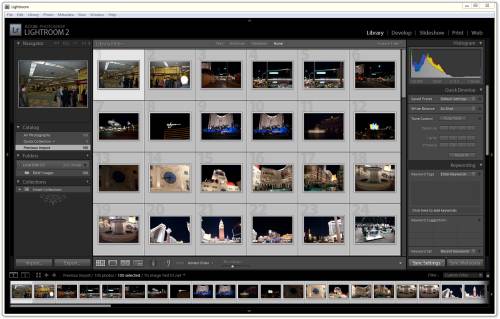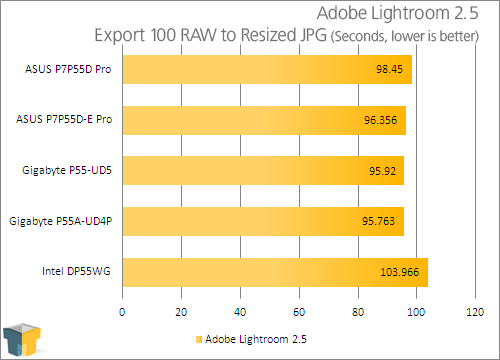 Autodesk 3ds Max 2010
Autodesk's 3ds Max is without question an industry standard when it comes to 3D modeling and animation, with DreamWorks, BioWare and Blizzard Entertainment being a few of its notable users. It's a multi-threaded application that's designed to be right at home on multi-core and multi-processor workstations or render farms, so it easily tasks even the biggest system we can currently throw at it.
For our testing, we use two project files that are designed to last long enough to find any weakness in our setup and also allows us to find a result that's easily comparable between both motherboards and processors. The first project is a dog model included on recent 3ds Max DVD's, which we infused with some Techgage flavor. This is rendered at an 1100×825 resolution.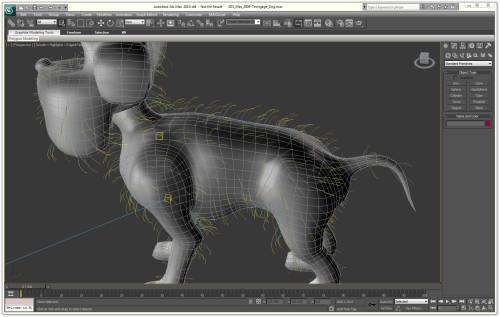 TMPGEnc Xpress 4.5
When it comes to video transcoding, one of the best offerings on the market is TMPGEnc Xpress. Although a bit pricey, the software offers an incredible amount of flexibility and customization, not to mention superb format support. From the get go, you can output to DivX, DVD, Video-CD, Super Video-CD, HDV, QuickTime, MPEG, and more. It even goes as far as to include support for Blu-ray video!
There are a few reasons why we choose to use TMPGEnc for our tests. The first relates to the reasons laid out above. The sheer ease of use and flexibility is appreciated. Beyond that, the application does us a huge favor by tracking the encoding time, so that we can actually look away while an encode is taking place and not be afraid that we'll miss the final encoding time. Believe it or not, not all transcoding applications work like this.
For our test, we take a 0.99GB high-quality DivX H.264 AVI video of Half-Life 2: Episode Two gameplay with stereo audio and transcode it to the same resolution of 720p (1280×720), but lower the bit rate in order to attain a modest file size. This test also utilizes the SSE instruction sets, either SSE2 or SSE4, depending on what the chip supports.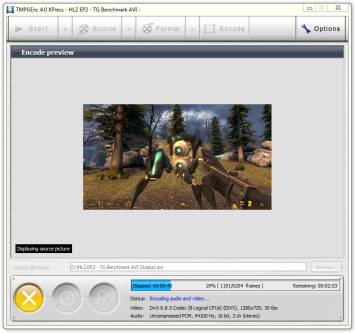 With results so close to one another, it's impossible to declare a board "the winner", but that's a good thing. Our P7P55D-E Pro doesn't let us down, and we're not seeing lower performance through any of our real-world tests so far, which makes the slight drop in our SYSmark results a bit strange.
Storage & Memory: ATTO, 7-Zip, Sandra
In the world of benchmarking, there seem to be many tools that can accomplish the same thing as a hundred others, and where storage is concerned, that couldn't be more true. Although we've used HD Tune Pro, HD Tach and others in the past, we've opted to begin using ATTO, as it's incredibly lightweight (at less than 100KB), yet offers a fair amount of flexibility.
For our run with ATTO, we leave all options at default, except the Queue Depth, which is increased to the max value of 10. It's also important to note that we're benchmarking the OS drive, which happens to be Intel's X25-M 80GB (Gen 1).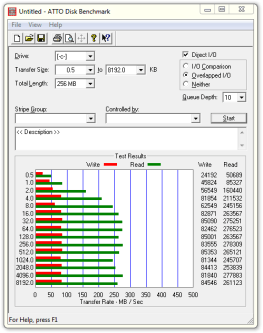 7-Zip
Thinking back about a decade ago, archiving applications were kind of scarce. Well, the free ones were. Applications such as WinRAR and WinZIP have been available for a while, but a free solution is going to appeal to a far greater audience, especially if you don't need or want the extra features that come included with the aforementioned options.
While 7-Zip may not be the most robust archiver out there, in looks or in features, it's free, and offers a great amount of functionality and performance given that fact. For our test with 7-Zip, we take a 4GB folder littered with just over 5,000 files and archive it to our secondary drive, the mechanical Seagate Barracuda 7200.11 500GB.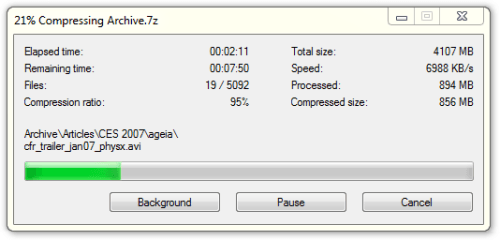 Typically, storage, above any other benchmark, is going to show variances throughout each run. But, our results remained consistent here across multiple OS restores, and in the end, neither board truly comes ahead in either ATTO or 7-Zip. But for what it's worth, the P7P55D-E PRO shaved at least 10s off, compared to its older brother, the non-E.
SiSoftware Sandra 2009 SP4
Like Futuremark, SiSoftware is another company that needs no introduction. As far back as I can remember using Windows, I was using Sandra to check up on my machine, and to stress it. Over time, the company has added in numerous ways to benchmark your PC, and there's pretty much nothing it can't tackle. The company even recently added in GPGPU benchmarking, so they're really on top of things.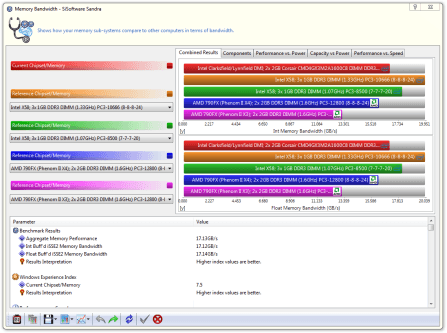 There's nothing out of the ordinary here with any of the results, although it seems rather clear that when dealing with SSDs, the storage performance can vary quite a bit from board to board and situation to situation.
Gaming: CoD: World at War, Crysis Warhead, 3DMark Vantage
While some popular game franchises are struggling to keep themselves healthy, Call of Duty doesn't have much to worry about. This is Treyarch's third go at a game in the series, and a first for one that's featured on the PC. All worries leading up to this title were all for naught, though, as Treyarch delivered on all promises.
To help keep things fresh, CoD: World at War focuses on battles not exhaustively explored in previous WWII-inspired games. These include battles which take place in the Pacific region, Russia and Berlin, and variety is definitely something this game pulls off well, so it's unlikely you'll be off your toes until the end of the game.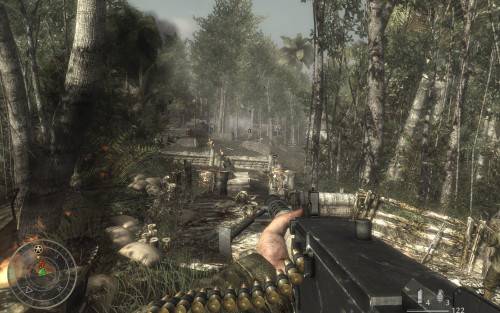 For our testing, we use a level called "Relentless", as it's easily one of the most intensive levels in the game. It features tanks, a large forest environment and even a few explosions. This level depicts the Battle of Peleliu, where American soldiers advance to capture an airstrip from the Japanese. It's a level that's both exciting to play and one that can bring even high-end systems to their knees.
Crysis Warhead
As PC enthusiasts, we tend to be drawn to games that offer spectacular graphics… titles that help reaffirm your belief that shelling out lots of cash for that high-end monitor and PC was well worth it. But it's rare when a game comes along that is so visually-demanding, it's unable to run fully maxed out on even the highest-end systems on the market. In the case of the original Crysis, it's easy to see that's what Crytek was going for.
Funny enough, even though Crysis was released close to a year ago, the game today still has difficulty running at 2560×1600 with full detail settings – and that's even with overlooking the use of anti-aliasing! Luckily, Warhead is better optimized and will run smoother on almost any GPU, despite looking just as gorgeous as its predecessor, as you can see in the screenshot below.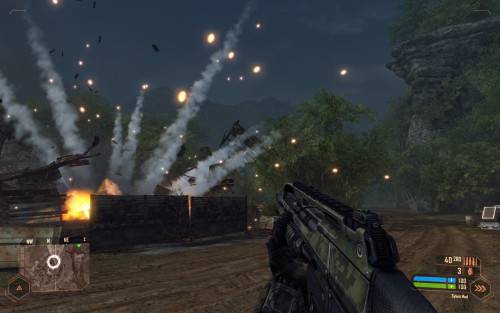 The game includes four basic profiles to help you adjust the settings based on how good your system is. These include Entry, Mainstream, Gamer and Enthusiast – the latter of which is for the biggest of systems out there, unless you have a sweet graphics card and are only running 1680×1050. We run our tests at the Gamer setting as it's very demanding on any current GPU and is a proper baseline of the level of detail that hardcore gamers would demand from the game.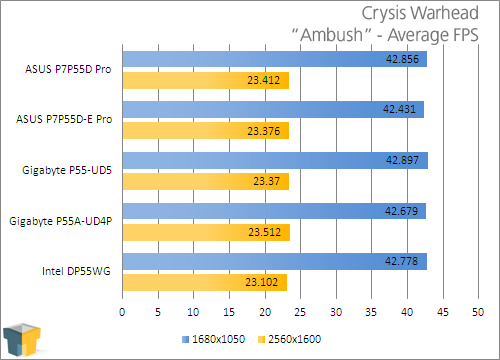 Futuremark 3DMark Vantage
Although we generally shun automated gaming benchmarks, we do like to run at least one to see how our GPUs scale when used in a 'timedemo'-type scenario. Futuremark's 3DMark Vantage is without question the best such test on the market, and it's a joy to use, and watch. The folks at Futuremark are experts in what they do, and they really know how to push that hardware of yours to its limit.
The company first started out as MadOnion and released a GPU-benchmarking tool called XLR8R, which was soon replaced with 3DMark 99. Since that time, we've seen seven different versions of the software, including two major updates (3DMark 99 Max, 3DMark 2001 SE). With each new release, the graphics get better, the capabilities get better and the sudden hit of ambition to get down and dirty with overclocking comes at you fast.
Similar to a real game, 3DMark Vantage offers many configuration options, although many (including us) prefer to stick to the profiles which include Performance, High and Extreme. Depending on which one you choose, the graphic options are tweaked accordingly, as well as the resolution. As you'd expect, the better the profile, the more intensive the test.
Performance is the stock mode that most use when benchmarking, but it only uses a resolution of 1280×1024, which isn't representative of today's gamers. Extreme is more appropriate, as it runs at 1920×1200 and does well to push any single or multi-GPU configuration currently on the market – and will do so for some time to come.
Like the vast majority of our benchmarks throughout this review, neither motherboard totally overcomes the other in terms of performance, and gaming isn't much different.
Overclocking ASUS' P7P55D-E Pro
Before we get into our overclocking results, allow me to clarify how we do things. In order to declare an overclock as "stable", we stress it as hard as possible for a certain period of time, both with CPU-related tests and also GPU-related, to conclude on what we'll be confident is 100% stability throughout all possible computing scenarios.
For the sake of CPU stress-testing, we use LinX. Compared to other popular CPU stress-testers, LinX's tests are far more gruelling, and proof of that is seen by the fact that it manages to heat the CPU up to 20°C hotter than competing applications, like SP2004. Generally, if the CPU survives the first half-hour of this stress, there's a good chance that it's mostly stable.
If the CPU stress passes without error, then GPU stress-testing begins, in order to assure a system-wide stable overclock. To test for this, 3DMark Vantage's Extreme test is used, with the increased resolution of 2560×1600, looped nine times. If this passes, some time is dedicated to real-world game testing, to make sure that gaming is just as stable as it would be if the CPU were at stock. If both these CPU and GPU tests pass without issue, we can confidently declare a stable overclock.
Overclocking with ASUS' P7P55D-E Pro
For some reason, ASUS didn't include the TurboV EVO overclocking tool as it had with the P7P55D PRO, and it's unfortunate, as it was quite nice. For those who might not have caught that article, why the program rocked is that it didn't give you some wimpy overclock, but something really impressive. It might not have been entirely stable, but it certainly wouldn't be far off the mark.
With this board, ASUS included Intel's Extreme Tuning application instead, which is fine, but it's not near as nice to deal with as the TurboV EVO, and for the most part, it's a lot more manual. For anyone wanting to get a decent overclock out of the machine, the painless way is to just stick to the BIOS. If you're not into the whole overclocking thing, then just choose a preset. If you want to go higher, then the option is there.
As mentioned many times before, I can't seem to accomplish a truly impressive stable overclock lately due to heat, so I primarily wanted to find an overclock that would remain stable through a few runs of Cinebench, and here, that sweet spot was 4.33GHz. We didn't quite hit the 4.4GHz that we managed on Gigabyte's P55A-UD4P, as no matter what I did, Cinebench would error on each launch. But bringing things down a few notches smoothed that out.
I should stress that I really don't recommend the settings I used to accomplish this, because most of it was in the red (as in, dangerous). One example is the 1.45v CPU voltage. Hopefully you'll be able to achieve just as impressive an overclock, but just with a little less juice.
Power Consumption, Final Thoughts
It goes without saying that power efficiency is at the forefront of many consumers' minds today, and for good reason. Whether you are trying to save money or the environment – or both – it's good to know just how much effort certain vendors are putting into their products to help them excel in this area. Both AMD and Intel have worked hard to develop efficient chips, and that's evident with each new launch. The CPUs are getting faster, and use less power, and hopefully things will stay that way.
To help see what kind of wattage a given processor draws on average, we use a Kill-A-Watt that's plugged into a power bar that's in turn plugged into one of the wall sockets, with the test system plugged directly into that. The monitor and other components are plugged into the other socket and is not connected to the Kill-A-Watt. For our system specifications, please refer to our methodology page.
To test, the computer is first boot up and left to sit at idle for five minutes, at which point the current wattage is recorded if stable. To test for full CPU load, LinX is run with 2560MB memory usage for a total of five minutes. During that run, the highest point the wattage reaches on the meter is captured and becomes our "Max Load".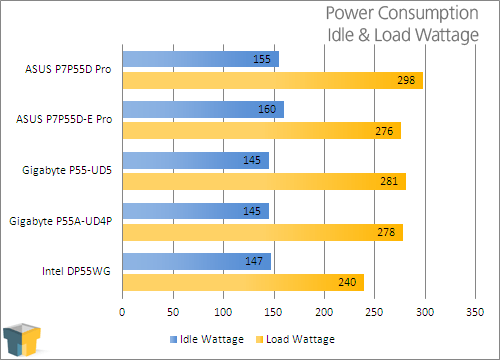 It appears as though the added functionality of S-ATA and USB 3.0, and also the PLX chip, adds a bit to the overall power consumption of the board, as the P7P55D-E PRO draws 5W more at idle. Interestingly, though, it draws far less power at load, so I'd consider this to be a win overall.
Final Thoughts
As you would expect from a $190 offering, the P7P55D-E PRO lacks nothing, either from a features or performance standpoint. I found it a bit odd that the board scored a bit lower in our SYSmark VideoCreation test, but that wasn't reflected throughout the rest of the review, so it's hard to knock it for that. In some cases, it even performed better than the other boards, while most often it came out on par, as we'd expect.
This board is special for a few different reasons. The first is that it supports both S-ATA 3.0 and USB 3.0, and with the PLX chip, it means that your primary graphics card will still run at PCI-E 16x. I'm still unsure how important this is in the grand scheme, and I'm not sure which GPUs would perform worse at 8x (I haven't been able to test up to this point, due to a lack of 3.0 devices), but, this is one thing ASUS has over Gigabyte, and it looks good on them.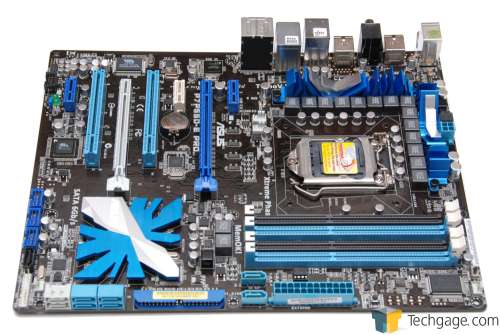 A couple of weeks ago, I would have said that Gigabyte is the only one to offer P55 boards with the 3.0 technologies at a decent price-point, but ASUS has released new models since then and changed that, this board included. At $190, it's one of the company's first sub-$200 boards that support those features, and I'm glad to see it, because I wasn't sure how long it was going to take.
For those on a tighter budget, but still want ASUS quality and those supported features, another option is the non-PRO version of this board, which retails for around $160. There's no way that a $160 board could be considered "budget", but it's as good as it gets from ASUS right now. There might be one downside on that model, though, as I can't spot the PLX chip there, so that board might not include one. I'm checking with ASUS to see if that's the case, and will update below once I hear back.
As it stands, this is a fantastic motherboard for the price. Performance-wise, it's great, and from a design standpoint, it's ideal. With a fully-built machine, no component should ever be blocking another, and you can tell that real thought went into the layout (you can really tell when the opposite is true). What I like most about this board is that it's a sub-$200 offering that can deliver true S-ATA and USB 3.0 support. With it, enthusiasts don't have to go all out and be stuck with taking the X58 route. If you can swing it, this is a great solution for those with 3.0 products in the game plan.
Dec 14, 2009 Addendum:
ASUS has sent me a couple of clarifications as to some points I made. The first is that PhysX support doesn't always mean a third PCI-E slot, but rather support for a dedicated PhysX card in general. Because of the board's design, ASUS allows for two dual-slot cards to be used, while still leaving 1 PCI and 2 x PCI-E 1x. Also, regarding the lack of an LED BIOS readout, ASUS believes its Q-LED solution is better for most users, as it will help them quickly diagnose which component is failing with LEDs laced around the board.
Regarding the TurboV EVO, even though this isn't to be found on the DVD, it can still be downloaded from the support website and used as usual. Also, regarding the "ASUS Utility" I pointed out on our BIOS page, ASUS had this to say, "The option you see in the bios for ASUS/3rd Party UI Priority is to offer users the most flexibility and stability when working with application that requires bios level/GPIO access. If using Turbo V EVO you should have it set to ASUS if you using something like SETFSB, Memset, CPU Tweaker these should be set to 3rd Party.".
One thing I failed to tackle was fan control, which is one improvement that the P7P55D-E PRO has over the original. This is a combination software/hardware solution, and gives the user great control over their fan configuration. Lastly, the non-PRO version of this board does not include a PLX solution, which is why ASUS is promoting this board more.
Discuss this article in our forums!
Have a comment you wish to make on this article? Recommendations? Criticism? Feel free to head over to our related thread and put your words to our virtual paper There is no requirement to register in order to respond to these threads, but it sure doesn't hurt!
Copyright © 2005-2020 Techgage Networks Inc. - All Rights Reserved.