ASUS P8Z77-V DELUXE Motherboard Review

Date: August 6, 2012
Author(s): Rob Williams

Want a motherboard that won't have you wishing you chose differently? There are plenty of reasons why ASUS' P8Z77-V DELUXE deserves your consideration. It's a feature-packed board that gives you everything you'd hope for in a motherboard – and then throws in some extra for good measure.
---
Introduction
For a price of about $165, we judged that the MSI Z77A-GD55 we took a look at last week is a great solution for those who want a lot of functionality but have a budget to adhere to (let's admit it, that Ivy Bridge CPU you're looking at isn't cheap).
But you feel like splurging. You have an insatiable appetite for media, gaming and perhaps even overclocking. When you build your PC, you want to know that you won't run out of SATA and USB ports. You might want a dual or tri-GPU setup, so keeping those PCI slots clean is imperative. If only there were such a board to accommodate all these wants, right?
Well, of course there is. The option we're taking a look at here is ASUS' P8Z77-V DELUXE. While not as expensive as some of ASUS' top-end offerings, at about $275 this isn't going to be snatched up en masse. But for those who desire an "ultimate" desktop board, this looks to be it.
Before we tackle our tour of the board, let's talk about some of the P8Z77-V DELUXE's biggest features. First and foremost, it offers support for tri-GPU CrossFireX and SLI, so right out of the gate this is a gamers' board as much as it is a multi-media board.
Two things this board includes that most others don't is built-in WiFi (802.11 a/b/g/n) and Bluetooth (4.0). While WiFi is a need-it-or-don't solution given nothing beats a wired connection, the lack of Bluetooth on desktop boards has long baffled me. Our phones, tablets and other mobile devices are equipped with it, and with this board, you'll be able to connect them to your PC without the use of an add-in card or adapter.
As packed as this board is with various components, the actual feature list itself is much longer and would require its own article to exhaust. For those looking for a lot more detail, I recommend checking out the official product page as it does a good job of covering it. I'd also recommend checking an article we published a few months ago where we discussed some of the biggest features.
A feature that ASUS is quite proud of is SMART DIGI+, one comprised of two separate chips on the board; one being TPU (TurboV Processing Unit), the other EPU (Energy Processing Unit). Both work in conjunction with other board components to accomplish two goals: be as energy-efficient as possible, and enable the best possible performance (overclocking included). ASUS states that because of its SMART DIGI+, you'll be able to run your processor at a given frequency with less voltage, in turn keeping temperatures cooler and your power bill smaller.
The other feature I wanted to touch on here is Fan Xpert 2, responsible for the best fan control on the market. With it, you're able to keep your PC as quiet as possible, helped by the "Auto Tuning" mode which ramps up each fan individually in order to monitor its full RPM range. All of this can be fine-tuned with the included Windows software and EFI, so if you're a cooling or noise nut, you're going to be in heaven.
Alright, let's get back to a look at the board itself.
The P8Z77-V DELUXE includes 8x SATA ports, 4 of which are SATA 6Gbit/s (two driven by Intel's chipset, the other by the Marvell 9128 controller). An additional two 6Gbit/s ports are found at the back in the form of eSATA (driven by ASMedia's controller). Also at this corner of the board is a BIOS LED code readout, useful in the event of frustrating boot/POST issues.
In the shot below we can see all seven PCIe slots, four of which are 1x. ASUS' product page touts quad-GPU being possible on those board, but I'm not quite sure how that's possible with only three slots, and I haven't seen a 1x GPU recently. If you do want to go the tri-GPU route, you'll want to have a chassis that leaves ample room at the bottom of the board. In this same area, the power / reset on-board buttons can be found.
Chips ahoy!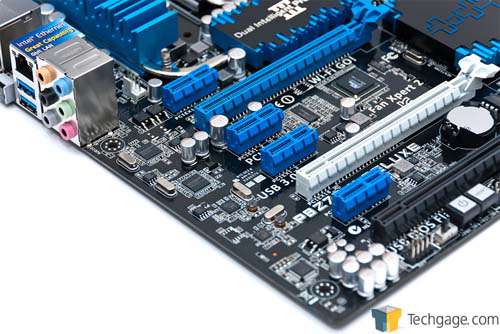 Around the CPU socket we can see a large collection of power phases and a clean-looking heatsink towering over them all. Compared to the MSI board we looked at last week, things are a bit more crowded here, but all large coolers should still be able to be installed without issue. One thing that should be pointed out here are the convenient fan headers; two 4-pins at the top and another above the top-most PCIe 1x slot.
Like all other Z77 boards with four DIMM slots, this one supports up to 32GB of DDR3 memory. In this same area, two more 4-pin fan headers can be found, along with the MemOK! switch (helps with booting if a kit of RAM is being stubborn) and the TPU switch (disabled, it doesn't auto-OC your CPU; enabled, it does).
Remember earlier when I mentioned this board was packed to the brim with USB ports? That's evidenced at the back, with ten in total to choose from. All of the 2.0 ports have been relegated to the top, which is where your mouse and keyboard should be plugged in. Alongside these ports, there's an HDMI and DisplayPort, dual LAN (one is Intel), dual eSATA and then full audio.
The "BIOS" button found here allows you to overwrite the BIOS in the event of an extreme overclock that went awry, or when you need to update it without CPU or memory connected. You simply plug in a FAT32 thumb drive with the BIOS file on it, push the button in and then power on for it to do its thing (a boon for system builders, I'm sure).
Included with the board are six SATA cables, the WiFi module, Q-Connectors (to ease the pain of plugging in the ATX chassis connectors), back I/O panel, SLI bridge and various documentation.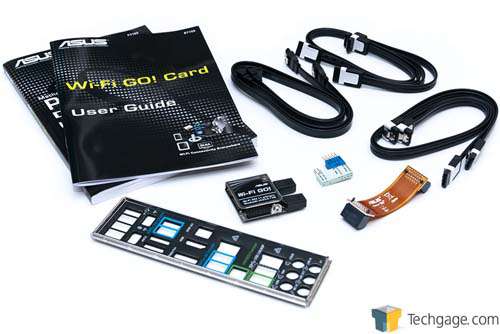 If you plan to use the on-board WiFi, you'll have to install the above module and then connect these antennas once the system is all built. Even without these antennas, the WiFi picked up all of my internal networks with at least 2 out of 5 bars. Hooked up, I had a constant, stable connection. If you'd rather opt for Thunderbolt rather than WiFi, you'll be able to swap it with a new add-in module ASUS will release in the near-future.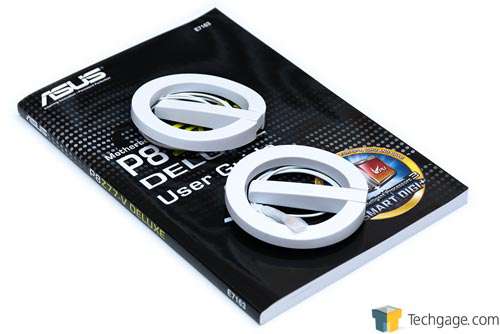 I mentioned at the offset that this was one packed board, and these pictures have proved it. What will prove it even further is when you own the board and you need to install the drivers. I can honestly say I don't remember the last time I've installed so many drivers for just one motherboard – a lot of ground is covered, that's for certain.
ASUS has long been respected for having some of the best EFI implementations out there, so let's take a look to see how things stand with this P8Z77.
ASUS P8Z77-V DELUXE's EFI
If the screenshots below look familiar, it might be because ASUS used an almost identical EFI on its last generation boards. The fact that much has remained the same isn't a bad thing. Out of the gate, ASUS offered a robust, easy-to-use – and not to mention good-looking – EFI, and even with competitor options now available, not much has changed.
For reviewers, one thing did change – for the better. Down in the bottom-right corner you'll notice a "Print Screen" option, which, when a FAT32 thumb drive is plugged in, will capture the current EFI screen and save it as a Bitmap to said thumb drive. For reviewers, this allows us to show the EFI off in the best detail possible (and also saves us the hassle of setting up a tripod) and for overclockers, it allows them to share direct screenshots of their setup, either to educate others or boast.
As to the functionality aspect of this EFI, if there's something not offered in here that you either want or need, I'd be surprised. There are what seem like a hundred options related to overclocking alone, and with Fan Xpert 2 bundled in, you could spend a lot of time tweaking around in here if you really wanted to. And best of all, this EFI is easy to navigate either with a mouse or keyboard, thanks mostly to its top-mounted menu system.
Overall, an excellent EFI, with no immediate complaints from me. One could argue that the color scheme isn't quite a as cool as the red one found on RoG boards, but the greenish color here does compliment the "DELUXE" moniker of the board – it might be good for overclocking, but it's designed for everyone.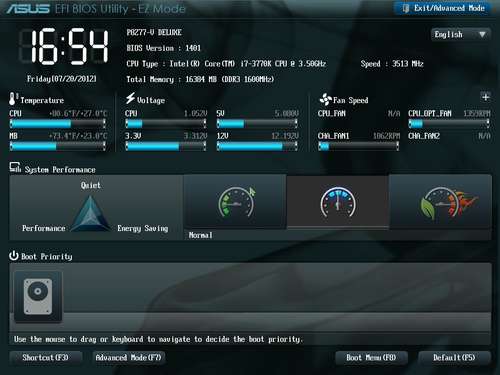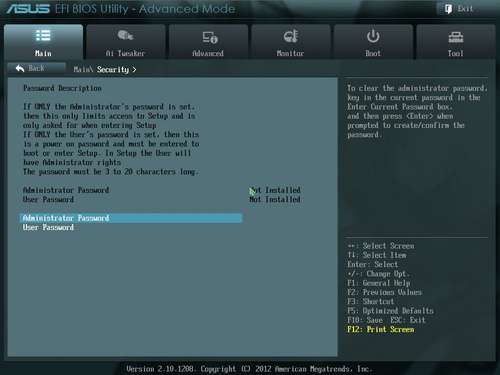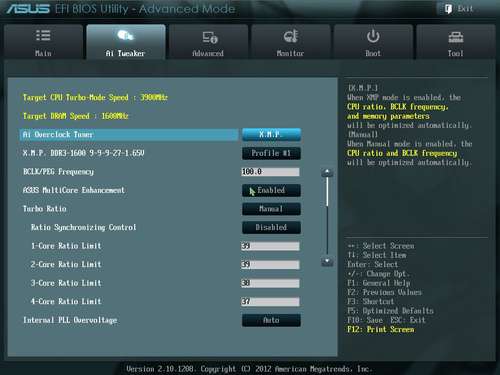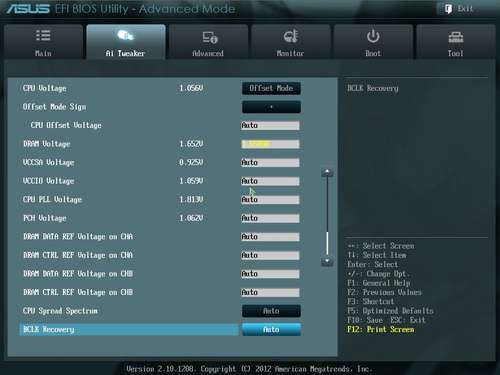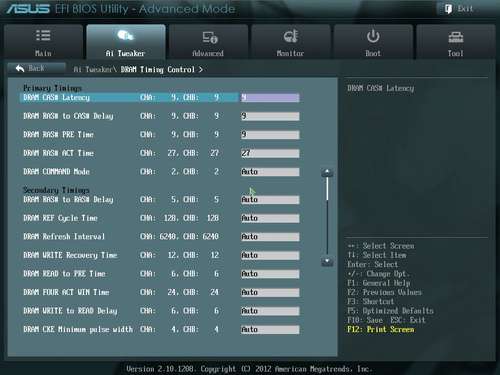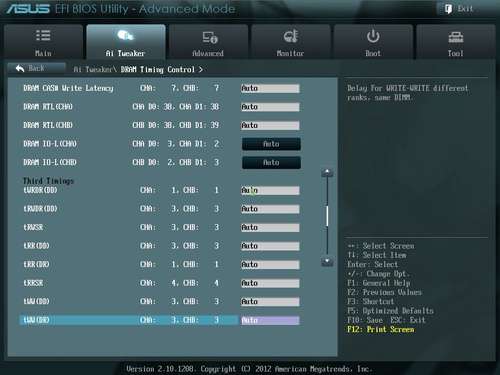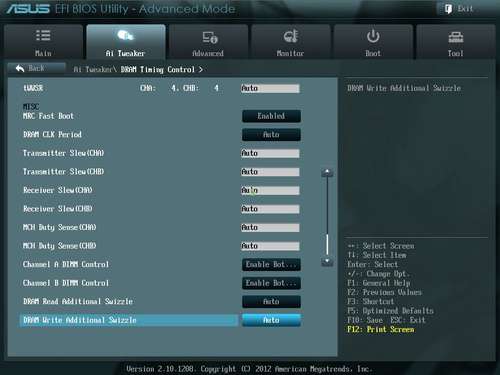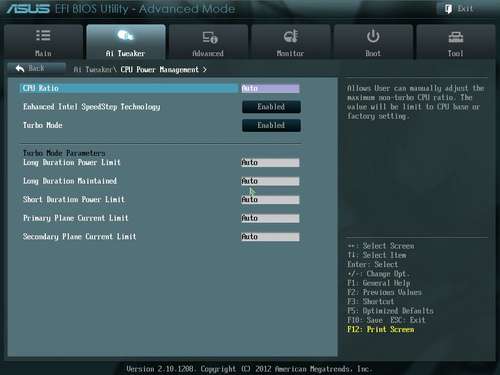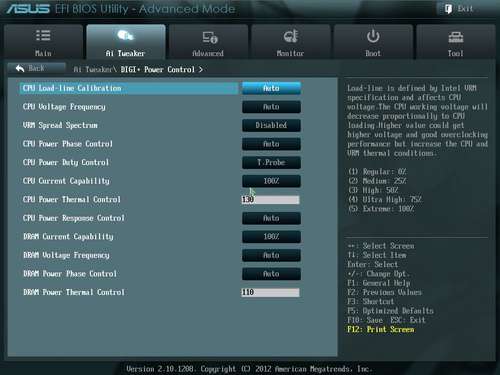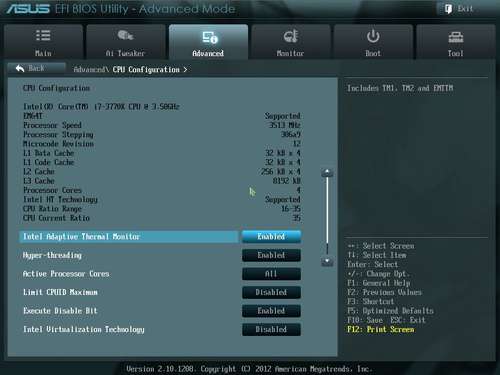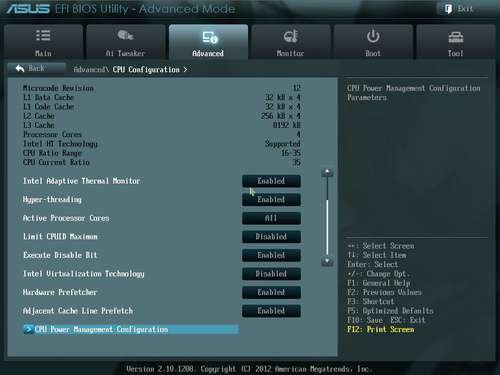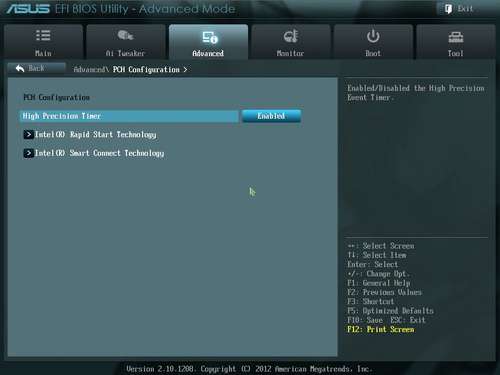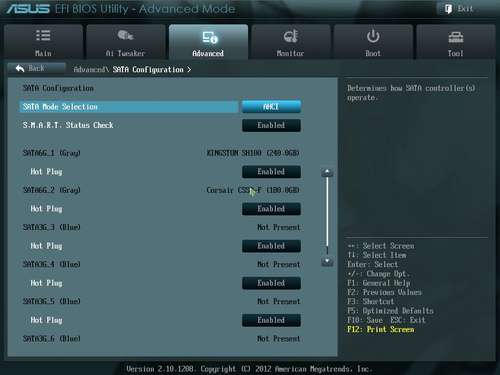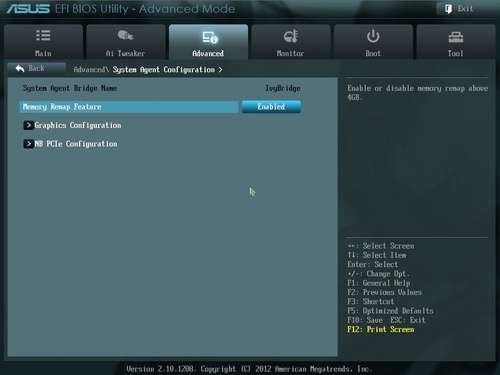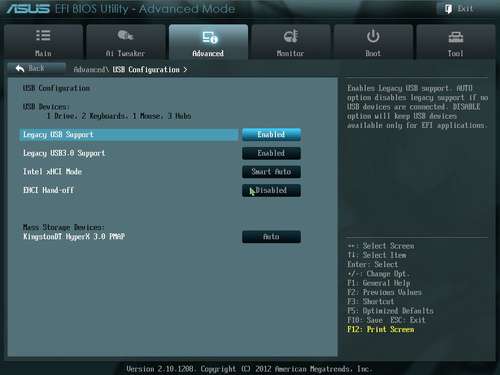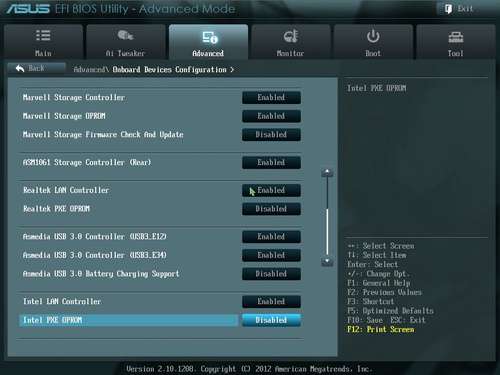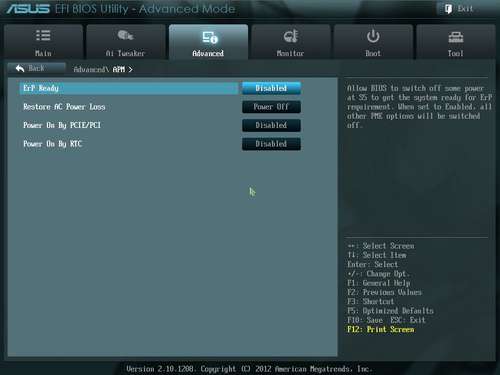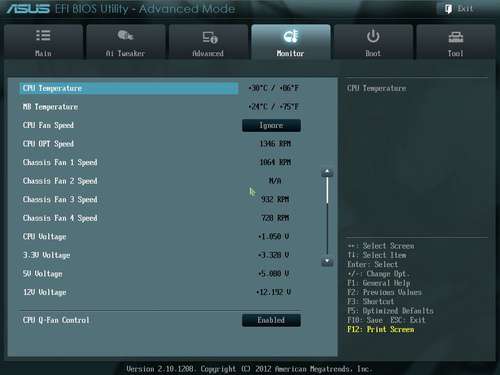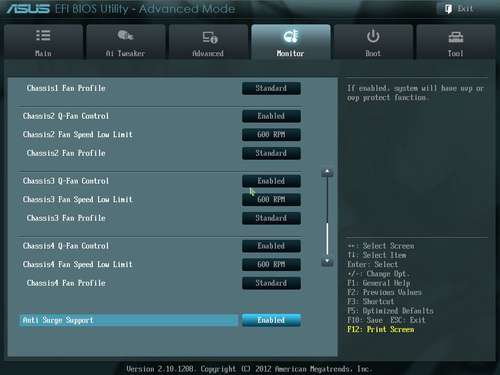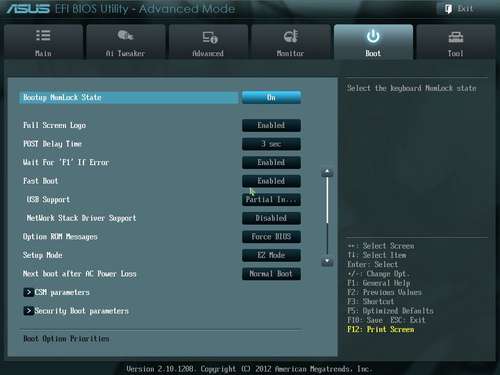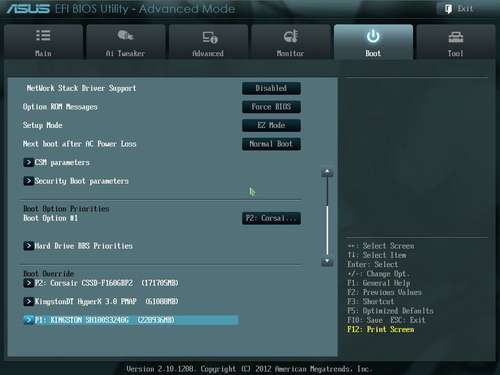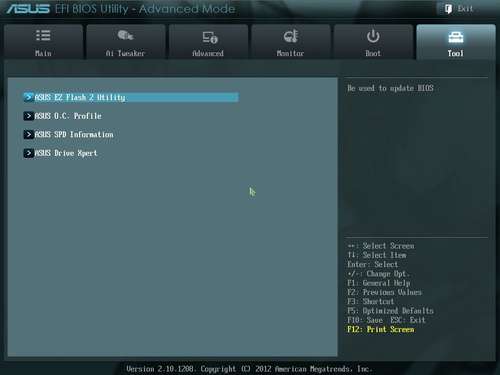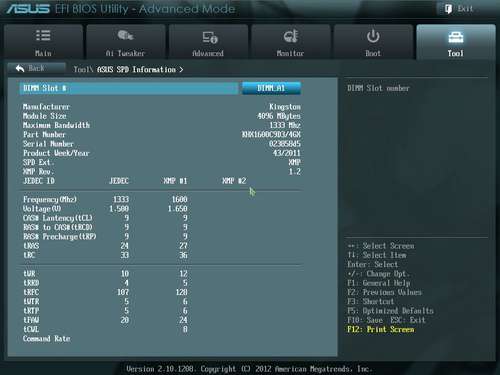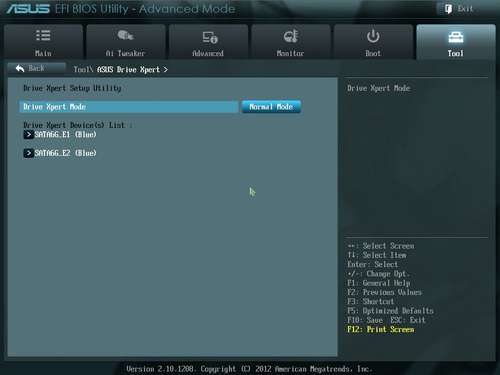 Test System & Methodology; BCLK Values
At Techgage, we strive to make sure our results are as accurate as possible. Our testing is rigorous and time-consuming, but we feel the effort is worth it. In an attempt to leave no question unanswered, this page contains not only our testbed specifications, but also a detailed look at how we conduct our testing.
If there is a bit of information that we've omitted, or you wish to offer thoughts or suggest changes, please feel free to shoot us an e-mail or post in our forums.
Test System
The table below lists the hardware for our current motherboard-testing machine. Each motherboard used for the sake of comparison is also listed here, along with its BIOS version.
Processors
Intel Core i7-3770K – Quad-Core, 3.50GHz, Default Voltage
Motherboard

ASUS P8Z77-V DELUXE (BIOS: '1401' 07/30/2012)
Intel DZ77GA-70K (BIOS: '0049' 07/13/2012)
MSI Z77A-GD55 (BIOS: '1.5' 07/17/2012)

Memory


Kingston HyperX Genesis 4x2GB – DDR3-1600 8-8-8-24 @ 1.65v


Graphics

AMD Radeon HD 7850 1GB (Catalyst 12.7 Driver)

Audio


On-Board Creative X-Fi Audio


Storage


Corsair Force F160 160GB Solid-State Drive (OS Drive)
Kingston HyperX 240 Solid-State Drive (I/O Testing)


Power Supply


Corsair HX850W


Chassis


Corsair Obsidian 700D Full-Tower


Display


Gateway XHD3000 30″


Cooling


Corsair H70 Self-Contained Liquid Cooler


Et cetera


Windows 7 Professional 64-bit

When preparing our testbeds for any type of performance testing, we follow these guidelines:
General Guidelines
No power-saving options are enabled in the motherboard's BIOS.
Internet is disabled.
No virus scanner or firewall is installed.
The OS is kept clean; no scrap files are left in between runs.
Machine has proper airflow and the room temperature is 80°F (27°C) or less.
To aide with the goal of keeping accurate and repeatable results, we alter certain services in Windows 7 from starting up at boot. This is due to the fact that these services have the tendency to start up in the background without notice, potentially causing inaccurate test results. For example, disabling "Windows Search" turns off the OS' indexing which can at times utilize the hard drive and memory more than we'd like.
The services we disable are:
Windows Defender
Windows Error Reporting Service
Windows Event Log
Windows Firewall
Windows Search
Windows Update
Our Windows 7 Desktop for Motherboard-Testing
To ease the tedium of setting up the OS for each round of benchmarking, we rely on Acronis True Image to restore a pre-setup copy of Windows 7 Professional x64. Prior to restoring this image and benchmarking, the OS SSD is securely erased, in order to restore it to like-new conditions. The same applies for our alternate SSD which is used for our I/O performance tests.
Real-World & Synthetic Benchmarks
To help us deliver a well-rounded set of test results for each board, we use a variety of real-world applications and synthetic benchmarks. Our real-world tests consists of 7-zip 9.20, Autodesk 3ds Max 2011, Adobe Lightroom 4.1, Adobe Premiere Pro CS5.5 and Left 4 Dead 2. Our synthetics are Cinebench R11.5, HD Tune Pro 5.0, Iometer 1.1.0, Sandra 2012 SP4, PCMark 7 and 3DMark 11.
All tests are run twice over with the results averaged. If there is an unnatural variance between the first two runs, then we continue to run the test until we receive a result we believe to be accurate.
Actual BCLK (Base Clock) Values
A base clock (BCLK) is an innate frequency value used in conjunction with a multiplier to determine the stock speed of a processor. Defined by Intel, it's up to the motherboard to provide the appropriate value, and for overclocking purposes it can be freely adjusted. But, the free nature of BCLK adjusting can also give vendors a creative method of making sure their motherboard performs just a bit better than the rest, and for that reason, we report on the actual BCLK value of each motherboard with the help of CPU-Z.
Unless there is a clear attempt at cheating, these values should be considered "fun facts" and not much else. Fluctuations of +/- 0.5MHz are not uncommon, and could be the result of features or adjustments in the BIOS or EFI, rather than be deliberately set.
No cheating going on here! With that, let's move right into our first test results.
Overall System: Windows 7 Boot Time & PCMark Vantage
It might not seem obvious, but motherboards play a huge role in the amount of time it takes to boot up and reach a usable OS desktop. While the time it takes to go from the Windows boot logo to a usable desktop will be about the same across each board, the number of components included (chipsets, RAID controllers, et cetera) can greatly impact the amount of time it takes to go from a cold boot to the Windows boot screen.
To see which board can boot into Windows the fastest, we take advantage of our Acronis restore image, and once all of the drivers are installed and the PC is rebooted at least twice, we get down to testing. To do that, we leave the PC turned off for at least a minute, and with stopwatches in hand, begin recording the time as soon as the power button is pressed. We record the total time it takes to reach a usable Windows desktop.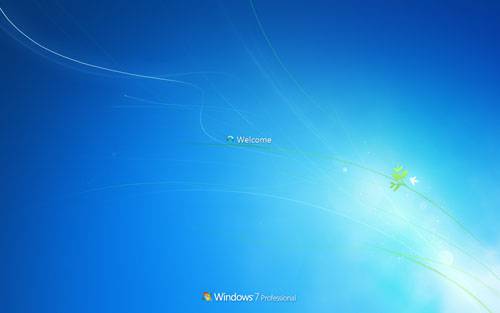 Results like these are one of the best things about current chipsets – OSes almost boot faster than you can even sit down. In our triple comparison here, ASUS comes out just ahead of MSI's board. Intel's, for some reason, lags a fair bit behind (but I'd argue anything less than 30 seconds is great).
PCMark 7
Futuremark's no stranger to most enthusiasts, as its benchmarking software has been considered a de facto standard for about as long as it's been fun to benchmark. While its 3DMark software is undoubtedly the company's most popular offering, PCMark is a great tool for summing up the performance of a PC with gaming being a minor focus rather than a major one.
PCMark 7 runs a total of nine "suites" that test a PC across scenarios that most people can relate to, such as gaming, video encoding, image editing and so forth. The processor is heavily stressed throughout most of these, with the graphics, I/O and memory also playing significant roles.
If you are interested in learning a bit more about how each result is computed, you can download the whitepaper from our servers here (700KB PDF).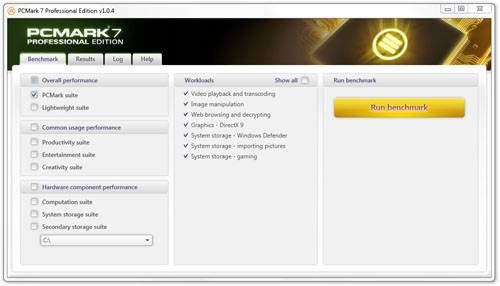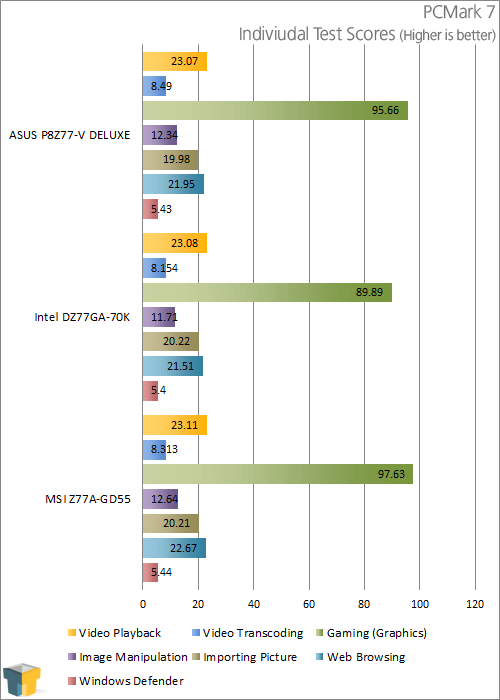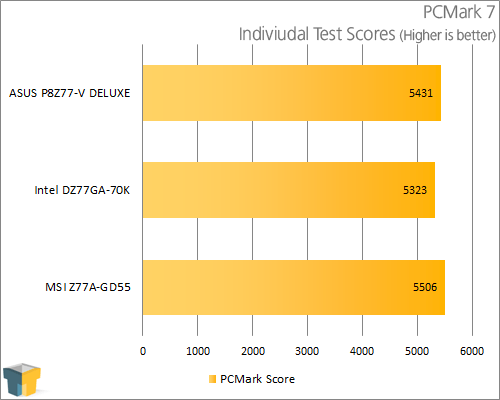 ASUS beat out MSI in the previous test, but MSI inched ahead here.
Overall System: Autodesk 3ds Max 2011 & Cinebench R11.5
Autodesk offers a mind-blowing number of software production tools, but for those who are looking to build complex 3D models and scenes, it's 3ds Max that stands at the forefront. First launched in 1995 as '3D Studio Max', the program has since become a standard within some important industries, including architecture design, gaming development and film production.
For our test, we render a scene commissioned from Bulgarian artist Nikola Bechev, entitled "Naomi: The Black Pearl". The woman is comprised of over 7,000 polys with the entire scene totaling just over 106,000 vertices. Three light sources are used, with the entire scene being enhanced with HDR and ray tracing techniques, and subsurface scattering applied to certain objects. The scene is rendered at 1800×3600 as a production release, with HQ detail levels being used all-around.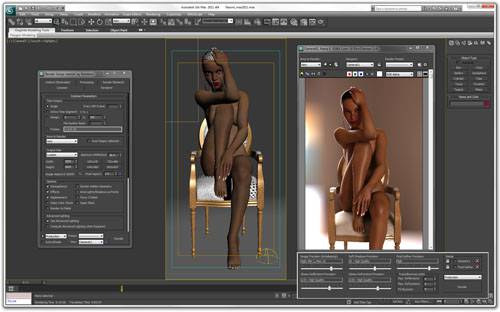 Both ASUS and MSI once again came out even.
Cinebench R11.5
Like Autodesk's 3ds Max and Maya 3D tools, Maxon's Cinema 4D is a popular cross-platform 3D design tool that's used by new users and experts alike. Maxon is well-aware that its users are in need of some rather beefy PC hardware to help speed up rendering times, which is one of the reasons the company itself releases its own benchmark, Cinebench.
There are a couple of reasons we like to use Cinebench in our testing. For one, it's freely available for anyone to download, unlike our Autodesk-based tests. Second, it has the capability to scale up to 64 threads, which means we'll easily be able to rely on it until the next version hits. As a faster CPU can also help improve the GPU computational pipeline, we also like that it includes an OpenGL benchmark as well. The fact that the benchmark completes in mere minutes is another perk.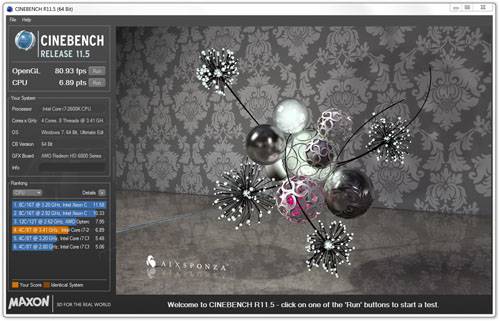 Interestingly, while ASUS and MSI evened out in the previous test, it was ASUS that took the lead here – at least in the CPU test; the OpenGL result is even.
I/O Performance: HD Tune Pro 5.0 & Iometer
For those looking to purchase a new motherboard, storage performance likely isn't something that immediately comes to mind, but the fact of the matter is, optimizations can be made, and also higher-quality controllers be enlisted, in order to deliver I/O performance that puts one board above the rest. While a little more difficult to spot prior to SSDs, thanks to today's super-fast Flash-based devices, we can indeed see some notable differences between the various motherboards we bench with.
For as long as Techgage has existed, HD Tune has remained a static part of our virtual toolbox. The reasons for this are simple. First, it's super-reliable, and second, it offers an unparalleled ease-of-use. It's also highly configurable, but as we're simply testing the I/O for motherboards here, we stick to the main "Read" benchmark, which provides us both min/max/avg results along with the all-important access time.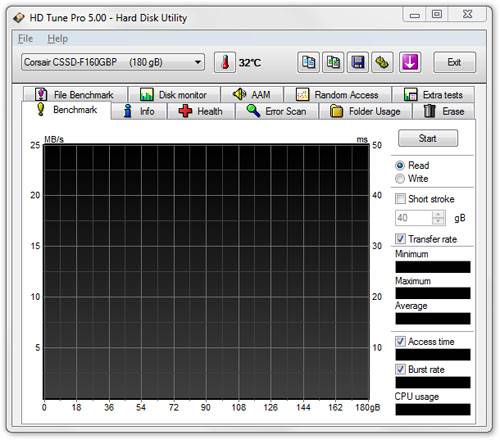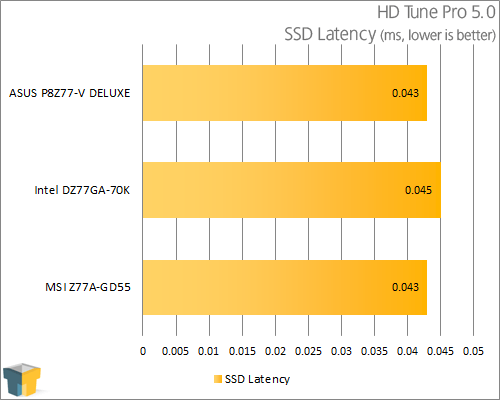 Sometimes, our test results can be strange or random, to no fault of our own; a good example of that can be seen here. ASUS lead with the best Maximum score, but MSI beat it out in the Minimum and Average tests.
Iometer 1.1.0
While HD Tune is a superb tool for allowing us to benchmark a storage device in a variety of ways, Iometer is a bit more of a serious tool, allowing us to create our own tests and fine-tune them to our liking. It also outputs the performance as IOPS (in/out operations per second), allowing us to see which motherboard can handle a greater number of I/Os.
If a motherboard has more than one SATA chipset, we default to SATA port 0, unless there exist SATA 6Gbit/s ports that happen to be numbered higher. The goal is to use the fastest SATA port available on the motherboard, as that's the one most people will use for their OS drive.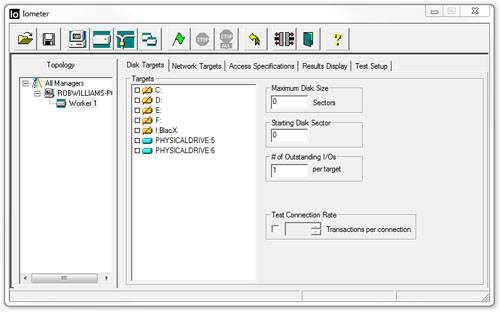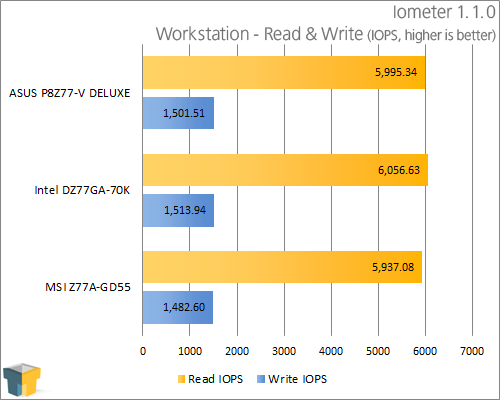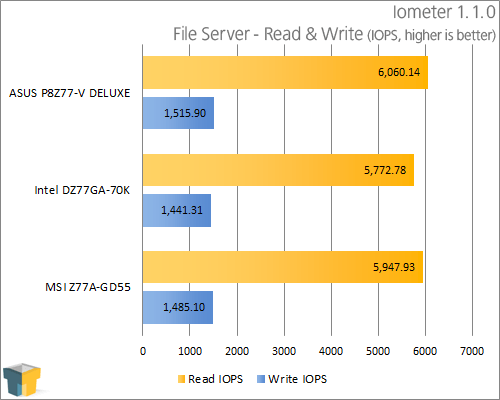 ASUS has proven itself to be the strongest here, with the odd exception of the Intel board which managed to surprise us with the Workstation test.
I/O Performance: 7-zip & Ethernet
When hard drives densities measured in the megabytes or single-digit gigabytes, data compression became something that even the layman computer user took advantage of. In fact, even entire hard drives could be used in compressed mode to help increase the overall storage. Today, such methods aren't required thanks to hard drives ranging in the thousands of gigabytes, but compression is still used on a regular basis by many people, either for storing a folder for backup, encoding music, converting a photo and et cetera. On servers, compression is often used to shrink mega-large log files.
For our compression testing, we enlist the help of 7-zip 9.20. We take a 772MB folder that consists of 39,236 highly-compressible files and archive it using an 'Ultra' level of compression using the ZIP algorithm. This results in an archive weighing in at about 137MB.
A span of one second doesn't matter much when we're dealing with a mere 20, so all boards here performed just about the same. MSI does get the nod overall, though.
Ethernet Performance
To some, a LAN port is a LAN port, but for those who take networking seriously, there's can be major differences between one chipset and another. While some may handle a 100GB transfer before slowing to a crawl, another might not even reach 20GB – and trust me, we've seen that sort of difference in our personal machines here.
Benchmarking Ethernet performance and getting reliable results is tough, and we in fact don't believe there is a "perfect" methodology to it, as many variances can come into play from run to run. Plus, it's difficult to replicate the kind of stress where a NIC might stall, because while the first five runs might be fine, it could be the sixth that decides to die out.
Our test server is my personal PC, featuring Intel's Core i7-980X processor, 12GB of Kingston RAM, Windows 7 Ultimate x64 and also Intel's server-grade I340 network card. A network card such as this is an important piece of the equation, as it's in most regards "overkill", meaning that it cannot become a bottleneck when testing on-board solutions.
To both stress-test and benchmark our network we use a cross-platform tool called "Iperf", and for the sake of easier testing, opt to use a Java-based GUI front-end called JPerf. We run two different tests here, with one using 64KB sized packets (a standard test) and another using 1518KB packets (typical of HTTP transfers). Each of these tests opens up 50 connections between the client and server, simulating a true server-like workload.
Note: Performance is just half the equation where NICs are concerned. While one might out-perform another, that doesn't tell us anything with regards to the predicted lifespan of a given model. Based on the personal experience of both myself and Jamie, we've been able to conclude that overall, Intel's NICs are much more reliable over time.
All of the boards here use the same Intel chipset, so the similar results are of little surprise. Great performance all-around.
Applications: Adobe Lightroom; Adobe Premiere Pro & Sandra 2012
Photo manipulation benchmarks are more relevant than ever given the proliferation of high-end digital photography hardware. For this benchmark, we test the system's handling of RAW photo data using Adobe Lightroom 4, an excellent RAW photo editor and organizer that's easy to use and looks fantastic. You can check out our full review of the program here.
For our testing, we take a total of 500 RAW files spread across 250 .NEFs captured with a Nikon D80 and 250 .CR2 captured across a Canon 40D and 5D Mark II. We export all of these files to a glossy-sharpened quality 90 JPEG resized to a resolution of 1.5 megapixels. The test is timed indirectly using a stopwatch as the program doesn't record the duration itself.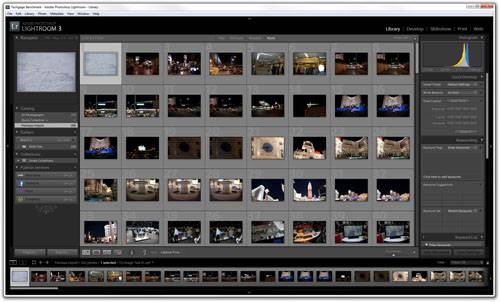 Returning back to the theme of earlier, ASUS speeds on ahead while MSI trails close. Intel, again, falls quite a bit behind the others.
Adobe Premiere Pro CS5.5
With our 3D modeling and rendering tests out of the way, let's dive right into another popular use for high-end machines: video editing and encoding. Scenarios here could include encoding a large movie into a mobile format, ripping a Blu-ray to your PC and encoding it for HTPC use, or encoding a family video you painstakingly edited.
Adobe's Premiere Pro likely needs no introduction. It's a tool used by the amateur and professional video content creator alike due to the extreme control it provides along with all of the important codecs, presets, filters and tweaking options. Premiere Pro can be used for any sort of video, be it real-life, animated, 3D or even game footage.
For our benchmarking, we encode 35GB worth of game footage from Payday: The Heist, to H.264 Blu-ray 1080p/30. The resulting video can be seen at YouTube.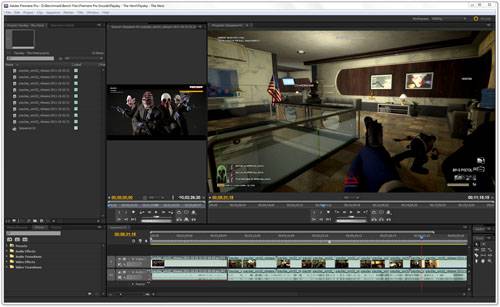 ASUS and MSI keep trading punches here, but both could be considered equal by any reasonable person.
Sandra 2012 SP4
SiSoftware's Sandra is a piece of software that needs no introduction. It's been around as long as the Internet, and has long provided both diagnostic and benchmarking features to its users. The folks who develop Sandra take things very seriously, and are often the first ones to add support to the program long before consumers can even get their hands on the product.
As a synthetic tool, Sandra can give us the best possible look at the top-end performance from the hardware it can benchmark, which is the reason we use it for our memory tests – both for transfer and latency.
As expected, all of the boards performed close to one another. ASUS fell behind the others where memory bandwidth is concerned, but proved itself with a improved latency. Both MSI and ASUS equaled their cache bandwidth.
Gaming: Futuremark 3DMark 11 & Left 4 Dead 2
Game benchmarks stand to see the least amount of gain in comparison to our other tests, but they're necessary for the sake of introducing GPU performance into the mix. Also, while we benchmark hands-on for our graphics card content, we opt for synthetic testing here, as we're utilizing the same components across each motherboard.
First up is the ever-popular 3DMark benchmark, which we run using the "Performance" (1280×720) profile. A major benefit of this benchmark is that it stresses not only the GPU, but the CPU as well, thanks to its heavy-duty physics tests.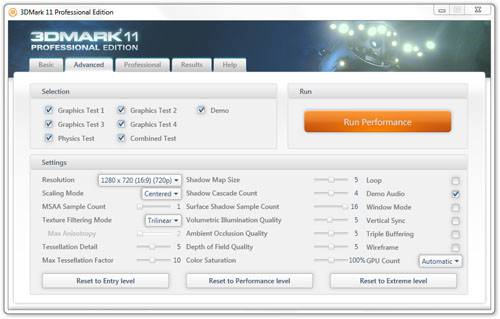 Left 4 Dead 2 – Techgage Timedemo
For as long as Valve's Source engine has existed, its performance has scaled well with CPU clock speeds, and for that reason we used to use Half-Life 2 in both our CPU and motherboard tests. With Left 4 Dead 2, CPU scaling is no longer the case, with a variance of a 1GHz CPU clock speed unable to change our average FPS results at all. Thanks to this, Left 4 Dead 2 is an ideal benchmark for our motherboard testing, since we can see if there is an issue with the GPU performance by singling it out directly.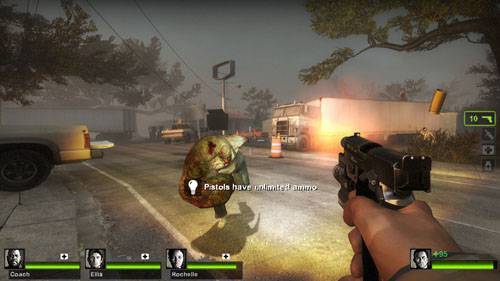 Both 3DMark 11 and Left 4 Dead 2 results are pretty even across the board. It's hard to declare an actual winner, but what's important is that none fell behind.
Final Thoughts
If a single motherboard could make me forget my need for six cores, it'd be the P8Z77-V DELUXE. I don't believe that a "perfect" motherboard exists, or ever will, but this one comes awful close. In other words, I don't remember when a board impressed me as much as this one did.
"The full package" would be an appropriate way to describe this board. It doesn't just offer the functionality we'd expect, but piles on things we didn't even realize we'd like, such as Fan Xpert 2. The board looks great, offers a ton of peripheral connectivity, has an easy-to-use EFI, includes six 4-pin fan headers and offers good overclocking ability – at the very least.
Though I didn't focus on overclocking in this article (due to time), I did dabble a bit with it when I first received the board. You can expect to reach 4.5GHz just using the "Auto" settings, whereas 1.225~1.250v CPU should get you a bit higher. I didn't have much luck getting a truly stable 4.7GHz setting, but I don't doubt that it can be done. I am still waiting to hear back from ASUS on its recommended settings for 4.5GHz+ clocks.
Some motherboards are designed to offer people as much as possible for as little as possible, which means a lot of things are going to be left out. In the case of the P8Z77-V DELUXE, the audience targeted is a bit different. The goal here is to give those willing to invest a bit more a motherboard that offers all they need – and then a bit more for good measure. We're not only talking hardware here, either, but on-board and software technologies brewed in-house at the ASUS HQ. I keep going back to Fan Xpert 2, but it's an excellent feature and one I wish we saw long ago.
As evidenced by the Z77 launch, I believe that no company innovates on the motherboard front at the moment like ASUS. This is one of the reasons a board like this stands out. Competitors will disagree, but it's true. When we visited ASUS' HQ in Fremont earlier this year, I regretted not bringing my notebook inside because there was way too much information to retain in one sitting. Most of what I learned there wasn't just about evolutionary changes, but brand-new features that impressed. Lately, it's rare when I get wowed over motherboard technology, but when it happens, it's usually ASUS' name behind it.
If in the market for a "do-it-all" board, this one is a no-brainer as long as its $275 price-tag doesn't break the bank. It's the sort of board that makes me want to build a machine even when I don't need it, so it's safe to say we'll be keeping it near for regular internal testing.
Pros
Fantastic feature-set, both hardware and software.
Top-rate performance.
WiFi and Bluetooth.
Lots of flexibility (USB, SATA, future Thunderbolt option).
USB 3.0 Boost and Fan Xpert 2 are excellent features.
Compatible with Windows 8.
Cons
We're still trying to think of one.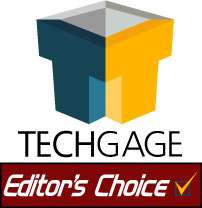 ASUS P8Z77-V DELUXE
Discuss this article in our forums!
Have a comment you wish to make on this article? Recommendations? Criticism? Feel free to head over to our related thread and put your words to our virtual paper! There is no requirement to register in order to respond to these threads, but it sure doesn't hurt!
Copyright © 2005-2020 Techgage Networks Inc. - All Rights Reserved.