ASUS Republic of Gamers Convention: Part 2

Date: August 13, 2008
Author(s): Greg King

The ASUS RoG Con is done and over with, so we take a look back at what made the weekend so great. Depending on who you ask, the LAN was a great success, with nobody leaving without some sort of swag in their hand. But, there was so much more to it than just that. Will we see another? We sure hope so.
---
Introduction
With the first annual ASUS RoG Con in the books, and one article already up for your viewing pleasure, the LAN as a whole was a mixed bag of opinions for us. Starting last Friday, August 8th and running into the early evening on Sunday the 10th, RoG Con was a weekend full of activities, gaming and pizza. Having been to our fair share of smaller LANs, we know the work that goes into these events born out the labor of a handful of volunteers.
Most parties like Asylum LAN in southern Indiana and Stompfest in Indianapolis are labors of love for the few that organize setup and ultimately tear down the venues. RoG Con on the other hand, while still staffed full of workers, was backed by some of the biggest names in the industry. Organized and primarily sponsored by ASUS, the LAN party was a force to be reckoned with from the start. Adding Intel, ATI, Kingston and BenQ into the mix only made the experience that much more promising.
As it turned out, only a few hundred people showed up for the tournament (my best estimate, I could be wrong) and with so many seats unfilled, the ballrooms looked extremely empty. While surely disheartening to the sponsors, this was actually a blessing as it meant for swag for everyone in attendance and as many of you know, there are few things that LAN party attendees love more than good old fashioned swag.
One of the other advantages of having so many high profile sponsors was the extras that each company brought with them. As our previous article outlined, Intel had their rFactor setup that we've seen so many times at CES, Kingston had an impressive booth allowing the attendees to get their back sides handed to them by gamers who are paid to do just that and BenQ allowed everyone to Wii-it-up on their latest projectors (which looked incredible). ATI even had a booth allowing anyone to walk up and have a word with their employees as well as sit a spell and play some Wii, appropriately powered by an ATI video chip.
As we touched upon in our first article, ASUS was showing off anything and everything Eee. In attendance were the ASUS Eee 900, the 901 and the nicest offering so far, the 1000. I spent sometime with each of these, mostly with the 901, and while I would hate to work on any of these for extended amounts of time, I do see the inherent value in their diminutive size. The operation of the netbooks was simple and to the point and even locked down, their weight could be immediately appreciated as well.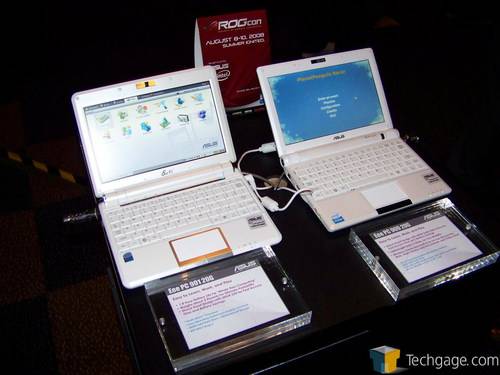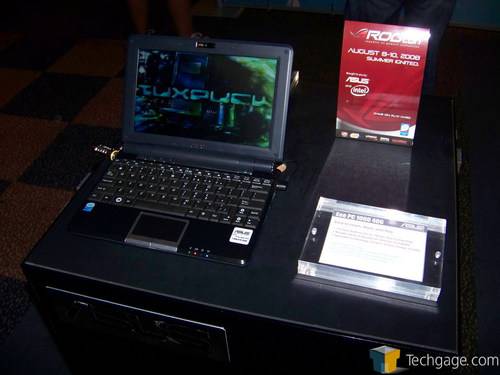 Making another appearance out in public was the XG Station, ASUS' attempt in expanding the graphical power of any external PCI-E equipped notebook by adding another video card to the system. We first saw this at CES and the attention it garnered was well deserved. Gaming on notebooks has been a long time negative on all but the most expensive laptops and even then, performance hasn't exactly been top notch when compared to their desktop counterparts. ASUS has wanted to help alleviate this low point by providing an external solution, thus we have the XG.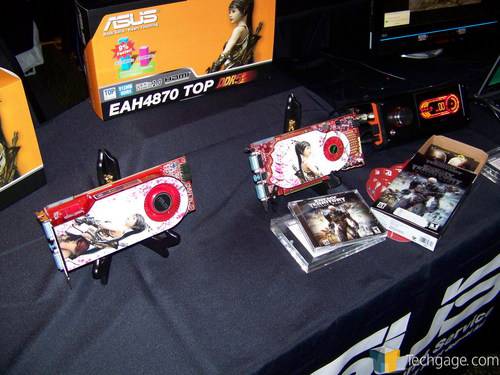 One of the best displays was the SFF Falcon Northwest FragBox. The front of these PCs deserve best of show consideration wherever they show up.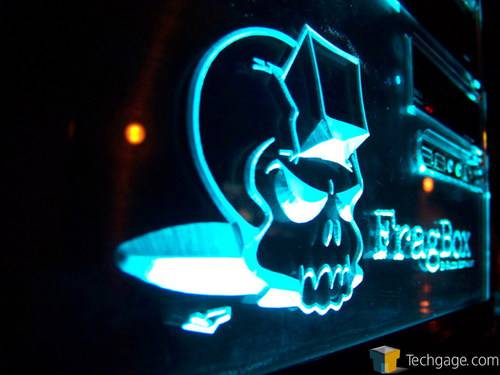 Moving back to the Eee Box nettop machine, I am amazed how good of a job ASUS has done on this machine. While I personally never bought into the hype surrounding the Eee notebook once the pricing started to creep up, I can't help but think how nice the Eee Box would look in my home. Providing a good amount of connection options, including wireless, the Eee Box is a winner all around based upon my initial experiences with it at RoG Con.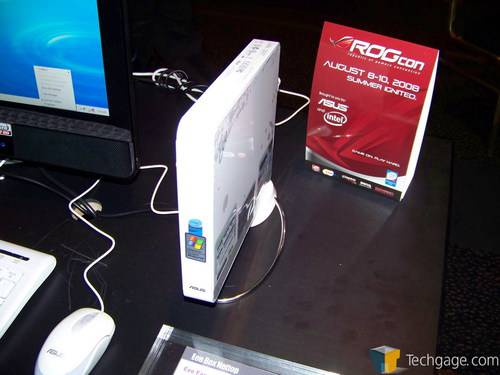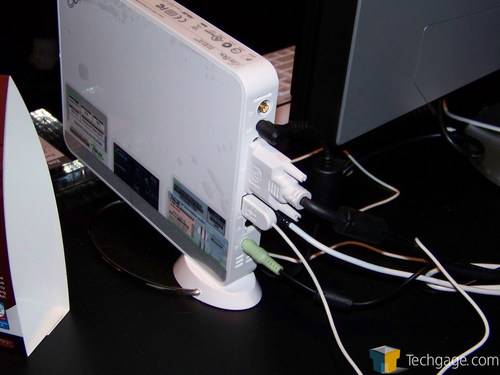 Once the workshops started, things got interesting. Finally chances arose for the attendees to get their hands on the swag they desperately wanted. On hand was Kingston, giving a quick demonstration on how to overclock memory. Also, ATI hopped up on stage to talk about their new lineup of 48xx video cards, which clearly got the crowd excited.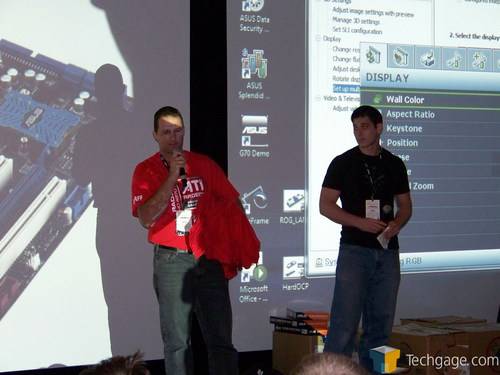 Next up was Intel. Giving everyone a quick reminder of Larabee, and discussing their dominance of the high end CPU market, Intel's talk was brief but as a sponsor, they were entitled to their time on stage.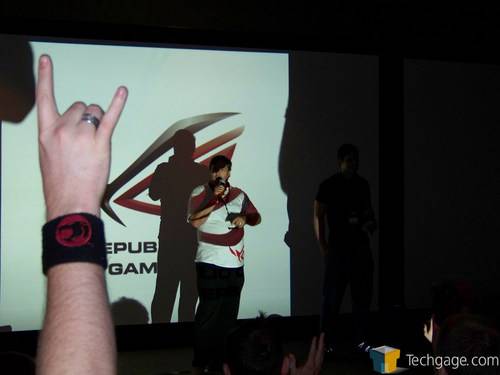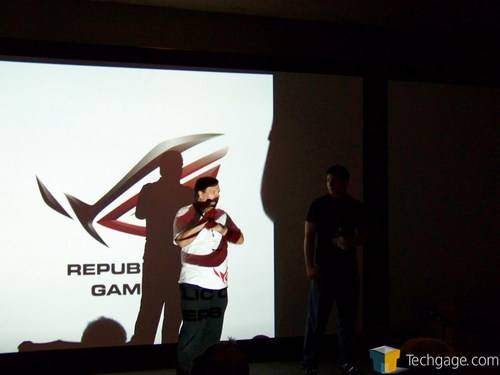 While the swag at this point was kept to a minimum, no one complained with BenQ tossed out actual soccer shirts.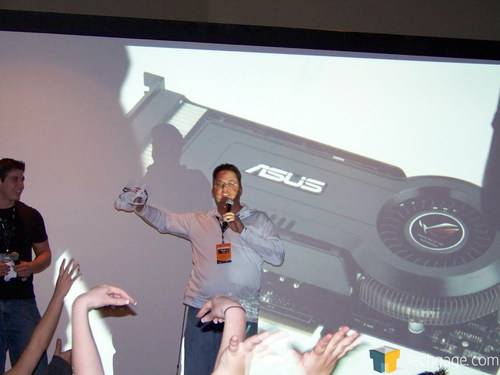 Kingston did a very good job of breaking down the functionality of memory overclocking and their entire workshop was clearly beneficial for most everybody who listened to it.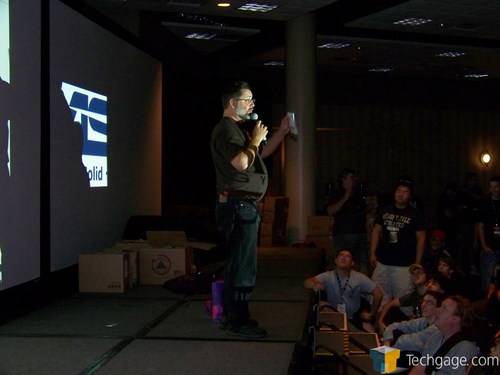 It should be said that Kingston was pretty good at out handing out the swag too!
Final Thoughts
While Intel, Kingston, ASUS and BenQ were a lot of fun to listen to, the star of the show was Kyle Bennett, of Hard|OCP fame. The initially huge news from the LAN came a few days prior when ASUS announced that Kyle had personally purchased everyone in attendances' seats, ensuring that each person who came to RoG Con was doing so free of charge.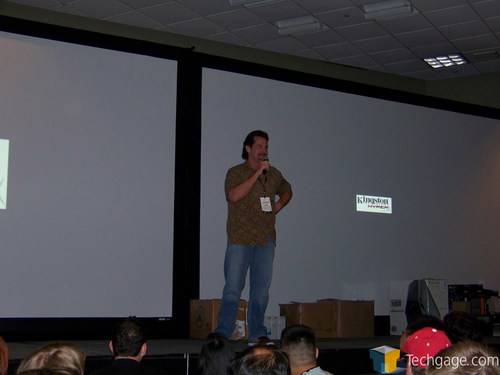 Think what you will about Kyle, and I certainly had my reservations coming into the workshop, but the man knows what he is talking about. This was demonstrated time and time again when he would field a question and then go into great length explaining his answer. There were a few questions that drew his sarcastic side but even in giving the person who asked the question a hard time, he then would approach the actual answering of the question with fairness to all involved.
He pulled no punches whether he was discussing NVIDIA, AMD, Intel or ATI. It was an enjoyable session that was followed by what can only be described as an orgy of swag. Kyle brought with him video cards both awesome and bad, power supplies, cases and peripherals. BFG was kind enough to send along 600 t-shirts as well. With only a fraction of that number in attendance, this provided every single person with at least 2 shirts. Not a bad haul.
In the middle of Kyle's workshop (Q&A), he invited both Corsair and NVIDIA to come up and discuss a few things related to specific questions regarding GPUs and memory. NVIDIA came up and started to show off their implementation of PhysX (which can now be downloaded for all owners of 8800 series cards and above!).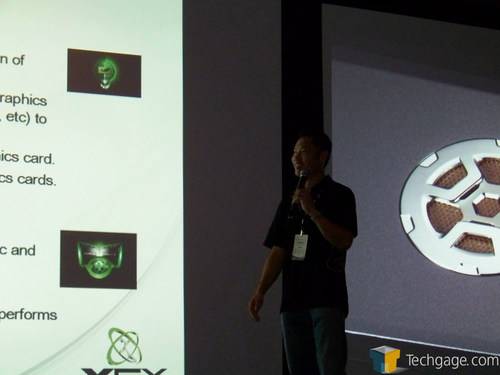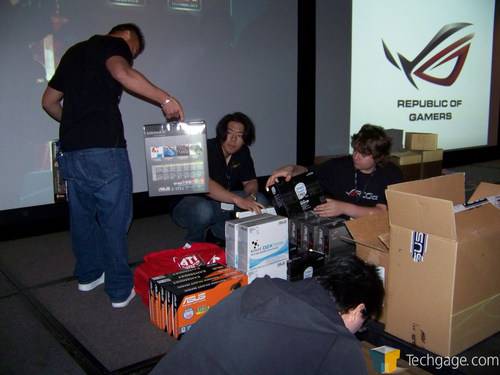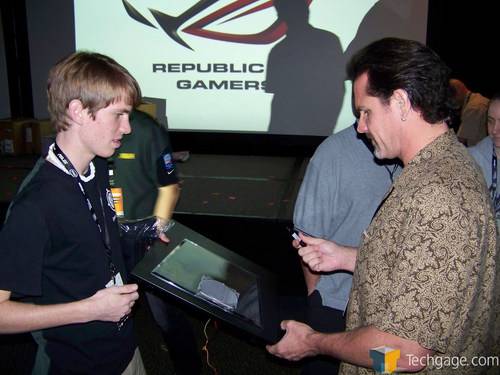 After Kyle, ASUS gave away A LOT of good hardware. Included were motherboards (RoG boards at that!), Xonar sound cards, Intel extreme edition processors, video cards and of course shirts. They then held a Jeopardy game with the winner getting one of each! Sans a case and power supply, one lucky winner walked away with a pretty nice PC.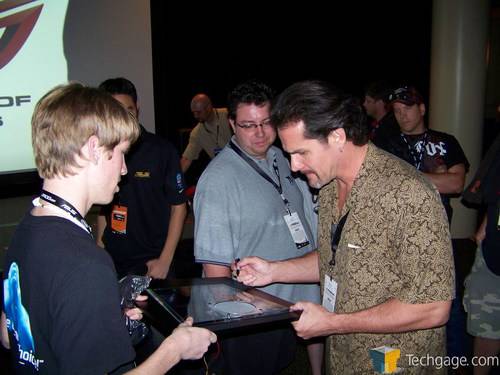 Once everything was said and done, and the masses were queuing for the BFG shirts, one of the coolest things I saw all weekend took place. When one attendee walked up to Kyle with his PC side panel and asked him to sign it, Kyle asked his name and proceeded to sign the door. While this doesn't seem like much, and in the grand scheme of things it isn't, I can guarantee that the kid with the side panel won't soon forget what Kyle did for him and I'm sure he's displaying it proudly now.
At the end of the LAN, when I was heading to the airport, I looked back and considered myself lucky to have been in attendance. This wasn't a regular LAN. It wasn't a QuakeCON. This was as if ASUS came to Asylum LAN and brought their marketing might with them. This had a grassroots feel to it that I can't imagine we will see in the next RoG Con.
I think a lot of this can be contributed to ASUS not doing a very good job of marketing the event but if you ask anyone in attendance, I don't think you will find that they minded all that much. Tourneys were played and tourneys were won. When everything wrapped up on Sunday, every single person walked away with something. Either it was a shirt or in some cases, gaming notebooks.
It was a success for everybody involved and while ASUS might have been upset at the number of gamers that actually showed up, the atmosphere was a positive one that ensured everyone that wanted to speak with representatives of their favorite companies had the chance. From a books standpoint, I am sure ASUS' accountants are pissed but I can't see this going down as anything but a resounding success. While larger is sometimes better, in the case of last weeks LAN, a smaller, more intimate atmosphere was just was we all needed.
Thanks to ASUS, Intel, Kingston, BenQ and Hard|OCP for everything that they gave to this event to make it what it was… a great time for all.
Discuss in our forums!
If you have a comment you wish to make on this review, feel free to head on into our forums! There is no need to register in order to reply to such threads.
Copyright © 2005-2020 Techgage Networks Inc. - All Rights Reserved.