Your Gateway To The Hybrid Cloud: ASUSTOR AS5202T NAS Review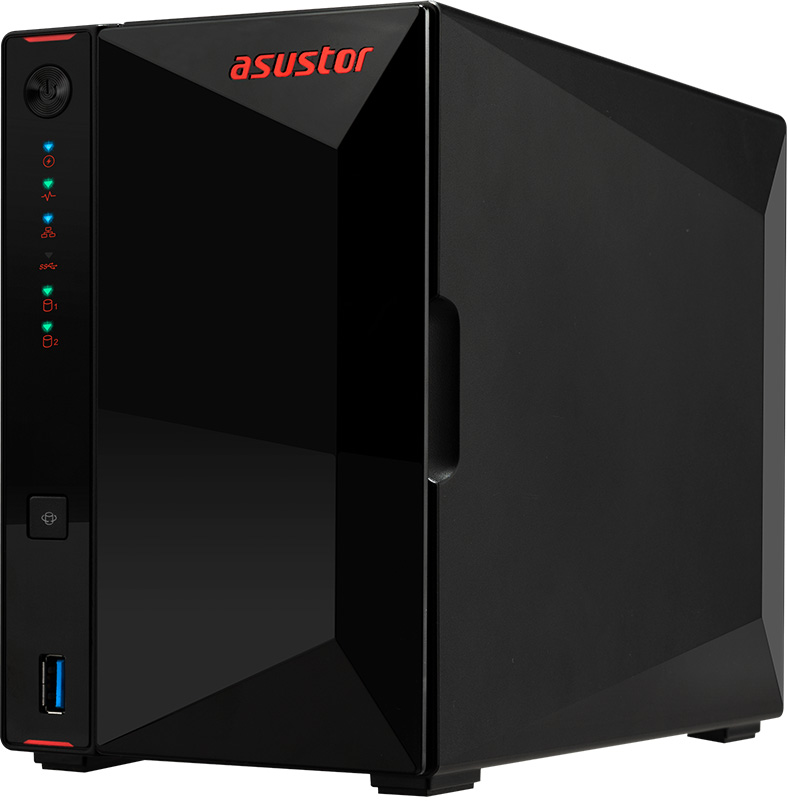 Date: August 20, 2019
Author(s): Tom Roeder

Rule number one of data storage: back it up! This rule applies in every IT shop on earth, and it should apply to your home networks, as well. Today's cloud offerings are vast and feature-rich, but the public cloud isn't always the Holy Grail. When combined with on-site data storage, such as with a NAS, you greatly bolster your backup strategy.
---
ASUSTOR AS5202T NAS Review
Skip this part if you already know that you need a NAS. If you are unsure, this part is for you!
What is a NAS? NAS stands for Network Attached Storage, and it really is as simple as that. A NAS is a storage device that can be failure-tolerant (having a hard drive fail and not lose any data), and is accessible via network connections to anyone who needs it.
NASes can range in capacities from a few hundred gigabytes to thousands of terabytes, all depending on the storage drives used, the number of bays, and the particular configuration (RAID 0,1,5,10, etc.)
NASes over the years have become far more feature-rich, offering apps and services to further enhance their utility. Apps like DataSync for Google Drive, OneDrive, and Dropbox, to name a few, are able to connect your NAS to those cloud services to perform backups – backups that are a failsafe if something were to happen to your premises (natural disaster, fire, long-term power outage, hackers, etc.) Using a cloud-based service as a backup for your NAS is a great way to protect your data.
Why do you need a NAS? This really depends on your use case.
Are you equipping a small office, a one-man-shop, home office, or maybe you are (like me) a data hoarder? You probably should have a NAS if you answered yes to any of these scenarios. But again, why? Why not just hook a hard drive up to the USB port on your router and have your users connect to it that way? A NAS is going to handle multiple traffic streams better than a USB drive, perform better, and has far more features than a USB drive (as well as redundancy).
Some folks are 100% cloud-based, and simply don't have the need or desire for on-premise storage. All of their users just use laptops or other endpoints, store everything in the cloud, and even run all of their apps in the cloud.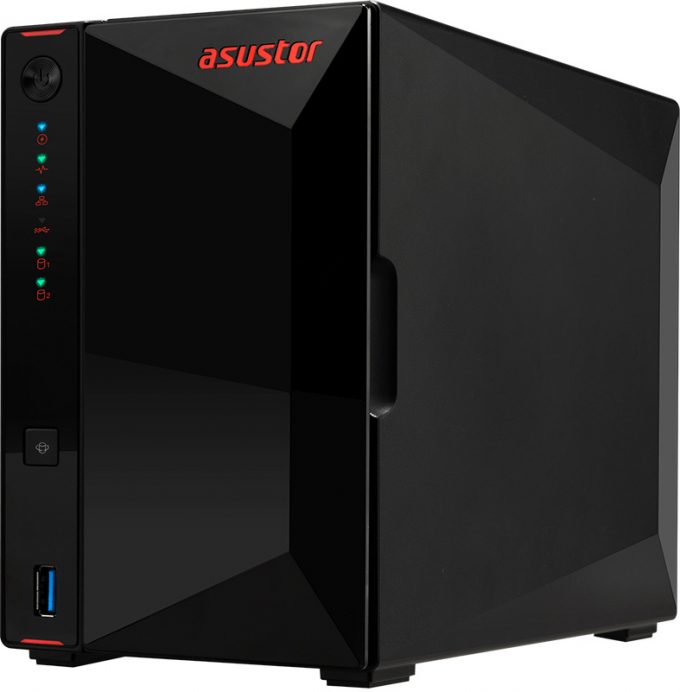 I won't lie, the cloud has many attractive offerings, and just as attractive marketing to go with it. Cloud providers are doing everything they can to convince you that the cloud is the answer to all of your problems… and for many, it really is! The reality with the cloud is, you are taking many things out of your control, which, depending on your business needs, could be a blessing, but some are finding out it can be a curse.
Let's take a look at some of the benefits of the public cloud (AWS, Google, Azure, etc):
Elasticity – the cloud can grow or shrink as your business data needs do, with just a few mouse clicks.
Guaranteed performance.
Regulatory compliance.
Antivirus and other data protection / encryption.
Data tiering for cost savings (cold data can be stored CHEAP).
The cloud isn't all sunshine and rainbows though, and there are many businesses repatriating from the cloud; here are some of the reasons why:
Backups may be slower.
Restores may be much slower.
Higher Internet utilization and reliance.

Do you really want your ISP and its reliability dictating your production uptime?
Perhaps you're already stretching your pipe as-is?

Getting data back from the cloud can be costly and takes a very long time – which is by design.

Cloud companies don't want you to leave, so they are known for making repatriation from the cloud as painful as possible without being sued.

You will face outages that are completely out of your control.

Cloud reliability is excellent, but who wants to have someone else's mistake be the reason you can't access your valuable production data?
I know that I am probably showing my bias as a "hardware on-premises" kind of guy, but I think that the best approach is a more hybrid solution: leverage the strengths and value of both, which is where a fully-featured NAS like the ASUSTOR AS5205T really shines: being able to store your data with great performance and resiliency on-prem, but push incremental backups to the cloud.
Now that we have the basics of what a NAS is and why they are so popular, let's get into taking a closer look at our review of the ASUSTOR AS5205T.
Visual Tour
NASes aren't the most exciting pieces of tech aesthetically, and that is fine. Most NASes look very much the same: black boxes with minimal styling. The ASUSTOR AS5202T is a two-bay NAS with tool-less drive carriers and are compatible with 3.5″ or 2.5″ drives.

The AS5202T offers an open RAM slot, allowing you to upgrade to up to 8GB of DDR4 RAM. A single USB port is on the front with the front-facing IR detector for the remote. A single 70mm fan resides in the rear of the unit, along with two more USB ports, HDMI, power, and the two network adapters.



The AS5202T has two 2.5Gbps network connections, and does support Link Aggregation for load balancing and redundancy. Which means you can enable both NICs to allow for multiple connections to get the most throughput out of the NAS, or you can configure them for redundancy, so that if you have a port or cable failure, the second connection will save the day. If you have redundant switches, you can send one connection to one, and the other connection to the other; there are many ways you can take advantage of the dual NICs.

Full details and specs are available in the table below.
ASUSTOR AS5202T NAS
Processor
Intel Celeron J4005 CPU @ 2.00GHz
RAM
2GB DDR4-2400MHz SODIMM
Max Supported: 8GB (2x4GB)
Drive Bays
2 (Max of 14 with expansion unit)
Ethernet
x2 2.5 Gigabit
Link Aggregation & Failover support
I/O
3x USB 3.0 ports
1x HDMI 2.0a
Infra-red
Cooling
1x 70mm fan
Filesystem
EXT4 or Btrfs
RAID Types
JBOD, RAID 0, 1
Price
$329
Initialization
Bringing the ASUSTOR AS5205T online is as easy as powering it on, opening your browser, and following the on-screen instructions. When it comes to your RAID selection, this is really pretty simple, being as this is just a two-drive bay NAS. If you want to learn more on RAID types, here is another one of our articles you can can check out.
In a two-drive NAS, there are only two RAID choices, 1 and 0, or as we see on the screen options, Maximum Capacity (RAID 0) or Balanced (RAID 1). RAID 0 is never recommended, as it offers zero data protection. If you have one of your drives fail, you lose all your data. RAID 1 means your data can survive a drive failure without data loss.
You are also given the choice of what type of file system you would like. You can choose ext4 or Btrfs. Without going too far into the weeds, some users may prefer ext4, but Btrfs is far superior for this type of deployment, because Btrfs allows for taking snapshots that we can restore from later, it is far superior in detecting data corruption, among many other things. Here is a link if you would like to know more.
Once that is set, the rest of the setup is pretty easy. The choice of Home/Personal Applications or Business Applications just chooses what apps to pull down for the NAS as it sets up, you can always skip this portion if you like, and of course setup Active Directory ACLs.
Performance
This NAS comes with dual 2.5Gbps NICs, which at this price point it is a nice upgrade from the standard 1Gbps, provided you have a network faster than 1Gbps. I only have access to 1Gbps networking here at home right now, so this is the only speed I can test at.
I did some basic performance testing, large-file copy and write and found these speeds to peak at the natural limit of 1Gbps networking, which is 113MB/s – to be expected. If performance is critical, I would recommend going with at least a 4-bay NAS with 10Gbps networking. The more disks, the more IO you can get from the disks, but if you are on 1Gbps, the number of disks means less for performance. However, all of these things equate to a higher price tag. In a nutshell, this NAS performs very well given its specs (which are more than adequate for small-offices and home networks).
Usage & Final Thoughts
This ASUSTOR AS5202T has all of the main components necessary to be successful: It's easy to install, setup, deploy, and it does what it was designed to do. This can be successfully deployed and maintained by folks with even a modest skillset. You don't have to be a guru to use this.

Its built-in features are extensive, far too many to list, but here is a link if you would like to see them all. This NAS features x86 processing, meaning you have a lot of options for apps, which means your NAS becomes more than just a storage target, but also a standalone computer to perform tasks that you may not want anything else on your network to handle.

Perhaps you are a home user, and you want to have a dedicated box to handle your torrents and PLEX server? You can do all of that with this NAS, thanks to the plethora of apps offered. For torrents, you can choose the most popular apps like Transmission, qBittorrent, Deluge, uTorrent and others.



VirtualBox is an application that gives you a lot of flexibility. It's Oracle's free virtualization platform, so you can run VMs straight on your NAS. Now, we have to remember that we don't have a lot of RAM to play with here; in fact at idle, we only have about 800MB free, so you can't go crazy with RAM (unless you add more, of course). There is also a Docker app, if you want to run containers. If you want to know more about containers, here is a great Spiceworks link you can follow.

There are a lot of apps for the ASUSTOR AS5202T that can probably satisfy all of your backup needs, to have that hybrid-cloud approach that I mentioned earlier. Dropbox, Google Drive, OneDrive, ASUS WebStorage, just to name a few.

You can easily connect an external USB storage device and easily backup data to that. EZ Sync Manager (included) can easily sync data to other computers, iOS and Android devices seamlessly. Rsync capabilities instantly make this NAS a backup server for anything that also has Rsync capabilities. You can also have this NAS serve as a Time Machine server for any OS X or macOS devices you may have.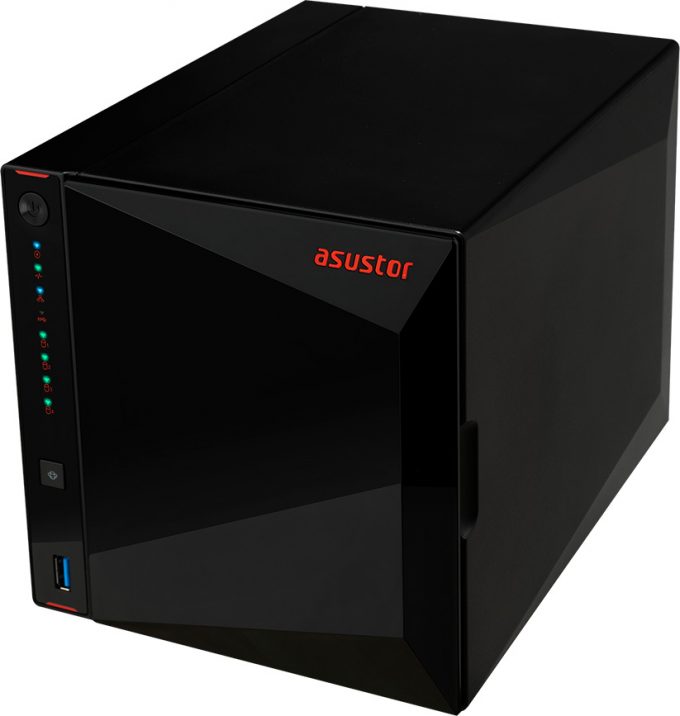 Security is well-covered also, as this NAS has a built-in firewall, ASUSTOR's own ADM Defender for additional network protection. Internal data can be protected with AES-256 folder encryption as well as antivirus software, and you can also enable 2-factor authentication.
You can also have this NAS serve as a surveillance system, with 4 free camera channels included. It's thankfully compatible with a wide range of cameras, and supports up to 36 camera channels total. You can monitor these cameras directly from the NAS thanks to the HDMI port on the back. This also means you can actually use this NAS as not only a media server, but also a media player, possibly replacing the need for an HTPC (depending on your needs, of course) and use a remote control if you wish, thanks to the IR receiver on the front.
This NAS almost has too many features to cover in one article, so I hope I did it some justice in this review. The bottom line is, in my opinion, that not enough people who need a NAS have one. Anyone with any real digital footprint should have one, and the ASUSTOR AS5202T turns out to be a great value given its feature set and affordable $329 pricing.
Pros
A great value at $329 USD.
x86 Processing gives you a lot of software flexibility.
Expandable RAM (up to 8GB).
Dual NICs.
Cons
2.5Gbps NICs are nice, but 10Gbps would have been a major attention-getter.
Copyright © 2005-2020 Techgage Networks Inc. - All Rights Reserved.