Blender And V-Ray CPU Rendering: Linux vs. Windows

Date: December 24, 2019
Author(s): Rob Williams

It's an age-old question: is Linux better than Windows, or vice-versa? It's of course a loaded question, but we can easily take a look at specific angles, such as performance. In this quick match-up, we're seeing how both OSes fare in a couple of rendering tests involving Blender and Chaos Group's V-Ray.
---
Blender And V-Ray Rendering: Linux vs. Windows
Desktop users have always cared about software optimization, and as soon as many-core CPUs began to hit the market, it became immediately clear that not all software is developed alike. In the classic Linux vs. Windows performance debate, another element is thrown in with the fact that software optimizations can differ between OSes, ultimately making it difficult to predict which route would be quicker.
When AMD released its second-gen Ryzen Threadripper last year, its top-end model offered 32 cores, and 64 threads. At launch, many reviewers encountered performance anomalies, but in some cases, those anomalies proved to be nonexistent in Linux. An explicit example we remember is with 7-zip; its built-in benchmark didn't scale well with the 2990WX in Windows, but did just fine in Linux.
Since the release of those (now last-gen) Threadrippers, both Linux and Windows have received updates to improve threading on big CPUs, and improve performance on their respective platforms in general. Windows has clearly needed more polish than Linux, given that it wasn't until this past summer when AMD could consider its quest for optimal threading complete. That contrasts with our entire Linux suite scaling pretty well from the get-go.
As time goes on, and our respective test suites improve, we're going to try to keep our cross-platform tests as close to identical as possible between OSes, so that we can do more performance looks like this. In the most recent updates, our Blender tests have been made identical between versions, while the standalone V-Ray benchmark allows us to test Chaos Group's renderer easily.
Note that this (quick) post is focusing on CPU performance only. In time, we'll introduce GPU tests to our Linux suite, although our focus will primarily be on compute, rather than gaming (although we're still planning on introducing that at some point, too). In our quick tests, it seems like GPU workloads are less affected between OSes than those for the CPU.
For a look at all-around performance across these same set of processors, be sure to check out our articles for Linux performance, as well as Windows performance.
Performance Testing CPUs
First up, here's a look at Blender 2.80. Note that 2.81 has since been released, but it's made little difference to CPU rendering performance (though we're still using 2.81 going forward, for the sake of checking that box).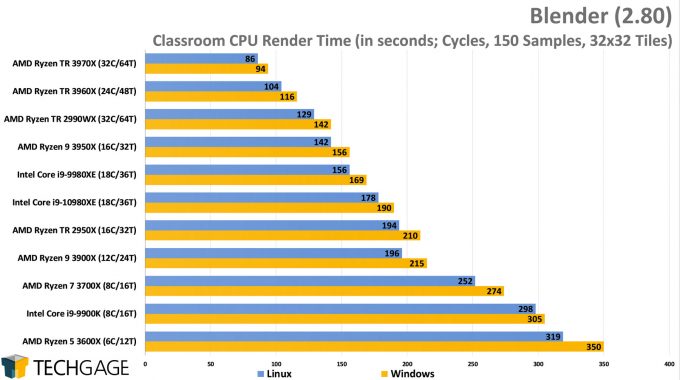 There's not much to say here that isn't instantly obvious. Linux in all cases proves faster than Windows with these renders, sometimes to a decent degree. While these renders are fairly quick to run overall, the deltas would only grow as scenes become more complex, or continual rendering is taking place for animation. The longer your scenes take to render, the bigger the performance delta would be.
Chaos Group's V-Ray benchmark mirrored Blender's scaling overall, but, we do see an oddity introduced with Intel's Core X-series chips: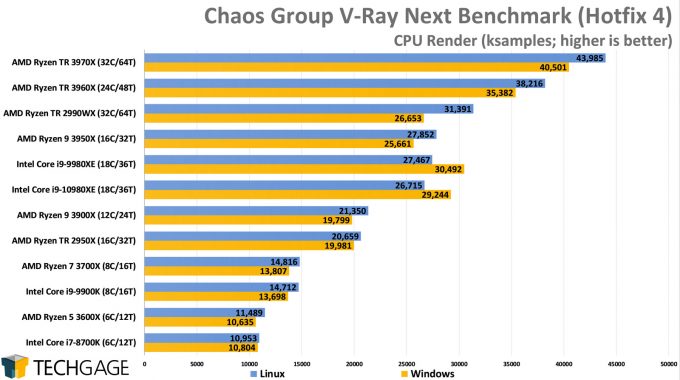 Both the i9-9980XE and i9-10980XE saw better performance in Windows than Linux, at least for us. We couldn't post this kind of result without sanity checking, so we wasted some more thermal paste to reinstall both chips, retested in Linux and Windows, and came up with the same results. It could be that a different distro would change things up again, but this is what we currently see with one of the most popular distributions going, Ubuntu.
That said, we can't help but wonder how these results might fare if a different distro was used, especially Clear Linux, since we recently discovered that it is really optimized for certain workloads. Alas, there's only so much time in the day to get testing done, but we'll get there eventually.
As mentioned before, this is just a start of the comparisons, as we'll work to add more trustworthy cross-platform benchmarks as time goes on (and as more get released – kudos to Chaos Group for releasing a standalone in Linux!) If you have suggestions of good tests to add, please let us know. Rendering is just one angle. We'll likely be adding HandBrake as another opinion, but couldn't include it here because our current tests don't match (something that will be fixed soon).
Copyright © 2005-2020 Techgage Networks Inc. - All Rights Reserved.