Celebrating 15 Years Of Cyber Protection With Acronis In Singapore

Date: October 5, 2018
Author(s): Rob Williams

Acronis recently held celebrations for its 15th anniversary at its worldwide headquarters in Singapore, and Techgage was invited to take part in the festivities. That involved hearing from some seriously smart and inspirational people, and in some cases, having our wits scared out of us at the fear of what the future will be like if we don't protect our data.
---
Introduction
A couple of weeks ago, I had the pleasure of heading to Singapore to discuss all things Acronis, while also fulfilling a dream of checking out a Formula 1 race live. If you're asking yourself, "Who's Acronis?" and / or "How's Formula 1 play into this?", those are some great questions.
For some long-time readers of Techgage, the Acronis name might not seem so unfamiliar. I first took a look at the company's True Image software in 2011, not long after I discovered it bundled with a Kingston SSD. As someone who used Norton Ghost religiously before discovering Acronis, I became instantly hooked on the more refined, more capable True Image.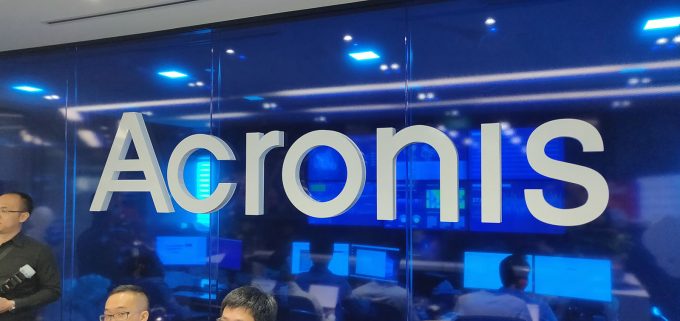 I still regularly use True Image for a handful of purposes, the biggest of which involves capturing and restoring our various test platforms. Even with automation scripts, it's a bit of a chore to start anew, but if you capture the entire OS before you start to muck it up, then you're able to restore to that image anytime you like. True Image does more than capture a system image, though; its entire reason for being is to keep your data safe, wherever it is, and wherever you want it to be.
But this article isn't a review of a product. Instead, it's a look at what went down in Singapore – at least on the Acronis front. I have some other angles to talk about afterwards, but I wanted to get started with the real meat of the trip: checking out Acronis' HQ and celebrating the company's 15 years.
Acronis' 15th Anniversary Celebration
There are many things I can't state with absolute certainty, but when it comes to being in a place coated in the color blue, I am pretty sure nothing can top Acronis' headquarters for me. As someone obsessed with the best of the primary colors, I took this entire floor of a Suntec building in downtown Singapore as inspiration. "Yup…", I thought, "this much blue is actually OK." I'll find out soon enough if Benjamin Moore can stir up a can of Acronis Blue.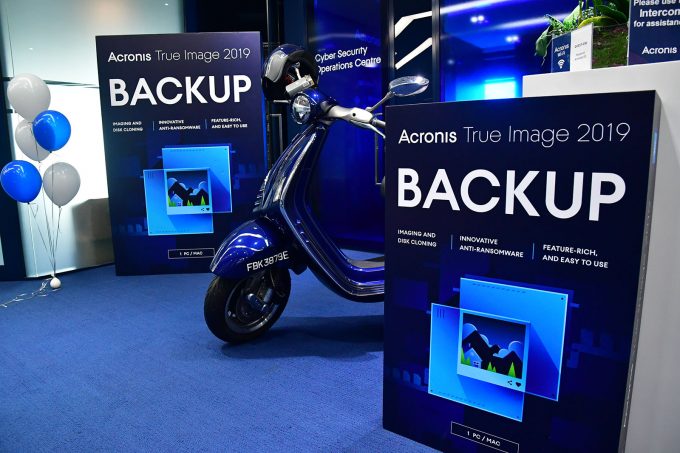 At this time, being that the company's 15th celebration revolved around a race weekend, its offices were decked out in Formula 1 garb – from signs to legitimate race-ready wheels (that cost hundreds of dollars a pop – literally). The orange superhard compound on display reminded me of how super hard it'd become to wait until race day, but lest we jump ahead of a lot of other work.
The 15th anniversary event wasn't only about Acronis, even though it understandably revolved around it in a very heavy way. The company had a handful of speakers on hand to talk about the security and data threats that are beyond the "looming" stages. Threats are high, and they're likely to only get worse as time goes on. Acronis, of course, has quite a few data protection solutions in its portfolio, and it's confident that it can keep user (and enterprise) data safer than anyone else.
Acronis Founder & CEO
Serguei Beloussov
The company's illustrious founder and CEO Serguei Beloussov gave a presentation to kick things off which compared current and upcoming threats to those seen in Hollywood movies of the past. In many ways, the similarities really should be alarming to everyone. It's not just simple data loss that's being talked about, but data in general – including important data housed outside of our control. It might seem impossible for the worst to happen, but trends seen over the years don't inspire much confidence.
As I write this, Supermicro is being accused of putting extra logic in customer chip designs, which, if proven true, would seriously upend the enterprise market. It could be that initial information in this particular case isn't entirely true, but it can happen. And, unfortunately, it seems very likely that it will happen given the lackadaisical approach to security which plagues so much of the industry.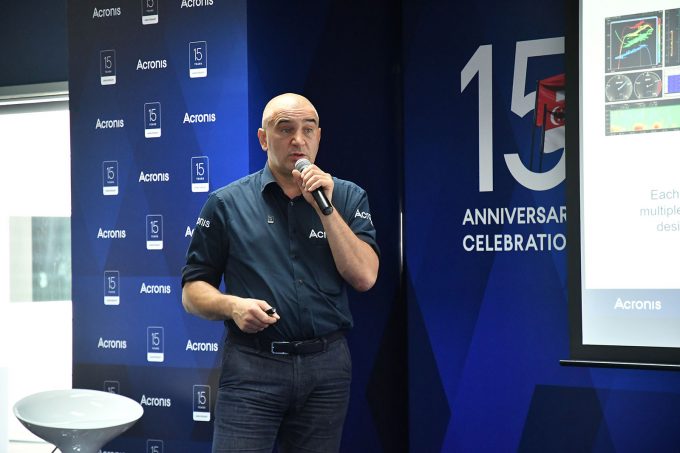 Acronis' approach to security is to first not call it "cyber security". Acronis sees its solutions as cyber protection, because even in the event of disaster, either your local data will remain accessible in some way (protecting against ransomware in real time, for example), or stored in the cloud as a backup in the event of any type of disaster – a virus, a fire, or drives simply dying.
Data protection isn't a subject that's going to tickle everyone's fancy, but a more wide-reaching topic is school building. Before handing off to other speakers, Beloussov talked about the Acronis Foundation, which works with various partners to build schools in areas of the world where they are needed most. Many of these finished schools won't have running water, as it's simply not feasible where they are located. That's how remote some of these villages which truly need attention are.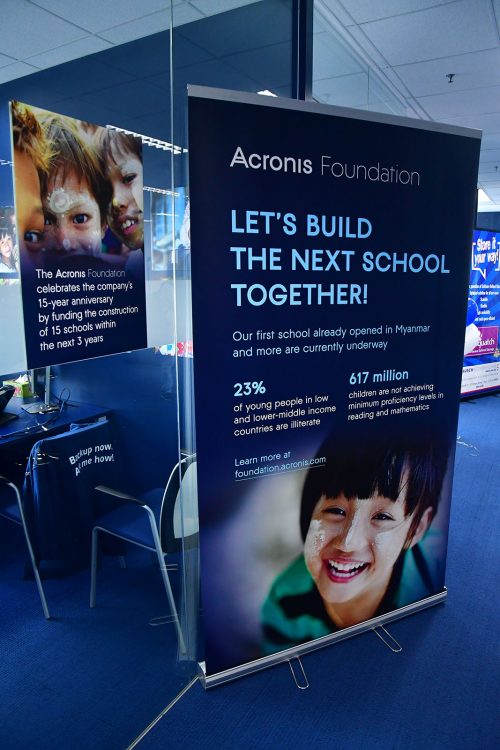 We've all heard the stories of unfortunate kids having to walk miles every day to school – Acronis Foundation projects have already directly benefited kids in that exact situation. Unfortunately, despite over ten thousand schools being built by foundations like Acronis, and its partners like buildOn, the need for schools is incredibly hard to meet, which means any help that comes along is tremendously appreciated by the parties involved. With buildOn playing a huge role in these projects, the communities are not just handed schools: anyone who's capable joins in. After all, these schools will need to be maintained for many years to come, and you can't beat hands-on knowledge.
It may be a humanitarian project, but Beloussov ties it into the ethos of his company by saying that building schools is working to "protect knowledge". In an overwhelming number of cases where schools are built for (and by) the local communities, multiple family members will have no real education. It's so common, in fact, that some schools are not only for kids, but every age group. In one relayed experience, a boy's father began to learn at the same school he was learning at. It was a story that proved sufficient enough to force some awws out of the audience.
Arsenal F.C.'s IT Director
Christelle Heikkila
Just as players on a football pitch obsess about offensive and defensive techniques, so too do the teams' IT staff. Acronis brought Arsenal F.C.'s Christelle Heikkila to Singapore to talk about some of her daily struggles as someone who has to protect the data of a leading Premier League team. The Gunners began life as a team out of a military weapons factory (hence the nickname), and in 1886, we can imagine that not too many people at the club cared about data security. Nowadays, the opposite could not be more true.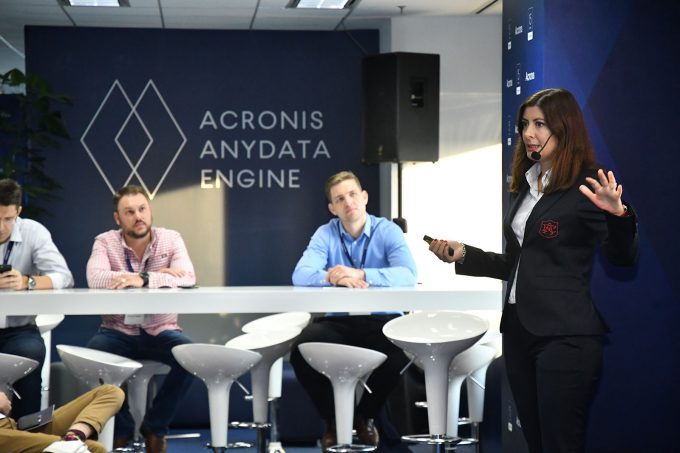 As head of IT, Christelle makes sure Arsenal's data is kept as secure as possible, and part of what helps make that a reality is a tie-in with Acronis software, which is now in use at the club (and some Formula 1 teams, as I'll cover in a follow-up piece). Football clubs won't generate nearly as much data as a racing team, but over the long haul, there's still many terabytes of data captured throughout the year, including player training data – data that shouldn't wind up in the hands of the opposition.
One thing I didn't expect Heikkila to bring up was GDPR – the major enforcement effort Europe has put behind the protection of customer data. As someone who heads security at a football club which sees millions of fans data held inside of its walls, it's pretty important to keep it safe. GDPR ensures that anyone in breach of its rule set will be heavily fined, so good security now can literally save a lot of money later.
Hack In The Box's Founder
Dhillon Andrew Kannabhiran
As someone who likes attending the odd hacker convention, hearing from someone who regularly hosts network security conferences all over the world perked my ears up. Dhillon, also known as l33tdawg, gave the crowd in attendance many reasons to keep one eye open at night – or at least increase their level of concern as to just how much we're spied on, and how unsecure our digital lives really are.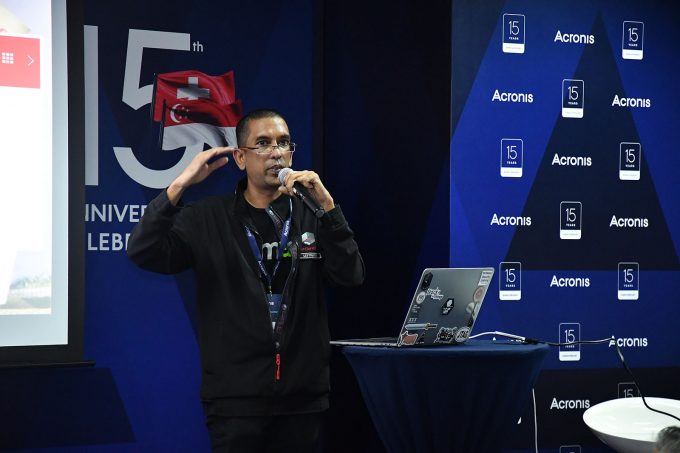 That autonomous vehicle? It's at risk like any other piece of tech. We're not only leaving our data in the hands of others now, but also our lives in the hands of technology. Clearly, things like autonomous vehicles are great for a huge number of reasons, and while the technology can be equally great, it's nearly impossible to be perfect. People have hacked into everything, and they'll definitely continue to hack into new products such as these. That being the case, it's going to be the companies who are most receptive to security risks (especially those offering bug bounties) that are going to best protect themselves, and us.
Dhillon reminded us of how autonomous vehicles have been compromised many times in their short lifespan, and let's not forget that a couple of years ago, a proof-of-concept proved that airplane technology could be at great risk as well. Again, technology is amazing, and few would deny that, but our security truly needs to be just as amazing.
AI Engineer
Sergei Markoff
Artificial intelligence is nothing new, but what can be done with it has improved dramatically over the past few decades. We're not talking simple game AI (which will likewise only get better over time), but crunching massive datasets to generate the most advanced artificial intelligence possible. We can do cool things like create art inspired by certain styles, or detect the level of emotion on someone's face. We can also use it for important things, like solving medical puzzles, analyzing seismic data, or detecting when a rubbish bin in downtown London needs to be emptied.
Sergei is a renowned AI engineer, having rose to fame well over a decade ago after creating SmarThink, a chess engine written in C that went on to prove itself in chess tournaments, at one point even becoming a digital champion. Chess is one of the best examples of a puzzle that's very easy to understand, but has a truly mind-numbing number of possibilities at any given time. That's why many chess engines exist – some are faster, and some are just better. Chess is anything but simple, and that's exactly the kind of subject AI tackles best.
Dhillon painted a scary picture of the world, but Sergei somehow managed to enhance it by talking about all of the different possibilities of deep-learning and AI. Naturally, AI can help the world, but it can also hurt the world if it falls into the wrong hands. Organizations now exist to (try to) make sure that AI is kept out of wrong hands. We're already in the midst of AI battles, where one person's AI defense is going against someone else's AI offense.
As someone who benchmarks deep-learning once in a while, I couldn't help but ask Sergei what kind of hardware he's running his models on. The answer really impressed me, largely because it's not at all a standard solution. It's a dual Xeon rig that sports eleven graphics cards (NVIDIA GeForce GTX 1080), and a healthy 256GB of memory. Beautiful.
(Not So) Final Thoughts
When I first started using Acronis' True Image back in 2009, I can tell you that I didn't see hanging out at the company's headquarters for its 15th anniversary being something that would happen. I especially didn't see a Formula 1 race happen in addition to that – so to say that visiting Singapore was special would be an understatement.
The company's global protection forum definitely raised some eyebrows about the future we can have if our data is not protected. Though, in reality, protection from disaster is just half of the worry – in some cases we need protection from prying eyes. If you've never really put much thought into your personal security, you'd probably be legitimately shocked at the number of ways you're spied on today.
The sad reality is, we're never going to be able to protect ourselves as much as we'd like to, but there are many ways we can protect ourselves today that make our situations a whole lot better. It can be as simple as not using the same password for every service to making sure your data is bulletproof. The threats are simply not dying down, so the more we rest on our laurels, the most susceptible we'll become.
So much happened while I was in Singapore that I couldn't possibly capture it all here. There are other things I want to talk about, however, including some chats I had with some of Acronis' partners, including Williams Racing and Racing Point Force India Formula 1 teams. More on that later.
Copyright © 2005-2019 Techgage Networks Inc. - All Rights Reserved.