Futuremark PCMark Vantage

Date: October 18, 2007
Author(s): Rob Williams

Futuremark's latest PC performance analyis tool is here. PCMark Vantage is the result of two-years worth of development and becomes a worthy replacement for PCMark 05. We take a quick look at what's new, what to expect and what you will be paying. Yes, we said paying.
---
Introduction
For the uninitiated, PCMark is a tool used to evaluate your systems worth, and it does so by running various intensive tasks and ultimately delivers a result in the form of a simple score. 3DMark is a similar tool, but it's primary goal is to give an idea of how capable your computer is where gaming is concerned. PCMark is more broad and takes your entire systems capabilities into consideration.
In this quick look, we will discover what's new and whether you should be excited. PCMark is most commonly used by enthusiast overclockers, and if you are one of those people, then you already know that you'll be using this new version. Futuremark is a name that's become synonymous in the overclocking world, because their products are simple to use, and more importantly, comprehensive. PCMark 2005 was particularly a good benchmark to use, because if your "insane" overclock was unstable in the least, a full system run would let you know it.
Before we delve too deep into the article, we should first take a look at the new pricing scheme. For the first time, Futuremark has decided wipe out an ultimately free version. According to the company, this was a decision that had to be made, primarily due to the development costs of this version in particular. It was noted that Vantage took twice as long to develop as they had planned, due to the depth of each test and also to assure perfect interoperability with Windows Vista.
That said, there is no longer a free version that has an unlimited amount of uses. Instead, anyone can download the application and run the primary suite once. This will give you the score you are looking for, but any further runs will require a purchase of the "Basic Edition" key. This version runs $6.95USD and will allow unlimited use of the applications primary suite.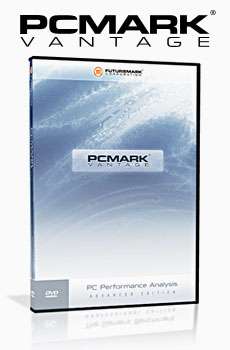 The Advanced Edition hasn't changed at $19.95. It's benefits include unlocked test suites and advanced online services. Now at first glance, I feel that $5.00 would be a more appropriate price for the Basic Edition key. At second glance, I believe the reason $5.00 was not chosen was because all of those users who would plan on purchasing the Advanced Edition would likely be overwhelmed and decide on the version that costs a full $15.00 less. But that ultimately comes down to your specific needs.
The Professional edition also has not changed, at $495.00. This version is for commercial use and allows finer control over various settings, including the ability to export to Microsoft Excel.
What's The adVantage?
After installing Vantage on my Windows XP machine, I quickly realized one thing that's new: Windows Vista exclusivity. Yes, in order to keep scores comparable, Futuremark has decided to kick XP to the curb. As much as I dislike Vista, it's hard to blame them for this development move, since Vista is the OS Microsoft has been pushing since January of this year and is the OS most people will wind up with when purchasing a new system. It's also to keep scores fair, and comparable.
Once finished installing the ~770MB application, you will be greeted with a screen that asks for a serial key. If you plan on taking advantage of the one-time-use trial, you will need to enter your e-mail address and await a key to be delivered.
One thing you will immediately notice, if familiar with the older versions, is that the entire application has a fresh coat of paint. Related banners found at the bottom of the application are the primary difference at the main screen, with secondary menus for option tweaking still available. However, PCMark Vantage, I find, is lacking overall tweak ability. You basically get what you see. The only option you will likely find yourself in is "Select Suites", which opens up eight check boxes, one for each of the suites.
While the older versions of PCMark felt a little empty, considering a run could be completed in ten minutes, Vantage is a stark contrast. If you choose to run the entire suite, it will take around 90 minutes, comparable to a run of SYSmark 2007 Preview. However, if you want a simple PCMark score and that's it, you can choose only the first option from the Suites, which will result in a 30 minute test.
The "PCMark Suite" takes the first two tests from all of the other suites and averages a score. The entire 90 minute suite would only be run by those who want to see which area the computer they are using excels in. Most enthusiasts will stick with running only the PCMark Suite.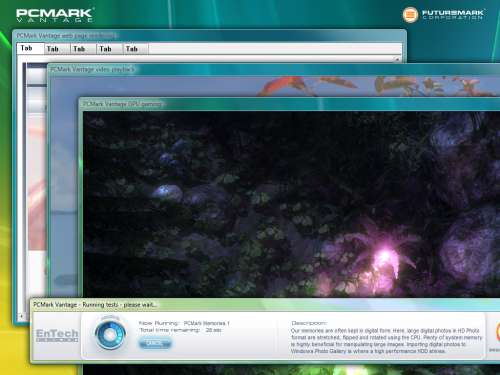 Similar to the older versions, Vantage runs through the entire suite with occasional windows popping up around your screen, primarily for the web browsing, gaming and video playback. The latest version has a far larger emphasis on what computers are being used for now, such as high-definition playback, audio conversion, HD photo manipulation and tabbed browsing.
While a few of the tests exhibit the results on-screen as they happen, most do not. For example, Alan Wake is the game engine being used here for most of the game testing, but nothing appears on the screen as it is executed. Instead, it all happens behind the scenes, due to Microsoft disallowing images and gameplay to be shown.
Throughout whatever suite you are running, a bar will be located at the bottom of your screen the entire time that tracks the remaining time and also relays what test is currently being executed. To go even a step further, a complete description of the current test is displayed for informational purposes.
If I were to pick on Vantage for lacking a feature, it would be SSE4 support. I was given two reasons for it's lack of inclusion. First is development time. As mentioned earlier, development time is twice what was originally expected, so they couldn't afford to include SSE4 support if they wanted to. The main reason given though, is because that's a feature available on Intel processors only, and they didn't want to give Intel a big advantage for a feature not available on AMD processors.
When all said and done, there isn't that much to PCMark. It requires a simple click of a button and your patience until the suite is completed. Behind the scenes is a different story. Much effort has gone into each and every one of the suites to assure they are feature-rich and that resulting scores are fair and accurate. Like all Futuremark benchmarks, Vantage is ahead of its time, with the ability to benefit from a computer with 16-cores, so it's not a tool that will run out of steam fast.
Is the new version worth giving a try? Of course it is. Whether you are an enthusiast overclocker or a casual user, seeing where your computer ranks against others is fun. Although the $6.95 price tag for the Basic Edition might rub a few the wrong way, it's understandable as considerable development time has gone into Vantage, and it's obvious, even though most of the suite is run behind the scenes. Those who regularly purchase the Advanced Edition whenever a new version is available will not be effected by the pricing changes.
How about some Techgage scores? Over the past week, I've run the application on the benchmarking rig and also the ASUS G1S notebook, which we reviewed on Monday. All results can be found in the table below. For the ASUS G1S system specifications, you can refer to this page.
I should note that if you are using a 64-Bit Vista, then you will have an x64 executable on your desktop in addition to the standard 32-Bit version. My personal results have been in the 32-Bit versions favor, with the 64-Bit version scoring an average of 300 points lower.
| | | | | | |
| --- | --- | --- | --- | --- | --- |
| Suites | ASUS G1S | E6750 Stock | | | |
| PCMark | | | | | |
| Memories | | | | | |
| TV and Movies | | | | | |
| Gaming | | | | | |
| Music | | | | | |
| Communications | | | | | |
| Productivity | | | | | |
| HDD Test | | | | | |
There you have it, scores just begging to be beaten. I came close to breaking through the 6,000 barrier, but no cigar. If you download and run the suite, please post your scores in our related thread! If you want a more technical explanation of Vantage's suites, you can download the reviewer's guide here, which goes into all the detail you will need.
Copyright © 2005-2022 Techgage Networks Inc. - All Rights Reserved.