GIGABYTE G1.Sniper 3 Motherboard Review
Date: May 3, 2013
Author(s): Rob Williams

The motherboard market is loaded with options targeted squarely at overclockers and the general enthusiast, but finding a board – much less an entire series – dedicated to gamers is difficult. GIGABYTE realized that back in 2011, and thus its G1 series was born. In this article, we're taking a look at the company's current Z77 offering, the G1.Sniper 3.
---
Introduction, Specifications & Hardware Tour
When GIGABYTE launched its G1 series of motherboards in 2011, it had a single audience in mind: gamers. Often, vendors that release high-end motherboards tout an excellent experience for overclockers, the general enthusiast and of course, gamers. But GIGABYTE decided to tone-down the overclocking focus for G1 and instead design a solution top-to-bottom that any gamer would like to have in their rig.
Thus far, we've taken a look at a couple of G1 motherboards, and overall, we've liked what GIGABYTE has done with them. The aesthetics might be a bit overdone as far as some folks are concerned, but this is a gaming product. Past that, the addition of gamer-targeted networking and audio makes the overall package rather sweet.
With its G1.Sniper 3, GIGABYTE continues the G1's ongoing success and improves-upon a couple of things at the same time – to be expected, of course. It targets the Z77 platform, so that means current-gen LGA1155 are fully supported. Because Intel's next-gen platform is seemingly right around the corner, this isn't the timeliest review, but given GIGABYTE's trends, if you like what you see here but would rather wait for Intel's 4th-gen Core series, you can expect more of the same – and hopefully additional features tacked on.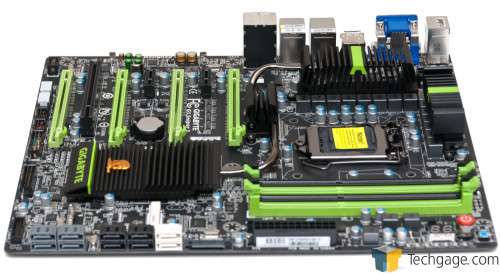 It might not have the gun heatsink of the G1.Assassin 2, but the G1.Sniper 3 is still quite a nice-looking board – especially if you happen to dig green and black color schemes.
One of the first things I look for on any boards I review are A) the number of fan headers, B) their locations and C) if they are 3-pin or 4-pin – the latter tends to give better overall fan control, and really, if you have a 4-pin fan but your motherboard only offers 3-pin headers, that's a problem. On the Sniper 3, there are 5 headers total, all 4-pin. Two are located at the bottom, next to the front panel connectors; two are found at the top (one at the left, the other to the right) and the final one is snuggled in beside the DIMM array.
I have no complaints here, although I personally would prefer one of the bottom fan headers to be situated closer to the I/O panel. Lately, I've been using AIO liquid CPU coolers with dual fans, and that means I need two fan connectors. Few motherboards lately have given me a hassle when trying to plug both of these fans in, but this board would. I'd require an adapter or an extension to make it happen. On the other side of the coin, though, your particular setup may favor this design. The only way vendors could cater to everyone is to put 2 fan headers on all sides of the board, but that's easier said than done since each addition to a motherboard requires a rethinking of the trace design. That = $$$.
I'd also personally like to see a CMOS reset button on the back I/O panel rather than inside. If all you need is a simple EFI clear, it really sucks having to fish around inside of your chassis for the right button (which here, is crazy small).
For those interested, a rundown of the G1.Sniper 3's specs and features:
 
GIGABYTE G1.Sniper 3
Architecture
Intel Z77 (LGA1155)
Form-Factor
ATX (12″ x 10.4″)
Memory
Up to 4x8GB DDR3-2800
Multi-GPU
4-way NVIDIA SLI
4-way AMD CrossFireX
Expansion
4x PCIe 3.0 x16 (Dual x16 or x16+x8+x8+x8)
2x PCIe 3.0 x1
1x Legacy PCI
Storage
2x SATA 6Gbit/s (Intel)
4x SATA 3Gbit/s (Intel)
4x SATA 6Gbit/s (Marvell 9172)
1x mSATA Onboard
Network
1x Qualcomm Atheros Killer E2200 Gigabit
1x Intel 82579V Gigabit
802.11 a/b/g/n Dual-band Wi-Fi
Wireless
Bluetooth 4.0
Audio
5.1-Channel Creative CA0132 "Sound Core 3D"
Input/Output + S/PDIF
USB
Back-panel: 2x USB 3.0 (Intel), 4x USB 3.0 (Via)
Internal: 4x USB 2.0 (Intel), 4x USB 2.0 (Via)
Back I/O
2x 1Gbit/s LAN, 6x USB 3.0/2.0, 1x Optical S/PDIF, 6x Audio Jacks, VGA, DVI, HDMI, DisplayPort
Features
@BIOS, Q-Flash, Xpress Install, Xpress Recovery 2, EastTune, eXtreme Hard Drive, Auto Green, ON/OFF Charge, Q-Share, 3D Power, EZ Setup
For the sake of not being redundant, I won't discuss the table directly, but instead tackle all of the components as we come across them with the help of our photos below.
First stop, the bottom right-hand side, where we are greeted to 10x SATA ports; 2 of which use Intel's fantastic controller, and 4 using Marvell. For your OS drive, it's important to make sure you're plugged into Intel's ports, as Marvell's controllers are seriously lacking in SATA 6Gbit/s performance in comparison.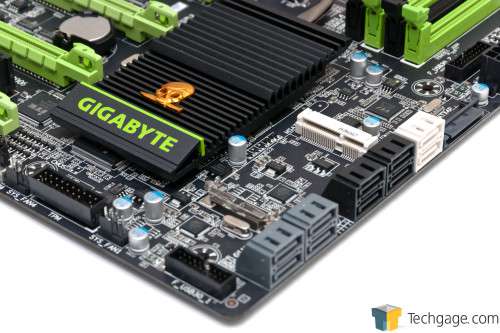 Also at the bottom here is a USB 3.0 internal header, mSATA port (to the left of the gray SATA ports), TPM connector and the two bottom fan headers.
Moving to the upper right-hand corner we can see the DIMM slots (to be expected, I'm sure), the second USB 3.0 internal header, EFI status LED (always gets a thumbs-up from me), power and reset switch along with a CMOS clear button.
In the shot below, we can see a relic from the past: a PCI slot. Why GIGABYTE feels the need to include such a thing on a gamer board, I'm not sure. We've reached a time when I can't even remember the last time I used a PCI component – am I alone? Alongside that slot we have 4x PCIe x16 and 2x PCIe x1. Dual FireWire (another oddity) can be found at the bottom along with dual USB 2.0 headers and the front panel connectors.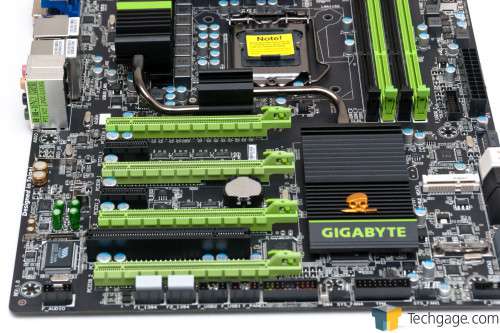 This next shot exists for no other reason than to look good. And it does look good, doesn't it? To justify it's existence further, here we can see mounting holes, capacitors and chipsets. Exciting stuff.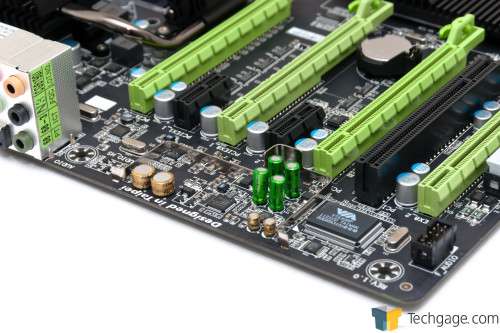 As you'd expect, the area surrounding the CPU socket is sufficient for installing small and bulkier coolers alike.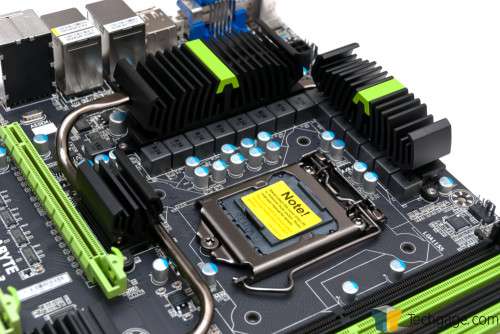 At the back, we can find six USB 3.0 ports (two are Intel, four are VIA); a VGA, HDMI, DVI and DisplayPort for use with the IGP or Lucid's Hydra; 2x LAN (one Intel, one Killer NIC); and a bevvy of audio ports. Oh – and continuing the legacy theme from earlier, a PS/2 port. This is one I can actually agree with, however, as USB buses can at times be finicky things, and the last thing you want to happen is to lose keyboard support when trying to troubleshoot a machine.
GIGABYTE's G1.Sniper 3 comes in a larger-than-life box, and it's because there's quite a number of accessories packed in. Below, you can see the collection of paper materials, which includes the manual, some stickers and a poster.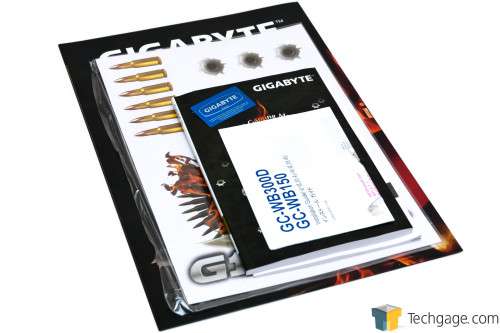 Six SATA cables are also included alongside every possible graphics bridge you'll need. Seriously – that's quite the collection GIGABYTE has packed in here. For those who prefer to keep as much dust out of their PC as possible, there's also the expected I/O protector.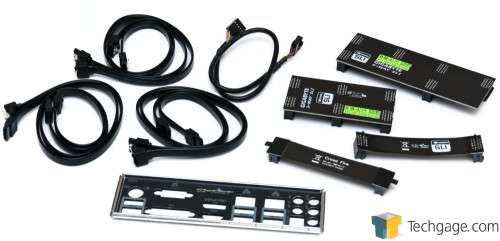 It might be a gamer board, but there's one thing the G1.Sniper 3 includes that most gamers don't immediately think of: wireless. With this add-in card, you'll be able to take advantage of the board's dual-band Wi-Fi, which is quite nice. I'm currently dealing with a net issue as I just moved apartments and my ISP is slow, so it's times like these when I really wish my board came with wireless as well so that I could, ahem, borrow a connection with greater ease.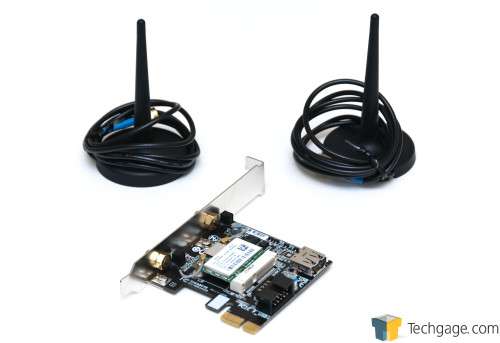 For the sake of expansion, GIGABYTE includes both a 2.5-inch accessory and one for an internal slot. The first is to add two additional USB 3.0 ports to the front of your chassis, while the others add eSATA. I tend to appreciate these being modular when I don't actually want them, but if I do, they tend to add clutter to the inside of your case. It's a love it or hate it sort of deal.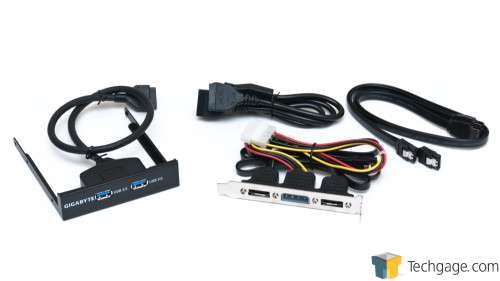 Like ASUS' P9X79 PRO motherboard that I tackled a couple of weeks ago, I've been using the G1.Sniper 3 for about two months and have sunk some good time into it. In all that time, I haven't had an issue worth speaking of. Installation went fine, features worked as expected, and the configuration of the EFI was smooth – a subject we'll tackle next.
A Look at the EFI
An archive including all of these screenshots can be snatched here (.ZIP, 2.5MB).
Despite the fact that it's been available in enthusiast form for a couple of years now, EFIs are still hit-or-miss in terms of design and ease-of-use. With our look at ASUS' P9X79 PRO a couple of weeks ago, I raved over what ASUS had delivered. Its EFI solution is extremely well-thought-out, good-looking and easy to use. Best of all, it doesn't force you to haul out a mouse. Fortunately, GIGABYTE's isn't far off the mark, although it does have a couple of quirks.
The first thing you see after entering the EFI is a splashscreen, which unfortunately isn't pictured here. You can see an example of one here. This screen shows off a semi-interactive 3D motherboard. The problem is that it's finicky – so finicky, I just ignore it. Also, generally speaking, the first place I ever want to go when I enter an EFI is the tweaking section; to get to that here, you must hit the left arrow a couple of times to hover over the M.I.T. icon rather than right – which would be expected given it's the first icon.
As I'm now finding out, this is a finicky nature that's hard to describe through text. In ASUS' solution, its splashscreen defaults your selection to a button that when clicked, allows you to go straight to the advanced GUI. There, you can also use the mouse to click certain things, but it's far less finicky. I think the problem with GIGABYTE's solution is that the company opted for a bit of a 3D design – ASUS' choice is flat.
Once into the advanced version of GIGABYTE's EFI though, most of my complaints vanish.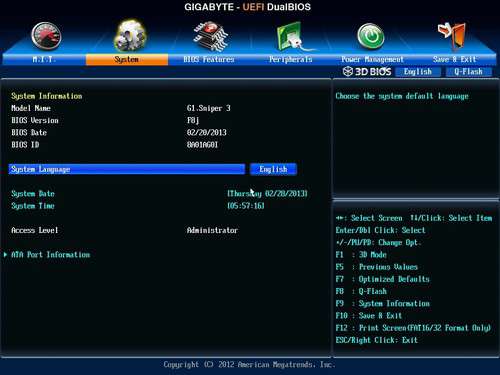 The landing spot is the "System" section, which is where you can quickly view your BIOS information and set the date. If you need to enable hotplugging on any SATA port, you'll need to go into the ATA Port Information sub-section.
M.I.T. (Motherboard Intelligent Tweaker)
While it's not touted as being a board for overclocking, there's no reason for GIGABYTE to not offer related options on its G1.Sniper 3. And it does – in full-force. Everything you should need will be here, at least to the overclocker like me who doesn't take things quite as seriously as others.
Once into the M.I.T. section, you'll be greeted to a couple of sub-sections and quick bits of information at the bottom (including temperature, which I prefer to see at an even earlier screen given it might be important to do so).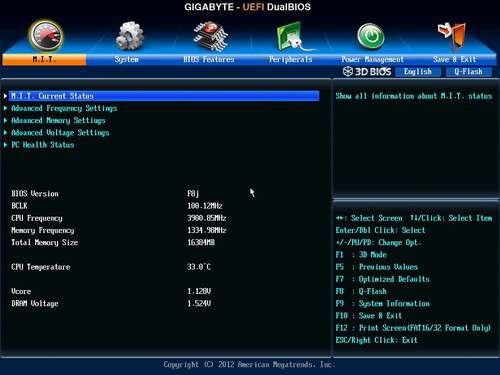 The "M.I.T. Current Status" screen gives a complete rundown of current memory and CPU settings along with temperatures. Given all of the free space that's left, a cool filler would be PSU voltages. Maybe for the future.
Light tweaking takes place under the "M.I.T. Advanced Frequency Settings" section, where you can control the CPU and RAM clocks – but not timings (that's the next menu). For those who might not care to overclock but do want to use their memory at full-spec, the XMP profile can be selected here.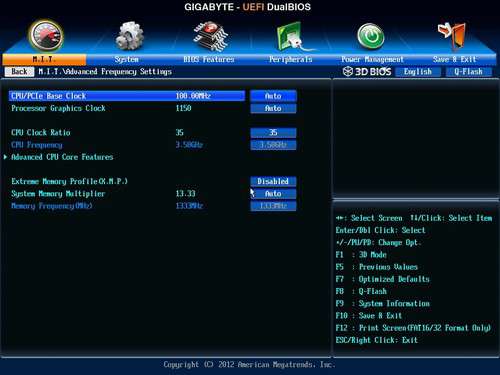 As this has all been seen before, I'll let the rest of these images speak for themselves. For those who'd rather view everything in a convenient archive, hit up the URL at the top of this page.
BIOS Features, Peripherals & Et cetera
The remaining sections speak for themselves better than the overclocking ones do, even to the layman. Light power options can be dealt with in its respective section, but the heart of GIGABYTE's 3D Power Control is kept under the "Advanced Voltage Settings" in the M.I.T. menu.
Overall, GIGABYTE's current EFI is hardly poor by any stretch, especially in comparison to some others out there, but with Intel's next-generation launch to happen relatively soon, I really do hope to see some improvements made. I feel that ASUS has set a standard where EFI is concerned, and if companies have to resort to copy-catting, it's going to be best for the consumer in the end.
A Look at the Software
I mentioned on the previous page that I hate to keep comparing GIGABYTE's board here to ASUS' that we took a look at a couple of weeks ago, but it's becoming increasingly more difficult to avoid. As mentioned in that article, we've begun looking at where we need to improve with our motherboard reviews, and lately, that has to include software and a deeper look at features. Years ago, hardware vendor-produced software was minimal, but today, even GPU vendors have begun conjuring up their own creations.
It's because of this deeper look that I'm beginning to see the limitations with some competitor boards. While ASUS offers a superb suite of tools (all confined to "Ai Suite"), GIGABYTE offers a strikingly minimal package in comparison. The company could tout things like @BIOS, ON/OFF charge and EZ Setup all it wants, but those are utilities we'd expect to see, not tools that people might actually use on a regular basis.
With the G1.Sniper 3, I could only find three programs worth talking about, and one of them isn't GIGABYTE's, but rather Qualcomm's, for its Killer Ethernet (a product I recently discredited, which makes GIGABYTE's recent addition of an Intel NIC not all-too-surprising).
The "Killer Network Manager" is rather minimal in design. You're able to add profiles to optimize your net, and also enable logging for both your network and CPU usage. Apart from that, there's really not too much to do here. The card is meant to "just work", and for that I think it's great. I've personally had bad luck with previous offerings, but hopefully I'm in the minority.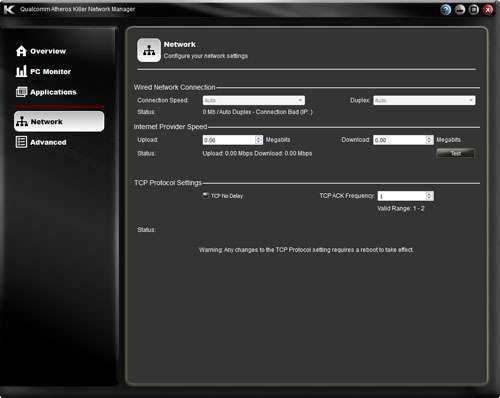 GIGABYTE's Windows overclocking solution comes in the form of EasyTune6, a solution that really doesn't look too different from what we've seen a couple of years ago. It features a simple CPU-Z-esque interface where you can quickly choose between a couple of preset overclock intensities. Just because these are listed here, it doesn't mean that they're stable – so prepare to further tweak after-the-fact (this is common; if overclocking software doesn't make a PC go unstable, it's probably not thorough enough).
The other sections allow you to take care of that fine-tuning. Overall, not too bad a piece of software, but its fan options are minimal – the bare minimum, really.
Wrapping up the software package is "3D Power", which mainly consists of options like load line calibration, over-voltage protection, PWM frequencies and phase control. While the functionality here is fair, what makes the software cumbersome is GIGABYTE's insistence on a "3D" interface. Upon loading the app, you must wait for a spinning cube to stop, and once out of a section, you have to wait for it to settle again. I can't imagine anyone over the age of 8 being impressed by this design, and for those who just want to get something done, it's frustrating.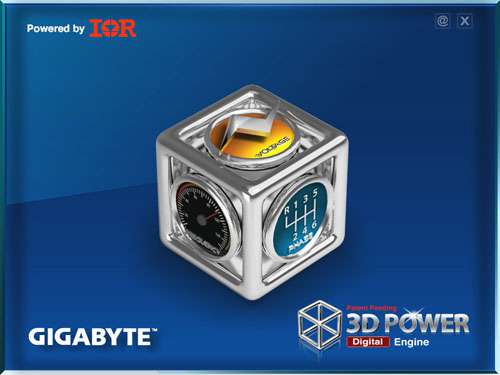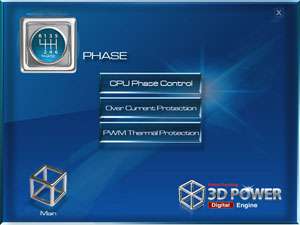 Unfortunately, GIGABYTE's software package hasn't "wowed" me, especially after seeing what ASUS' Ai Suite currently packs in. It's for this reason that I'm really quite anxious for the 4th-gen Core launch, because with ASUS focusing so hard on software now, it seems inevitable that the other vendors are going to follow suit. And I hope so. I used to immediately discredit motherboard software and usually never even opened it. But when it's implemented and designed well, it can become a great motherboard feature.
Performance Testing
From a performance perspective, we feel that motherboard benchmarking is useless. It's the motherboard's job to allow all of the installed hardware to operate at its full potential, so in theory, a $100 option shouldn't be much (or any) slower than a $300 one. The differences in price instead come down to the quality of the onboard components and other features.
So why do it at all, then? We still perform benchmarks because it's important to make sure that the board we're dealing with doesn't lack in one particular area versus the rest. If board A performs 2% slower than board B in PCMark 7, for example, that's of no concern to us – random variance is a fact of life with benchmarking. However, if one board consistently performs weaker than the rest, that's worthy of note – it could suggest that weaker components have been used which do not allow the hardware to operate at its full potential.
Please bare this all in mind when perusing our results. Just because a board under-performs in a single test, it doesn't mean anything in regards to its quality as a whole. Our ultimate goal here is to make sure that each board we test performs as we'd expect across the gamut of scenarios we pit them against.
 
Intel LGA1155 Test System
Processors
Intel Core i7-3770K – Quad-Core, 3.50GHz, Default Voltage
Motherboard
ASUS P8Z77-V DELUXE (BIOS: '1401' 07/30/2012)
GIGABYTE G1.Sniper 3 (BIOS: 'F8j' 02/20/2013)
GIGABYTE Z77X-UD5H (BIOS: 'F14' 08/23/2012)
Intel DZ77GA-70K (BIOS: '0049' 07/13/2012)
MSI Z77A-GD55 (BIOS: '1.5' 07/17/2012)
Memory
Kingston HyperX Genesis 4x4GB – DDR3-1600 8-8-8-24 @ 1.65v
Graphics
AMD Radeon HD 7850 1GB (Catalyst 12.7 Driver)
Audio
On-Board Creative X-Fi Audio
Storage
Corsair Force F160 160GB Solid-State Drive (OS Drive)
Kingston HyperX 240 Solid-State Drive (I/O Testing)
Power Supply
Corsair HX850W
Chassis
Corsair Obsidian 700D Full-Tower
Cooling
Corsair H70 Self-Contained Liquid Cooler
Et cetera
Windows 7 Professional 64-bit
Let's get on with it!
| | |
| --- | --- |
| BCLK Values | Result |
| ASUS P8Z77-V DELUXE | 100.0 MHz |
| GIGABYTE G1.Sniper 3 | 100.1 MHz |
| GIGABYTE Z77X-UD5H | 100.1 MHz |
| Intel DZ77GA-70K | 99.8 MHz |
| MSI Z77A-GD55 | 100.0 MHz |
All checks out – but let's tackle something before going further. Both ASUS and GIGABYTE have mechanics in place where if the memory is adjusted at all, the CPU auto-overclocks. For a consumer, this is perfectly fine, and something I agree with (as long as the CPU's not pegged to its max value, of course). This mechanic does however destroy our hopes of an apples-to-apples comparison, but as mentioned above, since we're mainly comparing boards to make sure one doesn't fall short in some regard, this is fine. So again, bare this in mind. 
General System Performance
To take a look at the "overall" performance of our PC configuration, we rely on a simple Windows boot test (cold boot > usable desktop) and dual Futuremark suites; PCMark 7 and 3DMark 11. Please note that we're using PCMark 7 1.0.4, not the recently-released 1.4.0 (which has resulted in score changes).
Cold Boot to Desktop
Result
ASUS P8Z77-V DELUXE
20.894s
GIGABYTE G1.Sniper 3
21.784s
GIGABYTE Z77X-UD5H
23.647s
Intel DZ77GA-70K
27.708s
MSI Z77A-GD55
22.604s
PCMark 7
Test 1
Test 2
Test 3
Test 4
Test 5
Test 6
Test 7
ASUS P8Z77-V DELUXE
23.07
8.49
95.66
12.34
19.98
21.95
5.43
GIGABYTE G1.Sniper 3
23.05
8.455
95.98
12.43
19.06
22.61
5.39
GIGABYTE Z77X-UD5H
23.06
8.774
96.54
12.36
18.61
22.67
5.41
Intel DZ77GA-70K
23.08
8.154
89.89
11.71
20.22
21.51
5.4
MSI Z77A-GD55
23.11
8.313
97.63
12.64
20.21
22.67
5.44
PCMark 7 Suite Scores
Result
ASUS P8Z77-V DELUXE
5431
GIGABYTE G1.Sniper 3
5443
GIGABYTE Z77X-UD5H
5461
Intel DZ77GA-70K
5323
MSI Z77A-GD55
5506
Gaming
3DMark 11
ASUS P8Z77-V DELUXE
5629
GIGABYTE G1.Sniper 3
5432
GIGABYTE Z77X-UD5H
5567
Intel DZ77GA-70K
5599
MSI Z77A-GD55
5562
The G1.Sniper 3 placed second in our boot-time test, while it performed admirably everywhere else. Interestingly, GIGABYTE's own Z77X-UD5H managed to eke out an additional 100 points in 3DMark 11 – interesting only because the G1.Sniper is the "gaming" board.
I/O Performance
To properly give the internal SATA 6Gbit/s a good workout, we turn to HD Tune and Iometer.
HD Tune Pro 5
Minimum
Average
Maximum
Latency
ASUS P8Z77-V DELUXE
353.4
379.6
412.4
0.043ms
GIGABYTE G1.Sniper 3
329.5
334.8
344.0
0.134ms
GIGABYTE Z77X-UD5H
371.9
375.7
384.0
0.046ms
Intel DZ77GA-70K
350.6
358.3
366.4
0.045ms
MSI Z77A-GD55
381.3
384.7
397.5
0.043ms
 
Database
Workstation
File Server
Iometer 1.1.0
Read
Write
Read
Write
Read
Write
ASUS P8Z77-V DELUXE
4451.18
2191.30
5995.34
1501.51
6060.14
1515.90
GIGABYTE G1.Sniper 3
4138.48
2043.58
5674.01
1420.44
5690.62
1401.28
GIGABYTE Z77X-UD5H
4188.38
2062.59
5702.64
1427.58
5753.73
1436.30
Intel DZ77GA-70K
4272.09
2103.73
6056.63
1513.94
5772.78
1441.31
MSI Z77A-GD55
4439.99
2186.03
5937.08
1482.60
5947.93
1485.10
Once again, the results here look good, although where HD Tune is concerned, it's hard to ignore the decreased performance overall. Even the latency saw a decline, and while 0.1ms is virtually nothing in the grand scheme, it's the only board to have exhibited a result above 0.0XX.
Rendering & Image Manipulation
Writing files to disk or reading a website doesn't do much to exercise our CPU, so for that, we turn to a couple of common scenarios; image editing, video rendering and 3D rendering, using a combination of Adobe and Autodesk products.
Adobe Lightroom 4.1
Result
ASUS P8Z77-V DELUXE
522.35s
GIGABYTE G1.Sniper 3
515.01s
GIGABYTE Z77X-UD5H
522.98s
Intel DZ77GA-70K
548.78s
MSI Z77A-GD55
526.89s
Adobe Premiere Pro CS5.5
Result
ASUS P8Z77-V DELUXE
681
GIGABYTE G1.Sniper 3
661
GIGABYTE Z77X-UD5H
701
Intel DZ77GA-70K
716
MSI Z77A-GD55
679
Autodesk 3ds Max 2011
Result
ASUS P8Z77-V DELUXE
1322s
GIGABYTE G1.Sniper 3
1380s
GIGABYTE Z77X-UD5H
1270s
Intel DZ77GA-70K
1403s
MSI Z77A-GD55
1325s
Cinebench R11.5
OpenGL
CPU
ASUS P8Z77-V DELUXE
83.29
7.45
GIGABYTE G1.Sniper 3
81.50
7.51
GIGABYTE Z77X-UD5H
86.20
7.85
Intel DZ77GA-70K
77.38
7.07
MSI Z77A-GD55
80.74
7.49
GIGABYTE's G1 fell short in a couple of our previous tests, but it redeems itself here. As is typical of motherboard testing, you win some, you lose some.
Sub-system Performance
For memory and CPU throughput testing, we utilize SiSoftware's Sandra 2012 (SP4), and for Ethernet testing, we use iperf (or more appropriately, the Java-based jperf which utilizes it).
Sandra 2012 SP4
Integer
Float
Cache
Mem Latency
ASUS P8Z77-V DELUXE
20.90
20.90
123.05
22.20
GIGABYTE G1.Sniper 3
21.23
21.22
122.93
22.17
GIGABYTE Z77X-UD5H
20.79
20.79
123.39
22.8
Intel DZ77GA-70K
21.34
21.33
120.163
24.4
MSI Z77A-GD55
21.17
21.11
123.72
24.70
Ethernet (iperf)
50 Jobs (64KB)
50 Jobs (1518KB)
ASUS P8Z77-V DELUXE (Intel 82579V)
939
941
GIGABYTE G1.Sniper 3 (Intel 82579V)
930
922
GIGABYTE Z77X-UD5H (Intel 82579V)
936
918
Intel DZ77GA-70K (Intel 82579V)
930
920
MSI Z77A-GD55 (Intel 82579V)
932
942
Wrapping up, both iperf and SANDRA gives us expected results. With that, it's time to wrap this review up.
Final Thoughts
As always, GIGABYTE has done a solid job with its latest G1.Sniper iteration to cater to the hardcore gamer. It features a good audio solution (though not X-fi, for some reason), and dual-LAN. I'd usually give credit for the Killer Ethernet inclusion, but given my experiences, there's just nothing that impresses me about it. For that reason, I'm really glad to see an Intel NIC also included here. At least that will work under Linux, and lack of gaming enhancements aside, most gamers I know who opt for add-in NICs have gone Intel – that should say something.
The board offers a plethora of SATA and USB ports, full support for 4-way GPU for either AMD or NVIDIA, Wi-Fi for those who need it (with dual antennas – a nice touch), a solid board design and for those who might like it, cool, gamer-esque aesthetics. Hey – chances are if you're seeking out gaming-related components, you'll appreciate these looks.
On the EFI side, GIGABYTE's option is fair, though not excellent. Its splashscreen remains cumbersome to use, though thankfully, that's my biggest gripe. Once into the advanced mode, the EFI works well enough like the traditional BIOS we've come to expect. While the power-related options aren't quite as in-depth as what we've seen on ASUS boards lately, it's still sufficient enough for most people. Where the board does lack though is with its fan control. For those who truly appreciate fine-tuning their fan profiles, your motherboard selection is severely limited. This is another area where I hope all vendors will impress with their next-gen products.
Next, we have to talk about the software. At this point, I can imagine that some vendors hate what ASUS is doing from both an EFI and software standpoint. I hate to constantly compare one vendor to another, but ASUS has truly impressed me as of late and has forced me to realize what motherboards have been missing for a while: a quality BIOS/EFI interface and quality software. GIGABYTE's software package and ASUS' simply cannot be compared. GIGABYTE offers a small collection of tools that look like they were designed for children, while ASUS has produced a well-designed (even classy) suite for utmost control over your system.
The unfortunate thing for GIGABYTE is that this is the review where I decided to let loose on all of this. Had this been an MSI review, I would have done the same thing (MSI's EFI is actually the worst I've personally used due to its insistence on using the mouse, along with its general layout).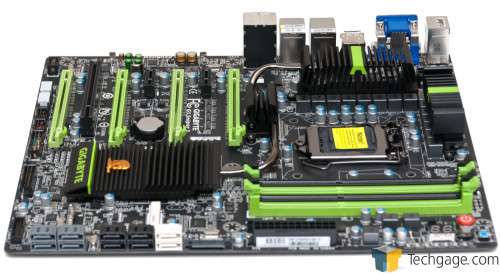 As mentioned before, Intel's next-generation of chipsets and processors are not too far off, and every board vendor has had a lot of time since the last major launch to improve-upon the areas where they've fallen short. I used to scoff at the BIOS and software, but ASUS has shown me what things can be like.
But let's be clear about one thing: this board, apart from its EFI and software, is fantastic. It looks good, has a good layout that I have trouble finding something to complain about, is feature-packed, has some thoughtful design implementations for gamers, and includes Wi-Fi (even if you don't use it right off, you sure won't hate the fact that it's there if you do ever end up needing it).
The one problem is that at $270, it's not a cheap board. It has many features that help warrant that price, but unless you actually want to make use of everything it offers right off the bat, there's no denying that there are cheaper, still good-looking options out there, even in GIGABYTE's own line-up.
Given the fact that Intel's next-gen "Haswell" launch is creeping up fast, this board is hard to recommend on that basis alone – but that's not GIGABYTE's fault. Had the board been offered at a slightly lower price, it'd be easier to recommend, because as nice as the upcoming platform may be, promises of +10% performance isn't exactly going to matter much to most enthusiasts, especially those who might overclock.
What this board does do for me is whet my appetite for what's to come in the future. GIGABYTE has a great base here; if it can just work on its software and EFI solutions, it could prove to be the solution to beat. For gamers who don't care about the EFI or software solutions, your complaints will be far fewer than mine.
Copyright © 2005-2020 Techgage Networks Inc. - All Rights Reserved.