GPU Upgrade & New Build Buyer's Guide 2016

Date: November 28, 2016
Author(s): Jamie Fletcher

On the lookout for a new graphics card? We've put together a guide to help you pick the right graphics card for your budget. For new builds or upgrades, there are an assortment of GPUs to pick in each price range. Competative eSports on a budget, to ultrawide or multi-monitor gaming, there's something for everyone.
---
Video Card Compendium For 2016
Whether you are looking for a new GPU to upgrade an existing system, or to throw in a new build, it can be difficult to figure out where to put your cash with different makes, models and overlapping price points.
This guide will help you figure out which GPU to get at a given price point, plus note some of the pros and cons to look out for. Manufacturers will shuffle prices around over the next month, so if you see a good deal, we suggest you get it there and then.
Pre-overclocked cards will put a lot of models outside their normal price range, often above the cost of a standard model a tier higher, so be careful about those cards. Prices in general are still higher than their expected MSRP, even after all these months, so a $200 card will often end up costing $230 for the basic model.
With all that said, let's take a look in ascending order, the different GPUs to keep an eye out for at a given price range.
What Can You Get For $100 Or Less?
The only times these GPUs make sense is if you play competitive and well optimized eSports titles and MOBAs. These games typically include Overwatch, CS: GO, DotA 2, LoL and Rocket League. Most of these titles will be playable at 60 FPS with medium to high settings, but if you plan to play something like The Witcher 3 or Battlefield 1, you are going to struggle without dropping quite a few settings.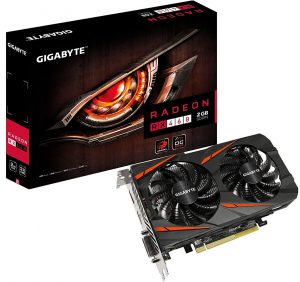 The only card currently sitting at the $100 mark is the Radeon RX 460, which you can sometimes grab for $90, and if you are happy with playing older titles and don't mind dropping settings a lot to go play more modern games, then the RX 460 is just fine. You can see its performance results when we put the RX 460 up against NVIDIA's entry-level GPUs.
If you have an existing GPU, be it integrated or a mid-range dedicated card that's three or more years old, then you might possibly see an improvement in performance. It all depends on the age of the old card.
For a more long-term GPU, we would recommend going a bit higher to the $150 range if possible. You'll be able to play modern games at high and ultra settings, while still being able to play the next generation of titles for the next year or two comfortably.
The $150 Range
This is when choices open up a bit and 3 more cards join the ranks. NVIDIA has two offerings within $30 of each other, and AMD has its slightly better performing card before getting into the mid range. At $150, we consider this the starting point for 1080p gaming for modern games, as it provides good performance for even the most demanding games, while still providing some future-proofing of sorts, at least for the next couple years.
While the GeForce GTX 1050 should be in the $100 range by MSRP, most of the time, you can't actually get it for that price, so it does get bumped up a bit. Typically found for around $120-$130, it provides a good boost over the RX 460, and will happily play most games on full settings at 1080p. The catch is the really small frame-buffer of just 2GB. This does limit its future potential quite significantly, as even some 1080p games require 3-4GB of VRAM for optimal performance.
For that reason, we can't really recommend the GTX 1050, and instead urge you to go a little bit further for the GTX 1050 Ti in the $150 range. Not only do you get a core count increase of 20%, you also get double the VRAM, bringing it to 4GB. That alone will keep the 1050 Ti kicking around for a couple more years. You can check out our review of the 1050 and 1050 Ti to see for yourself.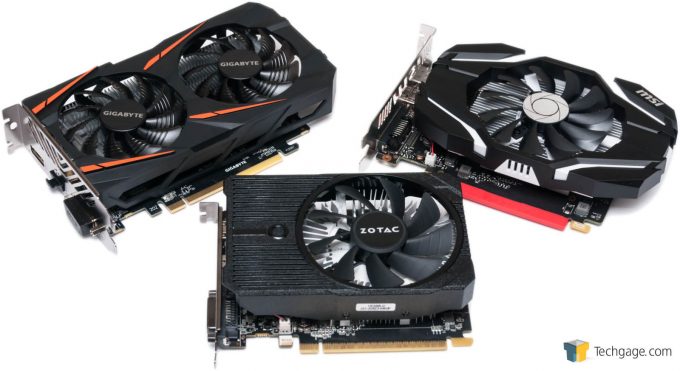 Moving into the $170 range allows for more performance, with AMD eking out ahead of the 1050 Ti with its own Radeon RX 470. The RX 470 consistently outperforms the the 1050 Ti in pretty much every test we put it through in our review, and the price difference is not that large, mainly because NVIDIA still has quite a large gap between retail and MSRP price points.
Some suppliers make an RX 470 with 8GB of VRAM, but that puts it in the same price range as an RX 480, at which point, you might as well go with the RX 480, since a 4GB RX 480 will still outperform an RX 470 8GB. That extra RAM is only useful when the GPU can cope with higher resolutions and AA effects.
If NVIDIA cards were to level out with their MSRP prices, then the price/performance gap would be more in its favor. As it stands though, the RX 470 does pull ahead as the better choice. However, if that's $30 too much, then don't feel too pressured to push that extra bit, as the 1050 Ti is a good card, especially over the non-Ti variant.
The Best Of 1080p – $200-$250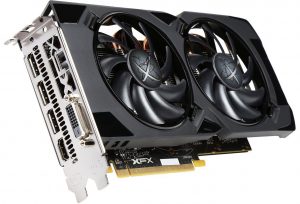 It's at this point when competition gets fierce, not because of the different models (there's only two), but because of overclocks and VRAM SKUs. If the RX 470 isn't quite enough for you in the long-term, then you have a choice of two models that are going to be a real battle of pros and cons. Do you go for the GeForce GTX 1060, or the Radeon RX 480?
Both models come with two SKUs available, the GTX 1060 has a 3GB or 6GB variant, and the RX 480 has a 4GB or 8GB variant. Because of this constant battle with MSRPs, picking one to go with gets tricky, and you'll have to decide on the day.
Under testing, the GTX 1060 beats the RX 480 nearly every time when we put them through our batch of tests, it's only with Vulkan enabled with DOOM that the RX 480 really pulls ahead. If there is only a small price difference between the two, it's better to go with the GeForce GTX 1060. The RX 480 8GB we reviewed is a solid performer and will max out every game at 1080p, with some headroom for 1440p and VR support, especially if you can get it for under $200 (but since the Black Friday sales, prices have gone back up again). The 4GB version is still good, but it'll be rather silly to forgo doubling the VRAM for an extra $20.
The GTX 1060 is typically around the $240+ for the 6GB version; a 3GB version is available sometimes for about $200 but again, we're not comfortable in suggesting it considering the price difference. More VRAM will prolong the life of the card as textures get larger. This is basically the start of 1440p gaming on a single GPU. For some context, the GTX 1060 is almost equal to the top-end previous generation GTX 980, a card that was no slouch but double the price at launch.
In the $250 range is a number of pre-overclocked GPUs from various manufacturers for both the GTX 1060 and RX 480, each adding up to 10% performance with custom coolers and overclock potential. It's at this point that mid-range cards stop, since paying more than $300 for an overclocked 1060 is a bit much. It's also at this point that a very sudden price hike starts…
High-End & Performance GPUs
While you can get a very decent GPU for 1440p at the $250 range, beyond that, prices suddenly jump to nearly $400 for the next tier. Currently, AMD doesn't have a modern GPU above the RX 480, so your choice is limited to either CrossFire a pair of RX 480s (not recommended) or NVIDIA's GeForce GTX 1070. We don't have any confirmation yet of an RX 490 or any of the Vega chips from AMD.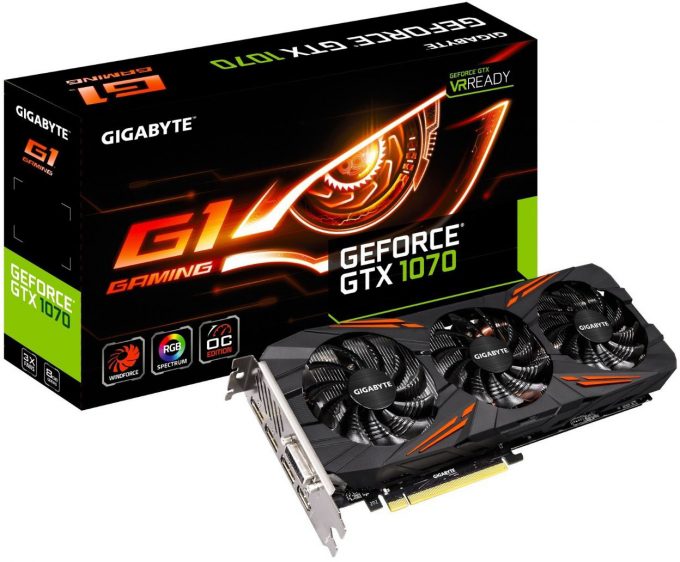 While the cheapest GTX 1070 starts at about $380, and if you can catch it on offer, $370, but most of them will be in the $400+ range, with custom coolers and a few Founders Edition cards. These cards are completely overkill for 1080p gaming, as they'll easily hit 100FPS in most titles with a sufficient CPU. Even 1440p would be a light load most of the time.
The GTX 1070 is the most future-proof card you can get on a reasonable budget without going to the enthusiast cards, and is probably the perfect upgrade card without resorting to a new system. It'll handle VR extremely well, and is perfectly suited to ultrawide gaming too (21:9 aspect ratio).
While 4K has been getting a lot of attention, ultrawide is often left out of many test suites. It's a very cool setup that involves a 21:9 monitor, typically running at 3440×1440 (4.9 megapixels), which is less demanding than 4K at 3840×2160 (8.2 megapixels). That difference in resolution means that the GTX 1070 can comfortably run ultrawide at 60 FPS on most titles, where it would typically hit 30-40 FPS with 4K. You can read a in-depth review on the GTX 1070 with ultrawide here.
That ultrawide performance also means the GTX 1070 is very much suited to multi-monitor gaming too, such as with 3x1080p displays (for a total of 5760×1080, or 6.2 megapixels). Not all games support multi-monitor though, so keep that in mind before diving in.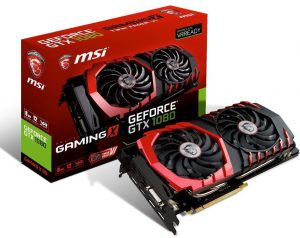 The GeForce GTX 1080 is actually an oddball in some regards. It's NVIDIA's flagship GPU that's just short of the Titan X, and it's completely overkill for 1080p and 1440p gaming. Where it does hold an advantage is if you are after twitch reflex FPS gaming on ultra settings with a 120-144Hz monitor, although a 1070 could still achieve that with the right CPU and in-game settings. Starting at $600 if you're lucky, it's not a cheap card either.
If you plan for ultrawide though, the GTX 1080 is perfect as you see in our review, but ultrawide monitors are still expensive, typically in the $1000 range for one with G-SYNC. It's perfect for multi-monitor 3×1080 or 3×1440 gaming too, but not all games scale to multi monitors. The surprising thing with the GTX 1080, is that it's only just good enough for 4K gaming, but can frequently dip below 60FPS. For long-term 4K gaming, you'd have to get a TITAN X or SLI two GTX 1080s (and again, not all games can scale with multiple GPUs, even with DirectX 12), but even then, it still seems like a waste of money since all you're really paying for is sharper graphics – no extra eye candy or anything.
Becoming CPU Bound?
If you have an older system but still want to play new games, buying a new GPU is a good way to go about it, but at some point you will hit diminishing returns, so you may not need to fork over as much for a new GPU as you think, simply because your current system won't be able to handle it. This is what we refer to as a bottleneck.
For the first time in a long time, a game came out that actually stresses Intel's venerable Sandy Bridge i7-2600K – a now 6-year-old CPU. Battlefield 1 has caused a stir as people upgraded their old i7 rigs with a brand new GTX 1080, and were not getting the performance they so desired. It's not wasted money since the new card can be used in a new system, but clearly, bottlenecks have been reached with older CPUs in modern games.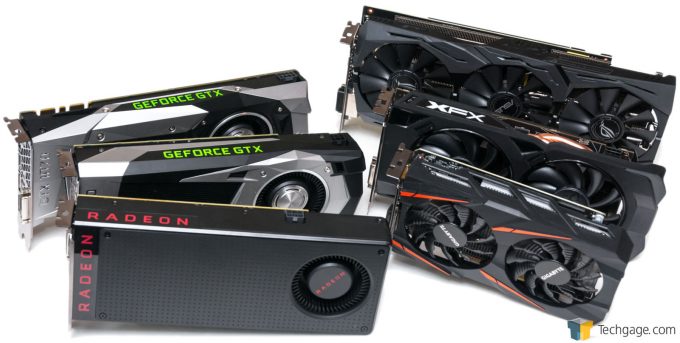 Currently, Battlefield 1 is an exception rather than the rule at this point, but it does show us that the now aging CPUs in older system are due an update. This becomes especially true for those running i5 and i3 variants of older CPUs, typically anything older than Haswell, or systems that don't have native PCIe 3.0 lanes. To be clear, PCIe 2.0 lanes don't throttle a GPU, they have more than enough bandwidth for even a top-end GPU, they're just a good indicator for the age of the system.
If you do have an older system and still want to upgrade to a new GPU, the cut-off point seems to be around the GTX 1060, as that almost matches the performance of the GTX 980. This will hold true for i7 systems and i5 as well (4 core systems, with and without hyperthreading). If you are on an i3, Pentium or a dual-core CPU, then you will struggle with modern games, as most will take advantage of 4 cores these days. Beyond that, you are putting money down on a new card that will be enjoyed in a later system, but not right now.
If you are not sure whether you should upgrade the GPU or the whole system, you can leave a comment below and we can find out for you.
Copyright © 2005-2020 Techgage Networks Inc. - All Rights Reserved.