NETGEAR ReadyNAS 102 Dual-bay NAS Review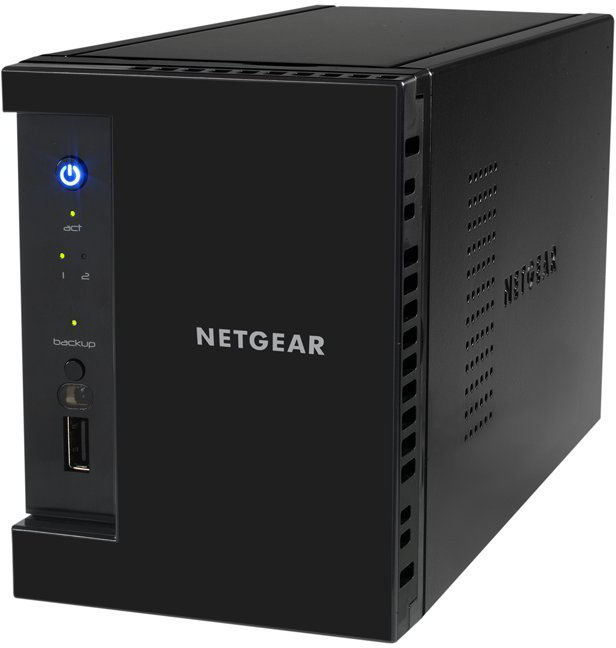 Date: May 12, 2014
Author(s): Greg King

It's been quite some time since we last checked out one of NETGEAR's NAS offerings, so we're going to use the ReadyNAS 102, a dual-bay offering, to help us get up to speed. Unlike the last ReadyNAS we looked at, the 102 features OS 6, and one of our favorite, understated features: Btrfs support.
---
Introduction, A Tour of the ReadyNAS 102
We have taken quite a few looks at various NAS devices over the nine years Techgage has been online.  Most recently, it's been the QNAP TS-269L and the WD My Cloud EX4.  Both products are marketed at similar demographics and as such, they both fill existing needs for the home and small business consumers.  In Rob's recent look at the QNAP, he focused a considerable amount of time on its interface, comparing it to the superb job Synology has done with its user experience over the past few years.
Like QNAP, another company we haven't looked at recently is NETGEAR.  While the stretch between reviews of NETGEAR's NAS devices hasn't been near as long as the six years it took to circle back around to QNAP, our last look at a NETGEAR device was the ReadyNAS Duo v2 back in December of 2012.  It's with great excitement that we once again have one of the company's ReadyNAS devices on our bench, and in an attempt to not only stay alongside its competition, NETGEAR hopes to move ahead with some cool new features of its own.
Today we are working with the NETGEAR ReadyNAS RN102.  In our initial talks with a few members of the NAS team at NETGEAR, it was made clear that a significant focus went not into design and hardware engineering, but into the code that users like you and I interact with on a regular basis.  With added features like anti-virus and snapshotting, NETGEAR has not only added many additional useful features to its firmware, it's also made a significant effort to position its interface to be included in the same conversation as other UI titans like the previously mentioned QNAP and Synology.
A NAS that draws its aesthetic inspiration from previous two bay NETGEAR NAS devices, the RN102 resembles the Duo v2 we looked at in late 2012.  Within the recessed front IO panel, we find the device's power button, activity and disk LEDs, and an LED for USB backup activity initiated by the "backup" button, and a USB 2.0 port situated just below it.  Hinged at the left, the front panel swings outward to allow access to the two drives held in place by lockable carriers.  These carriers are extremely sturdy and fit into the NAS far nicer than those we worked with in the Duo v2.  To extract the carriers to either install a drive or remove one, the user simply needs to press down on the hollow area at the bottom. This unlocks the carrier's handle and allows the entire assembly to be pulled outward.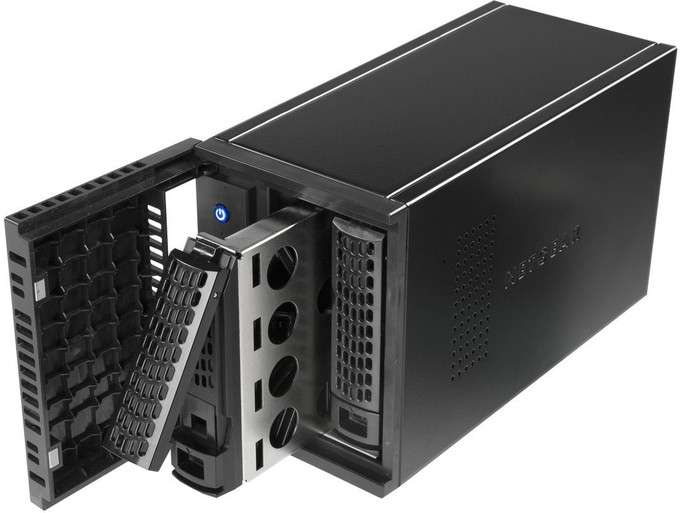 The back of the RN102 looks almost identical to the Duo v2, with the only significant difference being the addition of an eSATA port.  This joins a pair of USB 3.0 ports (Fresco Logic FL1009 dual port PCI-E controller), a Kensington locking hole, a Gigabit NIC (Marvell 88E1318-NNB2), and a power port.  The dominant feature found on the back of the NAS is the large 92mm fan that remained whisper quiet throughout all operational testing.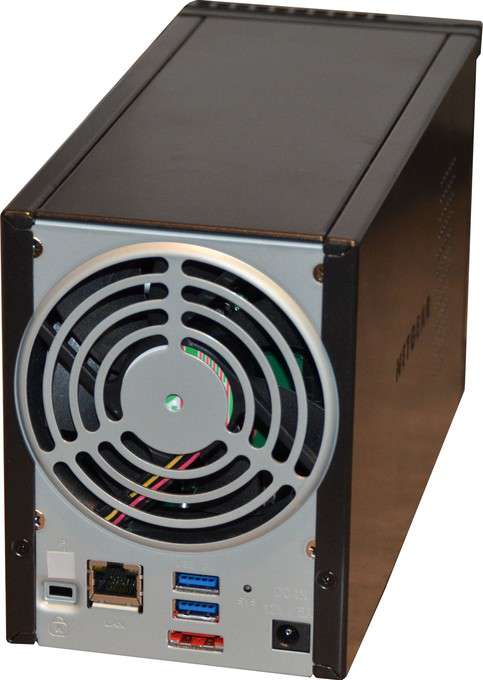 As I have done with my more recent NAS reviews, I have included an SSH session window to highlight the CPU information.  As we see, the CPU is a Marvel Armada-370 SoC and is clocked at 1.2 GHz.  Not shown is the soldered-on 512MB of system memory that the RN102 comes with.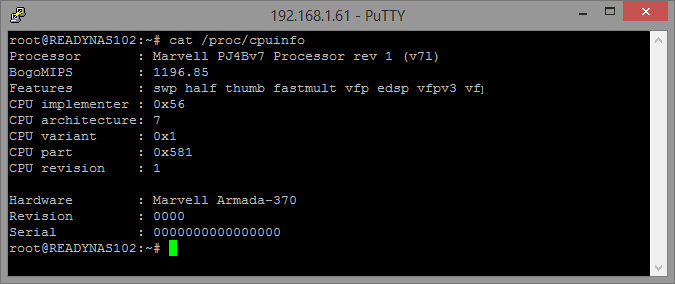 On to a look at NETGEAR's ReadyNAS OS 6 software.
ReadyNAS OS 6, Setup, and Testing
As mentioned previously, NETGEAR has dedicated a considerable amount of engineering resources towards a complete redesign of its ReadyNAS OS.  While functional and easy to navigate, NETGEAR's previous firmware really never stuck me as inspirational.  With ReadyNAS OS 6, the company started at the ground level and built OS 6 into a formidable user experience.  Abandoning the tried and true ext4, the company instead opted to employ the Oracle-developed Btrfs.  While the benefits of choosing this file system include integrated volume management, checksums for data and meta-data, and the ability to handle extremely large files, the most realistically impactful benefit for us end-users is the ability to natively take snapshots of our data.  This is huge, and a functionality I hope to see in other NAS vendors incorporate into their own offerings.
So, what is a snapshot and why should you care?  A snapshot is a point-in-time, read-only, image of a particular share.  As data changes on the original share, the data as it was when the snapshot was created remains unchanged.  Snapshots within the ReadyNAS OS 6 can be enabled when a share is created.  By enabling snapshot protection, you are given the opportunity to select when they are taken by the NAS.  As snapshots in OS 6 are simple pointers to the file system, they take up very little space.  As changes are made to the data on the share, only block level additions are made to the snapshot.  In the event of data loss, a snapshot can be "cloned".  This creates a readable and writable clone of the share and allows individual files that may have been deleted to be restored.  A good thing about these clones is that they do not increase the shares' consumed disk space unless written to.
Turning our focus to the updated UI, the default screen when we log in provides the user with an overall status report of the NAS.  From this screen we can alter the power state, view consumed space on volumes and check for updates.

The next displays overall volume information.  From here we can check individual drives (S.M.A.R.T. data, temperatures, etc…), volume type and space, both consumed and free.  With an easy-to-read pie chart, it's a good screen for simple volume-related data.

The performance sub-tab displays fan speed, CPU temperature and individual drive information.  Here we see the model number of the drives installed, Toshiba 1TB drives, as well as their current operating temperature.

On the settings sub-tab, we have a large collection of options.  A list of services, represented by icons, is listed.  These services include all the major storage protocols, multimedia and data sharing options, secure access options and NETGEAR-only options.  These NETGEAR exclusive pieces are the genie+ Marketplace and its Commtouch powered antivirus.  The genie+ marketplace is similar to most application portals, like iTunes, and offers a multitude of additional programs that allows the user to leverage their ReadyNAS beyond simple network accessible storage.  The antivirus service is a result of a partnership between NETGEAR and Commtouch.  Offering real-time antivirus scans of all writes to the NAS, this presents end-users with added piece of mind, especially when opened up to the outside world through services such as FTP.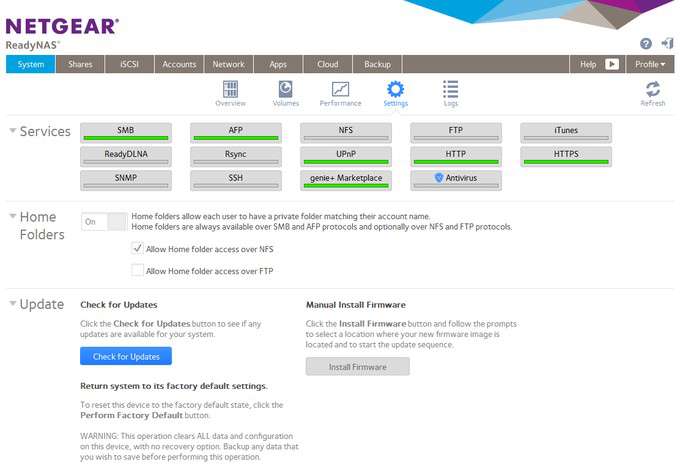 Data shares form the heart of any NAS device and the RN102 is no different.  The first step after powering on and logging into a NAS is setting up your volume.  The volume is where your shares live and it's those shares that provide access to your data to any device you decide to connect with.  As we see in the following picture, we have setup an SMB share and an iSCSI LUN.  A simple SMB share will be the most commonly used, but for our testing, and those that need iSCSI capabilities, iSCSI LUNs are available to use on the ReadyNAS as well.

Within the Shares tab, we have the ability to browse our shares.   In the example below, we are in our SMB share, creatively called 'TEMP'.  In this share I have placed a single ISO file and by clicking on it, we are presented with many different ways to interact with it.  We are given the option to rename, download, cut, copy and delete.  We are also able to view previous version of this file if snapshots that contain it exist on the NAS.  Another important feature of this screen is the ability to drag and drop files into the Web interface's window.  By doing this, the user has the ability to copy over data to whatever share they are browsing at that particular moment.  While this might seem trivial to most, it has its uses.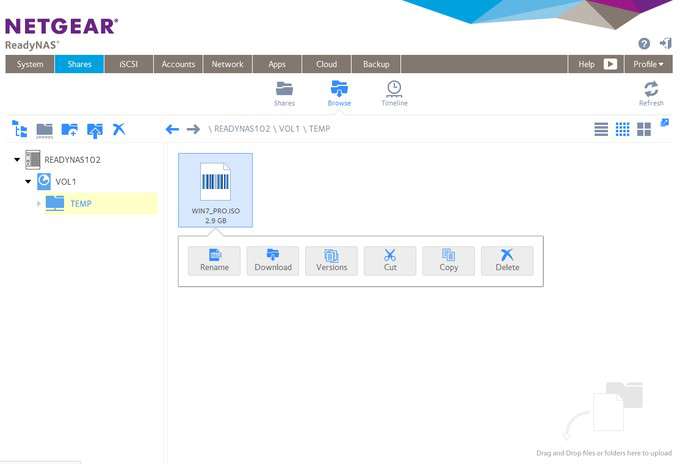 As mentioned in my previous paragraph, the ReadyNAS offers the ability to setup iSCSI LUNs and present them to whatever initiator you might have on your network.  Not only can individual LUNs be created and administered from this screen, LUNs can be grouped together as well.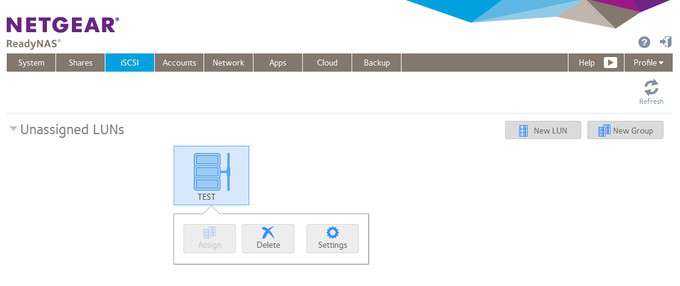 User administration is simple with OS 6.  Users can be setup individual on the device itself or with a domain.  In the authentication sub-tab, the RN102 can be joined to the local domain and then users can be setup by leveraging the user and group permissions on the domain itself.  One bit of advice, make sure that you have valid NTP and DNS servers setup for the ReadyNAS to poll.  System times must remain in sync for these domain permissions to work and the NAS needs to be able to resolve hostnames.

The network tab provides all network related information about the NAS' NIC.  While not much to see, there is plenty of information to be found on this page.

Just like its competitors, NETGEAR had an application portal available for its ReadNAS users.  From this portal, users can download a variety of apps that add functionality to the platform.  We aren't taking a deep look into the marketplace, but if you are interested, head over to the NETGEAR genie page.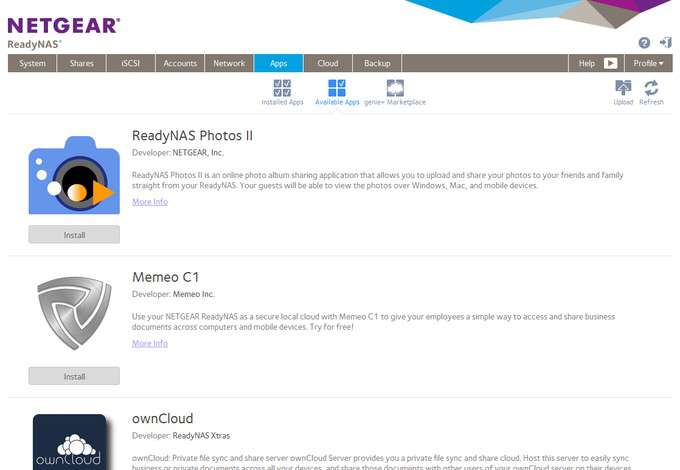 Under the cloud tab, we find many options turned off by default.  It is on this page that we are given the ability to enable many of the Internet-based methods of accessing and sharing the data contained on the NAS.  These options give the users the ability to have their ReadyNAS, along with their notebooks and workstations, act similar to Google Drive or Dropbox.  By synchronizing data between a Mac and/or PC with a ReadyNAS, a user, family or workgroup can share and collaborate on data regardless of location.
Finally, like with most NAS vendors now, there are the mobile apps.  On my iPhone, there are multiple NETGEAR applications that allow access, playback and data manipulation on-the-go.  A quick look on the Apple App Store shows ten different apps available for download, each leveraging the NETGEAR lineup of connected products.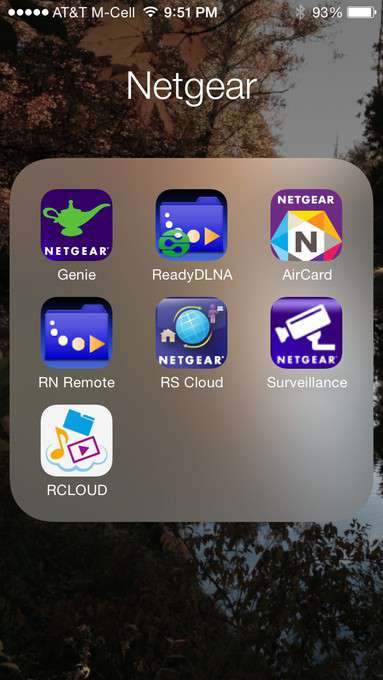 With my look at both the hardware and software taken care of, let's next take a look at the performance, and then wrap up.
Performance & Final Thoughts
Our NAS performance testing is undergoing a makeover.  In the past, we have used Intel's NASPT to gather and share performance metrics.  In Rob's review of the QNAP TS-269L, he ran into a few issues with the suite and as a result, left it out of that article.  For the ReadyNAS RN102, the test is back but we have also included the large data set transfers from Rob's QNAP article.  Also back is our standard test bed.
System Specs
Dell Optiplex 755
Intel Core 2 Duo E6550
2GB DDR2 RAM
320GB Seagate 7200 RPM
Integrated Video
Intel PRO/1000 PT Dual Port NIC
| | | |
| --- | --- | --- |
| | RAID 0 | RAID 1 |
| Read | 86.1 | 83.7 |
| Write | 51.2 | 49.9 |
| HD Playback | 67.1 | 66.4 |
| 2x HD Playback | 91.5 | 92.7 |
| 4x HD Playback | 89.1 | 90.8 |
| HD Video & Record | 68.2 | 66.2 |
| HD Playback and Record | 66.3 | 65.1 |
| Content Creation | 11.6 | 8.9 |
| Office Productivity | 40.8 | 38.9 |
| File Copy to NAS | 64.4 | 64.1 |
| File Copy from NAS | 74.1 | 73.9 |
| Directory Copy to NAS | 11.3 | 10.4 |
| Directory Copy from NAS | 14.1 | 13.9 |
| Photo Album | 18.4 | 18.2 |
The ReadyNAS RN102 review has been a long time in the making.  When originally contacted about offering our thoughts on the NAS, we were beyond excited.  It had been so long since our last NETGEAR NAS review that we felt it was time to circle back around and dive into the company's new NAS and firmware.
I had the RN102 for quite a few months, testing it and putting it through its paces and while I wish I could have gotten this review posted quite some time ago, I am thankful that we are posting it now.  We have a strong lineup of NAS reviews in the pipe, starting with Rob's excellent look at the previously mentioned QNAP TS-269L.  Like that review, where we found the UI to be exceptional, the freshly redesigned ReadyNAS OS is a polished and refined experience.  With the flexibility to add on additional apps, the value of a NAS such as this is multiplied.  Being able to not only store your data reliably and securely, you can also share that same data across your network and even outside of it with the use of some of the NETGEAR-provided tools.
The going price online for a ReadyNAS RN102, without disks, is approximately $150.  This puts it into the same price point as the Synology DS214se and the QNAP TS-220.  As big of a fan of Synology as I am, it would be a hard choice between its DS214se and this NETGEAR ReadyNAS RN102.  Performance of the RN102 isn't anything to brag about but compared to many of its competitors, the biggest advantage it has going for it is NETGEAR's use of the Btrfs file system and subsequent OS redesign.  While a novelty for some, the ability to take native snapshots is a win for the RN102 and something I imagine many users will take advantage of.
The NETGEAR ReadyNAS RN102 deserves a place on your list if you're in the market for an economical, two-bay, NAS.
Copyright © 2005-2017 Techgage Networks Inc. - All Rights Reserved.