NVIDIA Ampere: Delivering A 2080 Ti Killer For $700?

Date: September 1, 2020
Author(s): Rob Williams

NVIDIA has just unveiled its Ampere-based GeForce launch models: RTX 3070, RTX 3080, and the monstrous 24GB RTX 3090. In addition to the promise that gamers will be getting more bang for their buck with this new series, NVIDIA had a number of other technologies to show off as well, including Reflex, Broadcast, IO, and Omniverse Machinima.
---
NVIDIA Announces Ampere-based GeForce Graphics Cards
After months of rather intense anticipation, NVIDIA has announced its newest-generation GeForce graphics cards, all built around the company's Ampere architecture. Just as with the lead-up to the Turing launch two-years-ago, there have been an absurd number of rumors floating around leading up to this one, so now it's time to separate the fact from fiction, and see what these cards are really made of.
Compared to many of NVIDIA's gaming unveilings, today's presentation was fairly quick, although much was packed into it. Company chief Jensen Huang kicked off with talk of some new technologies, like NVIDIA Reflex for reducing input latency, and NVIDIA Broadcast for improved audio for recording and streaming. In typical NVIDIA fashion, the hardware announcements were left for last.
All three of the new Ampere models use a new cooler, and if you've been following the rumor mill, you won't be too surprised by it. Both the RTX 3070 and RTX 3080 use a dual-slot cooler, with the former being a bit shorter than the latter. The RTX 3090, meanwhile, appears to use a triple-slot cooler, or at least one that's bigger than two slots. Air is to be pulled in through the front of the PC, then run up into the card and both out the top and the back.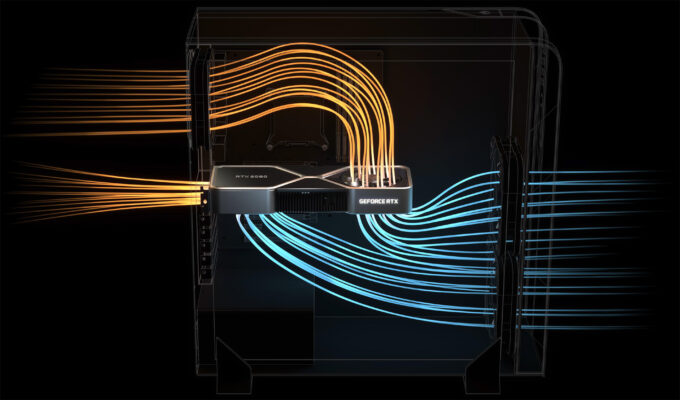 As NVIDIA itself revealed last week, there's a new 12-pin power connector on each of the company's Founder Edition models. These connectors can be used with the help of an adapter to convert two native 8-pin connectors, or be used with a future native 12-pin. Based on all of our vendor shots so far, it looks like this new connector will be exclusive to NVIDIA's FE cards for now.
Before diving into a look at all of what's new, here's a quick run-down of the newly-announced GeForces along with the previous Turing generation, and the Pascal-based 1080 Ti for good measure. Note that NVIDIA is measuring core counts differently this go-around, so we'll have to filter through that confusion later.
NVIDIA's GeForce Gaming GPU Lineup
Cores
Base MHz
Peak FP32
Memory
Bandwidth
TDP
SRP
RTX 3090
10,496
1,400
??? TFLOPS
24GB 1
???GB/s
350W
$1,499
RTX 3080
8,704
1,440
??? TFLOPS
10GB 1
760GB/s
320W
$699
RTX 3070
5,888
1,500
??? TFLOPS
8GB 2
???GB/s
220W
$499
TITAN RTX
4,608
1,770
16.3 TFLOPS
24GB 2
672 GB/s
280W
$2,499
RTX 2080 Ti
4,352
1,350
13.4 TFLOPS
11GB 2
616 GB/s
250W
$1,199
RTX 2080 S
3,072
1,650
11.1 TFLOPS
8GB 2
496 GB/s
250W
$699
RTX 2070 S
2,560
1,605
9.1 TFLOPS
8GB 2
448 GB/s
215W
$499
RTX 2060 S
2,176
1,470
7.2 TFLOPS
8GB 2
448 GB/s
175W
$399
RTX 2060
1,920
1,365
6.4 TFLOPS
6GB 2
336 GB/s
160W
$299
GTX 1660 Ti
1,536
1,500
5.5 TFLOPS
6GB 2
288 GB/s
120W
$279
GTX 1660 S
1,408
1,530
5.0 TFLOPS
6GB 2
336 GB/s
125W
$229
GTX 1660
1,408
1,530
5 TFLOPS
6GB 4
192 GB/s
120W
$219
GTX 1650 S
1,280
1,530
4.4TFLOPS
4GB 2
192 GB/s
100W
$159
GTX 1650
896
1,485
3 TFLOPS
4GB 4
128 GB/s
75W
$149
GTX 1080 Ti
3,584
1,480
11.3 TFLOPS
11GB 3
484 GB/s
250W
$699
Notes
The top two Ampere-infused GeForces take advantage of GDDR6X, or G6X for short. Turing's top-end part for the desktop was TITAN RTX, and its G5X peaked at 14Gbps (672GB/s). NVIDIA hasn't posted specifics on the RTX 3090 product page yet, but the unveiling of the RTX 3080 revealed a 19Gbps memory speed delivering 760GB/s.
One of the biggest pleas from fans for this generation was to get a 2080 Ti-class card for far less money, and based on today's announcement, they're getting exactly that. The RTX 3070 comes in at $499, and is claimed to outperform the 2080 Ti ever-so-slightly. Whether or not that takes RT performance into account, we're not sure, but we'll find out next month when the card releases.
Ahead of the RTX 3070's launch will be RTX 3080, landing on September 17 (aka: just over two weeks from now). It's priced at $699, and is said to far surpass the 2080 Ti's performance, with NVIDIA putting the 3080 at around ~30% faster. With 10GB of memory, the 3080 does lose 1GB compared to the 2080 Ti, but the upside is that the memory performance is about 20% faster.
NVIDIA's RTX Performance
Shader TFLOPS
RT-TFLOPS
Tensor-TFLOPS
RTX 3090
36
69
285
RTX 3080
30
58
238
RTX 3070
20
40
163
And then we come to the RTX 3090, a card that was rumored to be priced higher than normal – and is. It's not without merit, though, or astonishment from us. With this generation, NVIDIA has replaced the need for some to opt for a TITAN-class card in order to gain extra memory (even if the extra workstation optimizations are not needed). With the 3090, NVIDIA isn't just delivering another 24GB card at $1,000 less, it's also delivering one with promised boosts to both ray tracing and deep-learning performance.
Worded like that, it really does sound like a creator card more than a gamer one, but ultimately, it can be both. NVIDIA brought up examples of those running machines with multiple high-res monitors, or even one single 8K. At 4K, 10GB is generally going to be sufficient for most gamers, but 8K can make that kind of frame buffer seem paltry (we're talking 4x the pixels, after all.)
Because of the massive ray tracing performance improvements, we can't help but talk a bit about the benefits of Ampere for creative workloads. We've seen many examples over the past couple of years of how accelerated ray tracing improves render times, including with our own benchmarking with Autodesk Arnold, Chaos Group V-Ray, Maxon Redshift, and of course, Blender Cycles. The gains have been notable, to the point where it's been hard to consider anything but an RTX card for rendering.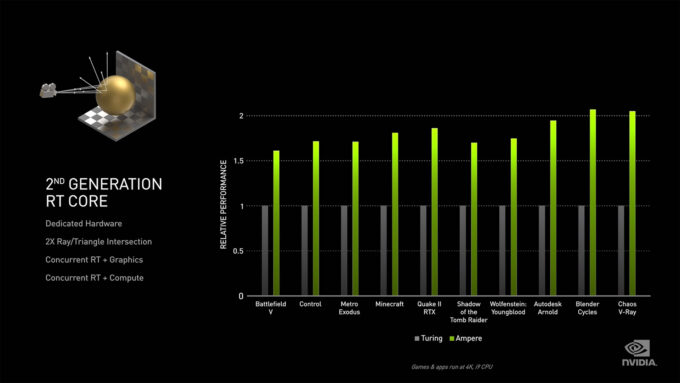 RT performance boosts in gaming excites us, but in creative workloads, the improvements directly convert to time saved with rendering, so with these second-gen leaps, Jensen's "the more you buy, the more you save" motto continues to have some truth to it. As for gaming, just look at the performance improvements seen in games like Minecraft. Anyone running the new $499 RTX 3070 will be able to enjoy that game with RTX enabled at 60 FPS with ease.
NVIDIA didn't talk about future cards today, but with the RTX 3070 offering so much performance from behind its $499 price-tag, it bodes well for what a future RTX 3060 could offer.
Some New Software Features
One of the first announcements from NVIDIA today revolved around its new Reflex platform. We've heard this kind of tale before, of reducing latency between the CPU and GPU so that frames can be delivered at the right time. NVIDIA says that Reflex can reduce CPU overhead by delivering the frame only at the last possible moment. NVIDIA gives a specific improvement of 45ms down to 29ms with Reflex enabled.
What's really neat about this announcement is that the new 360Hz G-SYNC monitors will support an overlay that can talk to the GPU and deliver instant latency information, from the mouse to the full system itself. This is the kind of feature benchmarkers all over would love to have (along with a built-in frame rate monitor).
NVIDIA Broadcast is another announcement that happened today, allowing streamers or gamers on voice chat to enhance their clarity and reduce background noise. Heck – it can even reduce the background, by creating a virtual green screen that for some could actually replace a real one. Another neat feature is Auto Frame, which uses AI to zoom in on you if you're moving away from the camera – like having your own cameraperson, NVIDIA touts.
For content creators, there's also NVIDIA Omniverse Machinima, which enables gamers to "master the art of storytelling" by using 3D objects animated by AI.
AI plays a massive role with Omniverse Machinima, as users can import 3D objects from supported games or from design programs that NVIDIA will analyze and allow the user to animate with the help of a webcam. Faces can even come to life with Audio2Face technology, which pretty much explains itself. One supported game shown off is Mount & Blade: Bannerlord, which will hopefully be the first of many to take advantage of this platform.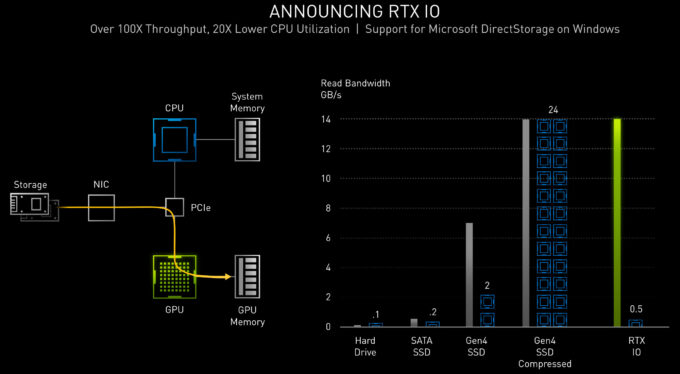 With all of the talk of next-gen consoles taking great advantage of super-fast SSD tech, NVIDIA's announcement of RTX IO comes at the right time. With it, NVIDIA says that with Microsoft's new DirectStorage, some work that would ordinarily go to the CPU will instead be pushed to the GPU, "enabling near-instantaneous game loading". That sounds great, but it's of course something we want to see in person. From what we see with Ratchet & Clank: Rift Apart on PlayStation 5 with its instant world shifting, this is tech we definitely want to see more of.
Naturally, NVIDIA name-dropped a number of games, such as the upcoming Cyberpunk 2077 which will take good advantage of the accelerated ray tracing in RTX cards. It also announced that more RTX action will be hitting Minecraft via World Pack 3, and RTX is going to augment Fortnite in the near future. Both the upcoming Watch Dogs: Legion and Call of Duty: Black Ops Cold War are being paraded as taking great advantage of both ray tracing and DLSS.
On the topic of DLSS, it was brought up during the RTX 3090 announcement in reference to 8K. There are few 8K displays on the market, but if you have one, you know just how much performance it demands. That's where DLSS can come in, by upscaling a lower resolution version of the game and upscaling it to 8K. Some known gamers were brought in to NVIDIA HQ to test this out ahead of today's announcement, and they seemed pretty impressed (seen in the video above).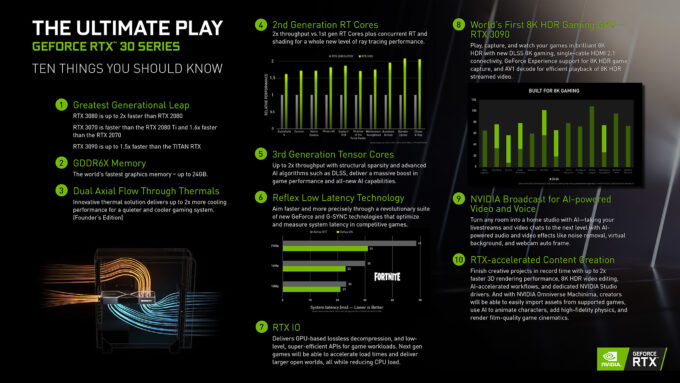 Overall, NVIDIA had quite the impressive collection of announcements today, and we're happy with what we've seen. NVIDIA is actually going to be delivering 2080 Ti performance at a much lower price-point, so that means more are going to be able to take advantage of that level of performance. When even the $499 RTX 3070 is said to at least match the last-gen $1,199 RTX 2080 Ti, how could you not be impressed?
But, most importantly – what did you think of NVIDIA's showing today?
Copyright © 2005-2020 Techgage Networks Inc. - All Rights Reserved.