NVIDIA GeForce GTX 760 Review: GTX 700 Hits the Mainstream

Date: July 1, 2013
Author(s): Rob Williams

For those interested in NVIDIA's latest GTX 700 series but are unable or willing to part with $400+, the company's third and final launch (until the fall, at least) should interest you. It's the GTX 760, comes in at $249, is built upon the GK104 architecture, and happens to offer some great performance for your hard-earned buck.
---
Introduction
With NVIDIA having supported Gearbox's Borderlands 2 greatly since its launch, there's one thing that comes to mind when I see yet another GTX 700 series card. Anyone who's played the original Borderlands has undoubtedly heard a Psycho shout, "Strip the flesh, salt the wound!" – now all I can picture is a Psycho pinning an AMD logo to the ground.
NVIDIA's GeForce GTX 760 follows-up to the $649 GTX 780 and $399 GTX 770, to settle in at an affordable $249. Based on specs and pricing alone, it looks to be a great solution for those wanting a graphics card that won't break the bank but has enough oomph to offer kick-ass experiences with any current and up-and-coming PC game.
It's not uncommon for NVIDIA to give us some interesting ecosystem information when briefing us on its latest offerings, but for the GTX 760, a slide we were given was worth including here: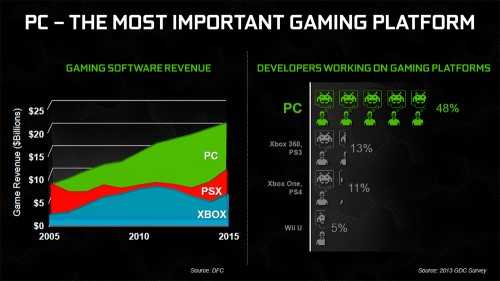 Thanks to a survey conducted by DFC at the recent Game Developers Conference, we can see that game developers still take the PC as a platform very seriously. The numbers almost look made up, but 48% of all developers surveyed are currently working on a title for the PC, versus 13% and under for the current crop of consoles. If there was any doubt about PC gaming before, hopefully there isn't now – but please don't let the majority of these games be of the free-to-play-but-hardly-actually-free variety. Please.
Behold, NVIDIA's latest and middle-of-the-pack greatest: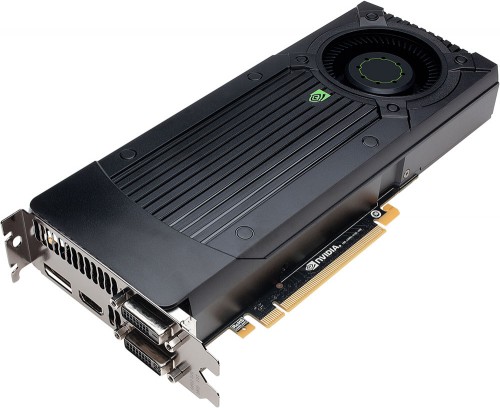 As you'd expect of a mid-range NVIDIA GPU, the GTX 760 features four video outputs (DVI-I, DVI-D, HDMI, mini-DP) and supports 2-way SLI. For power, expect a peak load of about 170W, requiring 2x 6-pin PCIe power connectors to operate.
Like we saw with the last two launches, NVIDIA has given us some ballpark figures to help us better understand what we should be expecting out of the GTX 760: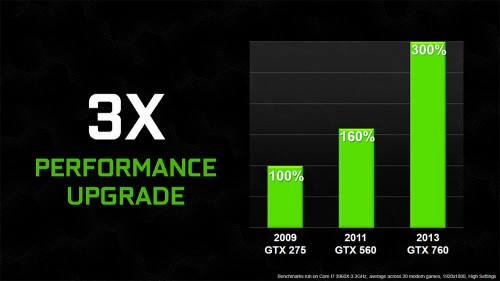 The company goes back quite a ways here – 2009 – to show us that the GTX 760 is effectively 3x faster than the GTX 275 (which, at the time, was an uber offering). Not bad – 300% in four years, and 88% since 2011's GTX 560.
As always, we can get a better idea of what we're dealing with courtesy of the table below:
| | | | | | | |
| --- | --- | --- | --- | --- | --- | --- |
| NVIDIA GeForce Series | Cores | Core MHz | Memory | Mem MHz | Mem Bus | TDP |
| GeForce GTX Titan | 2688 | 837 | 6144MB | 6008 | 384-bit | 250W |
| GeForce GTX 780 | 2304 | 863 | 3072MB | 6008 | 384-bit | 250W |
| GeForce GTX 770 | 1536 | 1046 | 2048MB | 7010 | 256-bit | 230W |
| GeForce GTX 760 | 1152 | 980 | 2048MB | 6008 | 256-bit | 170W |
| GeForce GTX 690 | 3072 | 915 | 2x 2048MB | 6008 | 256-bit | 300W |
| GeForce GTX 680 | 1536 | 1006 | 2048MB | 6008 | 256-bit | 195W |
| GeForce GTX 670 | 1344 | 915 | 2048MB | 6008 | 256-bit | 170W |
| GeForce GTX 660 Ti | 1344 | 915 | 2048MB | 6008 | 192-bit | 150W |
| GeForce GTX 660 | 960 | 980 | 2048MB | 6000 | 192-bit | 140W |
| GeForce GTX 650 Ti BOOST | 768 | 980 | 2048MB | 6008 | 192-bit | 134W |
| GeForce GTX 650 Ti | 768 | 925 | 1024MB | 5400 | 128-bit | 110W |
| GeForce GTX 650 | 384 | 1058 | 1024MB | 5000 | 128-bit | 64W |
Currently, the only GTX 700 series GPU based on a new architecture is the GTX 780, which derives itself from the same GK110 design as TITAN. Both the GTX 770 and 760 stick to GK104, heavily used by the GTX 600 higher-end offerings but enhanced with a couple of 700-specific features like the updated adaptive temperature controller and GPU Boost 2.0.
As the GTX 660 Ti is based on GK104 as well (not GK106 like the GTX 660), it's the most comparable GPU to the GTX 760. The 660 Ti has more cores (1344 vs. 1152) but falls behind in clock speed (915MHz vs. 980MHz). Based on that, theoretically the 660 Ti should prove to be the better performer, but one thing to help the 760 along is its 256-bit memory bus, beating out the 660 Ti's 192-bit. Wider is better, baybee.
Without further ado, let's move onto a quick look at our testing methodology, and then tackle the benchmark results.
Test System & Methodology
At Techgage, we strive to make sure our results are as accurate as possible. Our testing is rigorous and time-consuming, but we feel the effort is worth it. In an attempt to leave no question unanswered, this page contains not only our testbed specifications, but also a detailed look at how we conduct our testing.
Test Machine
The below table lists our testing machine's hardware, which remains unchanged throughout all GPU testing, minus the graphics card. Each card used for comparison is also listed here, along with the driver version used.
 
Graphics Card Test System
Processors
Intel Core i7-3960X – Six-Core, 4.20GHz, 1.35v
Motherboard
GIGABYTE G1. Assassin 2 (X79)
Memory
Corsair Dominator GT 4x4GB – DDR3-2133
Graphics
AMD Radeon HD 7750 1GB (Catalyst 12.9)
AMD Radeon HD 7770 1GHz Edition (Catalyst 12.9)
AMD Radeon HD 7790 1GB (Catalyst March 13, 2013)
AMD Radeon HD 7970 GHz Edition 3GB (Catalyst 13.4)
NVIDIA GeForce GT 640 1GB (GeForce 306.23)
NVIDIA GeForce GTX 650 Ti 1GB (GeForce 306.38)
NVIDIA GeForce GTX 650 Ti BOOST 2GB (GeForce 314.22)
NVIDIA GeForce GTX 660 2GB (GeForce 306.23)
NVIDIA GeForce GTX 680 2GB (GeForce 320.14)
NVIDIA GeForce GTX 760 2GB (GeForce 320.49)
NVIDIA GeForce GTX 770 2GB (GeForce 320.18)
NVIDIA GeForce GTX 780 3GB (GeForce 320.18)
Audio
On-Board Creative X-Fi Audio
Storage
Kingston HyperX 240GB Solid-State Drive
Power Supply
Corsair AX1200
Chassis
Corsair Obsidian 700D Full-Tower
Cooling
Corsair H70 Liquid Cooler
Et cetera
Windows 7 Professional 64-bit
When preparing our testbeds for any type of performance testing, we follow these guidelines:
General Guidelines
No power-saving options are enabled in the motherboard's BIOS.
No virus scanner or firewall is installed.
The OS is kept clean; no scrap files are left in between runs.
Machine has proper airflow and the room temperature is 80°F (27°C) or less.
To aide with the goal of keeping accurate and repeatable results, we alter certain services in Windows 7 from starting up at boot. This is due to the fact that these services have the tendency to start up in the background without notice, potentially causing inaccurate test results. For example, disabling "Windows Search" turns off the OS' indexing which can at times utilize the hard drive and memory more than we'd like.
The services we disable are:
Windows Defender
Windows Firewall
Windows Search
Windows Update
Battlefield 3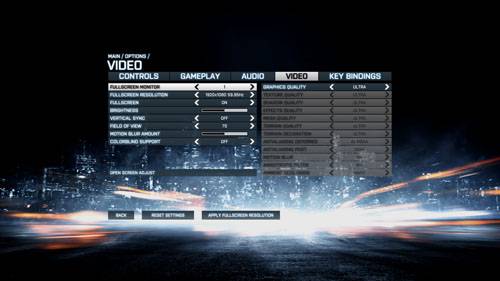 DiRT: Showdown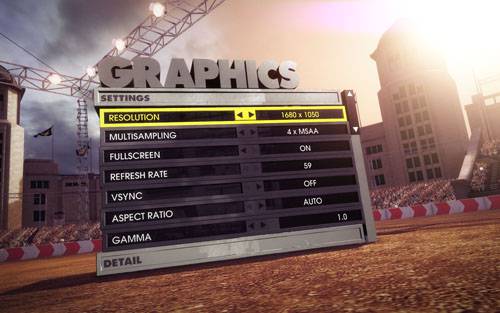 Metro 2033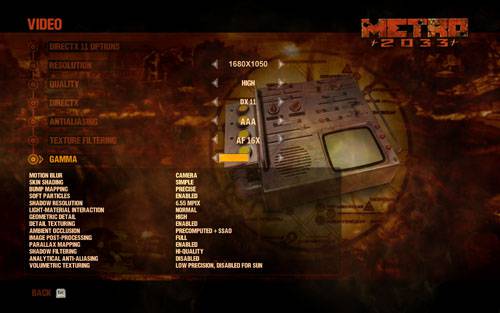 Sleeping Dogs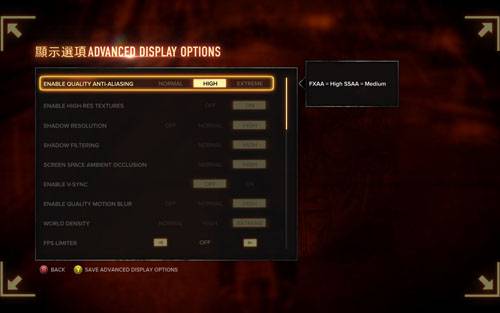 The Elder Scrolls V: Skyrim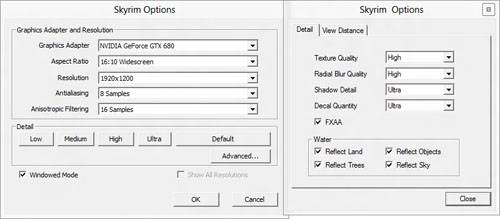 Total War: SHOGUN 2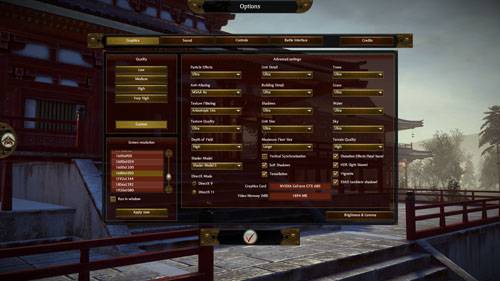 Game Tests: Battlefield 3, DiRT: Showdown
Battlefield 3 is a rare treat when it comes to PC gaming. Rather than develop the game for the consoles first and then port over to the PC, DICE built the game with the PC in mind from the get-go. It's graphically one of the most impressive games ever created, so it's of little surprise that it finds itself in our testing.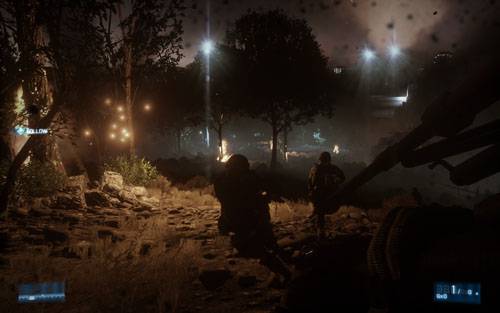 Manual Run-through: Operation Guillotine (chapter 5) is the basis for our benchmarking here, as it features a lot of smoke, water, debris and is reliable to benchmark repeatedly. Our run starts us at the top of a hill, where we immediately rise up and run down it. We make our way down to the riverbed below, and end our run once we hit the first set of stairs.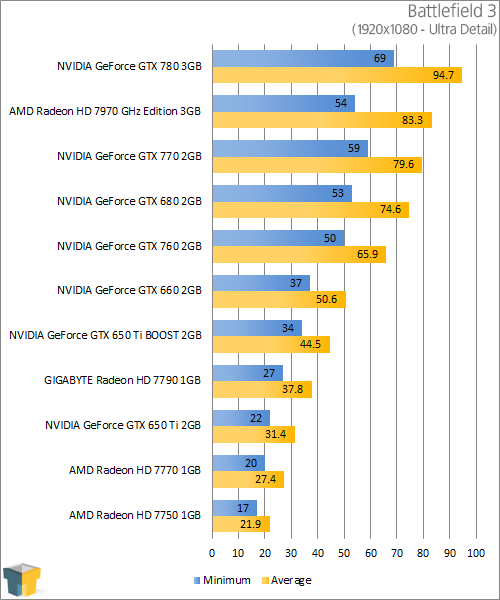 The results so far for the GTX 760 are impressive, especially when you compare them to the GTX 680 which cost exactly twice as much when it launched last spring. 66 FPS at 1080p and 45 FPS at 3×1 3 megapixel (at ultra detail, no less) is quite impressive for a $250 graphics card.
DiRT: Showdown
For so many reasons, the DiRT series is one of the best out there for racing fans. Each game offers outstanding graphics and audio, excellent control and environments that are way too much fun to tear up. Showdown is an interesting beast, as it features destructive racing, but as we discovered in our review, it too is a ton of fun.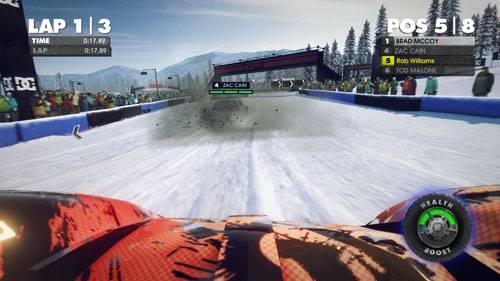 Manual Run-through: In our search for the perfect Showdown track to test with, we found that any of the snow levels offered the greatest stress on a GPU. The specific track we chose is the second race in the second tier, taking place in Colorado. We begin our FPS recording as soon as the countdown to the race begins, and end it as soon as we hit the finish line at the end of the three-lap race.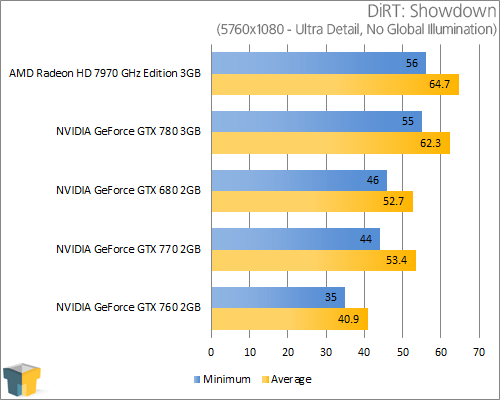 Things looked good in Battlefield 3, but I'd argue DiRT: Showdown makes the GTX 760 look even better. At our mammoth resolution of 5760×1080, we managed the game without dipping below 35 FPS. If your target resolution is 1080p, you can rest assured that this game is going to run brilliantly.
Game Tests: Metro 2033, Sleeping Dogs
One of the more popular Internet memes for the past couple of years has been, "Can it run Crysis?", but as soon as Metro 2033 launched, that's a meme that should have died. Metro 2033 is without question one of the beefiest games on the market, and only just recently have GPUs been released that can allow the game to run in its DX11 mode at modest resolutions.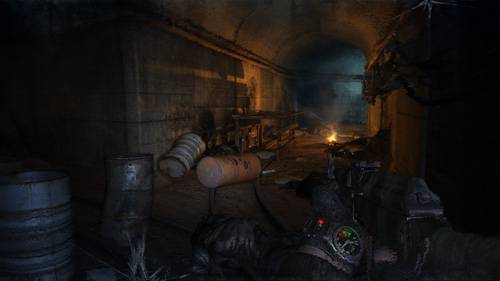 Manual Run-through: The level we use for testing is part of chapter 4, called "Child", where we must follow a linear path through multiple corridors until we reach our end point, which takes a total of about 90 seconds. Please note that due to the reason mentioned above, we test this game in DX10 mode, as DX11 simply isn't that realistic from a performance standpoint.
We've been benchmarking with Metro 2033 for nearly three years, and for most games, that'd be ridiculous. But as you can see, the game is still hardcore on today's best GPUs. It allows the GTX 780 to churn away at a mere 86 FPS at 1080p. That's a good FPS, sure, but again, this is a three-year-old game, and this is High detail – not Very High. Soon, we'll likely replace this game with Metro: Last Light, as it also manages to punish today's hardware quite well, and will likely do so for a while.
This is one of those times when I'm glad I ran the most difficult test here as a timedemo – 17 FPS average is simply painful. Things are much improved with our real-world test at 1080p, though; 53 FPS on average at such a high detail level is great to see.
Sleeping Dogs
Many have called Sleeping Dogs the "Asian Grand Theft Auto", but the game does a lot different that helps it stand out of the crowd. In lieu of supplying the player with a gazilion guns, Sleeping Dogs focuses heavily on hand-to-hand combat. There are also many collectibles that can be found to help upgrade your character and unlock special fighting abilities – and if you happen to enjoy an Asian atmosphere, this is one tree you'll want to bark up.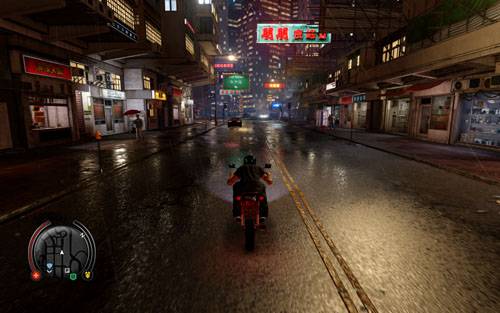 Manual Run-through: Our run here takes place during the chapter "Amanda", on a dark, dank night. Our saved game begins us at the first apartment in the game (in North Point), though that's not where we begin capturing our framerate. Instead, we walk outside and request our motorcycle from the garage. Once set, we begin recording framerates and drive along a specific path all the way to Aberdeen, which takes about two minutes.
Sleeping Dogs runs great on the GTX 760 at 1080p, and quite well at 4098×768. Things slow to a relative crawl at 5760×1080, but the fact I was able to manually benchmark this resolution at all is impressive on a $249 GPU with a game as detailed as this.
Game Tests: The Elder Scrolls V: Skyrim, Total War: SHOGUN 2
Of all the games we test with in our current suite, there is no other that's likely to suck hundreds of hours out of your life than Skyrim. An expansive world, in-depth game mechanics, and the feeling that there's always something to do… it's no wonder the game has hit the right mark with so many people. While not the most graphically-intensive game, we like to test with it due to its popularity and the fact that it scales well in performance.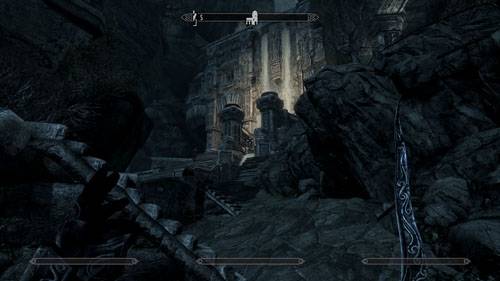 Manual Run-through: From the entry point in Markarth, our path leads us around the entire city, ultimately bringing us back to where we started.
I am not sure how many people are actually planning to run 3 monitors on their GTX 760, but if they do, they can expect some fantastic performance out of Skyrim. Bear in mind that we're not running any visual enhancement mods, but at 117 FPS for 1080p, you can expect quite a bit of breathing-room.
Total War: SHOGUN 2
Strategy games are well-known for pushing the limits of any system, and few others do this as well as Total War: SHOGUN 2. It fully supports DX11, has huge battlefields to oversee with hundreds or thousands of units, and a ton of graphics options to adjust. It's quite simply a beast of a game.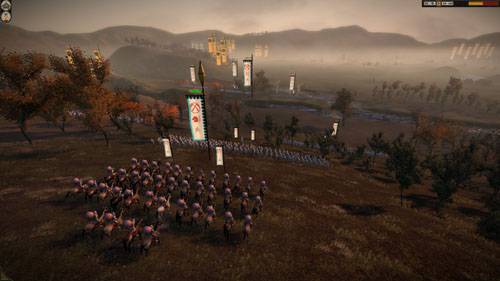 Manual Run-through: While we normally dislike timedemos, because strategy games such as this are very difficult to benchmark reliably, we've opted to use the built-in benchmark instead.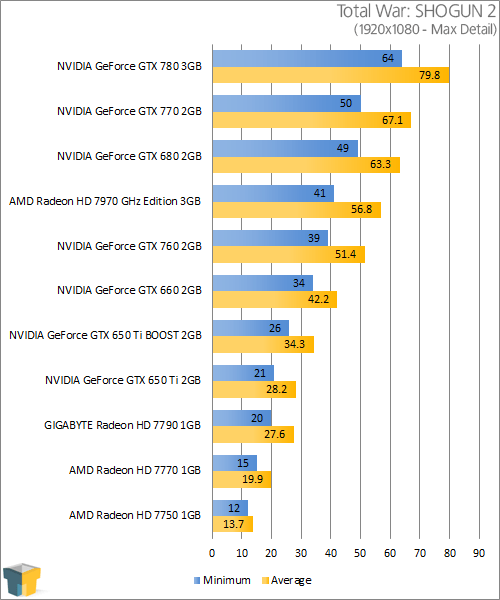 At 1080p, SHOGUN 2 runs like a dream on the 760. Things don't fare too well in our multi-monitor resolutions, but thankfully, the level of control over graphics settings in this game would make it very easy to obtain playable results. And let me tell you, this is a game made for multiple monitors.
Game Tests: Borderlands 2, Metro: Last Light & BioShock Infinite
For this article, I picked three special games to benchmark thanks to their popularity; Borderlands 2, Metro: Last Light and BioShock Infinite. I had hoped to get a couple of others in, such as Hitman Absolution and Far Cry 3, but due to various hassles, I ended up scrapping them. However, the games that are here are quite good both from a graphics and gameplay standpoint.
Borderlands 2
For this game, I wanted to test with a place that featured a lot of PhysX, to see how the GTX 780 compared specifically to the GTX 680. So, I loaded up Frostburn Canyon, took a left and went up and over the bridge to do battle with a number of enemies there. For some reason, this is an area that utilizes PhysX a lot more than others, so it's a great place to take in all of the eye candy. Details are completely maxed out for this game.
At our mega-high resolution of 5760×1080, Borderlands 2 didn't run amazingly well, but I admit I'm extremely impressed at how it did run. We're dealing with a $249 GPU, after all. Reducing PhysX effects to low will help out quite a bit if that resolution is your goal. Max detail at 4098×768 runs great, however.
Metro: Last Light
While I normally shy away from built-in benchmarks or timedemos, I've opted to use them for this game, and the next, on account of me never having played either (thus, no saved game). Fortunately, the built-in benchmark with Metro: Last Light is quite good, and thorough. Graphics options are mostly maxed, with the overall detail level sitting at High (not Very High), along with the Tessellation at Normal.
This game is brutal on GPUs, there's no questioning that. The mid-range GTX 760 can't even get by at 1080p at high detail, but to be fair, only the GTX 780 manages that (at more than twice the price). In some ways, it's nice to have a game that can sport detail settings so high, that current setups – even the highest-end ones – are not going to run them ideally. This is especially true when every other game released for the PC is a console port.
BioShock Infinite
Jamie raved over this game and for good reason. It's an epic adventure, and it has some stellar graphics, chock-full of eye-candy. Of course, it was worth benchmarking, especially since the game perfectly supports multi-monitor out-of-the-box (cheers, Irrational Games!) Here, we simply use the built-in benchmark utility, with the graphics options all cranked in-game.
1080p proved to be no problem as far as BioShock Infinite is concerned. Things get iffy when moving on up, but as graphically gorgeous as this game is, it'd be unreasonable to expect it to perform amazingly at multi-monitor resolutions on a $249 GPU.
Synthetic Tests: Futuremark 3DMark, 3DMark 11, Unigine Heaven 3.0
Although we generally shun automated gaming benchmarks, we do like to run at least one to see how our GPUs scale when used in a 'timedemo'-type scenario. Futuremark's 3DMark 11 is without question the best such test on the market, and it's a joy to use, and watch. The folks at Futuremark are experts in what they do, and they really know how to push that hardware of yours to its limit.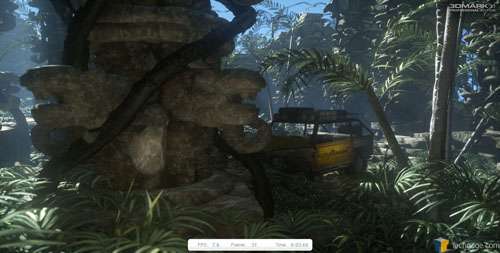 Similar to a real game, 3DMark 11 offers many configuration options, although many (including us) prefer to stick to the profiles which include Performance, and Extreme. Depending on which one you choose, the graphic options are tweaked accordingly, as well as the resolution. As you'd expect, the better the profile, the more intensive the test. The benchmark doesn't natively support 2560×1600, so to benchmark with that, we choose the Extreme profile and simply change the resolution.
Given the performance we saw through the entire article, I'm a little surprised that the GTX 760 didn't reach a 3DMark score of 6,000 in Fire Strike, but overall it's still a great result when price scaling is looked at.
Unigine Heaven 3.0
While Futuremark is a well-established name where PC benchmarking is concerned, Unigine is just beginning to become exposed to people. The company's main focus isn't benchmarks, but rather its cross-platform game engine which it licenses out to other developers, and also its own games, such as a gorgeous post-apocalyptic oil strategy game. The company's benchmarks are simply a by-product of its game engine.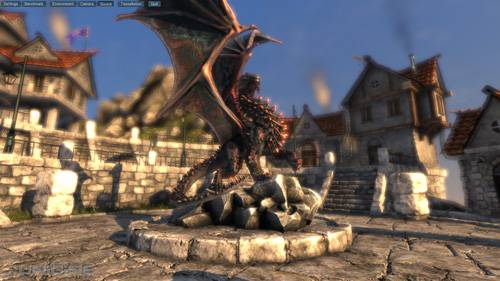 The biggest reason that the company's "Heaven" benchmark grew in popularity rather quickly is that both AMD and NVIDIA promoted it for its heavy use of tessellation, a key DirectX 11 feature. Like 3DMark Vantage, the benchmark here is overkill by design, so results here aren't going to directly correlate with real gameplay. Rather, they showcase which card models can better handle both DX11 and its GPU-bogging features.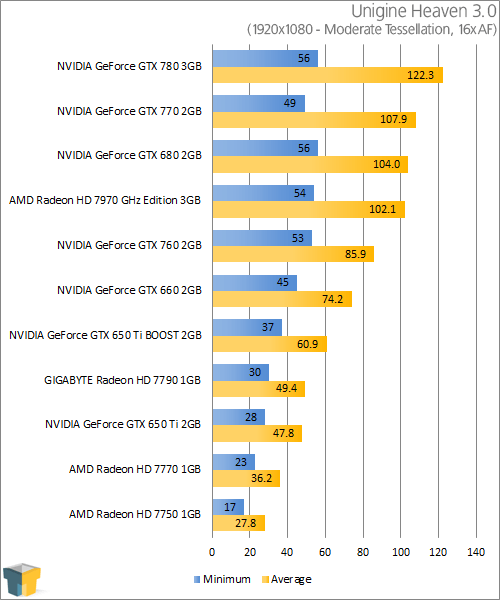 Wrapping up our performance-testing, NVIDIA's GTX 760 performs well in relation to the higher-end cards, especially compared to the GTX 770 which costs $150 more.
Temperatures & Power
To test graphics cards for both their power consumption and temperature at load, we utilize a couple of different tools. On the hardware side, we use a trusty Kill-a-Watt power monitor which our GPU testing machine plugs directly into. For software, we use Futuremark's 3DMark 11 to stress-test the card, and techPowerUp's GPU-Z to monitor and record the temperatures.
To test, the general area around the chassis is checked with a temperature gun, with the average temperature recorded (and thus noted in brackets next to the card name in the first graph below). Once that's established, the PC is turned on and left to site idle for five minutes. At this point, GPU-Z is opened along with 3DMark 11. We then kick-off an Extreme run of 3DMark and immediately begin monitoring the Kill-a-Watt for the peak wattage reached. We only monitor the Kill-a-Watt during the first two tests, as we found that's where the peak is always attained.
Note: (xx.x°C) refers to ambient temperature in our charts.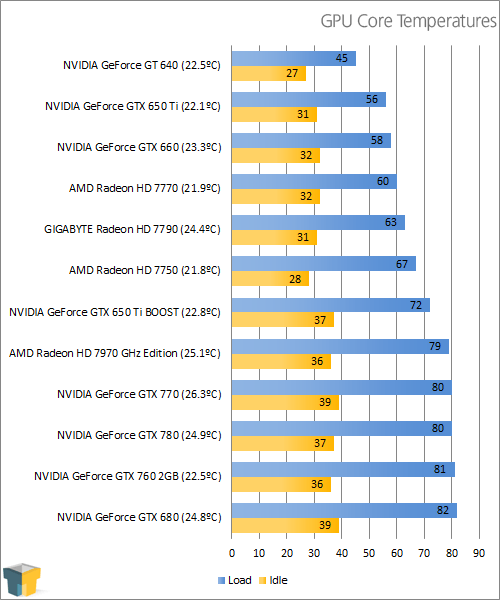 Like the other GTX 700 GPUs along with TITAN, the GTX 760 shouldn't ever go above 80°C thanks to its temperature-based throttling functionality. For some reason, we managed to break through and hit 81°C, but it's hardly a concern. Power-wise, the load 326W (entire PC) is a bit higher than I would have expected – especially since it's higher than the slightly faster HD 7970 from AMD.
Final Thoughts
For its price-point of $249, NVIDIA has quite an attractive card on its hands with the GeForce GTX 760. Throughout our testing, we discovered that the card can handle all of today's games at 1080p without issue – in some cases, the performance is impressive enough to handle 4098×768 just the same. There are of course exceptions, such as Metro: Last Light, but even the $649 GTX 780 struggles there a bit.
In the event that the GTX 760 can't handle a game at 1080p at max detail, it shouldn't take too much tinkering to go from barely playable to completely playable. As always, anti-aliasing is a big killer (though all games should be suitable enough at 4xAA), and ambient occlusion is another – generally, anything to do with lighting.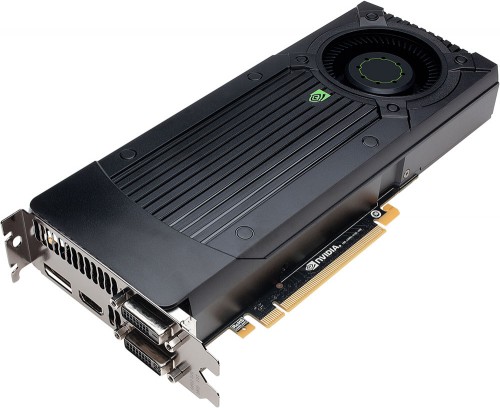 According to 3DMark (2013; Futuremark, why did you have to name it as such…), last year's top NVIDIA dog, the GTX 680, is a mere 17% faster than the GTX 760. Not too bad for NVIDIA's latest, as it costs half as much as the 680 did at launch. Even comparing to the GTX 770, which costs $150 (+60%) more and performs 26% faster, the 760 looks to be a great value.
Unfortunately, we were not able to benchmark the 760 against a perfect AMD competitor, which in this case is the Radeon HD 7950 (on account of our sample dying), but thanks to our friends at Legit Reviews, who compared the two cards directly, we can see that both cards come out even overall. The HD 7950 (with Boost, mind you) costs about $20 more, but it includes four games: Tomb Raider, Far Cry 3: Blood Dragon, BioShock Infinite and Crysis 3. There's absolutely no denying that for the extra $20, you get a lot of gaming for your bucks.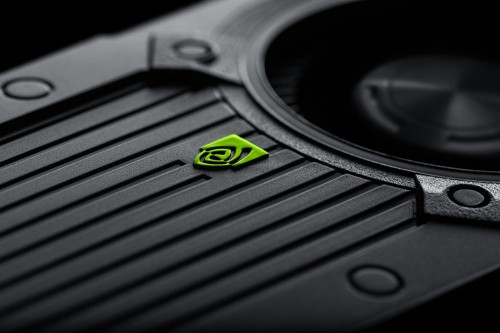 Ultimately, both the GTX 760 and HD 7950 w/ Boost compare quite well, and both have their own respective perks; NVIDIA's includes the 700 series enhancements (notably the improved fan control), PhysX and CUDA; AMD's includes the free games and tends to be preferred for [email protected] (if you happen to be into that). At the end of the day, brand-preference is going to come into play here, and fortunately, you can't go wrong with either.
For all it offers, NVIDIA's GeForce GTX 760 earns our Editor's Choice.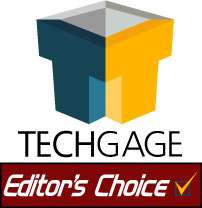 NVIDIA GeForce GTX 760
Copyright © 2005-2022 Techgage Networks Inc. - All Rights Reserved.