OCZ Vertex 2 100GB Performance Preview

Date: May 11, 2010
Author(s): Robert Tanner

If you think you've seen everything that an SSD has to offer, you may wish to take a look at OCZ's Vertex 2. Like many other SSDs, it features a SandForce SF-1200 controller, but with a careful helping of OCZ's special spices to deliver unbelievable performance. While we're working on the full article, you can enjoy this small preview.
---
Introduction
Today we have a quick preview of the OCZ Vertex 2 SSD that is currently breezing its way through our SSD testing benchmarks. Sure, hexa-core Gulftown and Thuban CPUs are all the current rage, and graphics cards like the Radeon HD 5870 and GeForce GTX 480 are literally sizzling right now. But any enthusiast will probably say that solid-state drives are still where things are at, and we have to agree given the remarkable boost in performance and system responsiveness which is seen over traditional hard disks.
For most, prices have been the deterring factor, but as anyone familiar with Intel's benchmark-setting X25-M G2 series will recall, demand was so strong that it took over six months before drives settled around Intel's recommended MSRP!
The SSD we have just received is not a value drive (even amongst other SSDs), but rather it is targeted squarely at the cutting-edge enthusiast that wants top-notch performance and is willing to pay a bit more to get it. And it promises to blow Intel's X25-M G2 out of the water. SandForce is a name quickly circulating amongst tech enthusiasts and with good reason.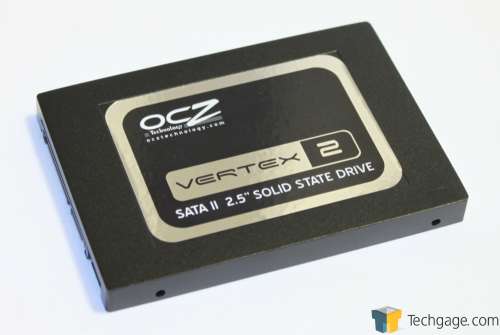 OCZ's Vertex 2 is powered by the SandForce SF-1200 controller and uses the "older" SATA 2 interface, but that doesn't seem to pose a problem for this drive from what we have seen so far! Officially, the SF-1200 "only" offers 10,000 4K random write IOPS performance, but the SF-1200 powering the Vertex 2 uses a special sauce firmware that is rated for 30,000 4K random write IOPS.
To put those numbers in perspective, Intel officially rates the X25-M G2 80GB for 6,600 4K random write IOPS, and the 160GB for 8,600 IOPS. Other drives such as the Indilinx Barefoot-powered Vertex (still held in high regard for its excellent performance) actually offers even lower IOPS results.
IOPS are not everything though, with OCZ quoting max reads of up to 285MB/s and nearly identical max writes of 275MB/s. Offered in 50, 100, and 200GB capacities, the Vertex 2 will be OCZ's new flagship SSD and of course includes TRIM, RAID, and a metal bracket to allow easy mounting in traditional 3.5″ desktop drive bays. OCZ wraps it all up nicely with a three year warranty and extensive user support through its forums.
No preview would be complete without a sneak peek at the results, so here's a quick look. PCMark Vantage is an excellent program comprised of a series of real-world usage tests that target specific parts of a system, and then combines them to form a single overarching system-wide performance suite. The overall PCMark score is a reflection of our test platform's configuration and shows the drive performing well, but it isn't until the overall HDD suite score that we see results take off!
The original Vertex Turbo manages an already impressive standalone score of 24,174 PCMarks, but the Vertex 2 eclipses this with a result of 34,609! That is a 69.8% gain over the previous best SSD result for the test! If we are even comparing it to the hard disk drive we are looking at a whopping 10x improvement in the HDD benchmark score alone. This isn't bad for an older Q6600 test platform running at a stock 2.4GHz frequency, but a modern Core i7 system has the potential to break the 40,000 mark in the HDD suite with this drive!
While our batch tests are fairly unique, they have served us well in determining what SSDs come to the table prepared and which drives have that special something extra to handle even the most demanding multitasking workloads. That said we are going to need to devise even more demanding tests as the system itself is becoming the bottleneck point , as evidenced with the Vertex 2 being the third drive to post impressive results a little over four and a half minutes. With the heavy batch test the drive has a better chance to show off its capabilities and does so by posting the quickest time we have seen, even though this test is also becoming bottlenecked by our test platform hardware.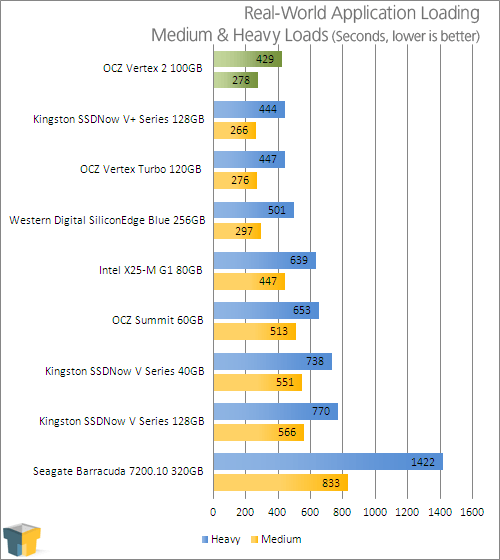 Whether for breaking world records or simply turning an already fast PC into the pinnacle of performance, the Vertex 2 does not disappoint. We haven't even completed half of our tests but one thing is already clear from our experience with the batch testing, which is that the Vertex 2 delivers some of the most consistent results we have seen to date. Despite the unusual methods the SF-1200 uses to achieve its remarkable performance, in five runs the medium batch test time always fell within a seven second range from previous runs. We will explore more about how the SF-1200 operates along with the full results in the full review, but suffice to say we already know the Vertex 2 is the fastest SSD we have tested to date.
Discuss this article in our forums!
Have a comment you wish to make on this article? Recommendations? Criticism? Feel free to head over to our related thread and put your words to our virtual paper! There is no requirement to register in order to respond to these threads, but it sure doesn't hurt!
Copyright © 2005-2020 Techgage Networks Inc. - All Rights Reserved.