Quick-Gage: COUGAR Dual-X LED Fans (140 & 120mm) Review
Date: August 16, 2013
Author(s): J.D. Kane

Are you a fan of cooling efficiency, bling, and especially the two combined? If so, COUGAR's CFD Dual-X LED fans are worth checking out. Ideally spec'd as fans to line the interior of your chassis, only part of the CFD series' goal is to keep things cool. The other half is to make your PC stand out, both with its bright LEDs and aggressive design.
---
Introduction
Way back in March, we posted a news item announcing COUGAR's new Dual-X LED fans. I, for one, was immediately smitten with how they looked in the press release photos. We requested a couple of samples, and, thankfully, COUGAR responded by sending a few for yours truly to examine.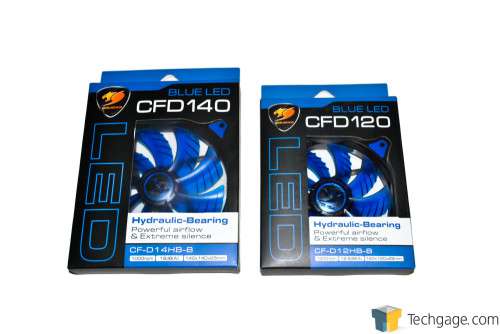 The company sent both its 140mm and 120mm fans.
This is what's included in each package:
Dual-X fan
3-to-4-pin Molex adapter cable
Toolless fixed pins
Four fan screws
Each Dual-X fan, no matter if it's 140mm or 120mm, boasts the following features:
Nine dual-layer blades equipped with COUGAR's "Diversion Claws," which focuses airflow
Anti-Vibration pads on the mounting holes, which reduce vibrations and promotes silent operation
LEDs for bling
Hydraulic Bearing Technology, a frictionless bearing design which promotes silence and enhances durability
Tool-less fixed rubber mounting pins, which promote ease of installation and noise and vibration reduction
| | | |
| --- | --- | --- |
|   | CFD140 BLUE LED Fan | CFD120 BLUE LED Fan |
| Dimensions | 140 x 140 x 25mm | 120 x 120 x 25mm |
| Speed | 1000 RPM | 1200 RPM |
| Air Flow @ 12V | 73.18 CFM, 124.4 m3/h | 64.37 CFM, 109.4 m3/h |
| Air Pressure @ 12V | 1.4 mm H2O | 1.74 mm H2O |
| Noise | 18dBA | 16.6dBA |
| Bearing Type | Hydraulic-bearing | Hydraulic-bearing |
| Connector | 3-pin | 3-pin |
| Cable Length | 450mm | 450mm |
I quite love the look of these fans: Very aggressive. They certainly catch your eye, whether they're static or spinning and with LED bling on max.
Now that we know what these fans were designed to do, let's see if they can deliver on the promises of all these features.
To do that, I mounted a pair of the 140mm fans on my NZXT Havik 140 heatsink, a CPU air cooler Ryan Perry reviewed way back in August 2011. The Havik 140 cools my Techgage-dedicated testing machine, which is set up as an open-air test bench.
These are the specs of our test rig:
CPU: Intel i5 2500K @ 3.30GHz (stock frequencies and VCore)
Motherboard: MSI Z77A-GD65
Video: Onboard Intel graphics
OS: Windows 8 Pro
Boot drive: OCZ Vertex 2 60GB
Power Supply: PC Power & Cooling 750W Silencer 2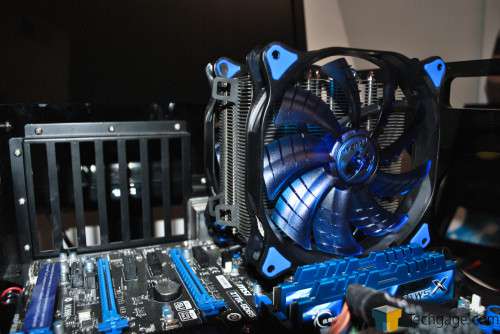 Here we have the 140mm COUGAR Dual-X fans installed onto our test machine. I tested the fans primarily for thermal performance as well as for operational silence.
As a replacement for the Havik 140's stock fans, the Dual-Xs perform just as well. At an ambient temperature of 21°C, there is virtually no difference in performance at both idle and at maximum CPU load conditions. Maximum thermal loads, by the way, are generated by running the Prime95 small FFT test; idle temperatures are derived by first booting the test machine, then letting it sit at the desktop for ten full minutes. The test procedure is run consistently per test attempt, of which there are three per fan set-up (stock NZXT vs COUGAR Dual-X), with the ambient temperature kept the same through all runs.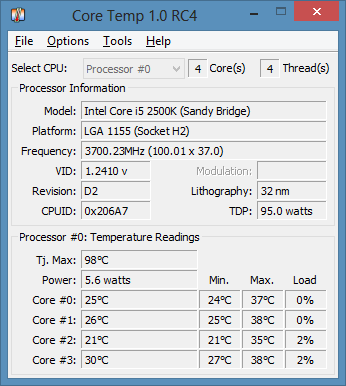 NZXT HAVIK Stock Fans @ Idle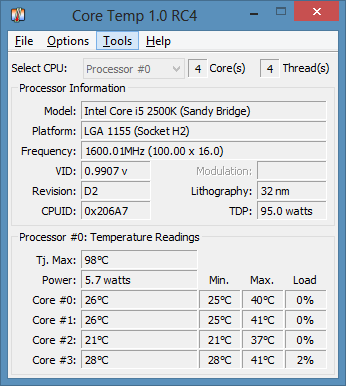 COUGAR Dual-X Fans @ Idle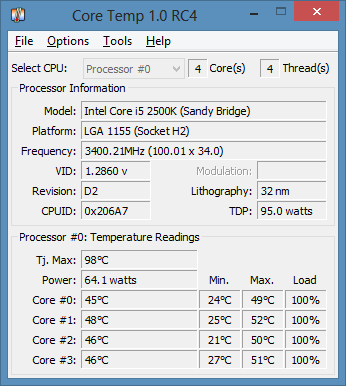 NZXT HAVIK Stock Fans @ Load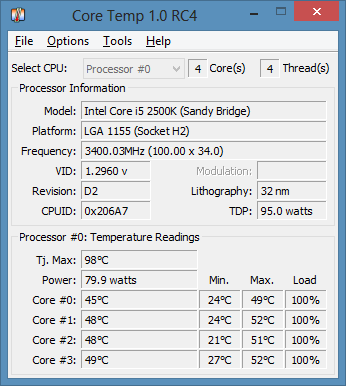 COUGAR Dual-X Fans @ Load
In terms of sound output, the COUGARs remained dead quiet as they ran. They did not whine or produce any "whoosh." The only indicators they were on were the LEDs blazing bright and blue and the fact that I felt a strong blast of air on the outlet side of the air stream.
I wish I could produce more hard and fast data to describe these fans' performance, but the lack of an anemometer to measure air pressure and a decibel meter to measure the sound output level frustrates that desire. However, based on purely subjective observations, I can say categorically that these 140mm Dual-X fans perform as designed.
But what about the 120mm fans?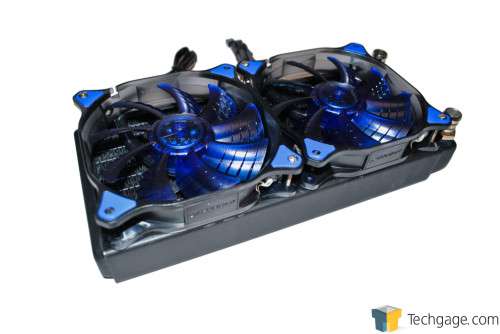 As you can see, I've mounted these on a 240mm XSPC RS240 radiator. Unfortunately I cannot test these for even a basic thermal performance because I don't have a spare set of water cooling equipment (water blocks, water pump, reservoir, etc.) at the moment; it's a situation we here at Techgage are working to improve in the very near future. However, we can deduce that the 120mm Dual-X LED fans should work well in a radiator application given that it pushes out 1.74 mm H2O of air pressure (compared to 1.40 for the 140mm model) and 64.37 CFM (versus 73.18 CFM for the 140mm model) of airflow at maximum RPMs (1200RPM for the 120mm, 1000RPM for the 140mm).
One thing I can report on is the quietness of these 120mm fans. Just like their slightly bigger brothers, they are very quiet, even at maximum revs. Mind you, I've got these fans going at full tilt boogie speeds at max voltage (12V), plugged in as they are into my power supply's Molex connectors using the supplied 3-pin-to-4-pin Molex adapters. Hugely impressive in terms of silence, these guys are.
So, in concluding this quick look at COUGAR's Dual-X LED fans in both 140mm and 120mm size, there's no question that they deliver on their promise of good performance and excellent silence. Although it's impossible to demonstrate these fans' capabilities on a more objective level (only due to the lack of proper testing equipment), they go beyond satisfying an end-user's requirements for silence on a purely subjective level. Not only that, but these are definitely very attractive fans as well. They please the eyes and the ears.
For fans of beautiful fans, these are certainly winners.
Copyright © 2005-2021 Techgage Networks Inc. - All Rights Reserved.