RipNAS Essentials – Automated CD Ripping with WHS

Date: April 15, 2009
Author(s): Greg King

Having a home server can bring obvious benefits, but what if it could do more than just sit there? If you're a music buff, then you may be interested in an audio CD ripping solution from Illustrate, called RipNAS. Pop in a disc, and minutes later it will be available for streaming. It couldn't be more simple, but is it worth the $45 asking price?
---
Introduction
As our digital libraries grow exponentially year after year, and we start to only purchase music from our favorite online vendors (Zune Marketplace for me, please!), it's easy to overlook the many CDs that we've collected over the years. One of the best things that anyone can do at that point is to rip their albums into "MP3". While the format you choose to use is completely up to you, the term MP3 is no longer associated with the way the song is compressed but rather now is simply a slang term used for most songs in digital form.
One endeavor I have undertaken many times over the years is to rip all of my CDs to my computer in an effort to "archive" them all in one central location. As my education to the technology increased, and my tastes evolved, I have found myself ripping those same CDs two, three and sometimes even four times over the past decade into an ever increasing audio quality. What started with Musicmatch Jukebox (yeah, you remember that one) and 128k quality, has evolved into lossless rips such as FLAC.
There are many different programs available that allow you to rip your CDs to MP3. Some are free to download while others will set you back a bit of money. For a few years now, I have been using Exact Audio Copy and for what I have used it for, it's been more than adequate to cover my needs. More recently, I have been using Illustrate's dBpoweramp. The most notable feature that I can appreciate is the fact that it's able to use multi-core CPUs to speed up the conversion process. Today, we are looking at another variant of Illustrate's powerful ripping tool.
As Rory pointed out in his stellar review of the ASUS Xonar Essence STX, many audiophiles are warming up to digital music, and with the help of the Essence, incredible sound quality now comes from your average PC. In my experiences over the past few years, a networked house is a beautiful thing, and when you can combine your love of music with your love of technology, exciting things can be done.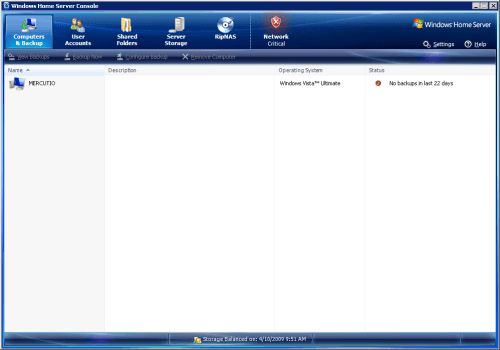 In our looks at the Squeezebox3 and more recently, the Logitech Boom, no longer is your digital audio collection forced to be played on your PC or your MP3 player of choice. These devices, and many others like them, have enabled anyone with access to their home network the ability to stream their music from wherever they have their media stored to their home theater's surround sound speakers. This ability to completely open up your audio is powerful and has personally changed the way I approach enjoying my music on a daily basis.
With the advent of Microsoft's Windows Home Server platform, network backups and media sharing could be easily controlled and harnessed by almost everyone, regardless of computer knowledge and experience. We first got excited about the platform over two years ago when it was debuted at the 2007 Consumer Electronics Show in Las Vegas. That following March, we took an early look at WHS, and Colin walked away from the beta with a positive outlook on the future of the Microsoft's home server platform.
The following year was quite a headache for not only Microsoft but anyone who decided to adopt the still-new operating system. Yes, I'm talking about the infamous file corruption flaw that could ruin files edited on the server or one of its shared directories. Publicly known around October of 2007, it took Microsoft almost nine months to issue a fix for the problem with the release of Power Pack 1. After that, critics have agreed that WHS is by and large a very solid approach to backing up your networked PCs and sharing your media across said network.
I have been working with WHS for the past few months and in that time, I have come to love its simplicity, yet workman's attitude (it's built on the tried and true Windows Server 2003 SP2 code). When we were approached to take a look at Illustrate's software and how it integrates into WHS, we jumped at the chance to show further functionality in an already robust operating system. After Power Pack 2 was released last month, adding even more streaming capabilities, Microsoft has made another significant push into the living room when paired with a Windows Media Connect supported device like the XBox 360 and the PS3.
Illustrate's RipNAS
Built to integrate directly into Windows Home Server's console center, the software is only one side of the RipNAS line of products. Illustrate has a very attractive (yet expensive) home server that comes with an Intel Atom CPU, either 1 or 2 GB of DDR2 RAM, WHS pre-installed, and of course, RipNAS integrated into the OS. Borrowing the styling from the Mac minis and providing a fair amount of storage expandability, the RipNAS box is meant to allow easy ripping of your CDs and then use the power of WHS to send that media across your network to any place you desire.
For those of you not keen on coughing up the required price to play, you could build your own home server, and while I can almost guarantee that it won't be as pretty as Illustrate's hardware, for less than a single Intel Core i7 940, you could have a fully functional Windows Home Server PC using only cheap hardware that you find on sale at Newegg.
Let's get down to business, then. On the next page, we'll take a look at how the product works, and also put it through a good test.
How It Works, Testing & Final Thoughts
Once installed, the RipNAS software integrates directly into the Windows Home Server console. Along the top of the window, you have your basic functions including connected computers and their respective backups, user accounts, shard folders, server storage, overall network health and the RipNAS software icon.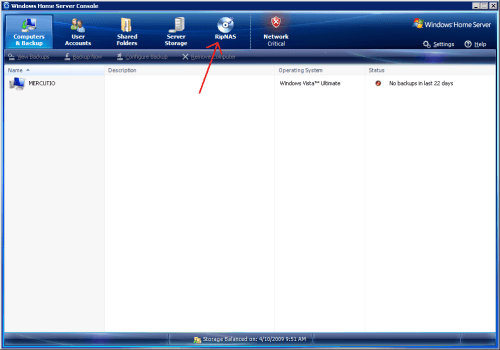 Once on the RipNAS tab, displayed is a list of your previously ripped albums and whether or not each album experienced errors in the ripping process. While settings are sparse compared to the full-blown version of dBpoweramp, you do have the choice of ripping your music quickly, or slowing things down in an effort to silence the process as much as possible. Depending upon your drive – in my case, a generic Lite-On DVD-R/W – the software did a sufficient job in quieting down the ripping by slowing the speed down to a rather pedestrian 4x.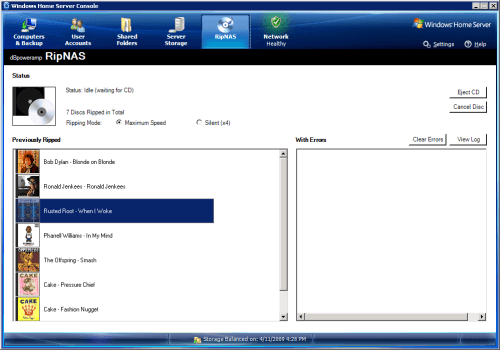 To begin the ripping process, all that is required is to put the CD in the server's drive, close it and the software takes over from there. RipNAS will automatically reach out to four different meta data providers with PerfectMeta, download the data for that album (including album art) and then begin to rip the disc. While this is completely painless, you are going to want to edit the settings before you do anything.
In the upper right corner of the WHS console, there is a settings button. Clicking on this will bring up your settings page (naturally), allowing you to change the format which your music is ripped to and the bit rate that you rip it at if you're using any form of compression. I personally rip everything to MP3 using LAME at 320 kbit/s. I have the available storage, but I personally don't need lossless music, so I compress it to 320 and call it a day.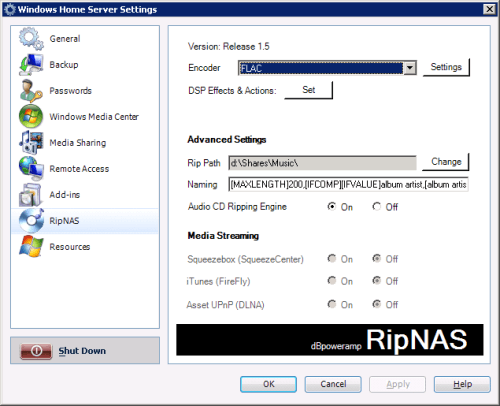 If MP3 isn't your cup of tea, RipNAS also offers the ability to rip your music into both Apple Lossless and FLAC if storage is of no concern, or if you are an audiophile. As we mentioned earlier, I am no audiophile and have been ripping my music to MP3 for a long time now, so for the sake continuity and space, I still use the tried and true compressed format. So, if you're like me, you can just choose LAME to get your music into digital form. Also available is Wave (bit-for-bit lossless) and Windows Media Audio 10.
You also have the ability to control where your music is placed once ripped. By default on WHS systems, it will place it into your music share, allowing your music to be available for streaming as soon as a song is ripped.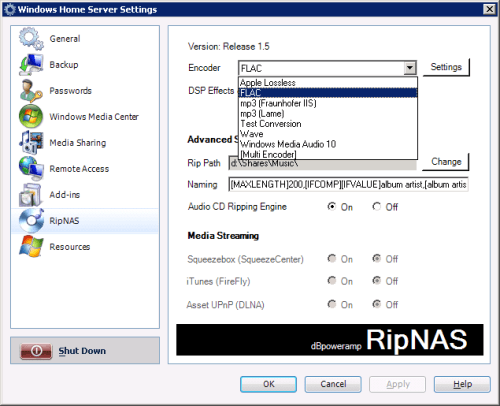 The process is as simple as that. There is really little effort involved. Once you have your settings in place, it literally as easy as putting in your disk and closing the drive. That's it. Nothing more. Offering integration with SqueezeCenter, iTunes and Asset UPnP software, if you're using your WHS as a media hub and you use any of these programs, your good to go right out of the box.
Final Thoughts
Without working with the RipNAS hardware, I cannot comment on it in any way other than my own personal opinions based solely on what I have read and the pricing of the goods. For what you get, the pricing of the RipNAS places it squarely in the premium segment of the market. What you are getting though, judging by what I've read, is what we assume a solid Home Server with a plethora of media streaming capabilities.
Having only worked with the software, and using WHS installed on my own personal hardware, I can say that unless you are in love with styling or plan on showing off your RipNAS in your entertainment center, I see no reason to spend the money on the hardware when you can build your own WHS for far less. The only real downside, of course, will be the much larger size.
Instead, if you're truly interested in WHS, build your own system and then purchase the RipNAS Essentials software separately. Illustrate is a highly respected software provider in the audio community and while not the entire package, the RipNAS WHS integration is truly a great addition to the overall home server experience.
There is a catch, however. Illustrate sells three versions of their RipNAS Essentials, and the one I took a look at here is the least-expensive, as it's only the software. The other two versions cost considerably more, but include arguably the best external ROM drive available, which assures you'll have the most accurate rips possible.
The difference between those two bundles is that one includes secure ripping abilities while the other doesn't, and that's a $40 premium. This is a huge letdown, given that the $35 dBpoweramp does offer that ability to people. What it means to you is that if you're ripping a scratched CD, you may very well rip glitchy audio.
But past that, our overall experience with Illustrate's RipNAS software has been pleasant and we like what they are doing. There is little more than 5 minutes in between installation of the software and completion of your first album. The settings page provides you with enough options to keep most people happy, and the ease of use is something that we haven't seen from anyone in a very long time. As we have said, you just put in a CD, close your drive and RipNAS does the rest.
If you have a large amount of CDs that you're looking to archive, and you use WHS as a central media hub, the purchase of this software is truly a no-brainer.
Pros
Easy to use.
Affordable at $45.
Multitude of available formats.
Seamless integration into Windows Home Server.
Cons
Many free alternatives available if integration isn't of a concern.
No secure ripping on non-bundled version.
Discuss this article in our forums!
Have a comment you wish to make on this article? Recommendations? Criticism? Feel free to head over to our related thread and put your words to our virtual paper! There is no requirement to register in order to respond to these threads, but it sure doesn't hurt!
Copyright © 2005-2019 Techgage Networks Inc. - All Rights Reserved.