Sony SMP-N100 Media Player Review

Date: March 21, 2011
Author(s): Greg King

Among the mass of set-top media players available on the market, can one of the most well-respected electronics companies set itself apart from the crowd? With Sony's SMP-N100, we aim to find out. On the surface, the device looks similar to others, but inside, Sony's popular XMB interface awaits, along with powerful wireless capabilities.
---
Introduction
Back in December, in our Roku XD review, I stated my intention to give up cable television entirely. After spending time to think it over, and at end of the Colt's season, I decided that it was time to call and cancel my subscription.
To supplement my entertainment needs, I have leaned heavily on Hulu and Netflix with both being valuable in their own right. As more and more devices offer the streaming of these two major services, it's taking more and more to set each product apart.
In our Roku review, we enjoyed the smooth and responsive interface, and applications like the before mentioned Hulu and Netflix behave like they were designed for the device. If I had to come away with something negative, it would be the lack of any DLNA support. That being said, it's clear that the Roku was never designed, as it currently is, to be a local media streamer. While the team in Saratoga, California might do more with the platform in future versions, its bread and butter is still the same as it always has been: Netflix.
As the market becomes increasingly diluted with media devices of all sorts, companies are forced to come up with something that differentiates themselves from the rest of the offerings. The better known brands like Roku, Google and Apple have name recognition while smaller brands are often able to step out of the mold and offer unique capabilities like expanded file type support unique channels and applications.
Today we are looking at the Sony SMP-N100. It's not exactly something that rolls off the tongue, but however unattractive the name might be, on paper the SMP-N100 is an attractive alternative to its better known cousins.
Capable of outputting 1080p, the SMP-N100 allows you to playback your own content wirelessly over your home network or locally via an attached user provided USB device. For me, the holy grail of media streaming devices is the ability to playback .mkv files. Luckily for those looking for that particular kind of support, the SMP-N100 can happily playback just such a file but with a small caveat. There is always a but… err, but more on this later.
First Impressions & Installation
Sony has always excelled in areas of design. You can say what you want about the company as a whole but more often than not, its products look good. The SMP-N100 continues this trend but with simple lines and blend in attitude. The owner of a larger footprint, the SMP-N100 is bigger than most other devices on the market, yet still small enough that finding a spot for it in your entertainment center shouldn't be much of a chore at all.
With a power button on its front, the only other distinguishable feature on the device is a USB 2.0 port on the right side of its face. I have constructed a love-hate relationship with the USB port over my time with the device as it really takes away from the overall look of the unit. That being said, it makes attaching a thumb stick with whatever media you want to watch very convenient. If you are looking to hook up an external hard drive, you have to deal with a cable coming out of the front of your unit and that's an eye sore that could have been avoided with the addition of another USB port on the side or back of the device.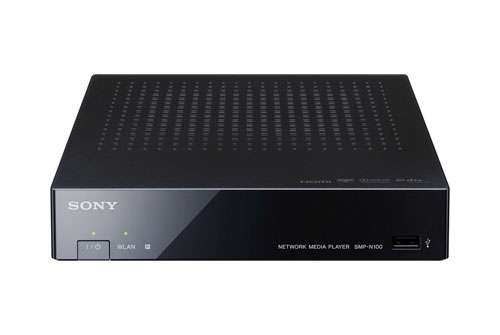 Lacking a cooling fan, the SMP-N100 is a completely silent device, unlike the well-liked AC Ryan Playon!HD that Brett took a look at last November. To aid in cooling, there is a grid of holes on the top of the unit, allowing warmer air to leave the interior of the case and safely move on to areas unknown. While certainly a boon for those that hate the collection of dust, they add to the overall look of the streamer.

Offering standard multimedia connections, the SMP-N100 includes a collection of the most used hook ups. From left to right we have a 10/100 Ethernet port, composite and component connectors, HDMI, optical digital out audio and a power connection. While many would like to see a gigabit Ethernet port, nobody is going to saturate a base 100 line with media they are streaming across their network. I have no qualms with the omission of gigabit Ethernet. This device isn't designed to serve, only consume, so the NIC is more than capable of handling as much way traffic as you can throw at it.
For those that care to bypass a wired network connection, wireless N is baked into the SMP-N100 and connections to your wireless network is a breeze once inside the interface.
The included remote should look familiar to most anyone who has ever touched a Sony product. It's a pretty uneventful device but it should be mentioned that it's comfortable in my hand and it has the responsiveness that I expect. Other than those two things, it's just a remote.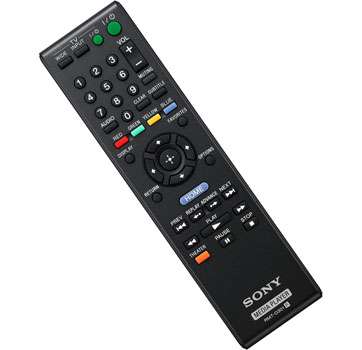 With a look at the hardware out of the way, let's now take a look at the interface and also the performance.
Interface and Performance
For me, the most familiar aspect of the SMP-N100 was the interface. Reusing the XMB of other Sony devices, most notably the PlayStation 3, the XMB (short for the absurdly spelled XrossMediaBar) should feel right at home for any PS3 or Bravia owner. Providing an organized layout of all the options, the XMB moves both laterally and vertically, grouping sets or options together.
Laid out like the other XMB devices, we start with setup on the far left. From here we can control everything about the SMP-N100. Here is where we will check for updates, downloadable from Sony. We can also setup the sound, screen and security settings.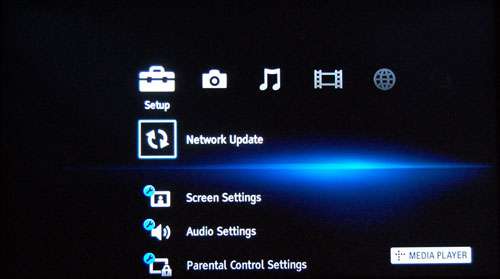 While pictures and music can be streamed, I spent the majority of our testing moving through the various video options offered by the SMP-N100. Starting with its UPnP capabilities, it quickly picked up my Synology NAS box and the other NAS box I have on my home network that's clearly TwonkyMedia enabled. From there, you can drill down into your device and browse the shared file structure of whatever your source device might be using.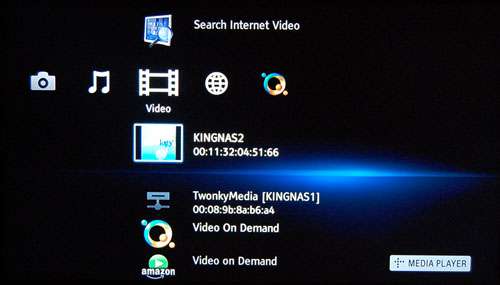 Sony also provides its own content alongside third party channels such as Wired, YouTube, Amazon Video on Demand and Netflix. Others include, curiously enough, a Michael Jackson channel and other topics of interest such as travel and food based channels.
As a subscriber of Wired, I was excited to poke around the channel. Once in however, I was disappointed. While the content was enjoyable, it was out-of-date, with one of the most recent videos being the deconstruction of Sprint HTC Evo, a phone that's been out for quite some time. Many of the provided channels allow free access but there are a few that are account based. Netflix, Hulu and Amazon VoD all require an account to access their content.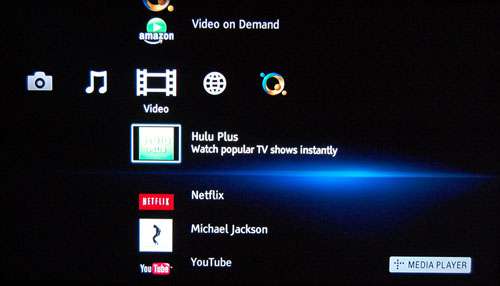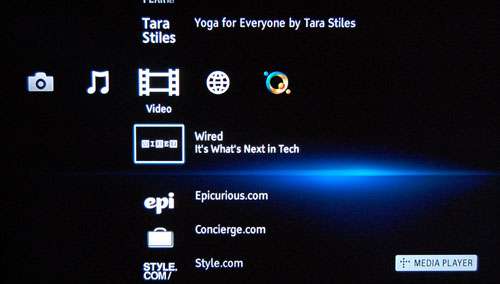 When you move into the account based services, you quickly notice that Sony has decided to go its own way with the interface. Both Hulu and Netflix use a custom look and while the look is carried over from one channel to the other, providing the user with the same feel, the images are small and the overall feel is rather underwhelming. The custom interface can certainly get the job done but after using Hulu and Netflix on both the Roku and the PS3, the SMP-N100 feels very uninspired. Seriously, the PS3 is a Sony device and uses a good interface – why can't the SMP-N100? Kind of lame, really.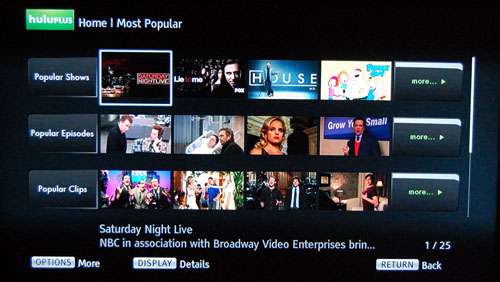 Performance of the SMP-N100 was solid. We didn't run into any major issue when streaming, be it from another network location or locally through an attached USB drive. Depending on the method of pulling content however, the player determines what you can and cannot watch.
As an example, the .mkv video container is a very popular format. If you are reading this review, it's safe to assume that you are doing so for the streaming capabilities of the SMP-N100. If you want to watch your Matroska video files, you can only do so when reading from an attached USB hard drive. This is the same for AAC (M4A), AVC-HD, DivX (JPG and JPEG), MPEG-1 VOB, VRO, MPG, MPEG, m2ts, MTS), Simple MPEG (MKV, MP4, M4V, m2ts, MTS) and WMV. Conversely, you can play the above mentioned and MP3, WAV, JPG, JPEG, XviD, VOB, VRO, MPG, MPEG, m2ts, MTS and WMA from a DLNA supported device as long as the SMP-N100 is on the same network as the host.
Playback was smooth on the videos we tested. For steaming media, we conducted everything wirelessly. To start out with, we fired up Hulu. It should be stated that Hulu does not provide 1080p content. However, on the highest setting allowed, the picture still looks great and the SMP-N100 handled the task without hiccup. The 802.11n wireless that the SMP-N100 sports was more than up to the task and providing you have enough bandwidth coming into your home to allow HD streaming, the Sony SMP-N100 will not be your performance bottleneck.
With Internet-based content tested, next came the personal media. For this I took a Religulous .mkv file that I had and converted it to .avi. From there I dropped it into the appropriate directory on the Synology device and began to stream. Again, the performance was flawless. The picture never offered to stutter and the experience remained smooth from beginning to end. Watching the same video in its native .mkv format via USB produced the same results.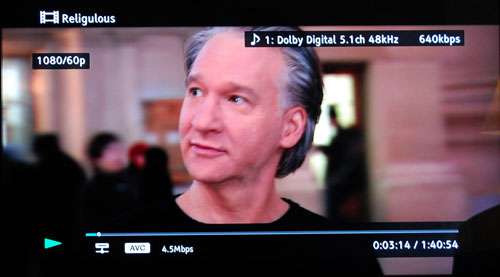 On to a look at the extras!
MediaRemote & Extras
One thing that Sony has marketed heavily with the SMP-N100 is its mobile phone integration. What this means is that you can download a Sony-created app through the App Store (Apple users) or Android Market (Android, duh) called MediaRemote and use it to control your SMP-N100 from the couch, bedroom, bathroom… anywhere you have a wireless signal to your home network.
It's a simplistic design but one that will look very familiar to anyone with more than 30 seconds of time with the actual remote. Like its physical brother, the app has all of the main buttons needed to interact with the SMP-N100. Intuitively grouped together, there are different pages of inputs and the remote can be used in simple or advanced remote mode.
Simple mode features three main buttons, return, home and options. The rest of the screen is essentially a giant track pad. Want to move your selection to the left? Simply swipe your finger across your iPhone/iPad/iPod from right to left. You can also just touch the screen anywhere on the left side but for me, the swiping method felt more natural. In advanced mode you get the same buttons, in similar layout, as the hardware remote provided by Sony.
The remote is a free download but only after you install it on your phone to you realize why. Ads. Running along the top of the screen is an ad banner. This isn't a huge distraction but is honestly disappointing. We purchase Sony gear primarily because its products have more often than not been above the curve when it comes to features and usability, but then we are expected to put up with more advertising when we want to use the extra functionality that Sony itself is touting as a big deal.
Look, I get it. These kinds of ads aren't going to bump up Sony's stock prices but they have the potential to make a good amount of money. Essentially free money as I'm sure the company has already made its money back many times over. If we create a Venn Diagram of Sony consumers and those with a smart phone, the overlapping area in the middle is going to be substantial. The market is there and advertising budget waters still run deep. That said, if you are going to provide a consumer electronic device, and you provide many, please think a little harder about when and where you insert advertisements.
The ads don't bother me but they do leave me a bit disappointed. If you go through the App Store and read the user reviews of the app, they are littered with complaints about the ad supported app. While I don't share the extreme emotions as many of those who reviewed the app negatively (it still works well on a functional level), I get their frustration and understand why they are upset.
Final Thoughts and Conclusion
Frustration with the app aside, the Sony SMP-N100 is a solid media device. It allows you to leverage your existing content streaming accounts like Netflix and Hulu Plus but also includes the ability to steam your own content across your home network. The inclusion of the XMB interface was a welcome sign and one that I think many will find enjoyable.
Speaking of the XMB, I am reminded every time I turn on the SMP-N100 of my PS3. Owners of the PlayStation might as well skip the SMP-N100 unless they have a need to stream the few file types that the SMP-N100 supports that the PS3 does not. Even then, it's a matter of connecting a storage device via USB. You still can't stream those files.
Given my thoughts about the PS3, the SMP-N100 is priced right about where it should be given the features that it brings to the table. You can stream media, connect to your favorite content providers and access the many channels that only Sony can bring you. While those exclusive channels aren't going to sell any devices by themselves, they do sweeten the deal once you have the SMP-N100 hooked up to your home entertainment center.
There are areas where the SMP-N100 is lacking. It doesn't allow streaming of .mkv files. It doesn't use the Netflix and Hulu interface that everyone on the planet is already used to. It costs more than many other comparable devices. All of these areas need to be addressed when you consider your next CE purchase.
As Brett mentioned in his PlayOn!HD review, the AC Ryan device is the only one on the market that allows you to install an internal hard drive and use the streamer as a NAS server. While I don't hold this against Sony, if you are looking for networkable storage, you need to keep these things in mind.
All in all, the Sony SMP-N100 is a quality product from a company known for its high-quality devices. It's not a great device, given its shortcomings but it does manage to leave a very good impression on me.
In full disclosure, this review should have been written months ago. I purchased this device before CES (January!) and have been playing around with it ever since. For what it's worth, I am fortunate that it worked out that way. As I spent more time with the SMP-N100, daily use of the little box slowly rooted out flaws that I otherwise would have glanced over.
As an example, the custom interface for Hulu and Netflix. I can turn on my PS3 and Hulu will look exactly the same as it does when accessing it on the Roku XD. Why in the world Sony chose to go with something custom for the SMP-N100 is beyond me. Maybe it was looking to avoid product sales cannibalization. Whatever the reason, the differences between the two were more than I was willing to deal with and not something that I simply got used to.
I plan to box up the SMP-N100 after this review is published and switch back to the Roku. This isn't because the SMP-N100 is a bad device. No, far from it. It's because it lacks the polish and shine of the Roku and other devices. I went into this experience with the hopes of finding the true all-in-one streamer that I have been looking for and I just didn't find that in the Sony unit. That might not be a fair expectation to start off with but I know where my satisfaction level is and the SMP-N100 fell just short.
Let me stream my .mkv files and we might be onto something. My Samsung television can do that! It does it in a very crude fashion, but it can still do it. All that should be needed is a new software update. Let's make it happen. And while you're at it Sony, can we get that on your amazingly capable PS3 as well?
Discuss this article in our forums!
Have a comment you wish to make on this article? Recommendations? Criticism? Feel free to head over to our related thread and put your words to our virtual paper! There is no requirement to register in order to respond to these threads, but it sure doesn't hurt!
Copyright © 2005-2020 Techgage Networks Inc. - All Rights Reserved.