Synology DS213+ NAS Server Review

Date: September 4, 2013
Author(s): Greg King

A great thing about the NAS market is that competition is huge, and in our minds, Synology has done a fantastic job of making sure that this competition has been keeping on its toes. Each one of the company's NASes we've tested to date have impressed, and fortunately, the DS213+ isn't about to become an exception.
---
Introduction
In many of my network-attached storage device (NAS) reviews, shamelessly plugged here, here and here, I have tried to drive home the importance of backing up your most important data.  Whether it be to a NAS box, a USB external hard drive or one of the many cloud-based solutions available, it really doesn't matter.  The point is to always "back it up." For my look at Synology's DS213+ NAS, I don't plan to extol the virtues of having a home disaster recovery plan – except, I just did… damn.
I have reviewed enough NAS boxes over the years to have developed a fairly easy-to-reproduce set of tests.  I get the device in, I photograph it and then I run the standard battery of tests that we have been using for quite a few years.  With Synology, I always know what to expect.  While the company has changed up the design of the units themselves, I have come to expect a certain subtle quality in the company's products. 
When the DS213+ showed up reading for testing, I was immediately brought back to our review of the DS212 earlier this year.  In it, we covered a considerable amount of available options that Synology's firmware has to offer.  We went through the mobile apps, connecting the NAS to a VMware host, Apple's Time Machine functionality, as well as the standard tests we have always run.  For those looking for a shallow dive into those waters, I suggest you give that review a quick once over.  For those of you looking for our take on the DS213+, carry on.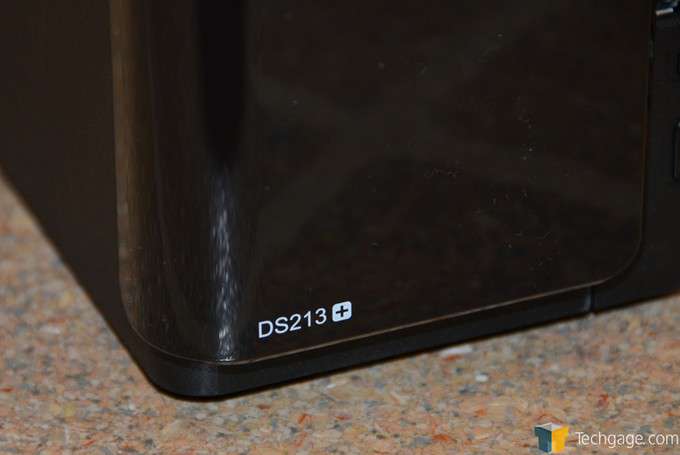 The DS213+ is a two-bay NAS, marketed as a small-to-medium sized business solution.  The enclosure is built almost entirely with black plastic, with the front face of the NAS being removable.  For those of you that can remember when their boxes needed to be taken apart to access the drives, being able to swap out a failed drive without shutting down the NAS has been a luxury long known to Synology fans.
Powered by a dual-core SoC, Freescale's P1022,  that runs at 1.067 GHz and is capable of floating point computations and hardware encryption, the DS213+ should be able to deliver in the performance department.  With a single onboard gigabit Ethernet that is powered by a Realtek RTL8211E, along with 512MB of DDR3 RAM, the DS213+ is certainly spec'd to provide good numbers.  Before we get too much further into that, let's take a quick tour around the outside of the NAS.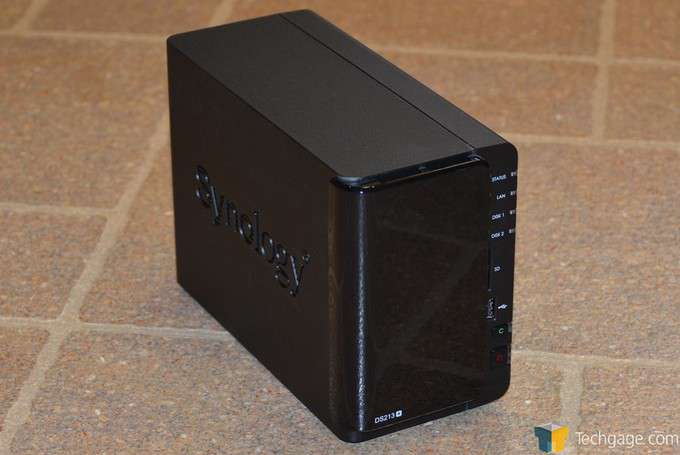 The front of the DS213+ looks very familiar to the DS212.  A USB 2.0 port and SD card reader can be found on the face of the NAS, as well as a power and copy button.  There are four LEDs that indicate the overall status, or health, of the NAS, LAN activity and hard drive activity.  While most are self-explanatory, the copy button, by default, will copy an attached thumb drive (or any USB storage device) to a designated directory on one of your volumes.
Both sides of the DS213+ have the Synology brand name running down the length of the NAS.  They not only showcase the brand, but also allow cooler air to come in through well placed openings.  Also visible on the right-hand side of the NAS are the same LED indicator lights that we saw on the front.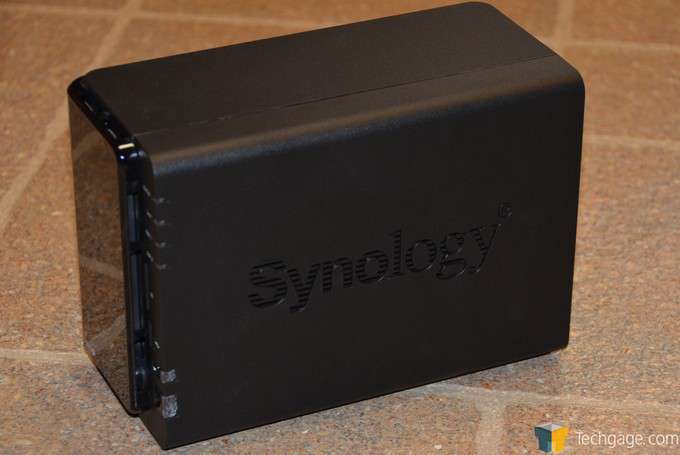 On the back of the DS213+, we find a 92mm fan, guarded by black plastic grill, one gigabit Ethernet port, two USB 3.0 ports, one eSATA port, a power port and one Kensington lock port.  Again, this has not changed from the DS212 that we looked at earlier in the year, so it appears that the only difference between the two units is the internal hardware used to power the NAS.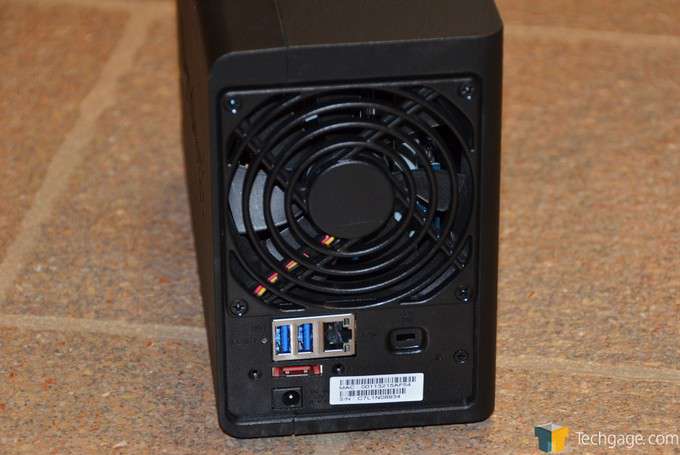 The bottom of the DS213+ simply shows the four rubber non-slip feet that helps keep the NAS in place as well as dampen any hard drive vibrations that there might be.  Also found are two rows of openings, allowing for ample air circulation within the interior of the DS213+.
As mentioned earlier, the face of the NAS comes off, exposing the two drive slots and their carriers.  As with many of our other review units, the DS213+ shipped from Synology with a pair of 7200 RPM Seagate 1TB drives (model number ST31000524AS).  Even though they are the same model as with the DS212, these drives were removed and the original drives used with the DS212 were used, for the sake of consistency.
The carriers are made out of plastic and hold the drives in place with the help of provided screws.  Never touching the carriers themselves, the drives sit on soft rubber grommets, helping to dampen any and all vibrations that originates from the drives.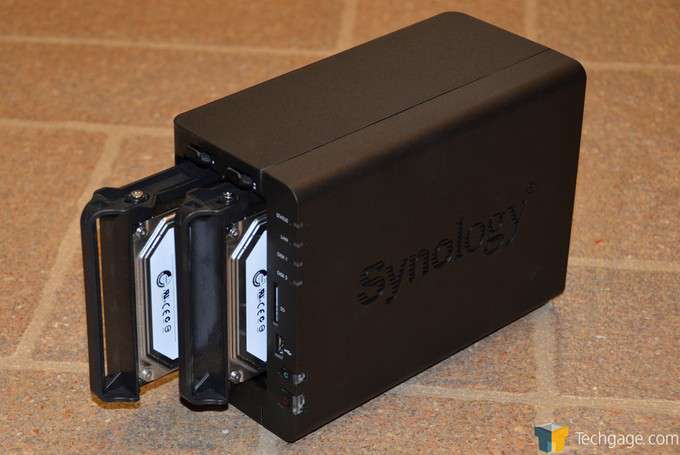 Operation of the DS213+ consumed only 29W with both hard drives being accessed and a paltry 8W when the drives were idle and the NAS was in hibernation mode.  The UI offers two options for fan speed: cool mode and quiet mode.  I was unable to notice a difference between the two and for all testing, cool mode was selected.  This mode kept the drives on average, around 29 degrees Celsius; 84 degrees Fahrenheit.
Testing & Final Thoughts
Our testing procedures have been documented in past reviews, but to recap, here is our process.
A few years ago, Intel created its own benchmarking tool for NAS devices called NASPT. Short for NAS Performance Toolkit, NASPT is, to quote Intel itself, "a file system exerciser and analysis tool designed to enable direct measurement of home network attached storage (NAS) performance." Essentially what it did was create a tool that mimics day-to-day workloads such as video playback, content creation and office productivity application emulation.
By creating this tool, Intel has made it extremely easy on those of us tasked with benchmarking NAS devices. You install NASPT on a host machine (recommended specs are 32-bit XP SP2 and 2GB of RAM), map a drive on that host that points to the NAS and decide on which tests to run. These are the specs that I used when building our test machine.
Test System
Dell Optiplex 755
Intel Core 2 Duo E6550
2GB DDR2 RAM
320GB Seagate 7200 RPM
Integrated Video
Intel PRO/1000 PT Dual Port NIC
Our testbed is a simple, everyday machine that I happened to pick up cheap on Craigslist. It's a very capable PC and one that works perfectly for the NASPT test.
An additional test that we are using in this review is a simple file copy to the DS213+ and then from the DS213+.  Using the Windows utility Robocopy, a 4GB file is transferred to the DS213+and then back to the local machine after a reboot of the host machine.  This test is run three times, with the read and write times recorded and averaged out.
Robocopy
| | | |
| --- | --- | --- |
|   | RAID 0 (MB/s) | RAID 1 (MB/s) |
| Read | 97 | 93 |
| Write | 81 | 78 |
Intel NASPT
| | | |
| --- | --- | --- |
|   | RAID 0 (MB/s) | RAID 1 (MB/s) |
| HD Video Playback | 83.3 | 81.4 |
| 2x HD Playback | 92.3 | 95.4 |
| 4x HD Playback | 91.1 | 93.6 |
| HD Video Record | 98.5 | 82.3 |
| HD Playback and Record | 83.1 | 71.6 |
| Content Creation | 10.3 | 7.8 |
| Office Productivity | 49.4 | 46.1 |
| File Copy to NAS | 98.9 | 98.2 |
| File Copy from NAS | 92.7 | 92.1 |
| Directory Copy to NAS | 21.2 | 19.1 |
| Directory Copy from NAS | 21.6 | 20.2 |
| Photo Album | 11.9 | 12.1 |
Final Thoughts
The numbers speak for themselves: The DS213+ is the new reigning champ for performance.  It's easily the fastest NAS box I have ever tested and a quick look online shows that it's currently selling for around $385 USD.  While not cheap, there is a lot of performance to be had for that asking price.  Compared to past units we have reviewed, there really isn't any comparison. 
That being said, we are working to get other units in for review, 4 bay boxes included.  Obviously, performance is going to increase with each new hardware refresh a manufacturer does.  With Synology, or anyone really, this is to be expected.  Where Synology truly shines is with its firmware.  Having used Synology devices in my test lab and at home on my network, I have never had a major issue with that software.  While the hardware is robust, the options offered to the community at large are breathtaking.  This is honestly something that other NAS vendors can take a look at because the modular design of Synology's firmware has been the future for a few years now.  By adding particular add-ons, such as Squeeze Center or Plex*, you can transform your NAS box from a simple dumb backup destination on your network into a robust server that works for you.
*Plex is available, but in my experience, is not recommended for those NAS boxes that don't come with an Intel Atom CPU installed.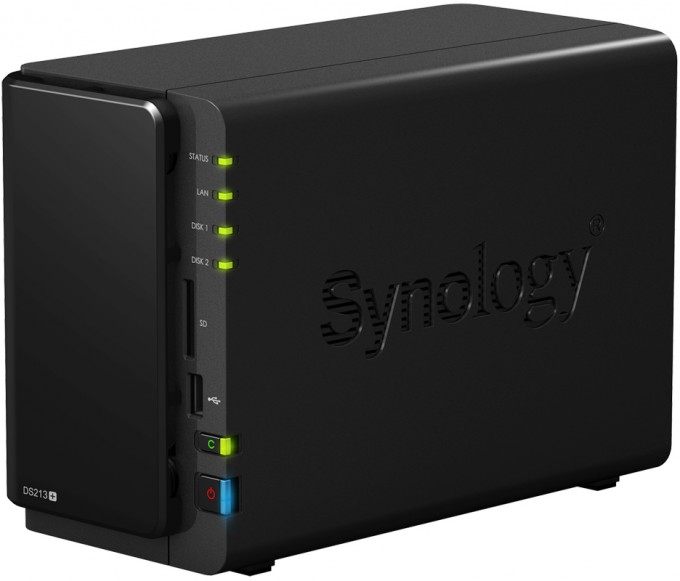 While Synology lacks the external finish of say, a NETGEAR ReadyNAS and its metal design, it more than makes up for it with features.  The developers at Synology seem to outdo themselves with each subsequent release of their firmware.  Add in the ability to share iSCSI LUNs and shares over NFS, the nod towards Synology when looking for a new NAS is made that much easier.
The DS213+ is fast.  It's also expensive.  For the price, you are flirting with the lower end of the 4 bay NAS price range.  You sacrifice performance for additional storage and redundancy, but for many, that will be an easy call.  For me, I personally like the idea of presenting part, or all, of your Synology storage to a VMware host and using it for a shared datastore.  Again, the options are great with a NAS like this.
Simply put: Anyone looking for a fast, high performing NAS should so themselves a solid and check out the DS213+ from Synology.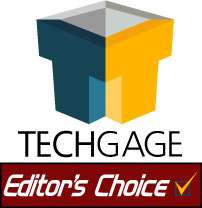 Synology DS213+ NAS Server
Copyright © 2005-2020 Techgage Networks Inc. - All Rights Reserved.