Thermaltake Water 3.0 Ultimate Review – Keepin' It Cool

Date: September 16, 2014
Author(s): Brandon Mietzner

Thermaltake is taking us from Extreme to Ultimate with its new Water 3.0 closed-loop CPU water cooling solution. This brings us up to three 120mm fans, a doubling of the cooling surface, and a more powerful pump. This makes it the biggest and strongest Water offering yet. Will this effort bring prefab water cooling to new heights?
---
Introduction
I have been building custom water cooling PCs for the past 8 years now. There are a lot of things that I love and hate about it, the biggest con being the cost. This cost includes the pump, reservoir, tubing, fittings, water blocks, coolant and maybe water cooled components with custom water blocks out of the box.
After putting all the time into finding the parts needed, we can't forget about what has to go into setting up the tubing, priming the coolant, and checking for leaks. This really hampers one's ability to quickly turn a system around when you buy new gear or need to replace, well, anything. However, when all of it is finished, the benefits can be spectacular.
There have been many attempts to mitigate the cost and time needed to achieve the benefits of water cooling, most notably by using a closed-loop system. Some custom water cooling builders would say a closed loop system has too many limitations, mainly that the heat displacement isn't as efficient, or silent, or that they are a one trick pony by providing cooling to only one component. While the latter may be an undeniable truth, Thermaltake has introduced the Water 3.0Water 3.0Water 3.0 Ultimate to ensure the former problems are a thing of the past.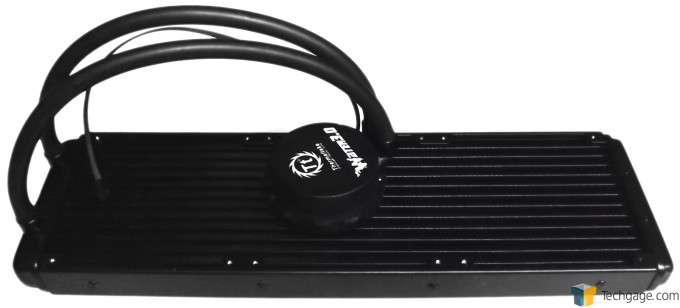 The last time Techgage looked at one of the Water 3.0 models, it was with the Extreme. This provided a robust amount of cooling for someone who wanted to achieve a modest amount of overclocking. This came at a few costs, like noise and higher temps when pushing the limits. This time we have 3x120mm fans, increasing the surface area to keep the CPU cooler, and hopefully, with less noise.
The Ultimate maintains the same 27mm radiator depth that we saw with the Extreme and Performer, which makes it a single pass coolant system. There are dual pass radiators out there, like the Tt Pro, but those aren't as effective as the Extreme due to surface area.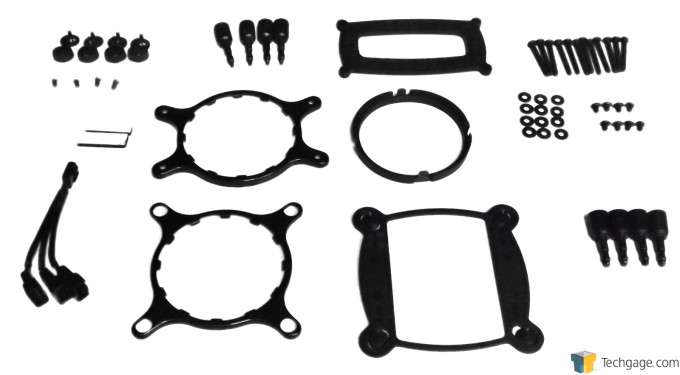 The CPU waterblock is by far the heaviest and most robust piece in this kit. This is something that makes me extremely happy to see. Too many manufacturers that produce CPU waterblocks cut corners by reducing as much of the surface area to the CPU as possible. By providing more copper for this waterblock to absorb heat, it will allow the CPU to run a little cooler.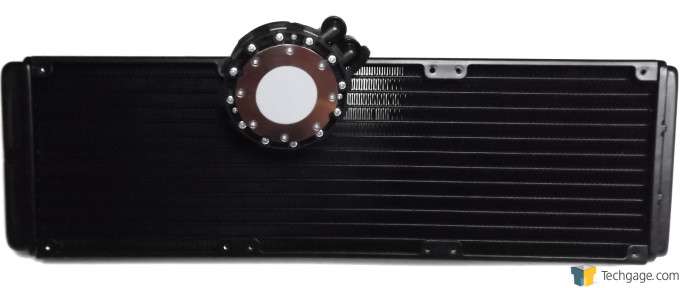 Thermaltake continues its tradition of supporting a vast assortment of CPU sockets. Last time, Rob was surprised to see that the 1366 was supported, I am just as surprised to see that the AMD Athlon is supported, which is even older. Obviously, Thermaltake should be on the short list if you are looking to water cool an aging system.
Just like the Extreme, the Ultimate comes with Thermaltake's brand of fans, 20 dBA and 99 CFM. This dBA rating is the minimum that the fans operate at. Sadly we may not get that sort of performance at full RPM.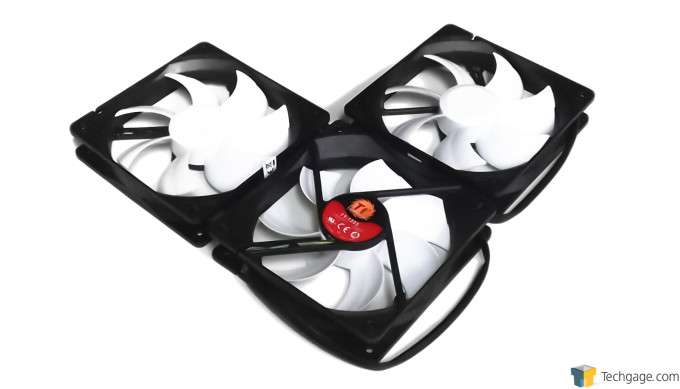 The kit also includes a 3-to-1 4-pin fan power splitter. This is so you can plug the fans into the CPU fan plug on your motherboard. The pump is plugged into whatever secondary fan plug is closest to your CPU. This allows your system to control the fans and the pump dynamically. I personally prefer this option over the software one that was introduced with the Extreme.
The Ultimate also includes the option for you to increase its air flow to make it even more effective. Just like the Pro and Performer, you can set this unit up to blow air in one side and then pull that air out on the other side. This may sound like overkill, but for those planning to put their PC in a tight space or in a room with an above average temp, this is a noteworthy option.
Installation, Testing & Final Thoughts
The installation instructions are illustrated simply enough but they can be a little challenging to understand, especially when there are only pictures and no written instructions. To make things easier, I performed a dry-run before any screws got tightened, this ensured that installation was easy, effortless, and was not too time-consuming. If you have any questions about how to perform a certain step, Thermaltake has a video on how to install the Ultimate for an Intel CPU.
During the course of the installation, I never encountered anything that felt cheap or brittle. The only problem that I had was the length of the coolant lines, which forced me to install the Ultimate in one direction. While this wasn't a major problem, I did run into an issue of the radiator touching the rear case fan, thus preventing optimum installation. Thankfully, I was able to circumvent this minor inconvenience by moving the radiator forward a little, albeit with fewer screws, with no further issue.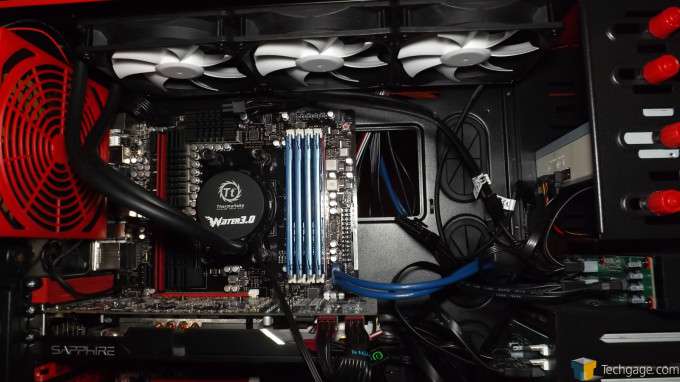 Without further ado, here are the specs of the PC we will be testing:
AMD AM3+ Test System
Processors
AMD FX-8350 Black Edition Vishera 8-Core 4.0GHz
Motherboard
ASUS Crosshair V Formula (1703 BIOS)
Memory
Kingston HyperX 4x4GB – DDR3-1333 9-9-9-24
Graphics
Sapphire AMD R9 280 (AMD Catalyst 14.4 Driver)
Audio
Onboard
Storage
Kingston SSDNow 128GB SSD
Power Supply
Thermaltake Toughpower 1200W Gold
Chassis
Azza Fusion 4000 Full-Tower
Cooling
Thermaltake Water 3.0 ULTIMATE Liquid Cooler
AMD Stock Cooler
OS
Windows 7 Professional 64-bit
During the course of these tests, the room was a comfortable 72ºF or 22ºC. All temperature numbers are from the socket temp, not the core. The reason for this is that the manufacturer specifies the physical temps for the CPU's thermal limits and the motherboard is set up to read that information, not the core temp. Core temp has a tendency to provide numbers that might be unrealistic and inconsistent (core temp was listed as 8ºC); which is why I choose to omit them. All temperature measurements were taken with AIDA64 Engineer.
Testing
The AMD Stock CPU Cooler and the Water 3.0 Ultimate were both given 10 minutes to reach their peak idle temps. To push the CPU to its limit I used Cinebench R15. With its separate CPU and GPU test, it gave me the opportunity to only test what I needed. I also performed the test 5 times. This way I was pushing the CPU to its temperature peak to get the most accurate numbers.
Throughout the testing process, the Ultimate never became unreasonably loud. The majority of the time, the case fans seemed to be more audible than the Ultimate's fans did.
I was able to push my stable overclocking limit to 4.4GHz, with both the AMD CPU Cooler and the Water 3.0 Ultimate. Anything beyond that, even with the Ultimate, the CPU just wouldn't remain stable at idle. This means the CPU was at its limit, not the Ultimate's ability to keep it cool.
| | | |
| --- | --- | --- |
| | Stock Cooler | Water 3.0 Ultimate |
| Idle | 47ºC | 33ºC |
| Load | 64ºC | 43ºC |
| OC Idle | 52ºC | 35ºC |
| OC Load | 68ºC | 44ºC |
It is common to see stark differences between air cooled and any water cooling system. What is uncommon is the temperature variance seen between the idle and load numbers with a prefab water cooling kit. These numbers perfectly illustrate why the Ultimate's increased surface area is so important.

I mentioned before I could barely hear the Ultimate's fans over the case ones. That trend was consistent while the CPU was overclocked as well. This left me in awe of the Ultimate's performance, especially when you consider I could barely hear it and the CPU only increased by 1ºC at a full load while overclocked.
Final Thoughts
As I mentioned before, there wasn't a whole lot that I could find at fault with the Water 3.0 Ultimate, which is currently etailing for $139.99. This may seem like a premium price, but it is in fact somewhat reasonable. Just to water cool a CPU with a home-made triple-rad solution, you would be looking at around $200 when you consider all the parts I mentioned earlier, and that is a modest number to boot.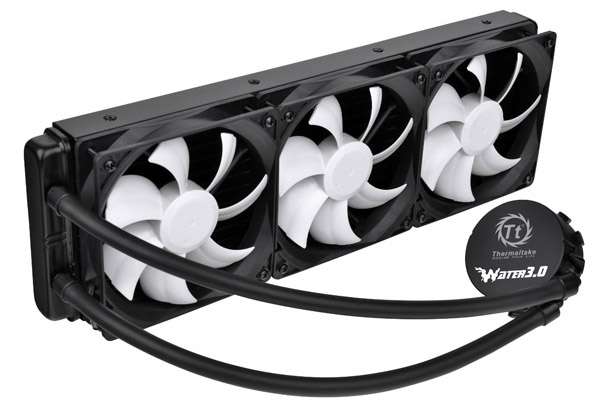 The way I see it, the Water 3.0 Ultimate changes the fundamental nature of how we all should see prefab water cooling kits. With the versatility to support a wide range of CPU sockets and its ability to provide impressively low temperatures with low noise, while overclocked, this is an easy recommendation.
This may be a one trick pony, but it does the trick very well, and it should be considered by custom water cooling proponents, veterans and newcomers alike.
Pros:
Extremely efficient.
Silent when pushing overclocking limits.
No more custom software.
Push/pull fan setup available.
Cons:
Coolant lines too short.
One trick pony.
Copyright © 2005-2019 Techgage Networks Inc. - All Rights Reserved.