The OS That Goes To 11: Taking A Visual Tour Of Windows 11

Date: September 7, 2021
Author(s): Rob Williams

The launch of Windows 11 is right around the corner, so we wanted to dive into the current preview to get a good look at what's coming – and help you figure out whether or not you should be excited to upgrade. If you're keen on performance comparisons, don't fret: we'll tackle that at official launch.
---
The OS That Goes To 11: Taking A Visual Tour Of Windows 11
As hard as it is to believe, a launch of a brand-new Windows OS is right around the corner. Despite having only been announced in June, Windows 11 is set to launch in less than a month – October 5, to be exact. Given that the OS' launch is so close, and the current builds are largely representative of what we'll see with the final release, we wanted to dig in early, and see what's in store (including the new Store!).
Windows 11 is proving to be one of Microsoft's most ambitious OSes to date, reflecting one of the most noticeable visual upgrades we've ever seen from a single version update. There's even quite a bit of under-the-hood work that's been done, which is great for some reasons, but bad for others.
Ultimately, the "bad" in Windows 11 hinges on the fact that the OS is not supported on most aging PCs, even if they are still current in your mind. A crucial ingredient that your PC must have is TPM 2.0, a feature that motherboards even a few years old may not have. You can Google search for your motherboard model to see if you meet the TPM 2.0 requirement. Microsoft admits you may still be able to use a workaround to get the OS installed on older rigs – but they won't be officially supported.
Windows 11 also drops 32-bit support, which isn't a big surprise considering the other stringent requirements that basically demand you have a really modern PC.
If you do meet the requirements for Windows 11, you will be able to upgrade from Windows 10 for free when the time comes. You will only need to cough up for a new license if you build a new machine, or buy a new computer that will have the license built into the price.
If you want to get into the nitty gritty of what Microsoft is adding or removing to Windows 11, you can check out the official specifications page. Notably, you won't be bugged by Cortana during the OS install, and will it not even appear in your taskbar once you hit the desktop. The Timeline feature, which you can see in Windows 10 by hitting Win + Tab, is being removed, while Edge will carry over some of its functionality.
Windows 11 Installation
Installing Windows 11 is similar to the past few versions, although every step past the initial setup has been overhauled, and has led to a quicker setup process overall. If you've installed Windows in recent years, you're going to be familiar with the purple screens below. Not much has changed here; you click through a few screens, clear your partitions, and let the setup get underway.
After the first reboot, you'll be greeted to the overhauled setup screens, which look quite nice overall. Many of the same options as Windows 10's setup can be found here, although as mentioned above, the Cortana screen has been cut.
While Windows 10 automatically chose a network name for you (eg: DESKTOP-DS0UPTI), Windows 11's setup asks you to provide one up front. This is convenient for anyone who wants to access their PC on a network, since it saves time having to change it post-install (unless you're cool with the generic default, that is.)
Similar to how a new phone will allow you to import the most recent backup of the old one, Windows 11 offers the ability to import settings, OneDrive files, and apps from the cloud backup. This could prove extremely useful for those who have multiple PCs and want to keep the app installs and configuration identical between them.
Hitting The Windows 11 Desktop
If someone managed to install Windows 11 without having ever seen what it looked like, they'd probably be taken back by what they see. Windows 8 brought quite a bit of change to the desktop over Windows 7, but Windows 11 provides one of the truest overhauls we've seen.
By default, all taskbar icons are centered, but can be shifted to the left like normal if you prefer it. Unfortunately, Microsoft doesn't let you move the taskbar in Windows 11, so if you've been using yours affixed to the left or right side of your desktop, you're out of luck here – unless Microsoft changes course, or third-party add-ons re-enable the capability.
As you can see from the shot above, the Start menu has been completely changed around. Sitting at the top is a search bar, and at the bottom are recently-used documents. You can click the "More" to the top-right of the recent documents to get a fuller list, which is convenient. As for the apps, this updated Start menu only shows 18 icons at once, requiring you to scroll down to see more – or type the app you're looking for into the search (which is automatically activated when you open Start).
The Start menu doesn't offer much customization, which is unfortunately an overarching theme of Windows 11. We feel like users should at least have the ability to increase or decrease the number of app icons seen in Start, but there's no such thing here. If you unpin enough icons to make a row blank, the Start menu size doesn't change; it just keeps the area blank.
What you can customize is whether or not the Start menu will show recently installed apps, and also enable quick access icons for useful folders (eg: Downloads, Videos) that will appear next to the power button.
What stood out to us with the Start menu apps list is that some of what's listed isn't even installed. Adobe Photoshop Express is one good example. If you do click it, installation begins immediately. As always, you can right-click and uninstall any one of these "pre-installed" apps to get rid of them.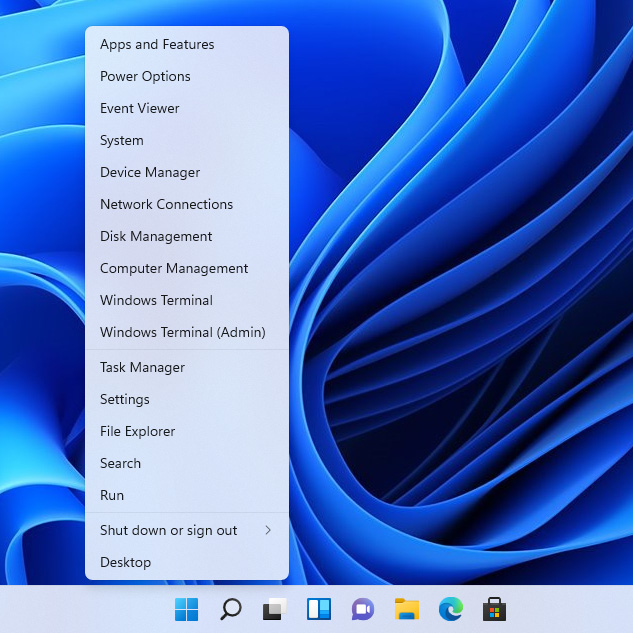 Start menu right-click options
As with previous Windows versions, right-clicking the Start menu in Windows 11 reveals quick access to many features, like Task Manager or Power Options. Right-clicking anywhere else in the taskbar reveals a single option: Taskbar Settings. In Windows 10, many other options were seen in this menu, so if you're used to going there for an option, this change may be a small annoyance.
The reason for the removal is that the settings found there have been repositioned to other areas. If you were used to cascading your windows, for example, you can do that easily in Windows 11 by clicking and holding on the maximum icon in any window, like this: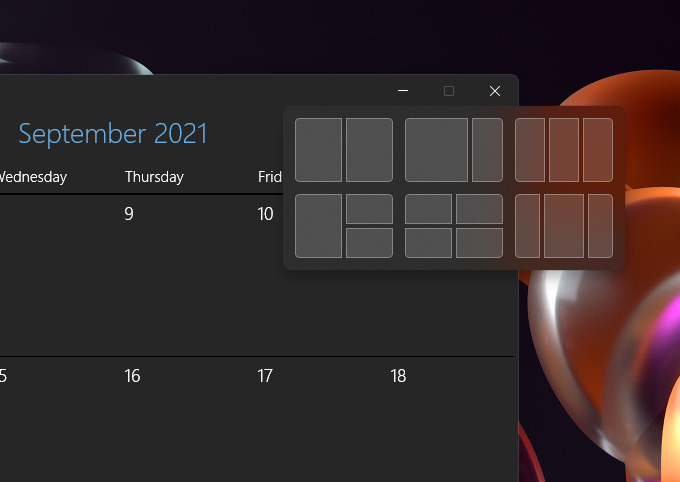 Snap access in Windows 10 is tied to the maximize button
In Windows 11, even the Settings app has been overhauled. You still can't open more than one Settings screen at a time, but now, each of the primary categories are pegged to the left at all times, making navigating the different options pretty easy. Each of these primary categories have sub-categories; the System section includes Display, Sound, Notifications, Power, Storage, and so forth. The Personalization section houses everything related to the look and feel of the OS.
Locations of most options haven't moved in this updated Settings app, so you shouldn't have trouble finding what you need. However, there are exceptions; for example, both Activation and Recovery have been moved from Update & Security to System. As you explore, you may even spot some new options, such as "Title bar screen shake", which has been added to Multitasking. This option was enabled by default in previous Windows versions, but is defaulted to disabled in Windows 11. If you enjoy shaking a titlebar to minimize all other open windows, you can easily re-enable it.
As you can tell by now, Microsoft is bringing a lot of polish to Windows 11, and thankfully, one of those targets is the Microsoft Store. The verdict is still out on whether or not the search algorithm will see an improvement (we can't see a difference yet), but the UI has been improved in both design and efficiency.
Key sections are now all pinned to the left side, allowing you to quickly visit the store for apps, games, or entertainment. For your library, you can click the icon in the bottom-left corner.
The Microsoft Store used to be pretty finicky with regards to finding certain things in your library, including games you've purchased directly on the store. That seems to have been improved over time, but the revised Store app presents it in an even better fashion:
In Windows 11, certain games will need to be installed through the Xbox App instead of the Store directly. For example, the copy of Forza Horizon 4 purchased directly through Microsoft Store in the past now has to be installed via the Xbox App, although certain other games, like Minecraft, are still installed through the Store. This is a bit confusing, but not likely a big deal in the end.
The last major UI feature of Windows 11 to mention is the widget. "Widget" isn't something we've heard about for Windows since 7, so it's understandable if you are a little wary about this one. In Windows 11, all of the widgets will be found in a slide-out pane, seen here: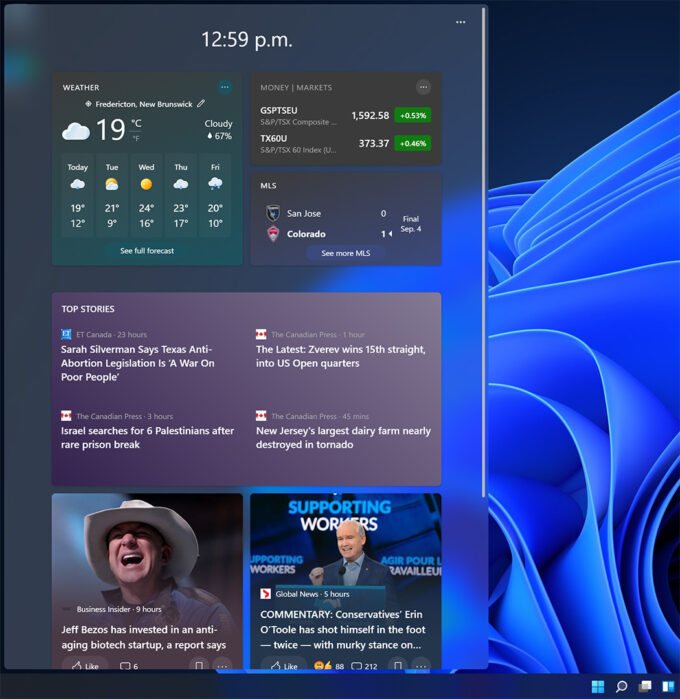 By default, this widget pane will show the weather, stock market, sports scores, and news based on your topics of interest. Some widgets may show up based on apps used, such as Calendar. In time, third-party widgets should be be installable to this same pane, but Microsoft has seemingly been quiet about that so far.
(Not Really) Final Thoughts
It's hard to have any sort of "final" thought when it comes to an unreleased OS. What we haven't covered here are under-the-hood updates that will help Windows be faster than ever. That's partially thanks to optimizations to CPU efficiency, as well as storage.
DirectStorage is a feature that's coming first to Windows 11, allowing game developers to take advantage of super-fast storage to improve load times in games. This feature will be backported to Windows 10 at some point, but because of I/O optimizations under-the-hood in Windows 11, the newest OS will deliver the fastest performance.
One longstanding issue with Windows refreshes is that old-school dialogs and windows haven't seen the same polish as the rest of the OS. It's hard to believe, but at this point in time, even Task Manager remains plain ol' white, not adhering to the dark mode setting. Ditto for Device Manager, and Folder Options. These windows do give some impression of improvement, thanks to the fact that all OS windows are curved at the edges now.
A gripe by a couple of people on the Techgage team is that the "Never combine apps" option has been removed, meaning that users have no choice but to have multiple windows from one application appear as a single icon in the taskbar. Nor will users be able to have the window title appear in the taskbar.
At this point, whether or not you're excited for Windows 11 will ultimately depend on how modern your PC is, and assumes that you won't mind the features or abilities that were taken away. There's undoubtedly a lot to like, though. The general polish looks really good, and it's nice to know that so much under-the-hood is being optimized and improved.
On that note, we're eager for Windows 11 to officially release so that we can get down to performance testing between old and new. We're doubtful that GPU-specific tests will change much, but we could see CPU and general application performance improve. Time will soon tell.
What do you think of Windows 11 so far?
Copyright © 2005-2021 Techgage Networks Inc. - All Rights Reserved.